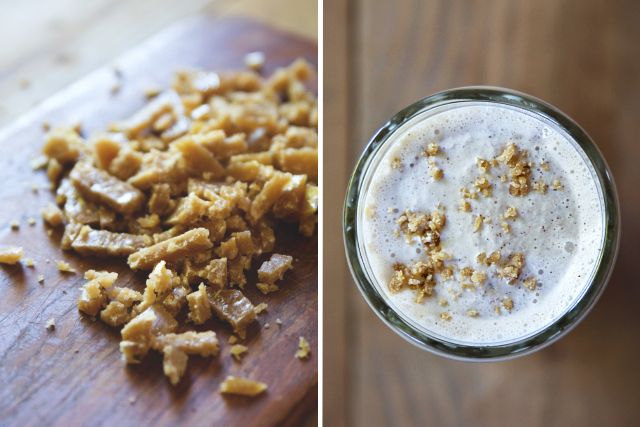 Ingredients:

4 tablespoons butter, cut into pieces
1/2 cup granulated sugar
2 tablespoons brown sugar
1 tablespoon water
1/8 teaspoon baking soda
1/2 teaspoon vanilla extract

Directions:

Mix together water, butter, granulated sugar and brown sugar in a saucepan over medium heat, stirring as little as possible.
Using a candy thermometer to gauge the temperature, cook until the mixture reaches 300°F.
Remove the pan from heat and immediate stir in the baking soda and vanilla. Mix until just combined (do not over-stir). Then, immediately pour the hot toffee mixture onto a baking sheet covered in parchment paper.
Let cool completely. If your kitchen is warm, you may need to let cool in the refrigerator.
Once hardened, chop the toffee to desired size and sprinkle bits on ice cream, milkshakes, and more!
(image by HonestlyYUM)