Wrapping presents has to be one of my favorite things to do during the holidays. For me, it's not about the paper but rather, the present toppers! You should see my storage box, it's filled to the brim with Christmas themed toppers like tiny trinkets, little feathered birds, spun cotton fruits . . . you name it, I've got it. But this year, I'm trying something different. Gingerbread gift tags! I'm using Karen's tried and true recipe – the same one she's used to make her adorable mini gingerbread houses and sweet gingerbread men garlands in years past. It's a dough that's sturdy, making the gingerbread durable. Admittedly, decorating the tags with icing is the most challenging part, especially if you're an amateur like me. My tip is to keep it simple. Use a single icing tip throughout and just play around with dots and lines!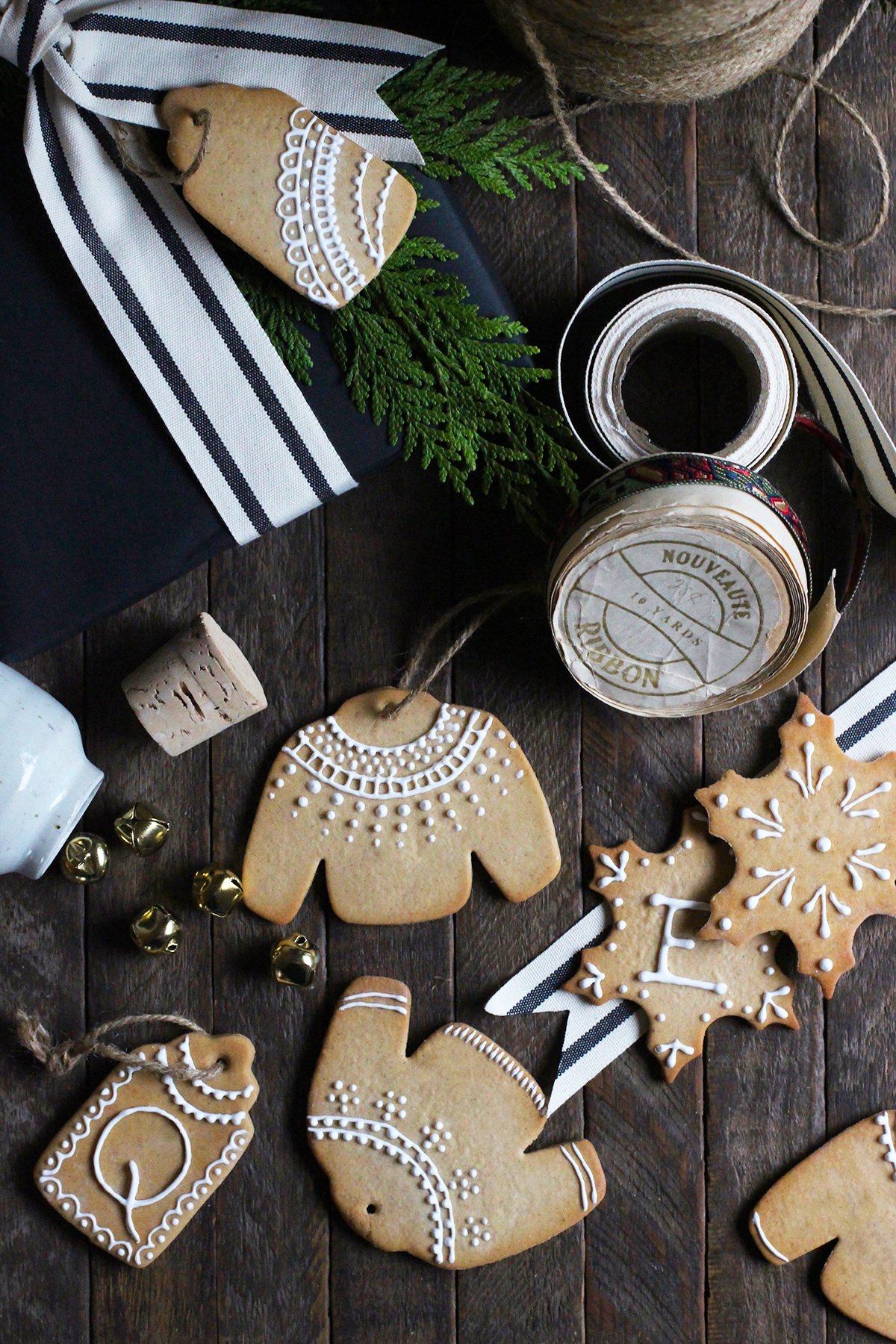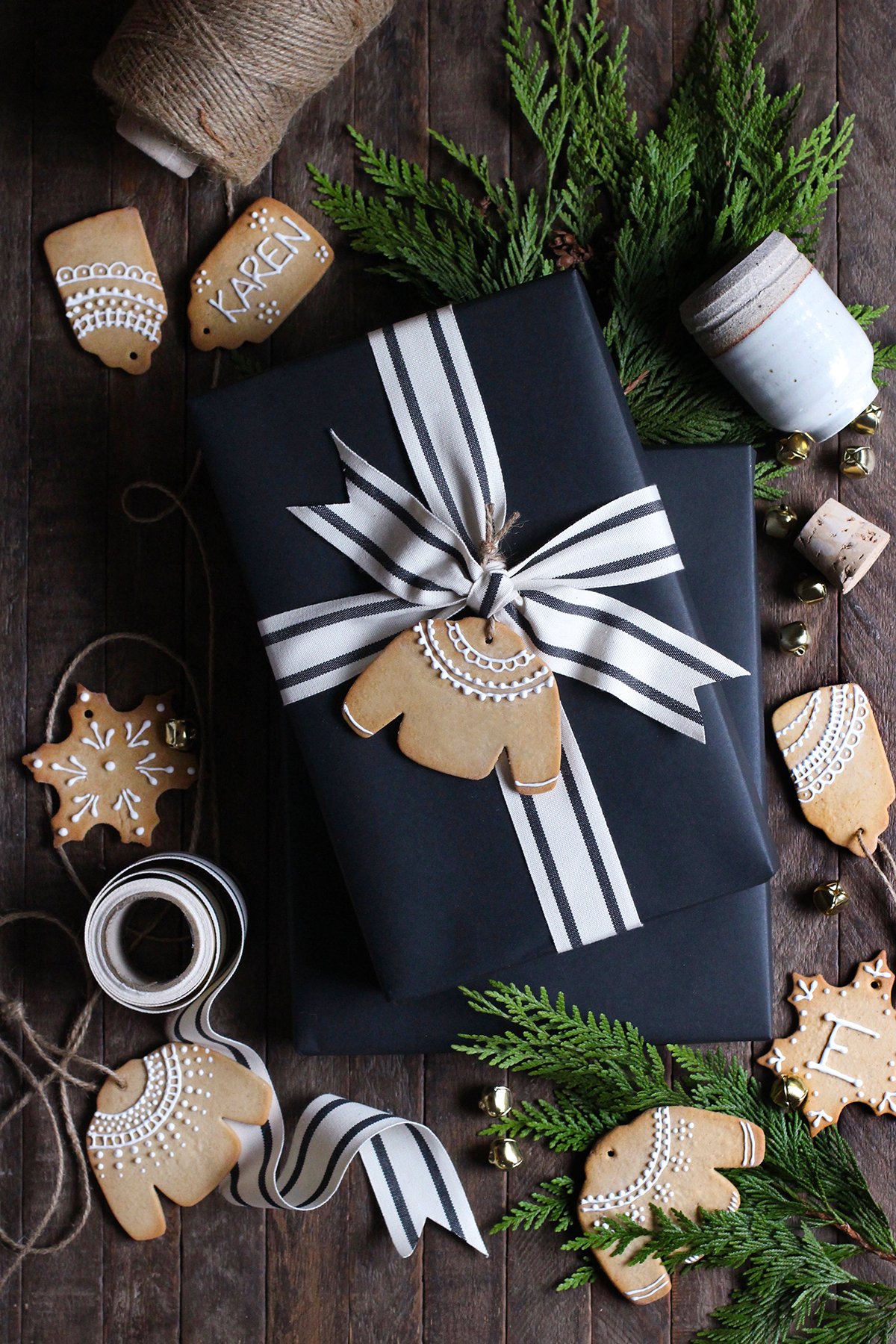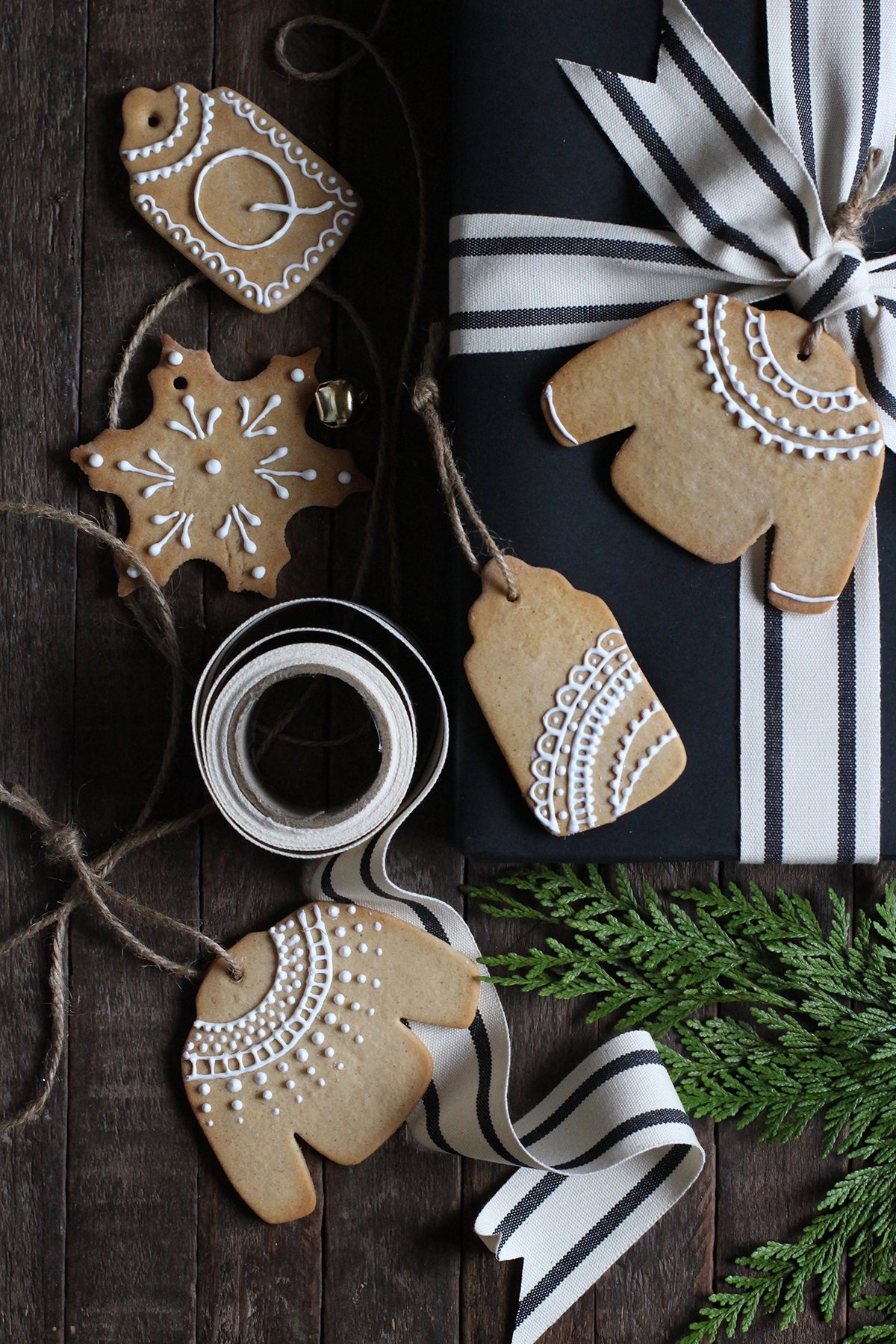 GINGERBREAD GIFT TAGS

Gingerbread Ingredients:

3 1/3 cup all purpose flour
1 teaspoon of cinnamon
3/4 teaspoon of ground ginger
1/4 teaspoon of salt
1/2 cup and 2 tablespoons of dark brown sugar
3/4 cup of dark corn syrup
1/2 cup of margarine

Royal Icing Ingredients:

1/2 pound of powdered sugar
2 egg whites at room temperature
1/8 teaspoon of cream of tartar

Directions:

Stir dry ingredients together in a large bowl. Combine corn syrup, brown sugar and margarine in a saucepan. Stir constantly over medium heat until margarine is melted. Stir liquid into flour mixture. Mix well using hands to mix as dough becomes stiff.  Chill dough for half an hour.
Roll dough into 1/8 inch thickness onto parchment paper.
Use cookie cutters to cut out shapes. Use a straw to punch out a small hole at the top of each cookie.
Remove the scraps and re-roll into more dough to cut into shapes.
Bake for 12-15 minutes or until golden brown at 350 degrees. Cool completely on a rack.
To make the royal icing, sift the sugar into a bowl. Place egg whites into the bowl of a mixer. Add sugar and cream of tartar to whites while mixing. When all sugar is incorporated, turn mixer on high and beat until thick and very white, about 5-7 minutes. Cover the icing with a damp cloth until you use it because it dries very quickly.
Pipe icing into a piping bag with a #1 round tip and ice the gift tags.
Once the icing has hardened, thread the gift tags with twine or ribbon and tie onto the top of your presents!
(images by HonestlyYUM)