Ah, pavlova. There's something about that sweet, airy and delicate crisp meringue crust, served with rich whipped cream and fresh fruit, that makes this dessert my all time favorite. I don't usually like my desserts overly sweet so admittedly, it's hard to find pavlova that's done right. The contrast of unsweetened cream and super tart fruit to the sugary meringue is a must for me. Before we delve into the ultimate pavlova recipe, I'd love to share an interesting pavlova fact, may I?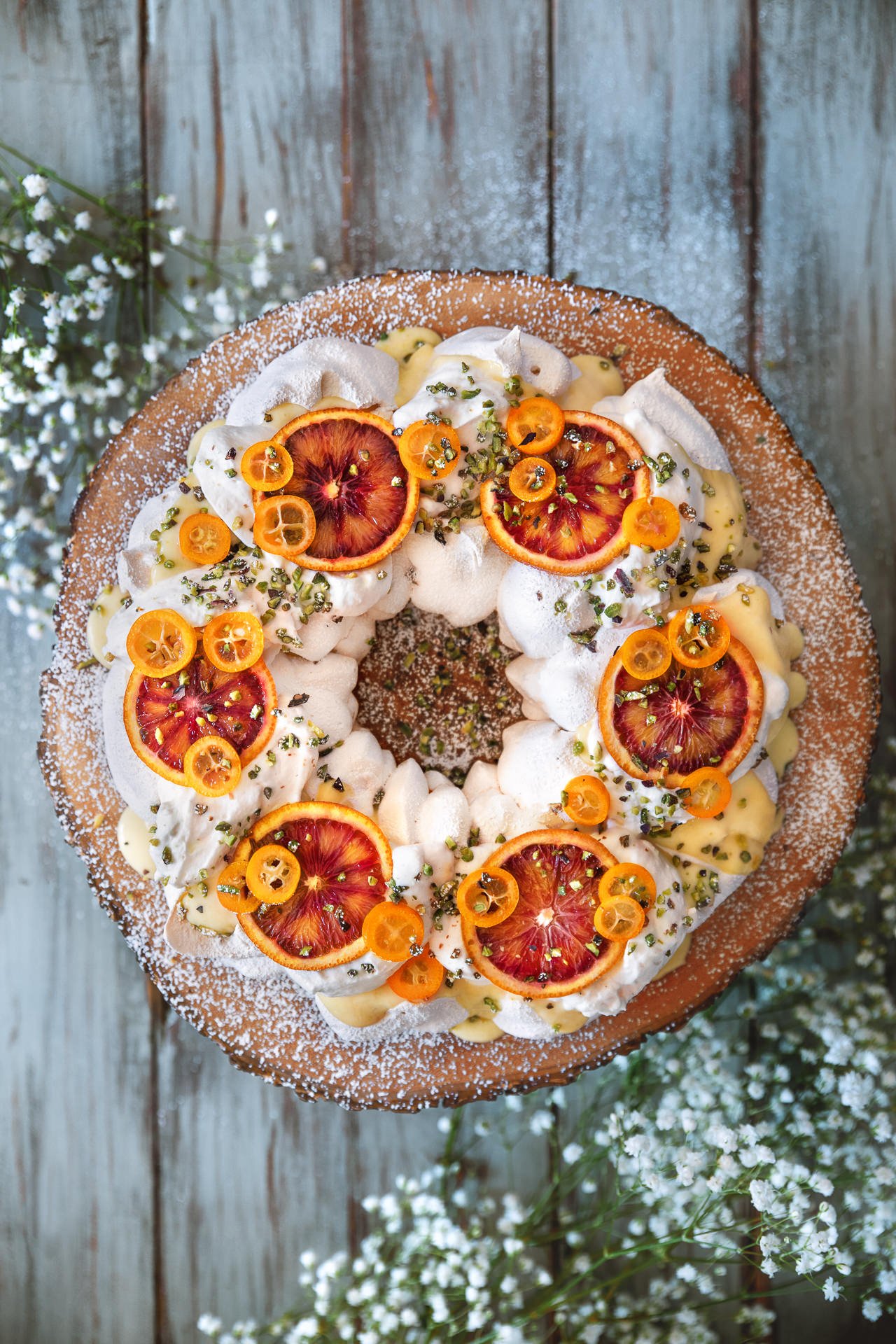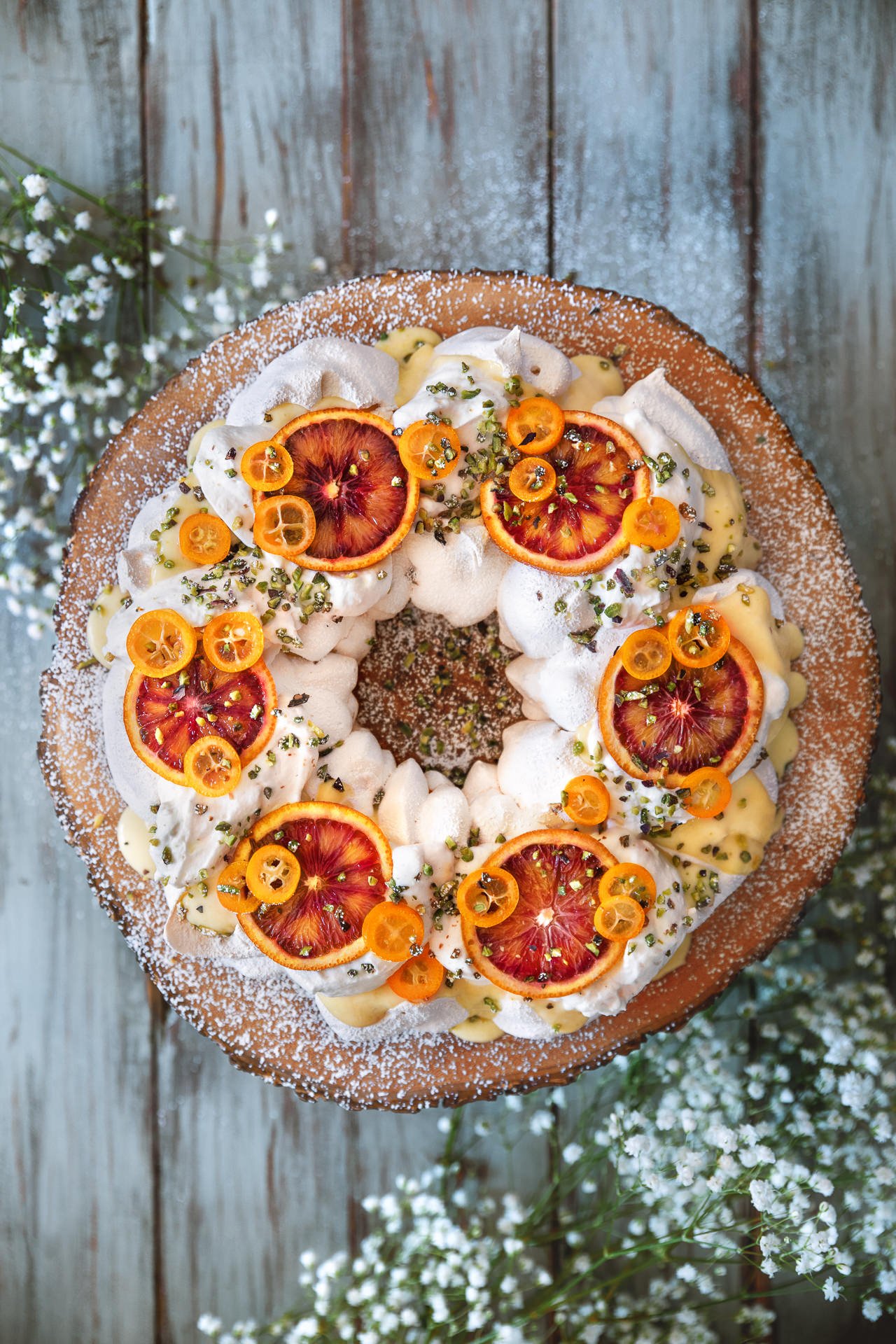 Did you know that pavlova is not Russian in origin? I know, what?! It's actually named after Russian ballerina, Anna Pavlova, after she toured New Zealand and Australia in 1926. So this explains why pavlova is traditionally made with tropical fruits found Down Under, like kiwi and passion fruit. See how that tartness plays into it? This Christmas, for the first time ever, I'm making a pavlova wreath for dessert. Not only is it stunning, I feel like it's the perfect way to close out an otherwise decadent Christmas feast. The best part is that you can dress it up however you like. We made an orange flavored pastry cream but you can substitute it for a lemon or lime curd. If you're in the Northern Hemisphere during winter months, we suggest trying mandarins, grapefruits, pomegranates or blood oranges as garnish. And if you happen to be in warmer climates, just do as the Aussies do . . .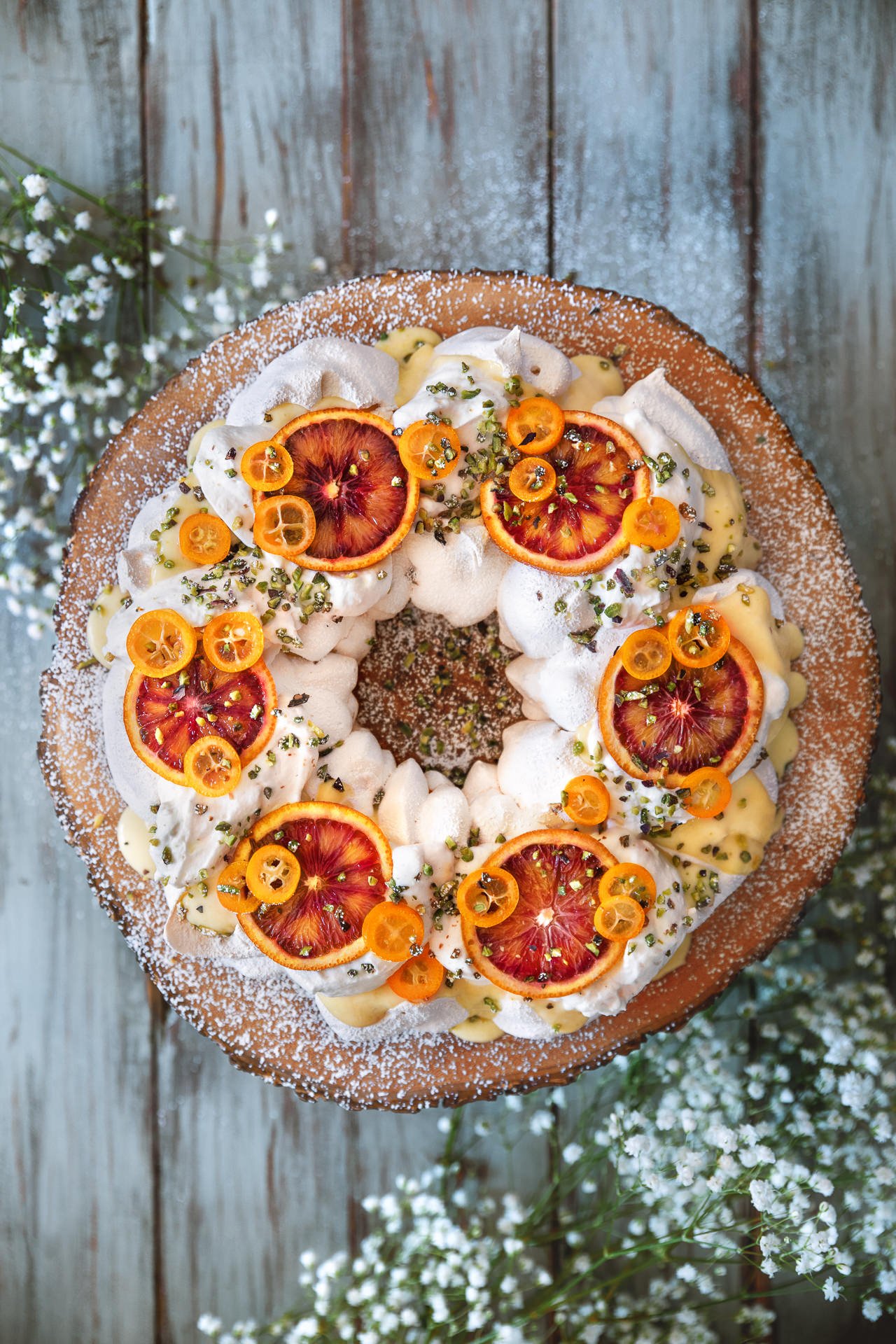 INGREDIENTS
INSTRUCTIONS
Pavlova
Preheat the oven to 230° F. Prepare a piece of parchment paper by putting it on a cookie sheet and tracing a circle using a 9 inch cake pan (or similar).

Combine sugar and sifted cornstarch in a small bowl and set aside.

Add egg whites and salt to clean stand mixer bowl and mix on medium high until frothy (about 30 seconds). Add vinegar and continue to mix for another minute.

Turn the mixer down to medium and add the sugar/cornstarch mix in a slow steady stream. Once incorporated, turn the mixer up to high and mix for 6 minutes or until stiff peaks form and no sugar is felt when you rub a small amount together between your fingertips.

Gently transfer to a clean plastic freezer bag. Cut the tip of the bag so that its about 1 inch across. Gently squeeze the pavlova mix into your desired wreath shape on your prepared pan. I made triangle or flower petal like shapes, leaving the center empty. Use the back of a spoon to make small craters in each triangle.

Transfer to the oven, and bake for about 1 hour, or until the outside of the pavlova feels crisp when touched, and lifts off the parchment without sticking. If you notice any browning, turn the temperature of the oven down slightly.

Turn the oven off and let the pavlova dry out in the oven for another hour.
Orange Pastry Cream
Warm the milk and orange zest together in a medium saucepan over low heat until steaming, but not simmering.

In a separate bowl, whisk the sugar, cornstarch, and salt together until combined. Whisk in the egg yolks.

While whisking constantly, slowly add a couple tablespoons of the warm milk into the egg mixture. Continue to slowly add warm milk until about half of it has been mixed in. Then, whisk this egg mixture back into the saucepan, and continue to whisk over medium heat until it thickens (about 5 minutes).

Remove the custard from the heat, and stir in the vanilla and the butter. Keep stirring until the butter has melted.

Strain through a fine mesh strainer into a large bowl. Cover with plastic wrap, pressing the plastic onto the surface of the custard. Refrigerate while your pavlova bakes and cools; at least an hour.
Whipped Cream
In a stand mixer, whip the heavy cream (with sugar if using) until soft peaks form. Add the rum, then whip just a couple mores seconds until blended. Refrigerate if not using immediately.
To Assemble
Gently place your pavlova wreath on a serving platter. Spoon the custard into the craters, and around the pavlova as desired. Top with mounds of whipped cream. Add slices of fresh citrus (blood orange, kumquat, grapefruit), nuts (pistachio, almonds), and dust with powdered sugar.
(image by HonestlyYUM)