Summer is right around the corner and that means strawberry season is upon us! Fragrant red California strawberries are everywhere. Our family will be snacking on strawberries all summer since they're low in sugar and high in vitamin C. It is a great treat, especially for kids. My 7 month old already loves gnawing on a whole strawberry!
That's why I'm so excited to partner with California Strawberries and show you my favorite simple strawberry snacks that celebrate this classic California fruit. I've got two sweet snacks and two savory snacks in this post: Matcha-covered strawberries, strawberry bruschetta, herb marinated strawberries and feta and strawberry and champagne granita. I hope these inspire you to make your own strawberry snack, which you can enter the Get Snacking Challenge to win amazing monthly prizes (like a KitchenAid Mixer) and/or a grand prize of $1,000 on Instagram! The challenge will run until August 31st so enter soon!
MATCHA-COVERED STRAWBERRIES
The combination of white chocolate, matcha and strawberries is incredible. These are so easy to make, simply melt chocolate, stir in matcha and dip. The hardest part is waiting for the chocolate to harden!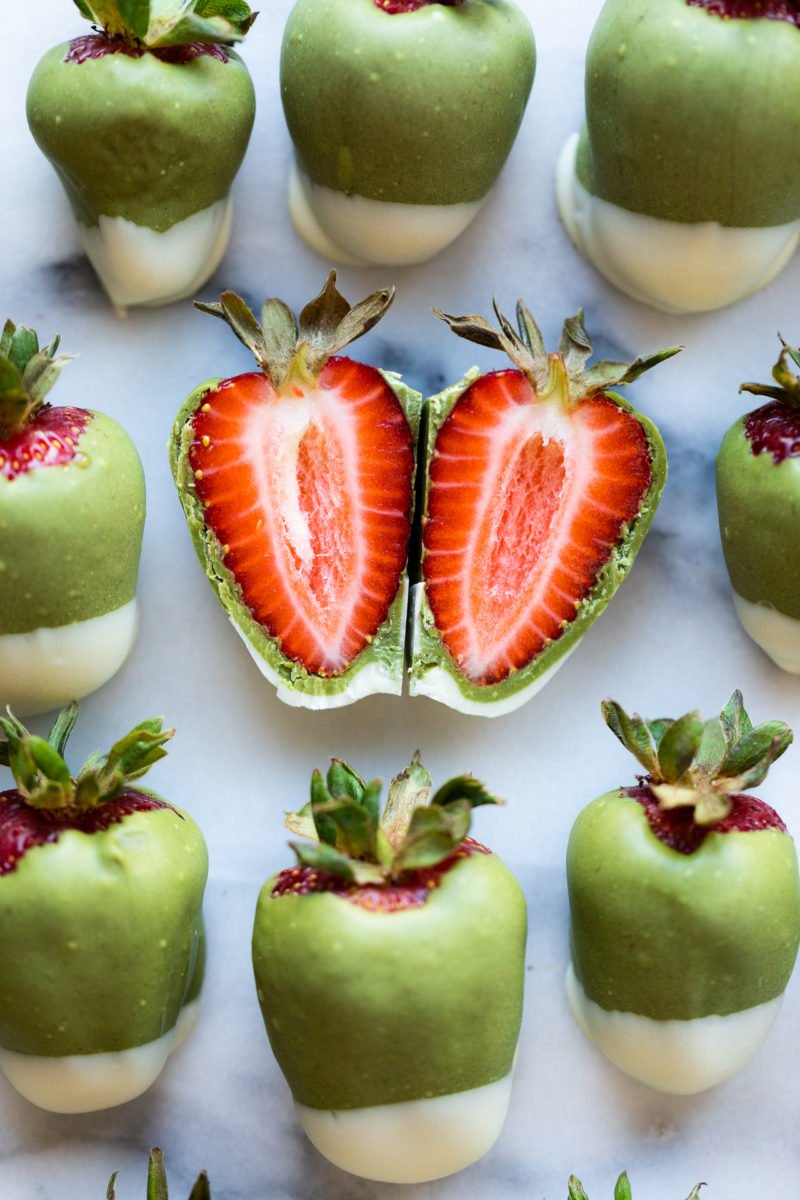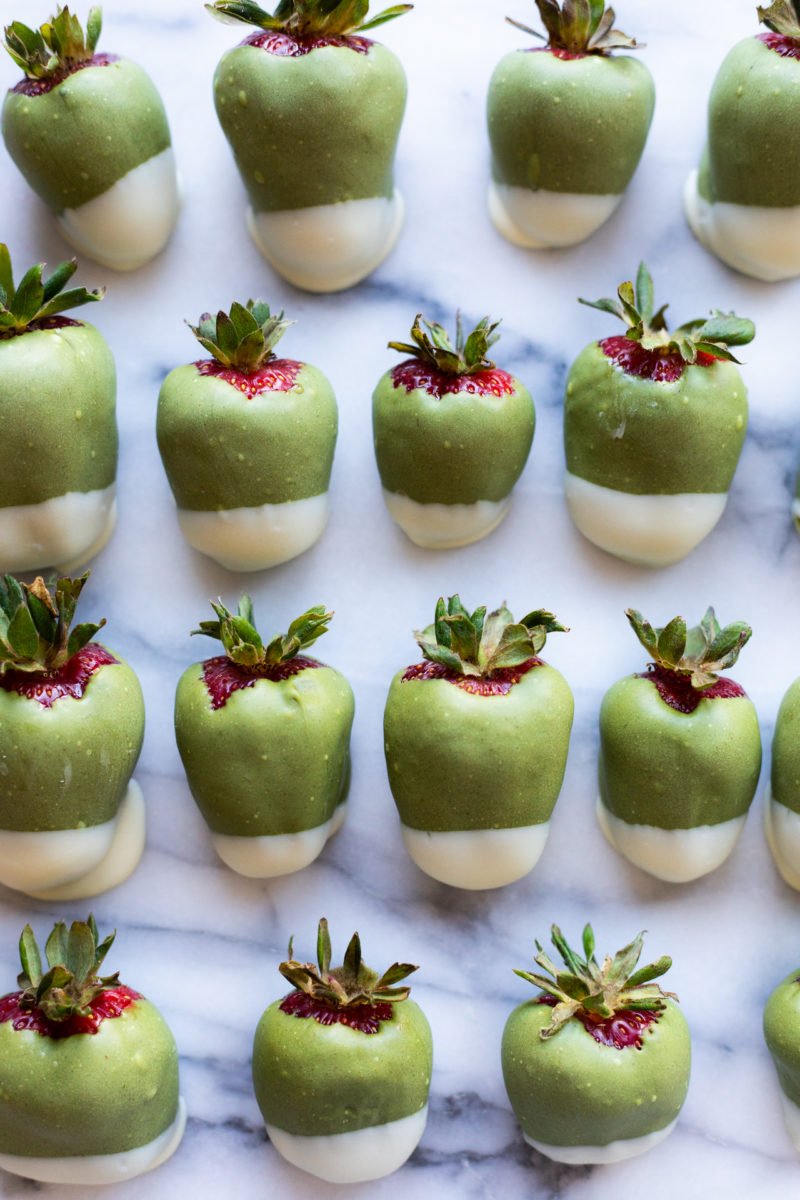 STRAWBERRY BRUSCHETTA
You're probably used to seeing bruschetta made with tomato but strawberry is a fantastic twist on the classic. It has a similar flavor profile– sweet and slightly tart and dressed in the classic extra virgin olive oil, balsamic vinegar and basil.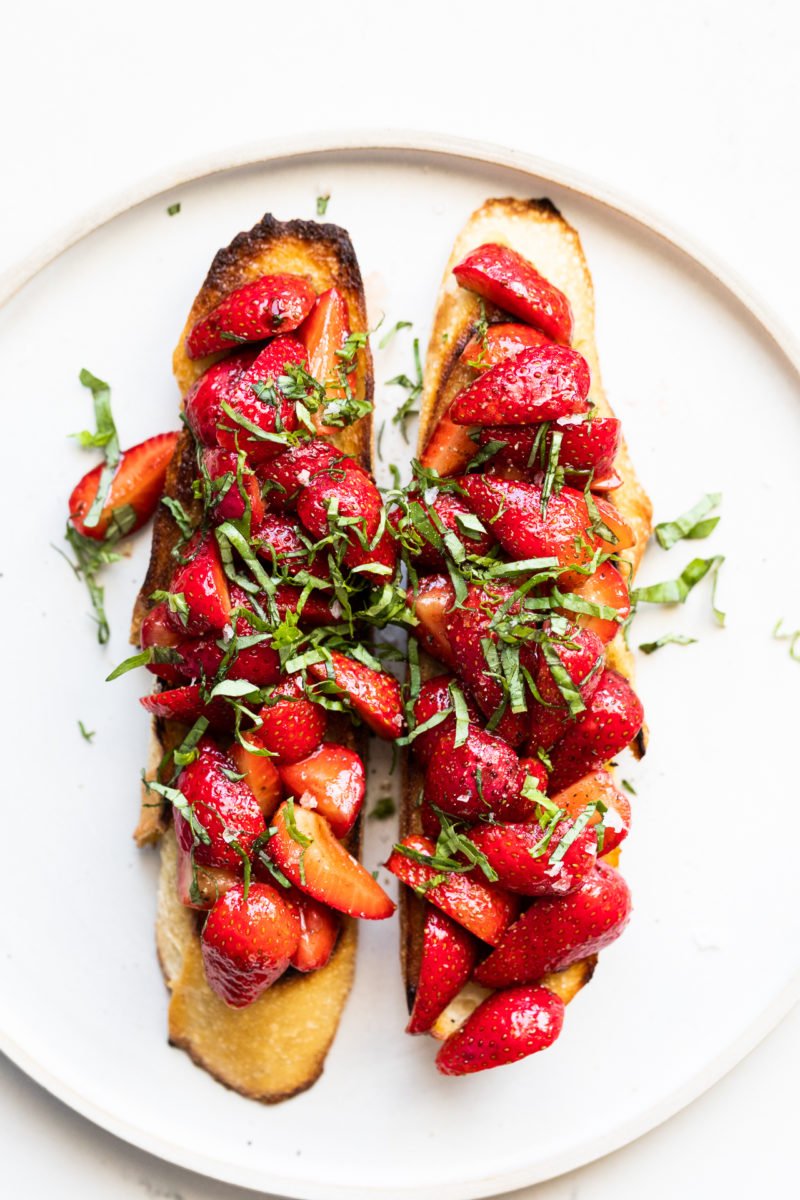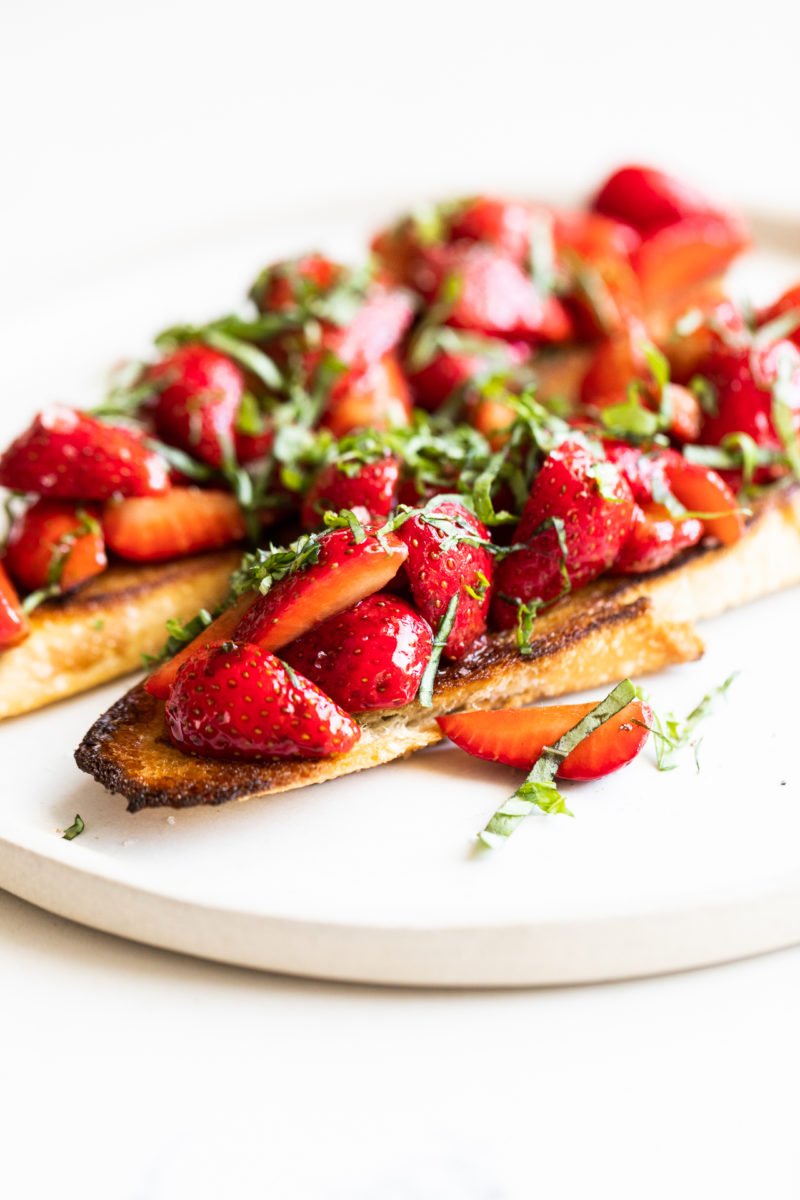 HERB MARINATED STRAWBERRIES AND FETA
You may think feta and strawberries seem like a weird combination but this marinated jar of strawberries with feta is a perfect topping on any salad. I love this on any greens and rice to make a salad like my strawberry and herbed rice salad!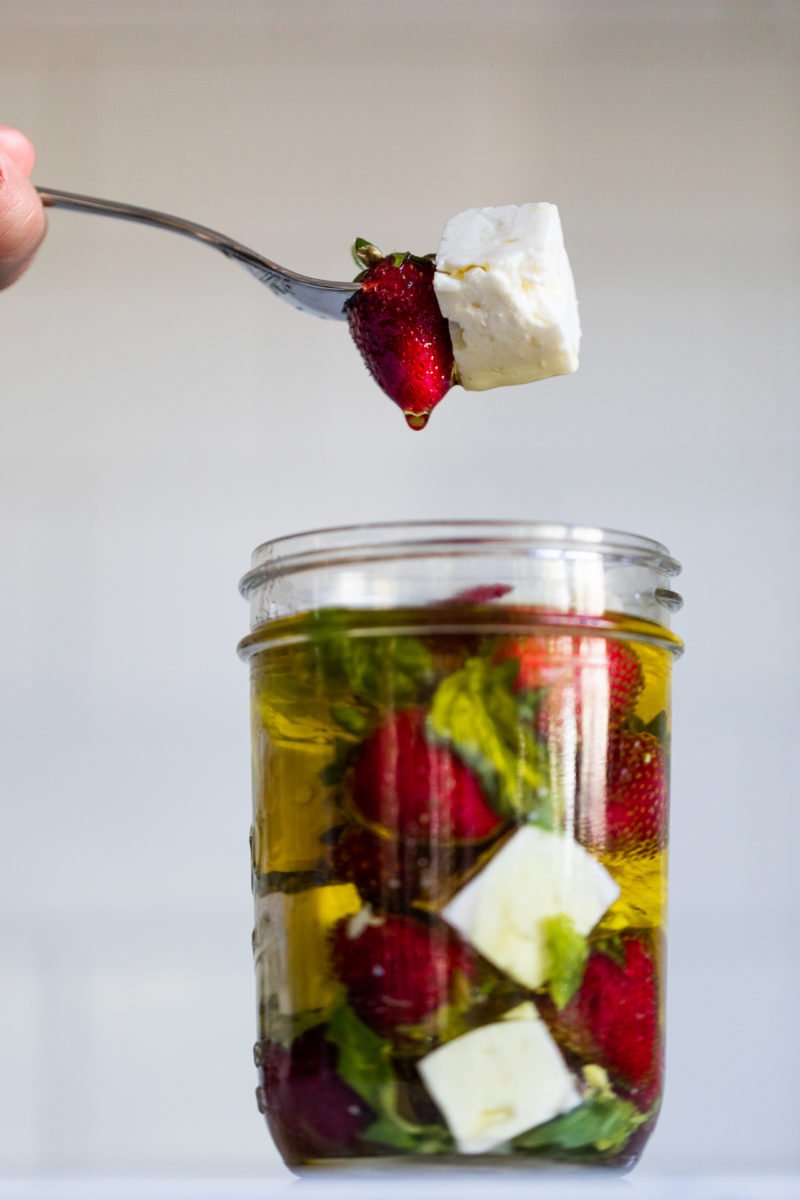 STRAWBERRY AND CHAMPAGNE GRANITA
Is there a more classic combination than strawberries and champagne? Well, I've combined them into an icy delicious adult treat here. This only requires 3 ingredients and some time, but you will love this on a hot summer day!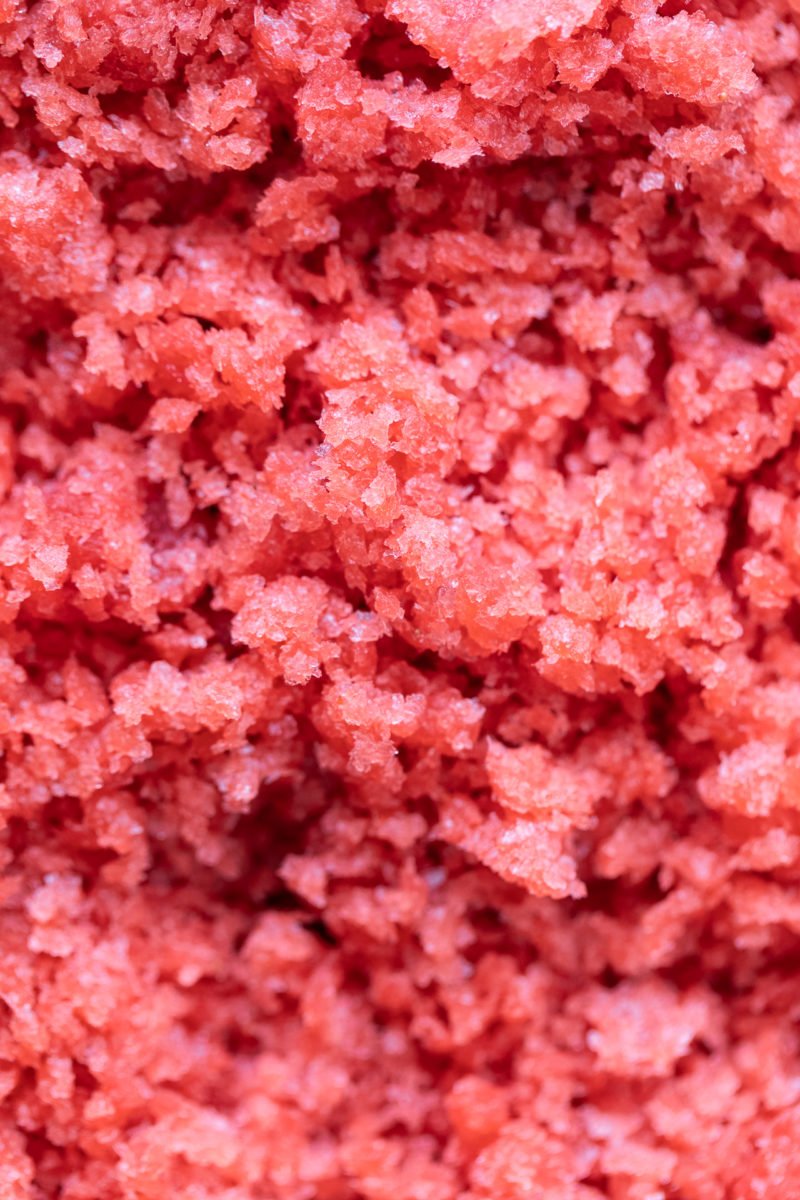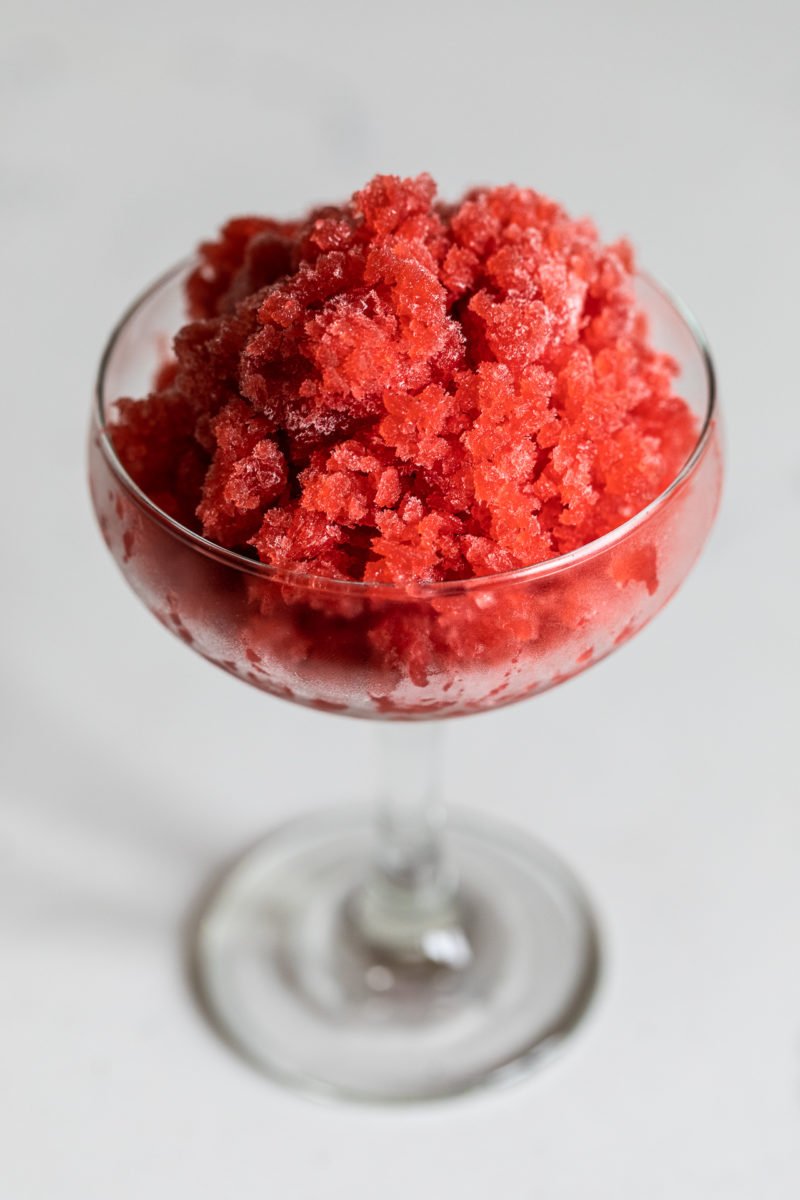 (images by HonestlyYUM. This post is sponsored by California Strawberries. All opinions are our own. Thank you for supporting the brands that keep HonestlyYUM going!)
INGREDIENTS
INSTRUCTIONS
MATCHA COVERED STRAWBERRIES
Melt 3/4 of the white chocolate chips in a bowl over a double broiler or in the microwave. If using the microwave, melt for 30 second intervals, mixing the chocolate in between, until chips are fully melted.

Add the matcha and whisk until the matcha is incorporated. Dip each strawberry in the matcha chocolate and place on a baking sheet lined with parchment or a Silpat. Place in the refrigerator for about 15 minutes until the chocolate has hardened.

Melt the other 1/4 of chocolate chips in a small bowl using the same method as above. Dip the bottom tip of the matcha-covered strawberries in the white chocolate and place back on the baking sheet. Place in the refrigerator until the chocolate shell is hardened.
STRAWBERRY BRUSCHETTA
Slice the baguette in 1/4 inch slices at an angle. Brush each side with extra virgin olive oil and sprinkle with salt and pepper. Heat a pan over medium high heat and toast each side of the bread until golden brown.

Remove the stems from the strawberries and quarter strawberries. Mix 1/4 cup of the extra virgin olive oil and balsamic vinegar and salt and pepper to taste. Toss the strawberries in the dressing.

Spoon the strawberries over the toasted bread. Thinly slice the basil leaves and scatter on top. Season the tops of the toasts with salt and pepper to taste.
HERB MARINATED STRAWBERRIES AND FETA
Cut the feta into cubes and quarter the strawberries. Place in a jar and add the basil leaves. Cover the feta and strawberries with olive oil until covered. Store in the refrigerator and top on salad.
STRAWBERRY AND CHAMPAGNE GRANITA
Remove stems from the strawberries. Place in a blender. Add a small splash of water if you need liquid to get the blender going. Blend until the strawberries turn into a smooth puree. Pour the bottle of champagne into the blender and pulse 2-3 times so that the champagne is incorporated.

Transfer into baking dish and place in the freezer. After 1 hour, use a fork to scrape the frozen edges towards the center in a raking motion. Repeat 2-3 times with 1 hour intervals until the entire dish is frozen with the granita texture. Serve in champagne glasses.