I stumbled upon the idea of mulled wine syrup by mere happenstance. An extra half cup of sugar, which was serendipitously dumped into a pot of simmering mulled wine, gave my favorite holiday drink a thick, syrupy consistency . . . and then the lightbulb went off. Let's pour this doozy over ice cream!! So here it is, a spiced wine syrup that is so luxuriously delicious and easy to make, it's officially become a tradition in my household.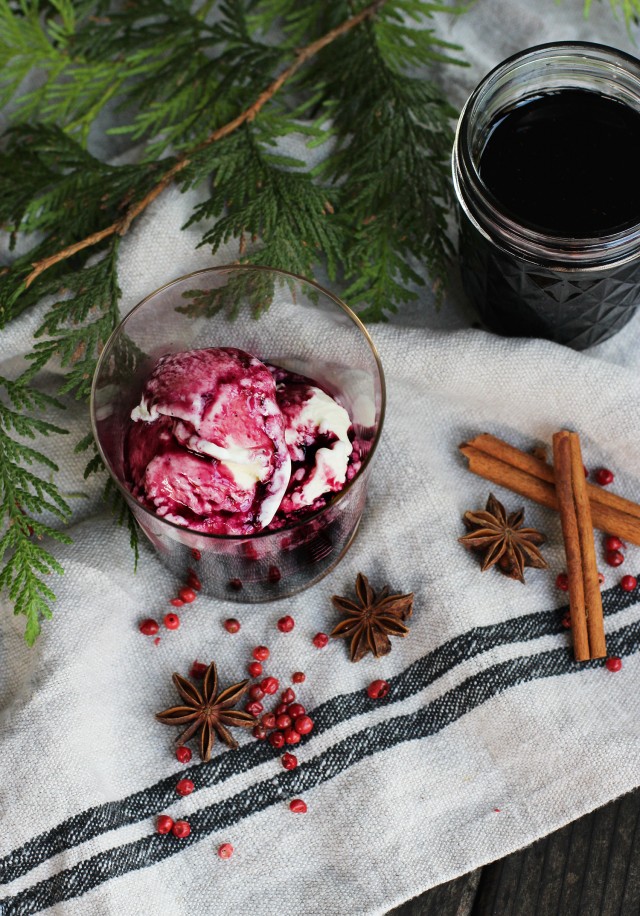 Mulling spices and ingredients vary drastically – it really just depends on your personal taste. I love orange peel, cinnamon sticks, star anise, nutmeg, cardamom, vanilla bean and pink peppercorns in my mulled wine. It helps to toast the spices in a pan, over medium heat, for a couple of minutes to help release all oils and flavor.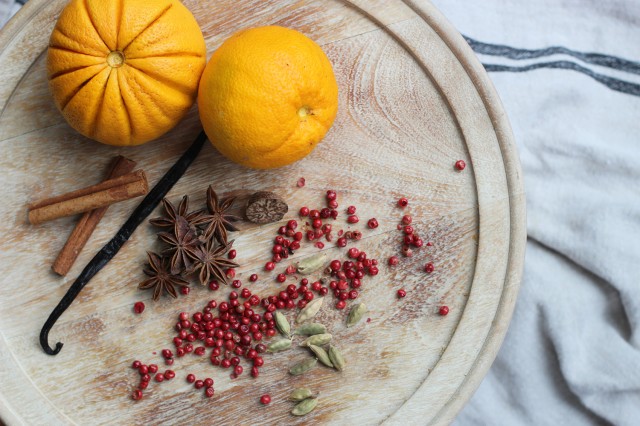 Combine a bottle of red wine (I used an inexpensive Cabernet Sauvignon here), the spices, split vanilla bean, orange peel, and sugar into a medium sized pot. Bring it to a boil and then simmer it for about 20 minutes until it reduces to about half the volume. Let it cool overnight and strain it with a fine mesh strainer into a jar. It can keep in the refrigerator for about a week.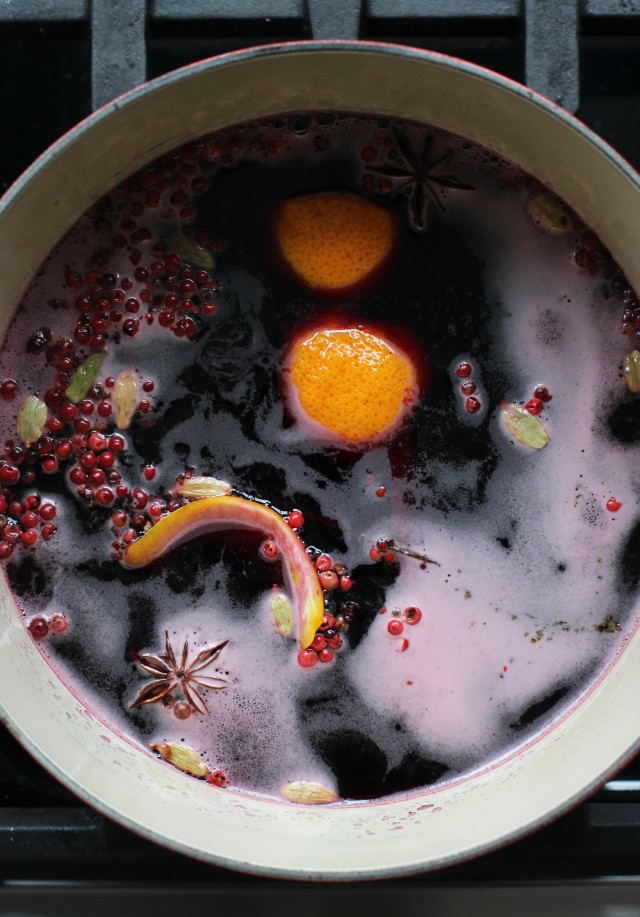 When you're ready to devour it, simply pour it over vanilla ice cream!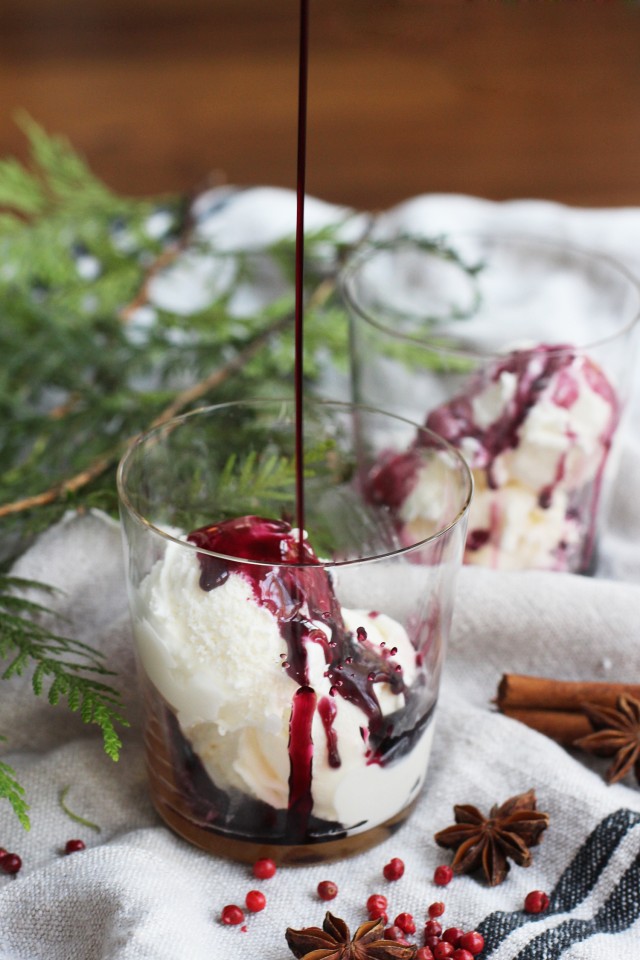 I imagine it would be just as delicious over a stack of pancakes or swirled into plain yogurt. Yum. Or even added into a cocktail. Todd??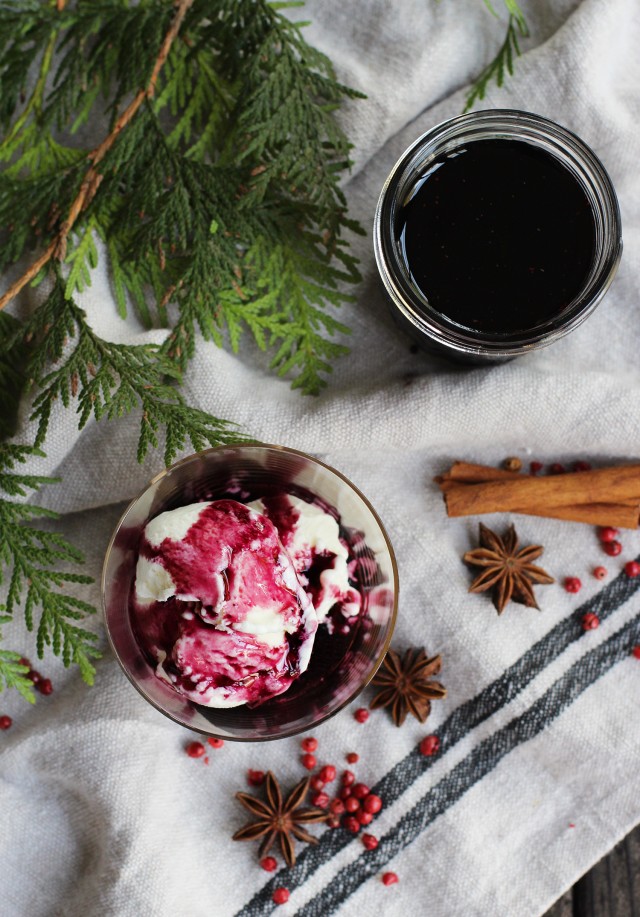 (images by HonestlyYUM)
MULLED WINE SYRUP

Ingredients:

1 bottle of red wine
1 cup of sugar
3-4 pieces of orange peel
1 vanilla bean, split but not scraped
1/2 a whole nutmeg
2 cinnamon sticks
5 cardamom pods
2 star anise
3 tbs pink peppercorns

Directions:

toast the nutmeg, cinnamon sticks, cardamom, star anise and peppercorns on a pan, over medium heat, for about 2-3 minutes until fragrant.
combine spices, sugar, vanilla bean and orange peel with a bottle of red wine in a medium pot
bring to boil and lower heat
reduce for 30-40 minutes until consistency is thick
chill overnight
strain into an airtight container until ready to use