I'll be honest, 2016 has been a rough year. It's been a busy and stressful year with a lot of personal and professional ups and downs (hey, they can't all be winning years, right?) But, I'm ready to end this year on as high a note as possible and am so looking forward to spending time with my family for Christmas. Our family really gets into the Christmas spirit. For us, it's all about the trees, lights, gifts, baking and holiday magic, but more than anything, it's about spending a lot of time together– for better or worse. We usually plan a large dinner on Christmas Eve (also my sister's birthday!) and follow it up with an early morning watching kids tearing through gifts and nursing hangovers with single-drip coffee my dad patiently makes for everyone cup by cup. We eventually all get around to making a delicious and decadent breakfast, typically with lots of eggs and popovers. This year, however, I'm planning on making a biscuit spread featuring these incredible buttermilk biscuits inspired by a stellar recipe from Bon Appetite. This genius recipe layers pieces of the dough so that when it bakes it you get those beautiful distinct layers. For this biscuit spread, I've provided savory and sweet options. Jam, butter and honey are a must for biscuits, but what I prefer is making a breakfast sandwich out of these biscuits. Spread a layer of Boursin Garlic and Fine Herbs cheese, top with a runny sunny side up egg and top with crispy bacon. Or top the biscuit with Boursin cheese and a couple thin slices of smoked lox. Ohhh, it's soooo good!!! Decorate your spread with plenty of winter fruit like satsuma oranges, pomegranates, persimmons, apples and pears and you've got yourself a Christmas morning-worthy brunch!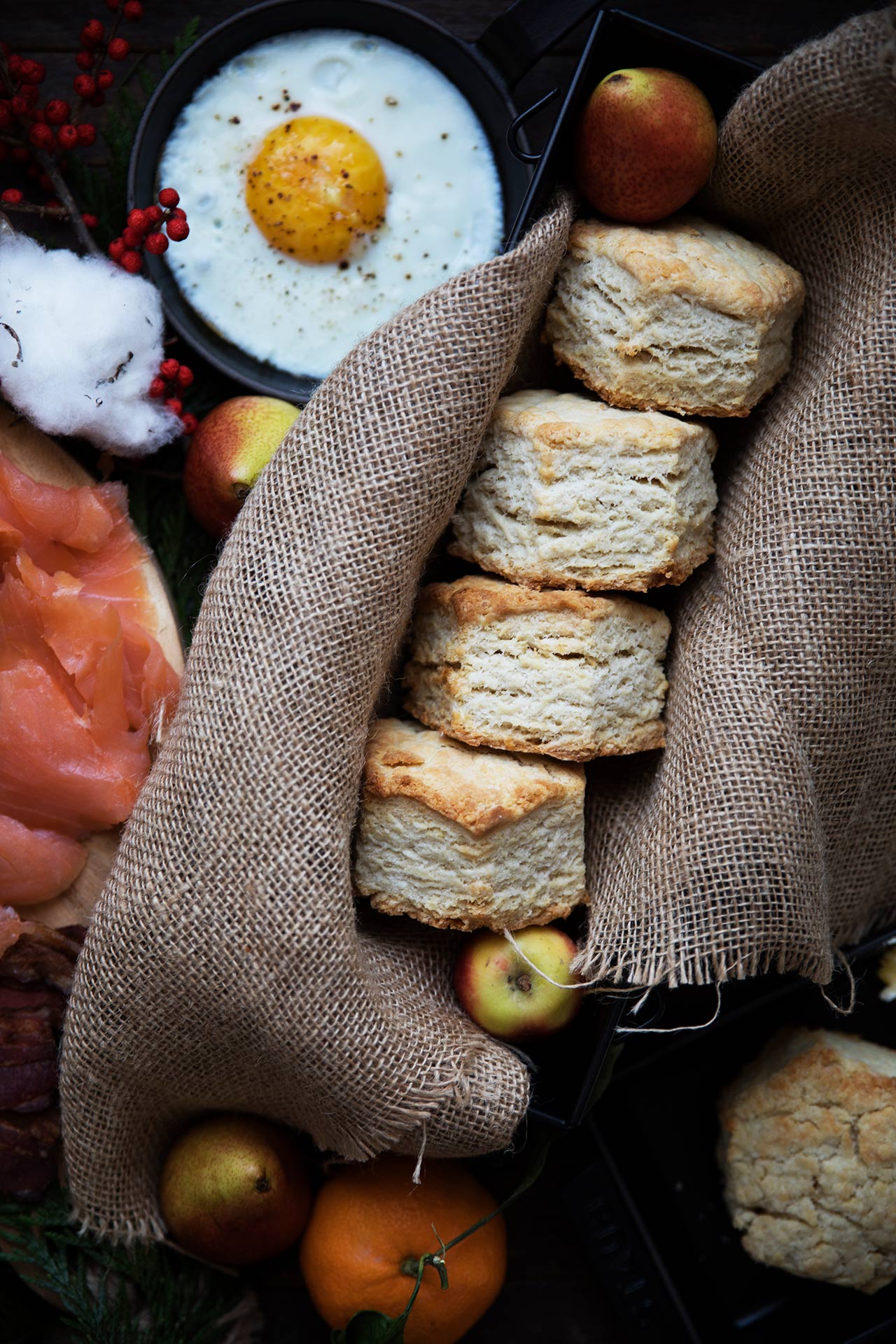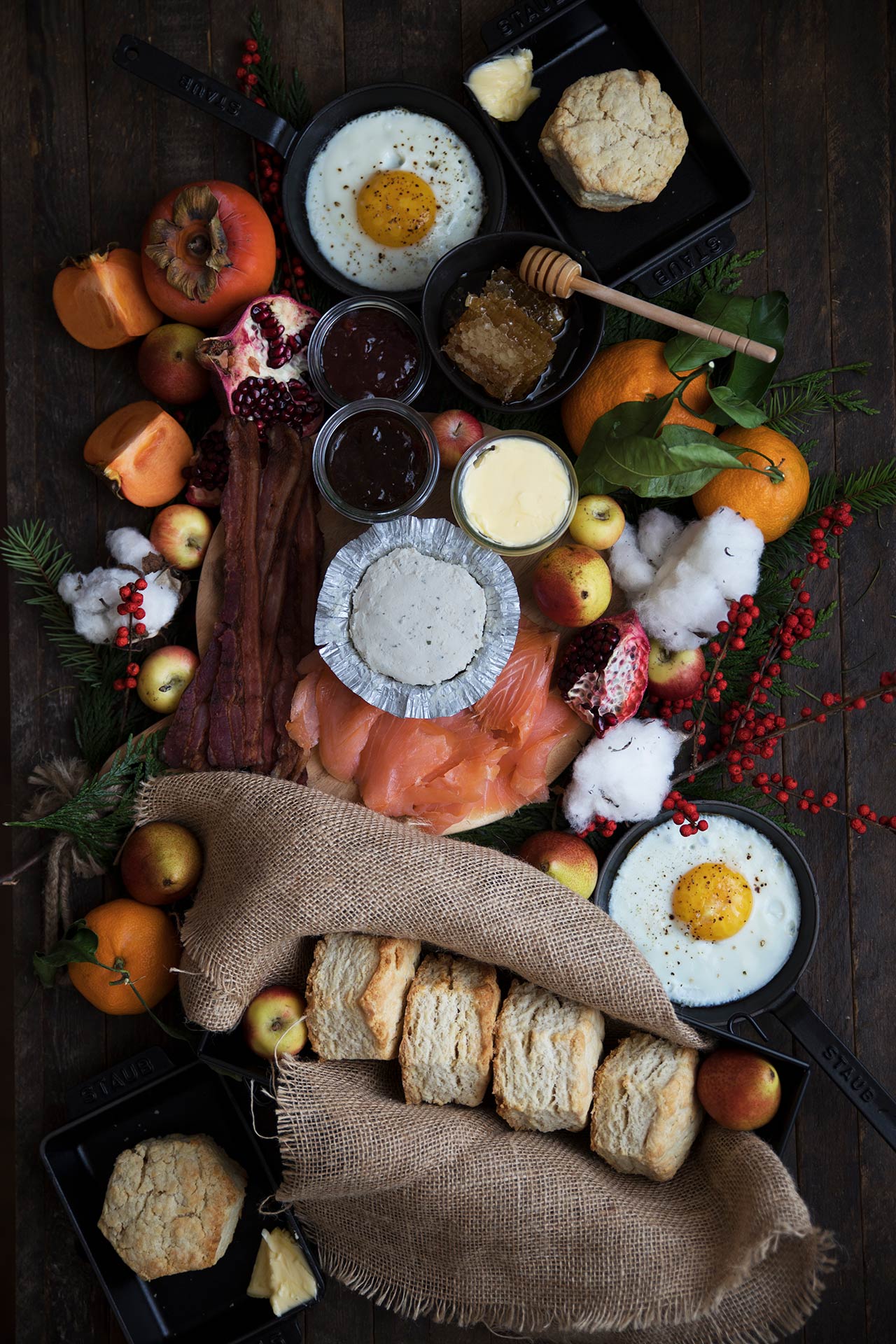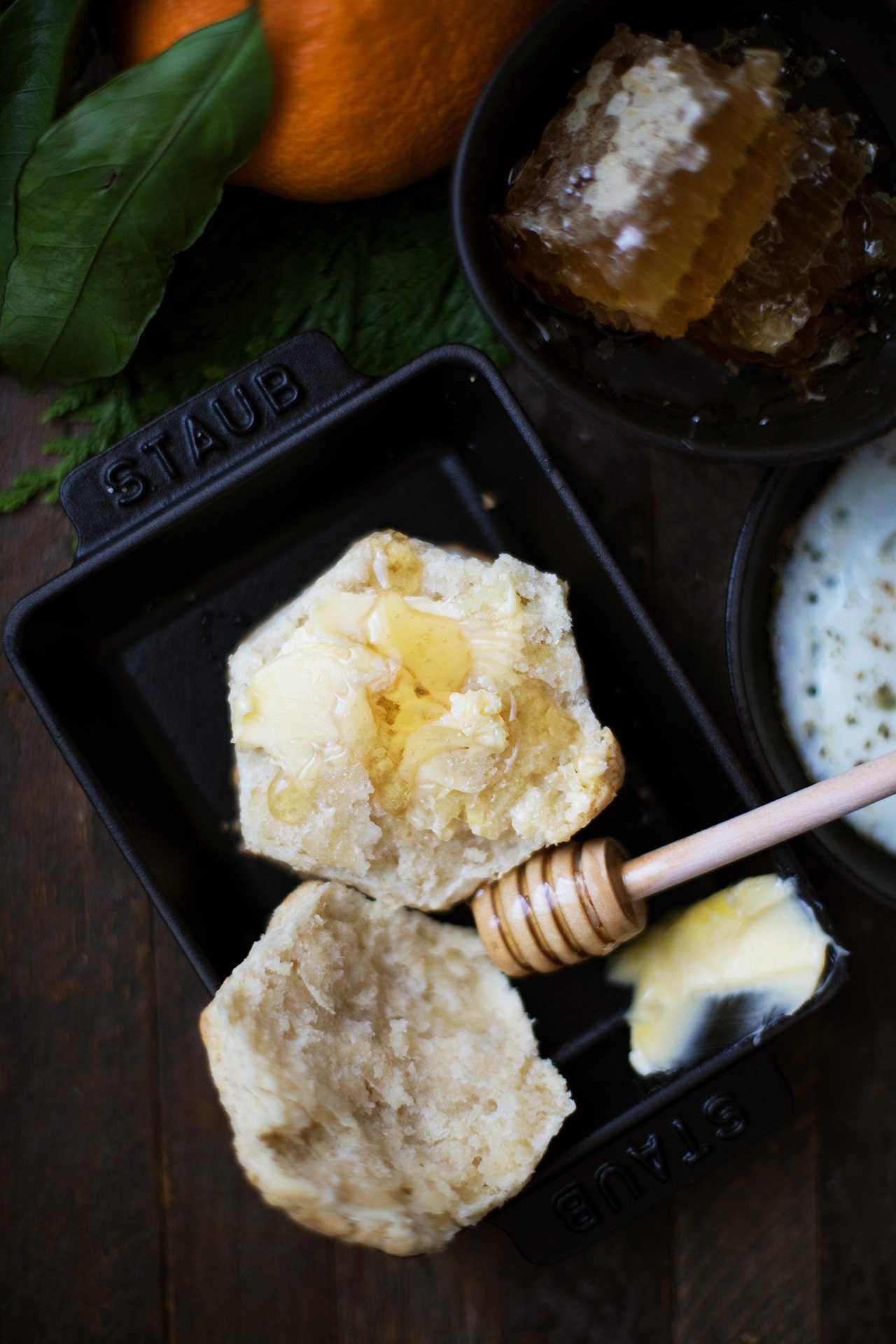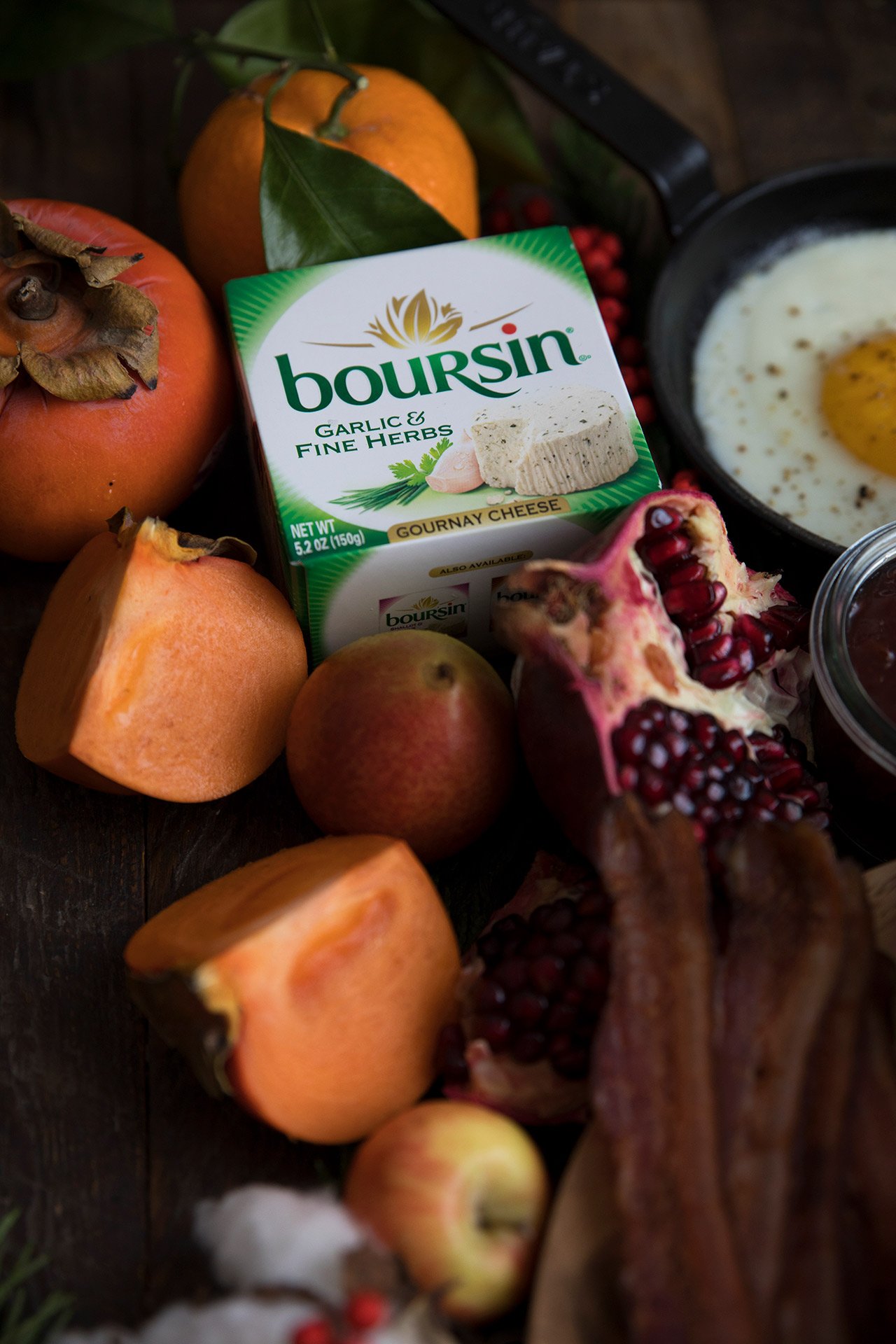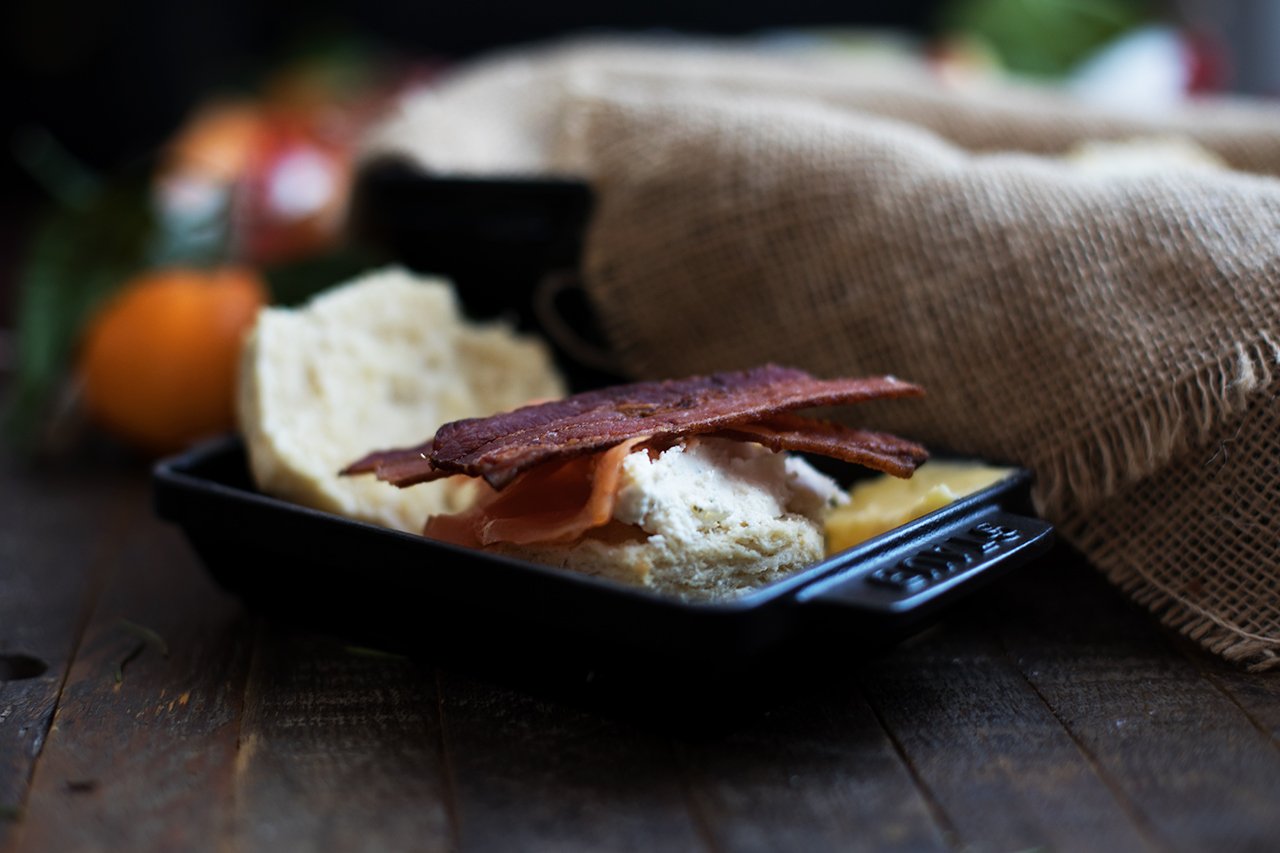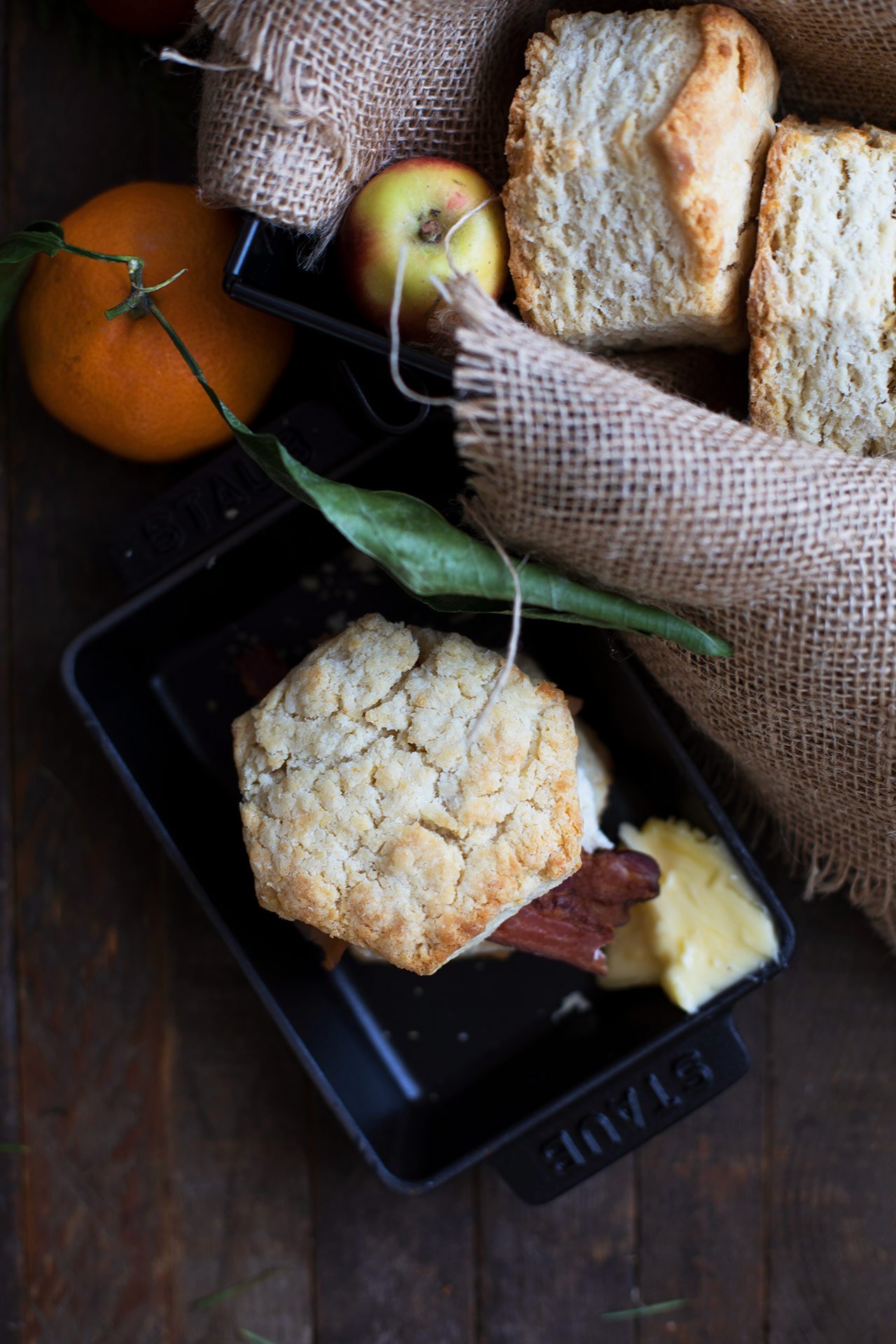 BUTTERMILK BISCUITS

Ingredients:

3 1/2 cups of all purpose flour, plus more for dusting surface
1 1/2 teaspoons of baking powder
1/4 teaspoon of baking soda
1 cup (2 sticks) of cold butter, cut into 1/2 inch cubes, plus 2 tablespoons of melted butter for brushing tops of biscuits)
2 teaspoons of kosher salt
1 cup and 2 tablespoons of cold buttermilk

Directions:

Preheat the oven to 425 degrees.
Add the flour, baking powder, baking soda and kosher salt into a food processor and pulse until combined. Add the cold butter cubes and pulse until the butter is the size of large pebbles but incorporated throughout the flour. Don't over-process the butter/flour mixture. You want large pieces of butter.
Slowly add the buttermilk a little at a time pulsing very briefly as you go. The dough will look pretty dry still but there should still be visible pieces of butter.
Dump the dough onto a floured surface and press the dough together so it holds its shape, although avoid overworking the dough with your hands. You want to keep the pebbles of butter cold and overworking the dough with your hands warms the butter and melts it.
Roll out into a 1 inch thick square. Using a bench scraper cut the square into 4 smaller squares and place them on top of each other. Roll out again into a 1 inch thick square. Using your biscuit cutter cut your biscuits out. Alternatively, you can cut the entire square into smaller square or rectangular biscuits.
Place the biscuits on a parchment lined baking sheet spaced evenly apart and place in the freezer for 10 minutes.
Brush the tops of the biscuits with the melted butter.
Place in the oven and turn the heat down to 400 degrees and bake for 20-25 minutes until golden brown.
(images by HonestlyYUM. Recipe adapted slightly from here. This post is sponsored by Boursin. Thank you for supporting the brands that keep HonestlyYUM up and running! Opinions are our our own.)