Popovers are my go-to breakfast food. Crunchy on the outside and eggy and airy on the inside– they're delicious smothered in butter and jam. The key to the perfect popovers is keeping the oven closed the entire time (no peeking!) and using room temperature ingredients. Popover pans are pretty cheap and I use mine all the time. This recipe makes a batch of 6-8 popovers– the amount of one popover pan. Double the recipe if you plan to make two batches. Enjoy with some eggs or top serve with butter and fruit!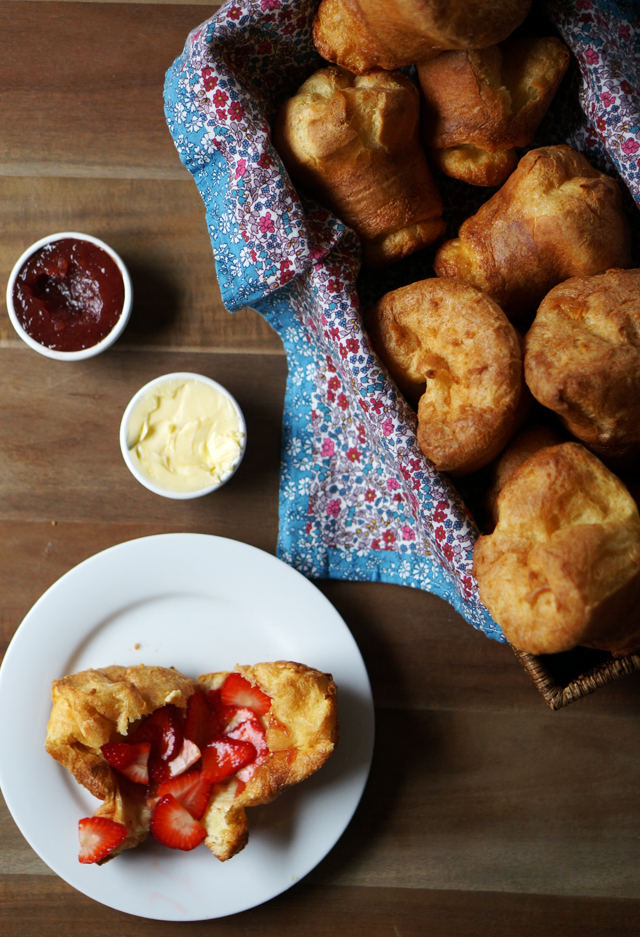 Ingredients:

1 cup of flour
1 cup of whole milk, room temperature
2 eggs, room temperature
1 tablespoon of unsalted butter, melted
1/8 tablespoon of salt
vegetable oil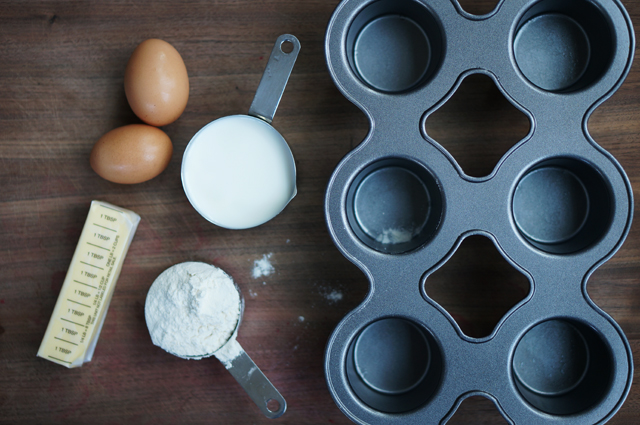 Preheat the oven to 450 degrees. In a medium sized bowl, whisk eggs and milk together. Add flour and whisk until incorporated and few lumps. Add melted butter and whisk until no more lumps.
Add 1/4 tablespoon of vegetable oil each in the bottom of the pan. Place your popover pan into the oven for five minutes until the oil gets hot and smokey.
Remove the hot pan and evenly pour the batter until about 3/4th of the way up the pans. Pour quickly and place the pan back in the oven. Bake for 20 minutes and then turn down the heat to 350 degrees and bake for another 15 minutes. Don't open the oven!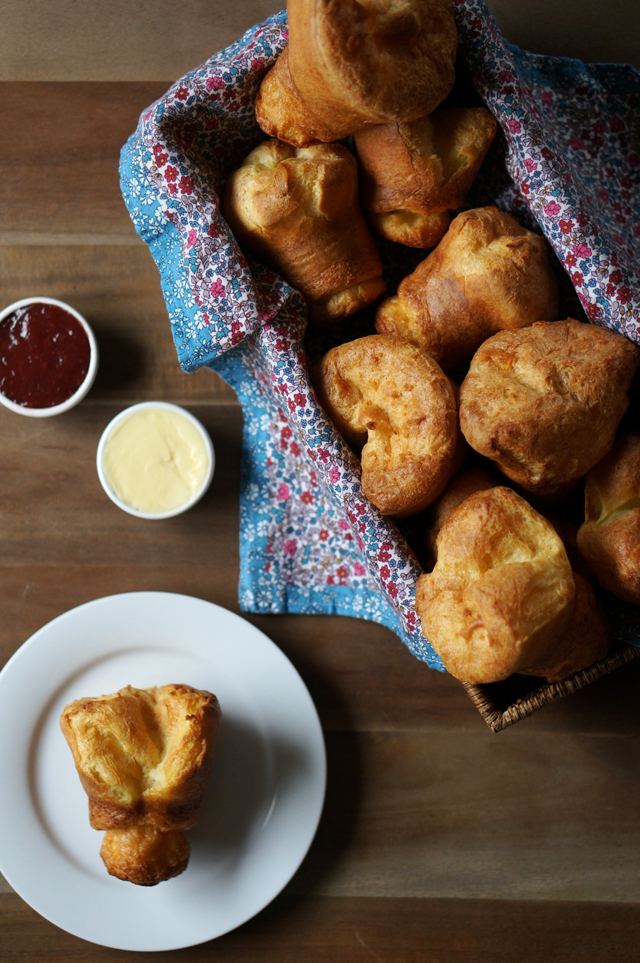 Remove the popovers from the pot pan and serve immediately.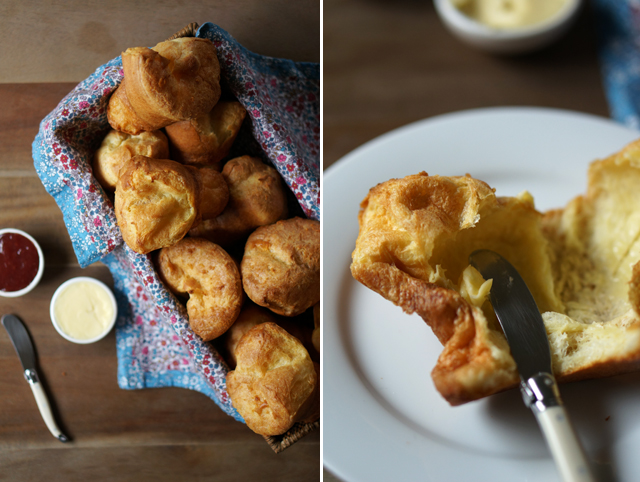 Serve with butter, jam and strawberries, or any ham you like.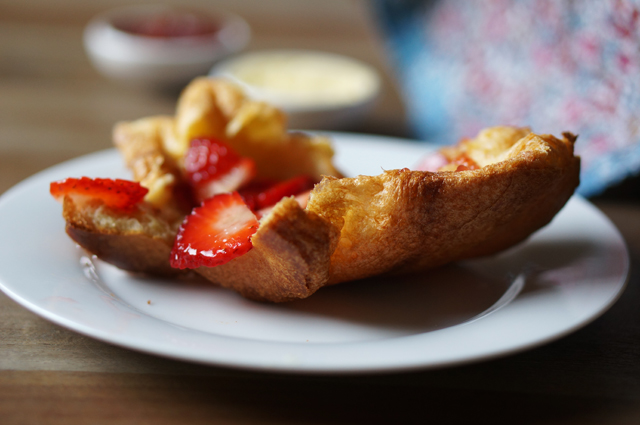 Open the piping hot and spread the inside with softened butter and jam and top with strawberries.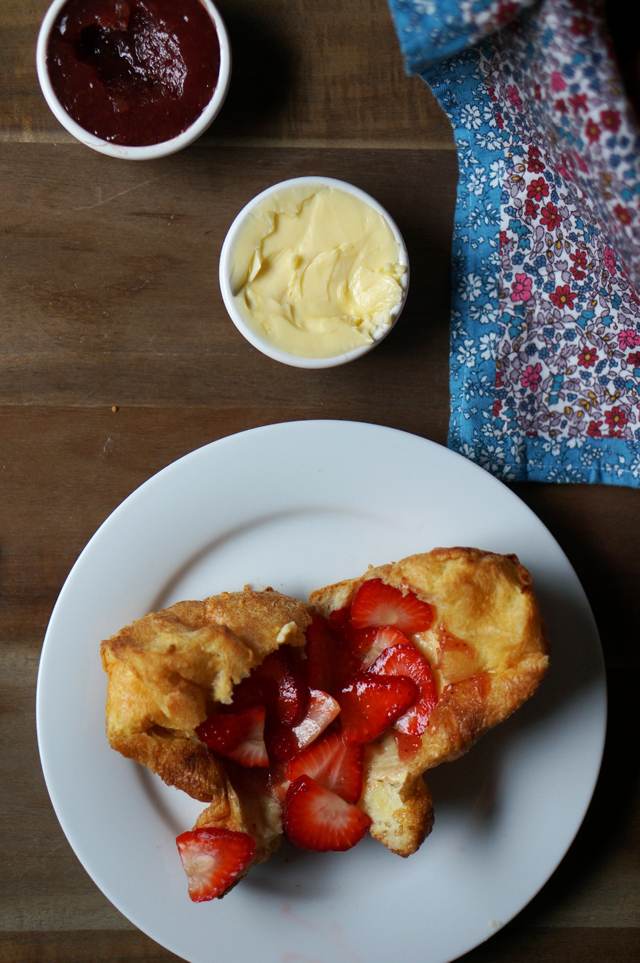 (images by HonestlyYUM)