The HonestlyYUM team is starting to develop a problem. First was Todd's boozy milkshake. Now, it's boozy ice cream sandwiches. We're a little obsessed with alcoholic desserts. As a novice beer ice cream maker, I found an amazing recipe that I've used here. There's no cheating on this recipe too– the ice cream is not just flavored with a stout beer, but also has alcohol in it! Make sure to pick a beer that is not hoppy. I used AleSmith Brewing Company's Speedway Stout, which has a perfect caramel roasted malt flavor. And as if that wasn't rich enough, I sandwiched the stout ice cream with my favorite chocolate chip cookie recipe, ever. By browning the butter before adding it to the batter, the chocolate chip cookies have a wonderful toffee flavor to them and are slighty crispy on the outside and slightly chewy on the inside. The whole thing comes together by rolling the sides of the sandwiches in crushed salted peanuts and pretzels. I know, talk about gilding the lily, but what the hell!
href="http://www.bloglovin.com/blog/4902455/?claim=x5kfvmw56he">Follow my blog with Bloglovin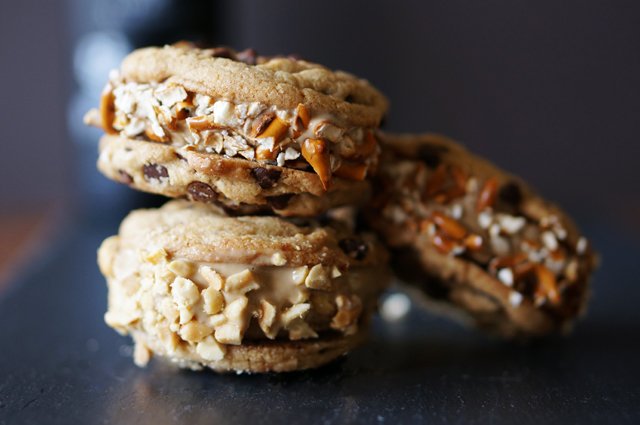 Ice Cream Ingredients:

12 ounces of beer

1 teaspoon of vanilla extract
3/4 cup of sugar
1/2 teaspoon of kosher salt
6 large egg yolks
2 cups of heavy cream

Chocolate Chip Cookies Ingredients:

1 3/4 cups of all-purpose flour

1/2 teaspoon baking soda
14 tablespoons of unsalted butter
1/2 cup of granulated sugar
3/4 cup of packed dark brown sugar
1 teaspoon salt
2 teaspoons vanilla extract
1 large egg
1 large egg yolk
1 1/4 cups semisweet chocolate chips
Crushed roasted salted peanuts
Crushed pretzels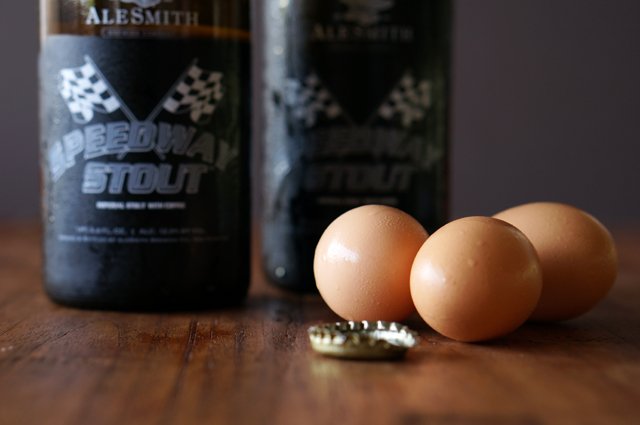 To make the ice cream . . .
Simmer 8 ounces in a skillet until it has reduced by half, about 10 minutes. Add the reduced beer to the rest of the beer in a bowl, add vanilla and combine. Place fine-mesh strainer over a shallow medium bowl and prepare an ice bath in a larger bowl.
Whisk together sugar, salt and egg yolks in a large saucepan until smooth. Whisk in cream and heat the mixture, stirring constantly over medium-high heat. Cook, stirring consistently, until the mixture thickens, about 10 minutes (run your finger through the custard coating the back of a wooden spoon and the trail should remain visible, or until it reaches 180 degrees).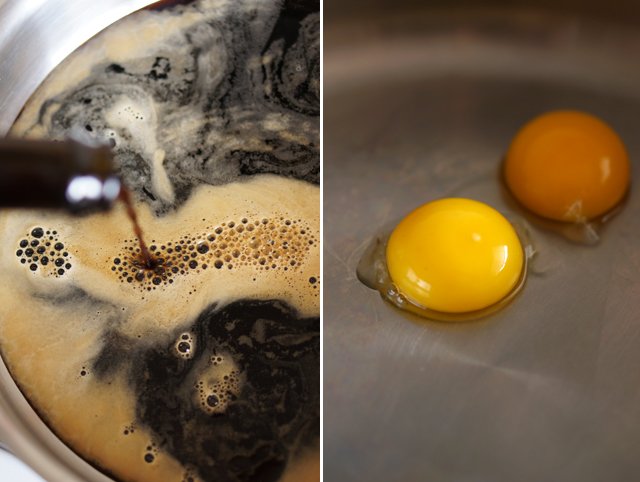 Pour mixture through the strainer into the small bowl set over the ice bath and stir until the mixture cools. Cover with plastic wrap and refrigerate for at least 8 hours. Churn ice cream according to manufacturer's instructions. Freeze again until firm, at least 8 and preferable 24 hours.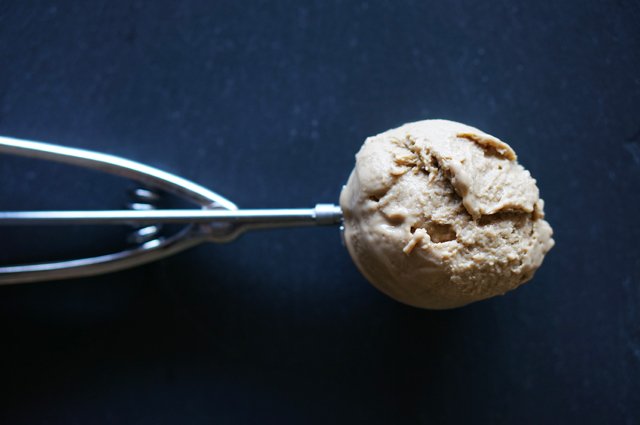 To make the cookies . . .
Preheat oven to 375 with oven rack adjusted to middle position. Line 2 large baking sheets with parchment paper. Whisk flour and baking soda together in a medium bowl and set aside.
Heat 10 tablespoons of butter in a 10 inch skillet over medium high heat until melted and continue cooking, swirling the pan constantly until butter is dark golden brown, about 1 1/2 minutes. Transfer melted butter to heatproof bowl and add remaining butter until it is all melted.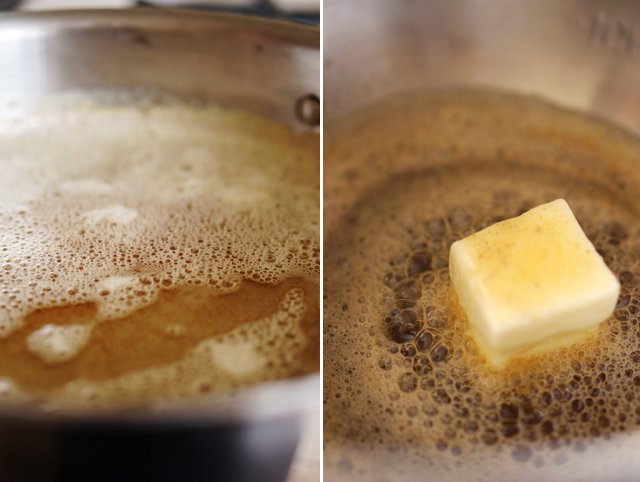 Add both sugars, salt and vanilla to bowl with butter and whisk until incorporated. Add egg and yolk and whisk until mixture is smooth with no sugar lumps, about 30 seconds. Let mixture stand 3 minutes, then whisk for 30 seconds. Repeat process 2 more times until mixture is thick and shiny.
Using spatula, stir in flour mixture until just combined. Stir in chocolate chips just until there is no dry flour.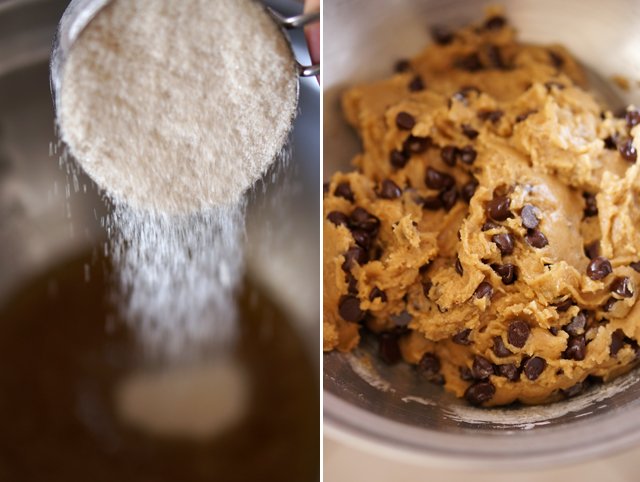 Scoop each cookie with a spoon about 3 tablespoons and arrange on a baking sheet. Bake 1 tray at a time until cookies are golden brown, 10-14 minutes, rotating halfway through baking. Transfer to wire rack to cool.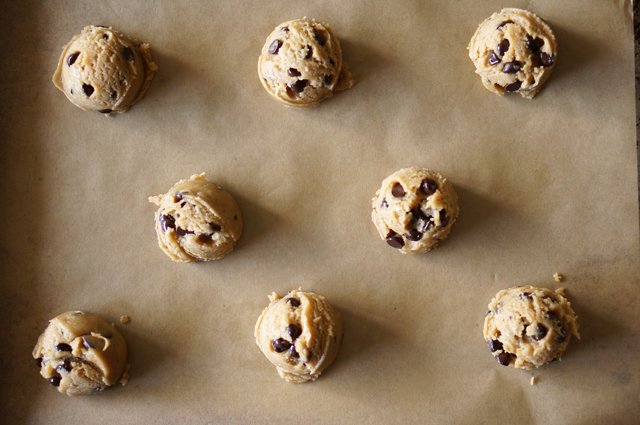 To assemble the sandwiches . . . 
Ensure your cookies are completely cooled, I suggest making the cookies the day before.Place one large scoop of ice cream on a cookie and place another cookie on top.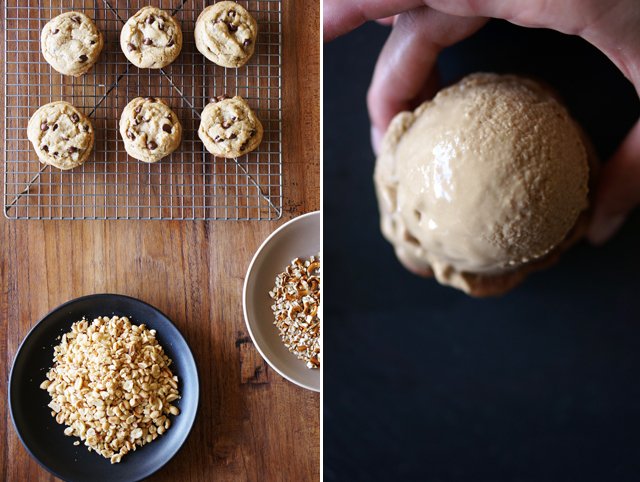 The beer ice cream is pretty soft, so place the assembled sandwiches in the freezer for at least 30 minutes. Meanwhile, place peanuts and pretzels in separate ziplock bags and using a rolling pin crush the peanuts and pretzels. When you are ready to serve the sandwiches, roll them in crushed pretzels or crushed salted peanuts.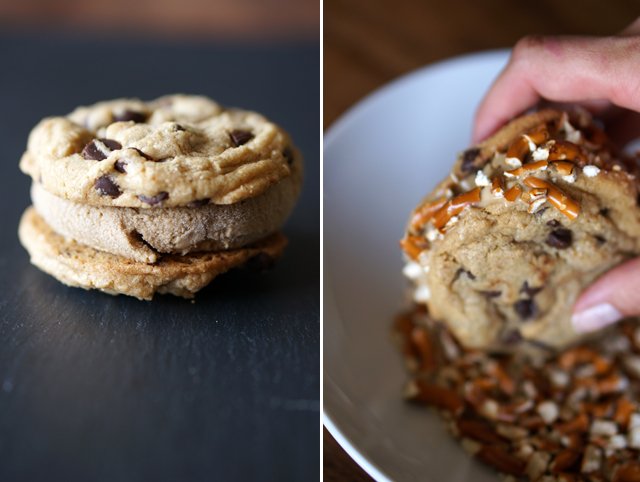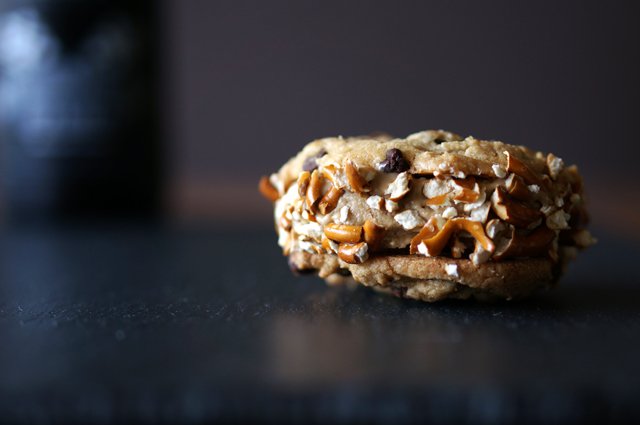 Enjoy these boozy ice cream sandwiches!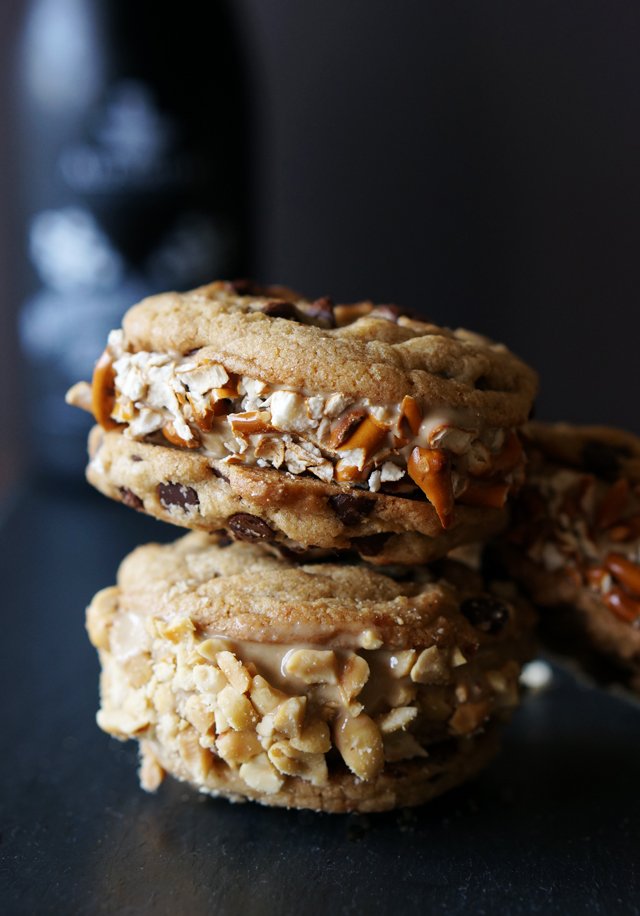 (images by HonestlyYUM)