Inspired by the most recent West Coast heatwave, I was craving a drink that would both standup to the scorching summer heat, and make for a tasty late night treat. Plus, is there anything that goes better with hamburgers than a good old shake? And you know me . . . I had to mess around and make it a boozy shake. When I was thinking ice cream flavors, I immediately thought Bi-Rite Creamery. They make an unreal snickerdoodle ice cream called Ricanelas, from which this recipe is adapted. I like a little texture in my shakes, so I also made some toffee bits for crunch. Oh, and did I mention the bourbon?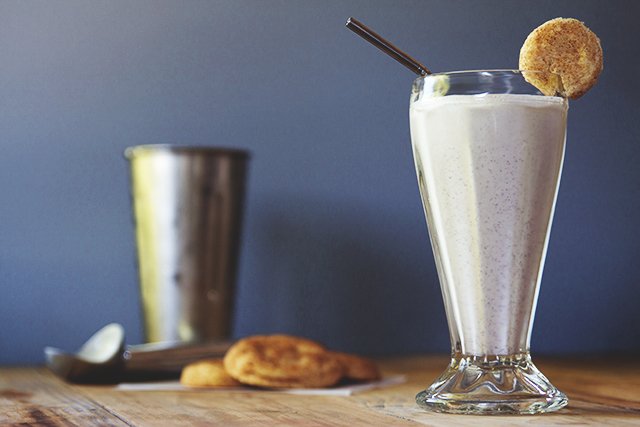 Ingredients:

4 large scoops of cinnamon ice cream

1-2 oz bourbon
toffee bits for garnish (optional)

Cinnamon Ice Cream:

5 large egg yolks

1/2 cup sugar
2 cups heavy cream
1 cup low-fat milk
1 teaspoon ground cinnamon
1/4 teaspoon kosher salt
1 teaspoon vanilla extract

Toffee Bits:

4 tablespoons butter, cut into pieces

1/2 cup granulated sugar
2 tablespoons brown sugar
1 tablespoon water
1/8 teaspoon baking soda
1/2 teaspoon vanilla extract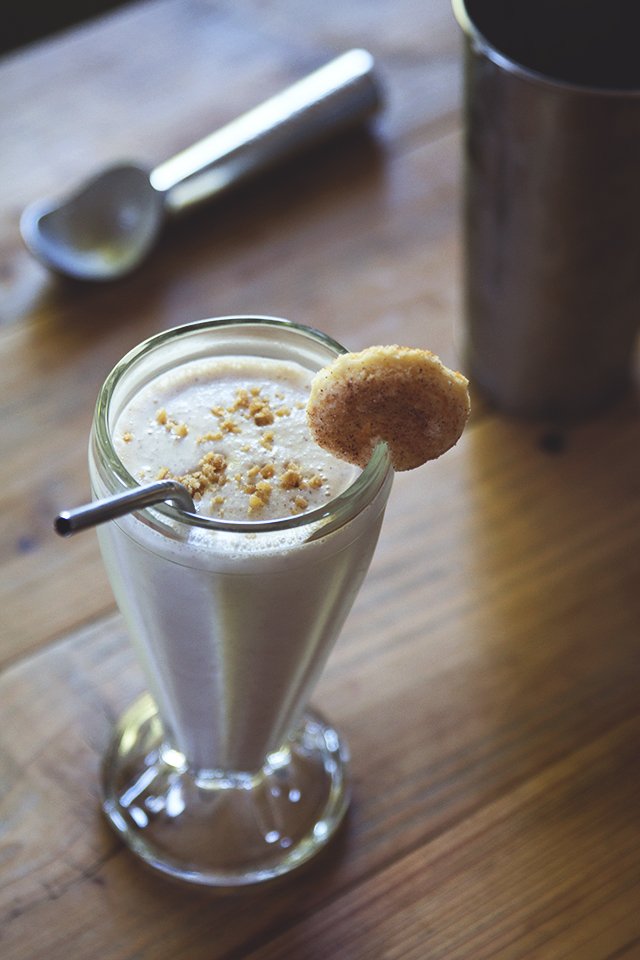 To make the ice cream you'll need an ice cream machine of some sort (I used the attachment for my KitchenAid) and at least two hours for the base to chill. I made mine in the evening and let it chill overnight. Start by making the base. In a heatproof bowl, whisk in half of the sugar with the yolks and set aside.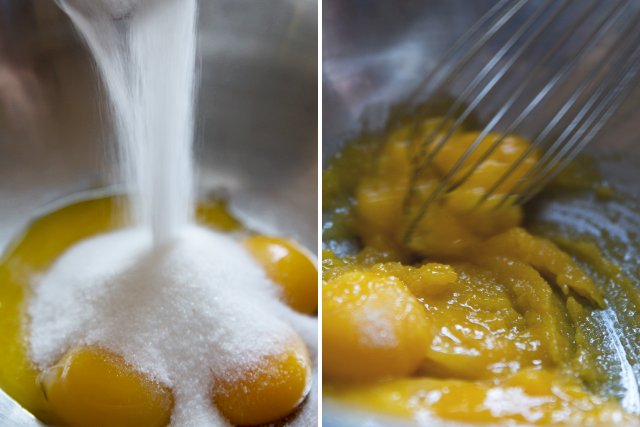 In a saucepan, whisk together the cream, milk, cinnamon, salt, and the remaining sugar over medium-high heat. When the mixture just approaches a simmer, reduce the heat to medium. Next, scoop out 1/2 cup of the hot cream mixture and, while whisking, add the cream to the bowl with the egg and sugar mixture. Repeat this step once more with another 1/2 cup of hot cream mixture. Now that the egg mixture has been tempered, slowly pour the egg and cream mixture into back into the saucepan, stirring constantly.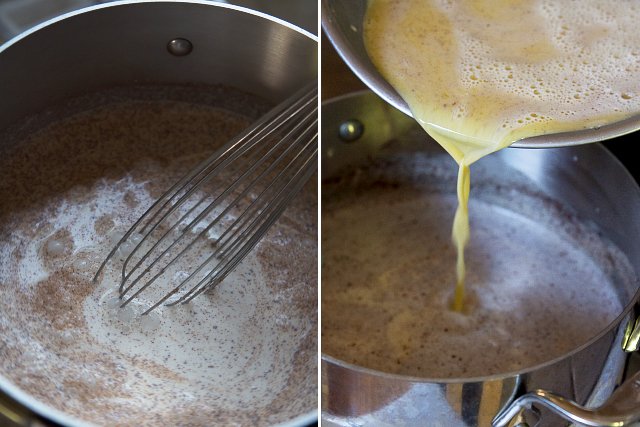 Cook the mixture carefully over medium heat, stirring constantly, until it is thickened and coats the back of a spatula. Once thickened, strain the mixture through a fine-mesh strainer into a new container, then place it into an ice-water bath, stirring until it's cool. Once cool, cover the container with plastic wrap and refrigerate for at least two hours (or overnight).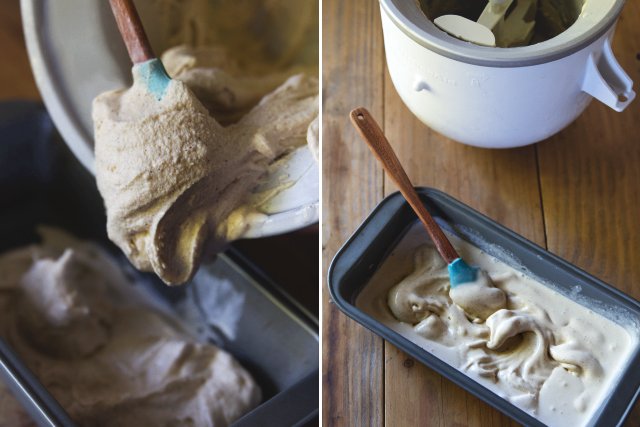 Once the ice cream base has cooled for at least two hours, whisk in the vanilla. Then, it's time to freeze the base in your ice cream machine. Follow your machine's instructions to do so. While the ice cream is churning, chill the container you'll use to store the ice cream in the freezer. I used a metal bread pan. Once churned, transfer the ice cream from the ice cream maker into the serving container. I popped the container back into the freezer to hold firm while I prepped for the shake.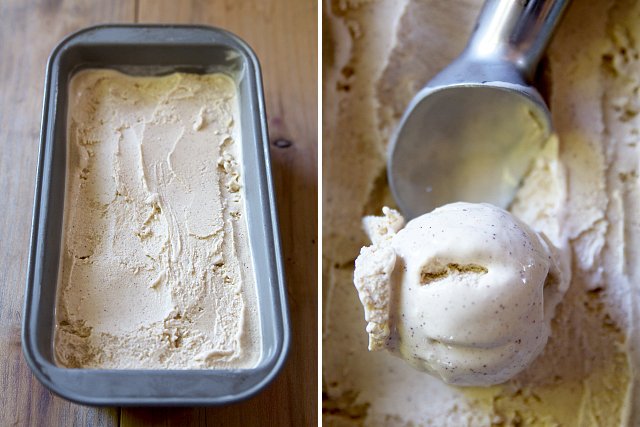 When you're ready to make your shake, place four large scoops of ice cream into your shake tin or blender.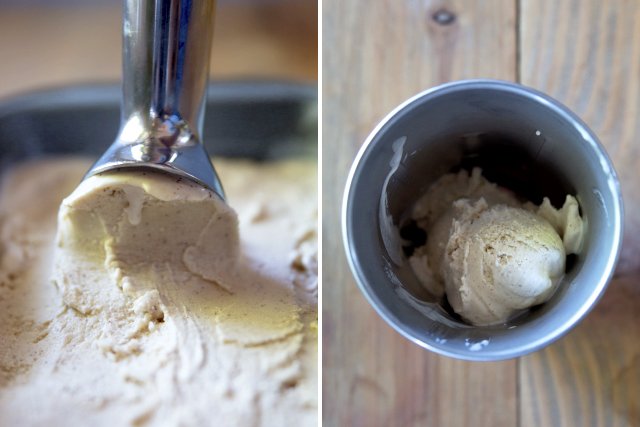 Add bourbon . . . anywhere from 1 oz for a mild hint of whiskey, up to 2 oz for a those craving a boozier dessert. Or, for a non-alcoholic version, substitute bourbon for 2 oz of milk. The homemade ice cream is already fairly soft and creamy, so milk isn't otherwise necessary.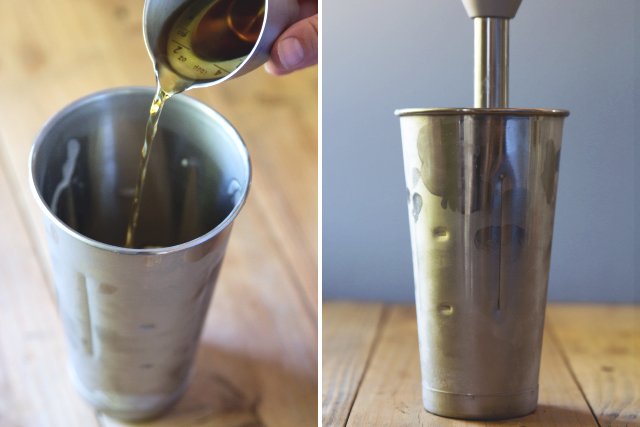 Blend the ice cream and bourbon. Pour into your glass and garnish with toffee bits for a little bit of crunch (no pun intended). I also garnished with a small snickerdoodle wheel from a batch of cookies my wife made. I have to admit I don't know the recipe for these, but they were so tasty I might have to follow up with a cookie post soon!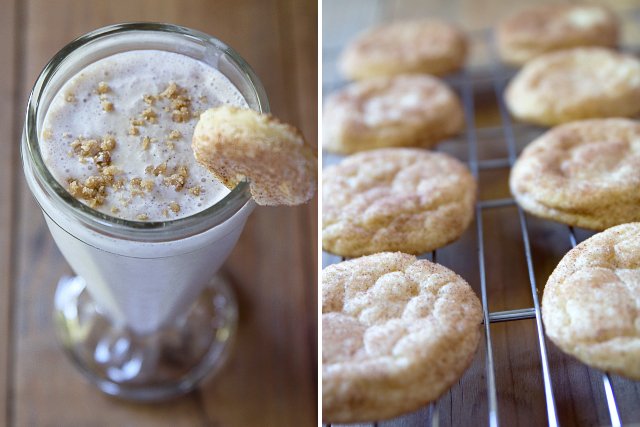 Lastly, to make the toffee, mix together water, butter, granulated sugar and brown sugar in a saucepan over medium heat, stirring as little as possible. Using a candy thermometer to gauge the temperature, cook until the mixture reaches 300°F. Remove the pan from heat and immediate stir in the baking soda and vanilla. Mix until just combined (do not over-stir). Then, immediately pour the hot toffee mixture onto a baking sheet covered in parchment paper. Let cool completely. If your kitchen is warm, you may need to let cool in the refrigerator. Once hardened, chop the toffee to desired size and sprinkle bits on top of the milkshake.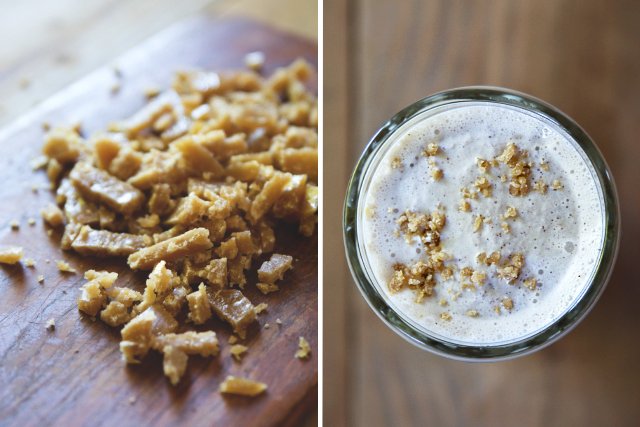 And there you have it . . . a boozy snickerdoodle shake with toffee bits! It doesn't get much better than this.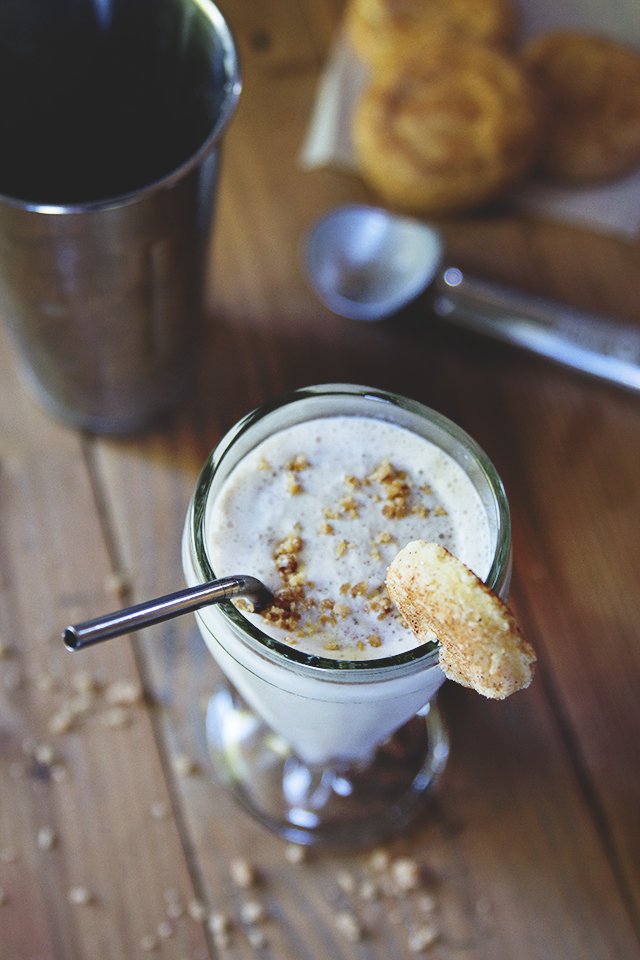 (images by HonestlyYUM)