There are some food trends that I can totally get on board with. Pretzel burger buns is one of them. As a salt addict, I've always loved pretzels with their big flecks of salt and chewy dough. This recipe is a riff on an incredible German pretzel recipe by Hans Röckenwagner, owner of one of my favorite bakeries in Santa Monica. Traditionally, pretzels are soaked in a lye solution before they're baked, but I wasn't too keen on bringing corrosive chemicals and wearing safety goggles in making these pretzel buns. Luckily, you can substitute the lye solution with baking soda and water. I also love the addition of caraway seeds on pretzels!
Ingredients:

3 3/4 cups of bread flour, plus more for dusting
1 1/2 cups of warm water
1 1/4 teaspoons of active dry yeast
2 teaspoons of kosher salt
2 tablespoons of unsalted butter, softened
2 quarts of water (for boiling)
1/2 cup of baking soda
1 egg, beaten
Coarse salt or pretzel salt
1 tablespoon of caraway seeds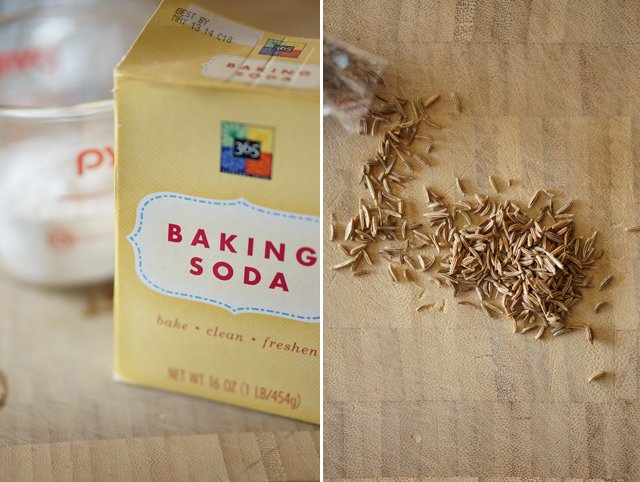 In the mixing bowl of a stand mixer, combine the yeast, warm water, butter, and salt and stir until combined. Then add the flour. Fitted with the dough hook, start kneading on slow speed until most of the flour is absorbed and then turn up to medium. Mix until the the dough is evenly moistened, about 2 minutes. Turn the mixer to high and knead until the dough is smooth and elastic around the hook, about 8 more minutes.
Transfer the dough on a lightly floured surface and form into a ball. Cover with a kitchen towel and let it rest for 5 minutes. Cut dough into 14 even pieces and roll each into a small ball. Arrange the buns onto 2 baking sheets lined with parchment paper. Let stand uncovered in a warm place for 45 minutes or until slightly risen. Transfer uncovered into a refrigerator for at least 2 hours or overnight.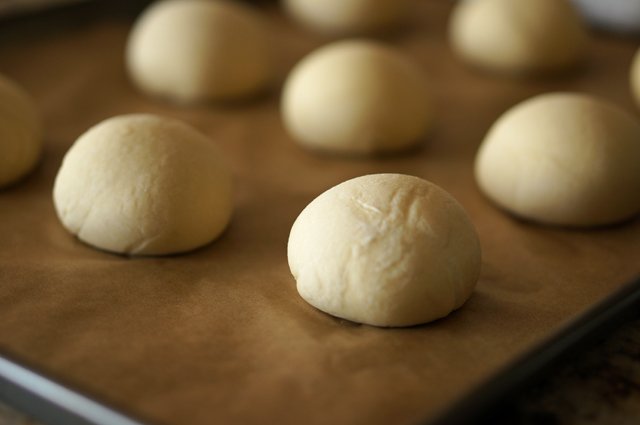 Preheat oven to 425 degrees with the rack in the middle position. Boil 2 quarts of water and once boiling add the baking soda. Boil the buns for 30 seconds on each side in batches of about 4. Remove with a slotted spoon and place back on the baking sheet with parchment paper.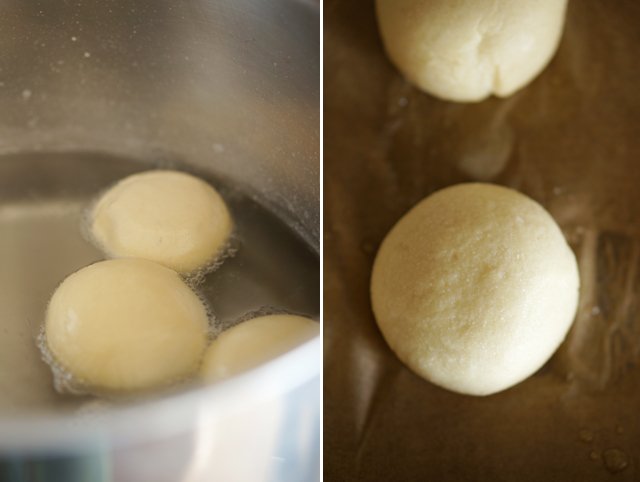 Brush each bun with the egg wash on all sides and then sprinkle with coarse salt and caraway seeds.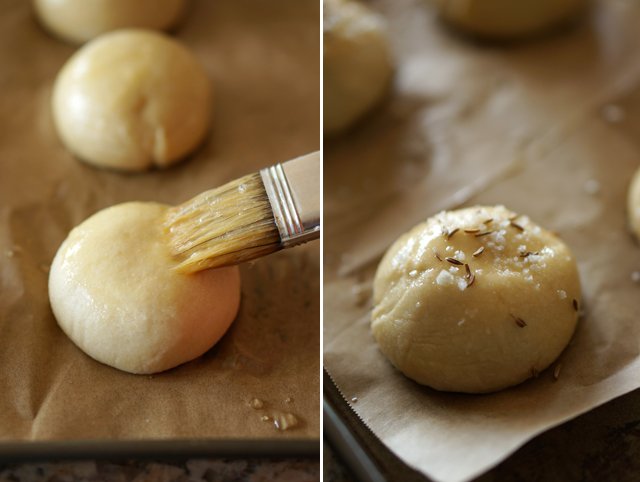 Score a cross on the buns with a sharp knife. Bake the buns for 17 minutes, rotating them halfway.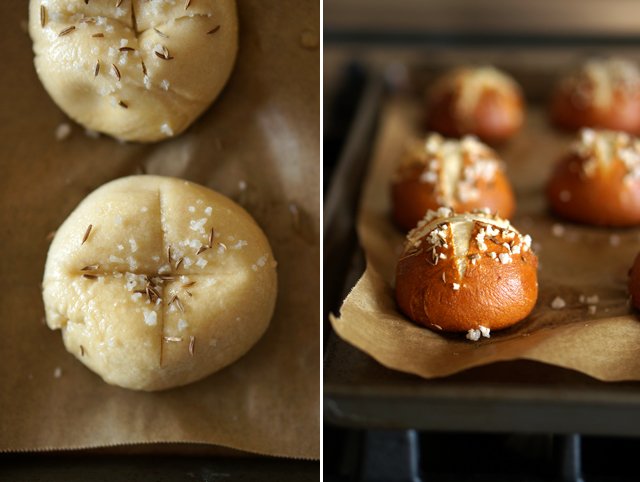 The buns should be nicely browned and hallow sounding when you tap the bottom of the bun.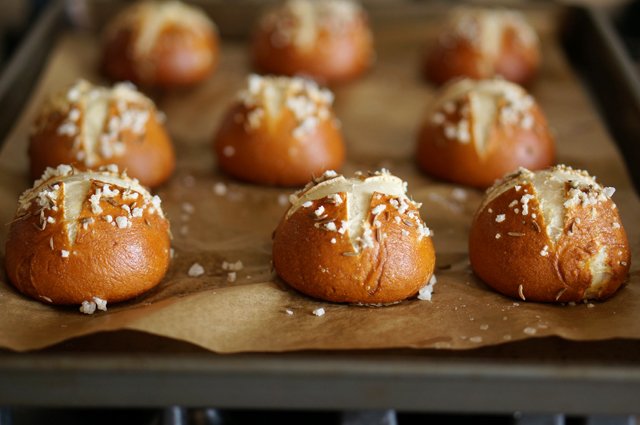 Let them cool entirely on a new sheet of parchment paper before slicing in half and using them for sliders.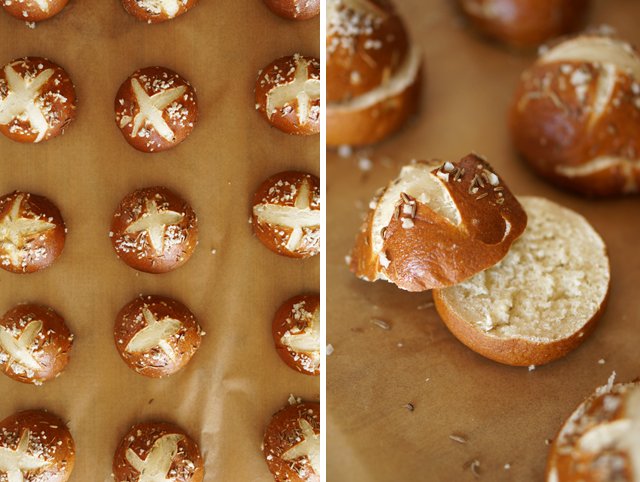 After the buns have cooled, fire up the grill and make some sliders. I made mine simply with 2 pounds 80/20 ground beef lightly seasoned with salt. Form the patties a little larger than the diameter of the buns because they shrink slightly on the grill. Over a medium high flame, cook the patties about 3 minutes on one side and then flip. Cook the other side  for about 4 minutes for medium rare, topping the patty with your favorite cheese and close the lid. For medium cook about 5-6 minutes on the second side.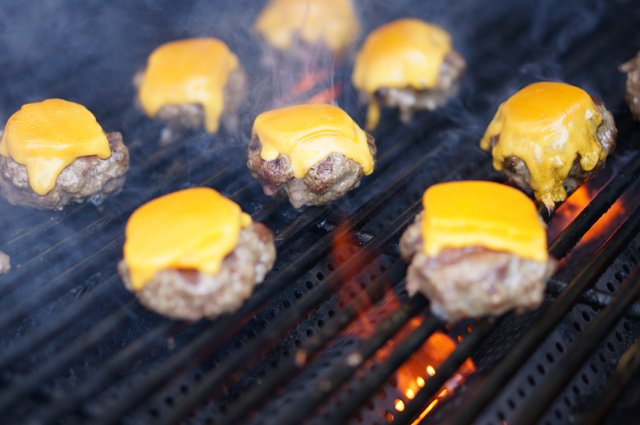 I love the combination of pretzels and mustard so I topped my burger with grainy mustard and a little mayonnaise. But any burger topping would be fantastic on these!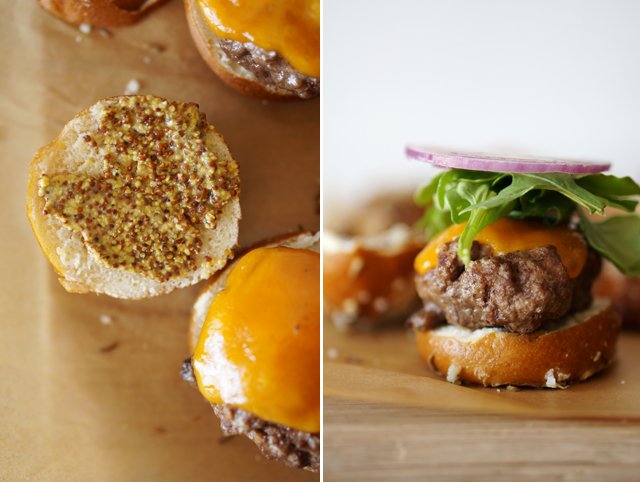 I also added arugula and thinly sliced red onion.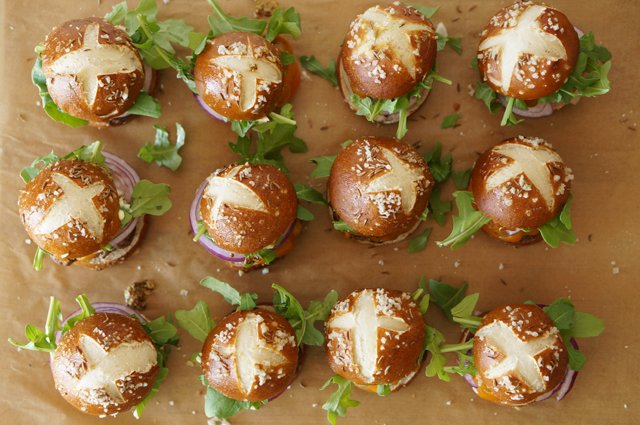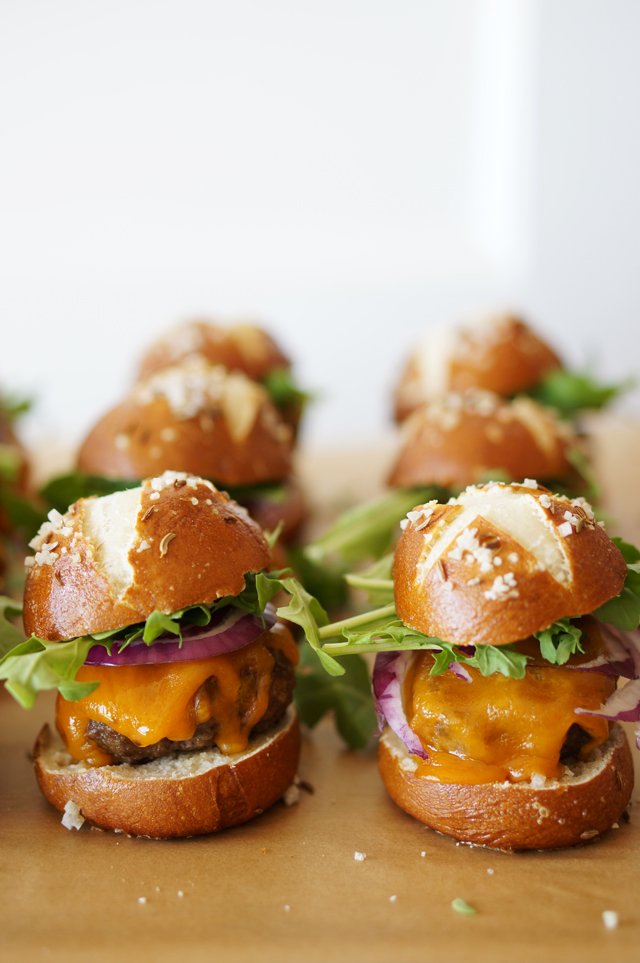 Serve right away and prepare for these bad boys to be gone in two seconds!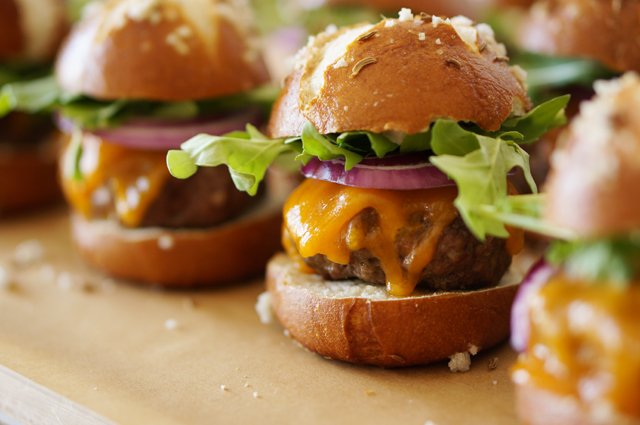 Honestly, they're YUM!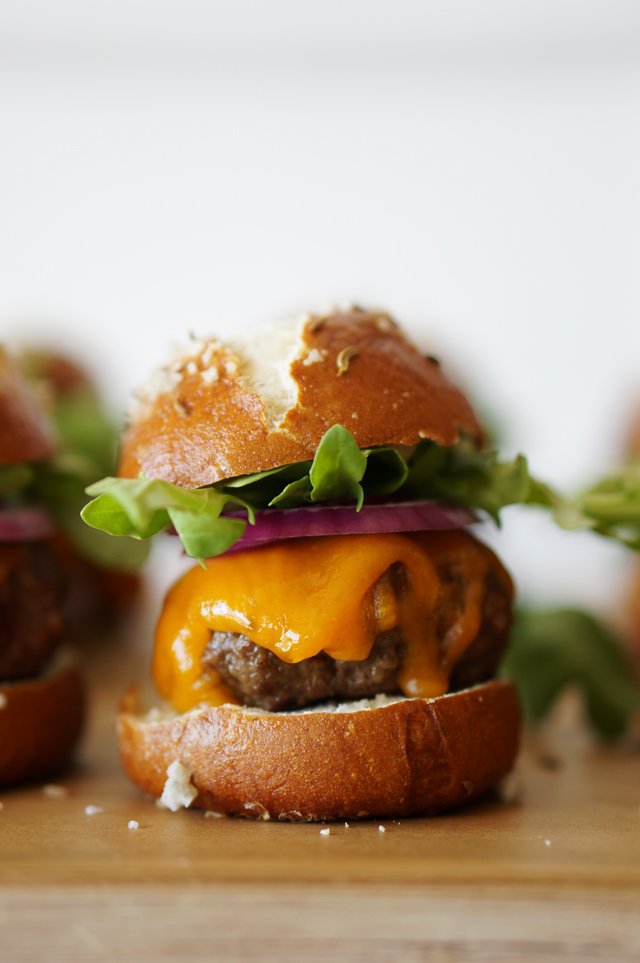 (images by HonestlyYUM)