Not a single meal comes even close to challenging brunch atop the mighty meal hierarchy. Brunch has all the best parts of breakfast: namely eggs, coffee, and bacon, yet without the early wakeup call. Not to mention, brunch is a social event and cocktails are often involved! What's not to love?! As you know, this summer I've challenged myself to get out of the house and enjoy time outdoors with friends and family. What better way to start than with brunch! Baby steps. Did I mention there'd be cocktails? 😛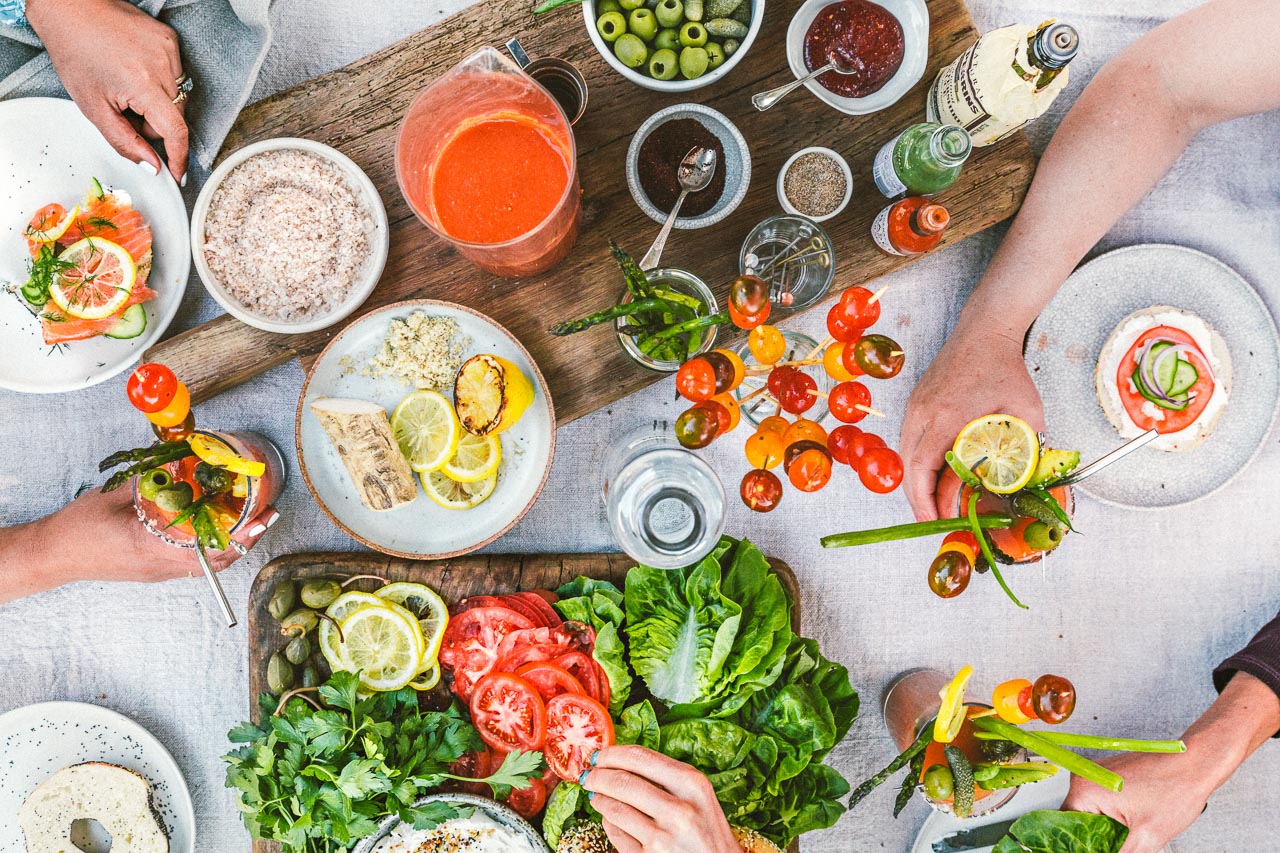 Erica's backyard here in Oakland is our go-to hangout during these warm summer months. We love getting our little Honestly family together for gatherings amongst the redwoods and the oaks. Of course, the grill is a must. Speaking of which, for today's cocktail I wanted to feature my new favorite summer cocktail: Grilled Bloody Marys! Hangar 1 Vodka has always been my go-to for Bloody Marys. It has the depth to hold up in a busy cocktail like a Bloody Mary, without being harsh. Like I said, brunch is a social occasion, and Hangar 1 is always a crowd pleaser.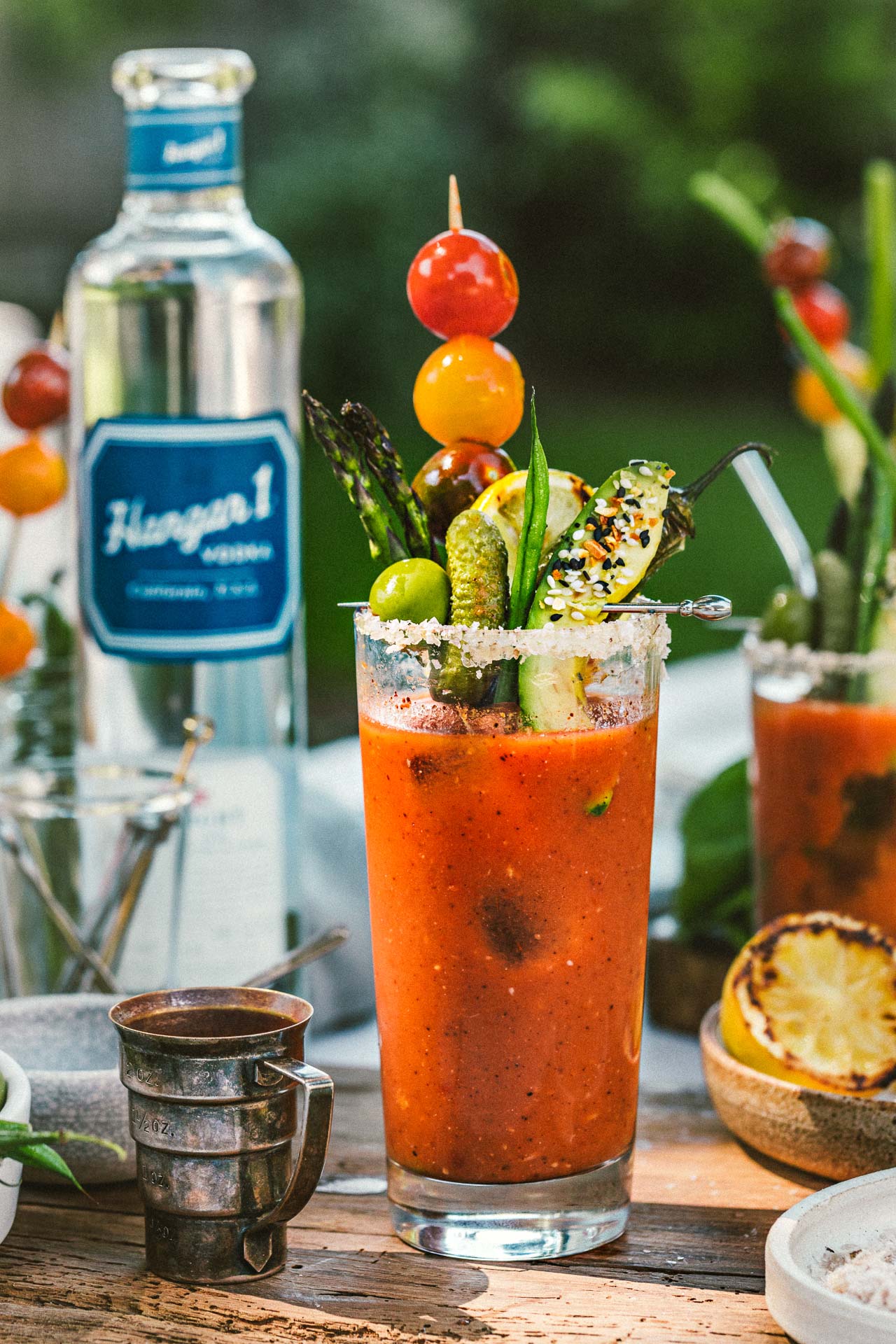 If you aren't familiar with Hangar 1 Vodka, I highly recommend booking a distillery tour at their gorgeous Alameda distillery. It's worth the trip in and of itself, but I always enjoying swinging by the Alameda Point Antiques Faire (2 minutes away) for some shopping and heading over to Hangar 1 for a tour and a tasting.
Even sipped on its own, there's a freshness to the Hangar 1 Straight Vodka, which naturally lends itself to seasonal produce . . . and in this case, tomatoes. Around these parts, summer = tomato season. Let me tell you, if you've never charred a tomato over an open flame, maybe for a sauce/salsa, or in this case a cocktail mixer, then you've been seriously missing out. To finish off my Bloody Mary mix I tossed in some grilled poblano, grilled spring onion, and a grilled lemon.
While our Bloody Mary mix was chilling in the fridge, it was time for the garnishes. We grilled asparagus, green beans, cherry tomatoes, jalapeños, spring onions, and lemon wheels. If making at home, feel free to use whatever seasonal produce is available to you. That's what's so great about Bloody Marys – you can really personalize them.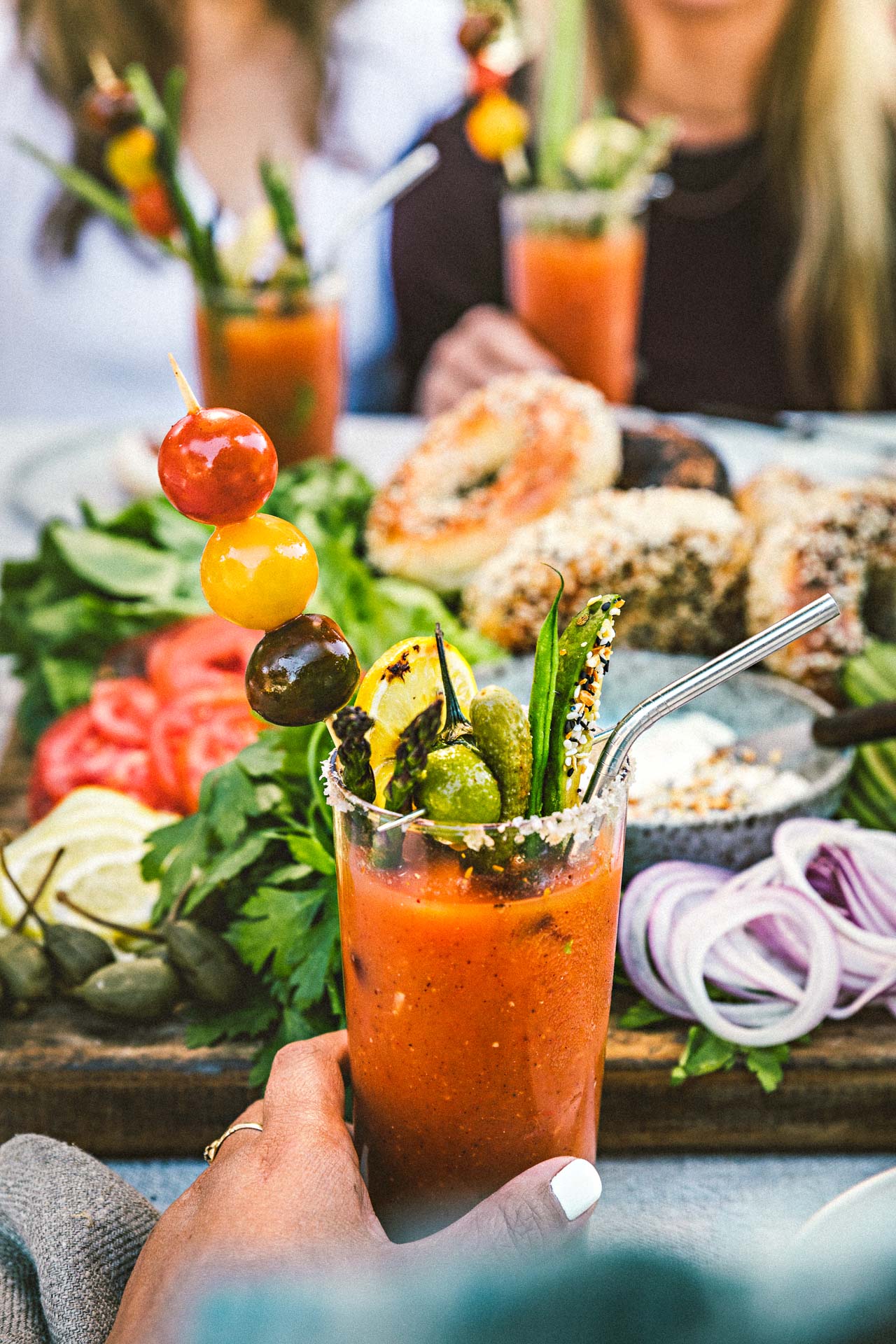 Considering that the grill was preoccupied with cocktail ingredients, we kept it simple with the food and constructed a bountiful bagel platter. The whole meal was full of vibrant, fresh, seasonal produce – from grill to glass, and table to belly :). Now that's what summer is all about! In fact, I think another Bloody Mary brunch is in order . . . Fourth of July weekend anyone? 😉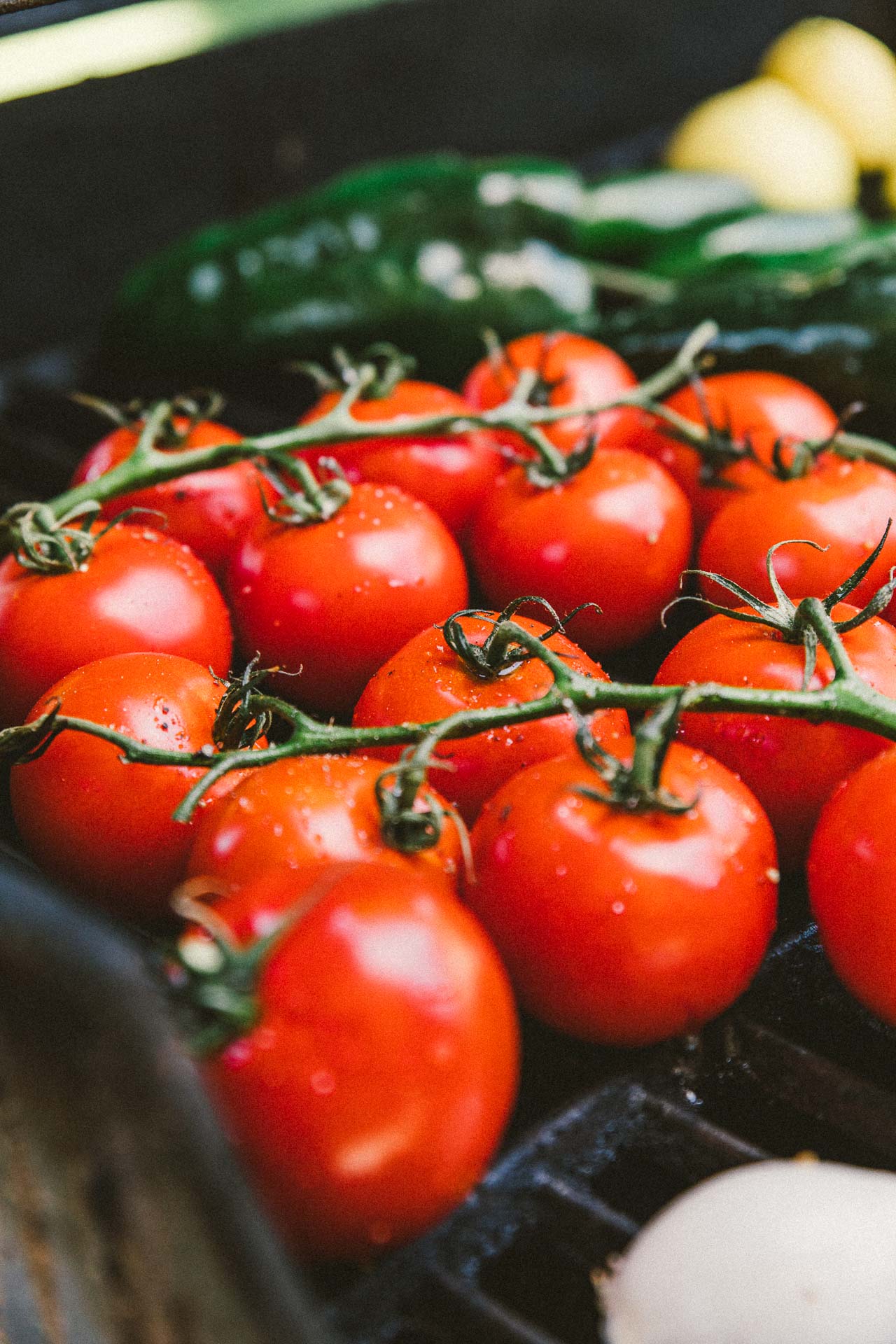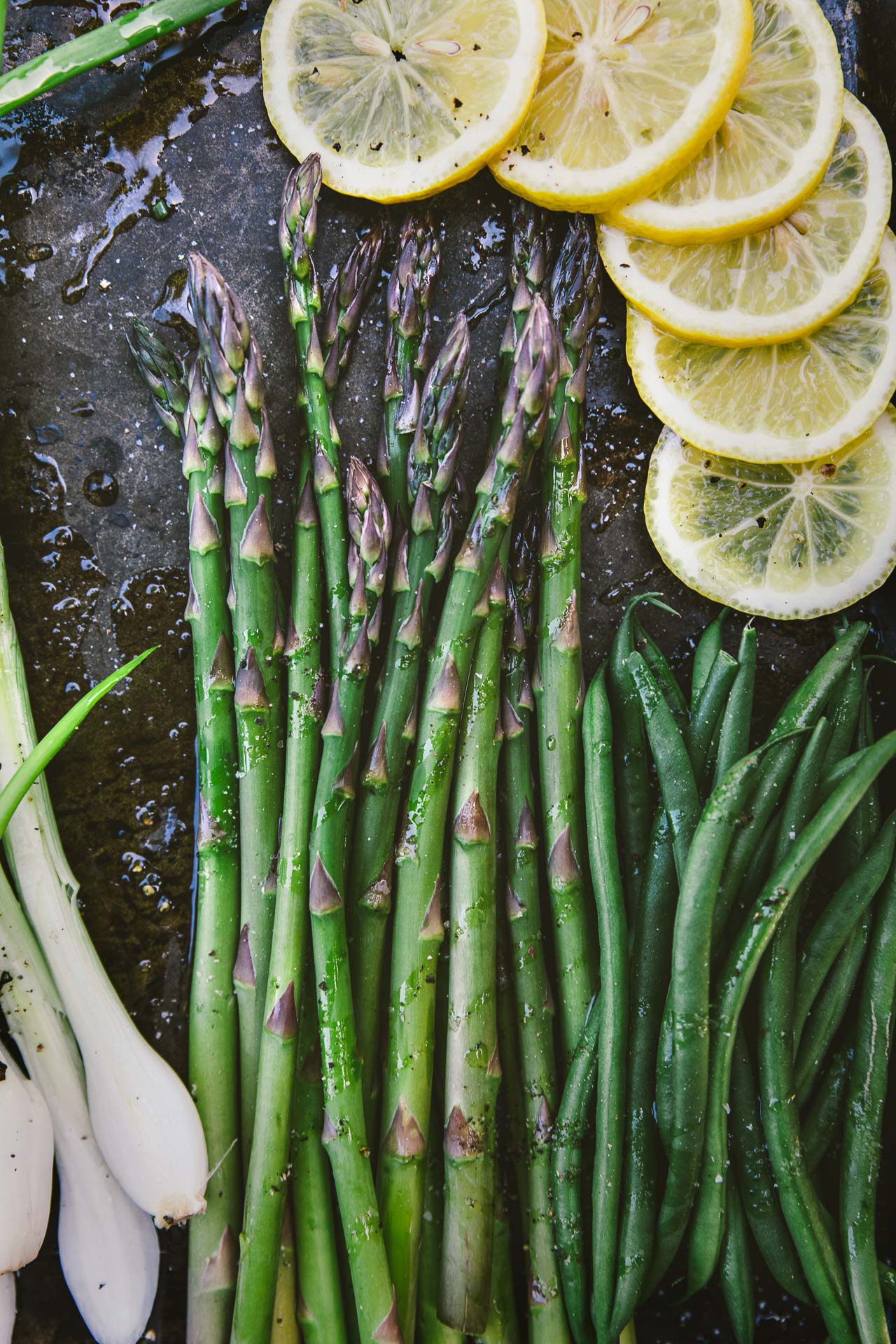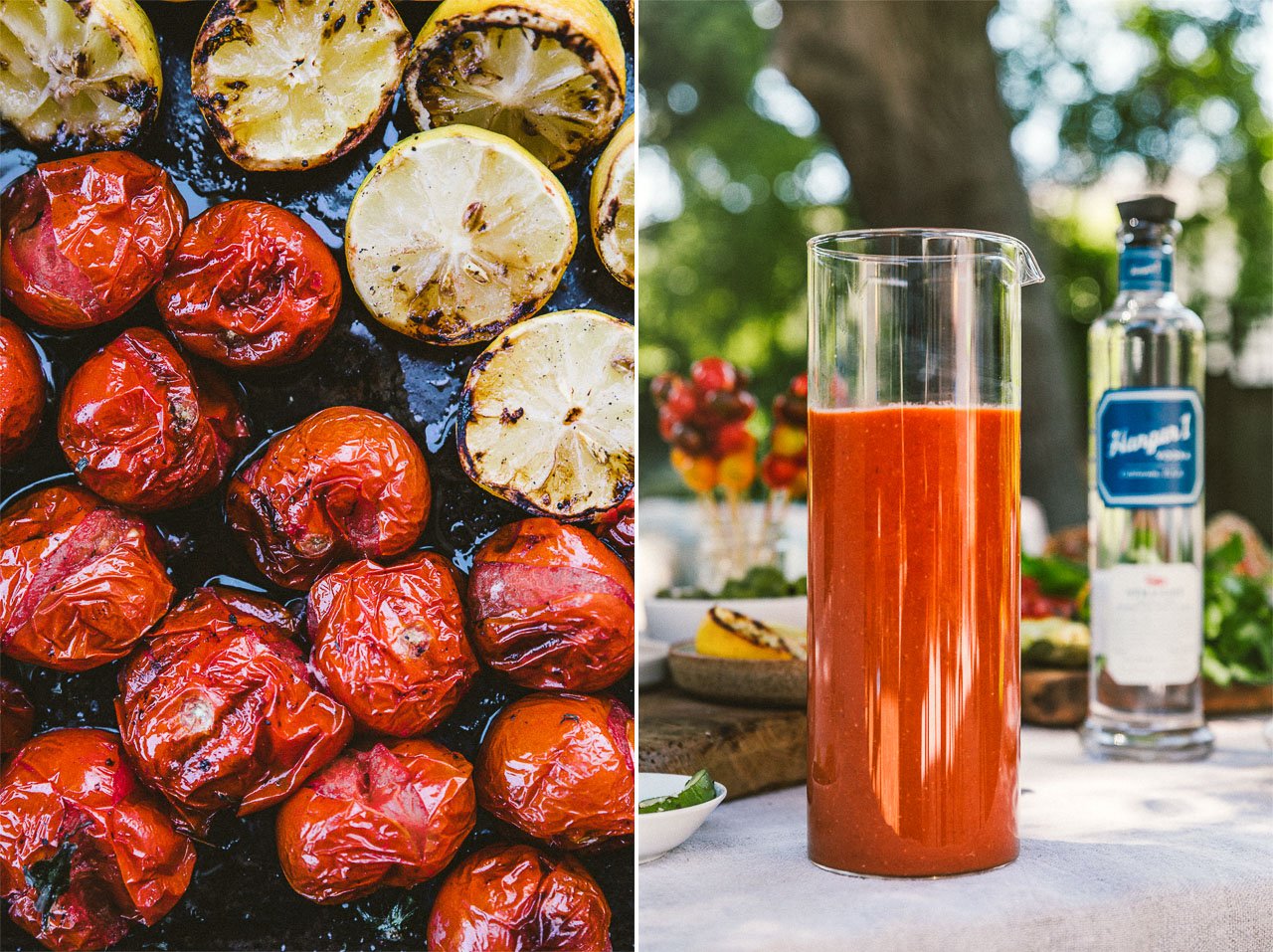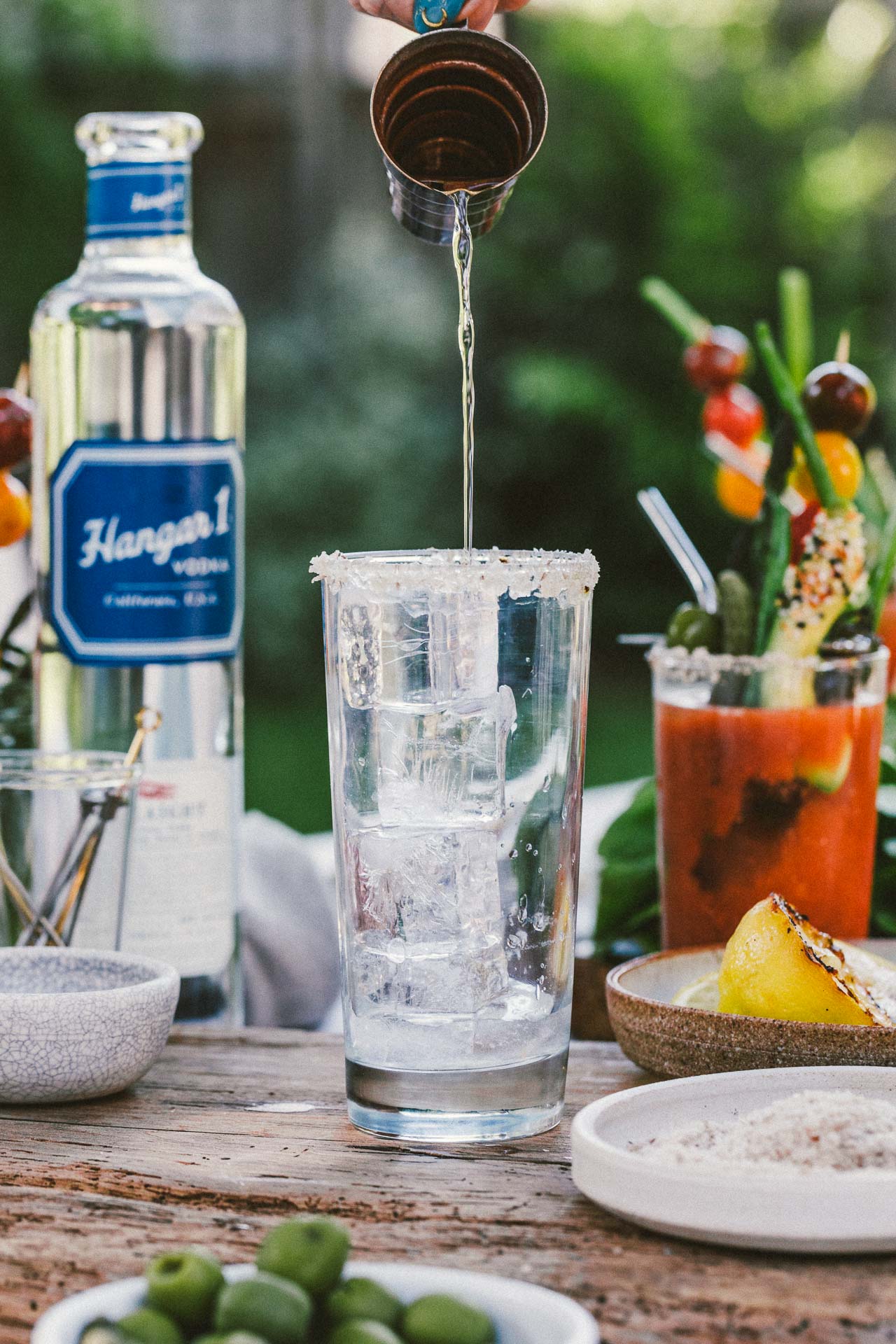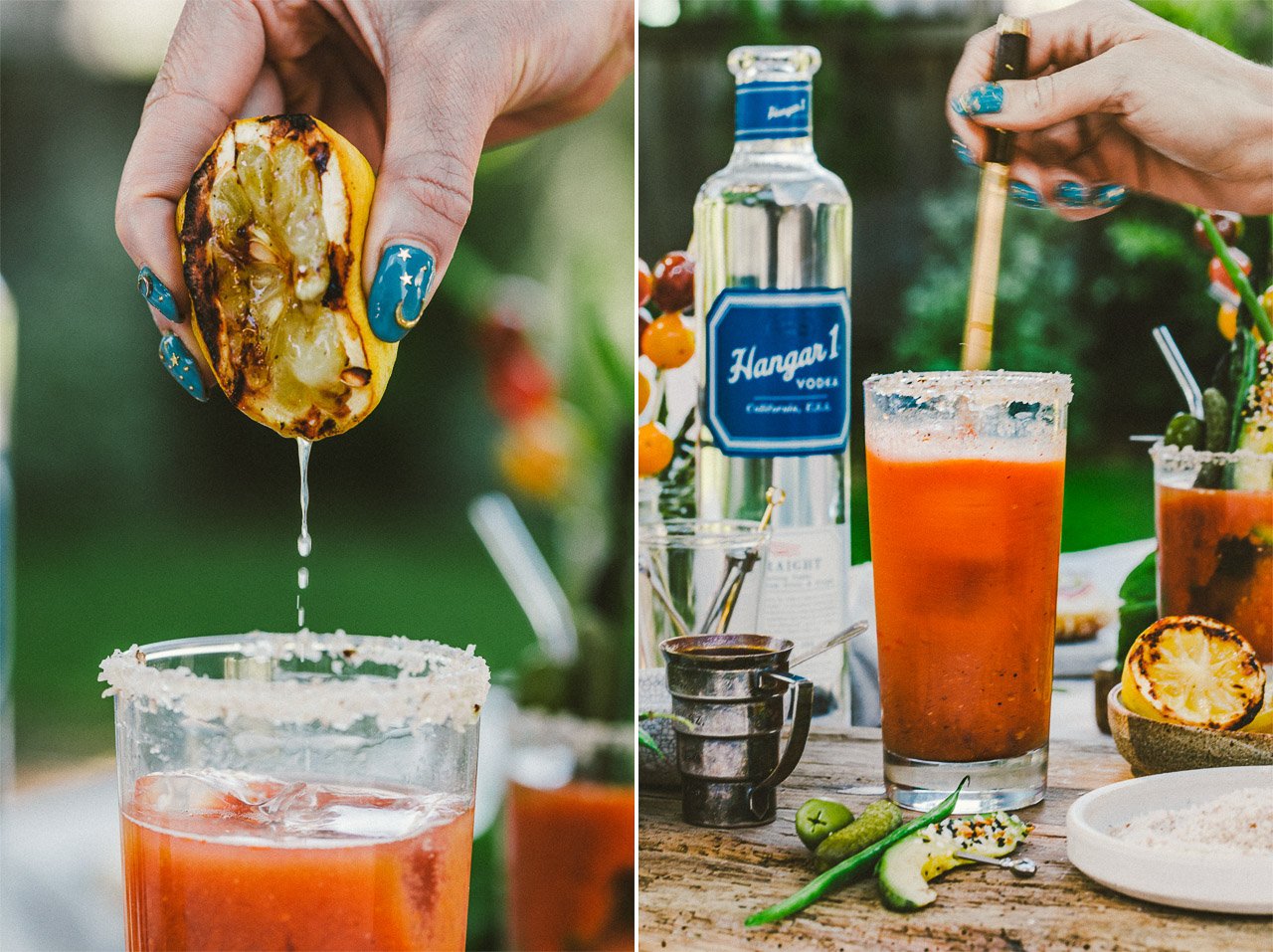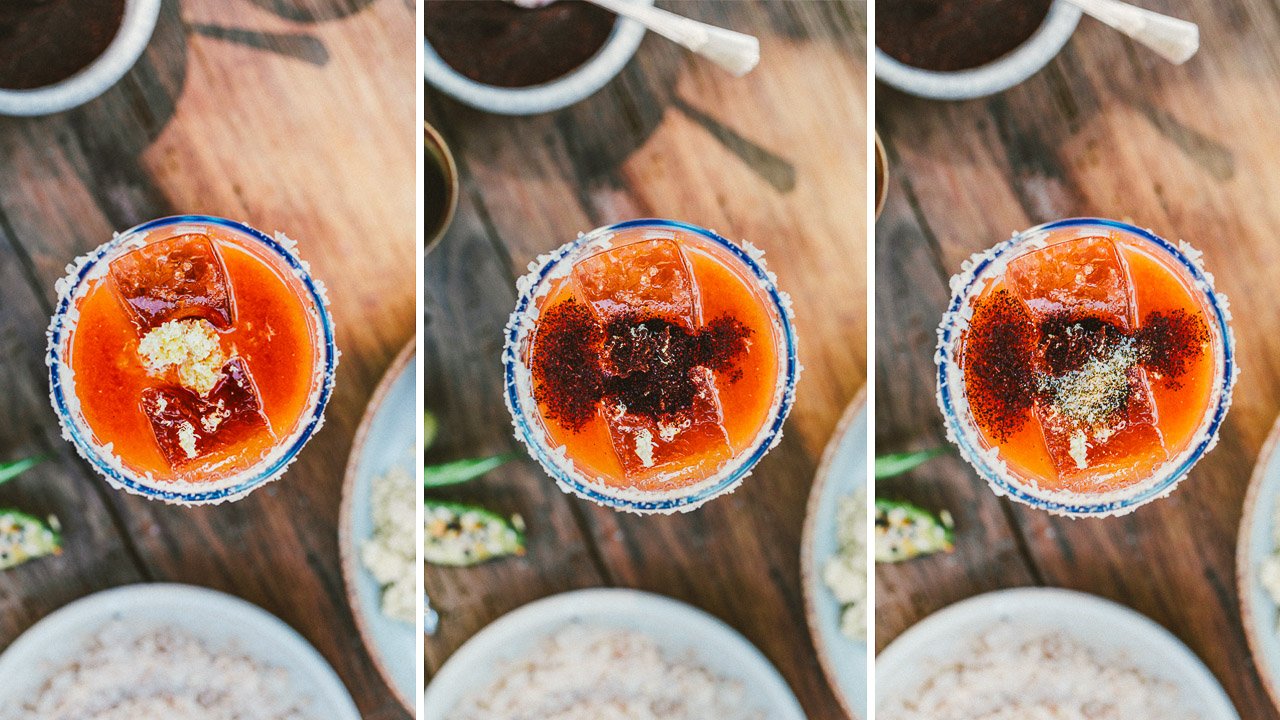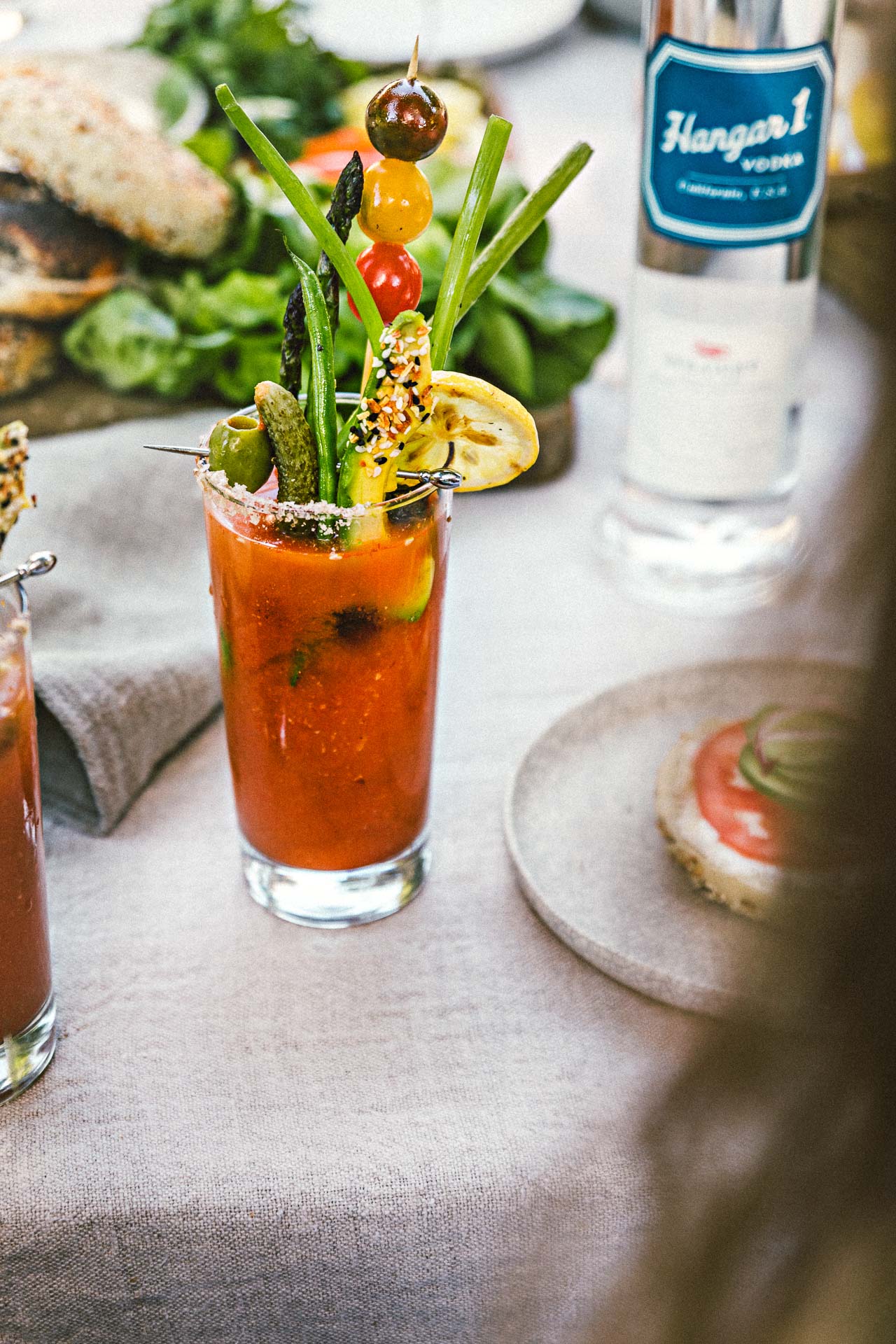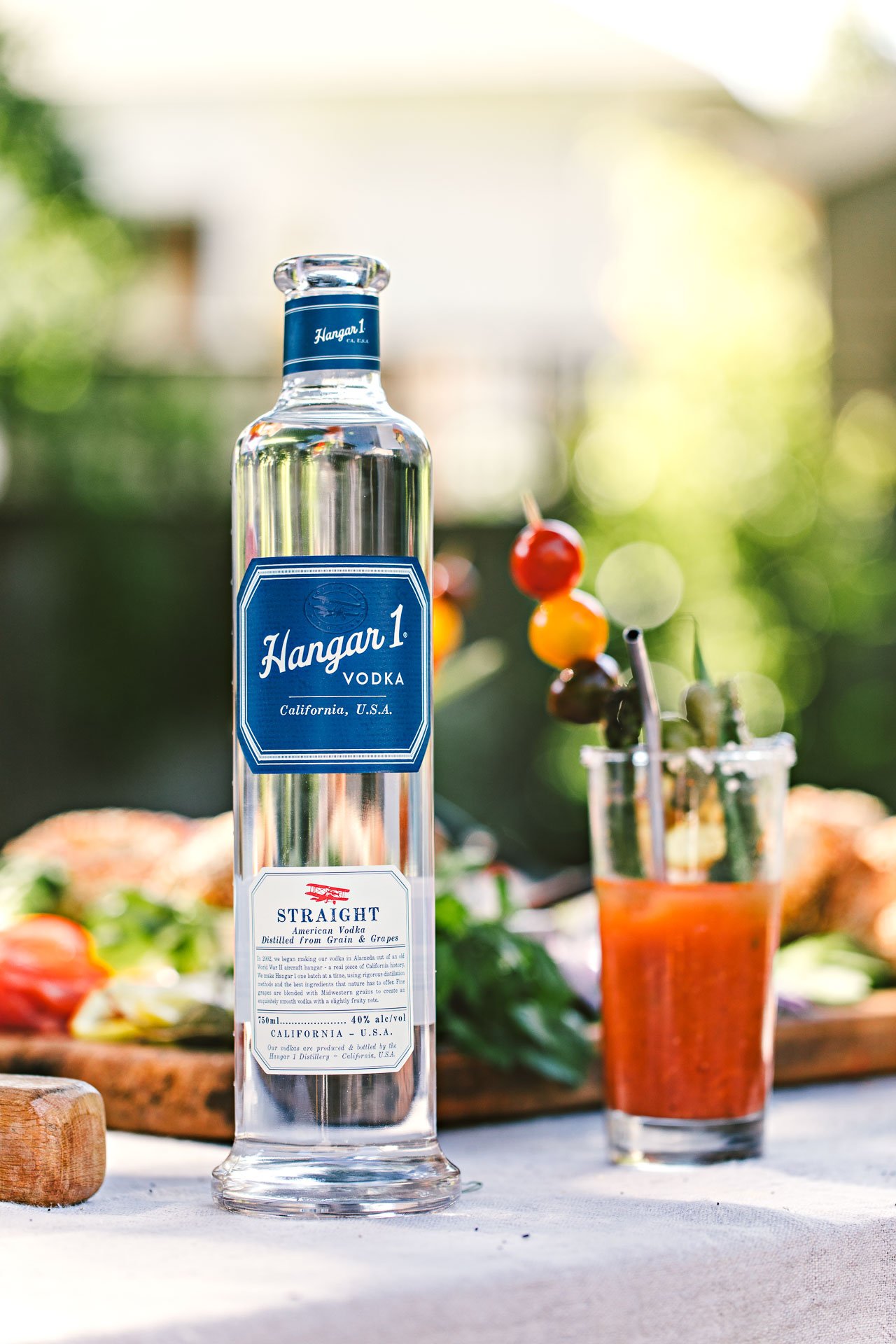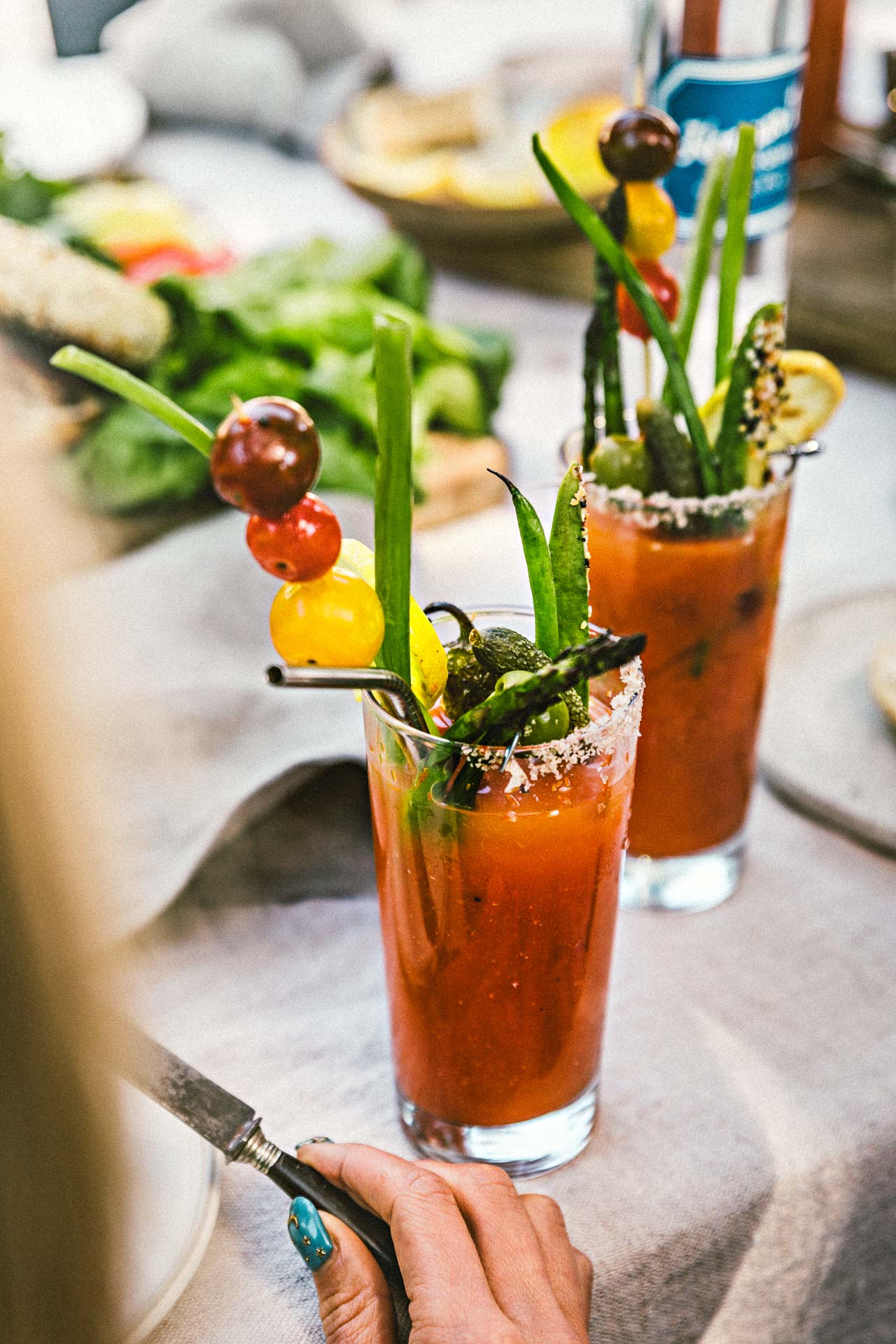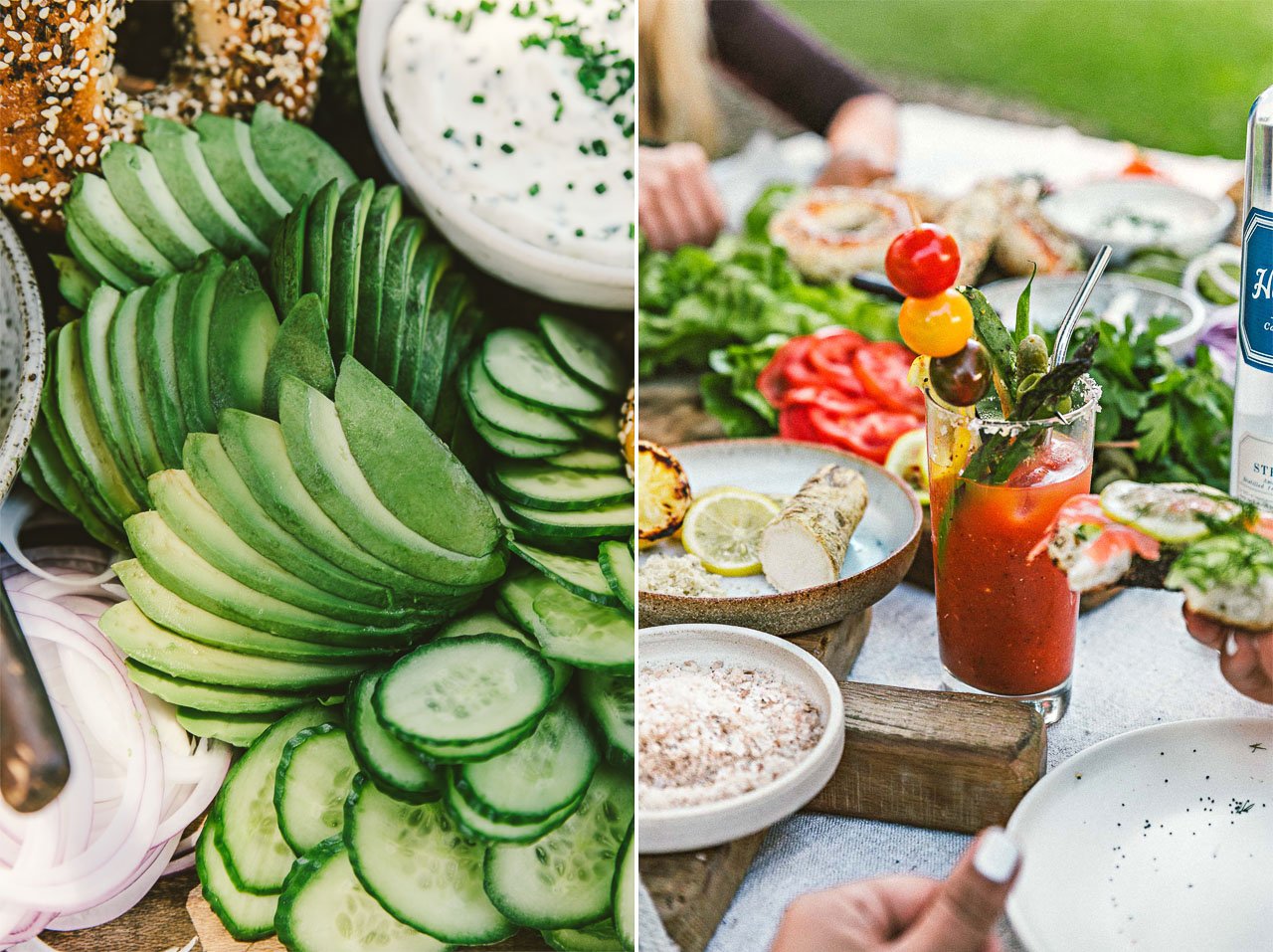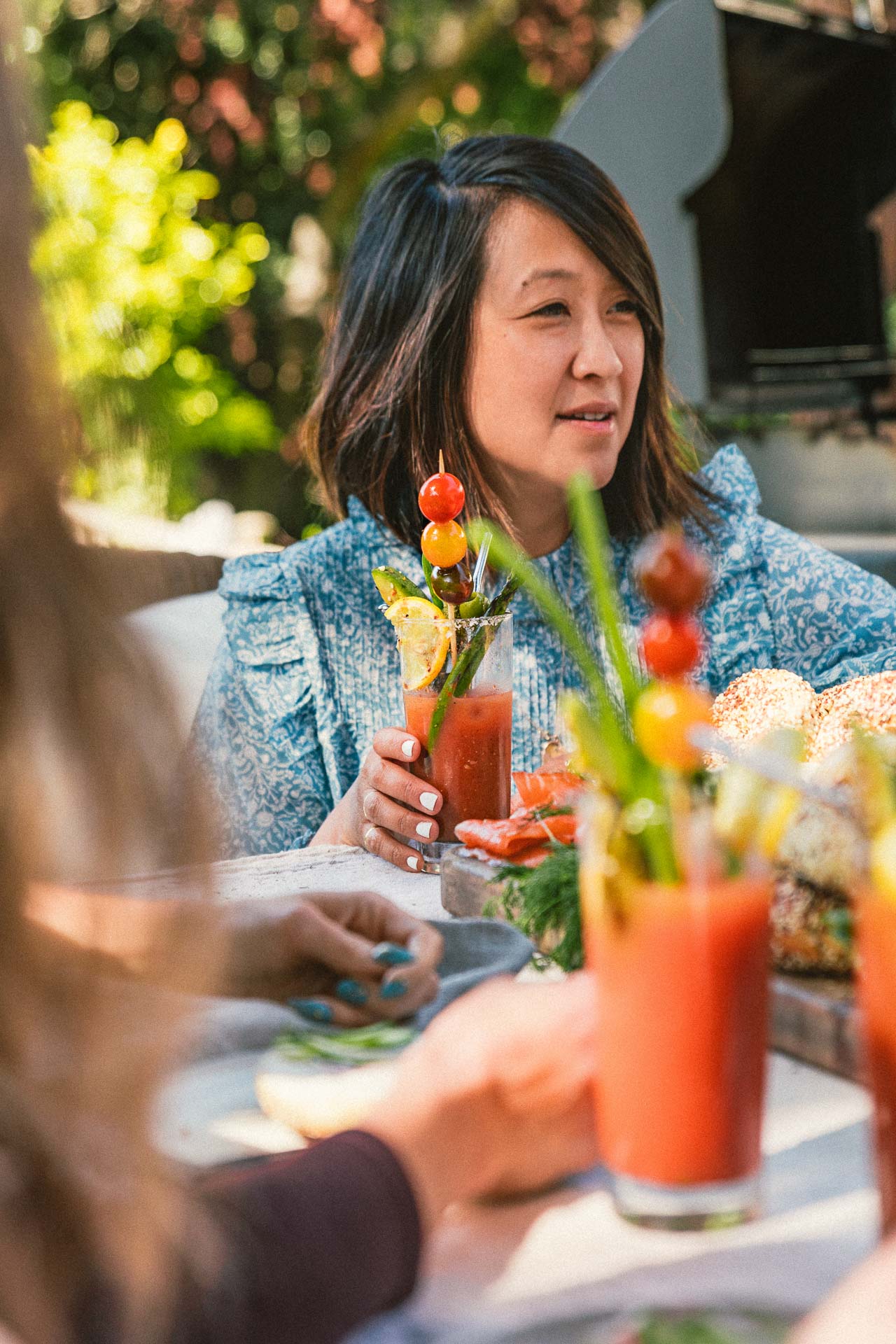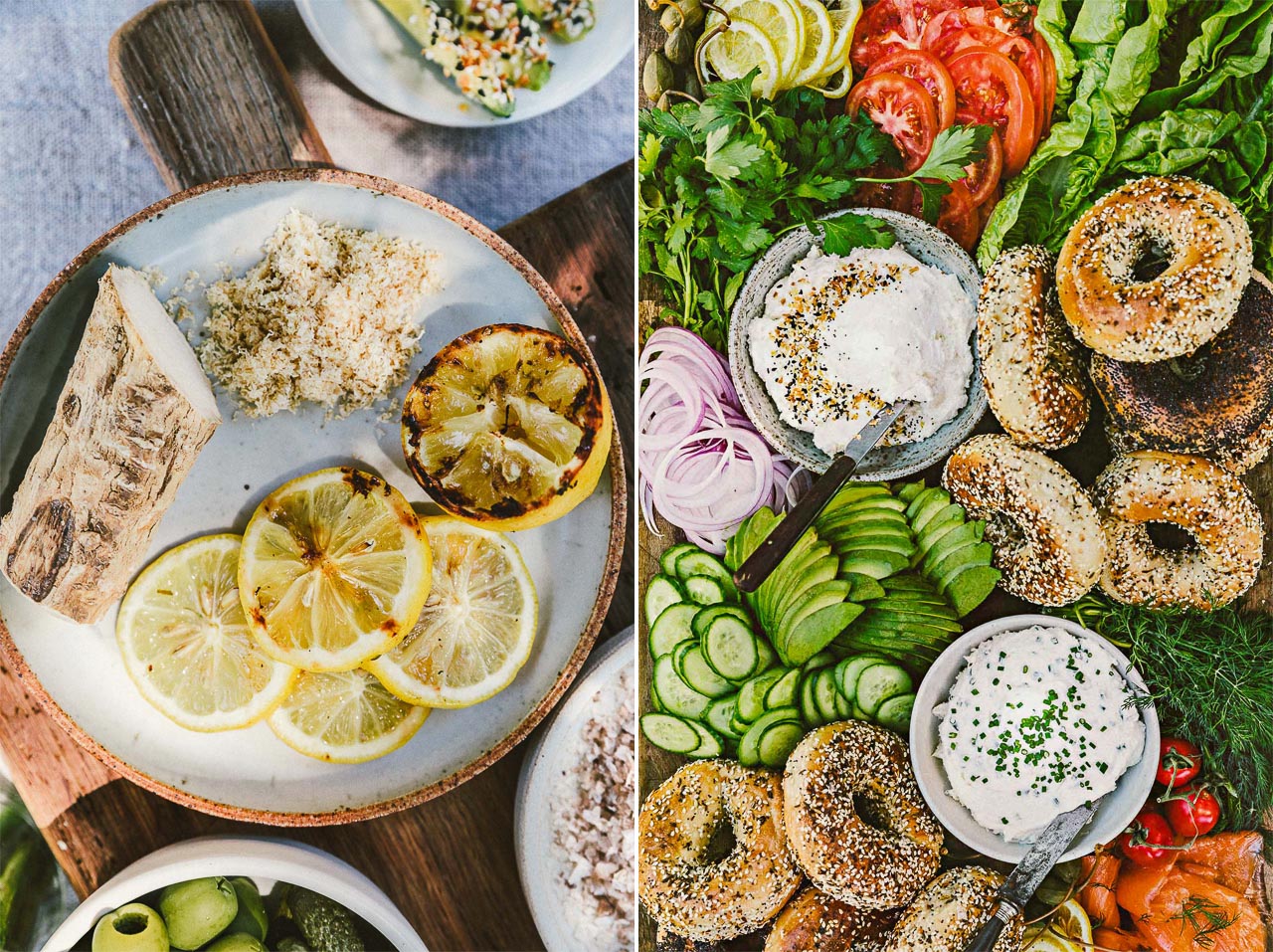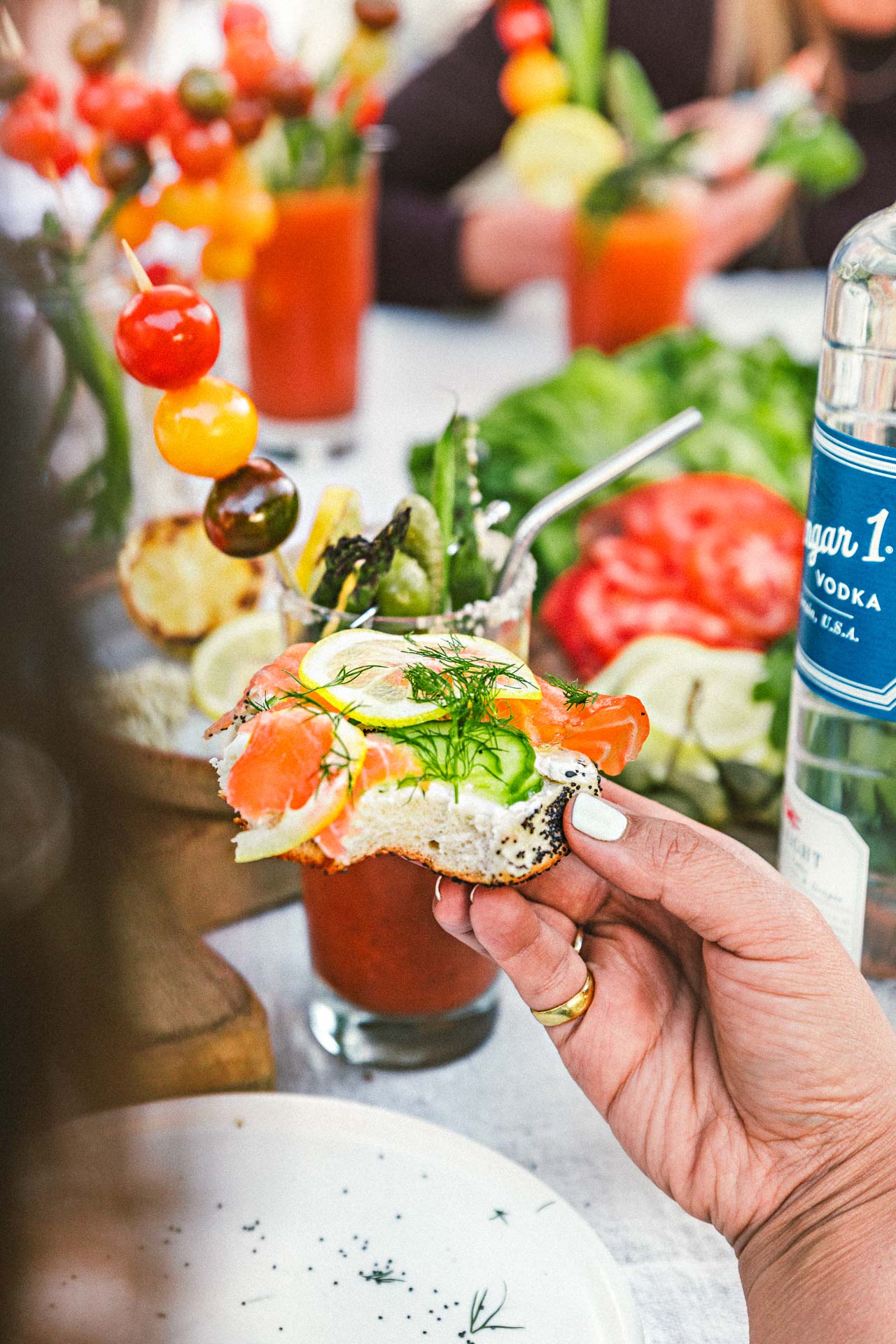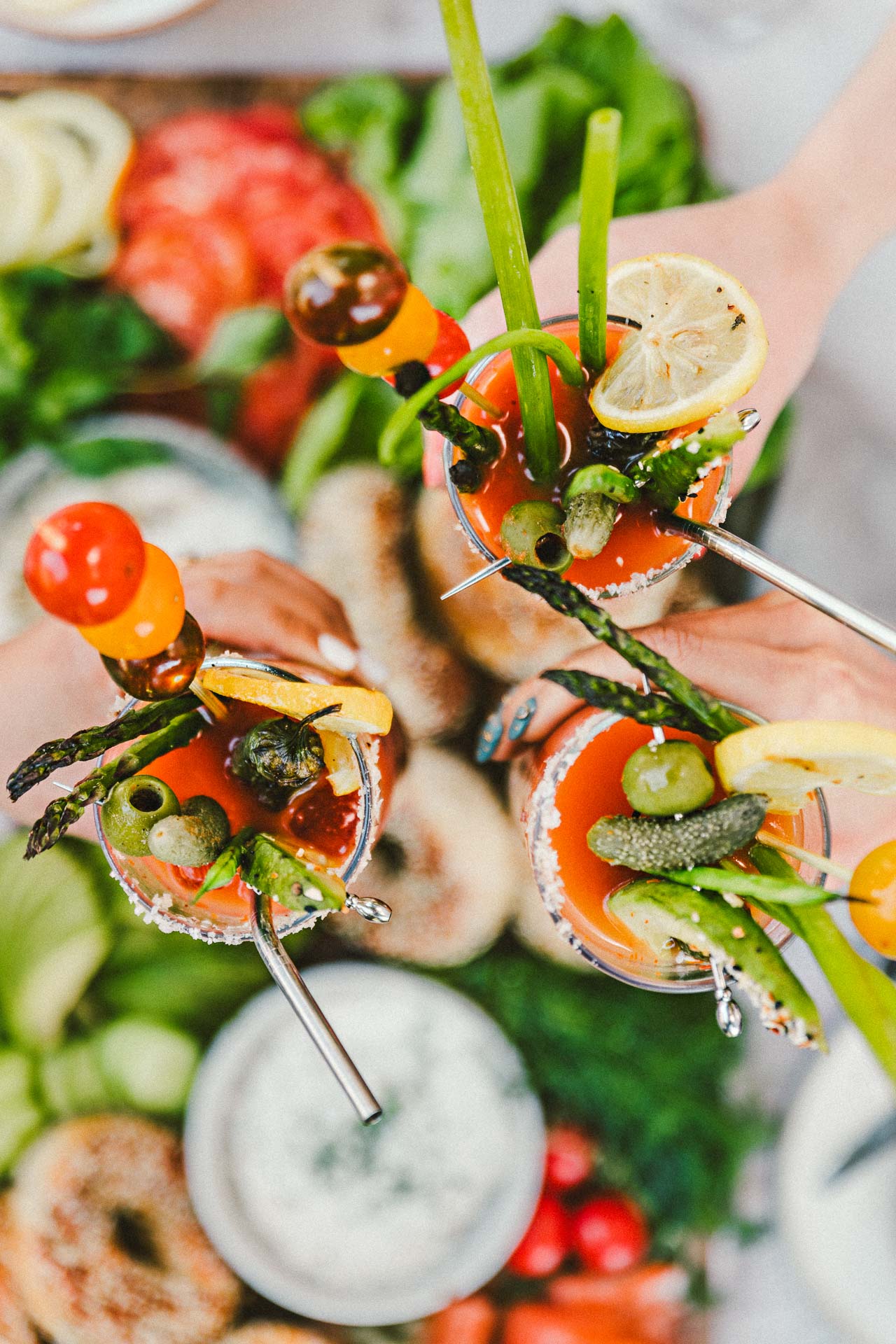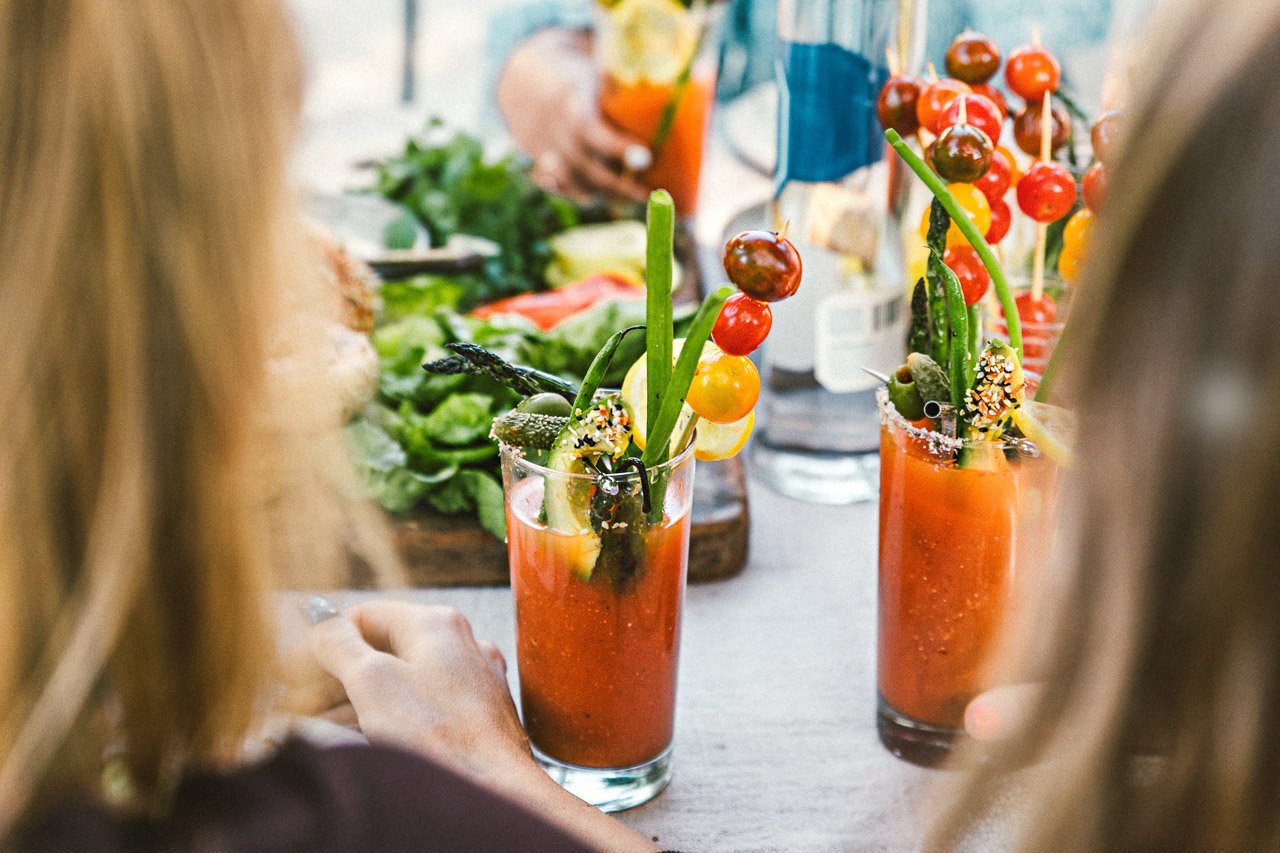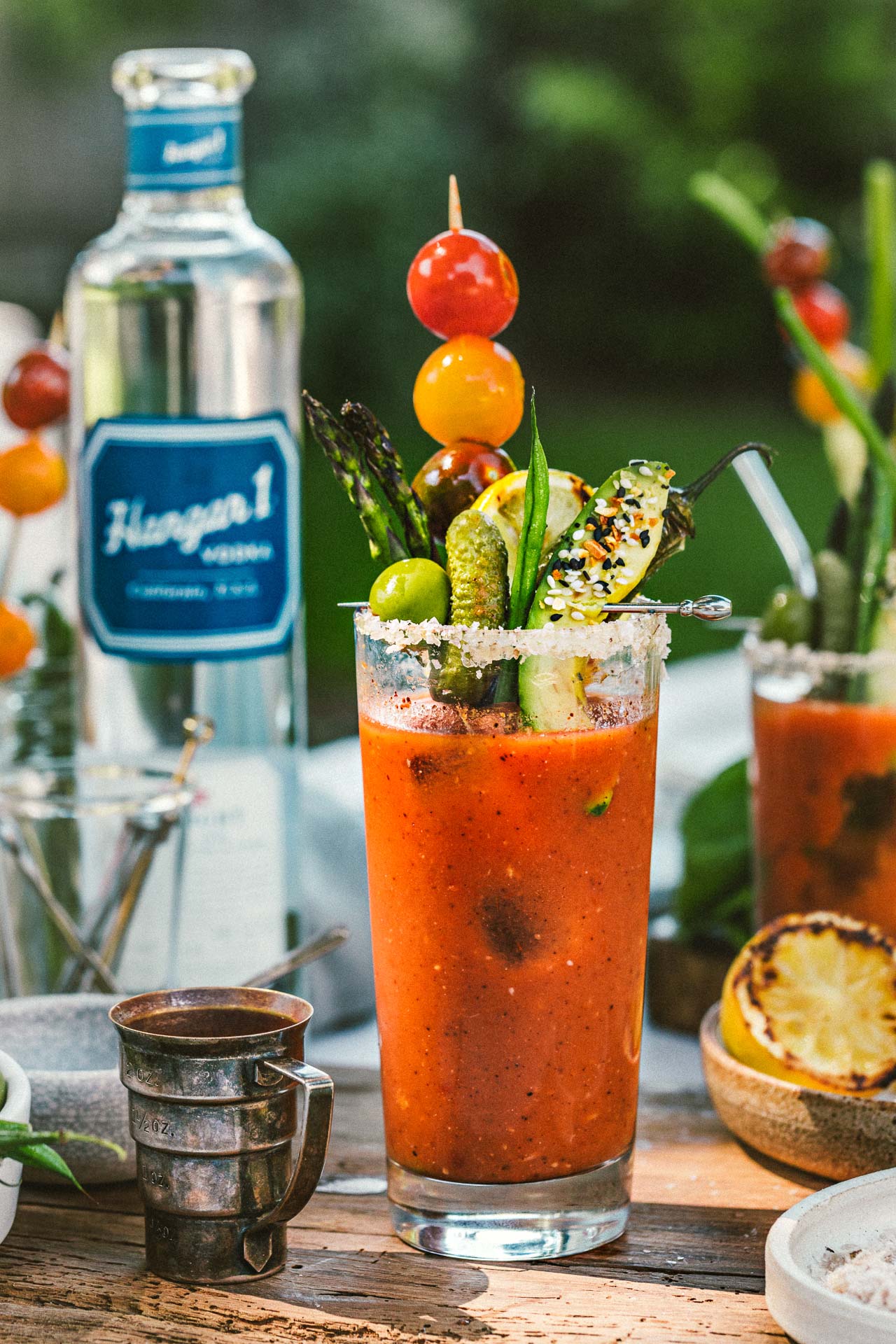 INSTRUCTIONS
Grilled Bloody Mary Mix
Toss the tomatoes and poblanos in olive oil and season with salt and pepper. Halve the lemon and spring onion and do the same.

Light your grill and set to a medium high flame. Once the grill is heated, add the tomatoes, poblano, onion, and lemon (flesh side down) directly onto the grill. Grill until charred, turning occasionally. Ingredients will cook at different rates.

Once fully charred, remove each ingredient from the grill. While still warm, peel the skin from the poblano. Add the poblano, the tomatoes (skin on), and the onion to a blender. Top with the charred lemon juice from the grilled lemon, and puree until smooth. Season to taste. Pour into a pitcher or other container, cover, and place in the refrigerator to chill.
Cocktail
Run a lemon wedge around the rim of a tall glass and dip into smoked salt. Fill the glass with ice and then add the vodka. Add the grilled Bloody Mary mix, and any of the toppings you prefer. Stir to combine. Top with grilled veggies and other garnishes. Enjoy!
(Photography by HonestlyYUM. This post is sponsored by Hangar 1 Vodka. Thank you for supporting the brands that keep HonestlyYUM shaking & baking!! Opinions are our own.)