When Nathaniel from TermiNatetor Kitchen asked us to be part of his #VirtualCoffeeParty2018, I was immediately in! If there's one thing we at YUM all love, it's coffee. When it came to thinking of a recipe to make, I knew I wanted to make a dessert and tres leches has been at the top of my list for a while. Tres leches cake is typically made with a simple sponge cake that is soaked with three milks: condensed milk, evaporated milk and whole milk. I added strong coffee to the milk mixture the cake soaks in and the combination just took this cake to the next level! Tres leches is typically topped with simple plain whipped cream and you could do the same here, although I've swirled in espresso whipped cream and topped it with chopped chocolate covered espresso beans, adding more coffee flavor to this Cafe Con Tres Leches Cake.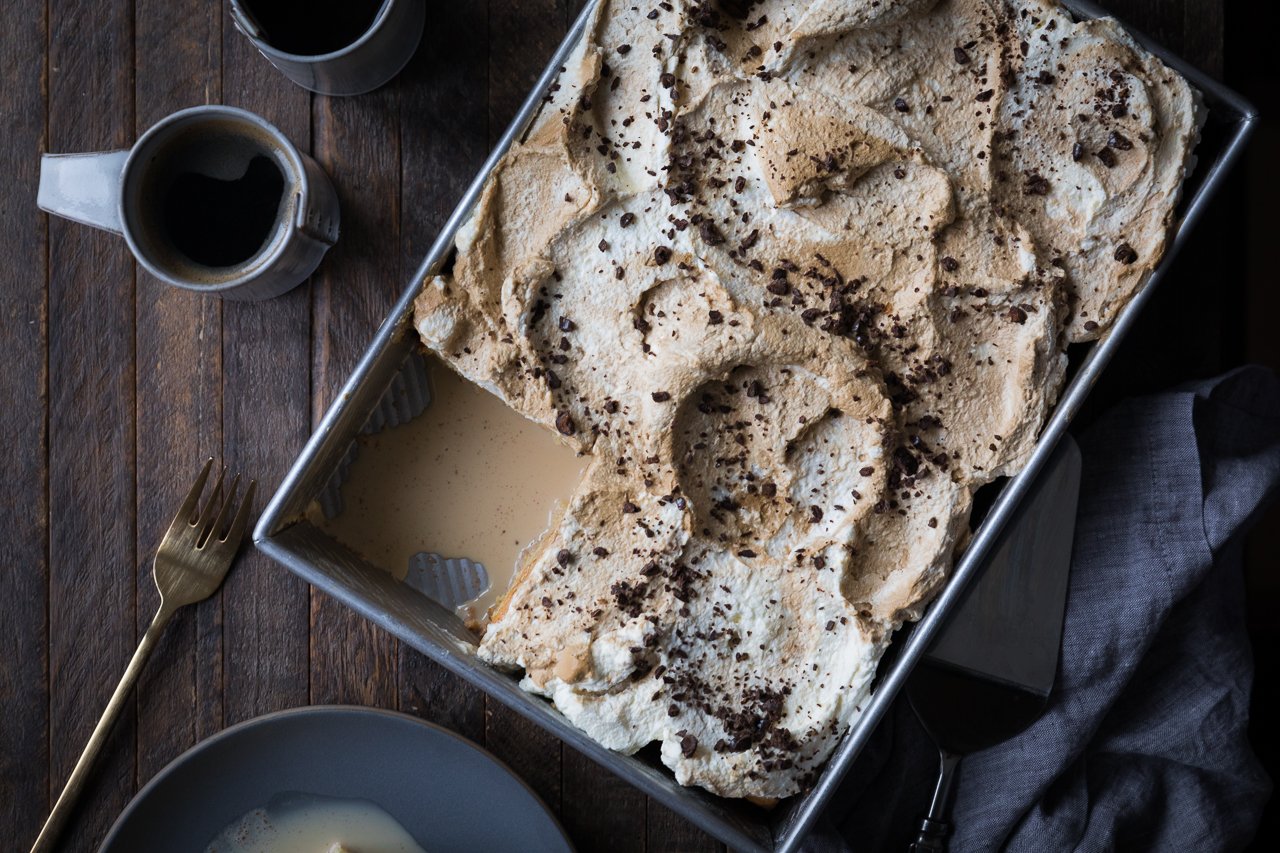 Instead of using a sponge cake recipe, I've used my favorite chiffon cake recipe from Tartine (slightly tweaked). It's a fantastic recipe and don't let the whipped egg whites intimidate you– it really is an easy cake to make. After you make the cake, the rest is super simple– just soak the cake in the milk mixture!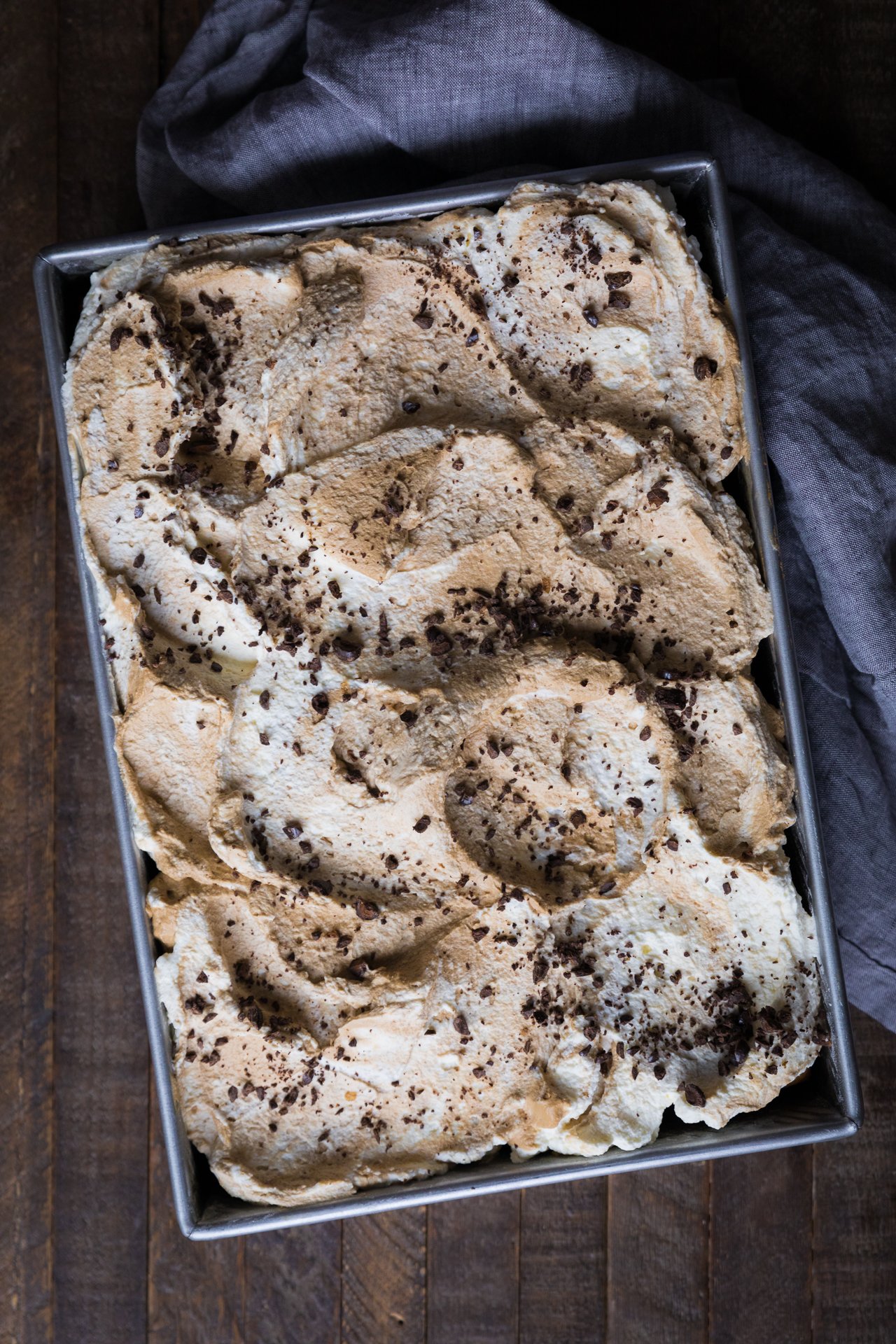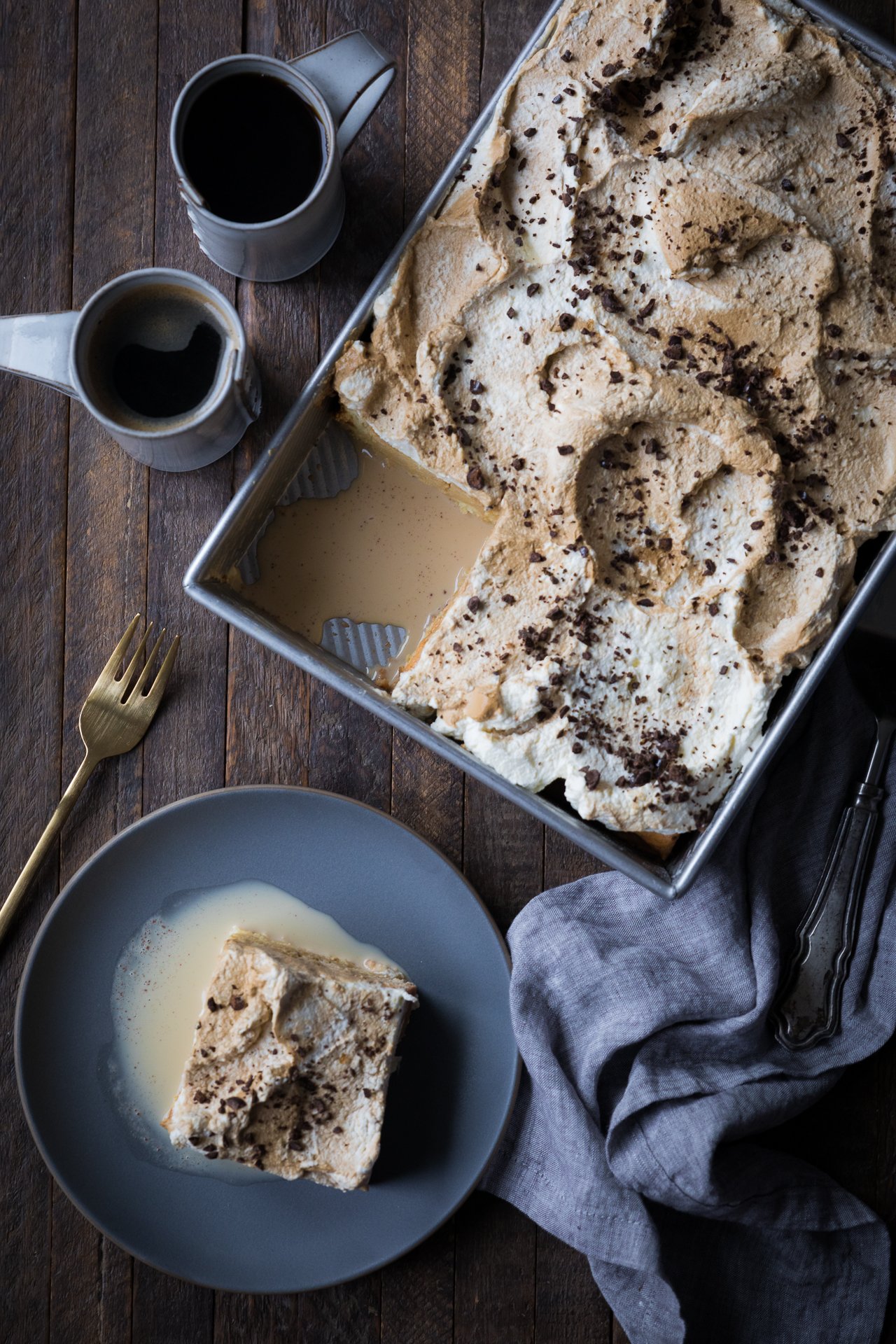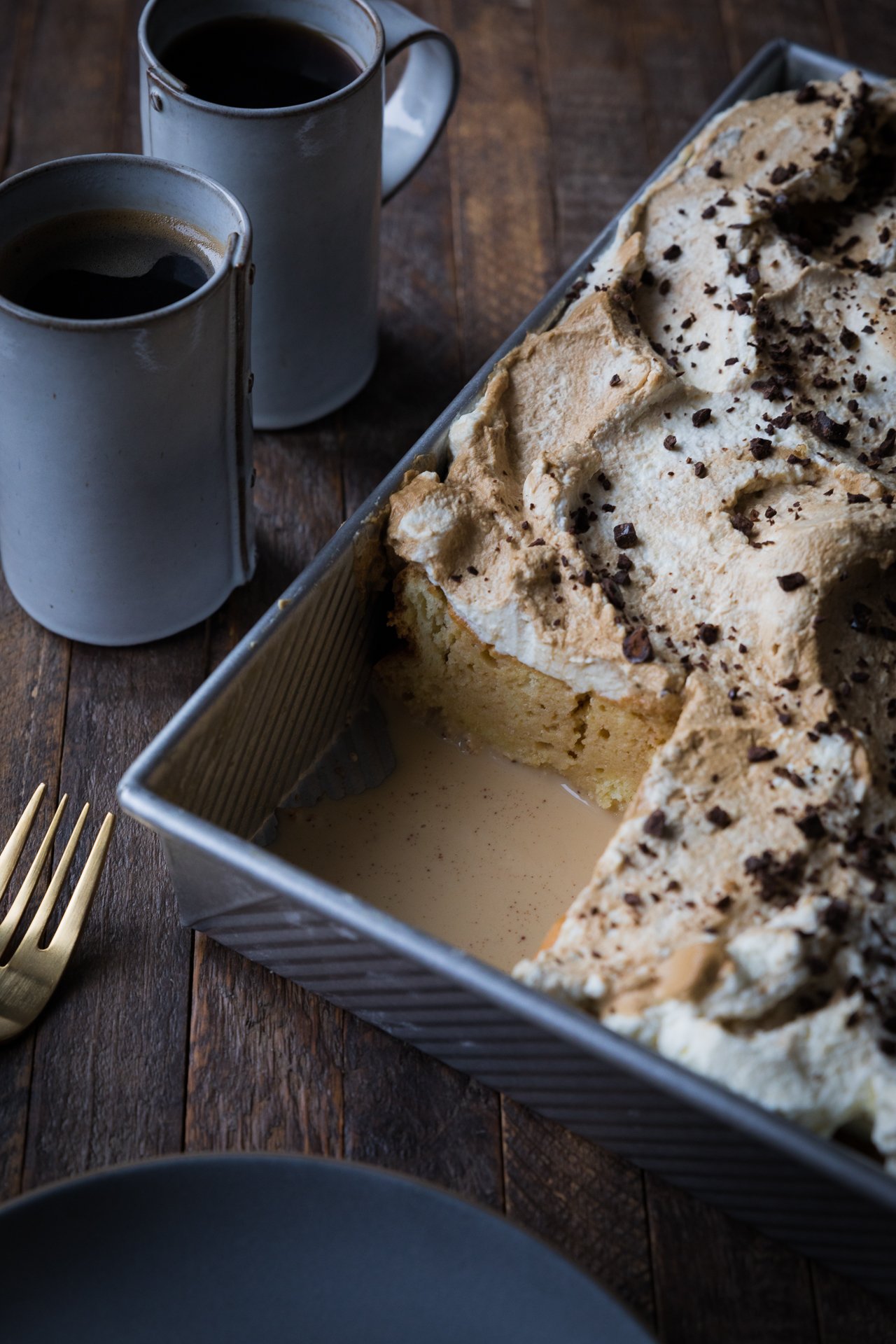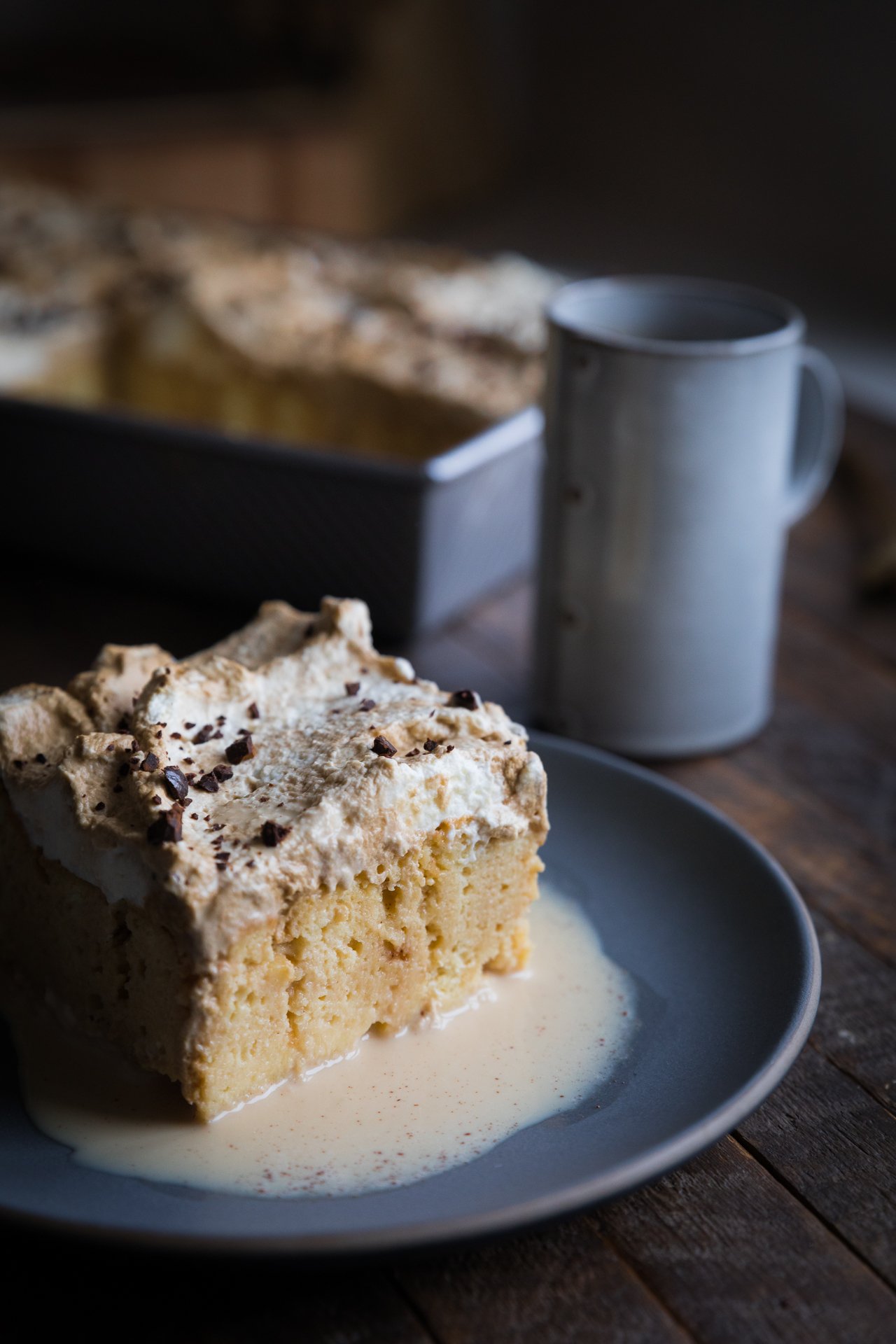 And don't forget to check out all the other fantastic coffee-inspired recipes at our #VirtualCoffeeParty2018! I'm drooling over them all!
alexcrumb – Vegan Chocolate meringue pie
Ananas e Hortela – Strawberry Rolls with White Chocolate Glaze
black.white.vivid. – Emirati Sweet Dumplings with Coffee Syrup (Luqaimat)
Cloudy Kitchen – Tiramisu Sheet Cake
DisplacedHousewife – Banana Espresso Cake with Espresso Bean Buttercream
Feed the Swimmers – Fudgy Espresso Sweet Potato and Black Bean Brownies with Hazelnuts and a Coffee Cream Cheese Frosting
Flor de Cerejeira – Mocha Orange Entremet
Flour Covered Apron – Espresso Banana Muffins with Chocolate Espresso Glaze
From Scratch Mostly – Argentinian Dulce de Leche Churros, Dipped in Coffee Chocolate Sauce
Harvest and Honey – Mocha-Braised Pork & Polenta Bowls
Love Olive – Breakfast Almond Pancakes with Coffee Syrup
Milk of Thy Kindness – Best and Easy Coffee & Avocado Indo Style
Stems & Forks – Espresso Cinnamon Buns
TermiNatetor Kitchen – Blueberry Creme Fraiche Coffee Cake
The Almond Eater – Mocha Tahini Fudge
The Cinnaman – Espresso Ricotta Cheesecake with Emirati Date Crumb (batheeth)
The Korean Vegan – Vegan Tiramisu
INGREDIENTS
Coffee Milk Soak Ingredients
INSTRUCTIONS
Preheat the oven to 325 degrees. Grease the bottom and sides of a 9 x 12 inch cake pan with butter and coat with flour. Tap out excess flour.

Separate the eggs, putting eggs yolks in one bowl and egg whites in another (or in the bowl of your mixer if you are beating egg whites in a stand mixer). Sift together the flour and baking powder in a large mixing bowl. Add 1 1/4 cups of the sugar and salt and whisk to combine.

Add the oil, water and vanilla into the bowl of egg yolks. Make a well in the flour bowl and add the yolk mixture, whisking thoroughly and quickly until just smooth (for about one minute)

Whisk the egg whites on medium speed with a whisk attachment until frothy. Add the cream of tartar or lemon juice and beat on medium high speed until the whites just start to form soft peaks. Slowly add the remaining 1/4 cup of sugar while the mixer is running until the whites hold firm, shiny peaks. Be careful not to overmix the whites.

Using a rubber spatula, fold about 1/3 of the whites into the batter to lighten the batter. Gently fold in the remaining whites until just combined.

Pour the batter into the prepared pan and tilting the pan so the top is flat. Bake until a toothpick or tester comes out clean, about 35-45 minutes. Allow the cake to cool.

Make the coffee milk soak mixture by combining all the ingredients and whisking.

Using a skewer, poke lots of holes through the top of the cake to the bottom of the cake. Poke an excessive amount of holes! Pour the milk mixture over the cake. Cover with plastic wrap and refrigerate for several hours or overnight.

In a stand mixer with the whisk attachment, whisk 1 cup of cream with the espresso powder and 1 tablespoon of sugar until soft peaks form (careful not to overwhip). Transfer the espresso whipped cream into a separate bowl, clean out the stand mixer and whisk and whisk the remaining heavy cream with another tablespoon of sugar until soft peaks form.

To frost your cake, dot your cake big dollops of alternating white and brown whipped cream. Using an offset spatula or back of a large spoon swirl the whipped cream over the cake making large grooves. Finely chop the chocolate covered espresso beans and sprinkle over the top of the cake.
(images by HonestlyYUM)