The farmer's market can be such an inspirational place– seasonal produce in all different sizes, colors and varieties! To celebrate the end of summer, Erica, Todd and I decided to make lunch together with ingredients from our local farmer's market. Of course, we had to make this trip a little more interesting and decided to add some rules (because what's more fun than rules, right?). We gave ourselves $20 and could only use ingredients from the market.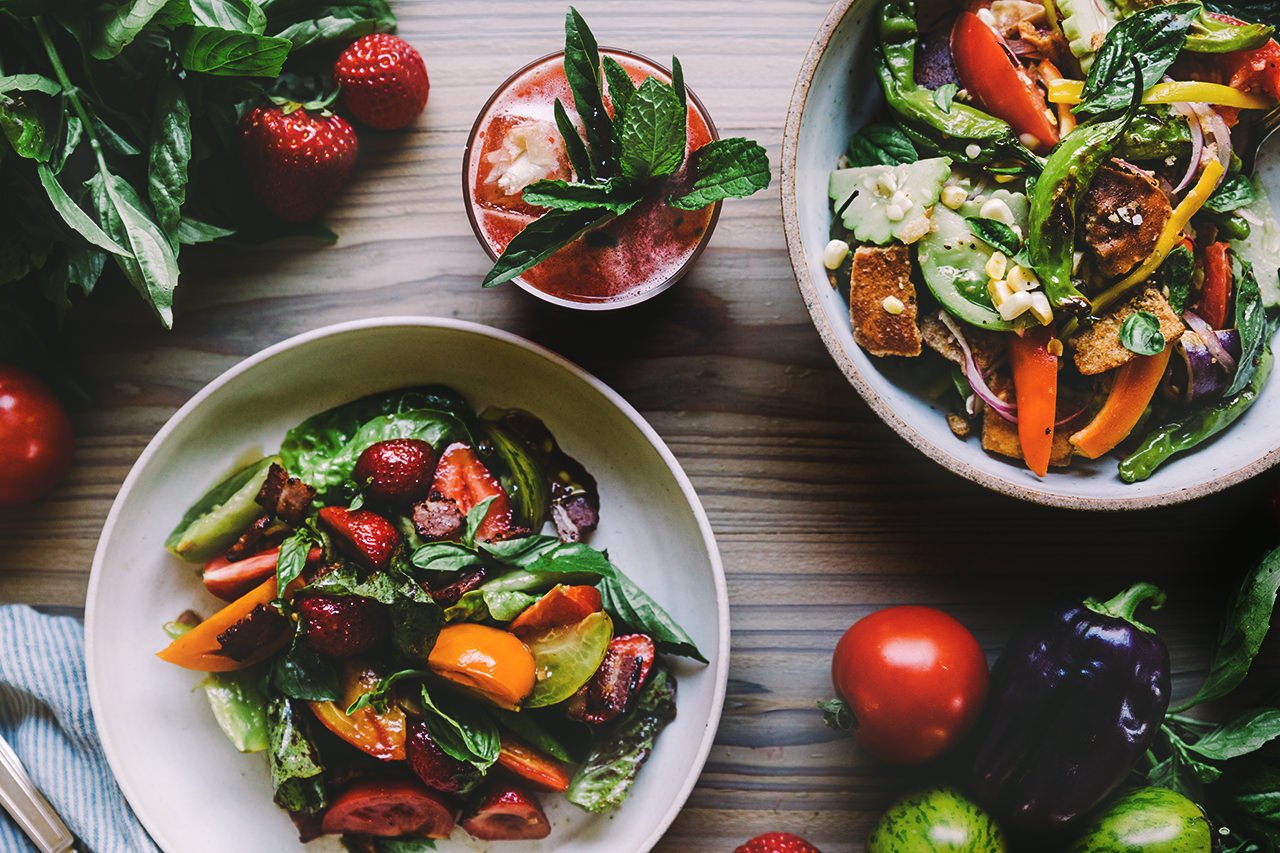 With our cash in hand, we all went our separate ways to get ingredients for our dish. We came back to Erica's with bags full of fresh summer produce — tons of tomatoes, fresh herbs, corn, strawberries and peppers. I made a pepper panzanella salad with fresh tomatoes, multi-colored raw summer peppers, blistered shishitos, red onions, sweet corn, Armenian cucumbers, basil and pita chips (yes, from the farmer's market). Erica made a basil, spinach, strawberry, tomato and bacon salad. Finally, Todd made a refreshing tomato and strawberry cocktail! This was so fun that we're thinking of doing a similar challenge when fall ingredients are in peak season!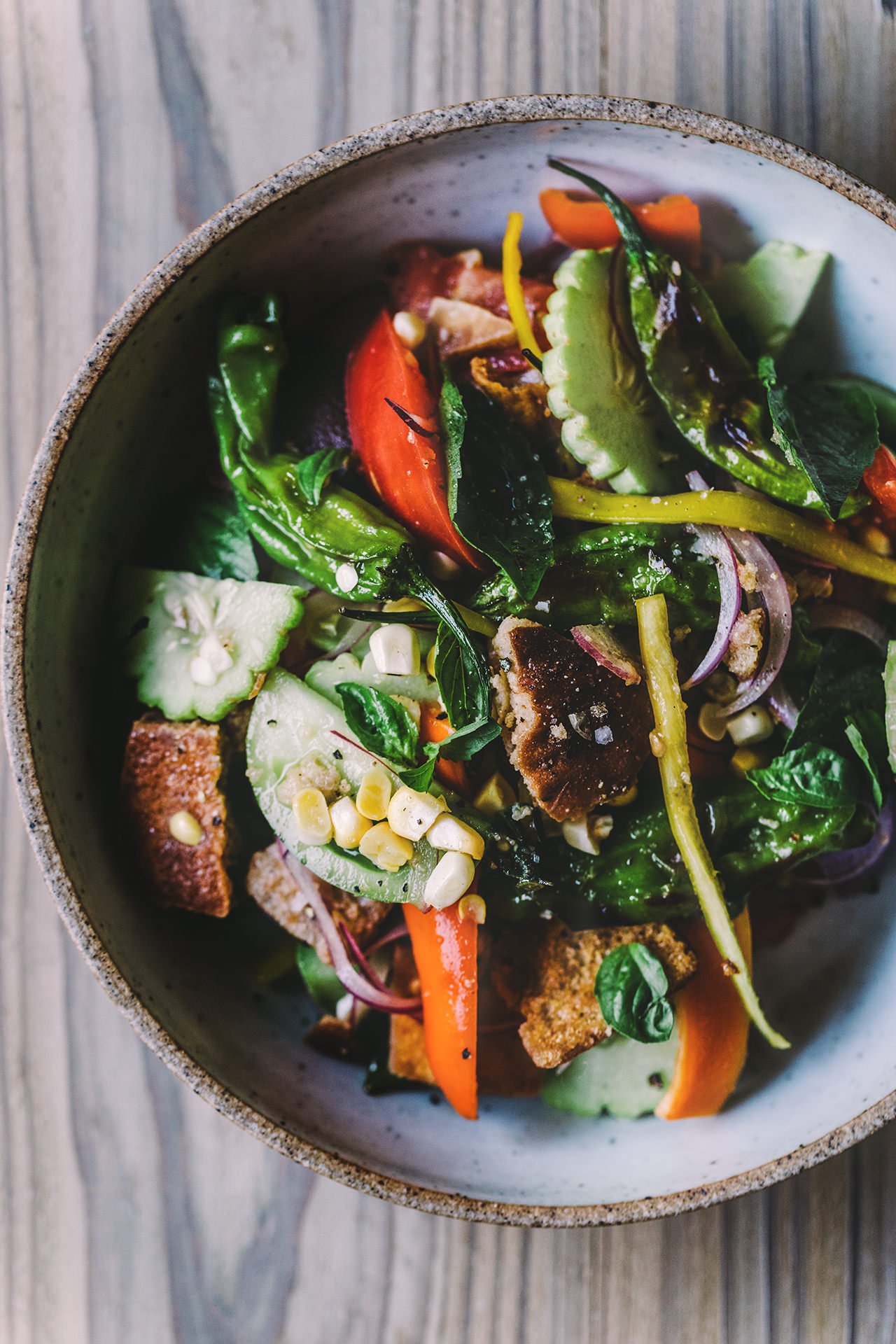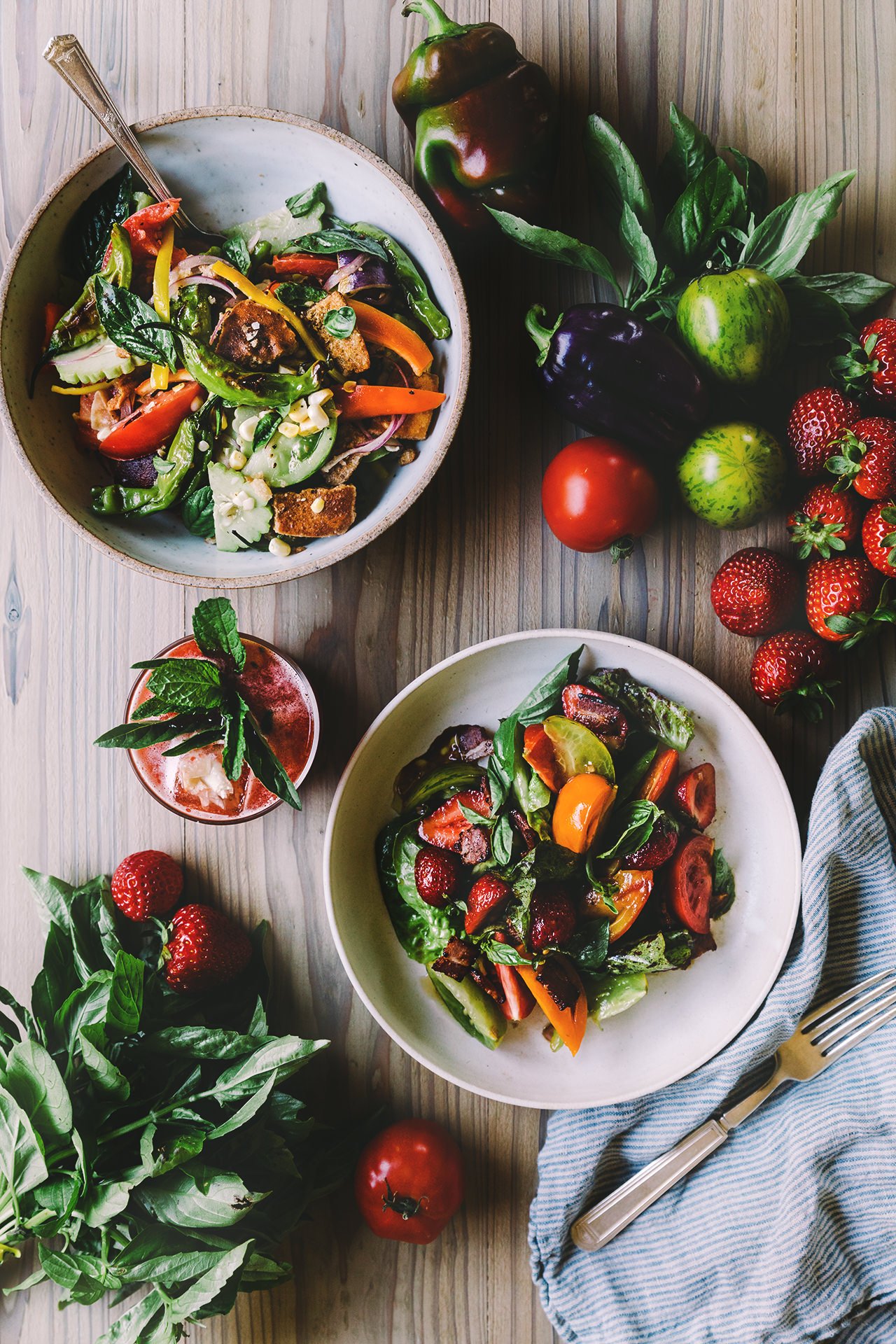 INGREDIENTS
Strawberry Tomato Bacon Salad
Tomato + Strawberry Cocktail
INSTRUCTIONS
Pepper Panzanella
Preheat oven to 450 degrees. Toss the shishitos lightly in oil, add a large pinch of salt and roast on a baking sheet for about 10-15 minutes until the peppers are blistered and soft.

Slice the peppers and cucumbers about 1/4 inch thick. Thinly slice the red onion. Cut the tomatoes in wedges. Cut the corn off the cob.

Add all the prepped ingredients into a bowl (along with the juices that are on the chopping board). Add the shishito peppers and basil, and gently crush the pita chips with your hands while adding them to the bowl.

In a small bowl, whisk the oil with the vinegar and add a large pinch of salt and some more fresh cracked black pepper. Toss the salad ingredients with the dressing and let the pita chips soak up the juices from the vegetables and dressing before serving. Add more of any particular ingredient that you like.
Strawberry Tomato Bacon Salad
Roughly chop cooked bacon into pieces.

Slice tomatoes and strawberries into wedges.

Roughly tear romaine into large pieces.

To make the dressing, whisk mustard, garlic and vinegar together in a small bowl. Slowly drizzle olive oil while continuing to whisk. add salt and pepper to taste.

Gently combine bacon, strawberries, tomatoes, lettuce and romaine in large bowl with your hands.

Drizzle in dressing to taste.
Tomato + Strawberry Cocktail
Add basil, mint, strawberries, tomatoes, peppers, and honey into the bottom of a mixing glass, and muddle.

Add the lime juice and tequila, fill with ice and shake thoroughly for 10 seconds. Double strain into an old fashioned glass over ice, and garnish with strawberry and mint.
(images by HonestlyYUM)