Breakfast at my parent's house is the best. Nothing is better than going home for the weekend, sleeping in my old room and waking up to my parents making me breakfast so I can get in some extra zzzz's. Makes me feel like a kid all over again. So making the most beautiful, yet laborious, crepe cake seemed like the perfect thing to make for mom for Mother's Day brunch. Each of these delicate crepes are layered with a fluffy lemon mascarpone creme and topped with plump raspberries and fresh flowers. If you've failed at making crepes in the past, as I have, I've got some foolproof tips on making a flawless crepe. It's absolutely glorious and worth giving it a try – your mom deserves it, after all!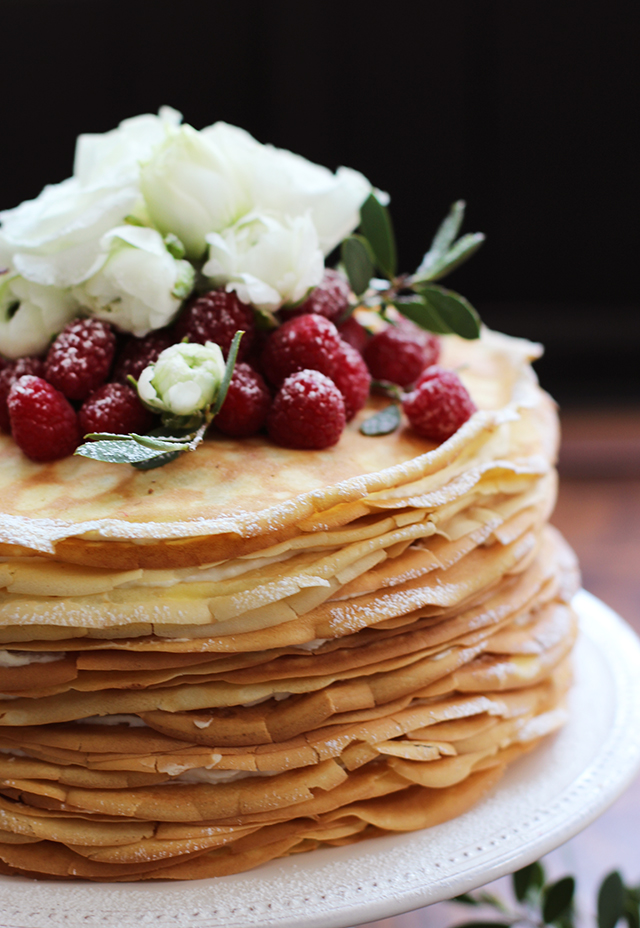 Crepe ingredients (makes 15-18 10″ crepes)**:

9 large eggs
1 1/2 cups whole milk
1 1/2 cups of mascarpone
1 1/2 cups flour
1/4 cup powdered sugar
2 tsp vanilla
1 tsp salt
zest of one lemon

Lemon mascarpone cream ingredients (for 15-18 layer crepe cake)**:

1.5 cups heavy whipping cream

4 tablespoons granulated sugar

10 ounces mascarpone
6 ounces of lemon curd
3 tablespoons of limonchello

** The crepe cake shown here is made with 25 crepes, double the recipe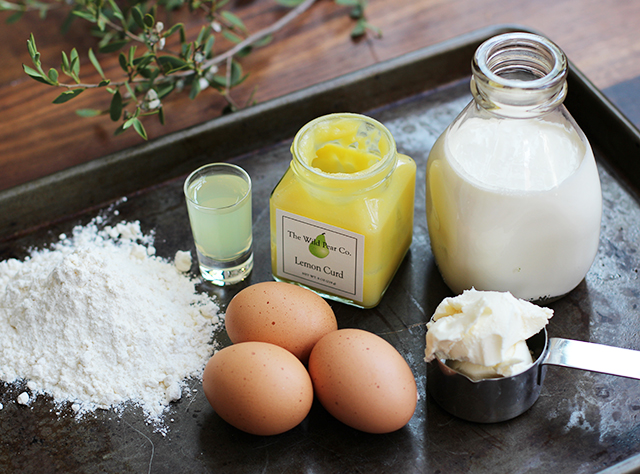 To make the batter, combine the flour, eggs, milk, mascarpone, salt and powdered sugar into a blender and give it a good whiz until smooth. Turn the heat to medium low and ladle 1/4 cup of batter onto a 10″ non-stick pan.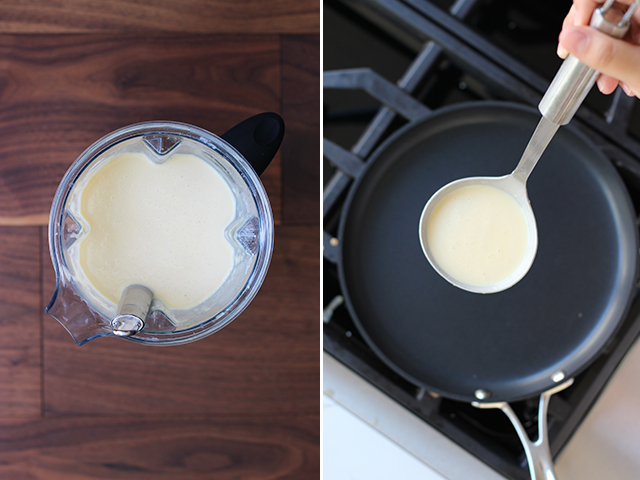 There are a few tips and tricks to making the perfect crepe. The first is to use a non-stick pan – I'm using a non-stick 10″ crepe pan here. Keep the temperature at a medium low heat and do not butter the pan! Butter will make the batter soggy – making it difficult to flip. If you are using a non stick pan, there is no need for butter. As you are pouring the batter, lift the pan and rotate it quickly so the batter spreads evenly. Let the crepe almost cook entirely through before turning it over. It should take about 90 seconds on the first side.
If the batter is setting before spreading, the heat is up too high. If the crepe is falling apart or folding on itself when you try flipping it, it's because you haven't let it cook long enough on one side. Give it time!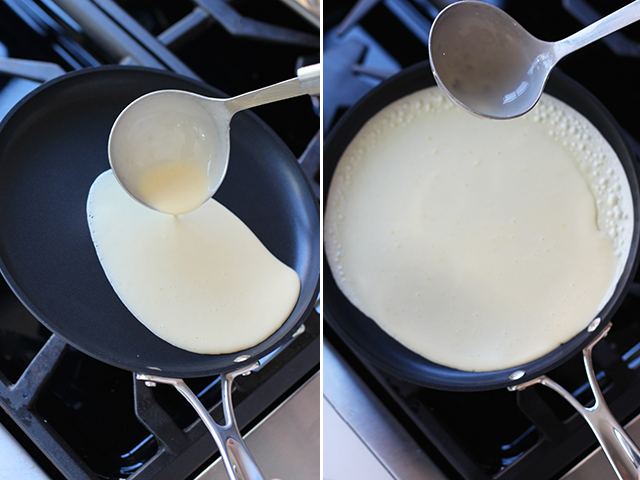 Use a rubber spatula and your fingers to turn the crepe over. Cook for another 10-15 seconds and place the crepe on a foil lined baking sheet. Continue making crepes, piling them on top of each other – remember that the cream will add height to your stack. Allow to cool for a few hours before assembling with the pastry cream. It can even cool, unwrapped on the kitchen counter, overnight.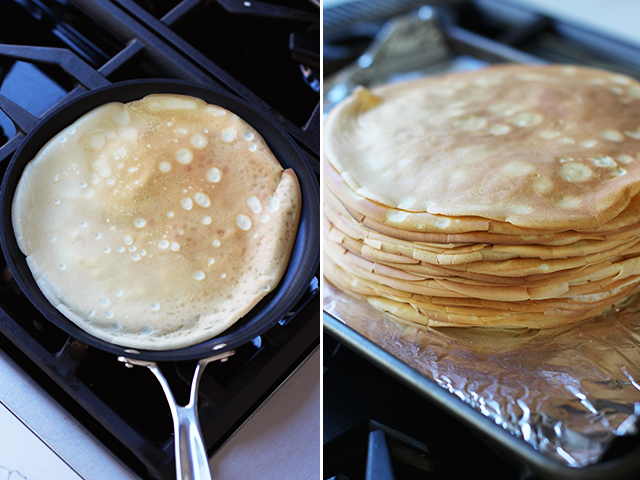 Meanwhile, combine the whipping cream and caster sugar and whisk until it forms soft peaks. Set it aside. In another mixing bowl, mix the mascarpone, lemon curd, and limonchello until blended. Gently fold the whipped cream into the mascarpone mixture. The cream should be light and smooth.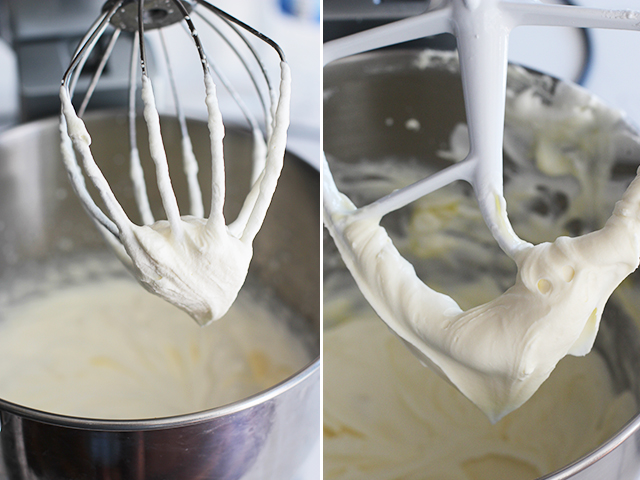 Once your crepes have completely cooled, place the first layer onto a cake stand. Give it a dollop of cream and spread it evenly.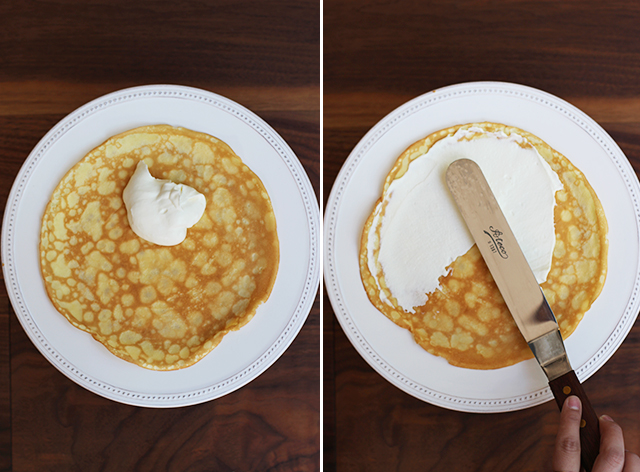 Continue adding layers of crepes and cream until you've reached your desired height. I used 25 crepes here, which was just barely pushing the limit. I was tempted to add more, trust me!
Top it off with a pile of fresh raspberries and a dusting of powdered sugar.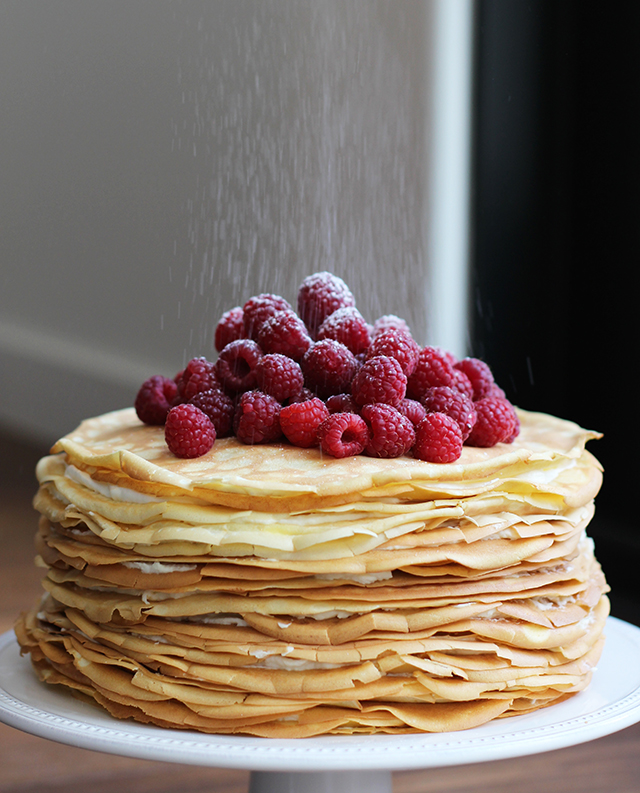 Add flowers.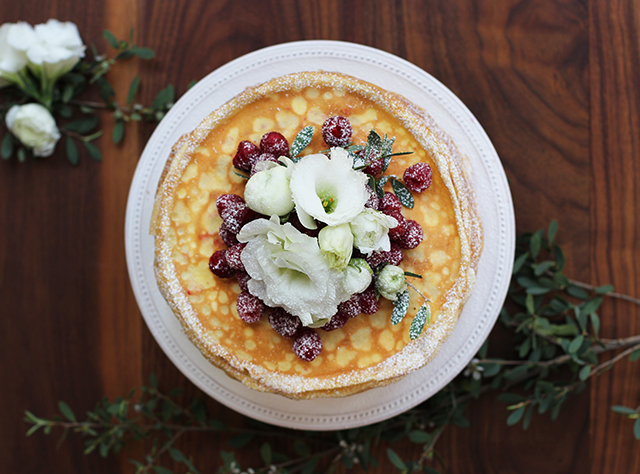 Chill in the refrigerator until ready to eat.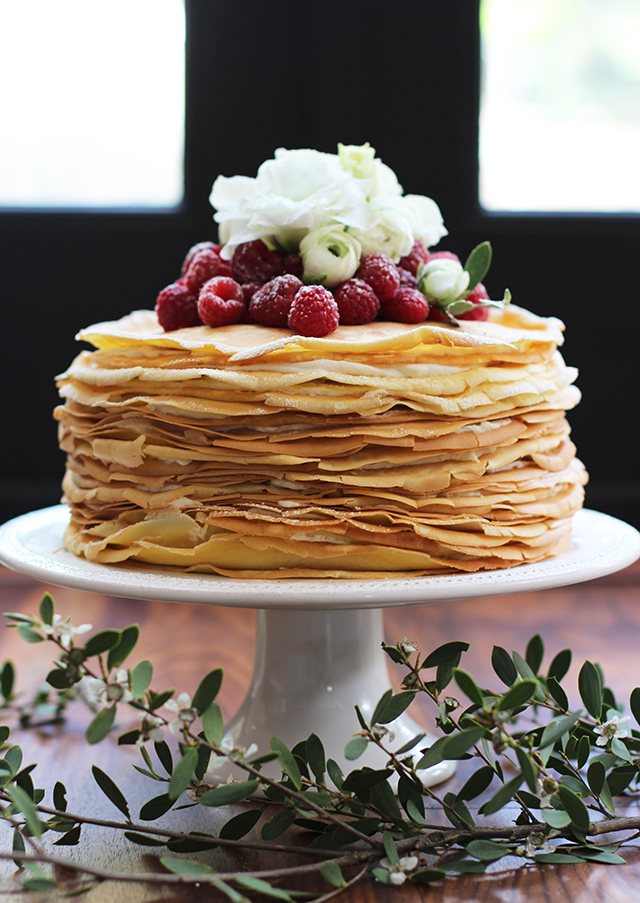 Trade a slice for a smile. Happy Mother's Day!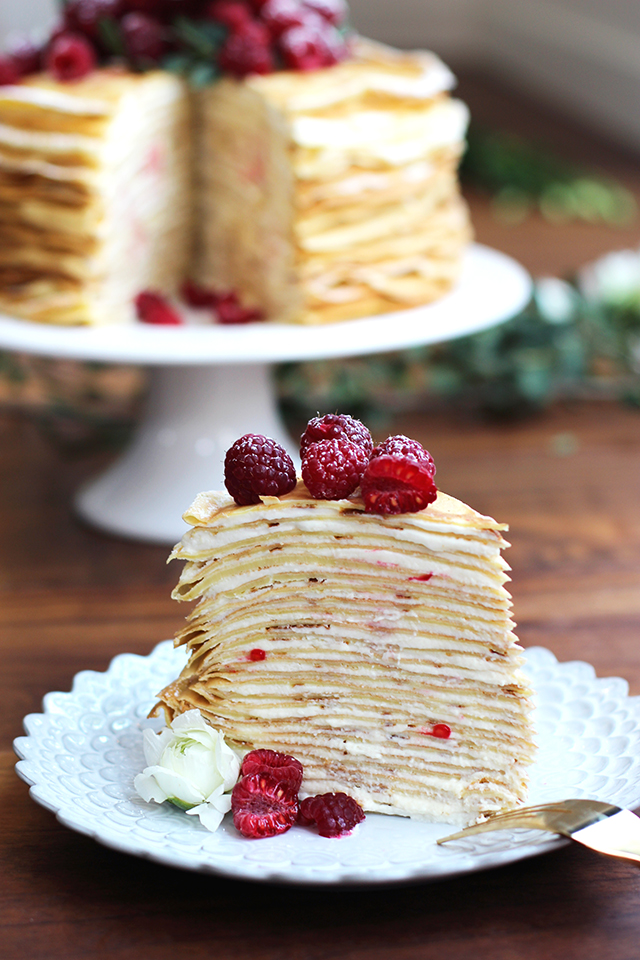 (images by HonestlyYUM)