Pozole is comfort food at its finest– a steaming bowl of tender pork and hominy in a deep red but light chile broth. My good friend Ofelia first introduced me to this Mexican stew and I instantly fell in love. Pozole is her dish. Any time she has a day off, she'll make a big pot of pozole. Like any good cook, her method is imprecise but the results are always spot-on as a result of years of practice. Thankfully, I've watched her make this long enough to pick up a few of her tricks. She usually uses pork neck bones, but those can be hard to find so I've used pork shoulder here, which works great. This is the kind of dish that calls for improvisation so make it your own. So how does one eat pozole? I love it overloaded with tons of shredded cabbage, avocado, salsa, cilantro, onions, lime, tostadas and a sprinkle of McCormick's Mexican oregano. Check out my video below on how it all comes together!
Ingredients:

3.5-4 pounds of pork shoulder (with bone in)
6 quarts of water
12-14 dried New Mexican chiles
5 cloves of garlic
1 yellow onion
1 teaspoon of 

McCormick® ground cumin

2 29-oz. cans of hominy
sea or kosher salt

Garnish:

shredded cabbage
1 whole white onion, finely diced
1 large bunch of cilantro, minced
lime wedges
avocados
tostadas
tomato salsa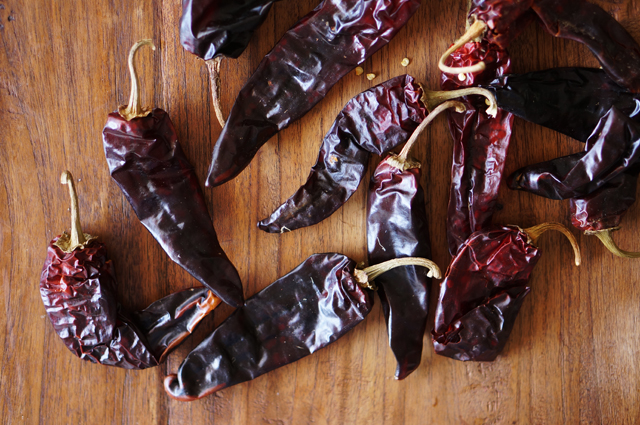 Fill a large stockpot with the 6 quarts of water. Cut pork shoulder into large pieces (trimming and discarding some of the large pieces of fat) and try to cut most of the meat off the bone. It's okay if you can't get most of the meat off the bone as it will fall off as it cooks. Cut onion in half down the middle of the stem so the layers stay together. Add meat (and the bone), cumin, garlic, onion, and 2 tablespoons of salt to the water. Bring to a boil and simmer, skimming the scum that forms on the surface.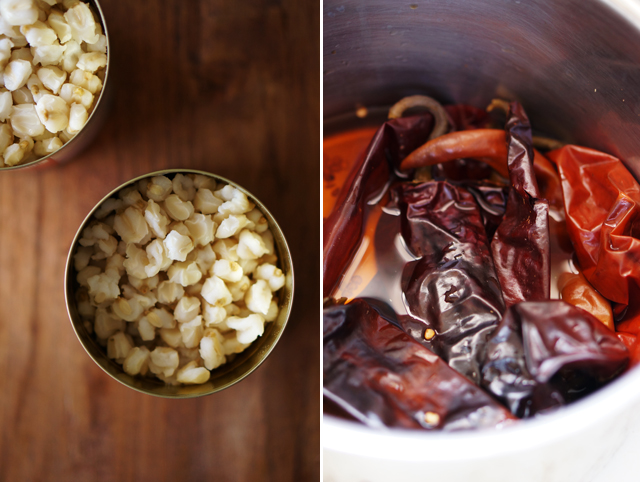 While the stock is simmering, drain hominy and add the hominy into the soup. Add chiles to a medium pot and add enough water to just cover the chiles. Bring to a boil and simmer for 30 minutes with the lid on until they are pliable. Drain and allow chiles to cool and remove stems and the seeds inside. Place all the deseeded and destemed chiles in a blender and blend adding enough water to liquify the chiles. Strain through a fine mesh sieve and add the strained chile sauce to the soup.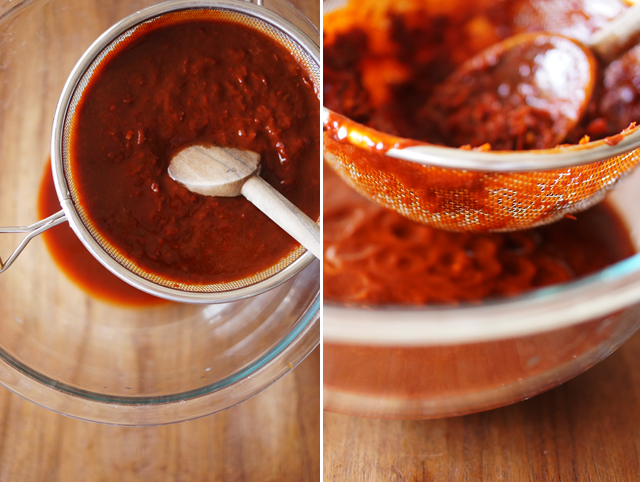 Simmer the pozole with the lid on for about 2 to 2 1/2 hours or until the pork is tender and breaks apart easily. Add more salt if needed. Also, pozole is even better the next day!
Garnish with shredded cabbage, Mexican oregano, avocado, salsa, diced onion and cilantro, lime wedges, and tostadas.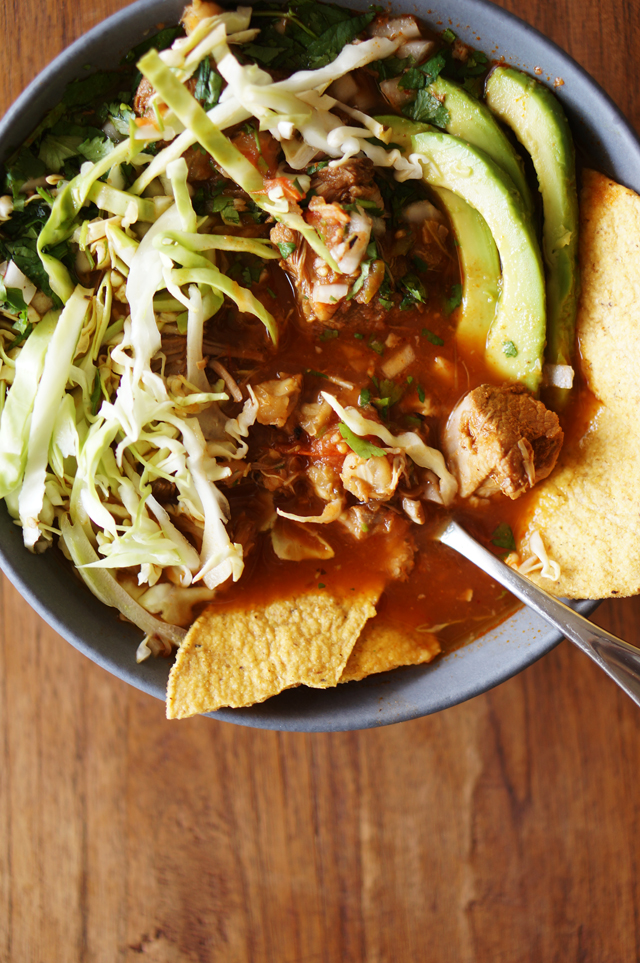 (images by HonestlyYUM; music by Tamacun by Rodrigo y Gabriela)