No churn ice cream. I wish I could say that I had thought of that. I stole this idea from Nigella Lawson and it's just brilliant. I own an ice cream maker and I must admit that I can count on one hand the times I've used it. You have to remember to freeze the bucket and then tediously make the custard– frankly with my busy schedule, I just never have the time. This recipe gives you the same churned ice cream texture with just heavy whipping cream and condensed milk. I know, sounds too good to be true, but let me preface this by saying I too was skeptical about this alleged "no churn" ice cream. The texture is spot on and you can tell it's more cream-y than custard-y, but I would take this any day. I made one of my favorites–  mint chocolate chip and mixed it up by adding chocolate covered sugar cone chunks. It's pretty awesome and gives you good ice cream-to-cone-ratio in every bite. And you know how important that ratio is.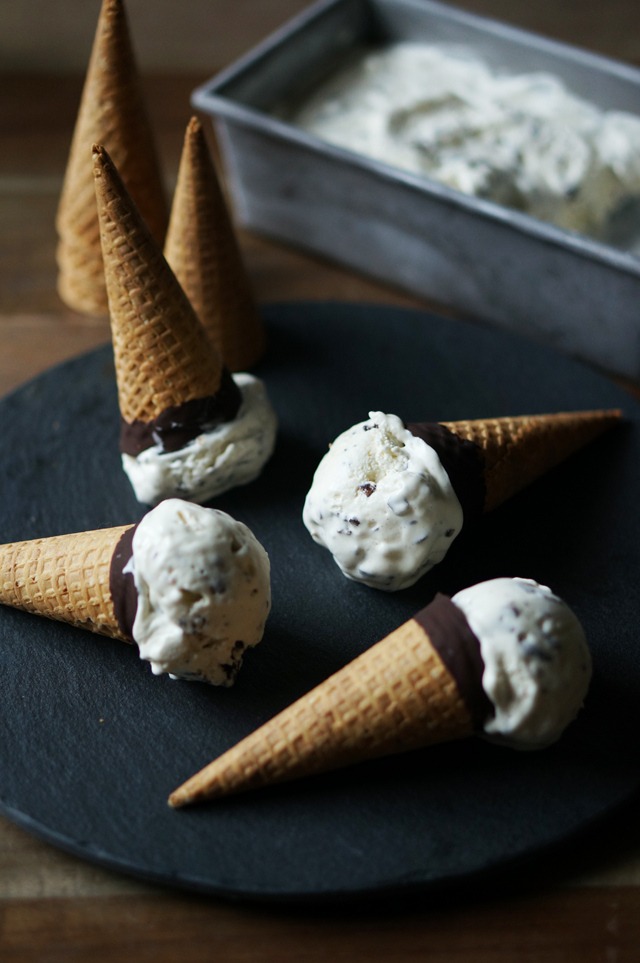 Ingredients:

2/3 cup sweetened condensed milk
1 1/4 cup heavy whipping cream, chilled
2 tablespoons of rum
1 teaspoon of peppermint extract
4 ounces of semi sweet chocolate
4 sugar cones, crushed (and whole cones for serving)
(optional) 2 ounces of semi sweet chocolate for dipping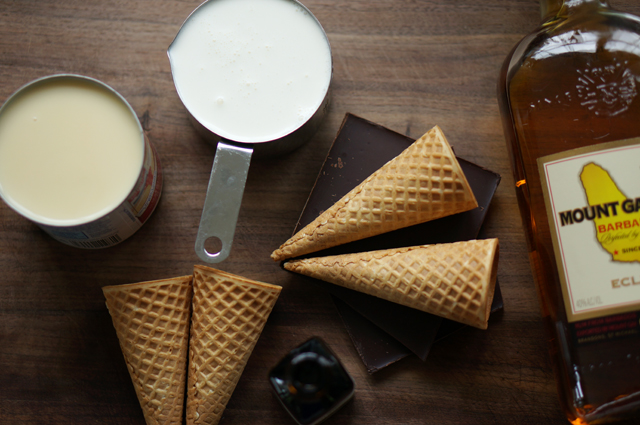 Make chocolate covered sugar cone chunks by crushing them into small pieces. Place chocolate bowl in a microwave safe bowl and heat for one minute. Mix and heat for another 30 seconds. Mix until all the chocolate is melted with the residual heat. Fold in cone chunks until all are coated. Pour our onto a parchment lined baking sheet in a thin even layer. Allow to cool completely. Chop into small pieces with a knife.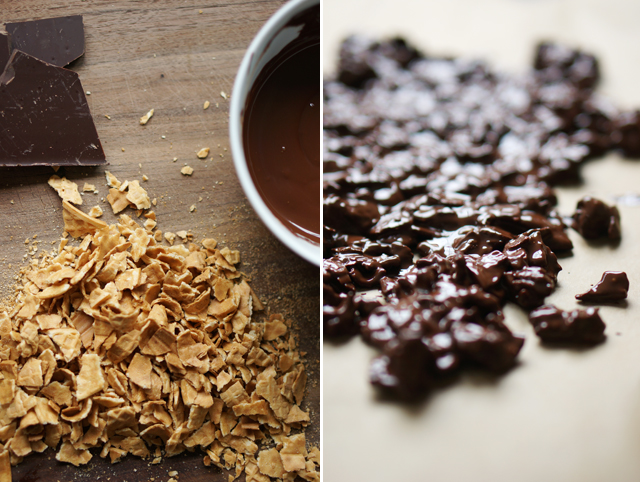 Start by combining condensed milk, rum, and mint extract in the bowl of a mixer, fitted with a whisk, and mix until combined. Add chilled cream and whisk on medium-high speed until medium peaks form (be careful not to overwhisk the mixture!). If you don't have a mixer or electric beaters, you can mix the condensed milk, rum and mint extract in a bowl and in a separate bowl beat heavy cream with a whisk until you have medium peaks. Then fold the cream into the condensed milk until combined.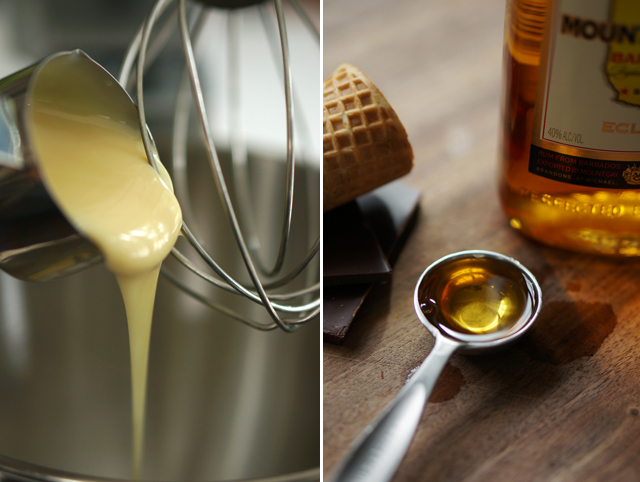 Fold chocolate-sugar-cone chunks in. Pour into a loaf pan and freeze for at least 6 hours or preferably overnight.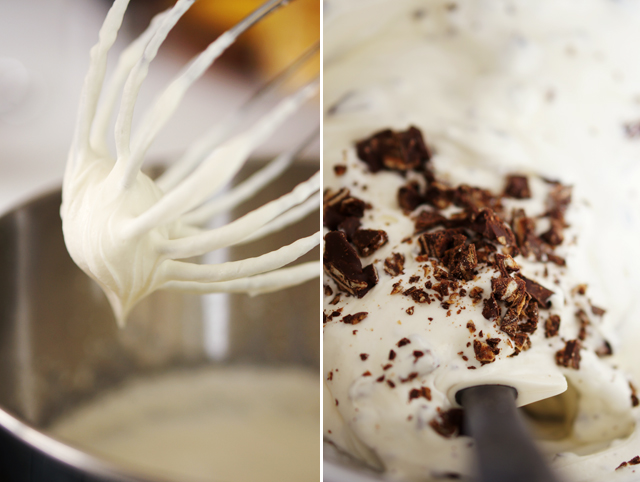 Melt the remaining chocolate in a microwave and dip the edges of the cone and place on parchment paper to cool.
The ice cream should firm and the texture of ice cream. If it's not, it probably needs more time in the freezer.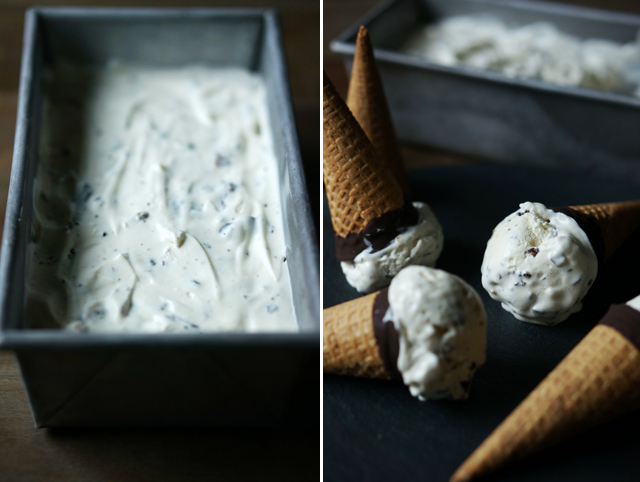 Scoop.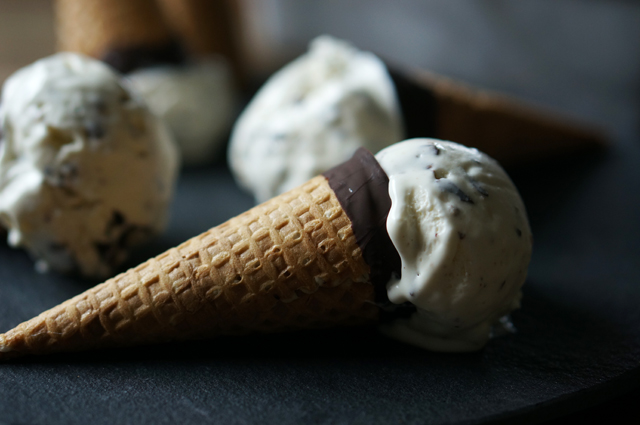 And smile! It's ice cream!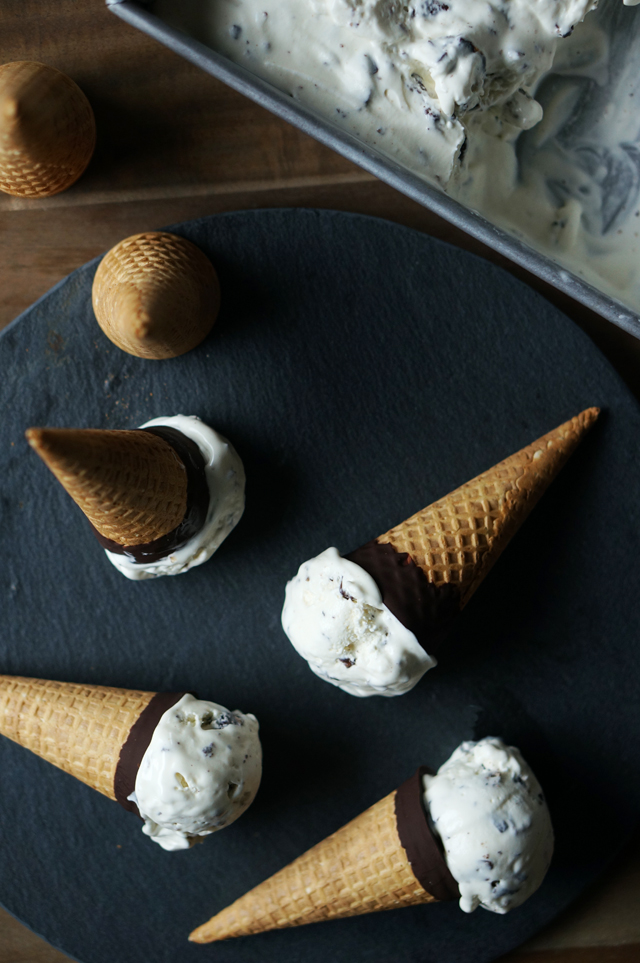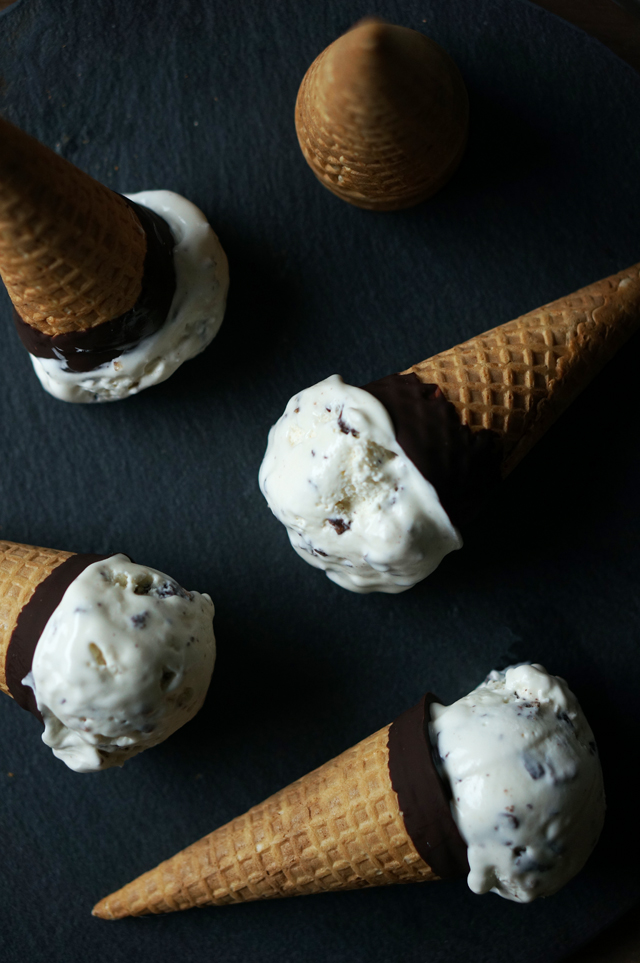 (images by HonestlyYUM)