Carrot cake is one of my favorite cakes. Or maybe it's just my love for cream cheese frosting. Either way, this carrot cake has it all. The batter a classic carrot cake recipe made with vegetable oil, which makes for a really light and fluffy cake. The addition of ginger in the frosting was something I thought might complement the cinnamon and nutmeg– and I was right– it's perfect. I generally find cream cheese frostings absurdly sweet (most recipes call for a whole box of powdered sugar), so I cut the sugar way down. The frosting is sweet but you can still taste the tanginess of the cream cheese– just how I like it. But the thing that excites me most about this cake is the tomboy or naked cake style. Frosting cakes has always been a pain to me so I just love this rustic style. The key is to have even layers and the key to even layers are . . . cake strips! I had no idea that these even existed until recently, but they absolutely work. Simply soak them in water and wrap them around the pans and you'll never have to trim the top of a domed cake again!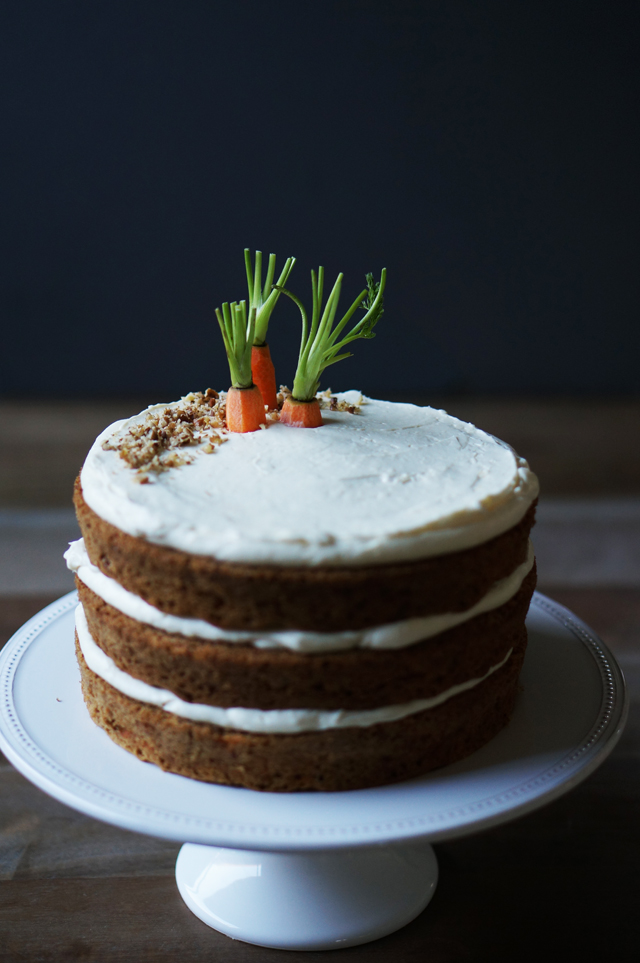 Cake ingredients:

2 cups of all purpose flour
4 large eggs, at room temperature,
1 1/2 cups of vegetable oil
1 1/2 cups of sugar
2 teaspoons of baking soda
2 teaspoons of baking powder
1 teaspoon of salt
1 teaspoon of ground cinnamon
3/4 teaspoon of grated nutmeg
3 cups of coarsely grated carrots
1/2 cup of chopped pecans

Frosting ingredients:

16 ounces of cream cheese, at room temperature
1 stick of unsalted butter, at room temperature
1 cup of powdered sugar
1 1/2 tablespoons of freshly finely grated ginger
2 teaspoons of vanilla extract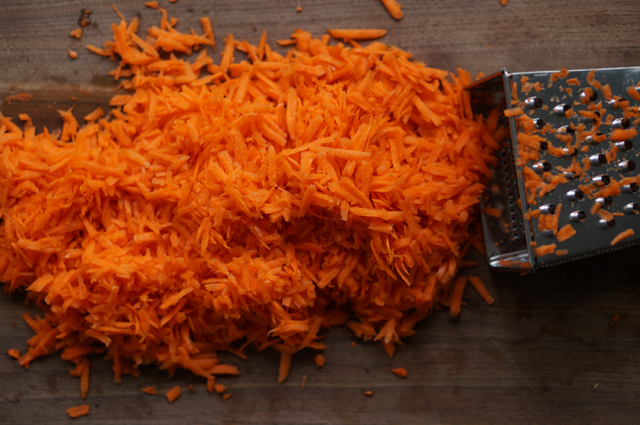 Preheat oven to 325 degrees F. Sift flour, spices, baking powder, baking soda and salt on a large piece of parchment paper. In the bowl of a mixer fitted with a paddle attachment, beat vegetable oil and sugar until combined. Add eggs, one at a time, until each is incorporated. With the mixer on medium speed, gather your dry ingredients on the parchment paper in the shape of a cone and start adding the dry ingredients to the wet batter in the mixer bowl. Using the parchment paper helps with keeping the dry ingredients from spilling over the bowl. Stop mixing when ingredients are incorporated. Fold in carrots and nuts.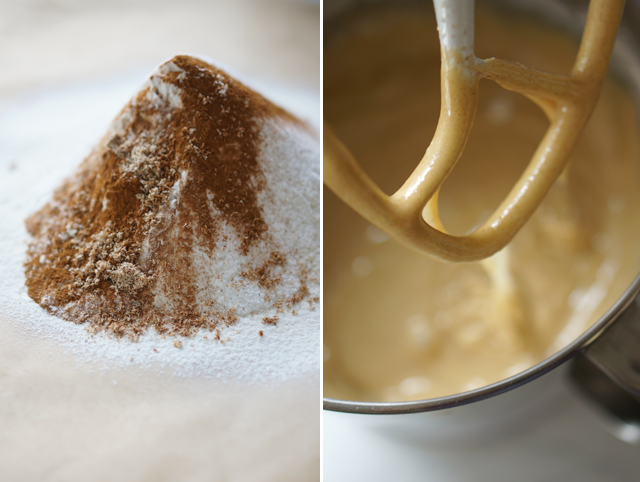 Prep 3 8-inch pans by buttering the pans and placing a round piece of parchment paper in the bottom of the pan. Wrap each pan with cake strips to make sure you have even and level layers. Place pans in the oven and bake for 45 minutes. Allow cakes to cool in the pan until cool enough to handle, about 10 minutes. Turn cakes out onto a rack, remove the parchment paper, and allow to cool completely on a rack.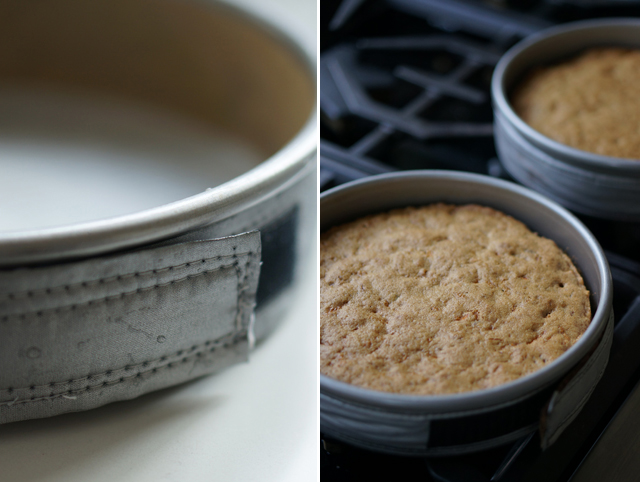 To make the ginger cream cheese frosting, combine all the ingredients in the bowl of a mixer fitted with a paddle attachment. Beat until smooth.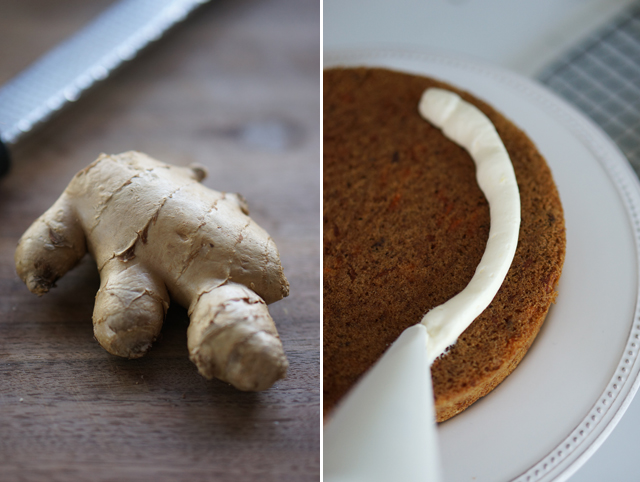 To assemble the cakes, place the first layer on a cake stand and using a piping bag without a tip, pipe a thick circle around the edge, fill the inside with concentric circles and smooth with a spatula.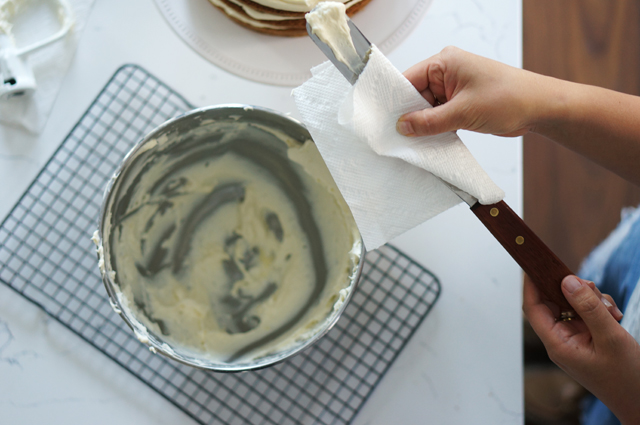 Add another layer and repeat frosting until you have three layers. I made the top layer of frosting thicker. Smooth the top with a clean spatula.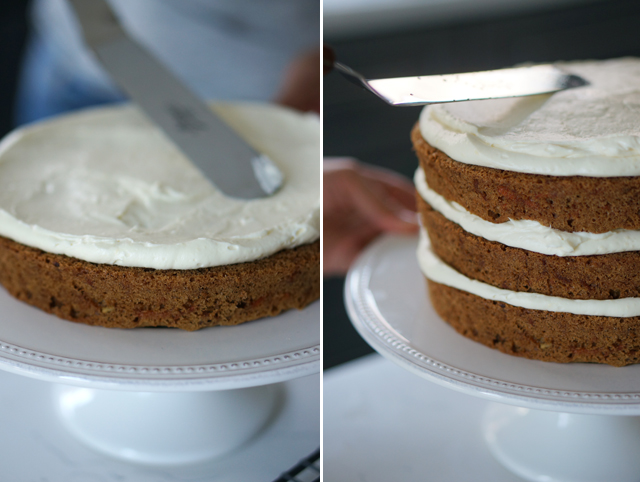 To sprinkle chopped nuts in the corner of the cake in a crescent shape. Add carrot tops.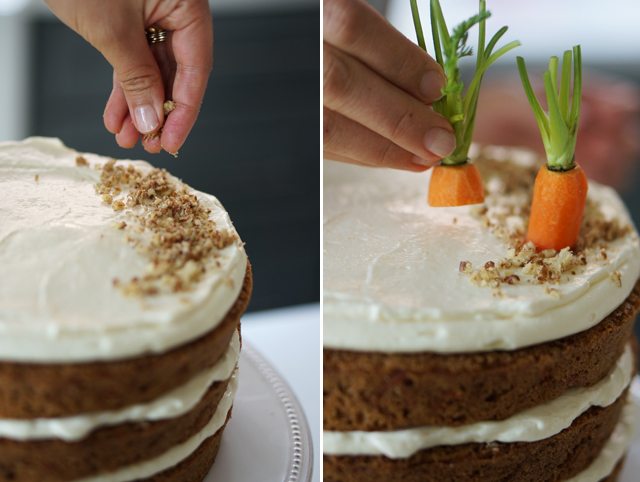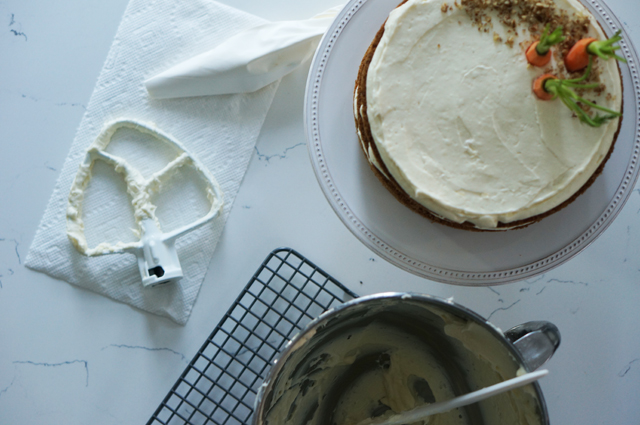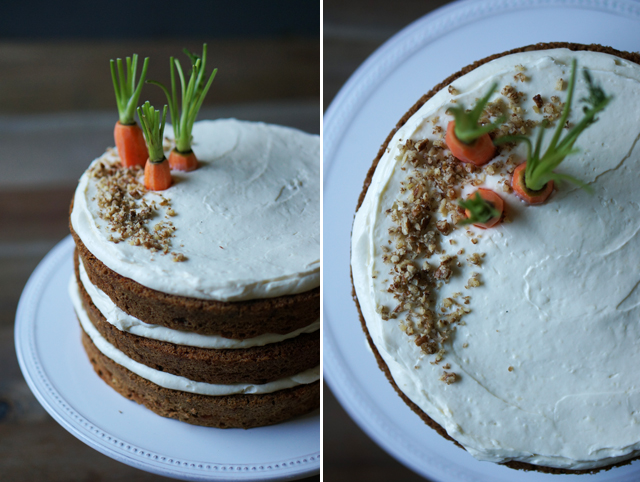 Take a huge slice and enjoy!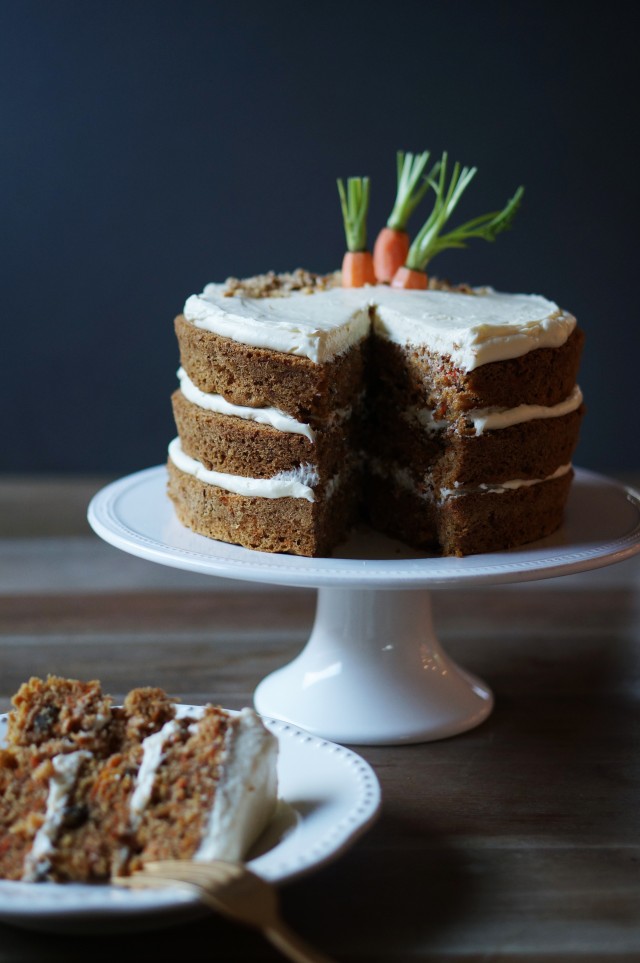 (images by HonestlyYUM)