The Oscars are here and I've been on a movie watching tear – cramming in as many nominated movies as I can before Sunday. I mean, can we talk about Matthew McConaughey performance in Dallas Buyer's Club? Or Cate Blanchett in Blue Jasmine? Or Lupita Nyong'o in 12 Years A Slave? I can go on and on. In lieu of a big Oscar viewing party this year, I've invited Karen and her boyfriend over for a more mellow affair. And in honor of my guest, I'm making homemade stovetop popcorn the Karen Chan way: buttered popcorn with movie theater candy mixed in. It's the ultimate marriage of savory and sweet!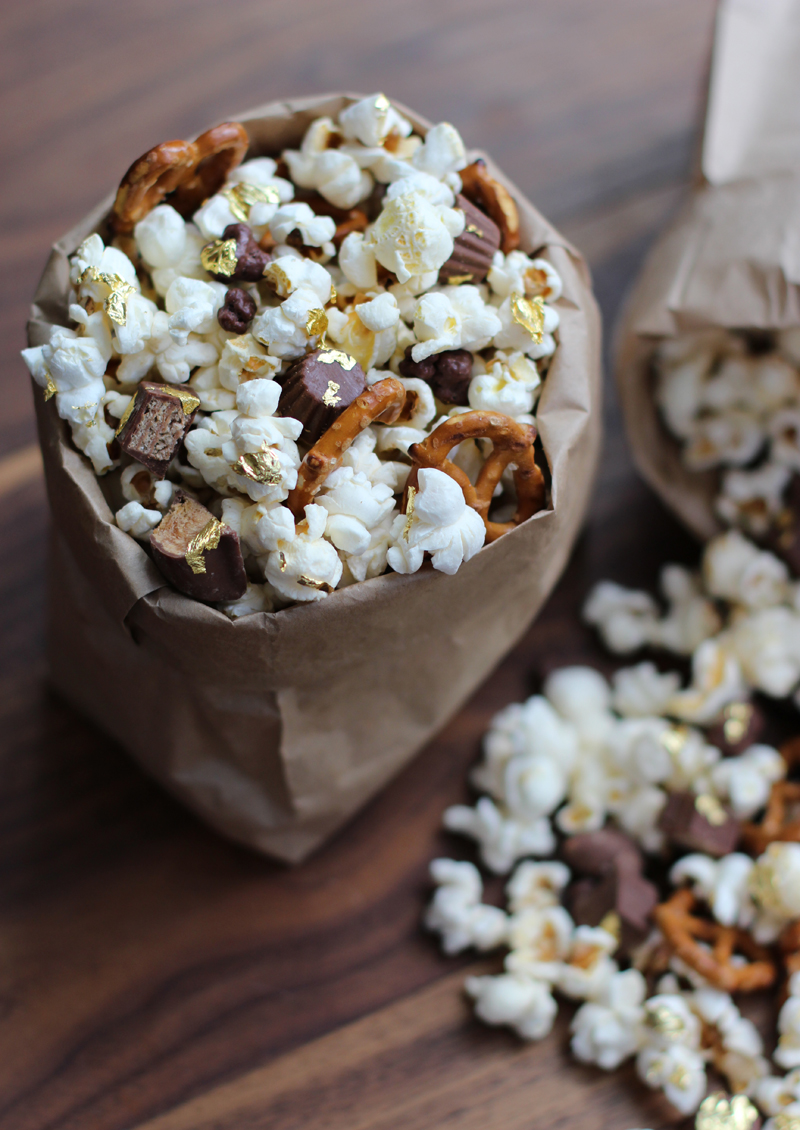 Making popcorn over the stove is really easy, without the unwanted additives that microwavable popcorn has. I'll be using ghee instead of peanut oil, which has an equally high smoke point and gives the popcorn a nice buttery taste without making it at all greasy. Add your favorite candy and bit of glimmering gold and you've got yourself an award winning snack.
Ingredients:

1 cup of yellow corn kernels
3 tablespoons of ghee
2 tablespoon of kosher salt
2 cups of your favorite candy
1/2 cup of mini pretzels
gold leaf flakes (optional)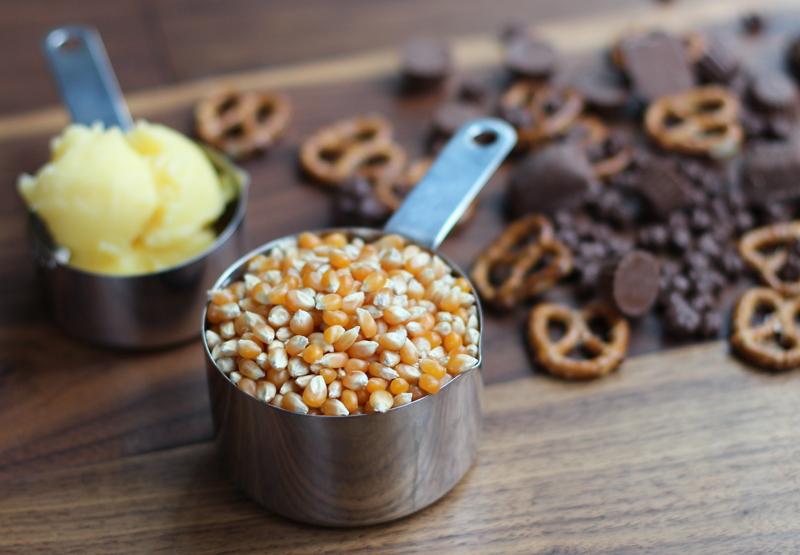 In a large dutch oven or cast iron pot, melt the ghee over medium heat. After the ghee has melted, drop 3-4 kernels or corn inside the pot.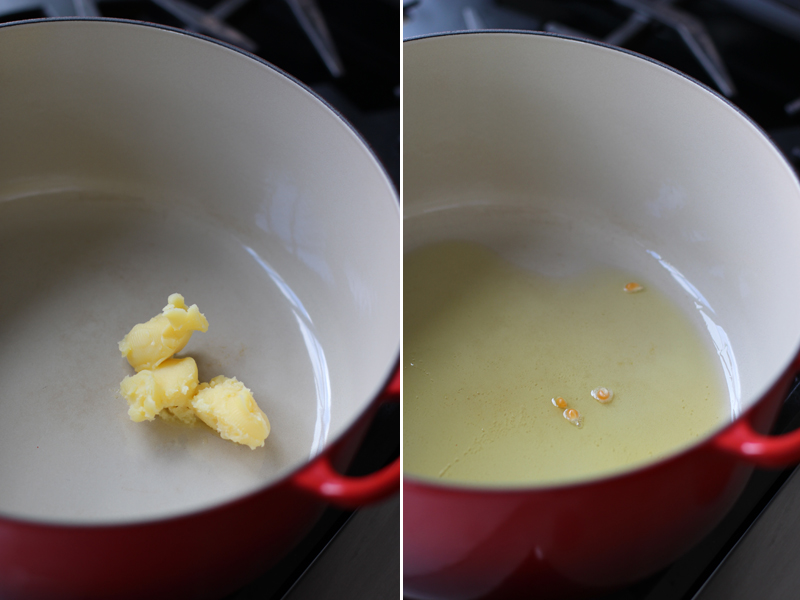 Once the kernels pop open, the ghee is hot enough. Quickly dump the kernels and salt into the pot, give a quick stir and close the lid.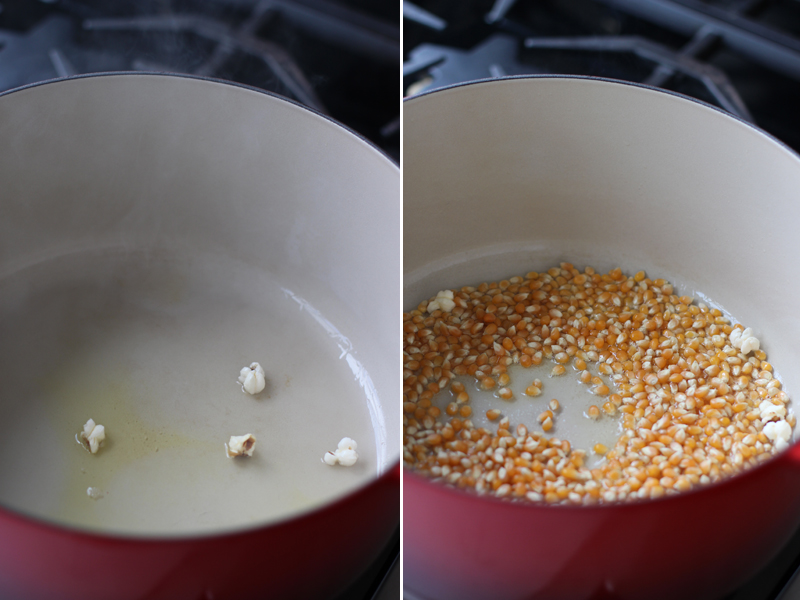 Leave a tiny gap so that steam can escape from the pot. But keep that lid closed because kernels are going to be popping all over the place. After a few seconds you'll start hearing the popcorn go POP! POP! POP! You might want to shake the pot back and forth a bit to prevent burning. Once the popping has slowed down, turn the heat off and wait until the last kernel has popped.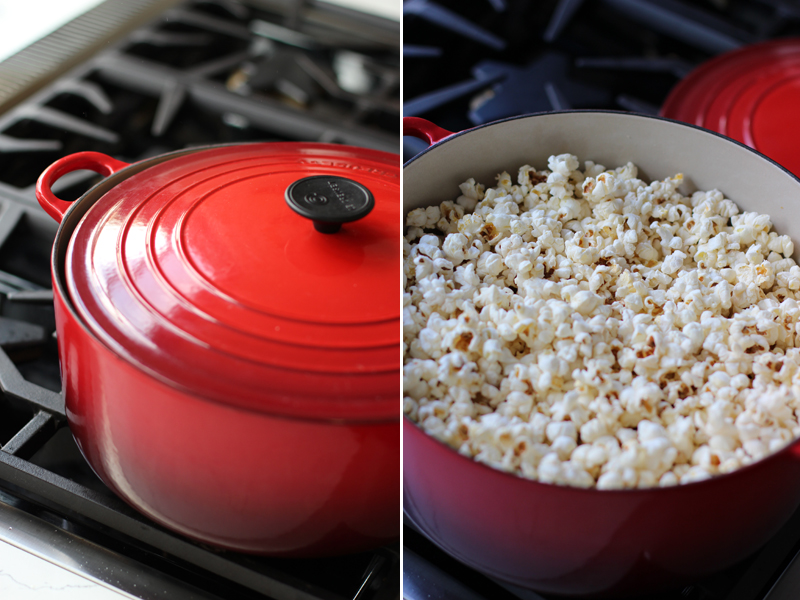 Let the popcorn cool completely before mixing in your candy. I used mini Reece's peanut butter cups, mini Butterfinger, mini Kit Kat, Buncha Crunch and mini pretzels – YUM. But feel free to add your favorites! Give it all a toss and pour the mixture into paper lunch bags.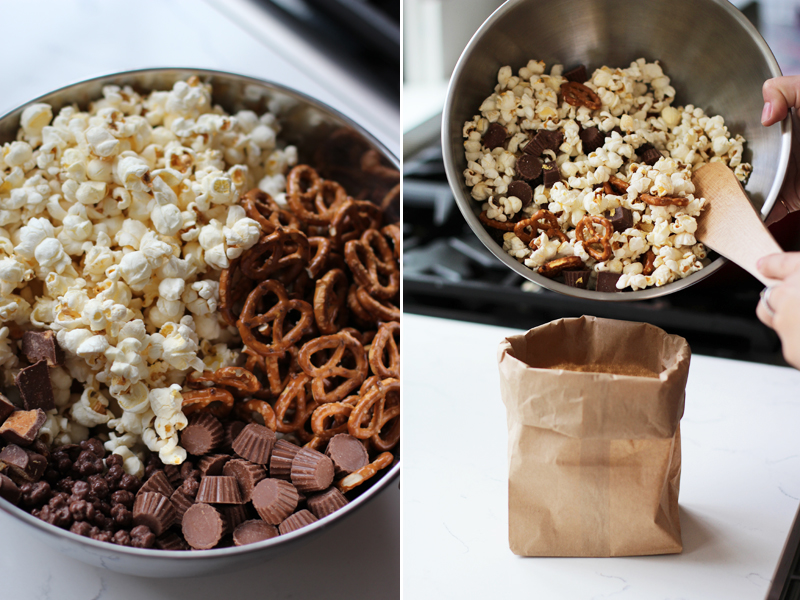 And for that special Oscar-inspired touch, I've added edible gold leaf. Enjoy!
And the winner goes to . . . ?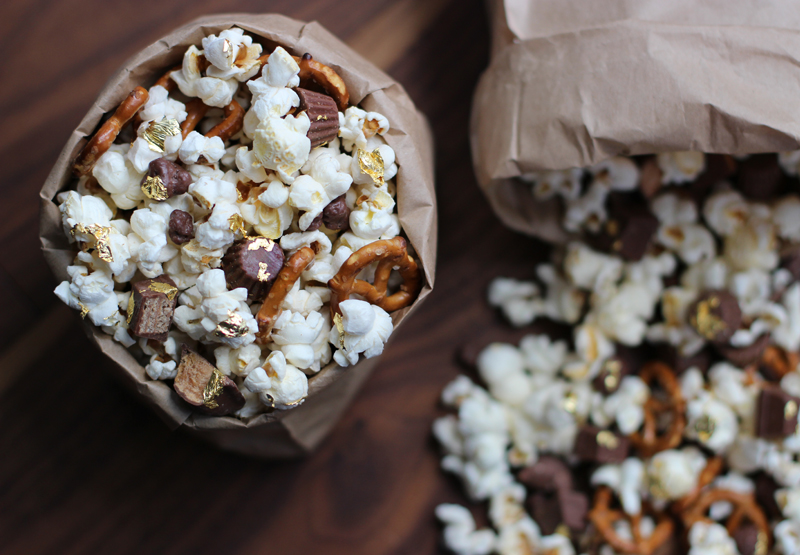 (images by HonestlyYUM)