I know what you're thinking– oven fried can't possibly be as good as a true deep fried wing. As a wing lover, I'll tell you I absolutely agree, but these are pretty damn close to the real deal! I love fried foods but really hate frying food. I avoid it if possible because its both messy and stinks up your house, and frankly, who wants to be standing over a greasy pot of hot oil all day on Superbowl Sunday. I have to say though, I was really impressed with this method of oven-frying wings. The idea is to get the skin as dry as possible and blast it under high dry heat so that the skin blisters like it would in a fryer. The recipe I used here uses baking powder to help crisp up the skin by way of some science that is beyond me– but it works! The results were wings that were crispy, blistered and brown (the blisters really help the sauce cling to the wings!)
This sauce is a twist on a classic buffalo sauce, which is simply Frank's Hot Sauce and butter. Instead, I replaced the Frank's Hot Sauce with Sriracha and tossed in some cilantro and jalapeno for even more heat. Stay tuned tomorrow for a sweeter take on hot wings: Pink peppercorn and honey-glazed wings– honestly, yum!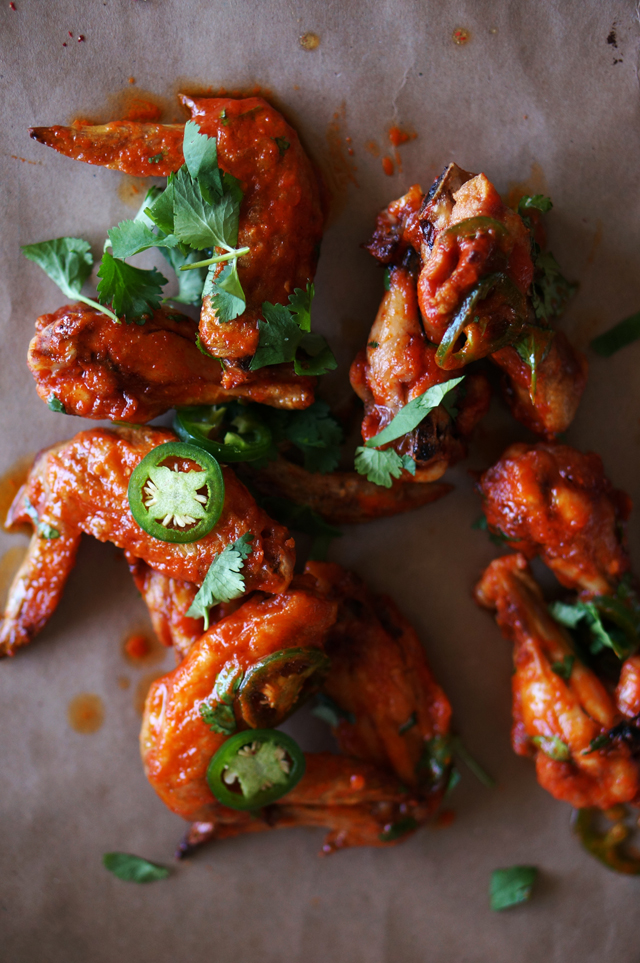 Chicken Wing Ingredients:

4 pounds of chicken wings
1 tablespoon of baking powder
1 tablespoon of kosher salt

Sriracha Buffalo Sauce Ingredients:

3/4 cup of Sriracha
6 tablespoons of unsalted butter
2 jalapenos, thinly sliced
1 small bunch of cilantro, roughly torn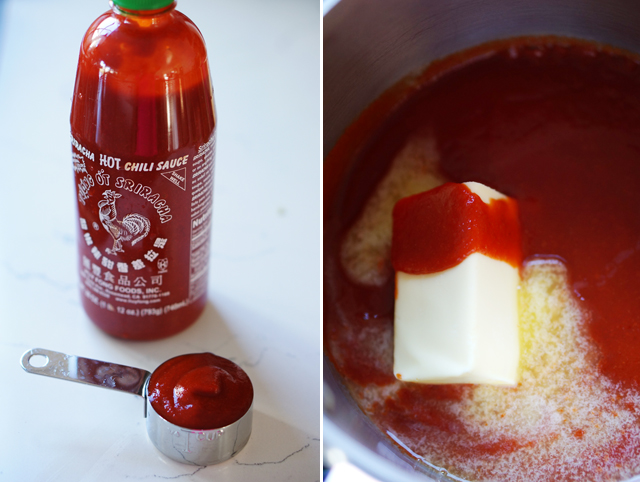 To break down a wing into a drumette and wing, slice the wing where it bends down to the joint. Using your hands, break the wings apart even further until the joint is visible. Take a knife and slice between the joint.  You can also have a butcher do this. I love the wing tips so I keep them on!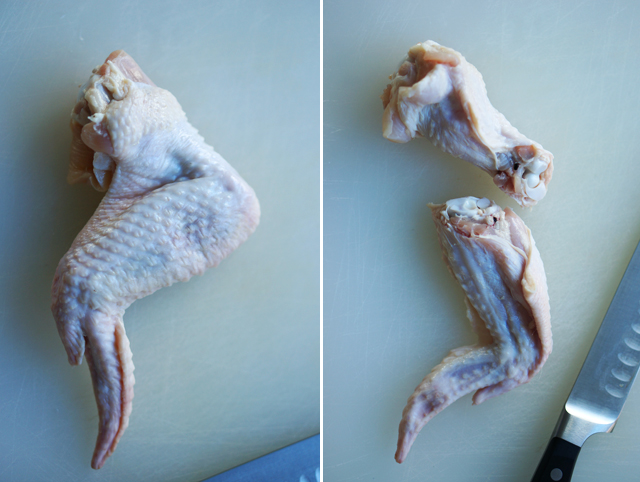 Pat dry the wings with paper towels. Combine the salt and baking powder in a bowl and toss wings to coat. Arrange on a baking rack on top of a baking sheet lined with foil. Leave room between the wings. Place wings in front of a fan for at least an hour to dry out the skin. I usually do this next to a window.
Preheat the oven to 475 degrees with the rack placed at the top of the oven. Bake for 20 minutes and flip wings and bake for another 15 minutes, until golden brown.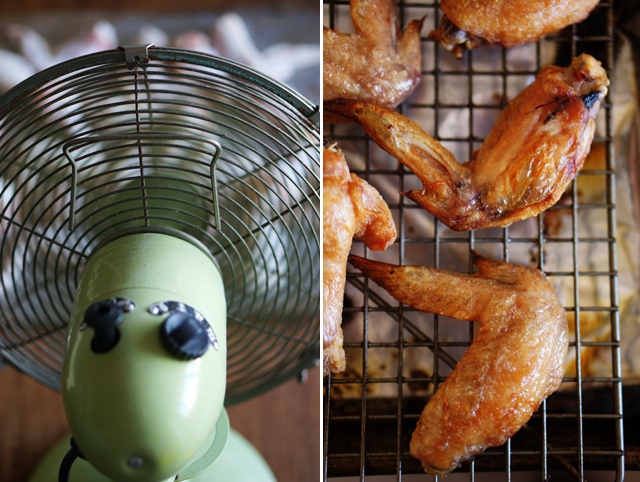 To prepare the Sriracha Buffalo sauce, melt butter and Sriracha together in a small pot until simmering. Pour into a bowl and toss hot wings in the sauce. Add jalapenos and cilantro and toss.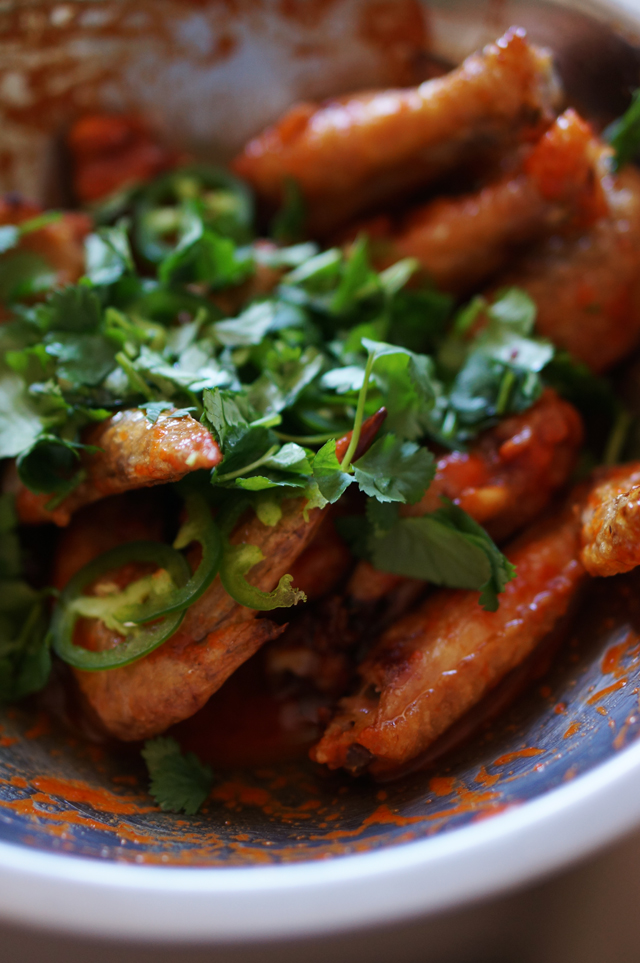 Serve immediately.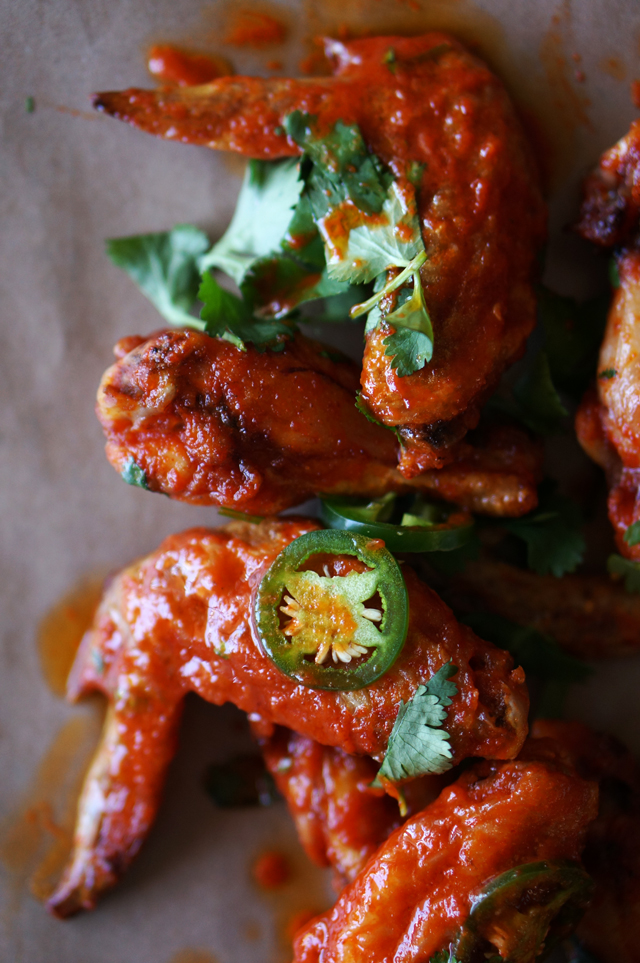 (images by HonestlyYUM)