I love granola bars, but I always have a problem with the store-bought kind: if I like the dried fruit, I don't like the nuts and vis versa. Customizing your own granola bars is easy. I've included every nut and fruit I love, including some new additions like flax seed and toasted quinoa for that extra crunch! I add a little touch of salt to balance the sweetness, but if you use salty nuts, you may not need this. To me, there is nothing better than cashews and almonds in a granola bar, and I've added almond butter in this to really give it that almond taste. If you prefer a crunchier granola, you'll need to bake it longer. I personally like a bit of a chewier texture, but if you follow this recipe, the outside pieces will be pretty crunchy and the inside pieces soft. Don't be intimidated by the recipe either– it's a lot of ingredients, but some you probably already have. This couldn't be easier to make!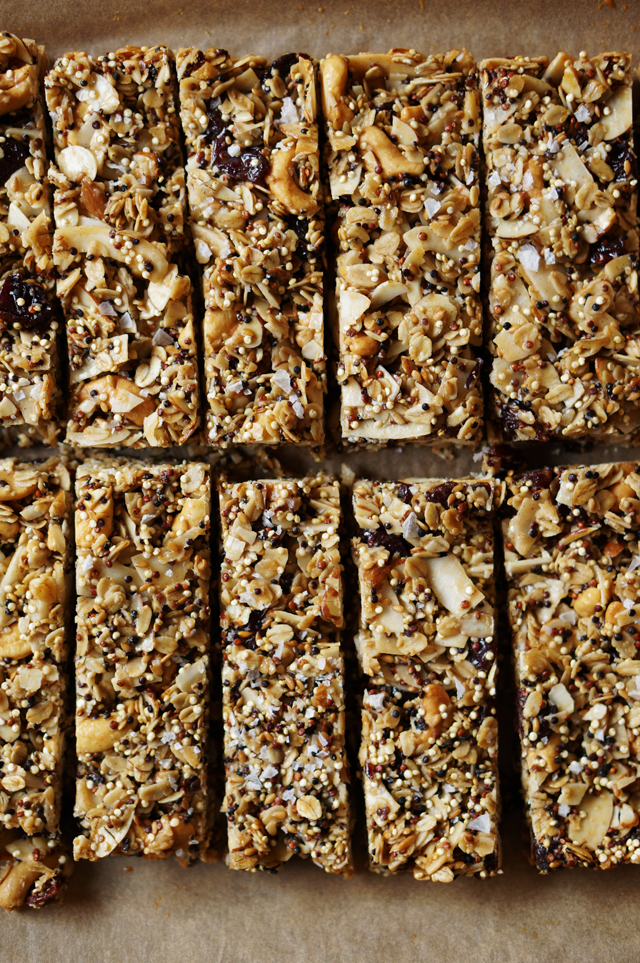 Ingredients:

1/3 cup honey
1/4 cup maple syrup
1/4 cup coconut oil
1/3 cup almond butter
1 cup cashews
1 cup slivered almonds
1 cup of coconut flakes, unsweetened
1 cup dried cherries
2 cups oats
1 cup uncooked quinoa, rinsed and dried
1/2 cup flax seeds
Flake sea salt to taste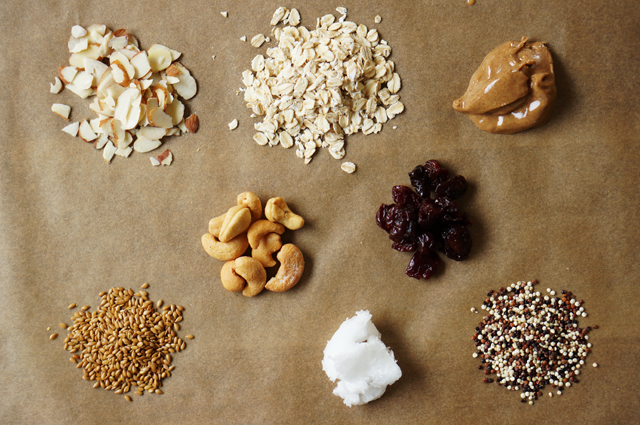 Preheat oven to 350 degrees. Toast quinoa and oats in a pan over medium high heat until fragrant. Allow to cool and combine with cashew, almonds, coconut flakes, dried cherries, and flax seeds. In a small sauce pan, combine the honey, maple syrup, almond butter and coconut oil and heat until hot and melted.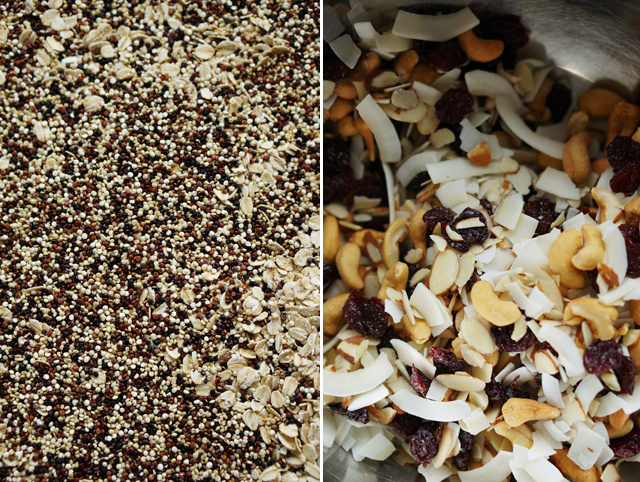 Pour into the bowl of ingredients and fold to coat evenly.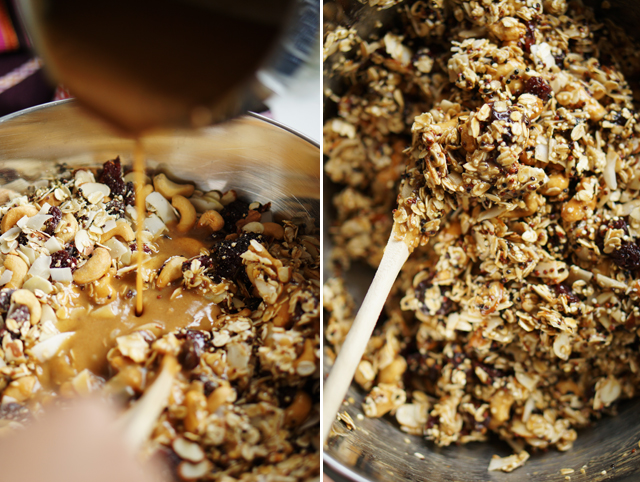 Line a 9 1/2 x 13 1/2 pan with parchment paper. Pour mixture into pan and flatten with the back of a wooden spoon to spread evenly. Bake for 25-30 minutes until the edges are toasted.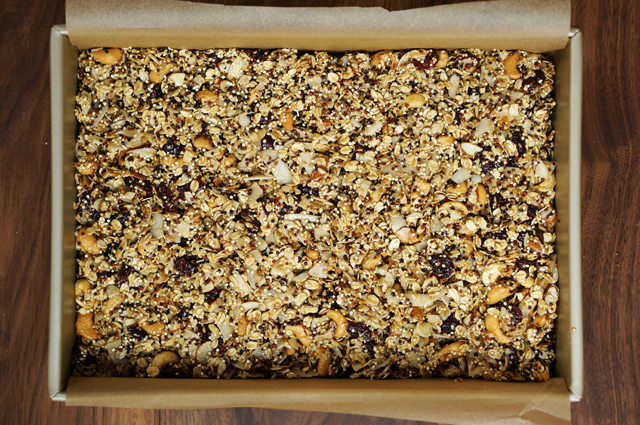 Sprinkle the tops with a little sea salt.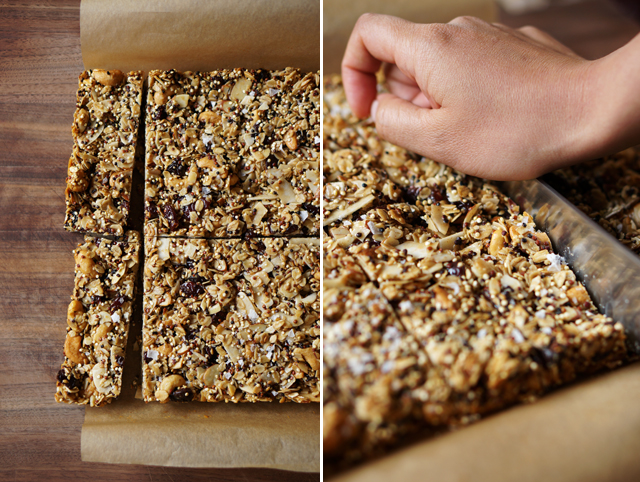 Allow to cool entirely. Cut into rectangles.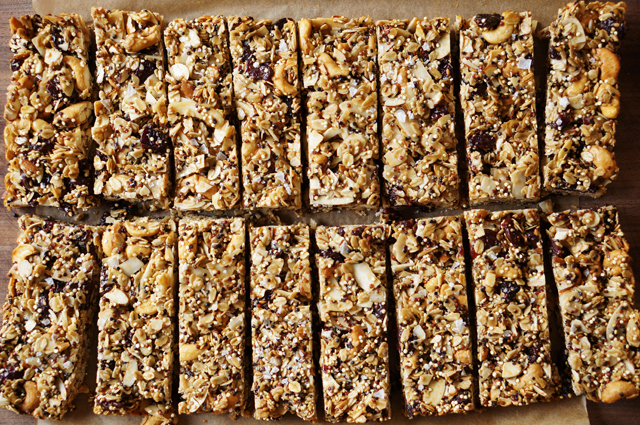 And if you'd like, dip the bottoms in some melted dark chocolate. Who says chocolate isn't good for you?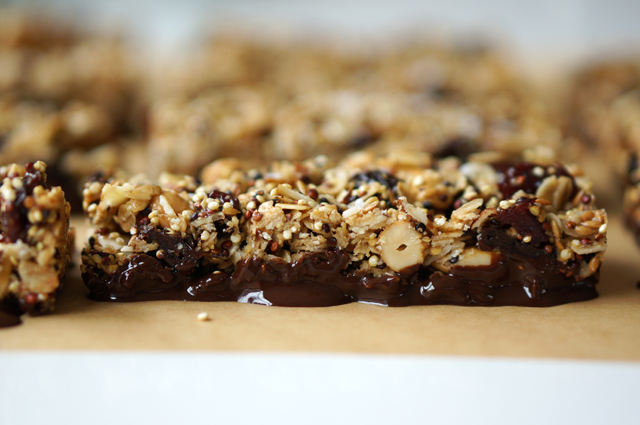 YUM!!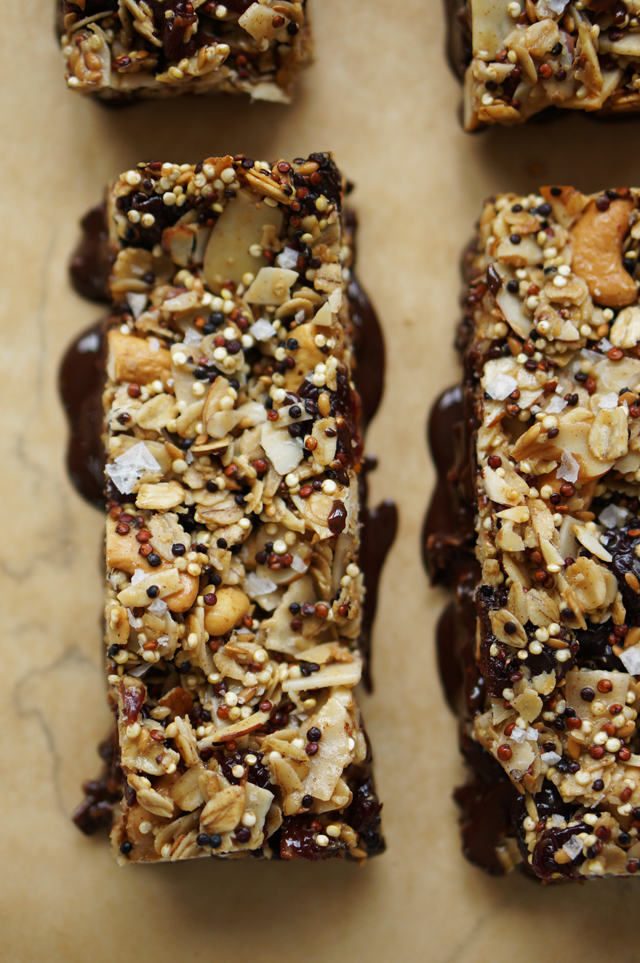 (images by HonestlyYUM)