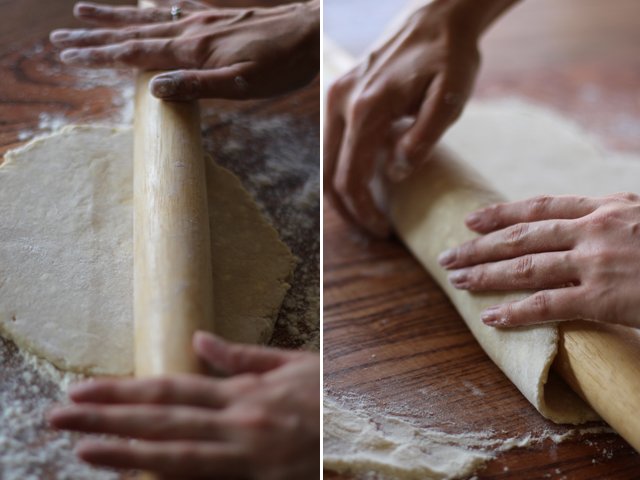 Ingredients:

1 1/2 cups all-purpose flour
2 tablespoons granulated sugar
1/4 teaspoon of salt
6 tablespoons of butter, unsalted and cold
3 tablespoons of shortening
1 cup of iced water
1 1/2 teaspoons of apple cider vinegar

Directions:

Cut butter and shortening into small cubes and place in the freezer for at least 20 minutes.
In a bowl, add vinegar to iced water.
In a food processor, add flour, sugar and salt and pulse to combine. Add butter and shortening for 10 seconds. Pour vinegar-water into the food processor 1 tablespoon at a time while pulsing. Add just enough vinegar-water so the dough starts to come together– the dough should not be wet, about 6 tablespoons total.  Also do not overpulse the dough there should be chunks of visible butter and shortening at the end.
Gather dough together and form into a ball. Wrap and refrigerate for at least 1 hour before using.
Roll dough out into a circle a little larger than your pie pan.
To get the dough into the pie tin roll the flat dough onto a rolling pin. Unroll the dough onto the pie pan. Trim excess dough.
Place the dough in the refrigerator for at least 15 minutes before filling and baking it.