I'm always looking for fun new ways to bring cocktails to the party. The problem is, no one wants to get stuck mixing everyone else's drinks all night. So I decided to channel my former catering days, and put together this self-serve cocktail station for our little Thanksgiving get-together. The secret is thinking of a cocktail that is simple to make, so that your guests can help themselves. Here, I used a vanilla cardamom syrup to create a lovely spiced pomegranate cocktail. Check back tomorrow for the recipe. In the meantime, here are some tips for creating your very own DIY cocktail station.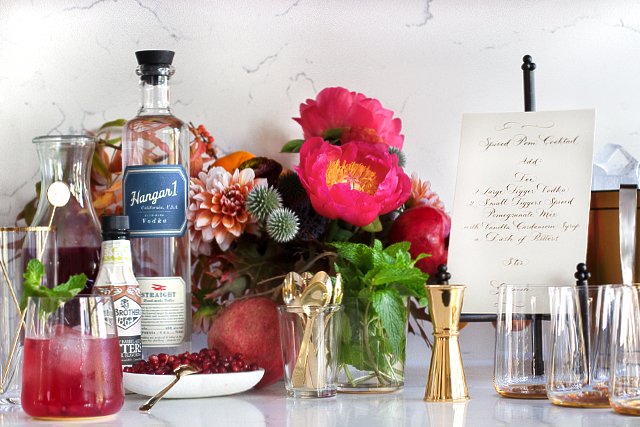 Photography shot with theCanon EOS Rebel SL1 digital SLR camera. Small in size, enormous in performance.
Start by picking a good area for your cocktail station. It should be somewhere easily accessible to your guests. Believe it or not, people tend to congregate around the bar. You probably don't want to use that kitchen counter space next to the oven, and have people pouring drinks while you're trying to check the turkey. Have a menu displayed with instructions for your guests to follow. Print them out and put them in picture frame. Write them on a mini chalkboard. We used calligrapher Grace Edmands, who matched our turkey pinecone place cards.
[linktopost slug="diy-turkey-pinecone-place-cards"]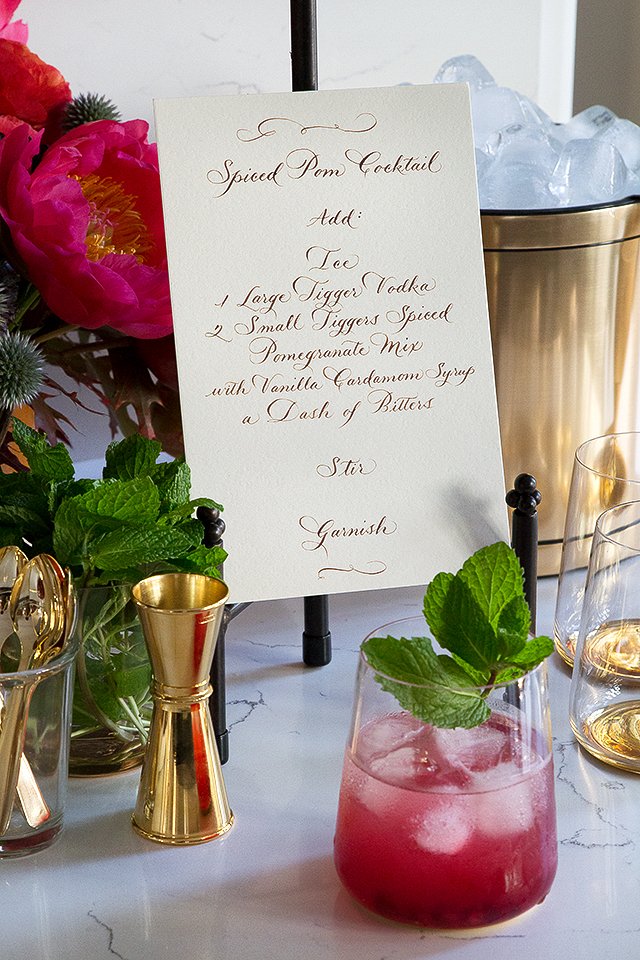 Have your spirits and mixers on display. Again, it's best to keep it simple. Unless you're a family of bartenders, this probably isn't the time for that recipe that uses a handful of different spirits and liqueurs. Spruce up the decor with a flower arrangement or two. We used a beautiful arrangement from our friends at Studio Choo.
[linktopost slug="diy-thanksgiving-centerpiece"]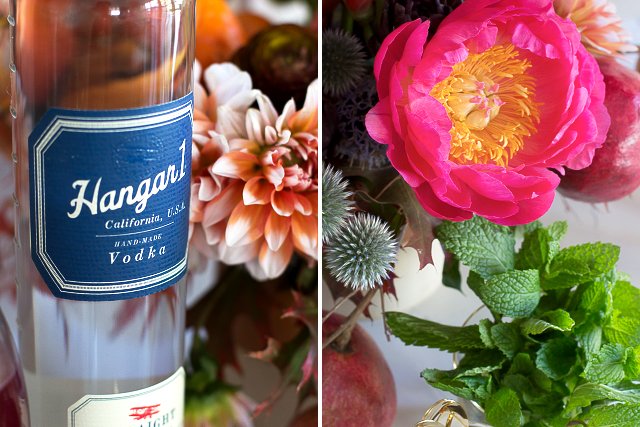 It's important to have the proper tools available to match your instructions. When breaking the recipe down to the ounce, use a small measuring cup, or a jigger. I found this gorgeous gold-plated jigger from Umami Mart, and Anthropologie glasses to match.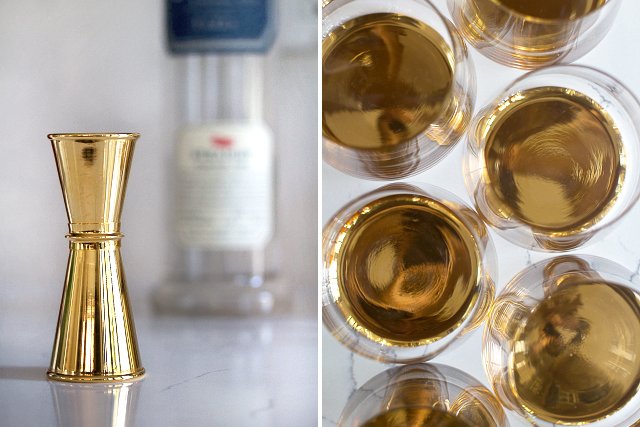 When it comes time to build the cocktail, don't forget about the ice. Use an ice bucket with a scoop or tongs so your guests don't have to use their hands. Now it's time to add the ingredients!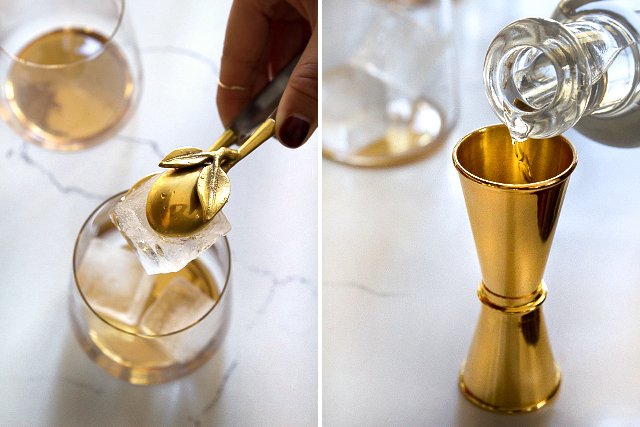 I premixed some of my ingredients proportionally to simplify into a single mixer.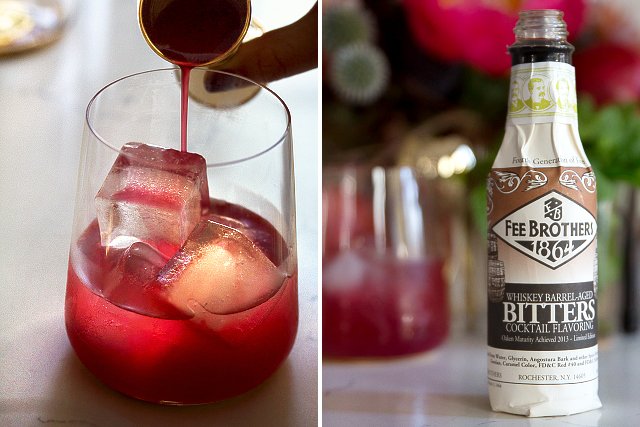 Estimate how many glasses you'll likely need, and of what type. Wine glasses work well as a multi-purpose cocktail glass. You can encourage people to reuse their glass if they go back for more.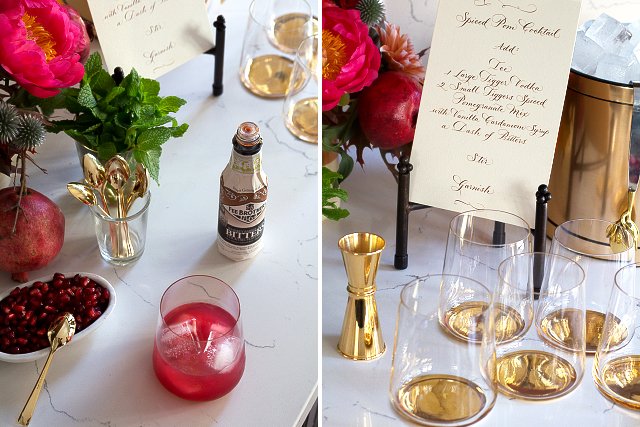 Think of some fun garnishes. They'll help give your cocktail and your station some extra pop. I used two of my favorite ingredients: pomegranate seeds and mint.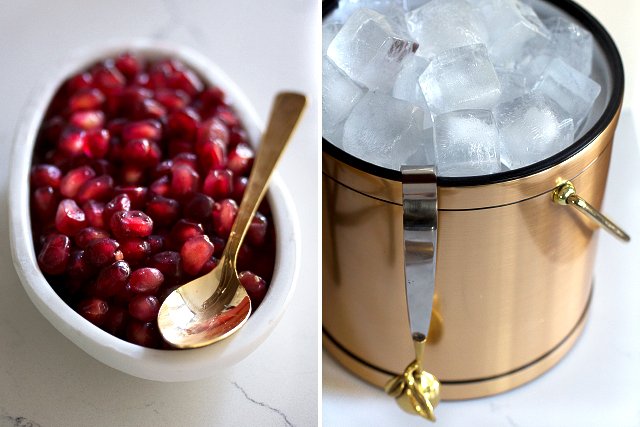 Lastly, it's important to consider how your guests will mix their drinks. I decided to go with a simple stir, rather than a cocktail that needed shaking. These gold swizzle sticks worked perfectly, but a simple spoon would have got the job done as well.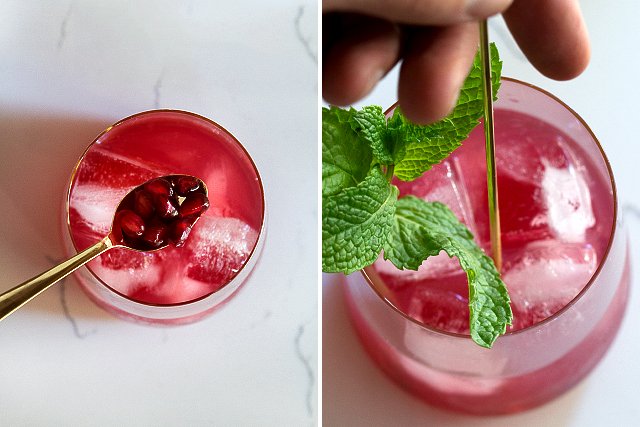 There you have it! Your very own DIY cocktail station. Be sure to replenish your ice as needed, and have bar napkins available as well.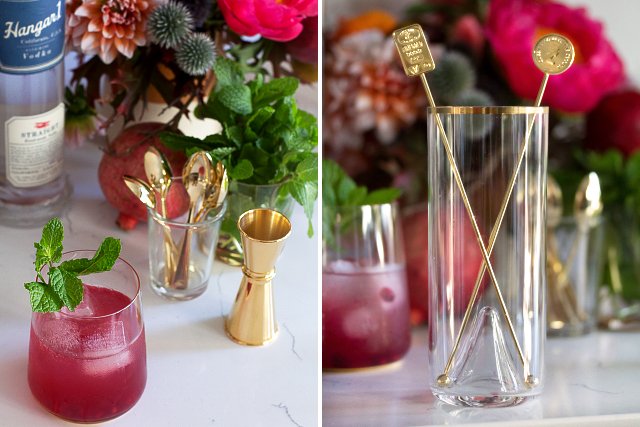 And remember to check back tomorrow for the spiced pomegranate cocktail recipe.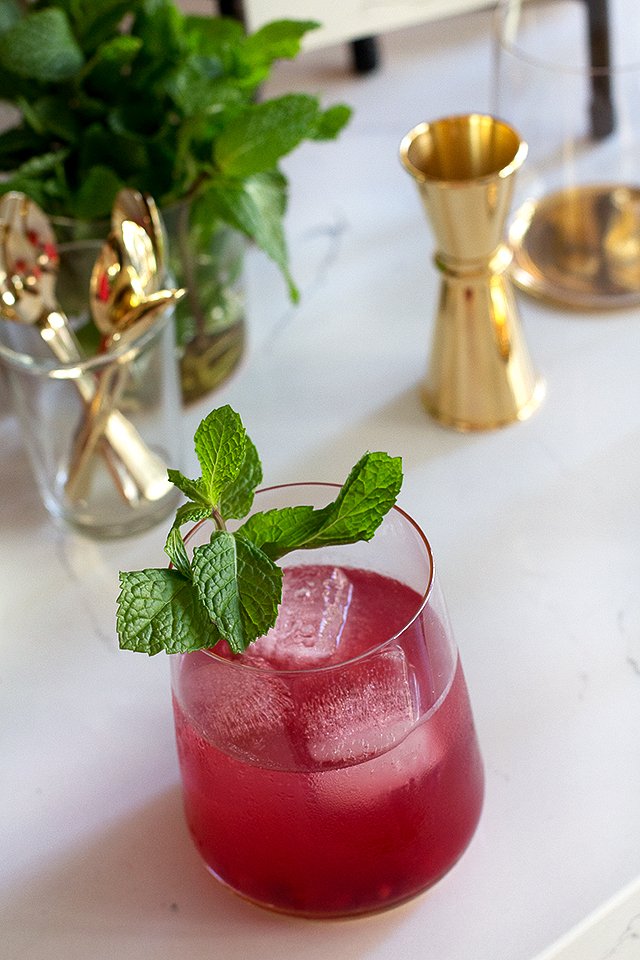 Have a safe and happy Thanksgiving everyone!!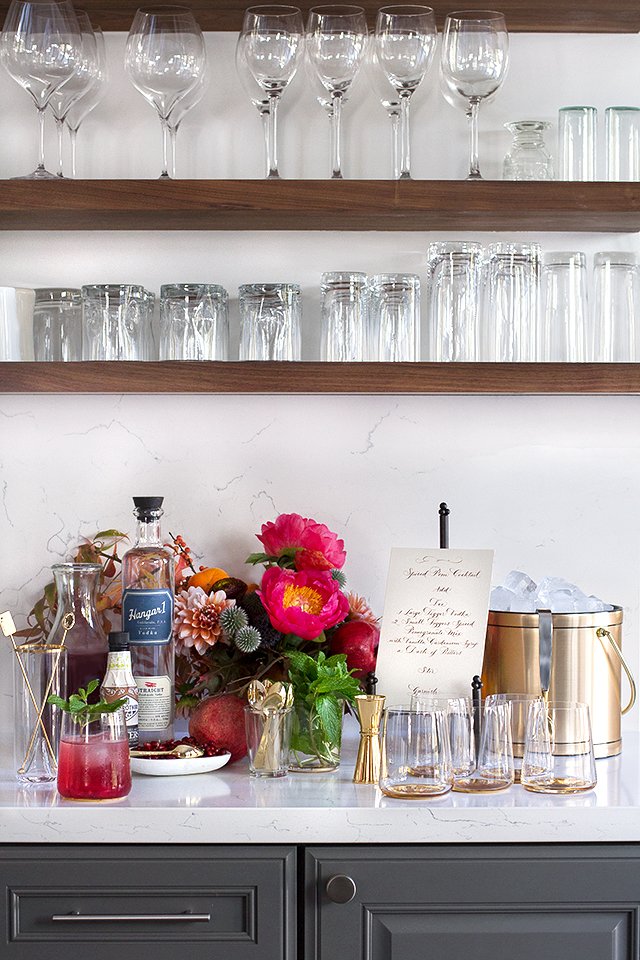 (images by HonestlyYUM)