Cursed with a black thumb, I've always been horrible at arranging flowers – that was until I recently attended a workshop with floral goddesses Alethea and Jill of Studio Choo. After a single class, I walked away with the confidence to build my own arrangements with my weekly farmer's market loot. Known for their outrageously gorgeous and whimsical arrangements, the designer duo behind Studio Choo was the inspiration behind our Thanksgiving centerpiece. We collaborated on a tutorial for a modern-day cornucopia, showcasing seasonal produce and flowers. The result was breathtaking and definitely the highlight of our fall tablescape. We hope you'll feel inspired to try it yourself. Remember, if I can do it, you can too!!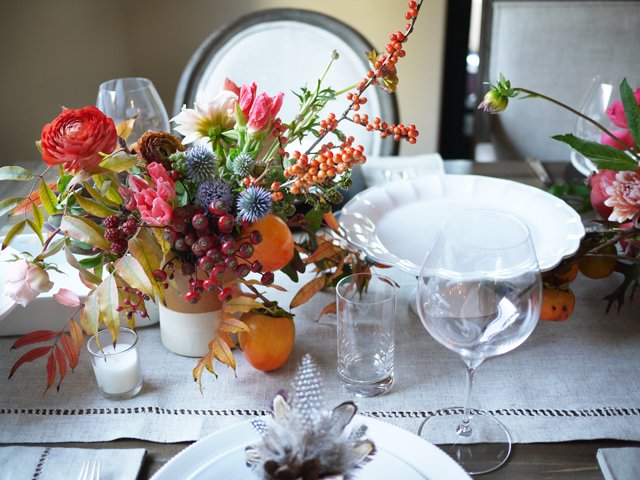 You'll need:

a pair of hand pruners

short, wide mouthed vase
wooden skewers
fall produce on the stems or branches like artichokes, persimmons, blackberries & pomegranates
foliage and branches like pistachio leaves, oak leaves, passionfruit vines, sea-buckthorn berries  & echinops
flowers like ranunculus, roses, dahlias, amaryllis, peonies, & rosehips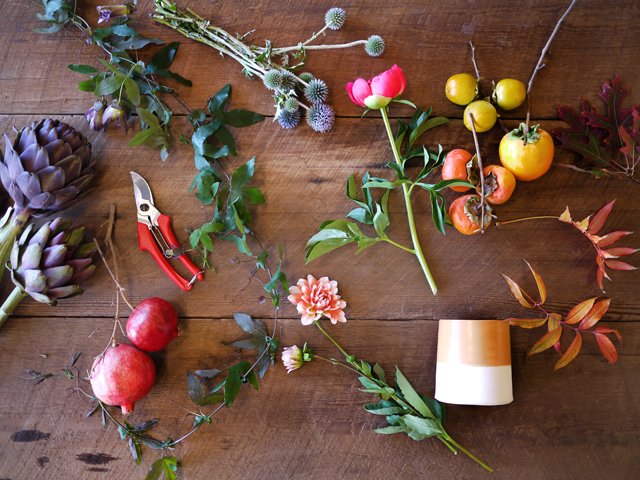 Fill the vase three quarters of the way with cool, clean water. It's nice to be able to work on a rotating surface but if you don't have a lazy susan, just manually rotate the vase as you work, making sure to cover all areas. Add the bushy, heavier foliage and branches as the base.
Hold the stems and branches in front of the vase before cutting them.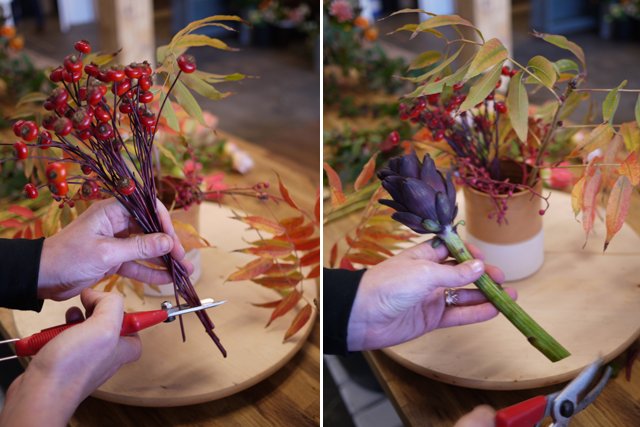 One of the best tips I walked away with is to not obsess about the "perfect" shape and structure of your arrangement. Embrace the "happy accident" as Alethea and Jill say!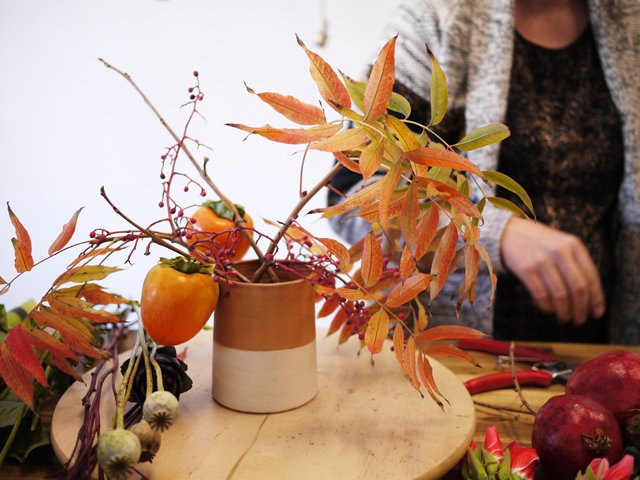 Try requesting fruit attached to their stems or branches from the farmers at your local farmer's market. If you're not able to score fruit attached to their branches, pierce them with wooden skewers and trim accordingly.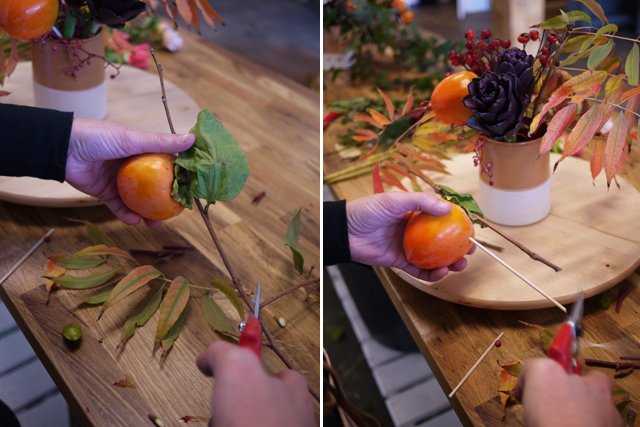 Blackberries and artichokes, oh my!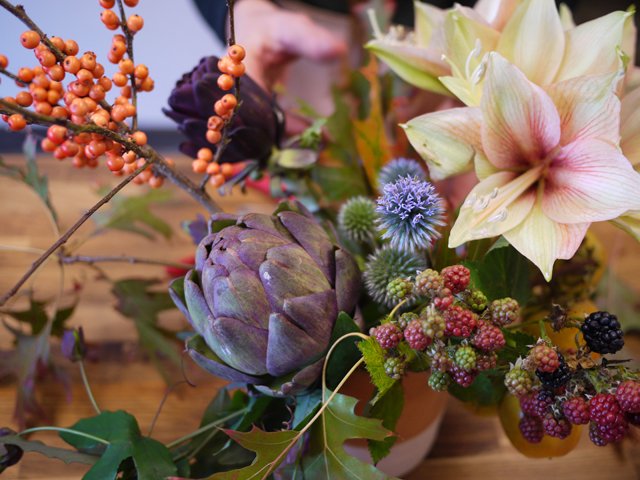 Now that the heavier, bushier and larger pieces are in, you can start adding the smaller, more delicate flowers.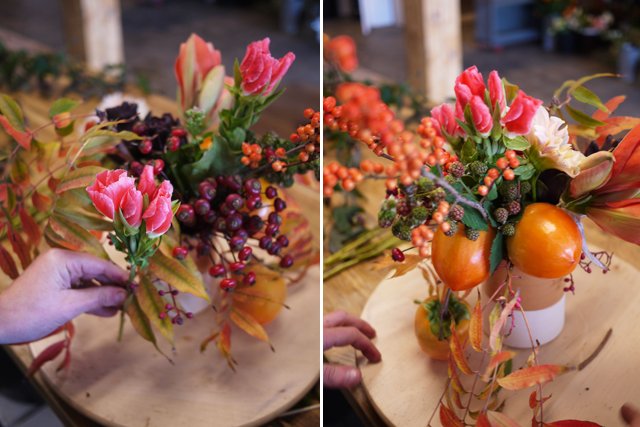 I love how the girls encourage using the natural arc of a stem in their designs. Don't be afraid of following your gut and having fun with this!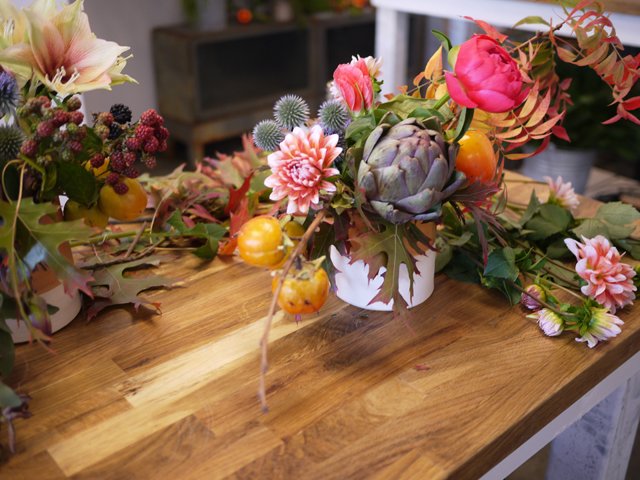 Fill in any empty spots . . .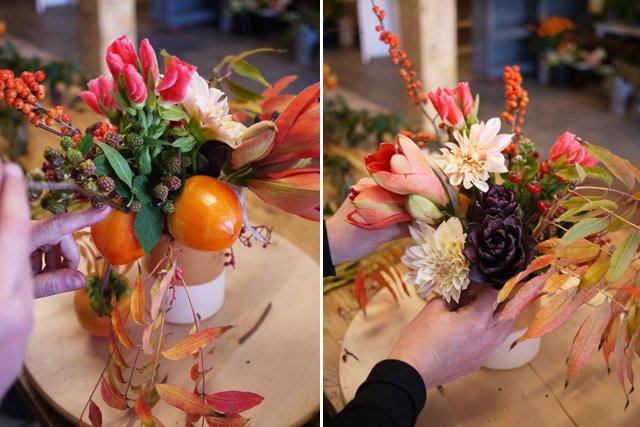 How amazing is the addition of passionfruit vine?! It looks so beautiful laying along the length of a dining table!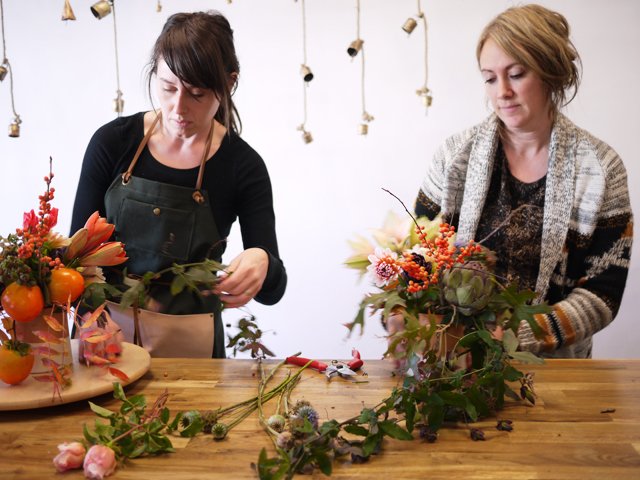 Viola! Our Thanksgiving-themed cornucopia is finished!
If you live in the San Francisco area, I would highly recommend checking out Studio Choo's flower workshops. Not only are they super fun, you get to go home with inspiring tips and a stunning arrangement! And if you don't live in the area, be sure to pick up their oh-so-gorgeous book The Flower Recipe, which is full of amazing tips and ideas for seasonal arrangements.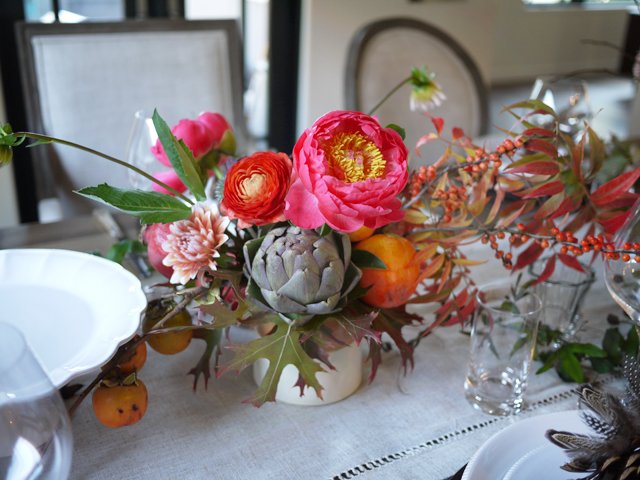 (images by HonestlyYUM)