(this recipe was first published on November 7, 2013)
Pie is essential for Thanksgiving. While the classic pumpkin pie is always a crowd pleaser, I decided to go for something a little more decadent this time: pecan pie. I just love the combination of sweet carmel roasted pecans with buttery flaky pie crust. I added to the bottom of the pie a layer of bittersweet chocolate, which- let's be honest- makes everything better. And in keeping with the holiday spirit and our habit of sneaking booze into desserts, I topped this bad boy off with a bourbon maple whipped cream. I purposely made the cream light on sweetness since the pecan pie is sweet enough. And add more bourbon if you like (as I did) because the bourbon and sweet pecans are absolutely incredible together!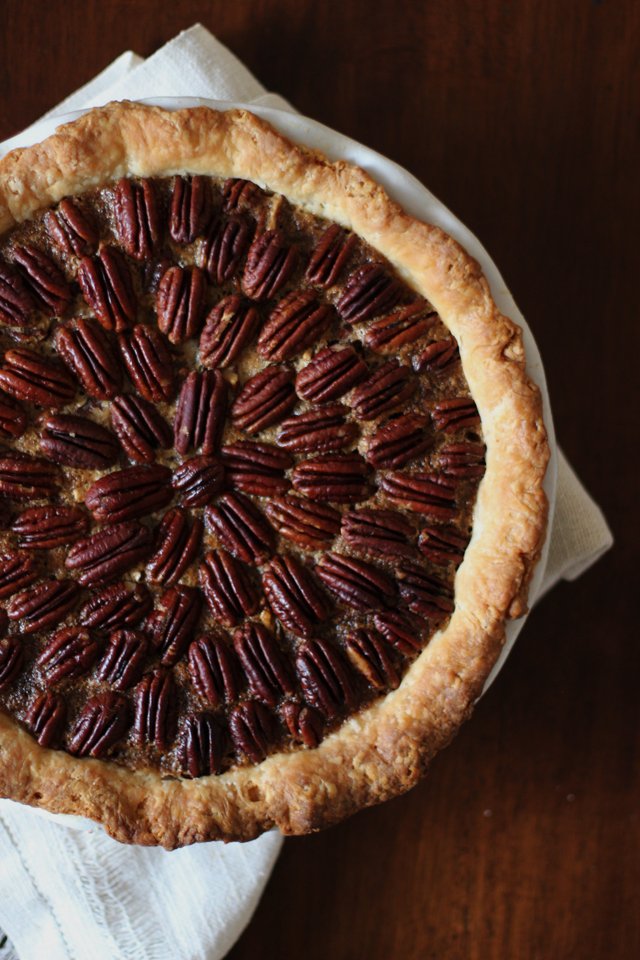 Photography shot with the Canon EOS Rebel SL1 digital SLR camera. Small in size, enormous in performance.
Crust ingredients:

1 1/2 cups all-purpose flour

2 tablespoons granulated sugar
1/4 teaspoon of salt
6 tablespoons of butter, unsalted and cold
3 tablespoons of shortening
1 cup of iced water
1 1/2 teaspoons of apple cider vinegar

Filling ingredients:

5 1/3 tablespoons of unsalted butter, softened

3/4 cup firmly packed light brown sugar
3 large eggs, at room temperature
1 cup of light corn syrup
1 teaspoon of vanilla extract
1/8 of salt
3 cups of coarsely chopped pecans, plus more whole pecans for topping
4 ounces of bittersweet chocolate
2 ounces of semi sweet chocolate

Bourbon Maple Whip Cream ingredients:

1 cup of heavy whipping cream, chilled

1 tablespoon of good quality maple syrup
3 teaspoons of bourbon
1/2 teaspoon of vanilla extract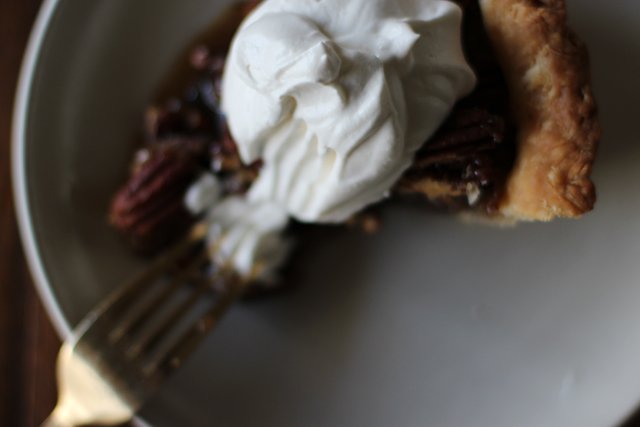 To make crust, cut butter and shortening into cubes and place in the freezer. Add vinegar to iced water. Add flour, sugar and salt in a bowl of a food processor and pulse to combine. Add butter and shortening and pulse for 10 seconds. Pour in vinegar water one tablespoon at a time while pulsing.  Add just enough so the dough starts to come together– the dough should not be wet, about 6 tablespoons. Also do not overpulse the dough, there should be chunks of visible butter and shortening at the end. Gather dough together and form into a ball. Wrap and refrigerate for at least 1 hour.
When you're ready to make the pie, preheat the oven to 375 degrees. To make the filling, cream the butter and sugar in a mixer. Add eggs one at time and add the corp syrup, vanilla extract and salt and beat until incorporated. Stir in pecans.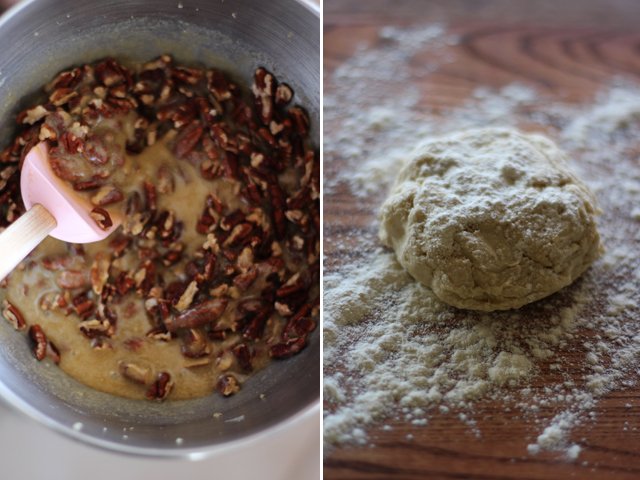 Roll dough out into a circle a little larger than your pie pan. To get the dough into the pie tin roll the flat dough onto a rolling pin.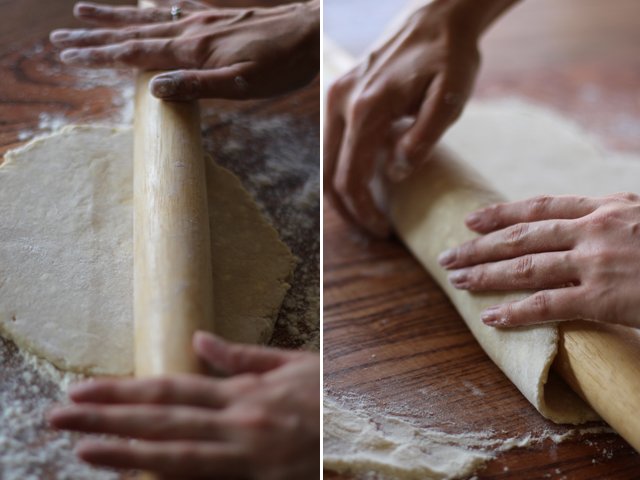 Unroll the dough onto the pie pan. Trim excess dough. Place the dough in the refrigerator for at least 15 minutes before filling and baking it.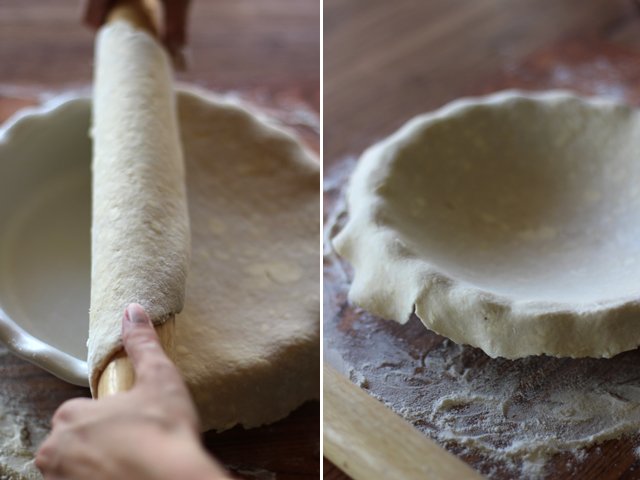 Melt chocolates together by microwaving in a bowl for 30 seconds and then stir. Microwave in 10 second intervals until fully melted.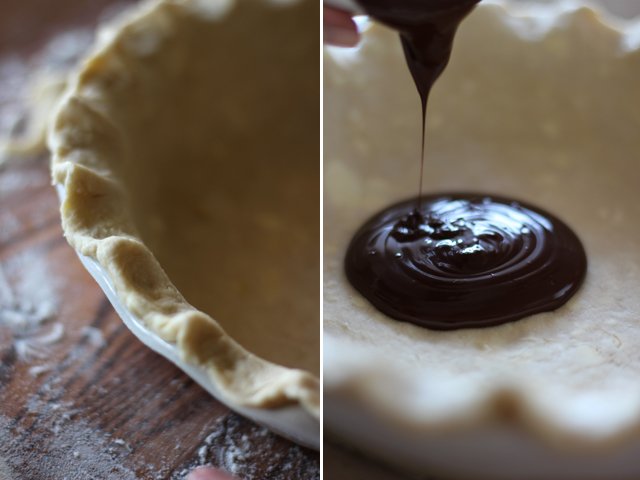 Pour into the bottom of the pie in an even layer. Pour pecan mixture over the chocolate. Decorate the top with extra whole pecans in concentric circles.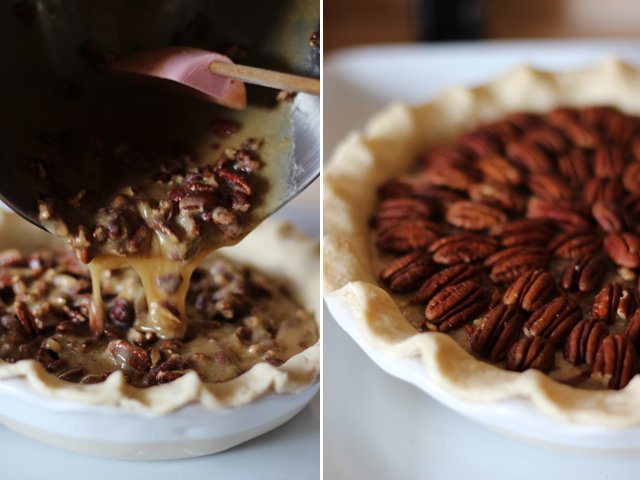 Baking time is tricky.  The pie could finish in as little as 50 minutes or as long as 75 minutes. At 50 minutes, check to see if it is done by jiggling the pie, it should barely jiggle. If it still seems pretty liquid, bake longer. If the pecans and crust is already nicely browned and you need to continue baking longer, tent the pie with foil to prevent further browning.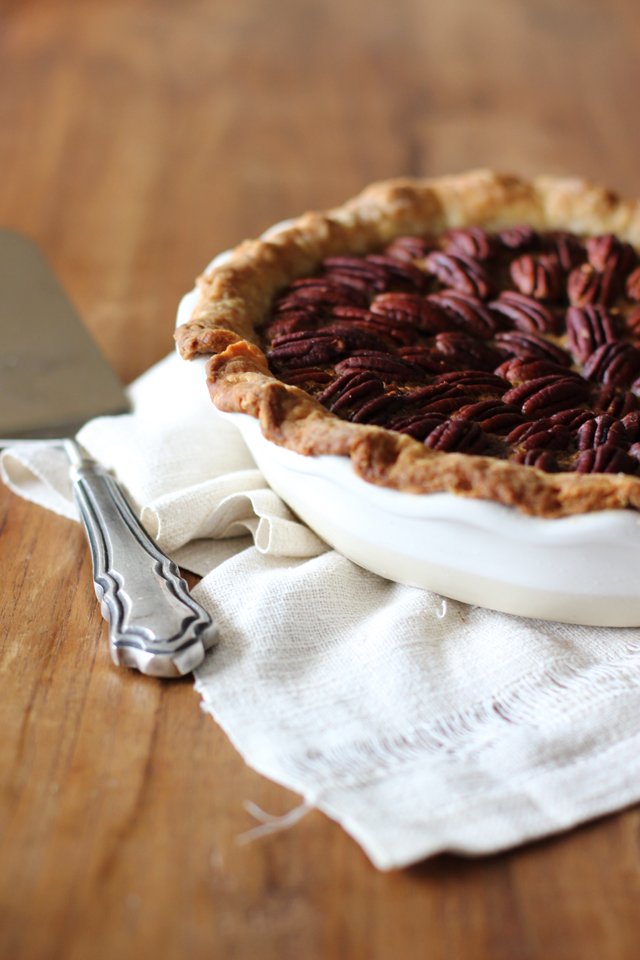 Allow the pie to cool entirely for at least 2 hours. If you don't allow the pie to cool to room temperature, it will be runny when you cut into it.
To make the bourbon maple whipped cream, add cold cream into the bowl of a mixer fitted with a whisk. Whisk on high speed until starting to form soft peaks. Add maple syrup, bourbon and vanilla. Continue whisking just until it forms medium peaks. Resist the temptation to eat all the cream straight from the bowl.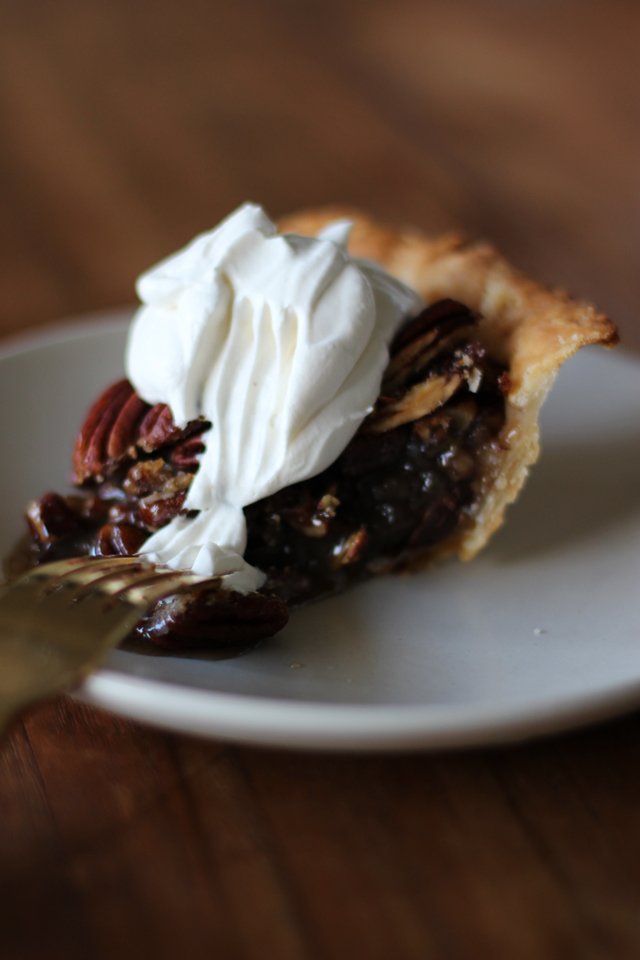 (images by HonestlyYUM)