Welcome to November. Or at HonestlyYUM, we like to think of November as the month of Thanksgiving. From here on out, every day in November will be dedicated to inspirations for your Thanksgiving menu! I thought I'd ease us into a month full of butter and cream by starting with something healthier. This shaved brussels sprout salad is studded with ruby red pomegranate seeds, toasted pumpkin seeds, sunflower seeds and sweet persimmons and tossed in a tangy lime-cumin vinaigrette. The whole thing is colorful and light yet hearty– a celebration of fall in a bowl!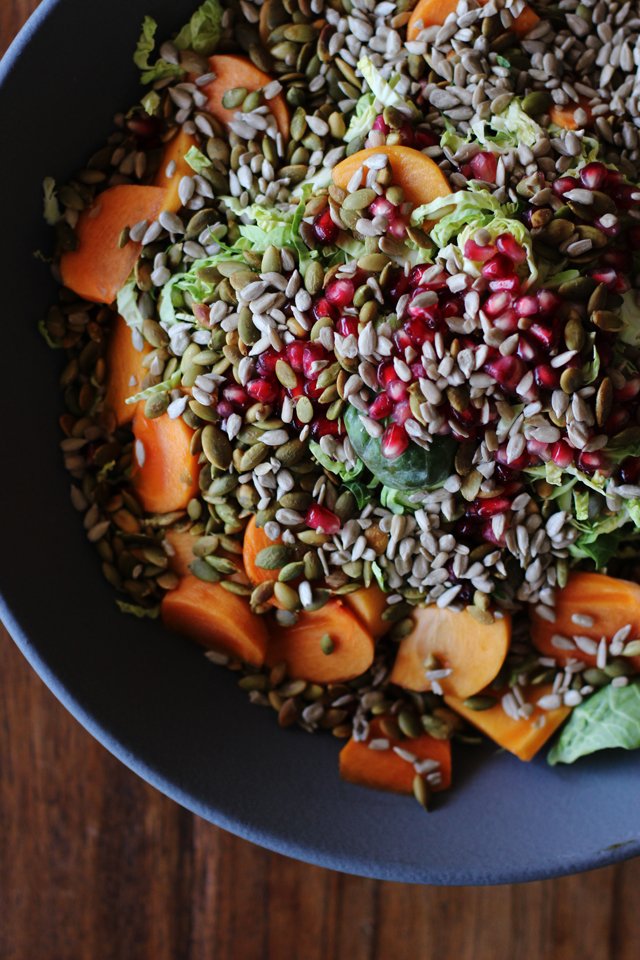 Photography shot with the Canon EOS Rebel SL1 digital SLR camera. Small in size, enormous in performance.
Salad Ingredients:

1 pound of brussels sprouts

3-4 Fuyu persimmons
6 ounces of pomegranate seeds
1/2 cup of pumpkin seeds, shelled and toasted
1/3 cup of sunflower seeds, shelled

Dressing ingredients:

Juice of one large lime

1 large shallot, minced
1 tablespoon white wine vinegar
1/3 cup of extra virgin olive oil
1/2 teaspoon of ground cumin
sea or kosher salt and freshly ground black pepper to taste
Shred the brussels sprouts thinly by holding the stem with your finger and slicing from the top of the brussels sprout down toward the stem. Discard stems. You can also do this in a food processor. To make the dressing, combine lime juice, vinegar and shallot. Stream in the olive oil, whisking constantly. Salt and pepper to taste. I like to dress the shredded sprouts first since the dressing makes the sprouts more flavorful the longer it sits.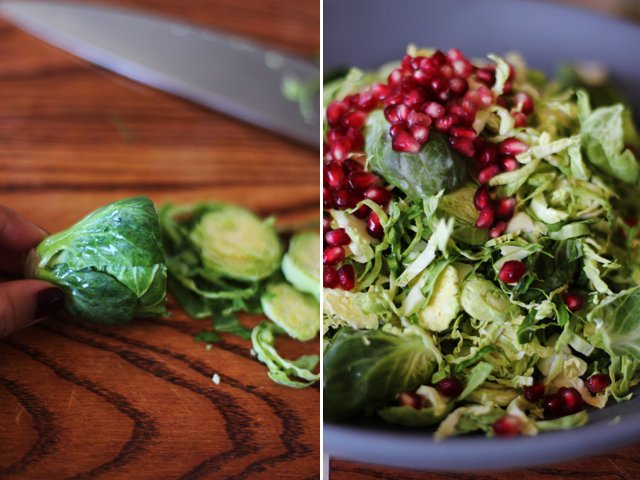 Remove the tops of the persimmons and peel with a vegetable peeler. Then slice into thin wedges like an apple.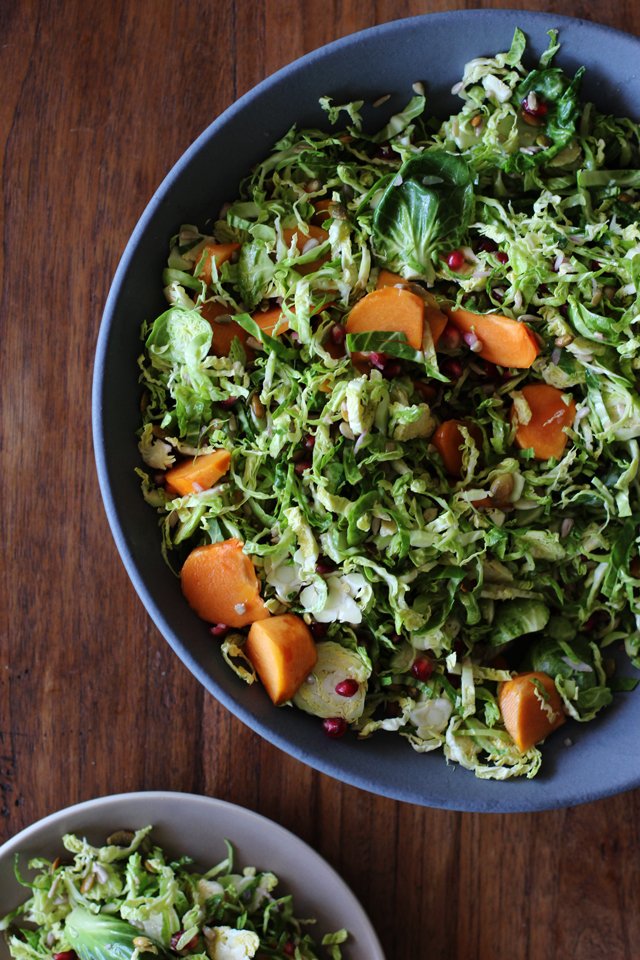 Add persimmons, pomegranate seeds, pumpkin seeds and sunflower seeds. Toss salad together.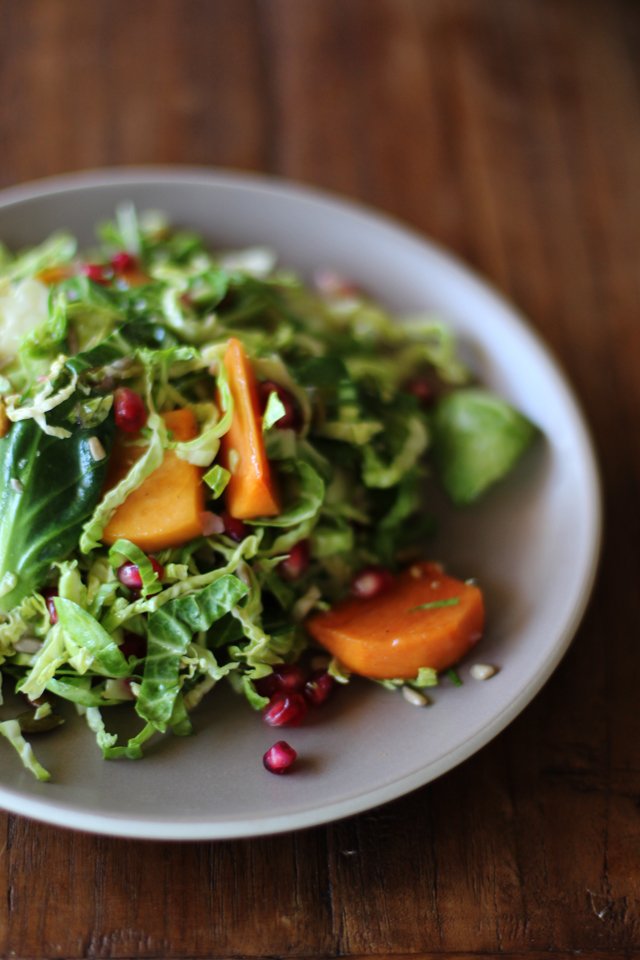 Enjoy!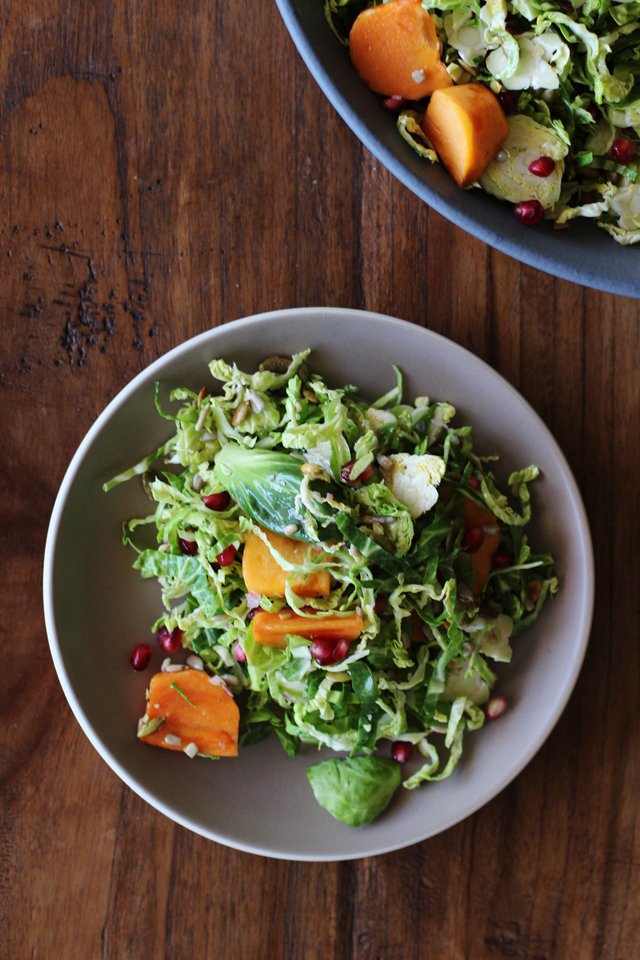 (images by HonestlyYUM)