I know Halloween is over, but I'm still on a pumpkin kick. We've gone a little pumpkin crazy at HonestlyYUM with pumpkin-inspired DIYs, pumpkin punch, and pumpkin seed brittle. Today, pumpkin coffee cake with pecan streusel! This classic coffee cake incorporates pumpkin spices and pumpkin puree, creating an ultra-moist coffee cake. But my favorite part about this, and any proper coffee cake, is the huge crumbly streusel– such buttery and sugary perfection. I've made these into little mini loaves, but you could easily make this in a regular 9-inch cake pan. I ordered these mini disposable paper loaf pans that are just perfect for holiday gifting!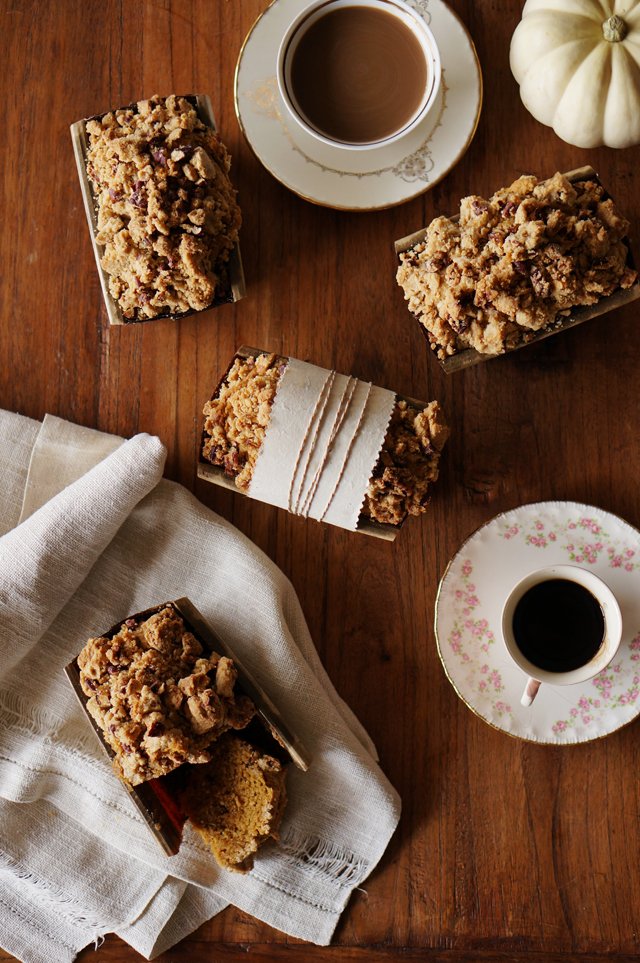 Photography shot with the Canon EOS Rebel SL1 digital SLR camera. Small in size, enormous in performance.
 Batter ingredients:

1 1/2 cup all-purpose flour

2 teaspoons baking powder
1/2 teaspoon baking soda
2 teaspoons of ground cinnamon
1 teaspoon of ground ginger
1/4 teaspoon of ground nutmeg
1/2 teaspoon of kosher salt
1 stick (8 tablespoons) of unsalted butter, softened
1 cup of firmly packed light brown sugar
2 eggs
1/2 cup of pumpkin puree
1/2 cup of sour cream

Streusel ingredients:

1/2 cup of pecans, toasted and chopped

1/4 cup dark brown sugar

1/4 cup granulated sugar
1/2 teaspoon of ground cinnamon
1/4 teaspoon of ground ginger
1/8 teaspoon of kosher salt
1/2 stick (4 tablespoons) of unsalted butter, melted
3/4 cups of all-purpose flour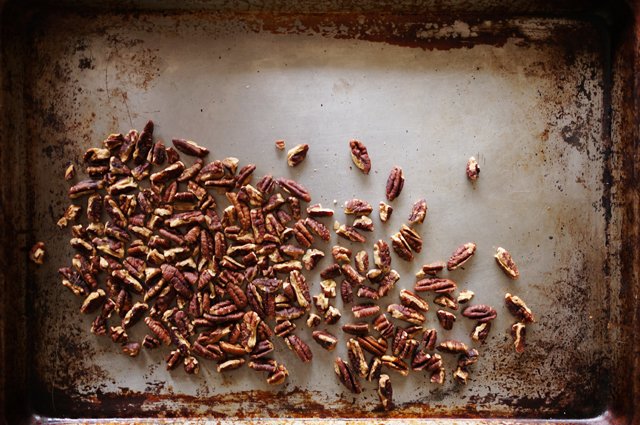 Preheat the oven to 350 degrees.
To make the batter, sift the flour, baking powder, baking soda, cinnamon, ginger, nutmeg and salt together in a bowl. In the bowl of a mixer fitted with a paddle attachment, beat together butter and brown sugar until well combined.  Beat in eggs, one at a time, scraping down the sides of the bowl. Add the pumpkin puree and sour cream and mix until combined. On low speed, add the flour mixture, about one-third at a time, and mix just until combined.
To make the streusel, whisk together the sugar, salt and spices into melted butter until smooth. Then, add the flour and pecans. The mixture will be solid but leave it packed in the bottom of the bowl.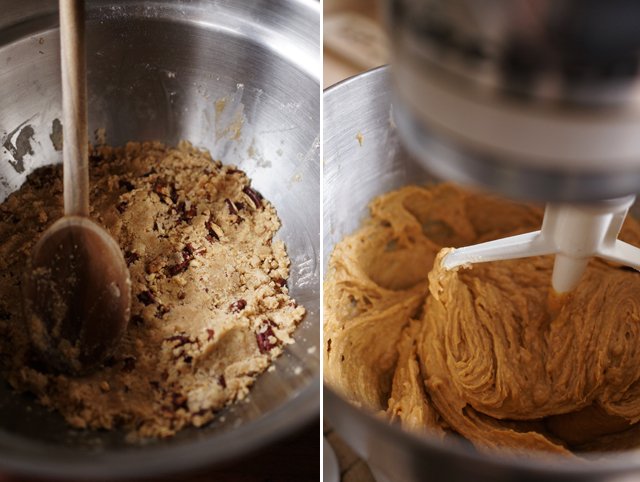 Pour into 4 mini loaf containers on a baking sheet. Break the streusel apart into large chunks with your fingers and top each container with streusel. Don't overpack the containers because the cake will rise in the oven.
If making in a 9-inch pan, butter and flour the pan before pouring in the batter and topping with streusel.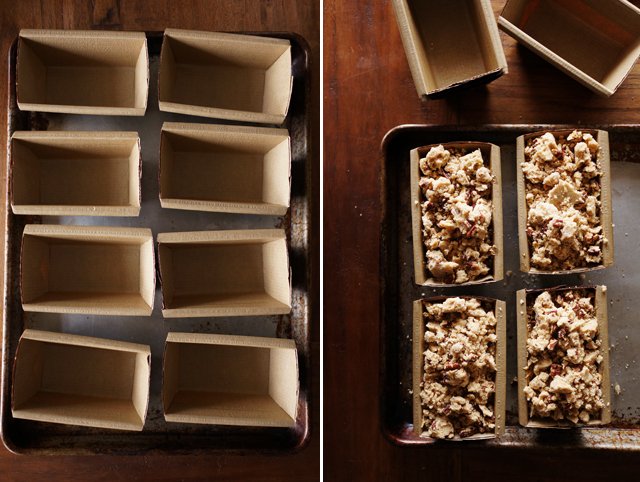 Bake for about 50 minutes or until a toothpick comes out clean.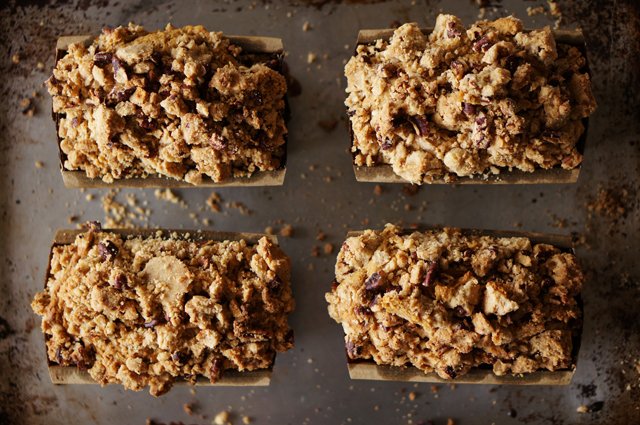 Allow the coffee cakes to cool for at least 15 minutes. They will come out puffy, but will shrink down a bit once cooled.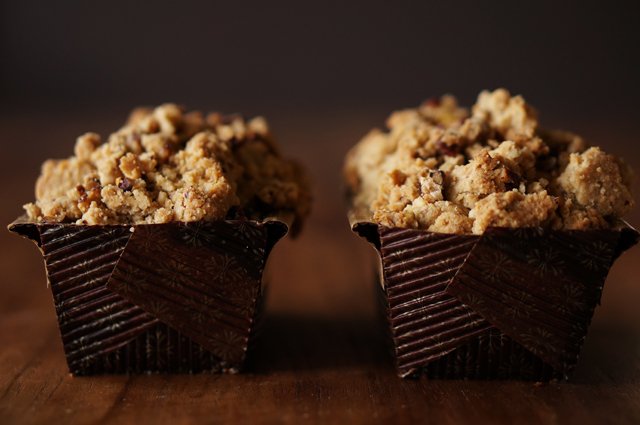 To make these into gifts, wrap a long piece of parchment or paper around the coffee cake and tie up with string.  Serve with some coffee . . .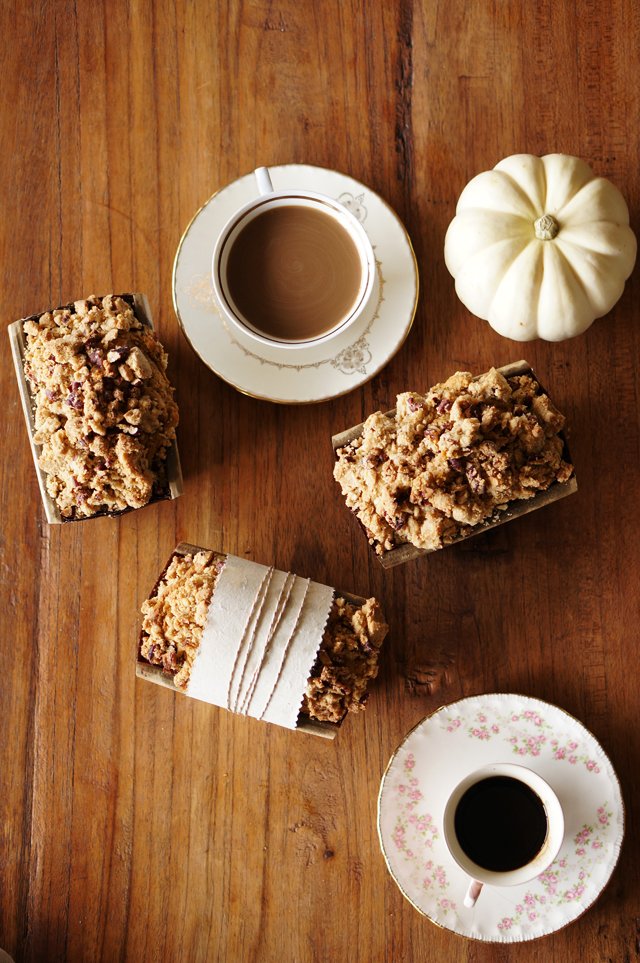 And enjoy all those big streusel crumbs.  YUM!
(images by HonestlyYUM)