I'm just going to tell you right now that this brittle is a winner. Straight brittle is great and all, but nothing to write home about. However, add toasted pumpkin seeds and pumpkin spices, dip the brittle in chocolate and then sprinkle with more crushed pumpkin seeds and sea salt, and I guarantee you will not be able to stop eating this brittle– your dentist will thank you for all the business.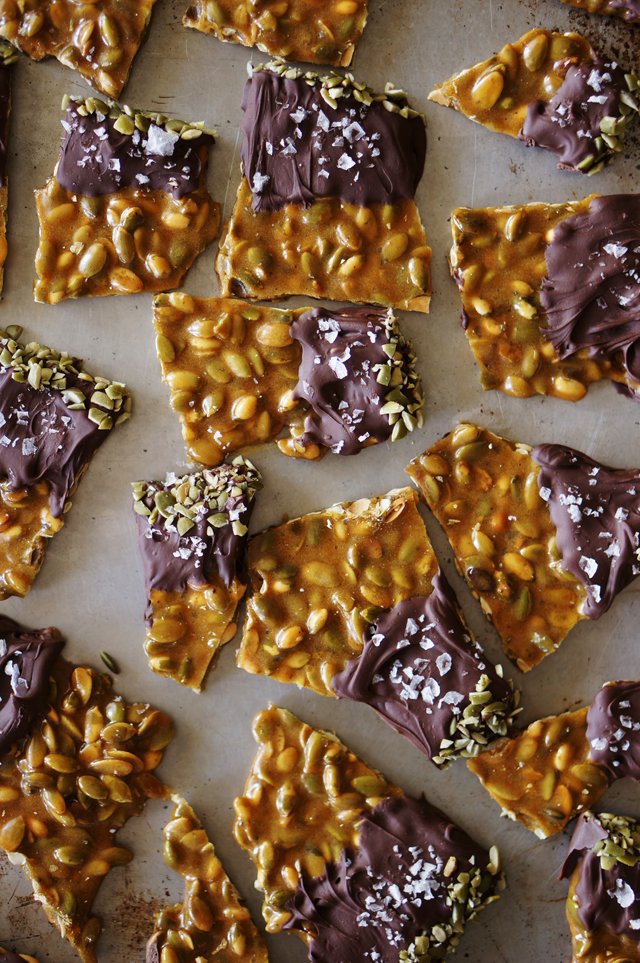 Photography shot with the Canon EOS Rebel SL1 digital SLR camera. Small in size, enormous in performance.
Ingredients:

1 1/2 cups of pumpkin seeds, plus a handful more for dipping

1/2 cup of water
1/2 cup of light corn syrup
1 cup of granulated sugar
1/2 teaspoon of baking soda
1 tablespoon of pure vanilla extract
1 tablespoon of unsalted butter
1/4 teaspoon of ground cloves
1/4 teaspoon of ground allspice
1/4 teaspoon of ground nutmeg
1 teaspoon of ground cinnamon
1 1/2 cups of semi sweet chocolate chips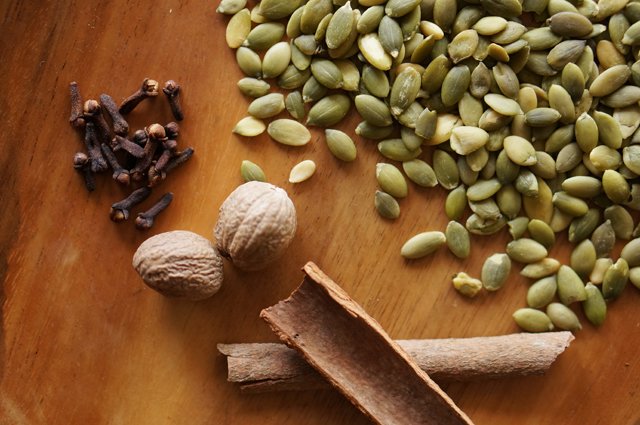 First, toast the pumpkin seeds over medium heat in a pan. Keep the seeds moving so they don't burn and stop toasting once they start to tan and you can smell the toasted seeds.
Prepare a baking sheet lined with parchment paper or a silpat. In a medium saucepan clipped with a candy thermometer (make sure it doesn't touch the bottom of the pan), heat water, sugar and corn syrup over medium high heat stirring constantly with a wooden spoon until it starts to boil. Stop stirring and let the mixture boil until it reaches 285 degrees. You may have to turn the heat up to high if the temperature isn't increasing.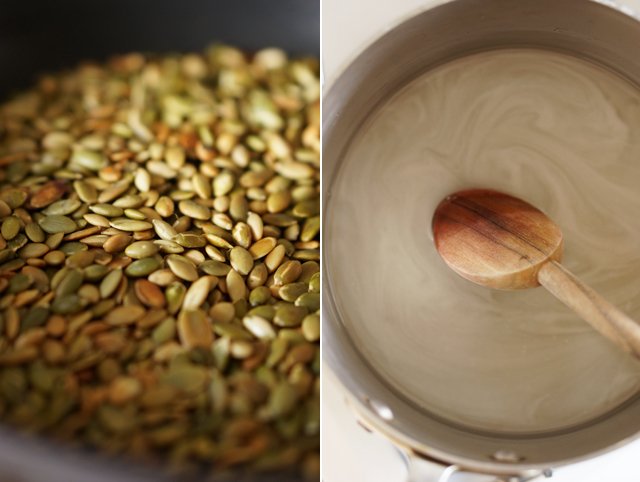 Stir in the pumpkin seeds and continually stir the mixture so it doesn't stick to the bottom until the temperature reaches 300 degrees. Remove from the heat and stir in all the spices, vanilla extract, baking soda and butter, just until combined. The baking soda will cause it to bubble up a bit, but that's normal.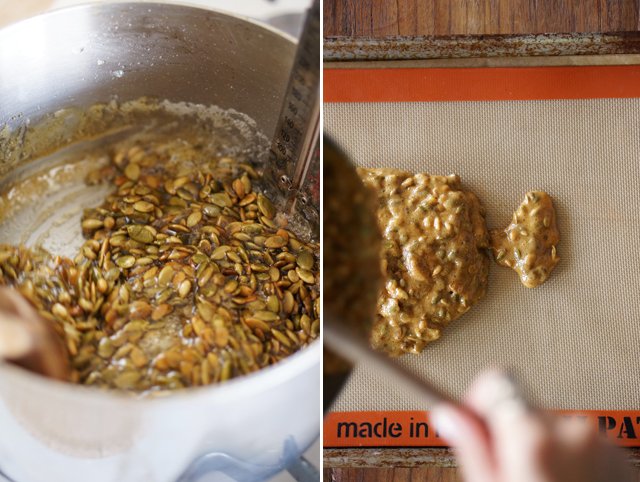 Working quickly, pour the mixture over the baking sheet and using the back of a wooden spoon spread across the sheet evenly. Allow the brittle to harden completely at room temperature, or if you're in a rush like I was, pop it in the refrigerator for about a half hour or until completely hardened.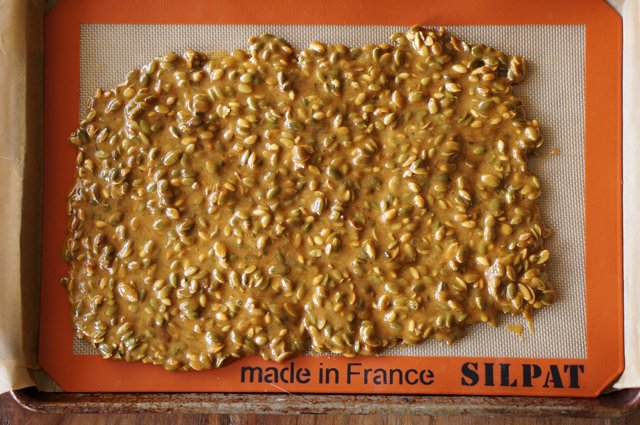 Break the brittle into random irregular shapes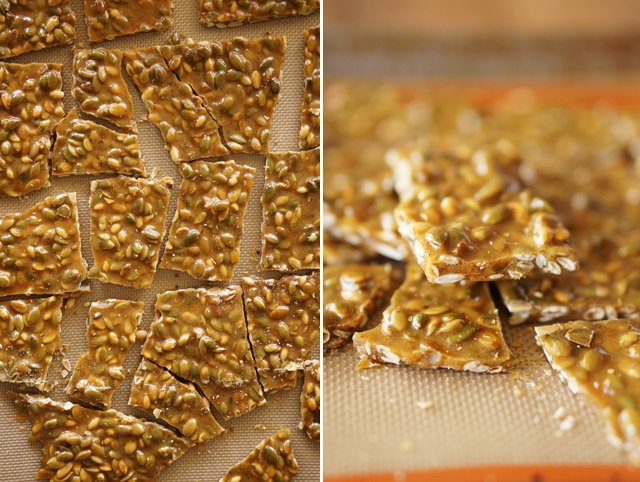 Temper the chocolate chips to dip the brittle into. I use this microwave method, which starts by microwaving 3/4 of the chocolate in a bowl in 20 second intervals until the chocolate is melted and then stirs in 1/4 of the chocolate to "temper it." I'm not sure how accurate it is but it's easy and works well enough for me!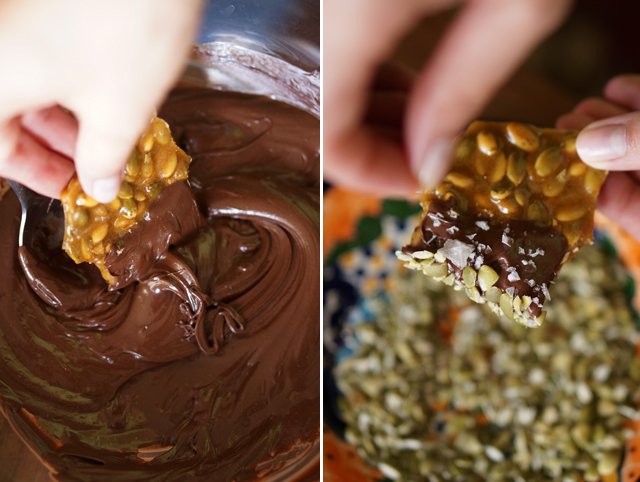 Finely chop a large handful of raw pumpkin seeds and place on a dish.  After dipping the brittle in the chocolate, dip the ends in the raw pumpkin seeds and sprinkle with some sea salt. I used Maldon here.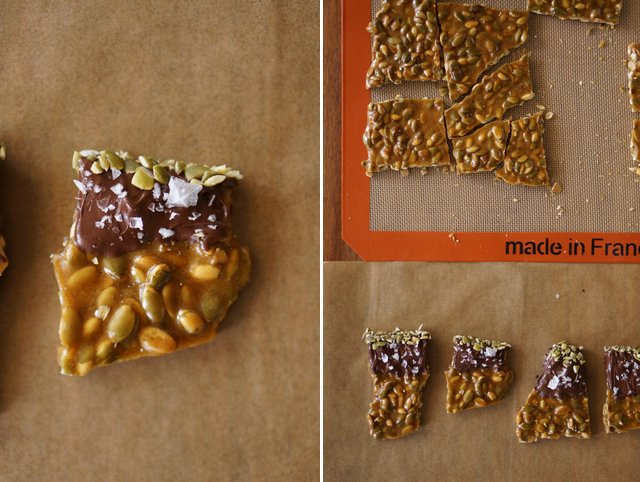 Repeat until you've finished the rest of the brittle pieces. Eat the smaller pieces while you're doing this– it makes the process more fun.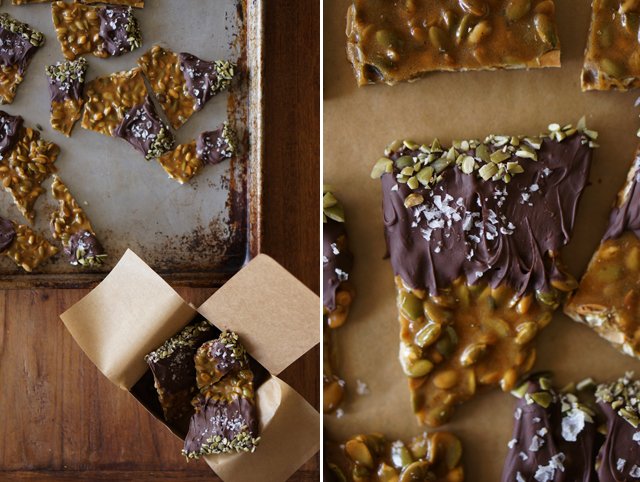 To package them for gifts, place them in a box lined with parchment paper.  Place a sheet of parchment between each brittle to ensure they don't stick together.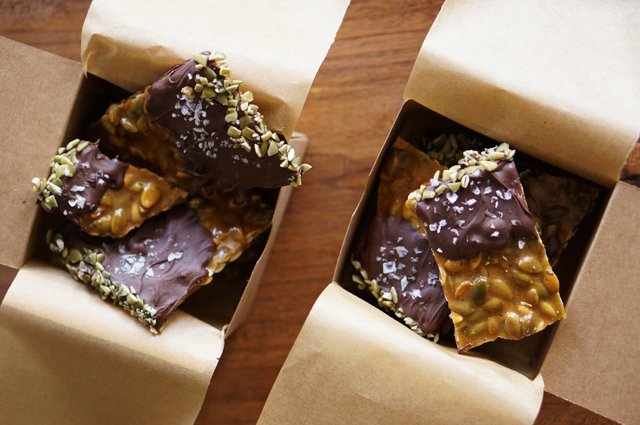 Clean up tip: Melted sugar can be a real pain to clean. Once it hardens good luck trying to get it off your pans. When I'm done with any pans or spoons I used to make the brittle, I fill up the pot with water and boil it all until the sugar is melted and I can easily scrub the sides with a sponge, but carefully since you want to do this while the pot is hot!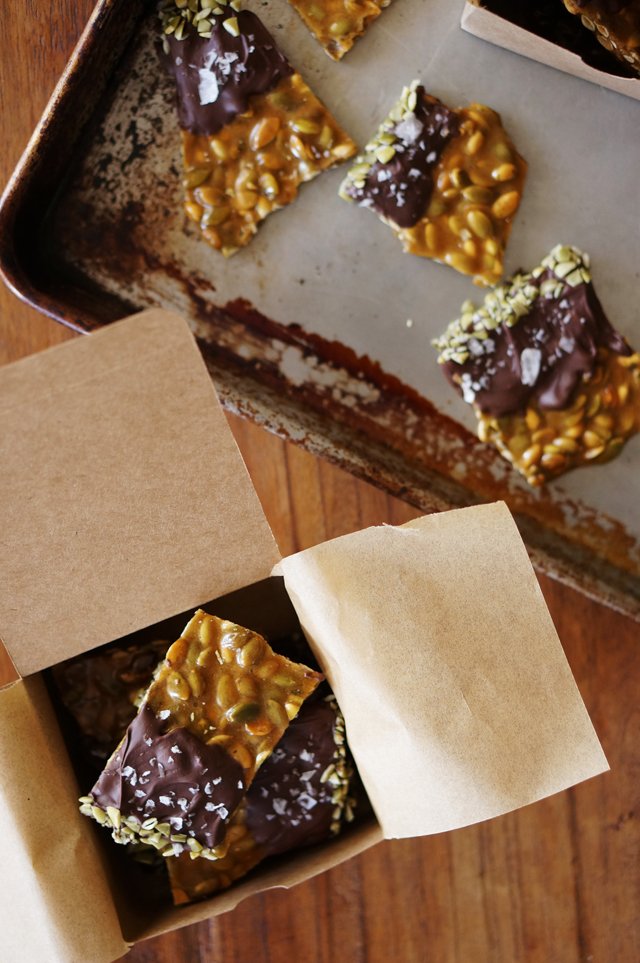 (images by HonestlyYUM)