Ahh, summer is winding down. Temperatures are cooling (well, not in LA) and signs of fall excitement are starting to appear. But, I couldn't end the summer without THE classic summer treat: s'mores. It's probably one of the only childhood treats I enjoy just as much now as I did as a child. The smell of charred marshmallows is pure nostalgia. I've updated the s'more in this recipe by making a graham cracker crust topped with a flourless rich chocolate layer, but best of all I've added a hint of smoke to the marshmallow fluff. When the fluff is torched, the smokey and caramelized flavor is just insane. More people need to make smoked marshmallows. Definitely.
This recipe is by no means simple and requires a kitchen torch and liquid smoke, but totally worth the effort. You can make the squares ahead of time and keep them in the freezer, and take them out and make the fluff when you're ready to serve them. It's the best way to celebrate what's left of summer!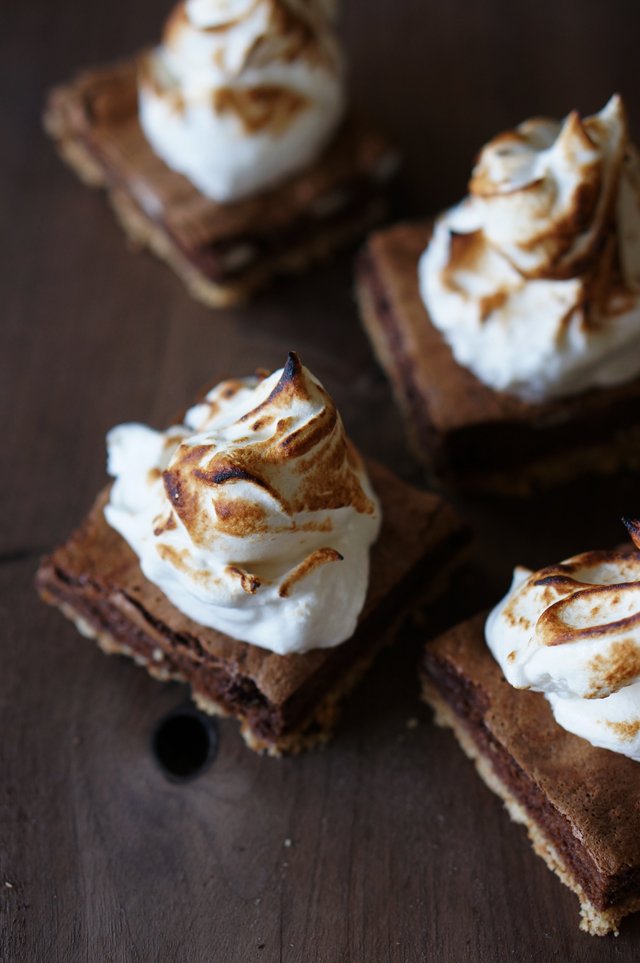 Crust Ingredients:

5 tablespoons of unsalted butter, melted

8 graham crackers
2 tablespoons of sugar

Chocolate Layer Ingredients:

2 tablespoons of unsalted butter

3 ounces of dark chocolate (60%-70%), chopped
1 tablespoon plus 1/2 teaspoon of instant espresso powder
2 tablespoons of strong coffee at room temperature
a pinch of salt
1 teaspoon of vanilla extract
3 large eggs, separated, at room temperature
1/2 cup of granulated sugar

Smoked Marshmallow Fluff Ingredients:

1 cup of granulated sugar

4 egg whites
a pinch of salt
a splash of vanilla
a splash of liquid smoke (this stuff is really strong, so just a tiny bit will go a long way)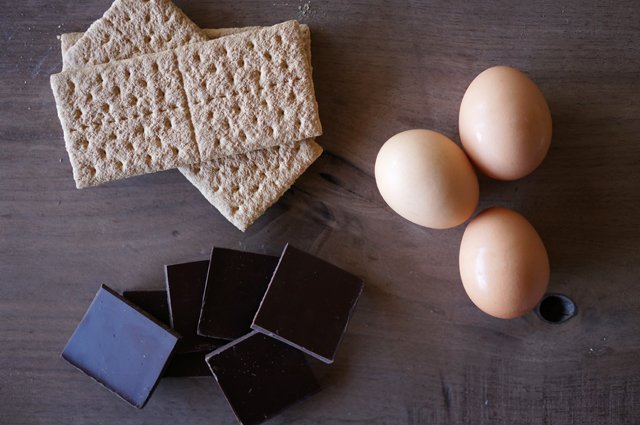 To make the crust, preheat oven to 350 degrees. Place graham crackers in a large ziplock bag, and using a rolling pin, crush the crackers into crumbs. Combine crackers, sugar, and butter in a bowl and mix until evenly incorporated. Press graham cracker mixture firmly into the bottom of a 9-inch square tart pan using the bottom of a measuring cup to press it evenly. You can also use a square baking pan. Bake in the oven for 10 minutes.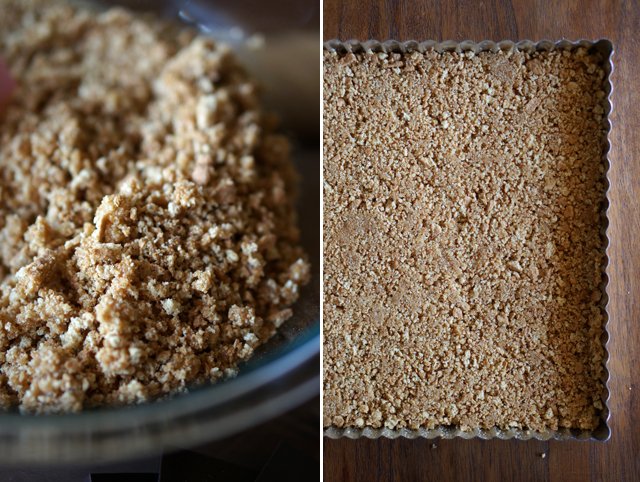 To make the chocolate layer, preheat the oven to 350. Using a microwave, melt the butter and chocolate together. Set aside to cool. In a small bowl, whisk together the espresso powder, coffee, salt and vanilla and set aside. In a bowl of a standing mixer fitted with the whisk attachment, beat the yolks with 1/4 cup of the sugar until the mixture is light and has almost doubled in volume, about 5 minutes. Add the chocolate mixture and beat until just combined. Scrap down the sides of the bowl and beat on low speed for 5 seconds. Add coffee mixture and beat until just combined.
In a clean bowl, beat the egg whites until foamy. Gradually increase the speed to high and add the remaining 1/4 cup sugar, beating until soft peaks form. Scoop 1 cup of the egg whites into the chocolate mixture and use a rubber spatula to fold in the egg whites. After about 30 seconds of folding, add the remaining egg whites and continue folding until completely combined.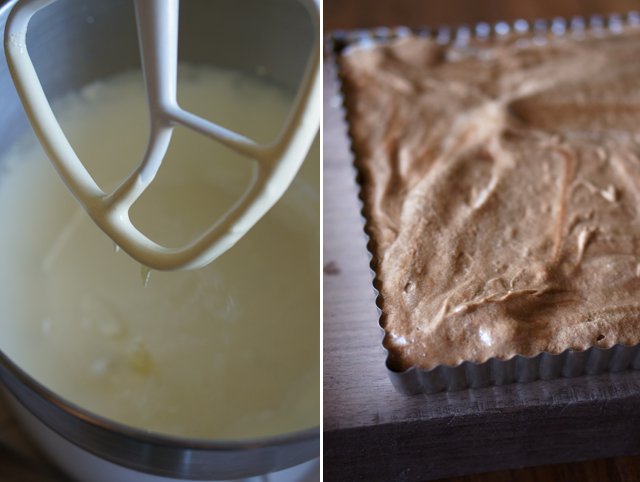 Pour the batter onto the cooled graham cracker crust and spread out evenly over the crust. Bake for 20 minutes.
To make the smoked marshmallow fluff, combine 3/4 cup sugar and 1/4 cup water in a small saucepan over medium-high heat. Attach a candy thermometer to the side of the pan and simmer syrup without stirring until it reads 240 degrees, occasionally swirling the pan. Place egg whites, salt, vanilla, and liquid smoke in the bowl of a stand mixer fitted with a whisk. Whip on high until frothy and slowly add the remaining 1/4 cup of sugar. Whip until medium peaks form. Reduce speed to medium and with the mixer running very slowly pour the hot syrup into the meringue in a steady stream. Try and aim for the meringue because if the sugar touches the bowl or whisk it'll harden, making it harder to clean after! Increase speed to high and continue whipping until stiff peaks form.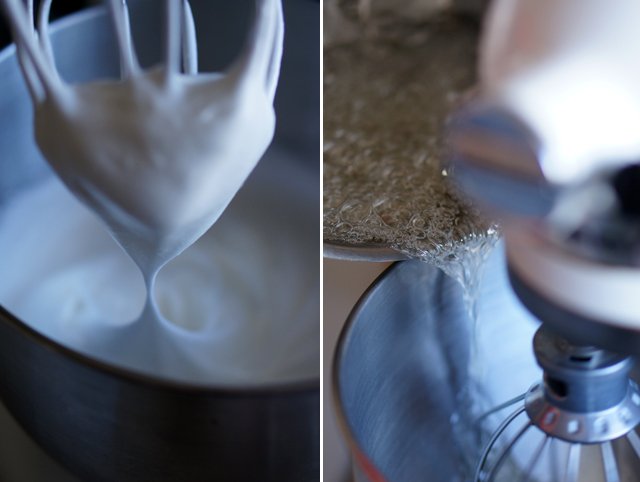 Cut the tart into squares for serving and dollop a large spoonful of the smoked fluff. Finish it off by toasting the fluff with kitchen torch.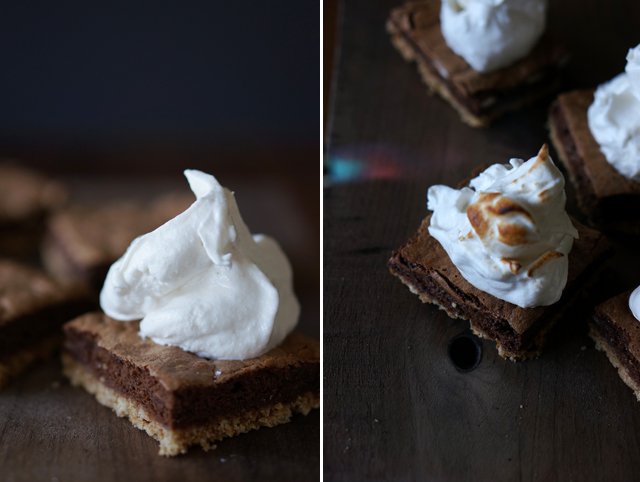 . . . and enjoy!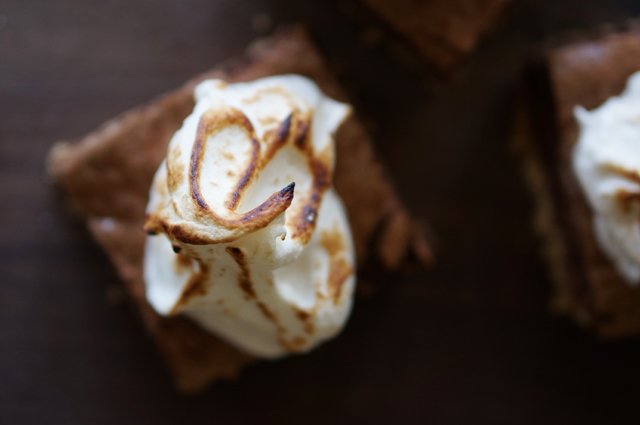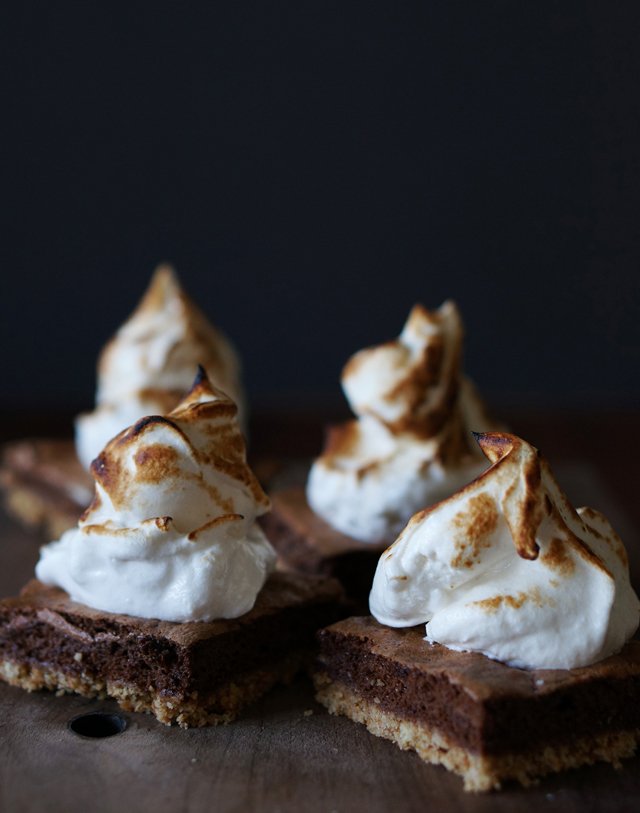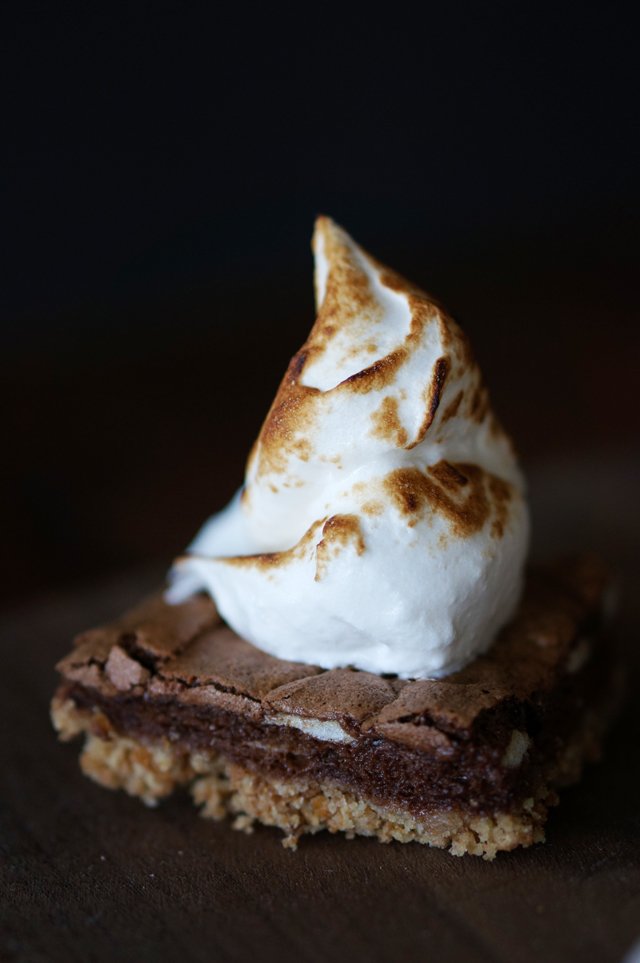 (images by HonestlyYUM)