Okay, I'm just going to put it out there: I do not like fruit pies. The high fruit-to-crust ratio is just not my thing. Neither are the syrupy soft thick hunks of fruit. A crostata, on the other hand, I love. There is a perfect amount of crust with an even layer of fruit that is cooked tender and thin. A crostata couldn't be easier to make, you literally fold the dough over and create your own shell. No need to deal with a fussy pie lattice or crust. As for the fruit, I chose pluot because, if you haven't noticed lately, the YUM team has been sort of obsessed with all things plum. Pluots are a cross between a plum and apricot and are all over the place right now. The additional flavor of ginger makes this pluot crostata sing. Topped with a scoop of vanilla ice cream and you won't ever eat pie again. Or at least I won't.
Ingredients:

3-4 pluots

1/3 cup and 2 tablespoons of sugar
1 2-inch piece of ginger (which yields about 2 teaspoons of juice)
1 tablespoon of corn starch
1 1/4 cup of all purpose flour, and more for dusting
1 stick of cold butter
1/4 teaspoon of salt
1/4 cup of iced water
1 egg, beaten
granulated sugar for dusting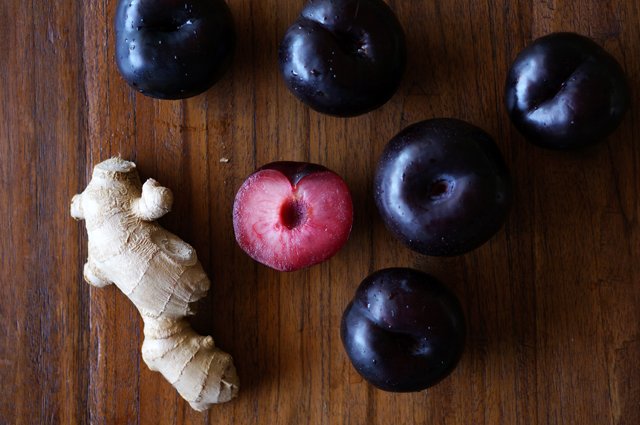 Pit and thinly slice the pluots. Toss with the 1/3 cup of sugar and corn starch. Grate the ginger on a microplane grater and strain through a small fine-mesh strainer. Using the back of a spoon lightly press the grated ginger against the strainer to release the liquid. Discard the dry fiberous ginger. Add 2 teaspoons of ginger juice to the pluots and lightly toss.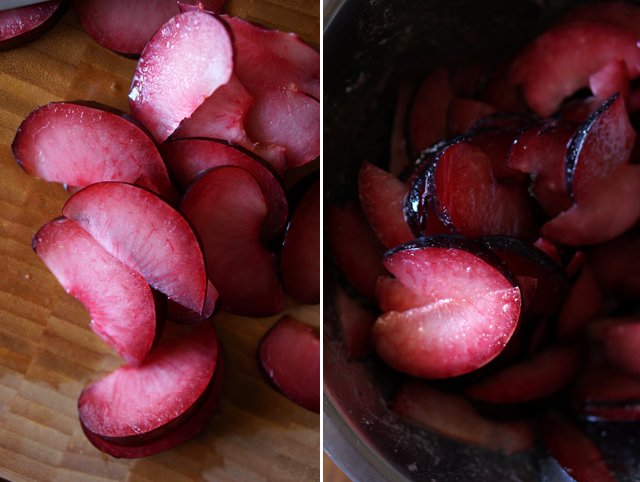 To make the dough, cube the cold butter. Add 2 tablespoons of sugar, 1/4 teaspoon of salt, and 1 1/4 cup of flour to the bowl of a food processor. Pulse to combine. Add the butter and pulse until the butter is about pea sized. Add the water and pulse until the mixture barely comes. Shape into a flattened disk and wrap with plastic wrap.  Refrigerate for about 30 minutes.
When you are ready to bake the crostata, preheat the oven to 425. Roll the dough out on a lightly floured surface until the dough is about 12 inches in diameter. Transfer the dough onto a baking sheet lined with parchment paper.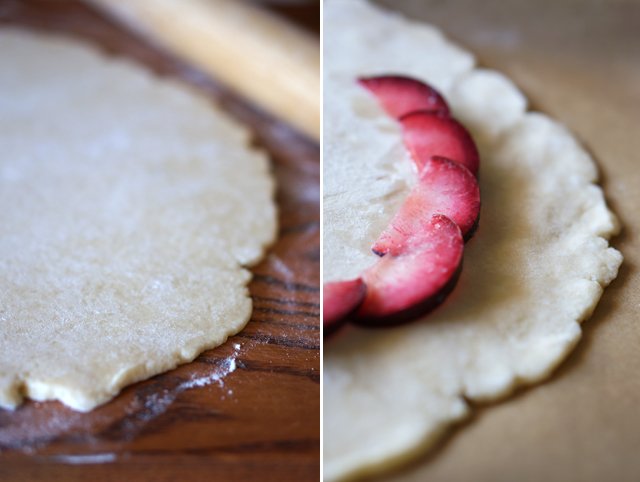 Lay the slices of pluot in concentric circles leaving about an inch of crust around the outside.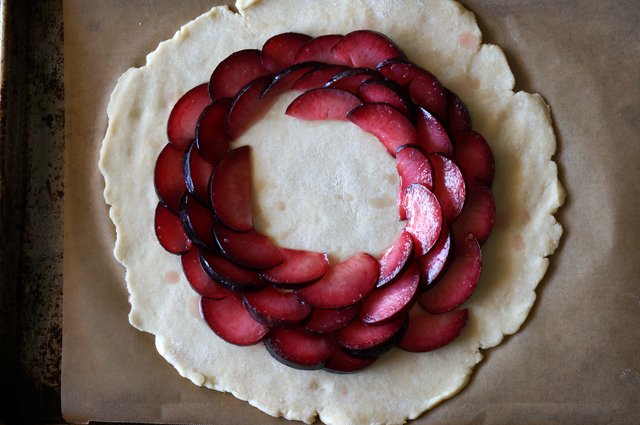 Fold the edges over the fruit and brush with the egg wash. Sprinkle sugar over the crust.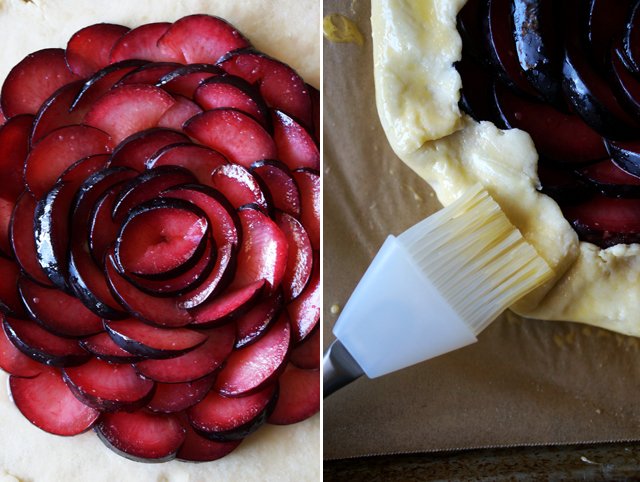 Bake for about 45 minutes until the crust is deep golden brown.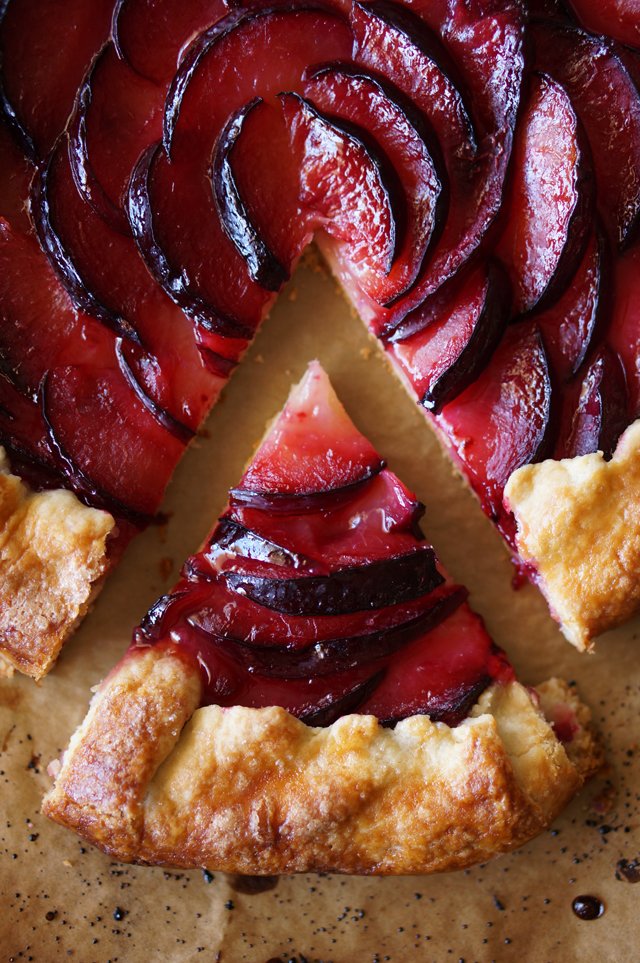 Let it cool for at least 15 minutes.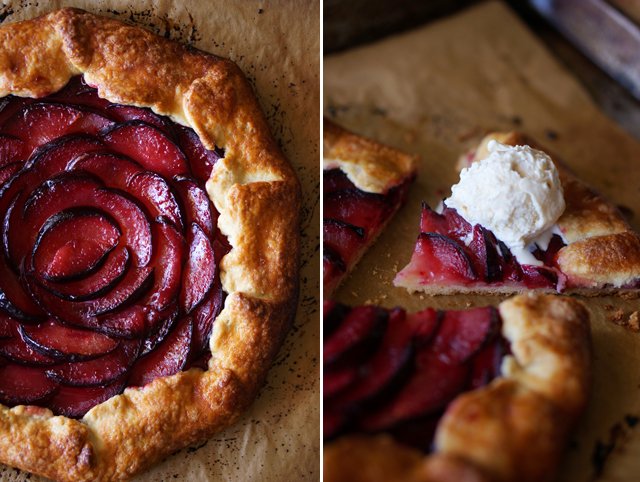 Slice and enjoy with a scoop of vanilla ice cream!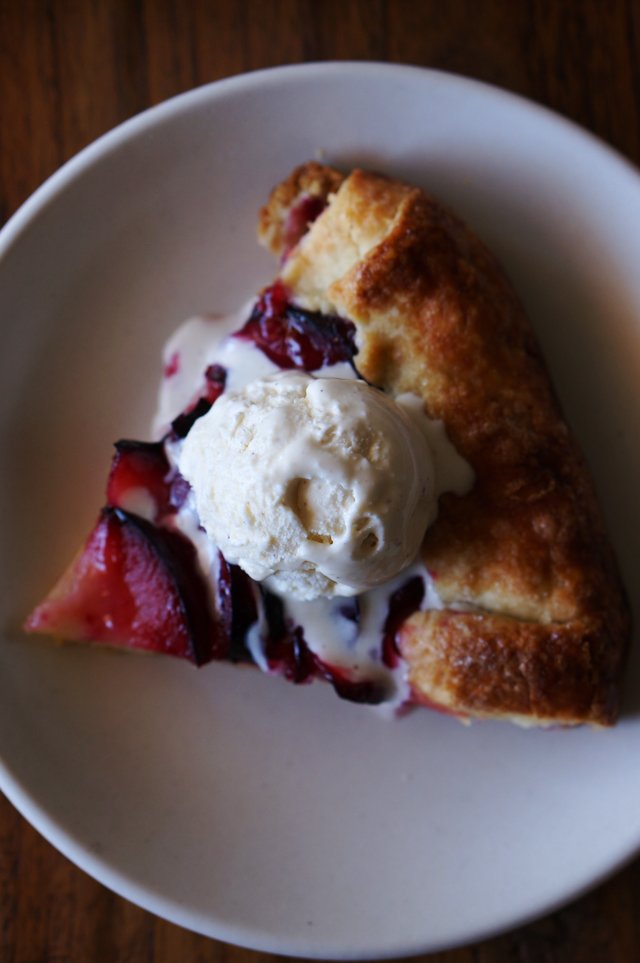 (images by HonestlyYUM)