For Valentine's Day this year, I wanted to make something really pretty. Something super girly and pink. But it had to taste as pretty as it looked and I couldn't think of a better flavor pairing that represented pink than rose and cardamom. I've used cardamom plenty of times in desserts and it's quite possibly my favorite spice. This Persian love cake is a simple fragrant cake made from almond flour, cardamom and rose water. There's some all purpose flour in here but you could easily substitute with a gluten-free flour like Cup for Cup. I had some freeze dried pitaya and hibiscus powder and have been adding it to everything– pitaya has a bright magenta color and hibiscus a more subtle pink. These are a great substitute for artificial coloring and although they're a bit pricey, I highly recommend them for natural food coloring– a little goes a long way!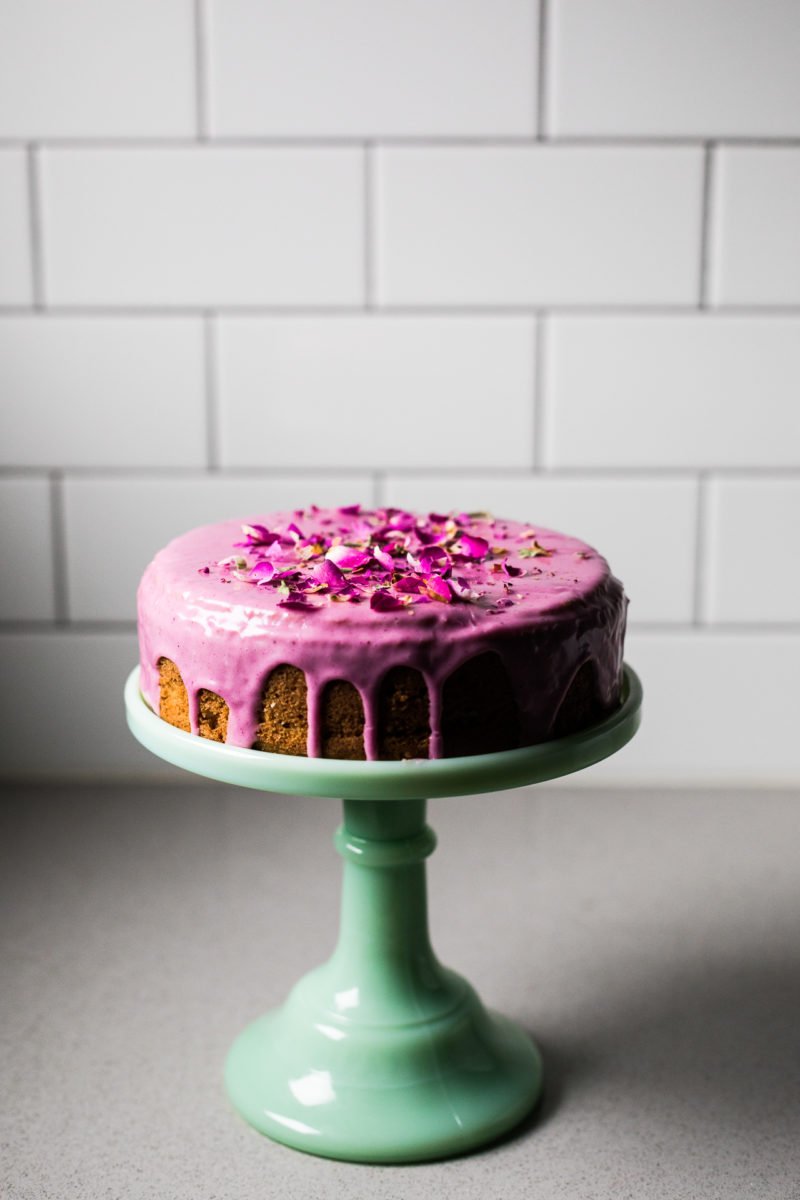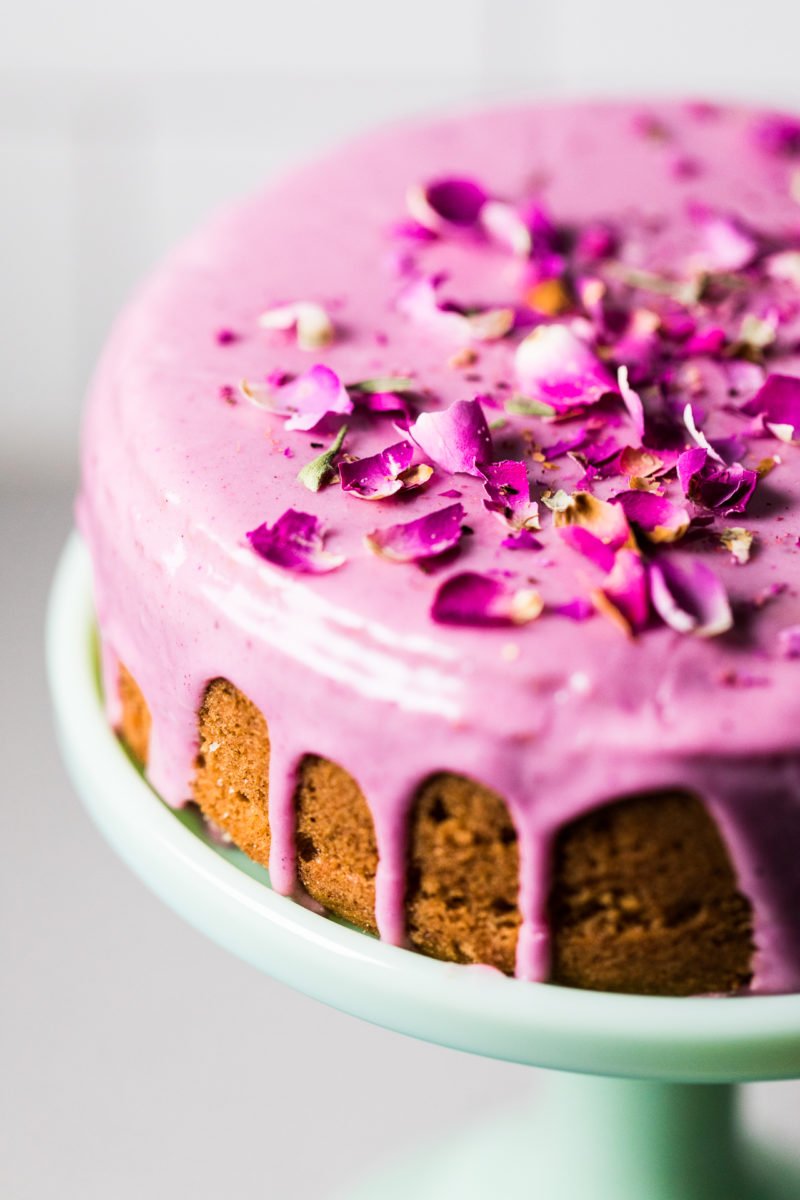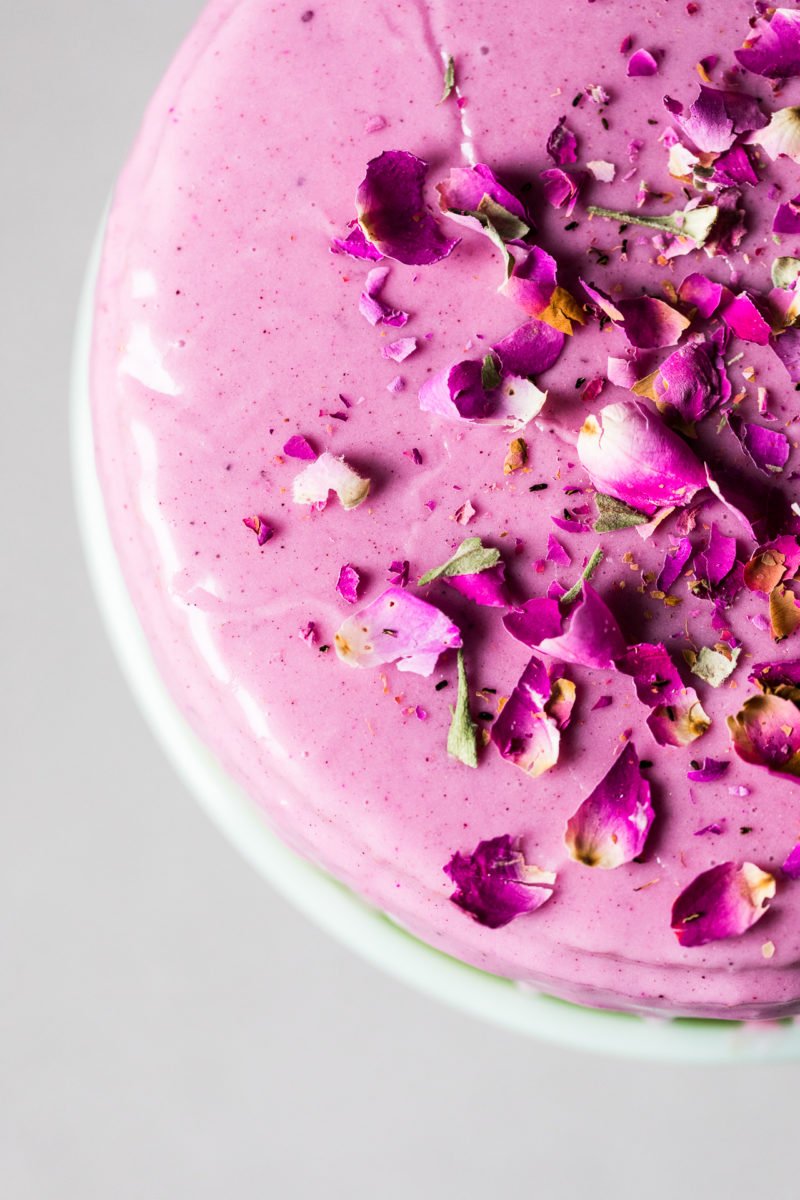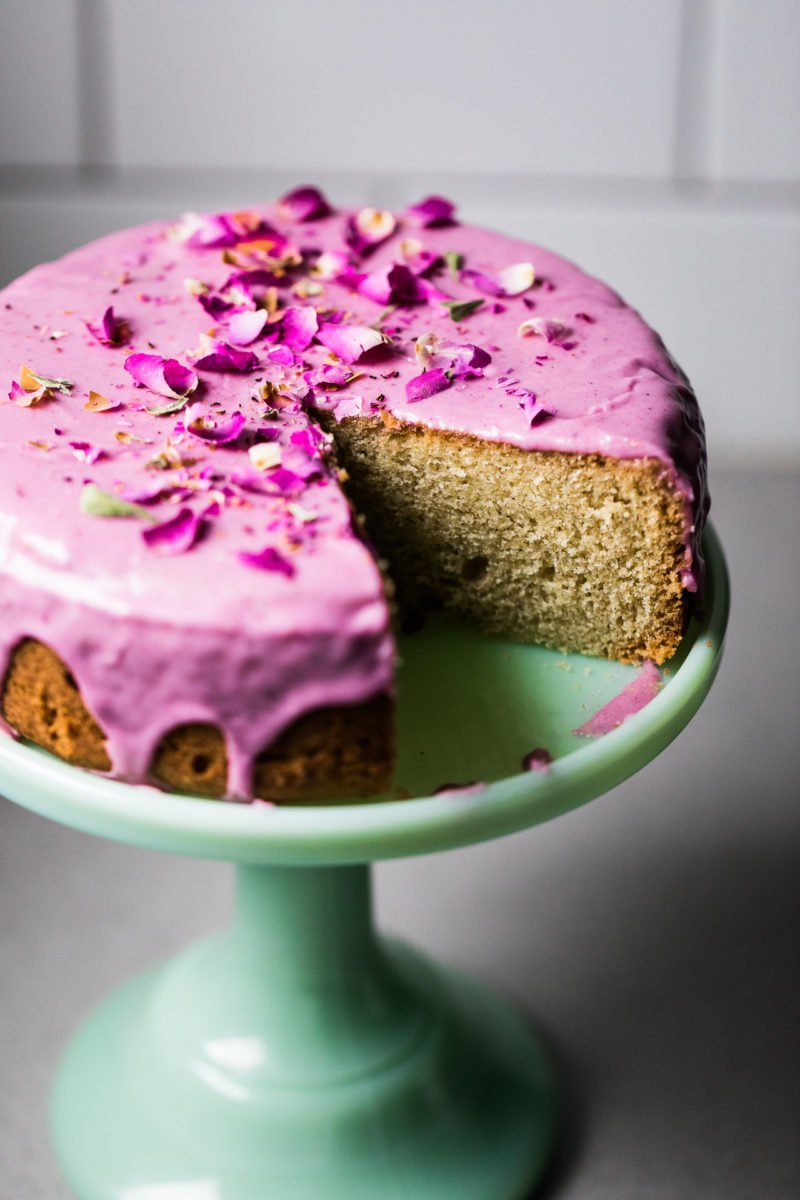 INSTRUCTIONS
Preheat the oven to 350 degrees. Grease an 8 inch cake pan with butter and line the bottom with parchment paper. I used a smaller 6.5 inch pan here since I wanted it to fit on this particular cake stand. If you use a smaller pan, you may need to bake for a few minutes longer.

In a mixer with the paddle attachment, beat the butter, sugar and eggs together until it becomes light in color, about a couple of minutes. Add the rose water and beat to combine.

Combine the flour, almond flour, cardamom, baking soda, baking powder and salt in a bowl and whisk to combine. With the mixer running on slow speed, slowly add the dry ingredients in and beat until just combined.

Pour into the pan and smooth the top of the batter flat with a spatula and bake for about 30 minutes until a toothpick inserted into the center comes out clean. Allow to cake to cool before glazing.

To make the glaze, whisk the powdered sugar and milk together. Add a few small pinches of freeze dried pitaya powder to the glaze or add a drop of red food dye. The glaze should be thick but pourable. If it is too thick, add more milk. If too thin, add more powdered sugar. Whisk until smooth. Pour over the center of the cake using an offset spatula to move the glaze over the edges. Break the leaves off the rose buds and scatter on top.
NOTES
A note about rose water. The potency of rose water varies widely from brand to brand. This cake should be light on the rose scent. In my opinion, more than that and it tastes like you're eating perfume-- yuck. The brand I used in this recipe is Nielsen Massey, which I have found to be much stronger than other brands. If you're not sure how much to add, do a little at a time (about 1/2 a teaspoon) and taste the batter as you go.