It wasn't until I started food blogging that I really started to appreciate and love ceramics. Of course, pretty dish ware are a must for purposes of food styling and food photography, but even when it comes to my day-to-day life, eating from a beautiful ceramic dish makes eating that much more enjoyable. Some of my most prized possessions in my home are ceramics. Handmade ceramics tend to be expensive and I never want to spend that kind of money on myself so they make the perfect holiday gift in my opinion! I think you'll find something for everyone in the eclectic mix of ceramics below!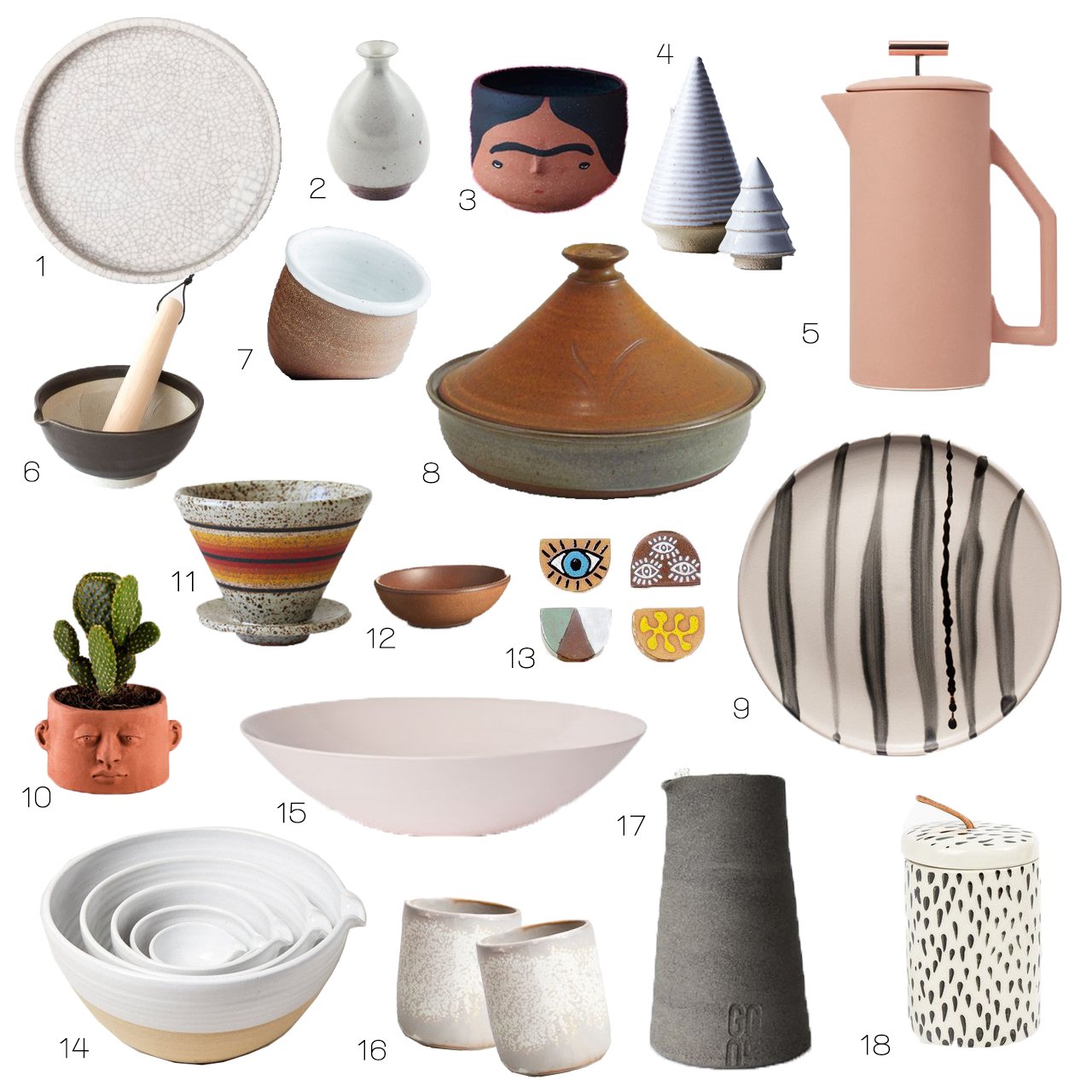 Crackle Olive Dish $26 – The matte crackle glaze is one of my favorite finishes and has such a subtle beauty to it!
Hai-Yu Sake Flask $55 – The unfinished look of this sake flask epitomizes wabi-sabi.
Uno + Ichi Unibrow Ninas $44 – How cute are these Frida-inspired cups?!
Ceramic Winter Forest $25 and up – These ceramic trees would be an elegant addition to anyone's holiday home decor.
Ceramic French Press $125 – I don't know what I love more, the millennial pink hue or the copper handle.
Katakkuchi Suribachi and Surikogi Set $46 – This mortar and pestle is usually used to grind sesame seeds in Japanese cooking but I use it for grinding spices or nuts.
Salt Cellar $30 – A beautiful addition to any kitchen counter and will be used daily!
Tagine – These Moroccan vessels are great for stewing and braising.
In The Mist Plate $100 – This beautiful plate hand-painted with driftwood and animal hair is a work of art.
Headplanter $35-45 – I came across these planters when I was staying at the Solaz in Los Cabos last month and tracked down the maker in Mexico because I loved so much. Luckily they ship to the US!
Coffee Dripper $68 – I just love the pattern on this pour over!
Dessert Bowl $25 – I have a bunch of these dessert bowls but use them for almost everything– they're the perfect size. My favorite color is the Redwood.
Ceramic Pipes $60 – Forget those glass pipes– these ceramic pipes are so fun and pretty!
Pantry Bowl $32-$325 – I've been eye-ing these gorgeous mixing bowls for a while now (hint, hint).
Nest Bowl $206 – The prettiest shade of pink . . .
Moon Simple-T $30 – Luvhaus's moon glaze is quite possibly the most beautiful ceramic finish I've seen– I love all of their moon glaze pieces!
Carafe $30 – I love the dark color of this carafe, which can be used for drinks but also as a vase.
Container $24 – Store anything from coffee, tea to spices in this hand painted container.