Those of you that follow us on Instagram know that a few weeks ago Erica and I took a trip across the pond to explore the Northern UK. First up in my travel recap is the city of Manchester, England. To be honest, I had no idea what to expect. My only Manchester knowledge pretty much centered around the Manchester United soccer team (my parents are huge fans). Clearly Manchester has much more going for it than than its soccer reputation, albeit fantastic. Known as the birthplace of the industrial revolution, Manchester actively embraces its storied past, while simultaneously feeling vibrant, youthful, and progressive. Every single local we spoke to had an intense pride, always eager to offer suggestions about where to go.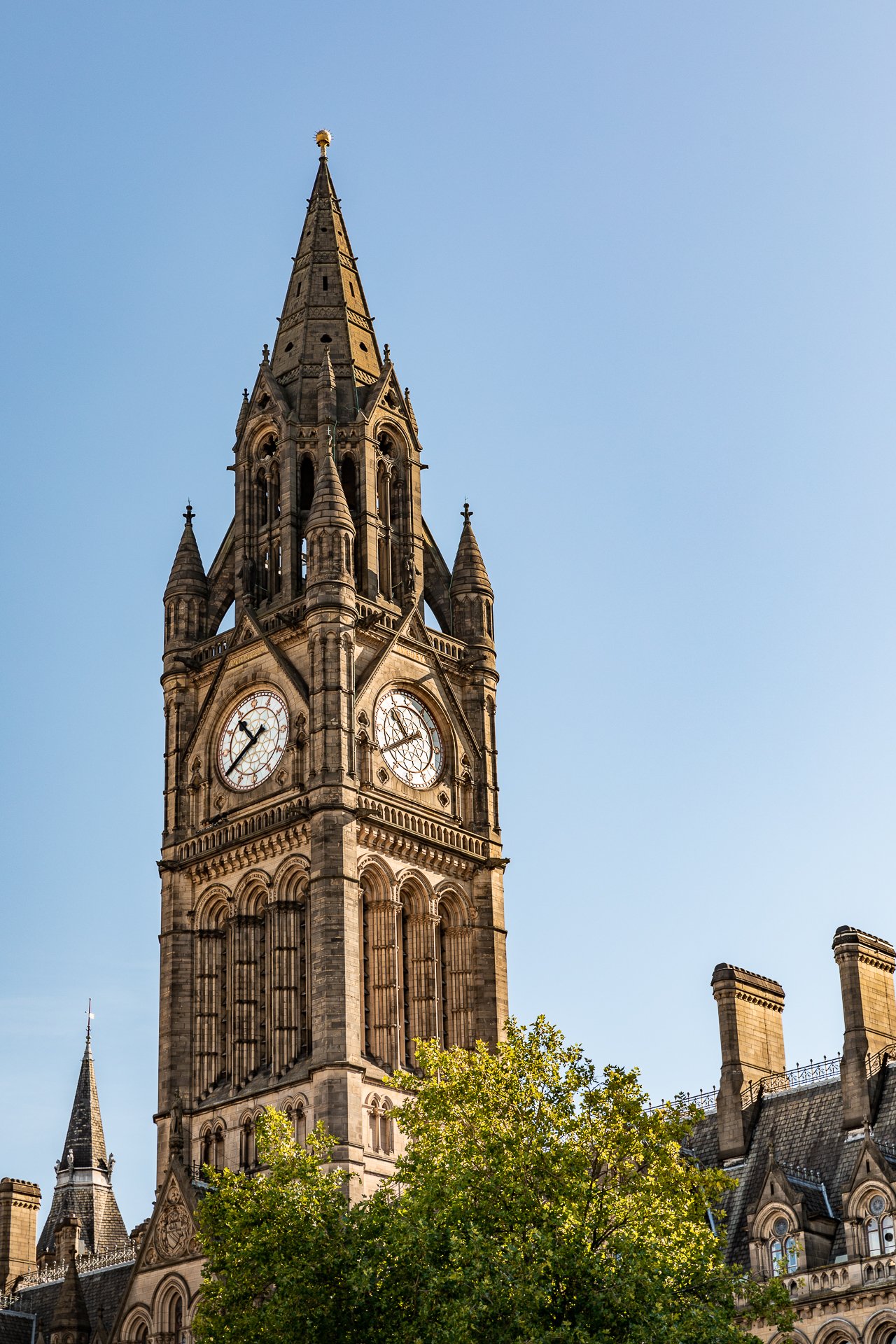 I was particularly impressed by all the food and drink options in town. From traditional pub fare to fine dining, and everything in between, I honestly feel like I could have spent weeks exploring the Manchester food scene. Granted, I'm looking at things through my HonestlyYUM colored glasses – but I kept finding myself saying, "Oh, I wish we had a place like THAT back home!"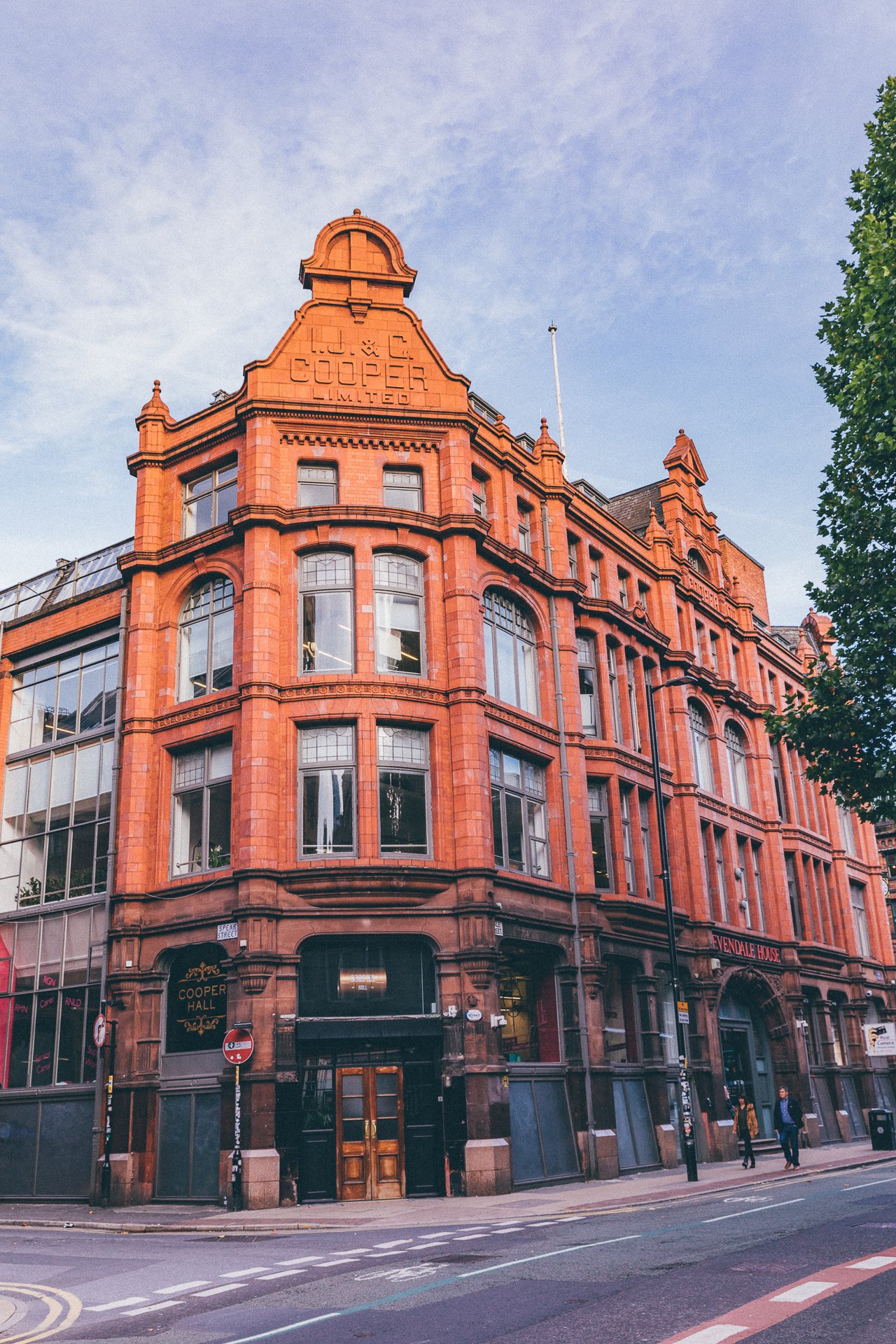 EAT
Refuge
On our first full day in Manchester we stopped in for lunch at Refuge, the same team behind the restaurant, Volta. The first thing you notice when you walk into refuge is how grand the space is. The restaurant is located at the bottom of The Principal Manchester, in the old Refuge Assurance Company building. This immense space is gorgeously designed and decorated, and includes the restaurant, a private dining room, a bar and lounge, a den, and a gorgeous atrium space they call the winter garden.
The bar at Refuge.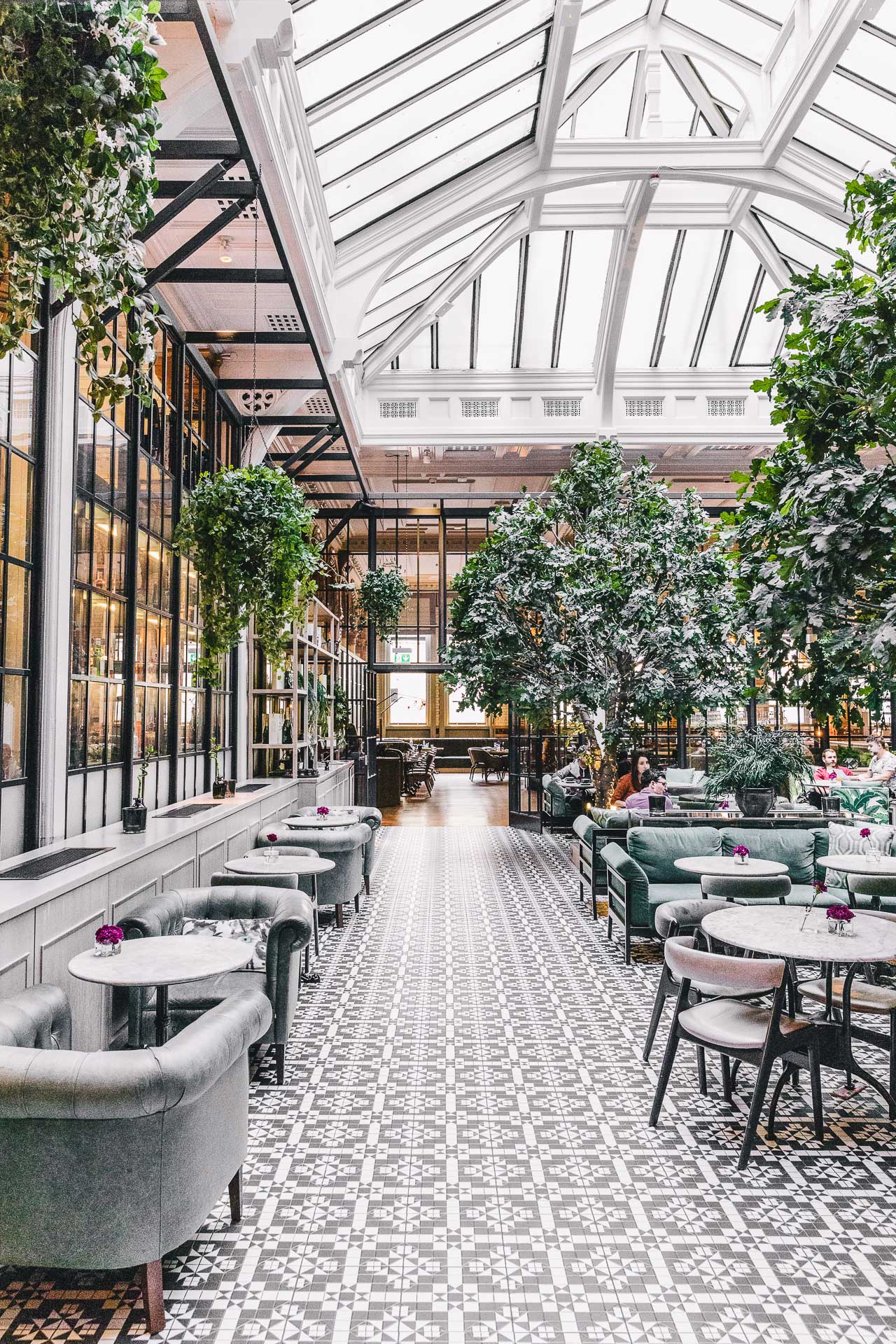 Winter Garden inside Refuge.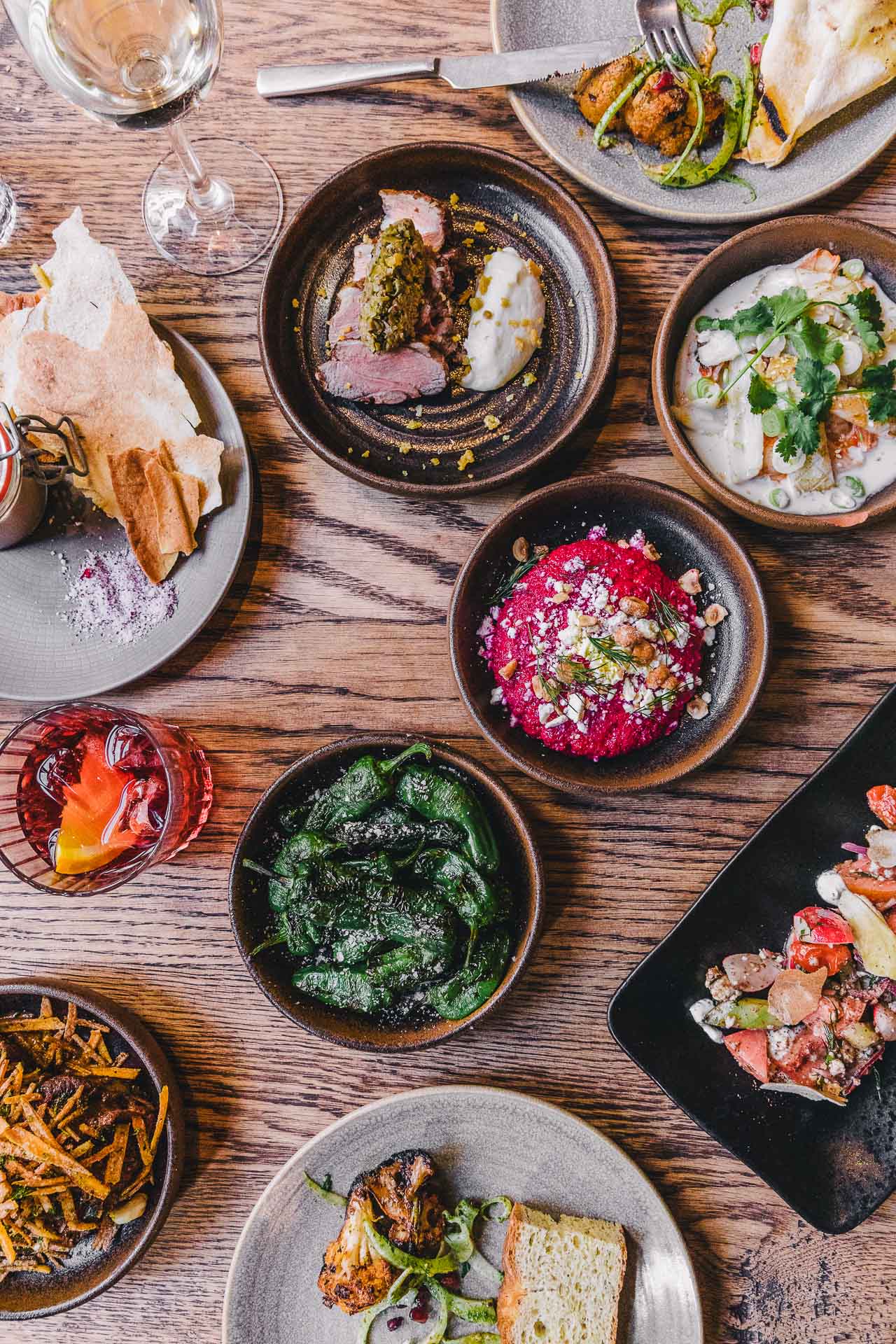 The food at Refuge (and in Manchester in general) felt very globally-inspired. The menu is made up of small plates, and even politely suggests how many different items to order. Some of the dishes we chose included:
Fire-roasted padrón peppers
Smoked feta with beetroot, hazelnut, and dill
Smoked chicken liver and rosewater parfait with toasted flatbread
Fattoush, tomato, and cucumber salad with sumac
Squid, kimchi, coconut and lime
Chargrilled cauliflower with caraway and pomegranate
Lamb rump, with parmesan crisp, cauliflower, and goat cheese
Slow-cooked Massaman ox cheek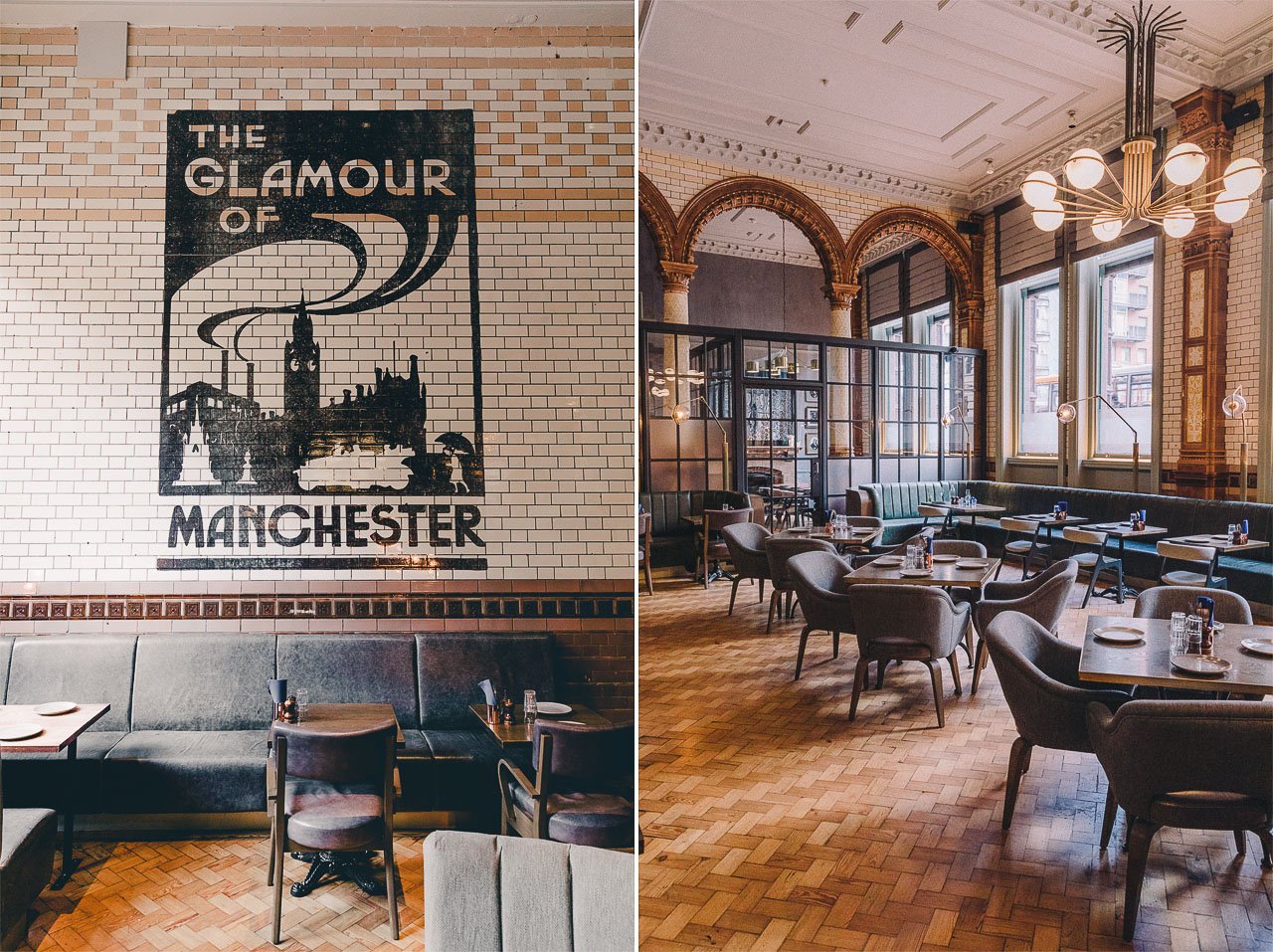 The highlight for me was the slow-cooked ox cheek – incredibly tender, and well-seasoned. Erica's favorite was the squid and kimchi in a coconut broth.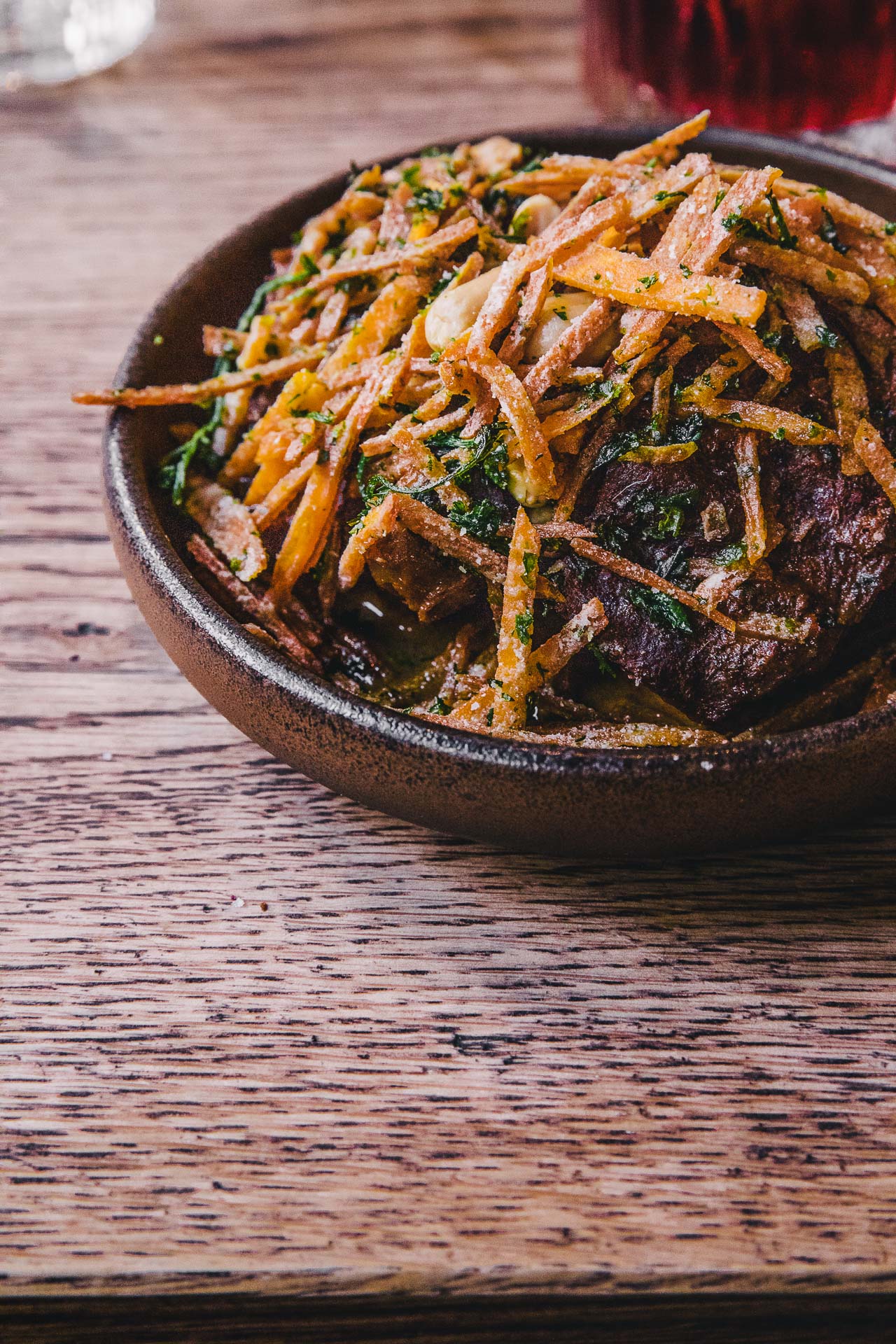 Prices were reasonable, and the small plates turned out to be a pretty decent size, considering what I normally expect back in San Francisco.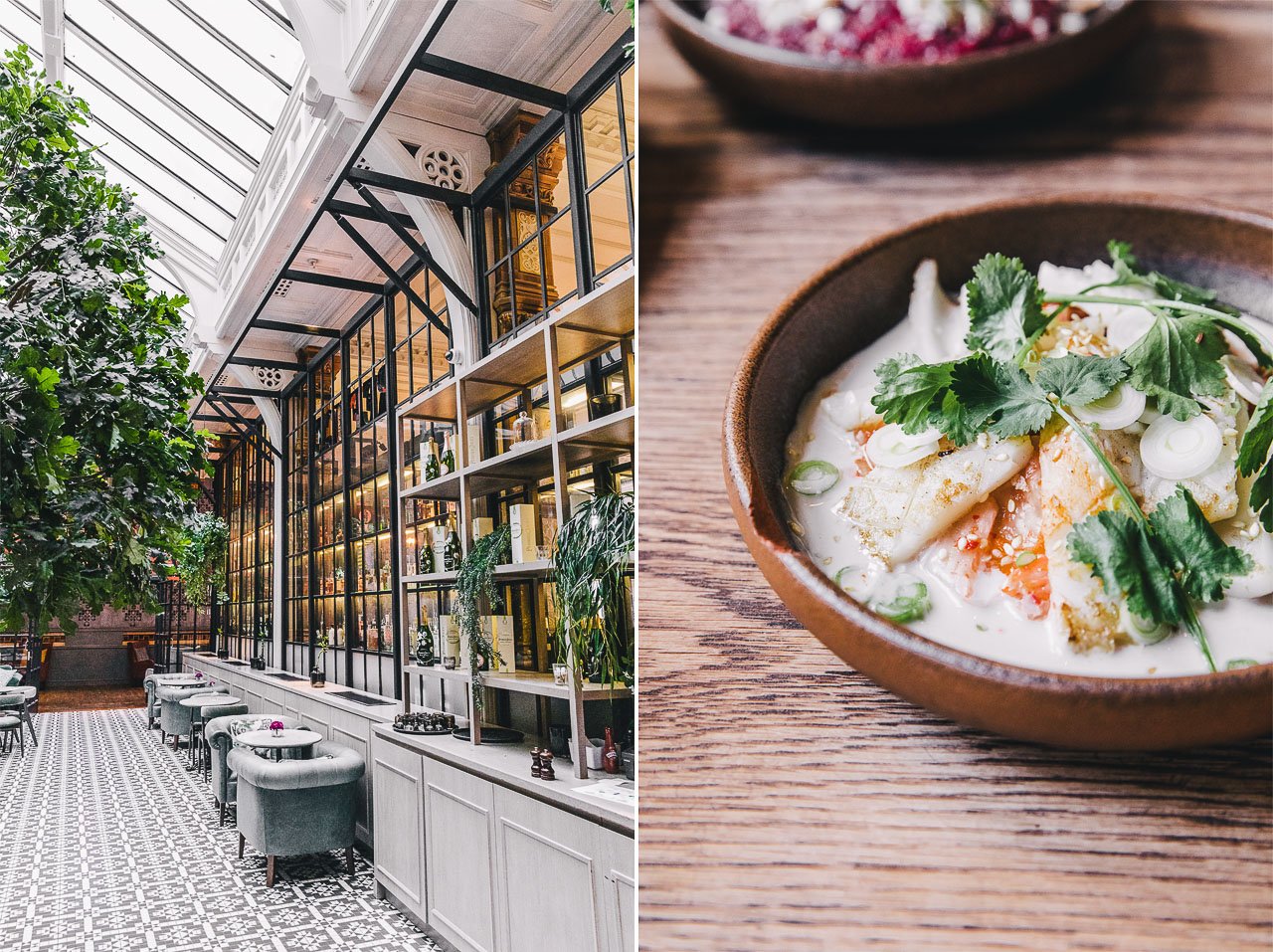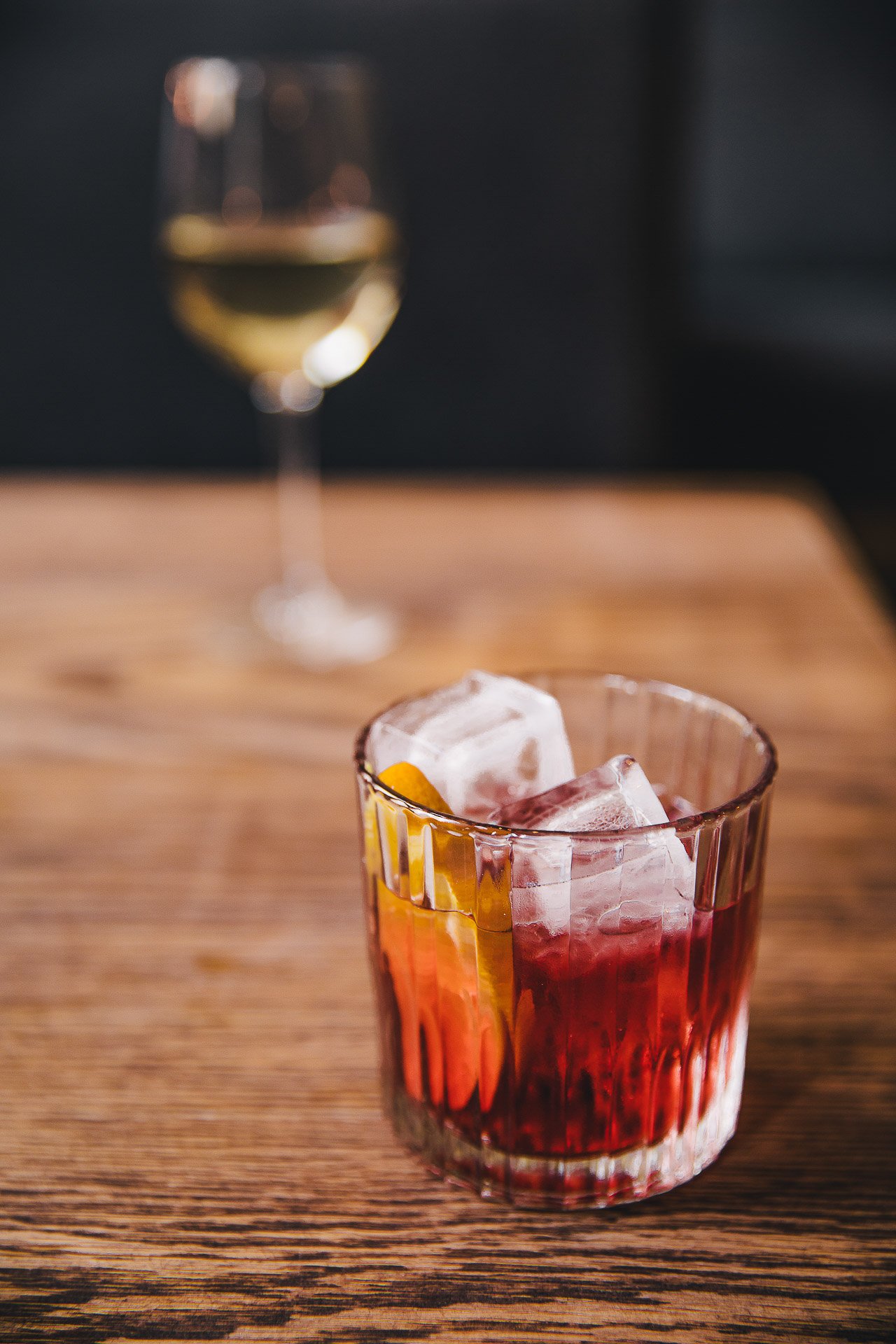 Negroni at Refuge.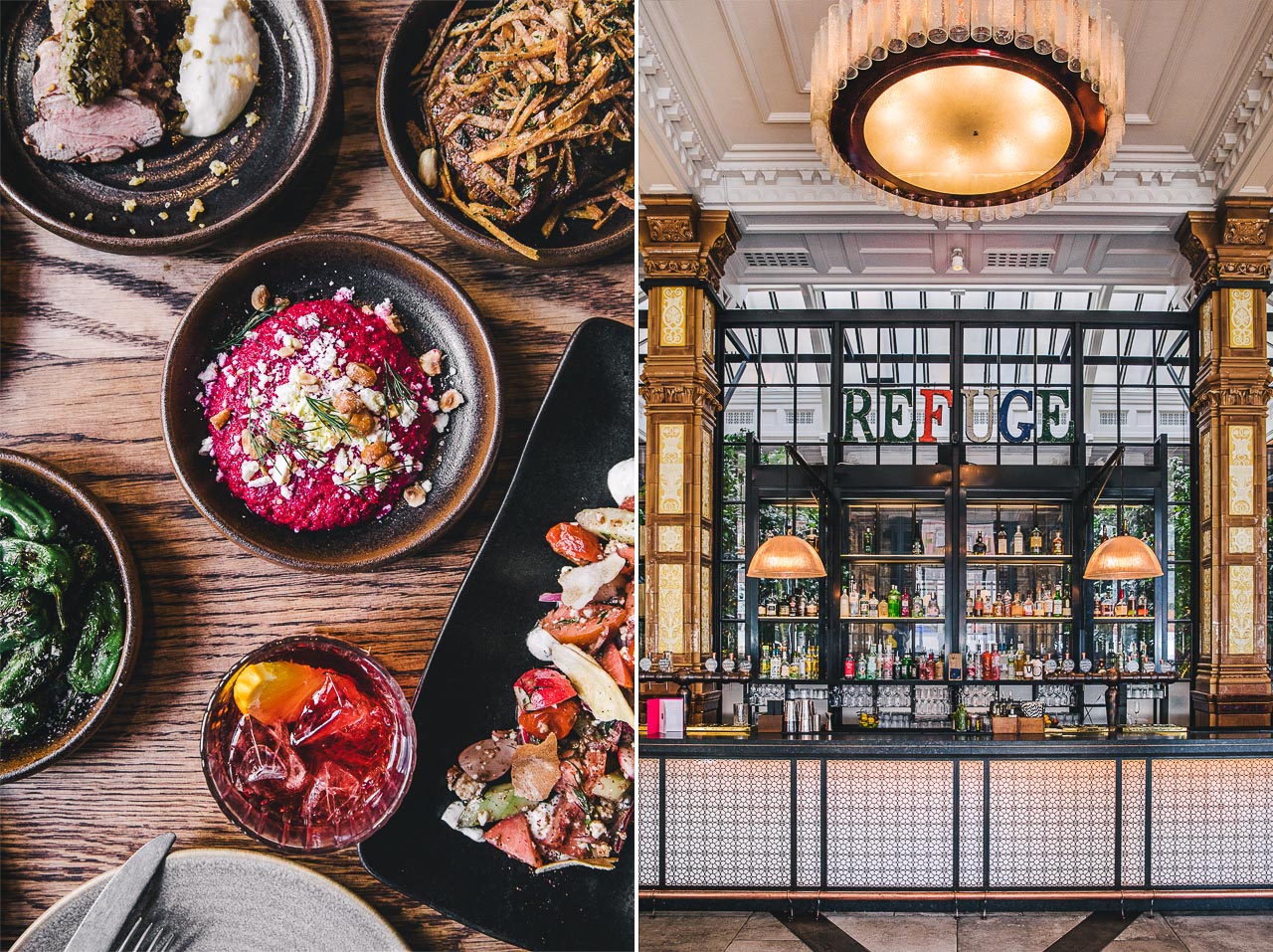 I highly recommend stopping by Refuge and trying several of the small plates on the menu. Lunch felt like a perfect time to visit, as it wasn't too crowded and we felt like we could really explore the space. However a happy hour cocktail at the bar, or a coffee in the winter garden atrium also would be lovely.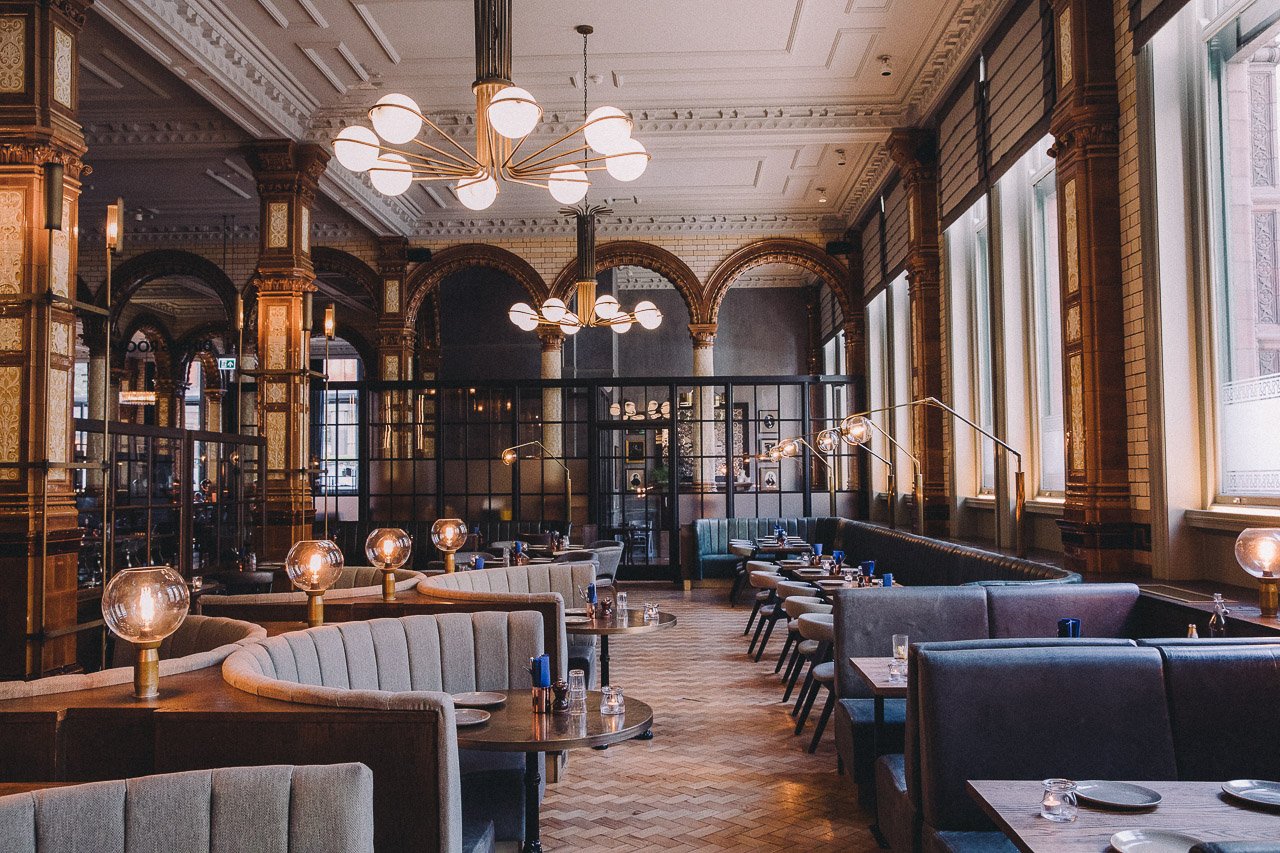 The dining room at Refuge.
Pot Kettle Black in Barton Arcade
The coffee scene was abundant in Manchester. We stopped at several cafes each day, but Pot Kettle Black inside Barton Arcade was easily my favorite. They take coffee seriously. I highly recommend both the black coffee and the flat white. The do boozy coffee as well, in case you're looking for a little hair of the dog.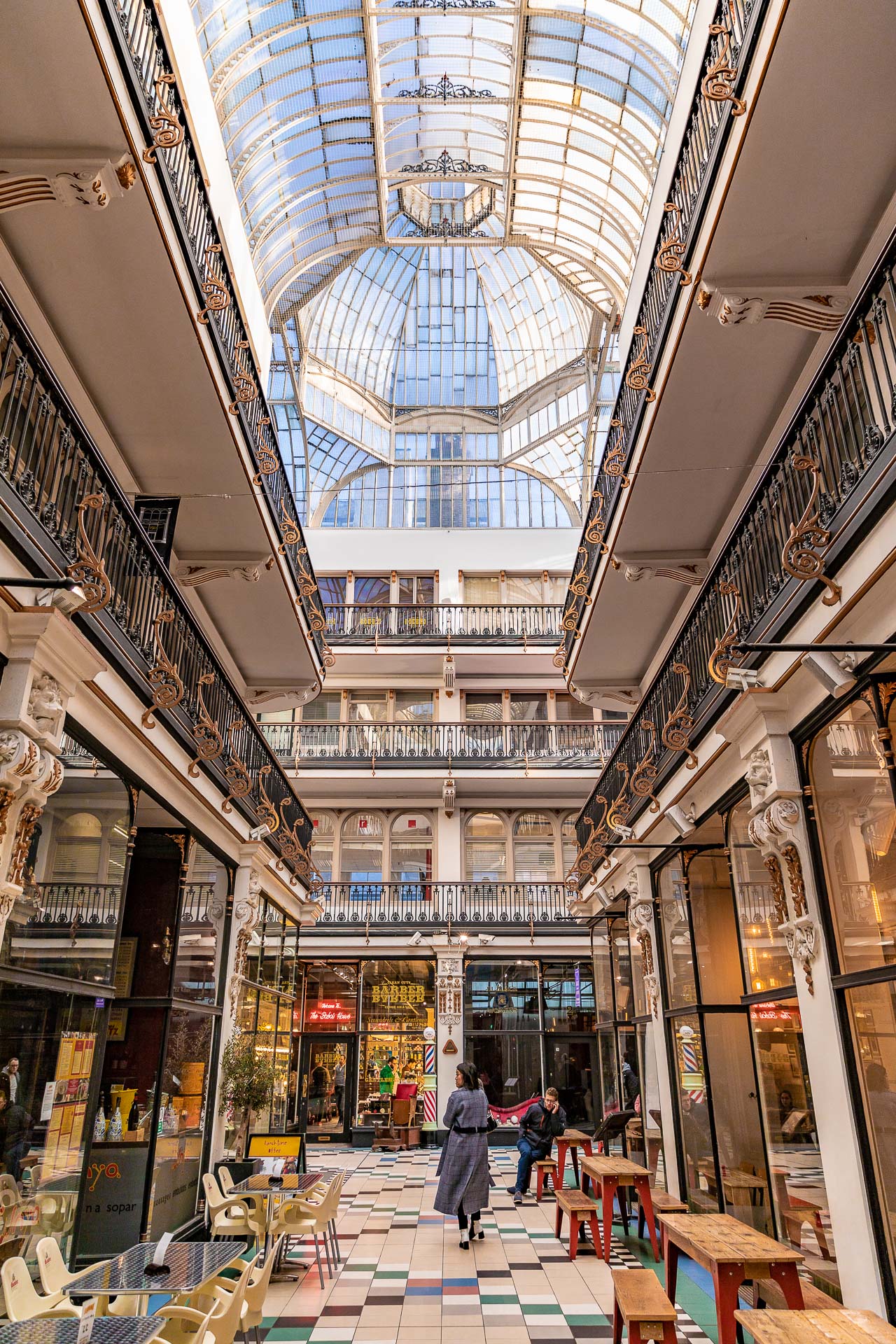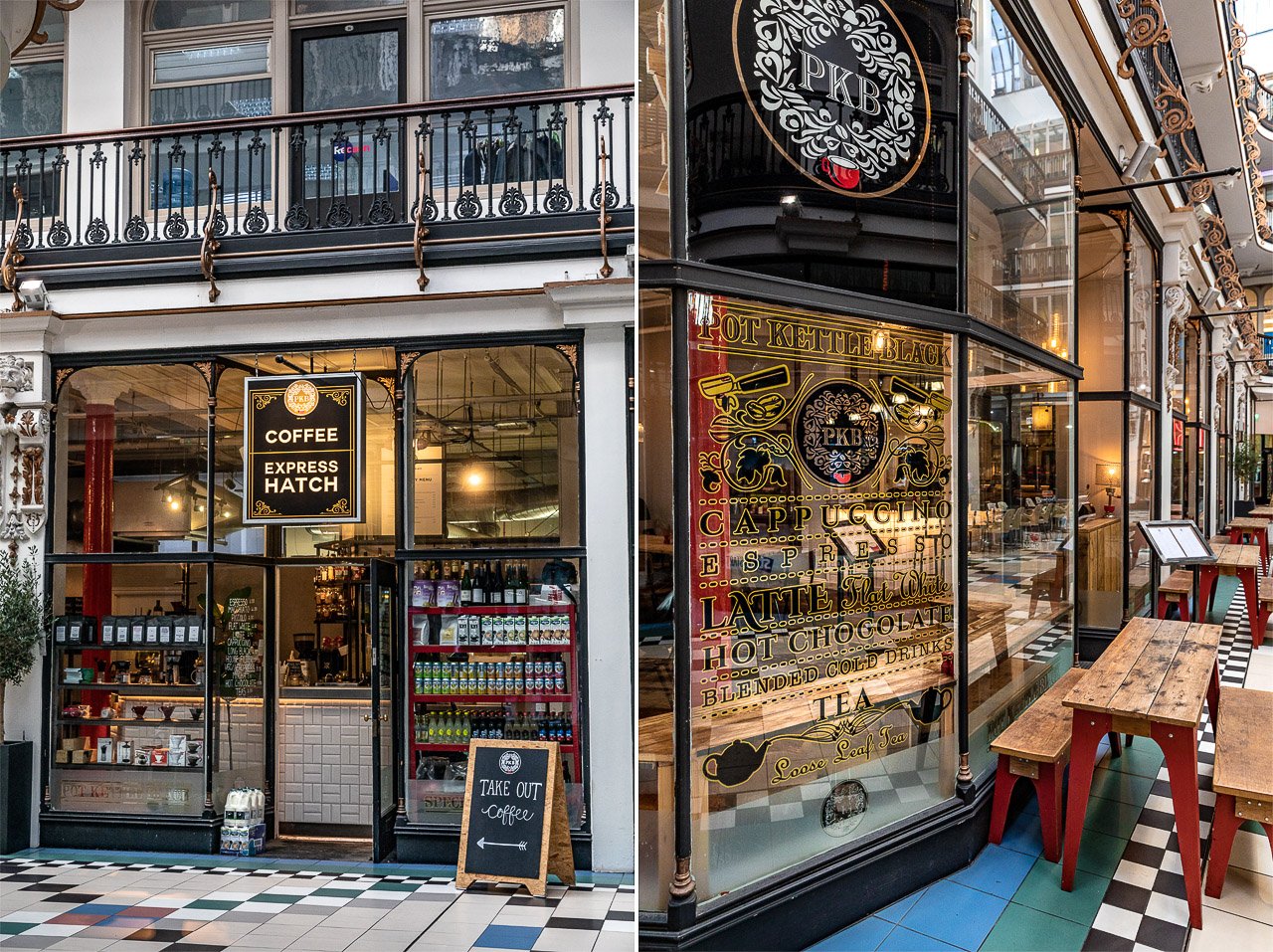 They serve breakfast all day as well. There's an assortment of egg dishes, french toast, pancakes, porridge, pastries – the list goes on . . . We decided to keep it California with our poached eggs and avocado toast. Yum!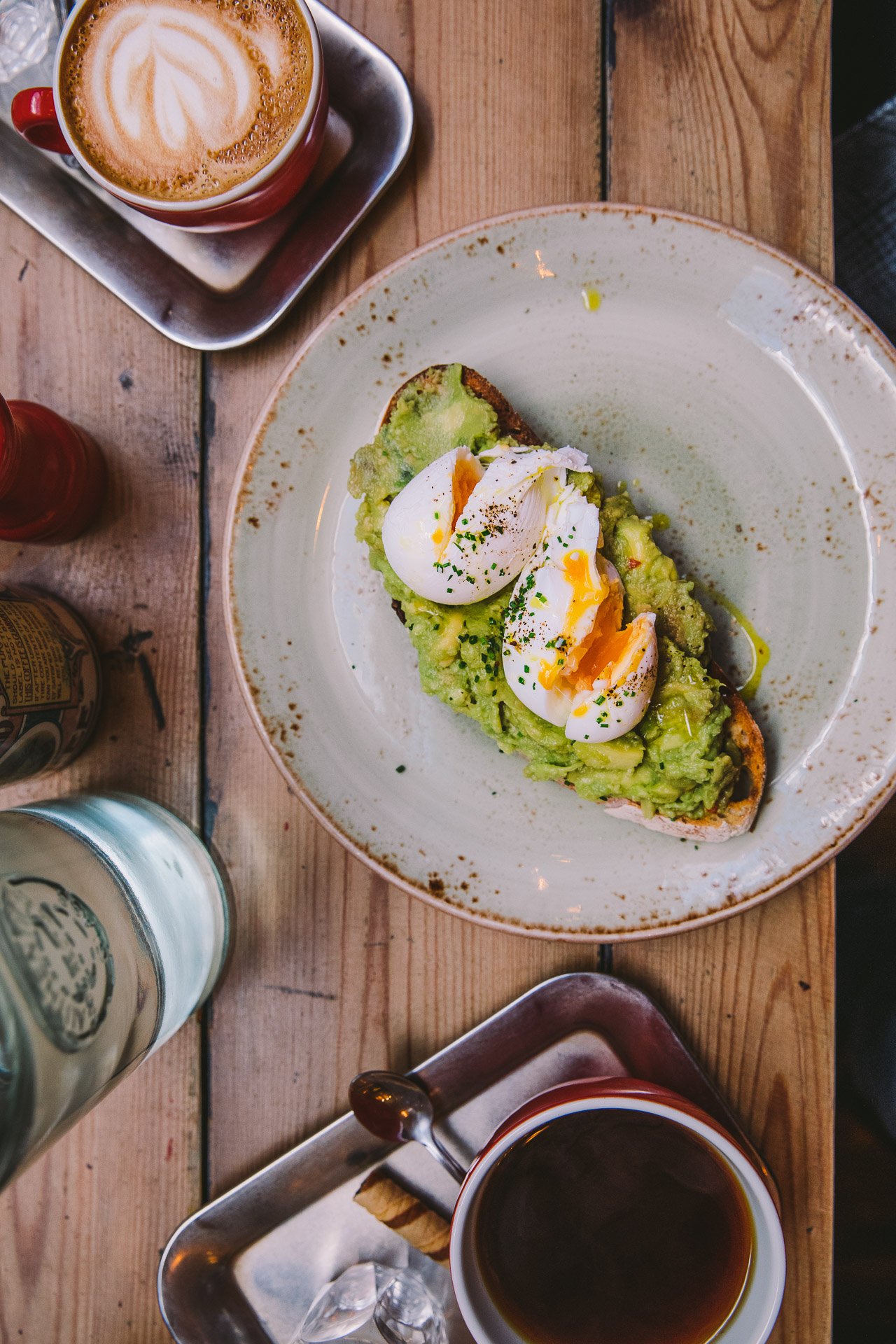 Even if you're not in the mood for brunch, Barton Arcade is worth a stop. The shopping center is home to several little shops, including a barber shop. Not to mention, the combination of ironwork and glass makes for a pretty nice sight in and of itself.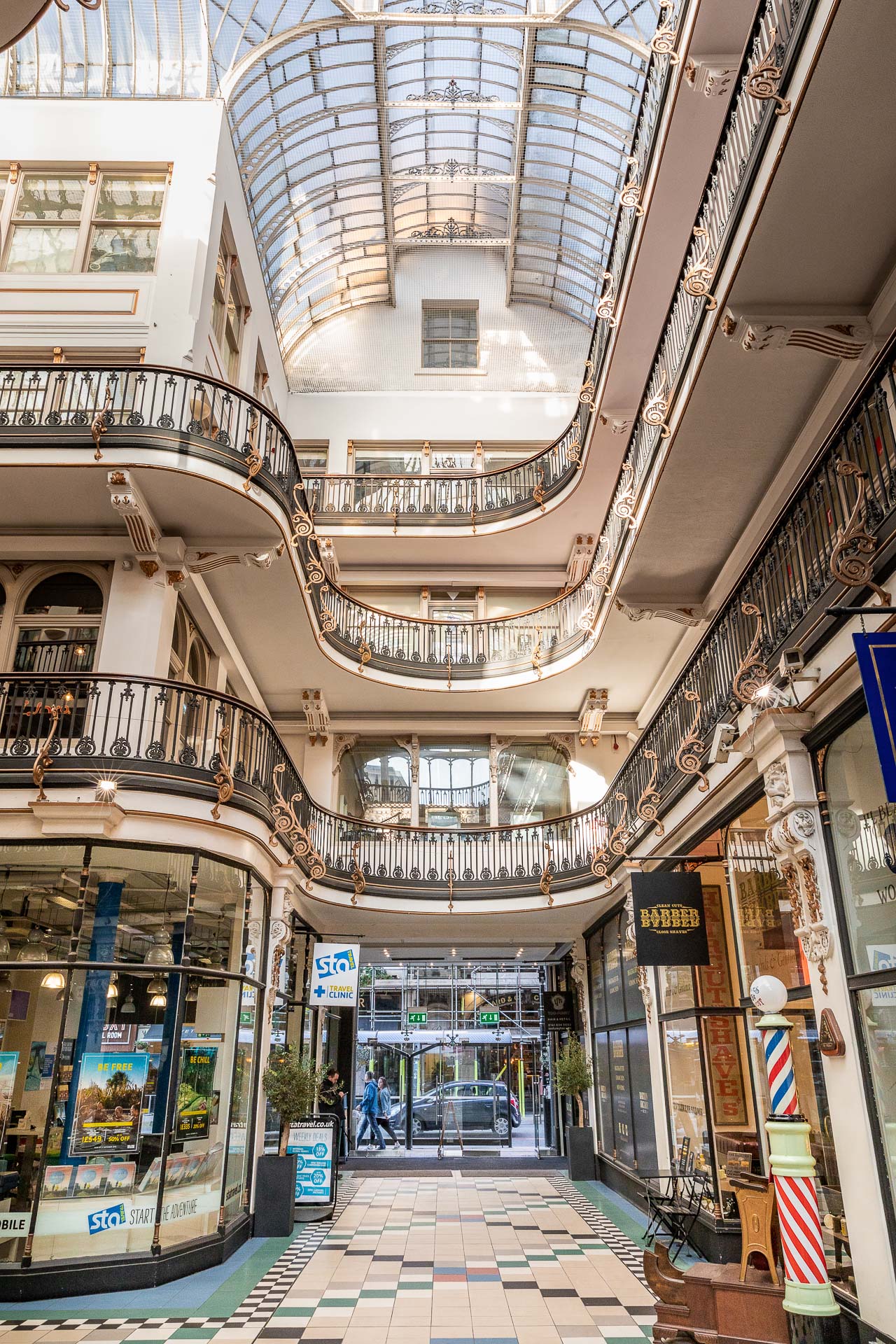 The Old Wellington
Sooo . . . I immediately fell in love with The Old Wellington. The historic half-timbered building exudes plenty of charm. Erica and I stumbled upon the cozy pub late one night as we wandered around the city center. As we escaped from the evening cold, we warmed our bellies with one of their delicious meat pies, complete with mashed potatoes and mushy peas.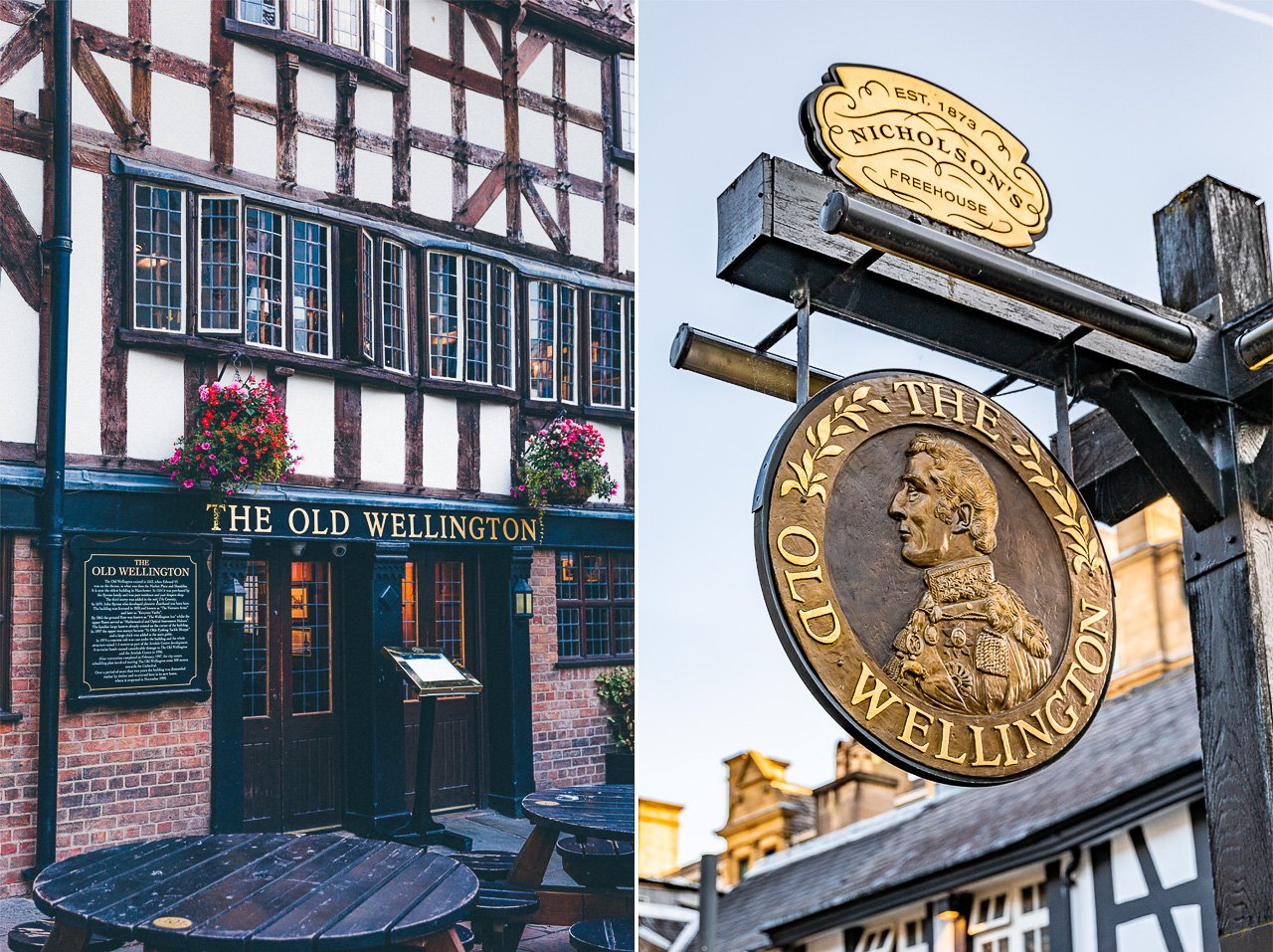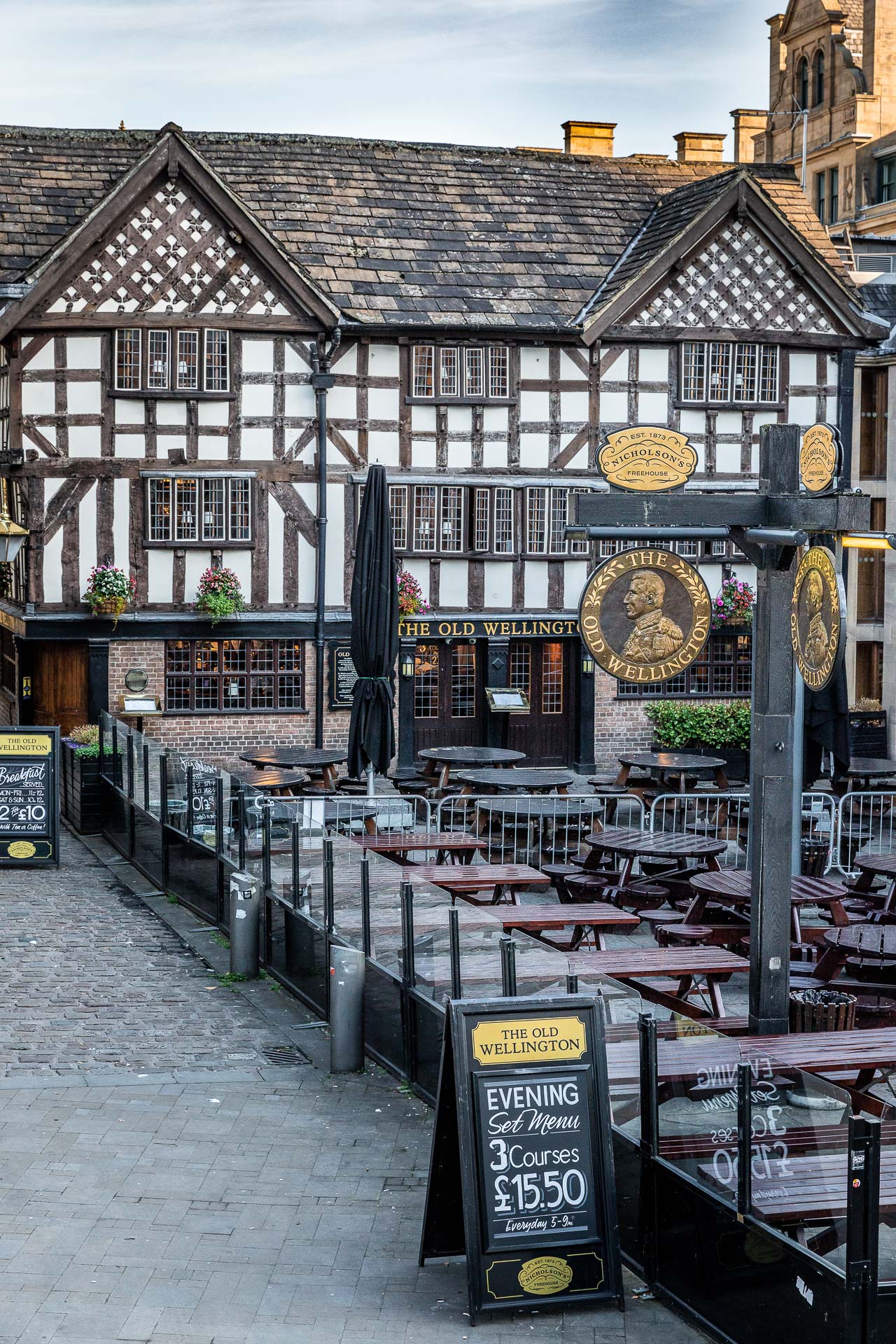 As we came to find out rather quickly, Manchester (and the UK in general) is big on gin. These two shelves below are a sampling of what The Old Wellington has to offer. Needless to say, many gin and tonics were consumed that evening.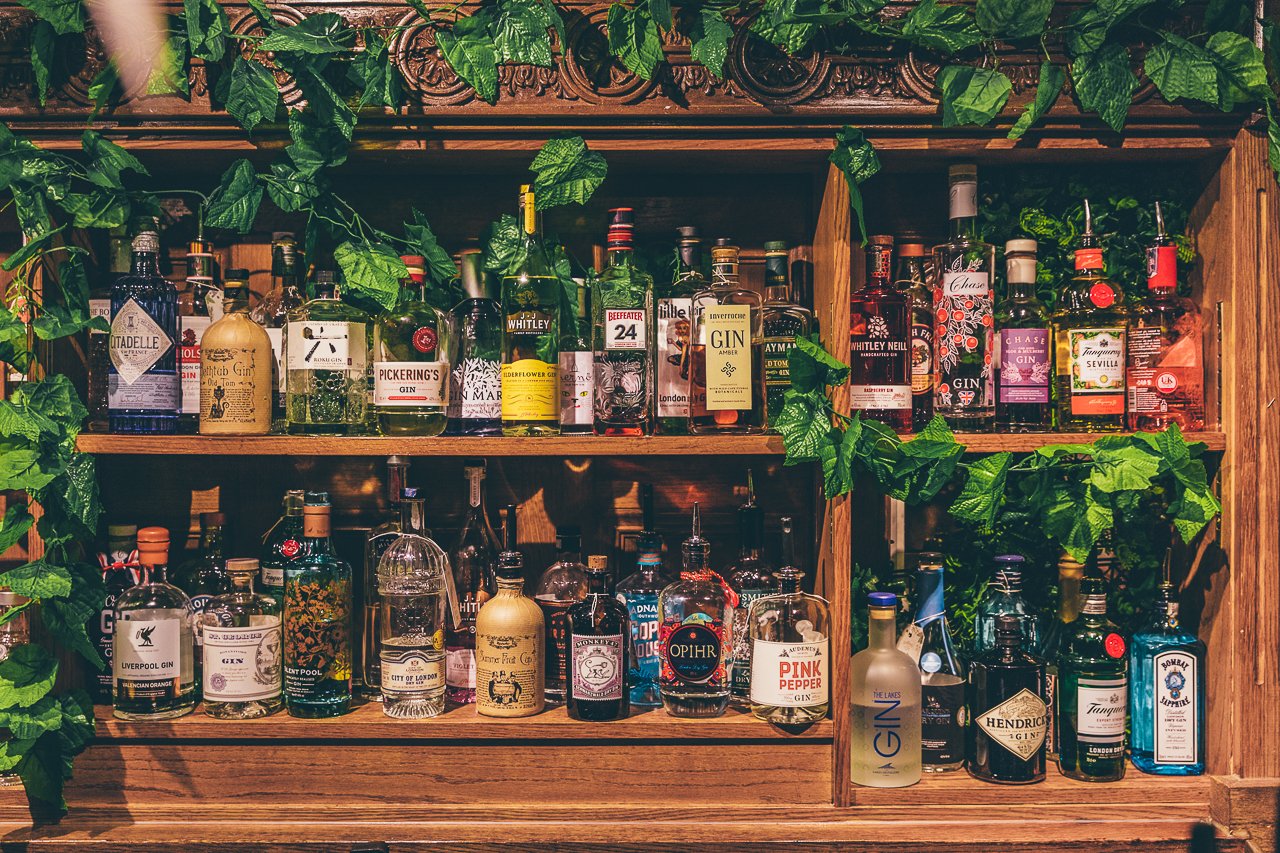 Albert's Schloss
Let's say, hypothetically, that you spend all night in Manchester drinking gin and tonics. You may very well find yourself in need of a hearty breakfast to sooth that gin-filled stomach of yours (hypothetically, of course). Albert's Schloss to the rescue! This self-proclaimed Bohemian Bier Palace is everything you want it to be, and more! Brunch? Check. Event space? Check. Coffee annnd Cocktails? You bet! Warm, freshly-baked bread, pastries, cruffins, & kronuts? But of course!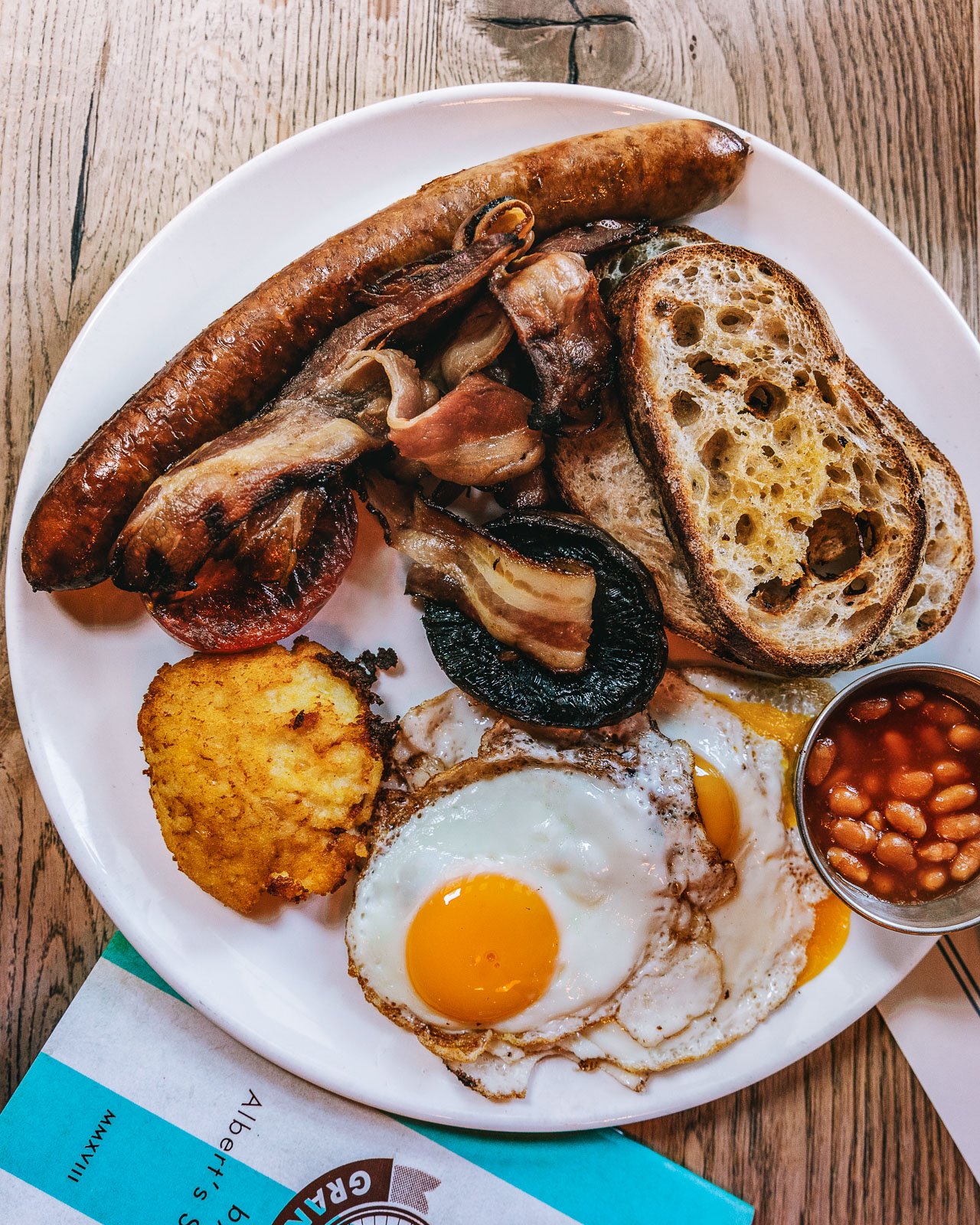 In what seems to be a trend on this trip, we found ourselves ready to eat! The Royal Breakfast (pictured above) hit the spot, complete with footlong kaiserwurst, potato röst, treacle-cured bacon, and baked beans. Other brunch items included:
Roast peaches on quark yoghurt, with pistachio granola, honey and lime

Coconut porridge

Brioche French toast with forrest berries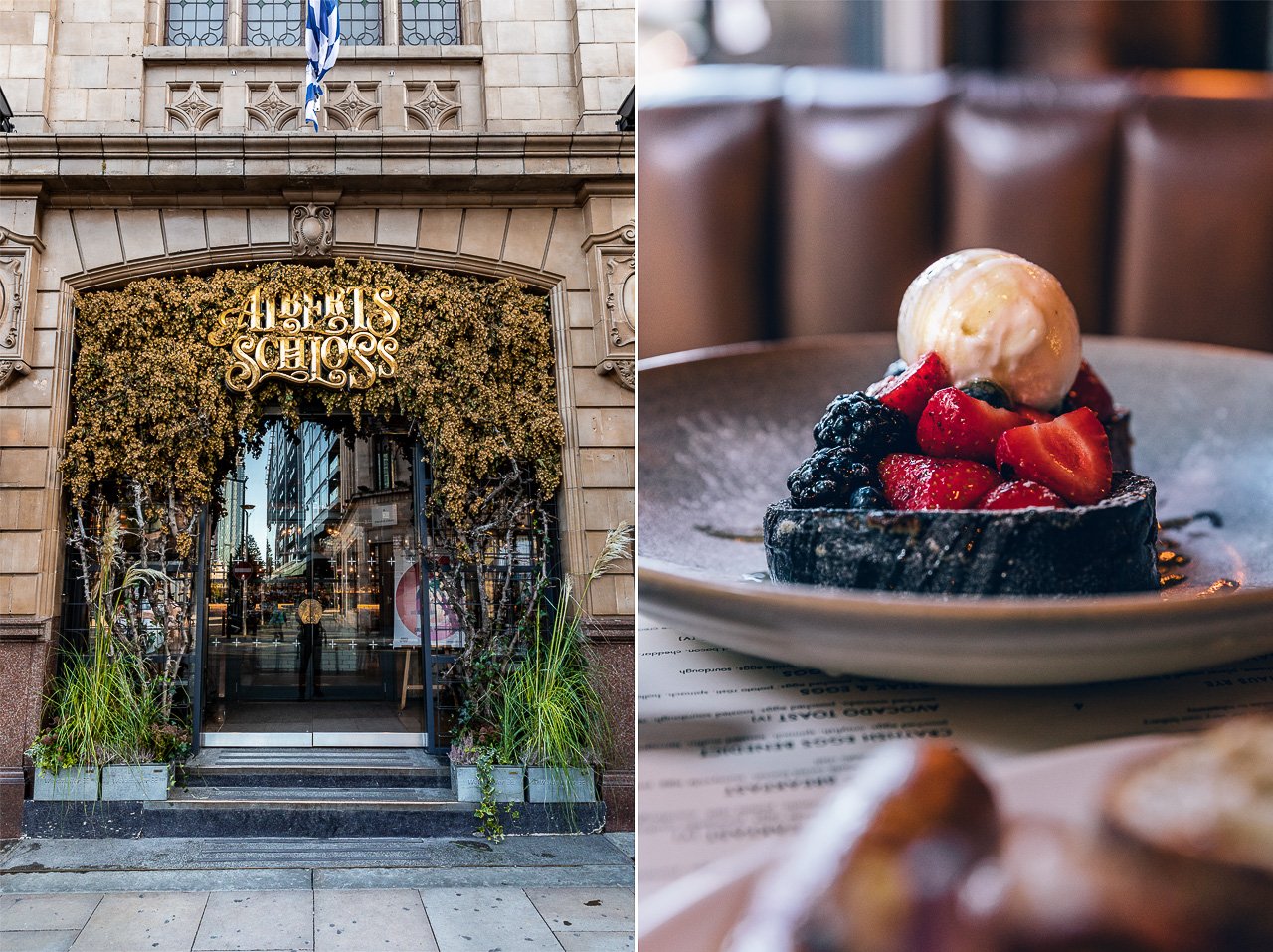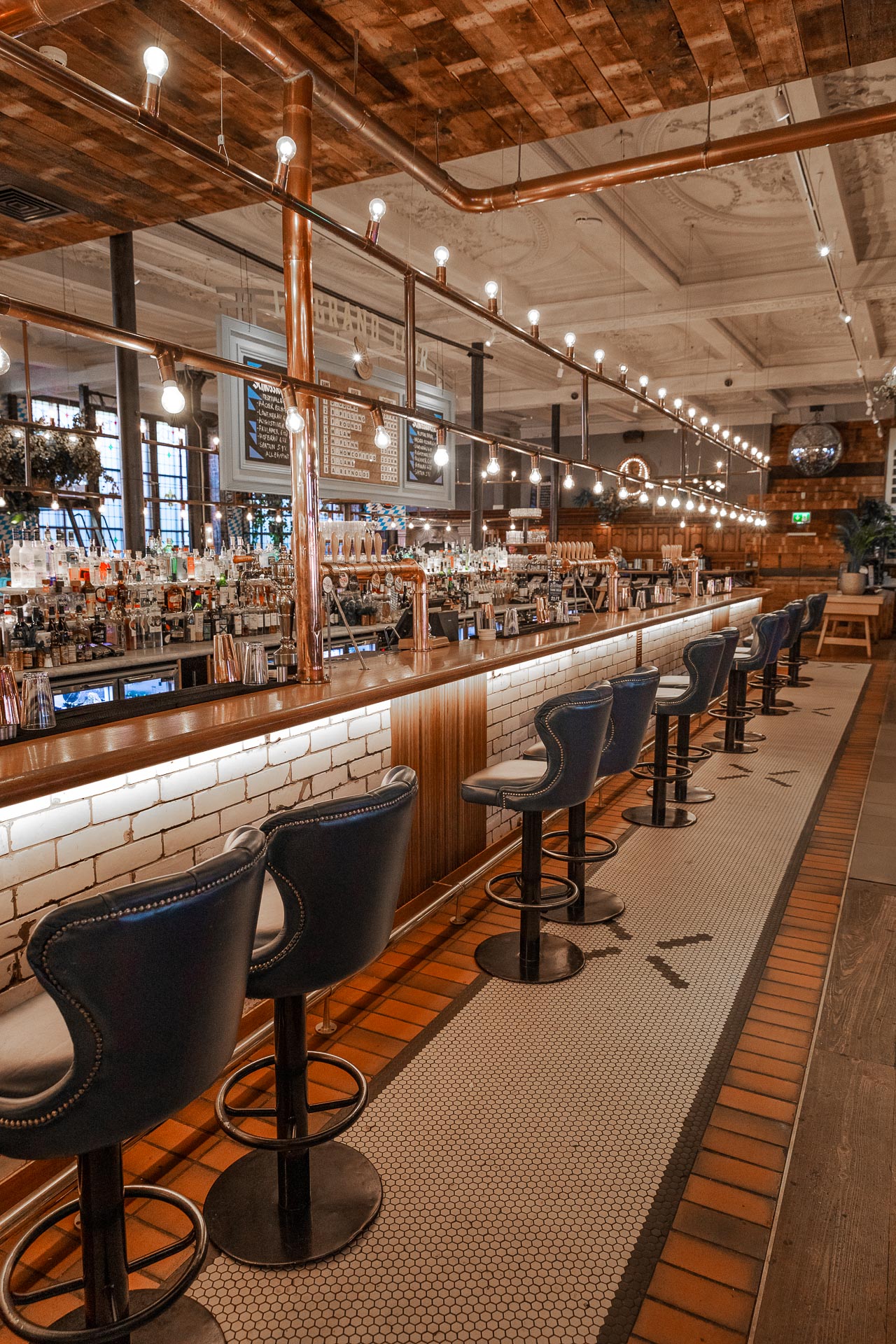 Did I mention that our booth had a "Push for Prosecco" button? Yeah, we made ourselves right at home. 🙂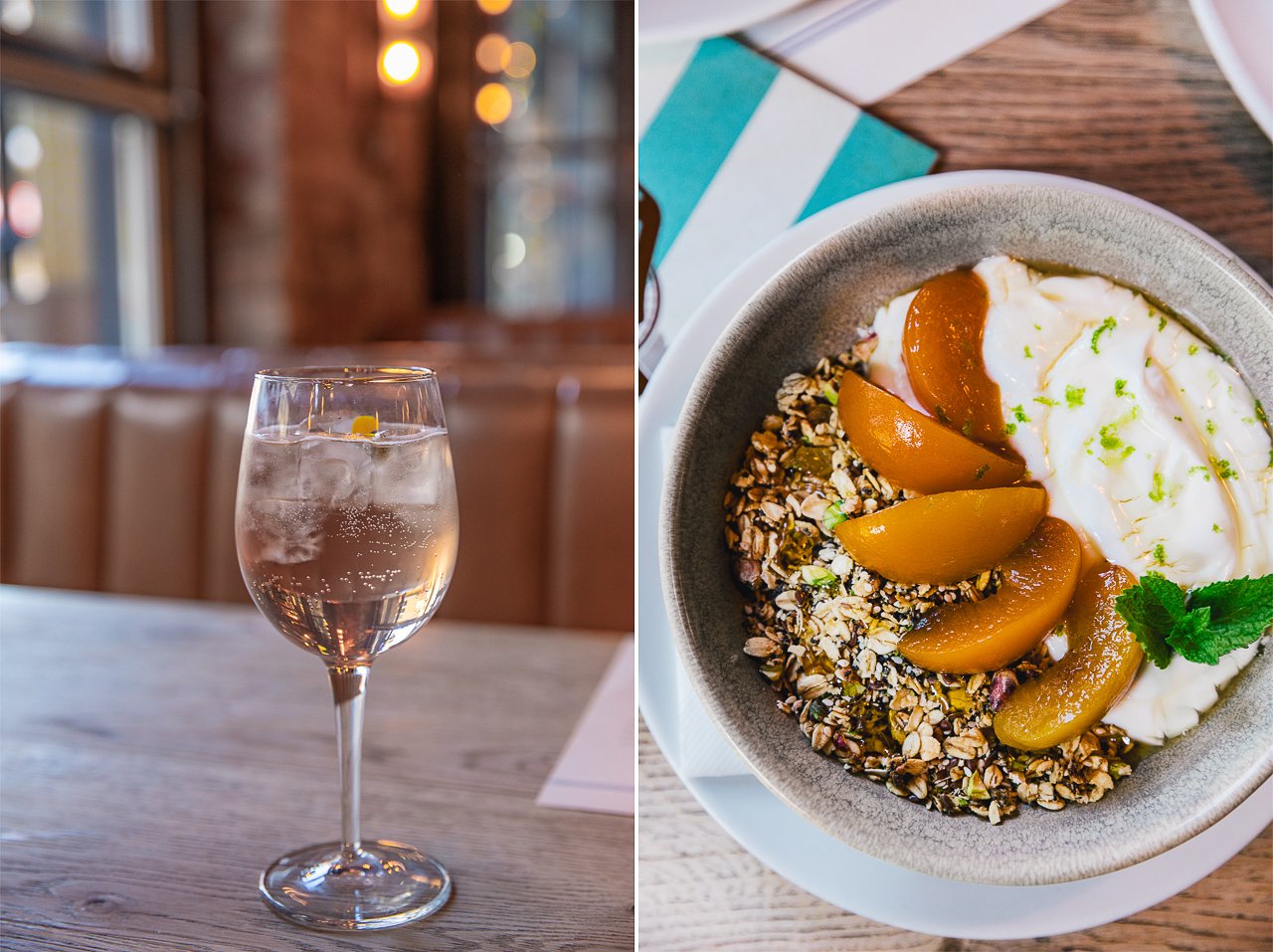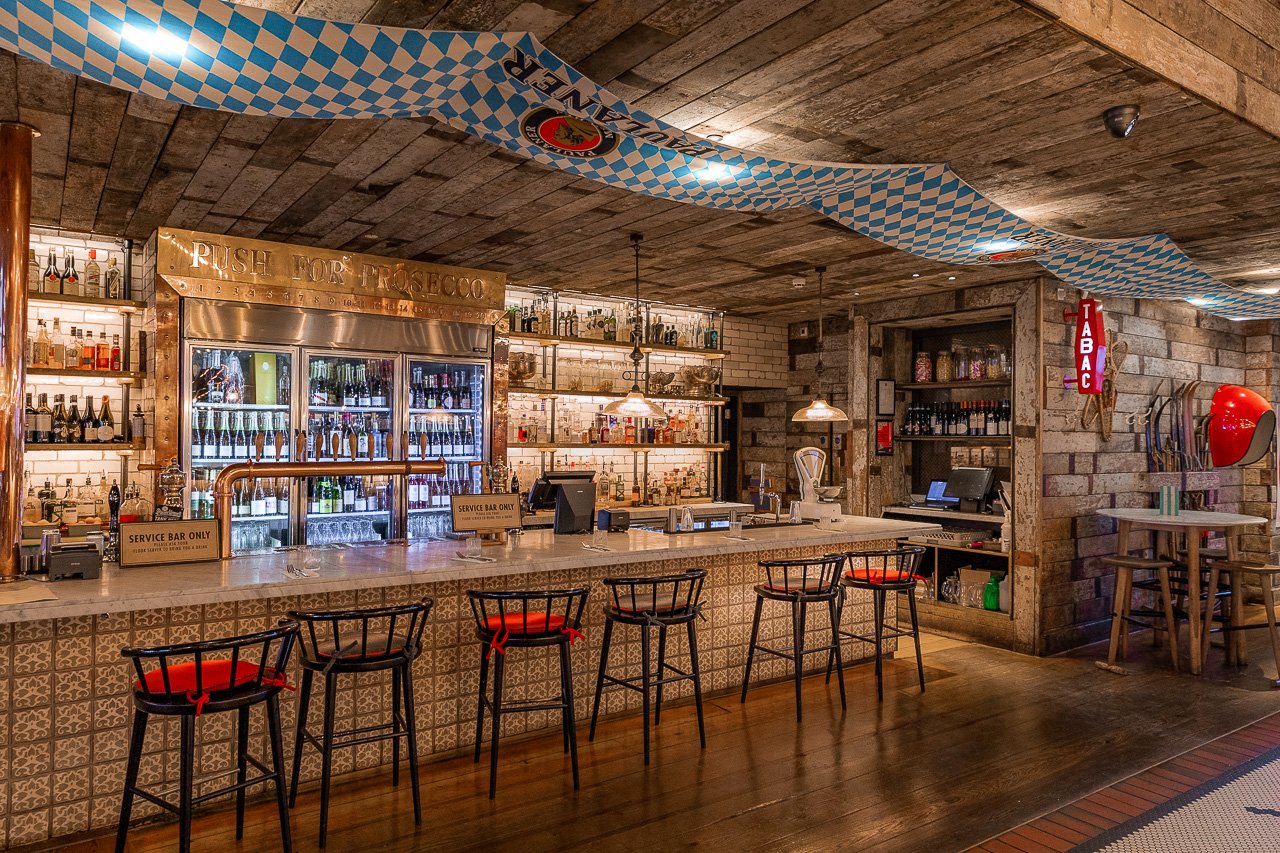 Mackie Mayor
Mackie Mayor was yet another example of why the Manchester food scene gets it right. Located in a grade 2 listed (preserved) building, Mackie Mayor is the food court of my dreams. They even have kids play area, perfect for when I bring back the fam!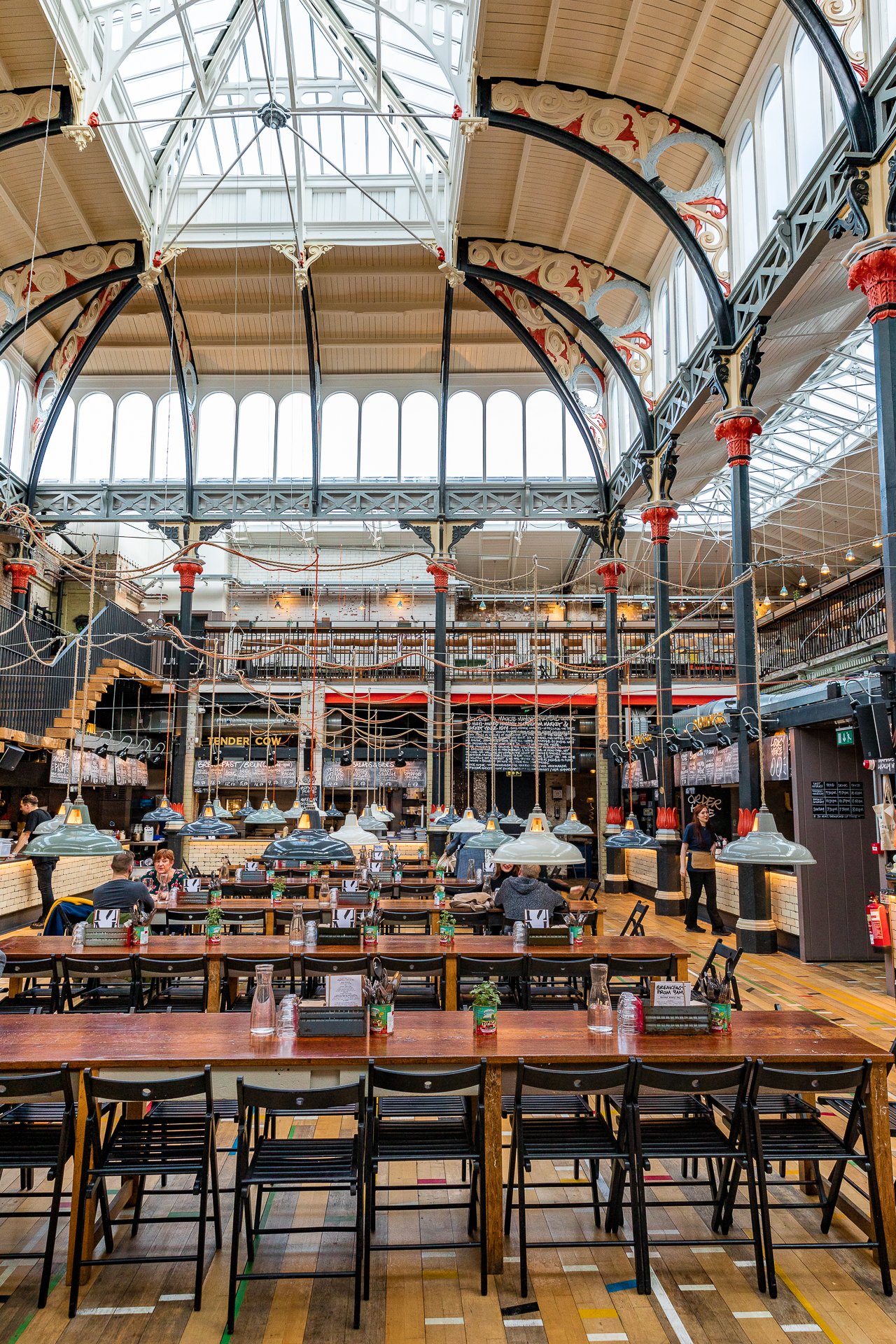 Whether you're looking for pizza, fish, beer, wine, or coffee, Mackie Mayor has it all. We opted for a couple delicious bao buns – fried chicken and pork belly. Both were spot on. A full list of the current food vendors are listed on their website.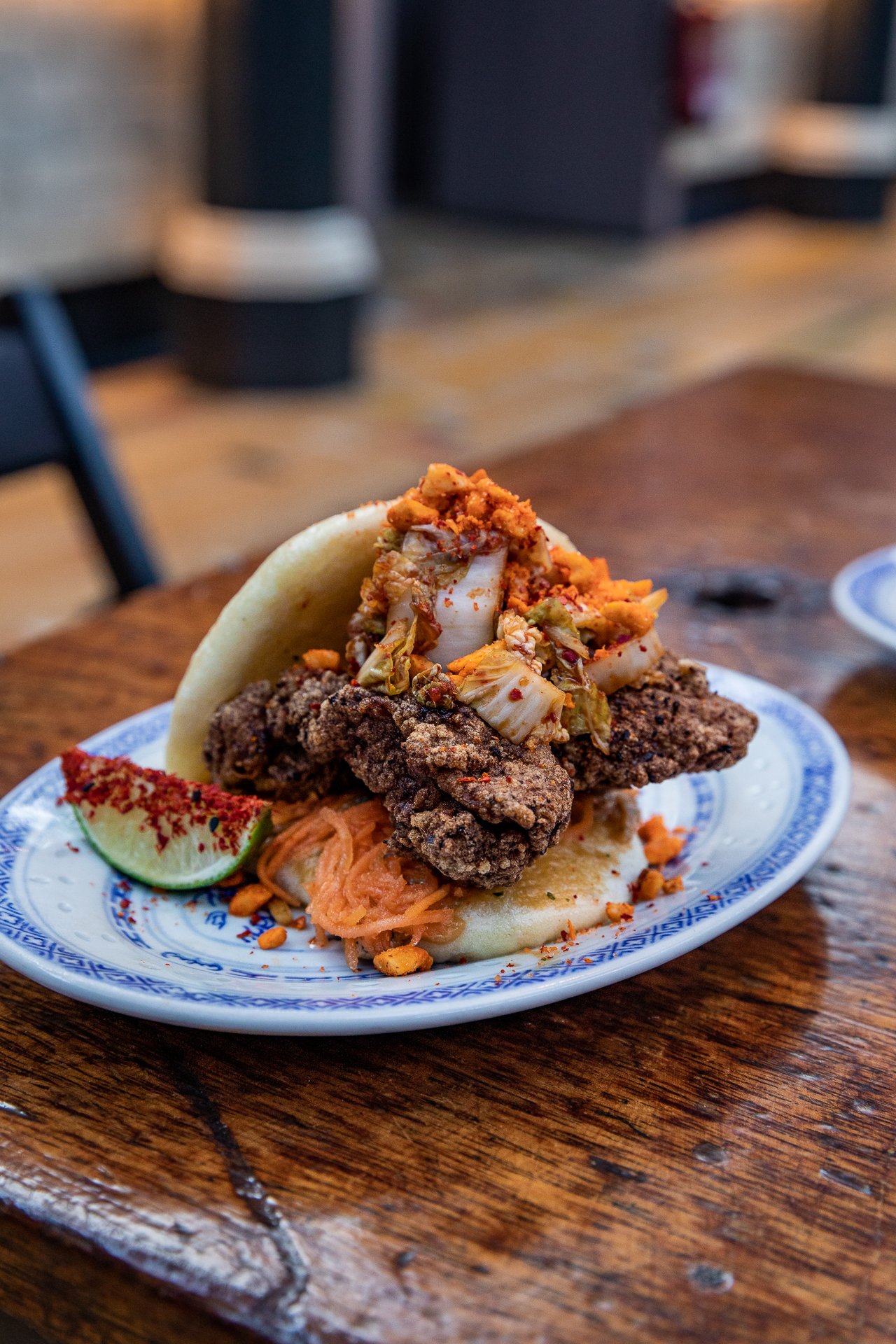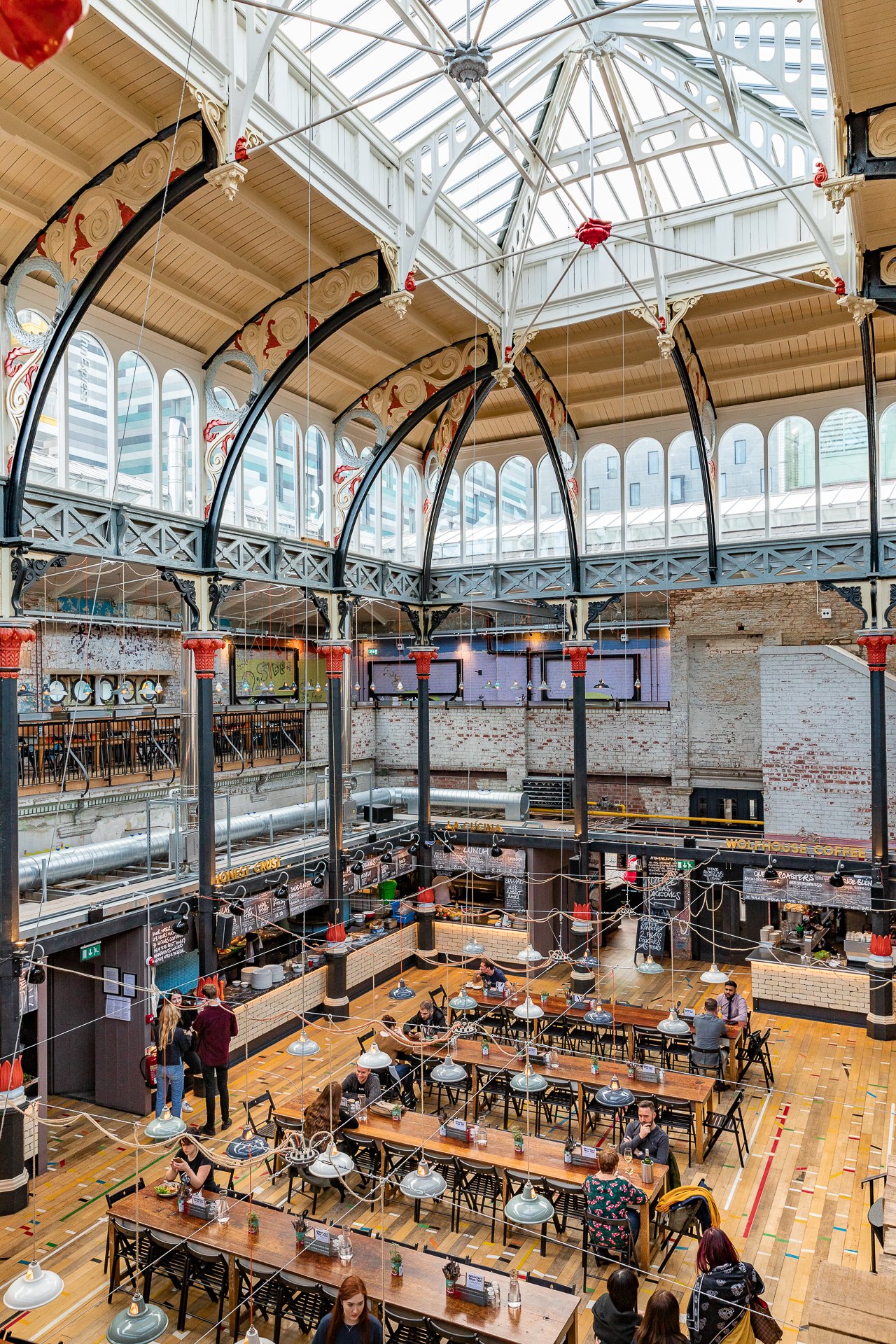 Other tasty options . . .
Almost Famous
Burgers and beer, what's not to love?!!
Evelyn's Cafe Bar
Another tasty neighborhood cafe – can't go wrong with breakfast, lunch or dinner!
Pieminister
If you've craving pies and mash, Pieminister should definitely top your list.
Rudy's Neapolitan Pizza
Yes, there's always room in my stomach for pizza – even in Manchester.
Cottonopolis
Hip Northern Quarter Japanese-inspired bar and restaurant with a pretty impressive cocktail list.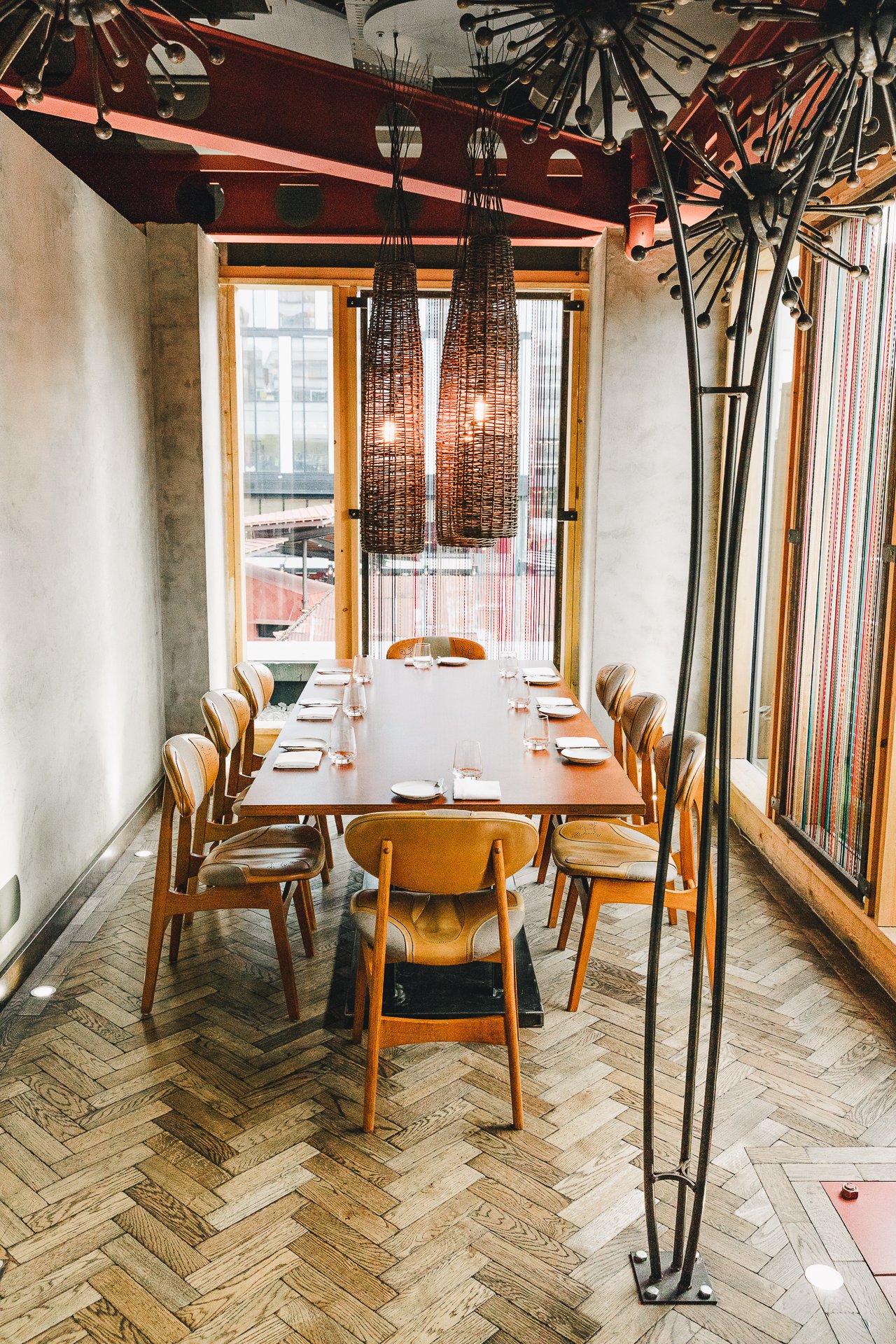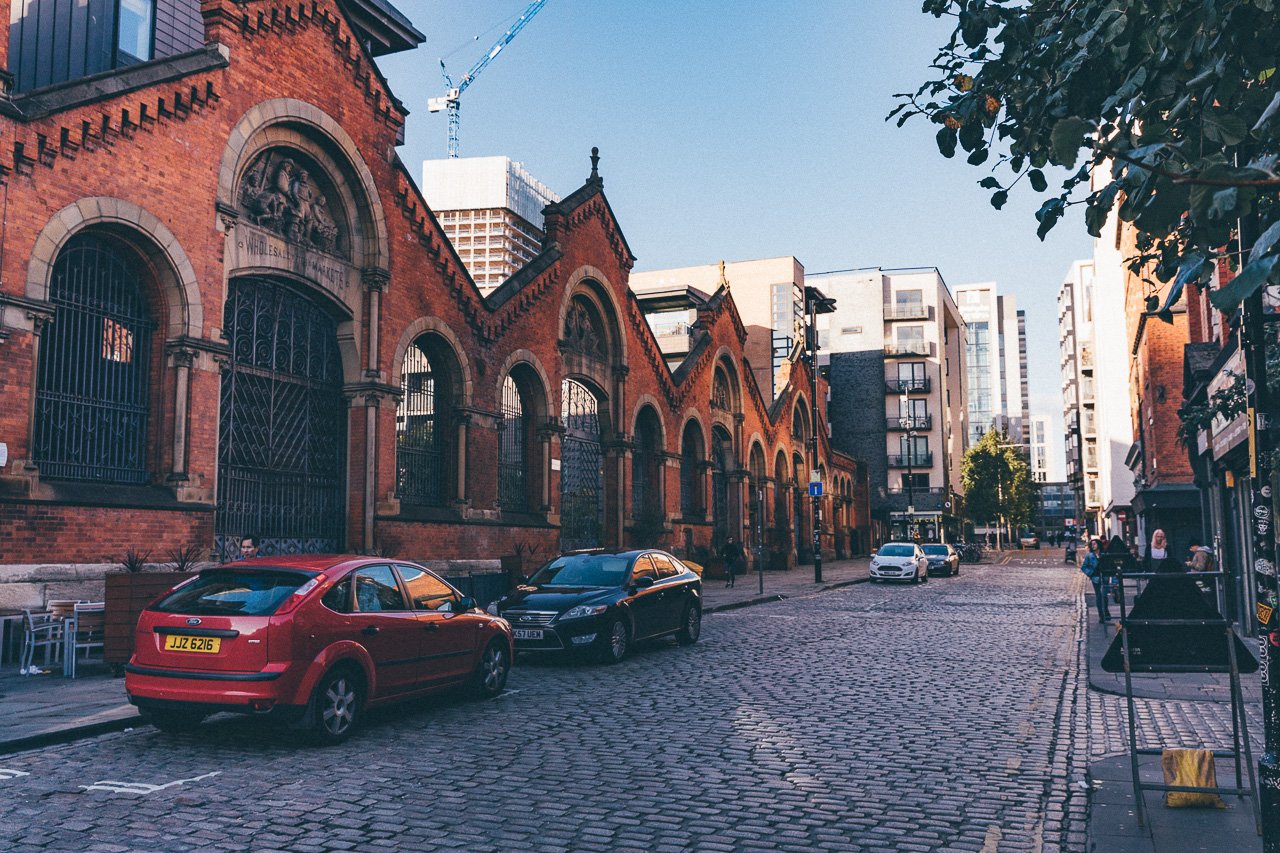 STAY
King Street Townhouse
From the minute we checked in to King Street Townhouse I knew I didn't want to leave. Naturally this was a problem, given we were tasked with exploring the city for the next several days. Couldn't I just slip into the infinity spa pool and soak up the stunning view? That's a good way to experience a new city, right? We could dine at the Tavern, and have tea in the Lounge – we'd really never have to leave, honest!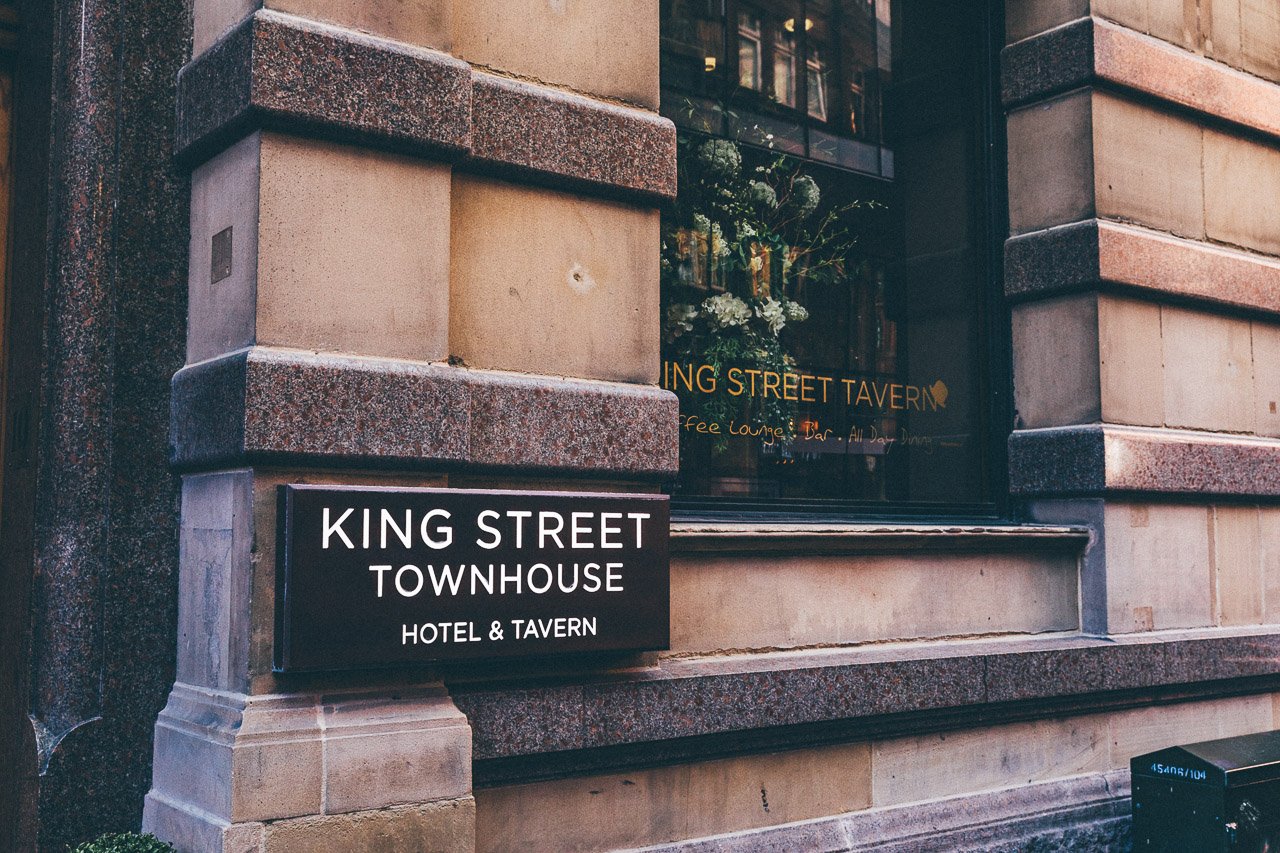 King Street Townhouse is all about the details. Peaceful classical music emanating from a vintage style radio on the bedside table greeted me upon my arrival. Every piece of artwork, every hallway decoration was charming, and purposeful. There are 40 rooms in the hotel, but there might have well have been eight. Because of the layout of the historic Italian renaissance building, each floor is split into upper and lower levels, which results in a real sense of privacy – welcome in a hotel so close to the city center.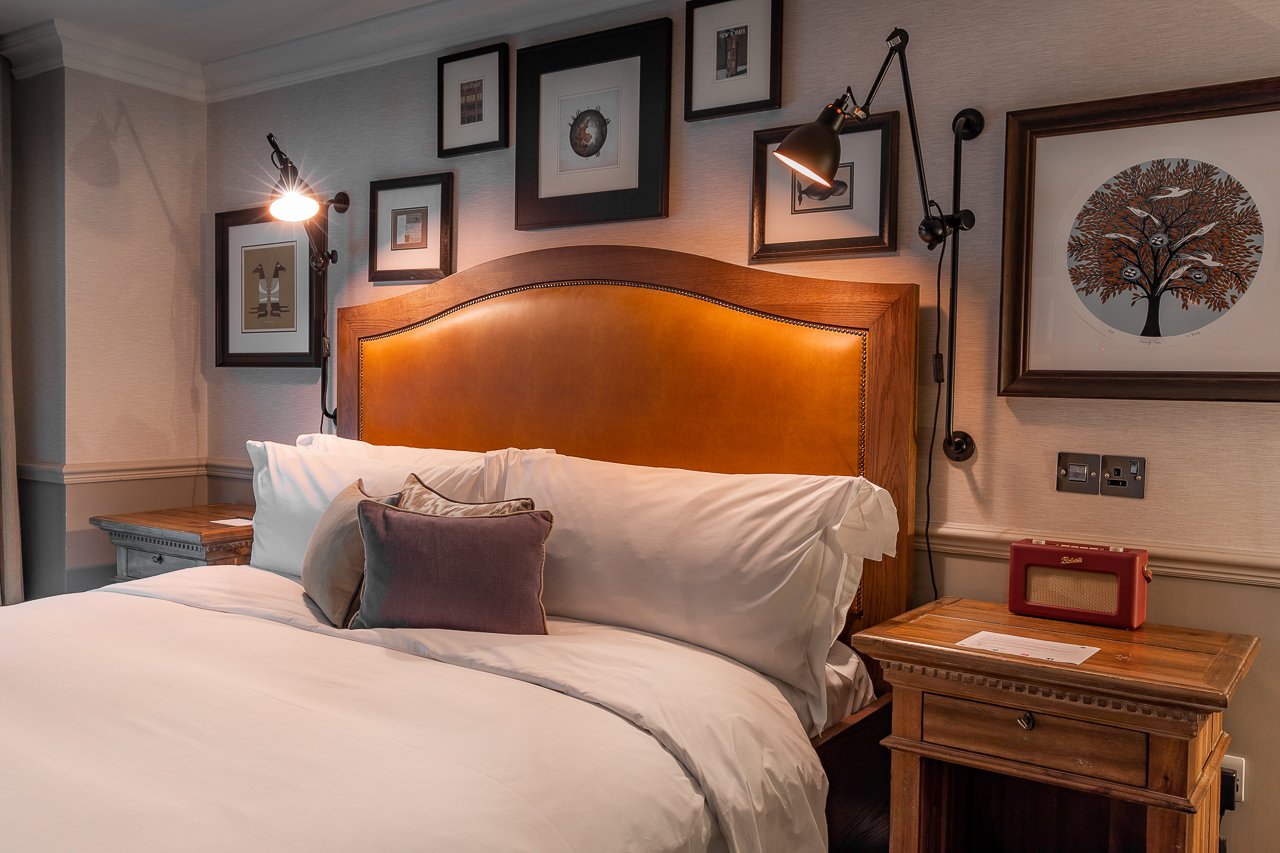 We opted to walk everywhere in Manchester, which was possible given how convenient the King Street Townhouse location really was. I honestly couldn't imagine staying anywhere else.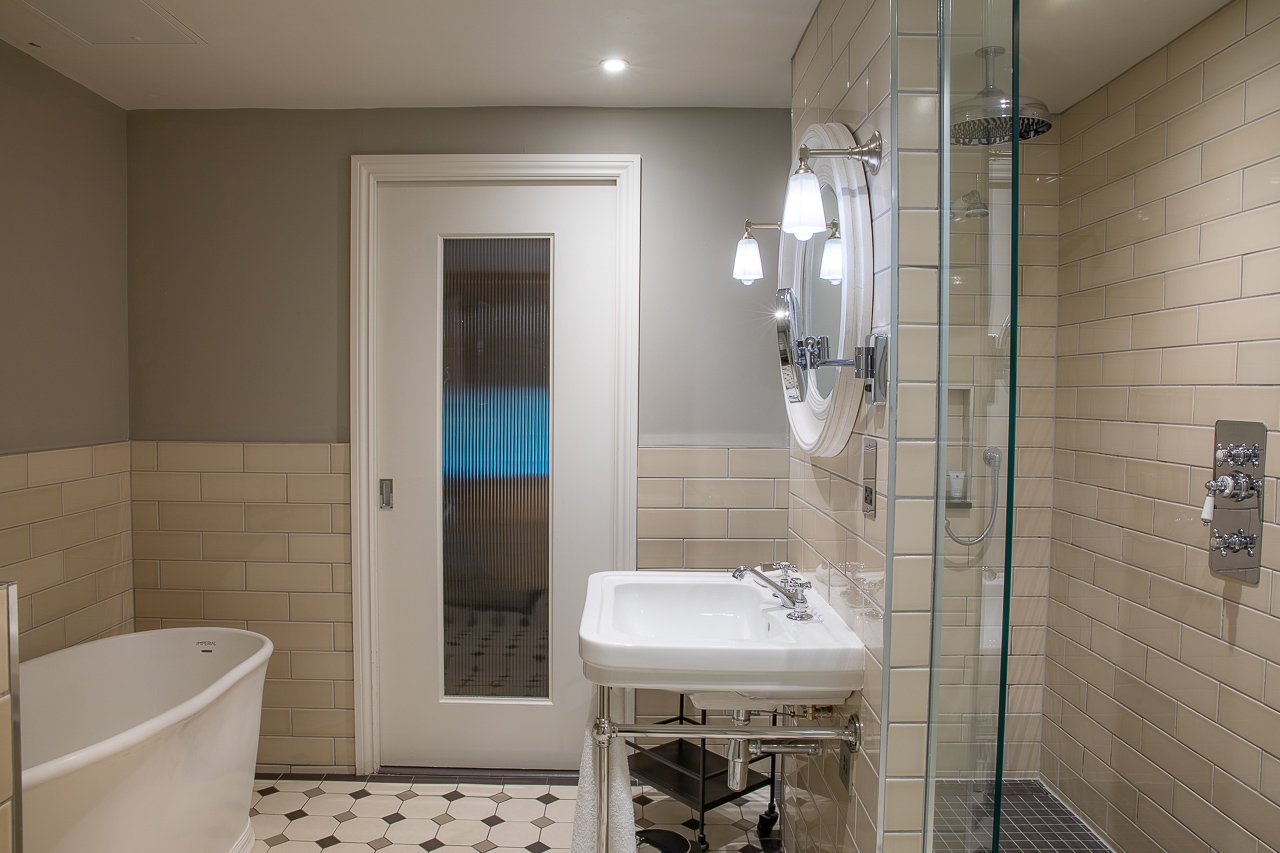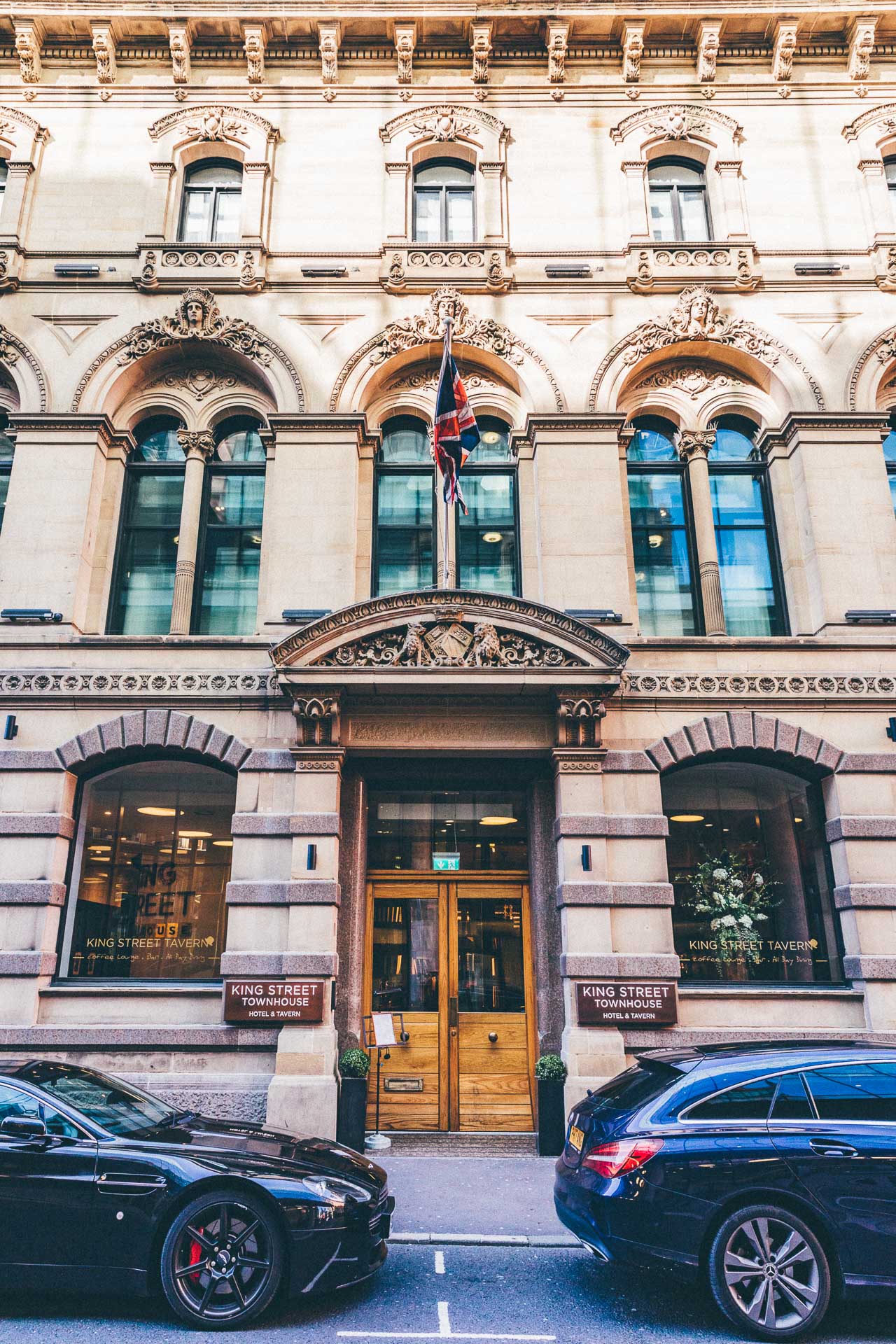 DRINK
Trof
After an afternoon of shopping and exploring Manchester's Northern Quarter, Erica and I were ready for a beverage. Without much discussion, we strolled into the cutest little corner pub, Trof; boy am I happy we did. Service was incredibly welcoming, and despite being a Monday the place was bustling. Always a good sign when you randomly stumble into a place.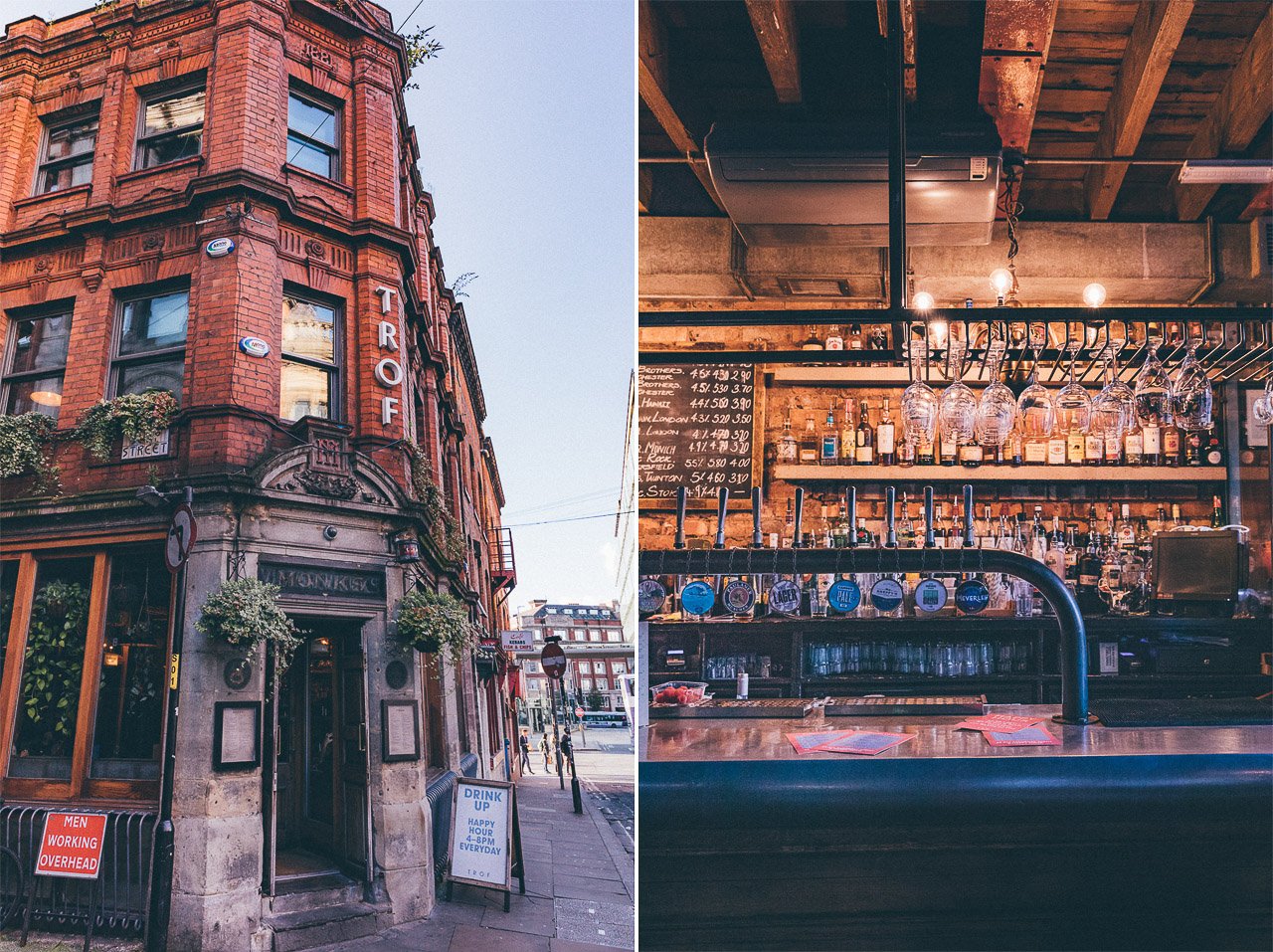 The few tables that weren't full were marked reserved. We nestled our way up to the bar and enjoyed some gin and tonics (of course!). Trof boasts a terrific little happy hour, serving £3.50 lagers, £3.50 g&t's, £5 cocktails, and £20 bottles of prosecco every day from 4-8pm. Sadly, we already had dinner reservations booked that evening, because the food coming out of the kitchen looked (and smelled) divine! When I come back to Manchester, I'll definitely find my way back to Trof.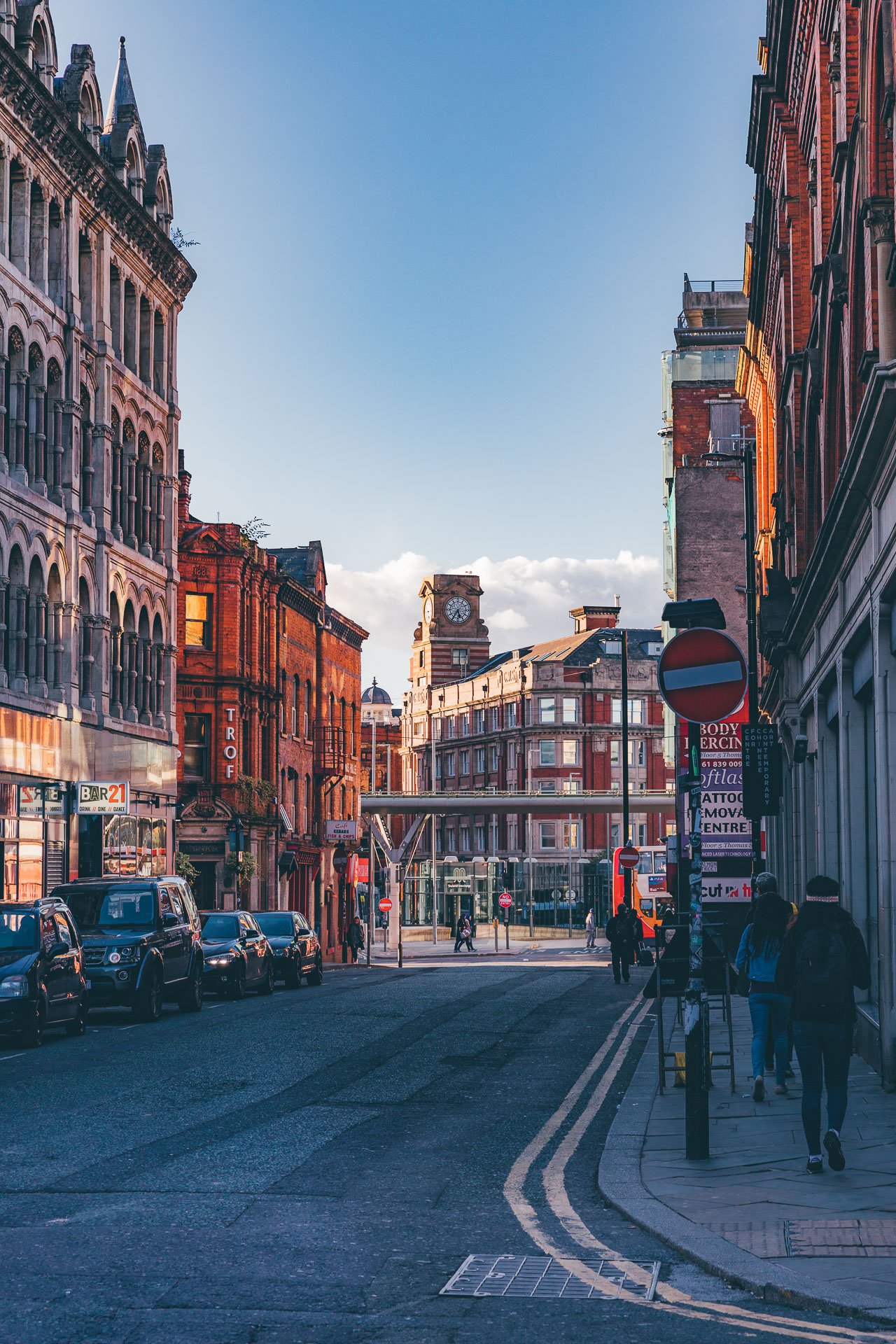 Peveril of the Peak
Uniquely situated on a small triangular island between rows of tall modern buildings, Peveril of the Peak is a true Manchester drinking institution, if you're looking for a traditional pub to visit, the 'Pev' is a must. Stop in for a beer after brunch at Refuge just up the street, or catch a football game in the evening.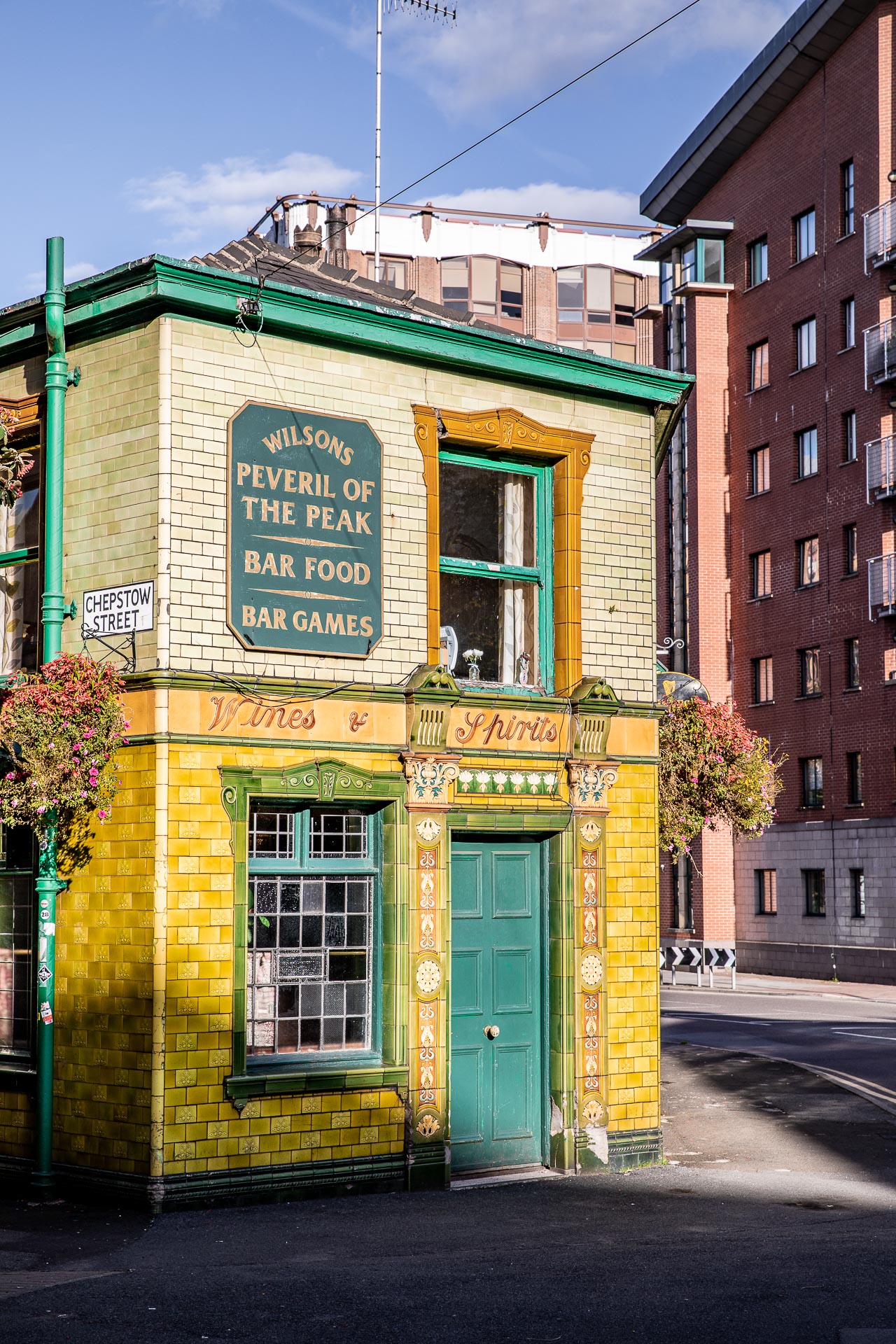 Manchester Three Rivers Gin
Hands down one of the coolest parts of our trip was our visit to Manchester Three Rivers Gin distillery. Located in an old railway arch in the Green Quarter, Manchester Three Rivers was just as much an educational experience, as it was a drinking experience. In all seriousness, I learned a ton about the city of Manchester while hanging out with the guys at MTRG. And let me tell you, they're as serious about their gin as they are about their city.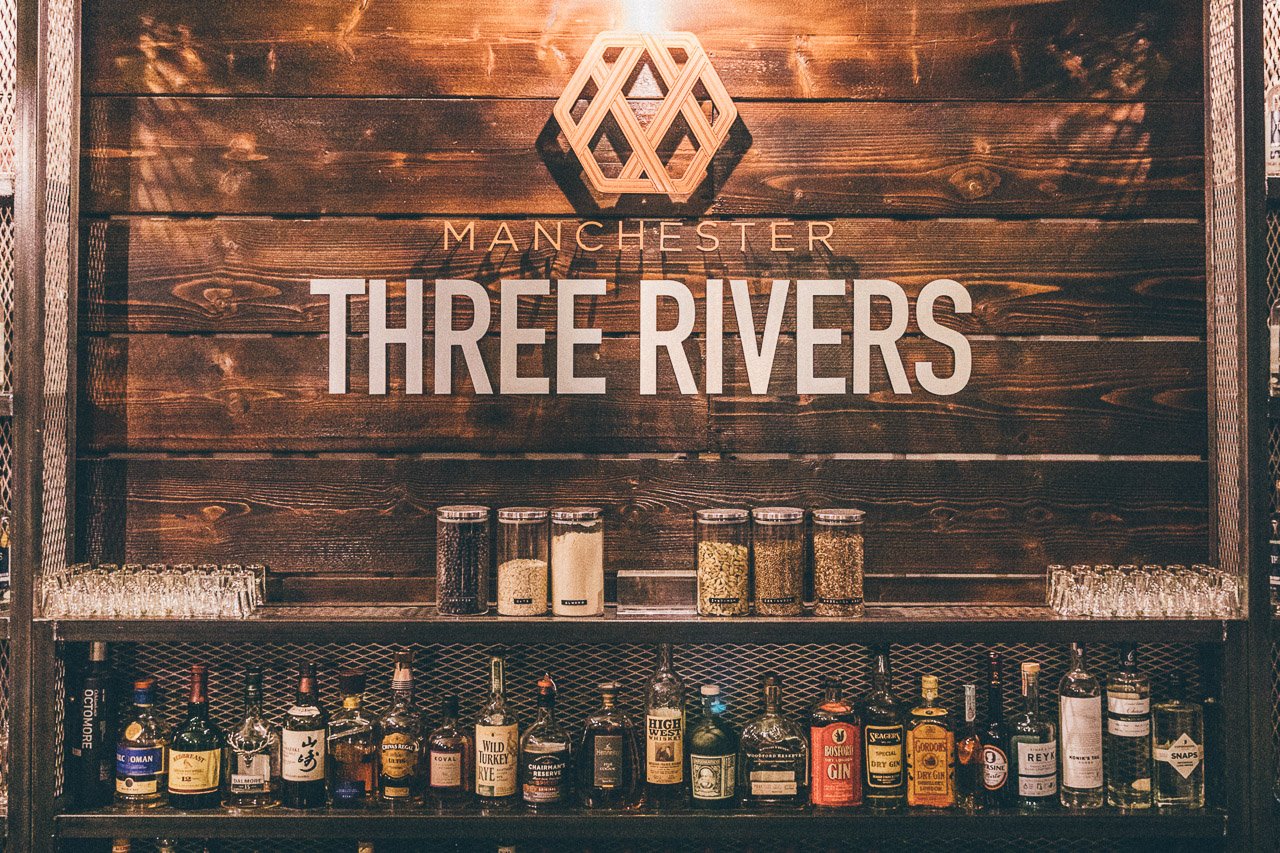 We learned that a few years back there was a change in an old UK law that limited the ability to produce gin in small batches. Long story short, the law was changed, and it opened up the floodgates from countless small-batch gin producers all over the United Kingdom. Case in point: Manchester Three Rivers Gin. Master distiller Dave Rigby and his team use their gorgeous 450 litre custom-made copper pot still they call, "Angel" to produce their entire stock. In fact, the team still hand bottles and labels all their gin right there at the distillery. There's not a conveyor belt in the whole place!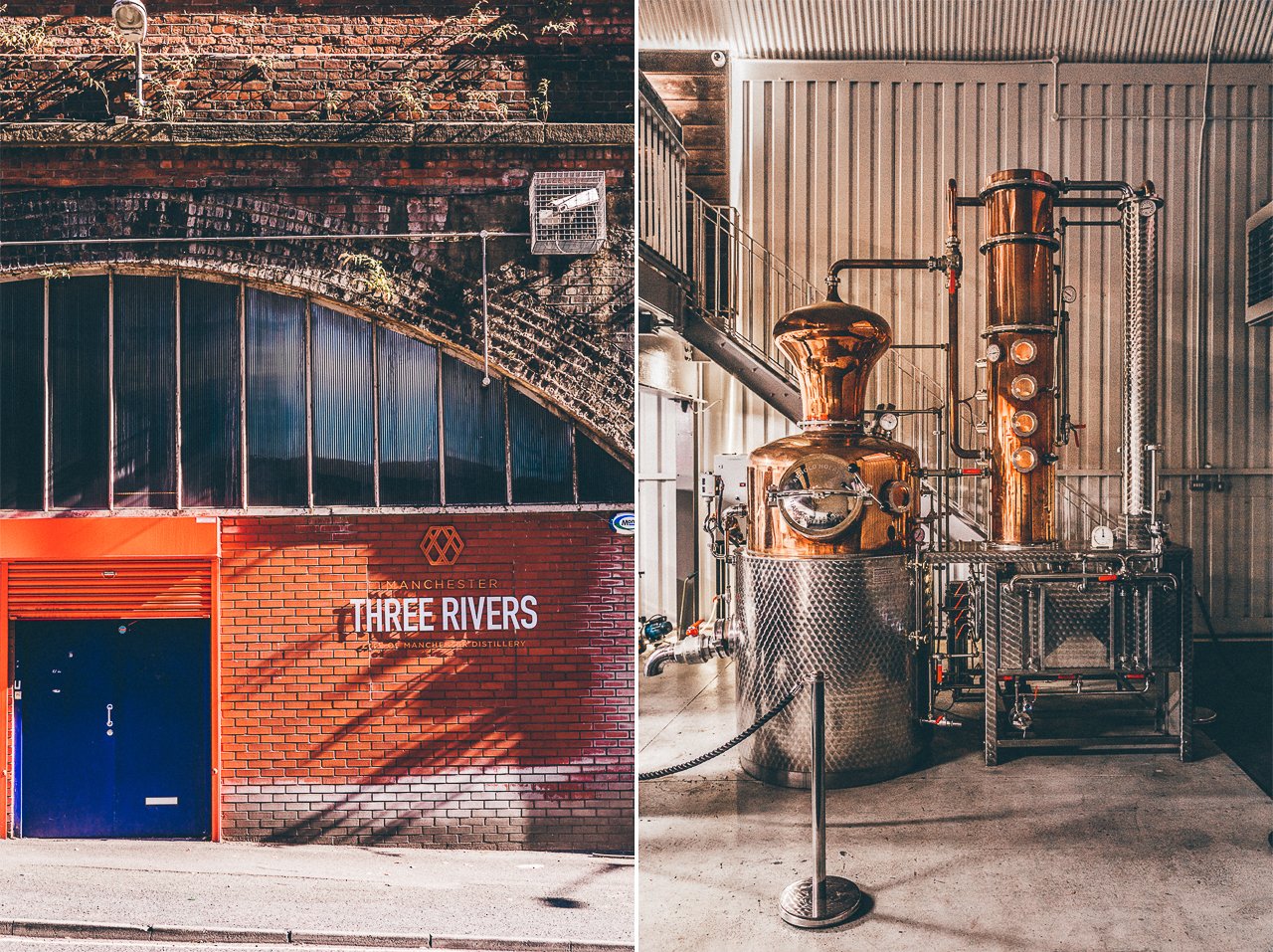 Speaking of educational experience, I'd highly recommend their "Gin Experience", where you'll tour the distillery and learn about all the history I'm referencing. You'll learn all there is to know about gin, enjoy a cocktail (or four!), and finally you'll sit at your own mini 1 liter copper pot still and create your very own personalized bottle of gin from your own selection of botanicals. How fun is that?!!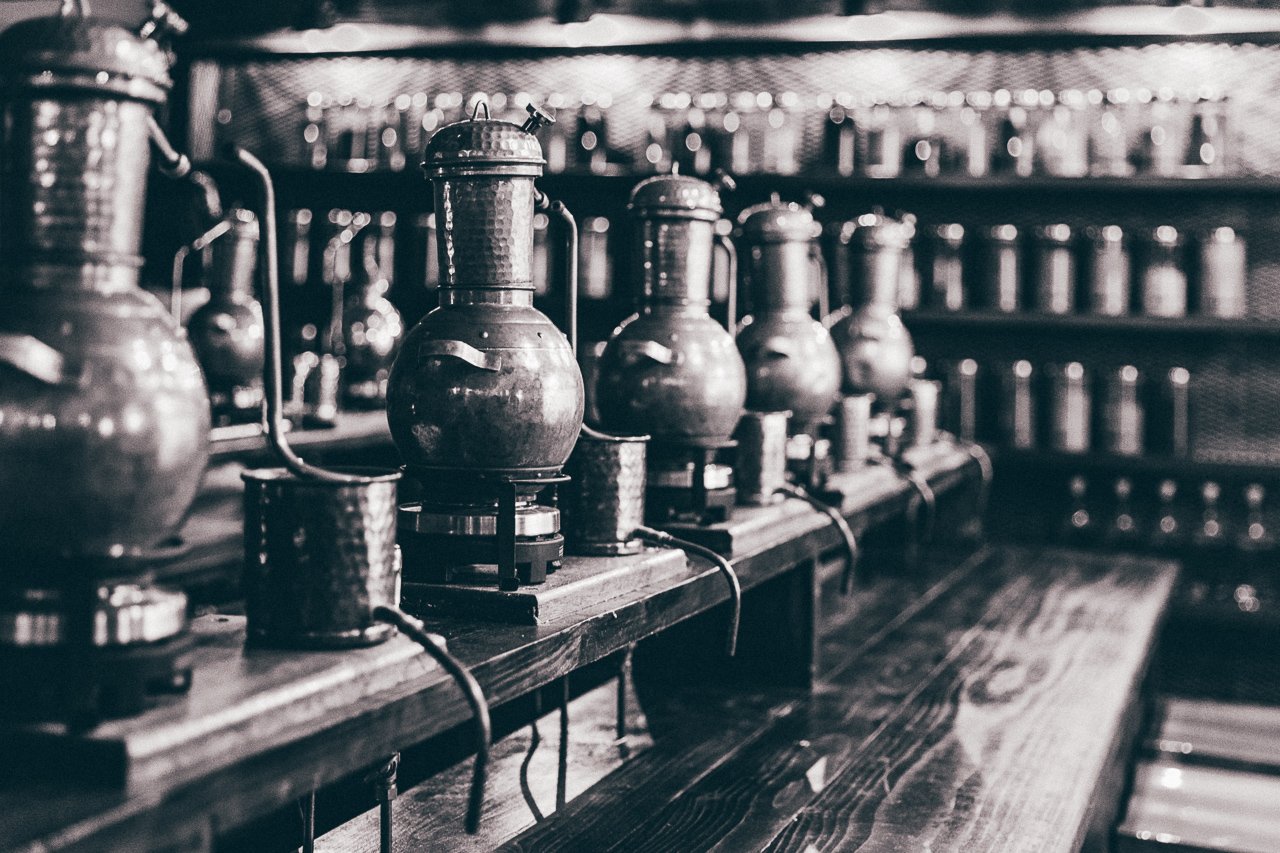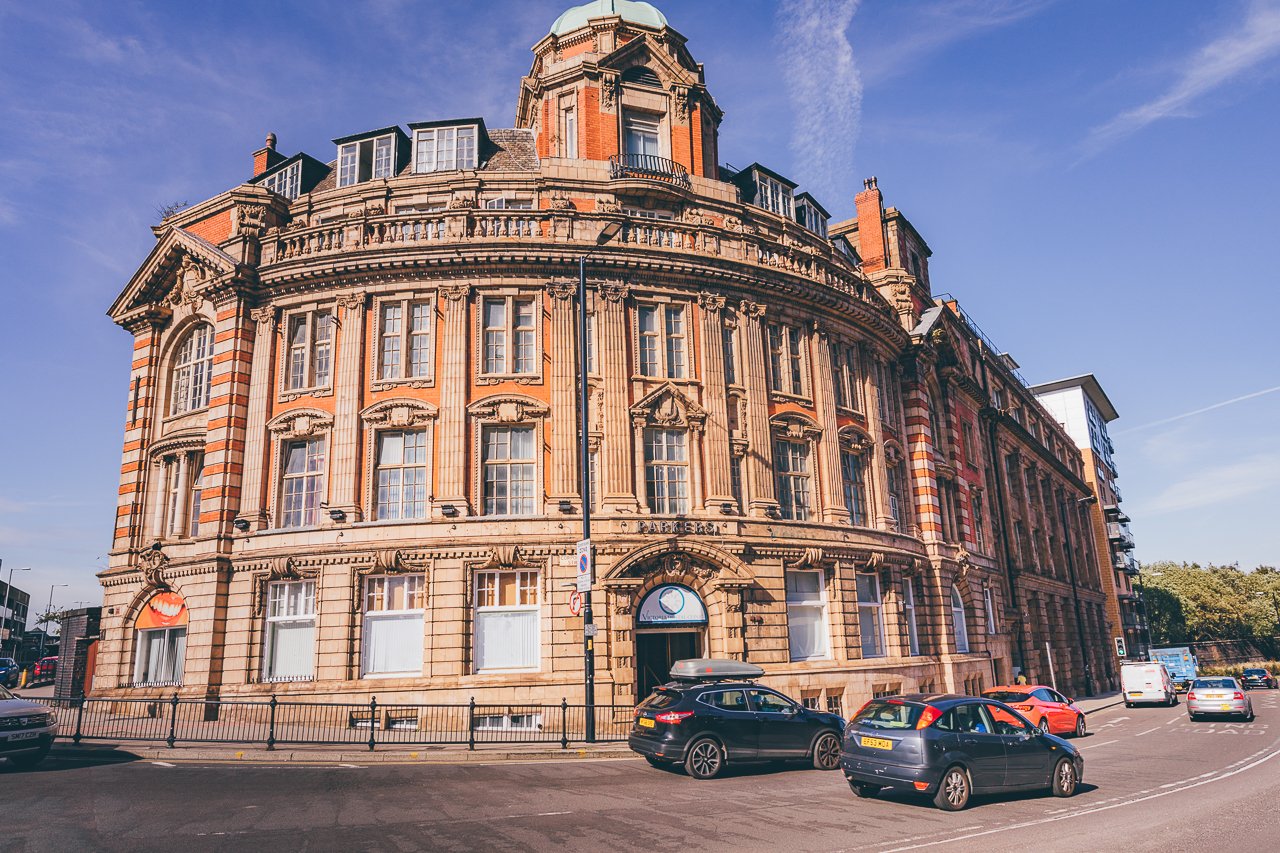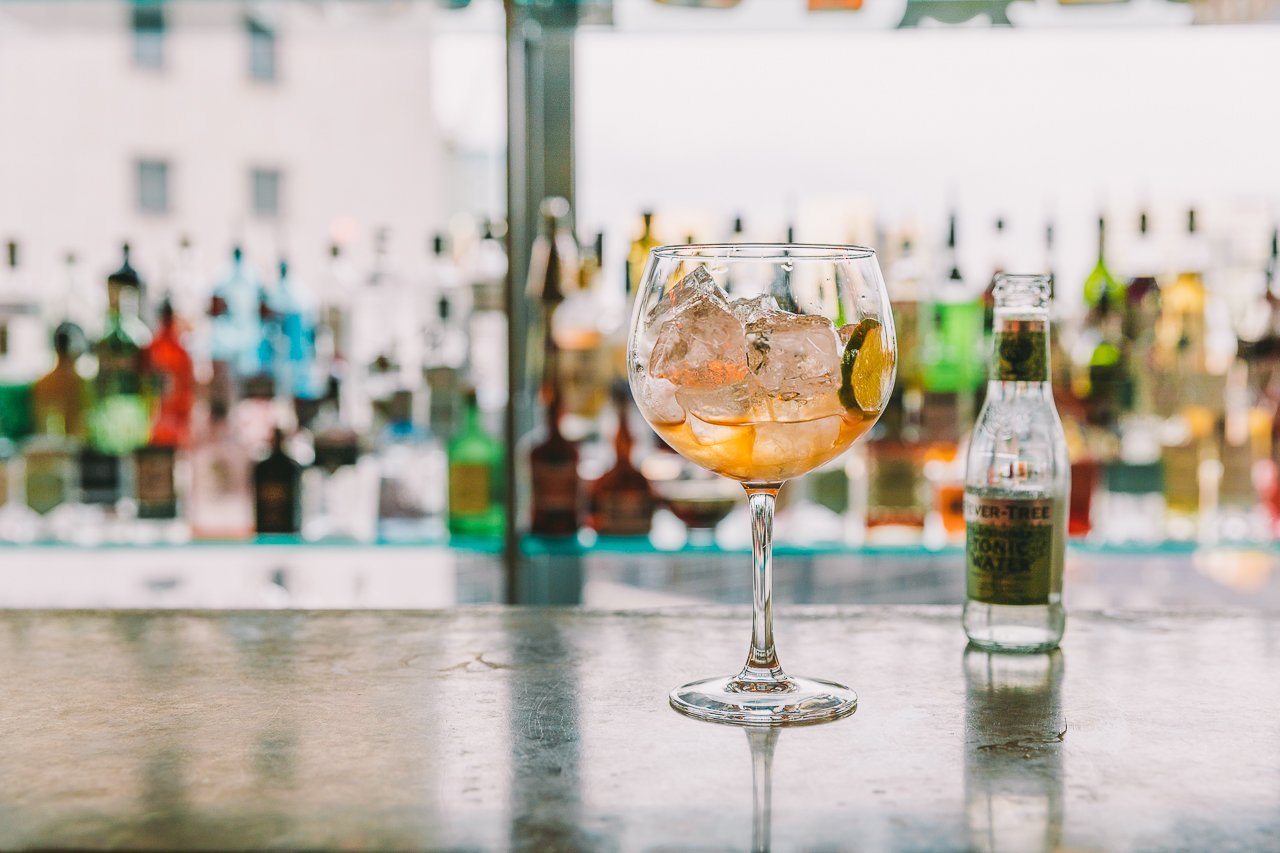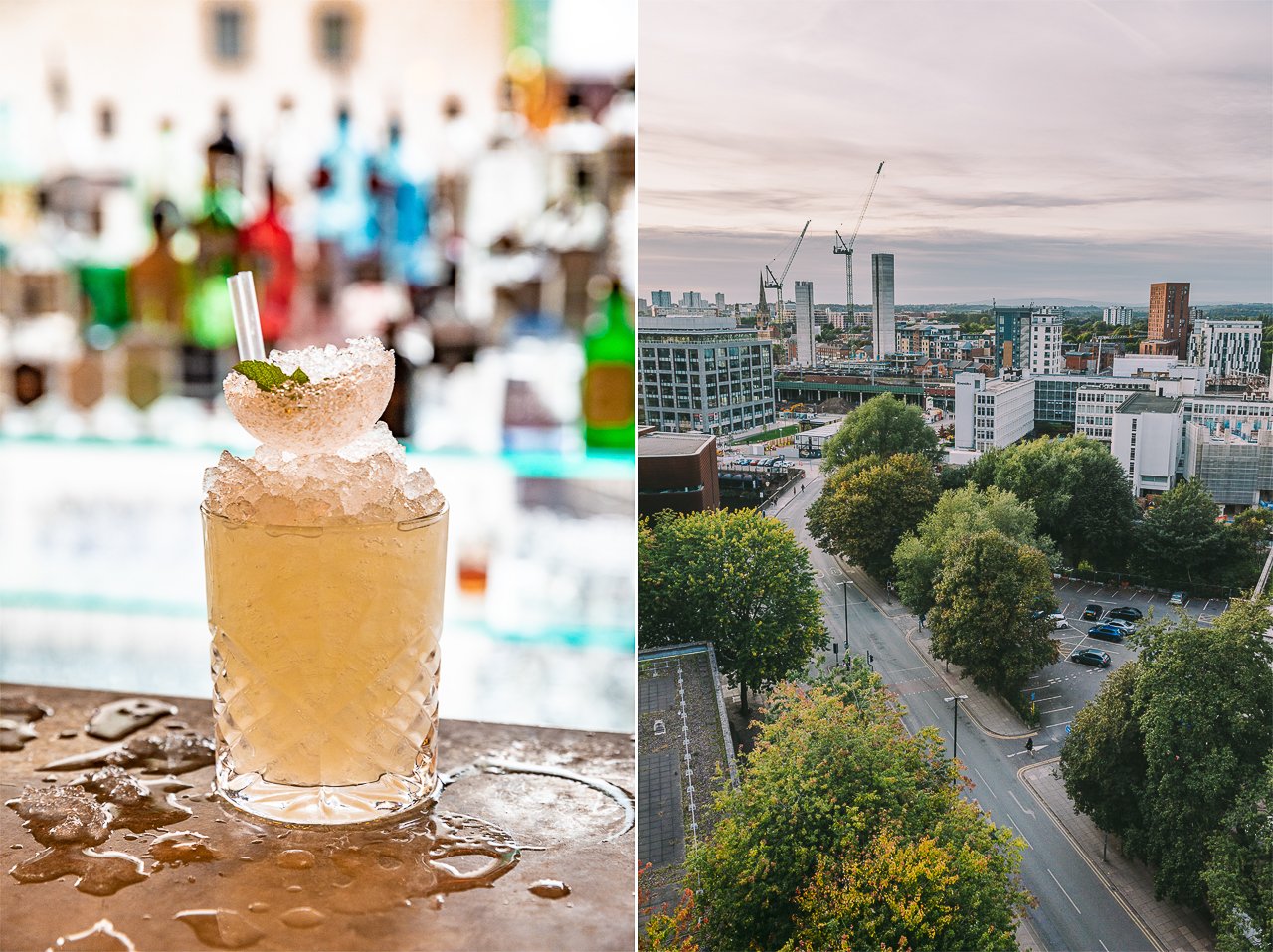 Other things to sip . . .
Hanging Ditch
A lovely little bar and wine shop near Manchester Cathedral. Grab yourself a bottle, kick back and enjoy some great people watching.
Salut
Another fantastic wine bar/shop with dozens of wine available by the glass. Can you tell we like our wine?
The Sawyers Arms
Grab a pint and watch some football at this traditional British pub.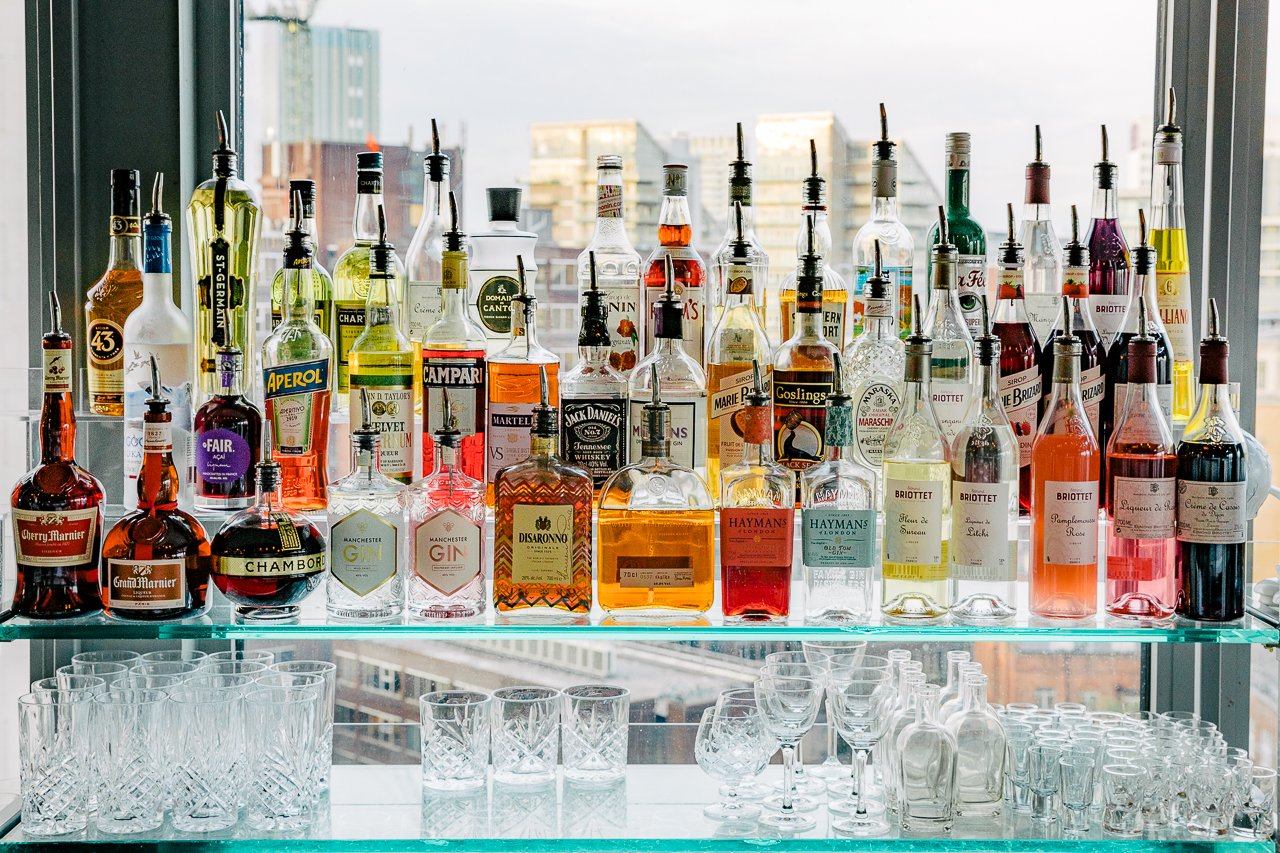 EXPLORE
John Rylands Library
Our first stop in Manchester was the John Rylands Library. Part of the University of Manchester, the John Rylands Library is home to an one of the largest special collections in the UK. It includes a Gutenberg Bible, and the St. John Fragment, which is a small scrap of papyrus containing what's thought to be the earliest known writing from the New Testament in existence.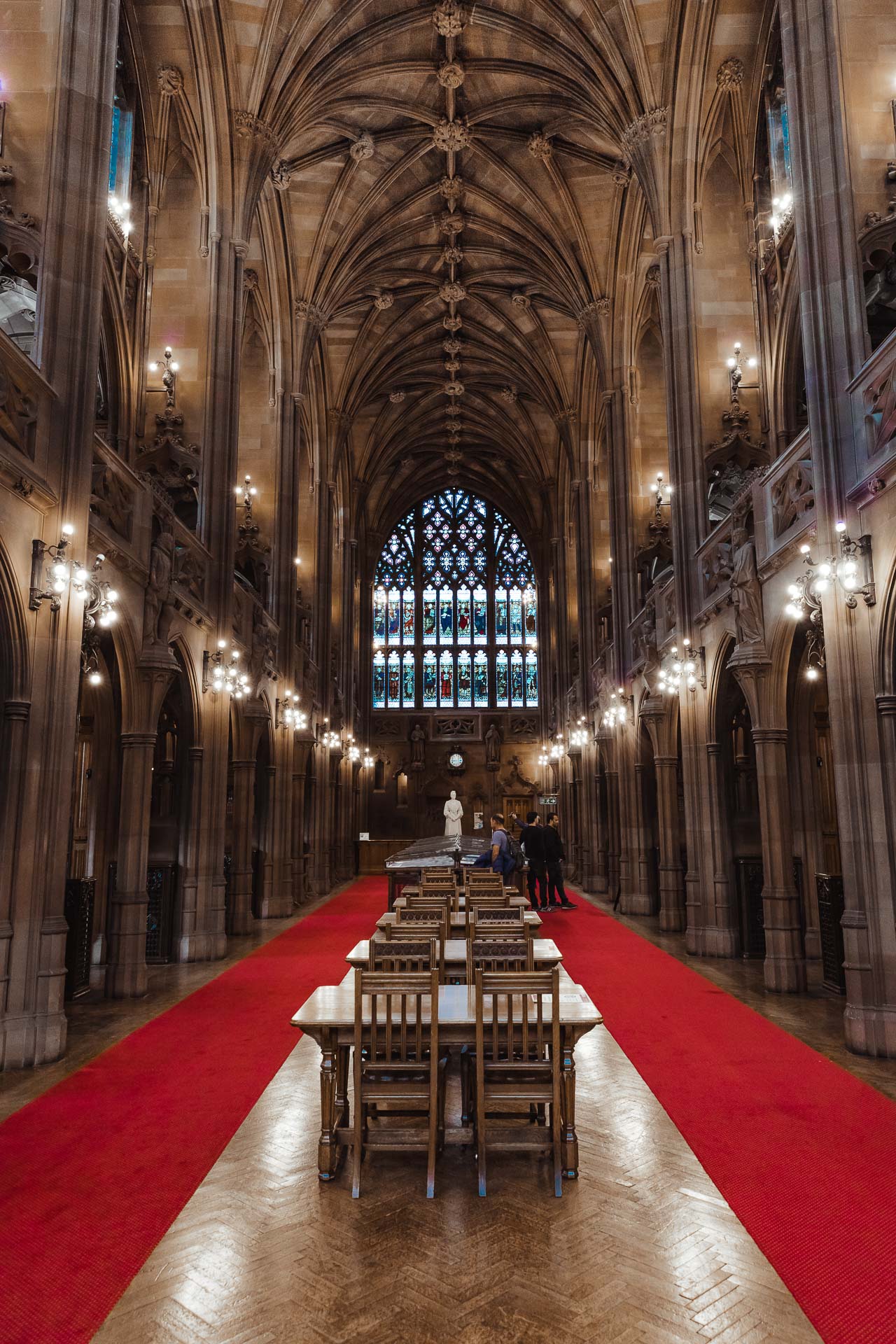 Entry to the library is free, so even if you don't have much time to browse the collection, it's worth peeking in for a view of the grand Historic Reading Room.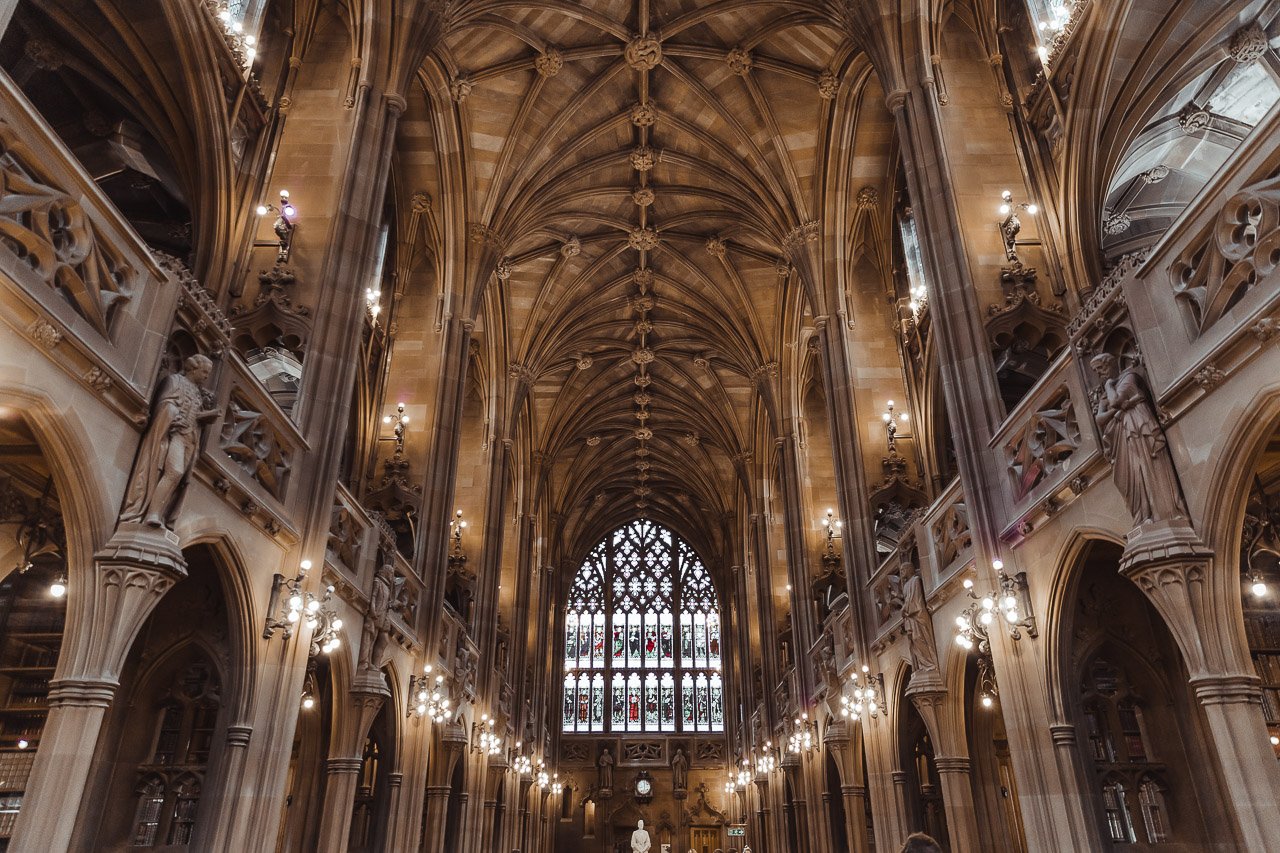 While it resembles a cathedral, the small rooms on either side of the Reading Room are meant for private study. There were even students working inside during our visit.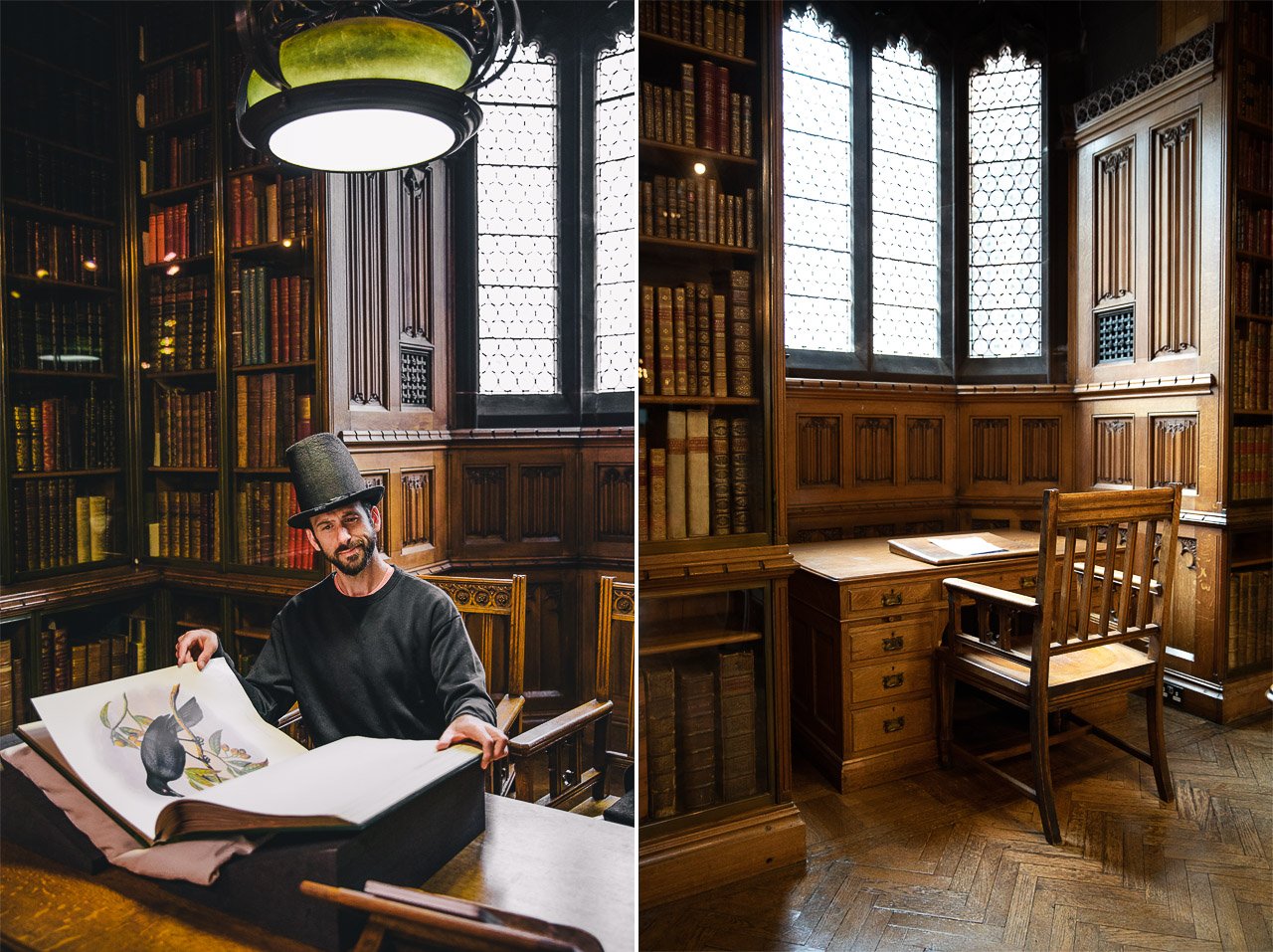 From now until March 2019 I highly suggest checking out the Women Who Shaped Manchester Exhibit.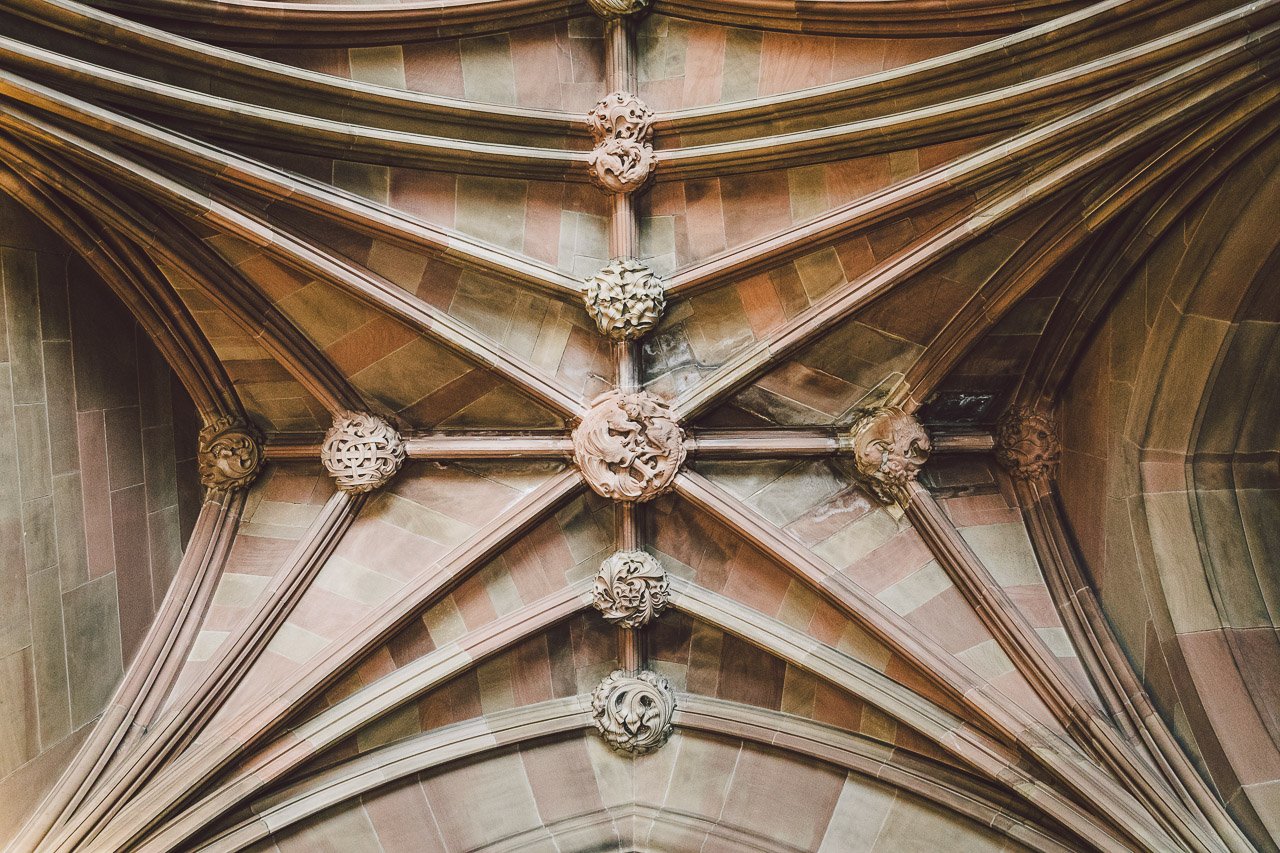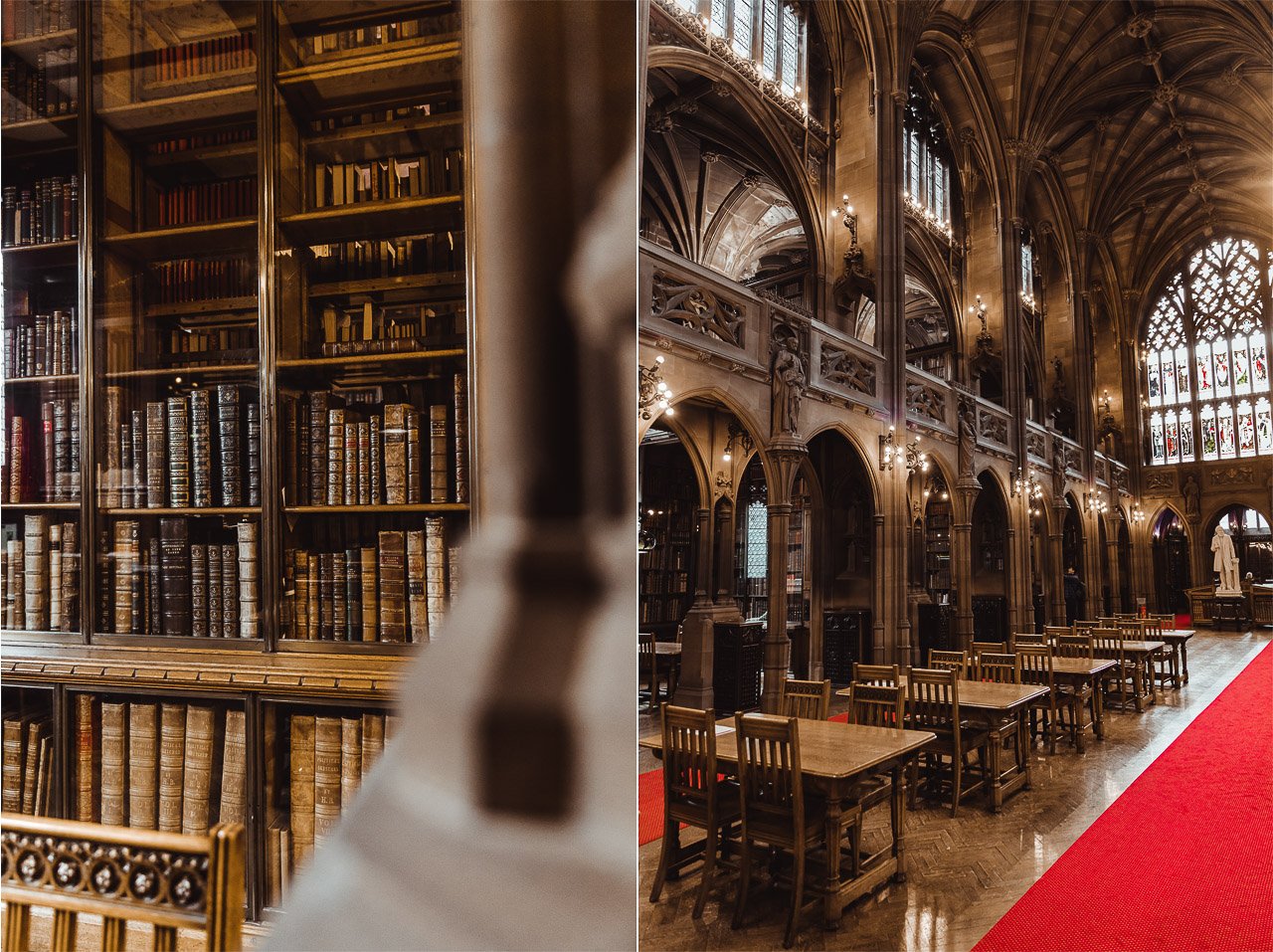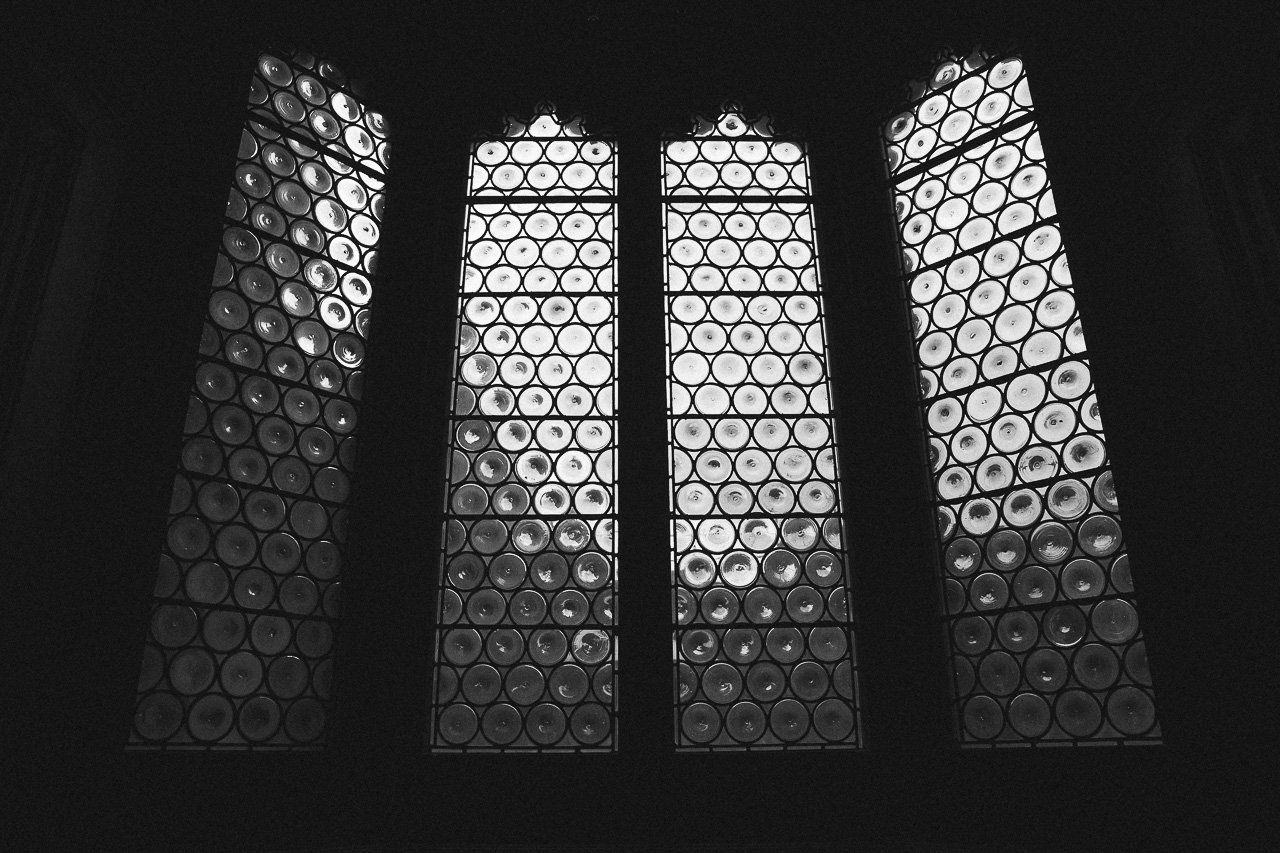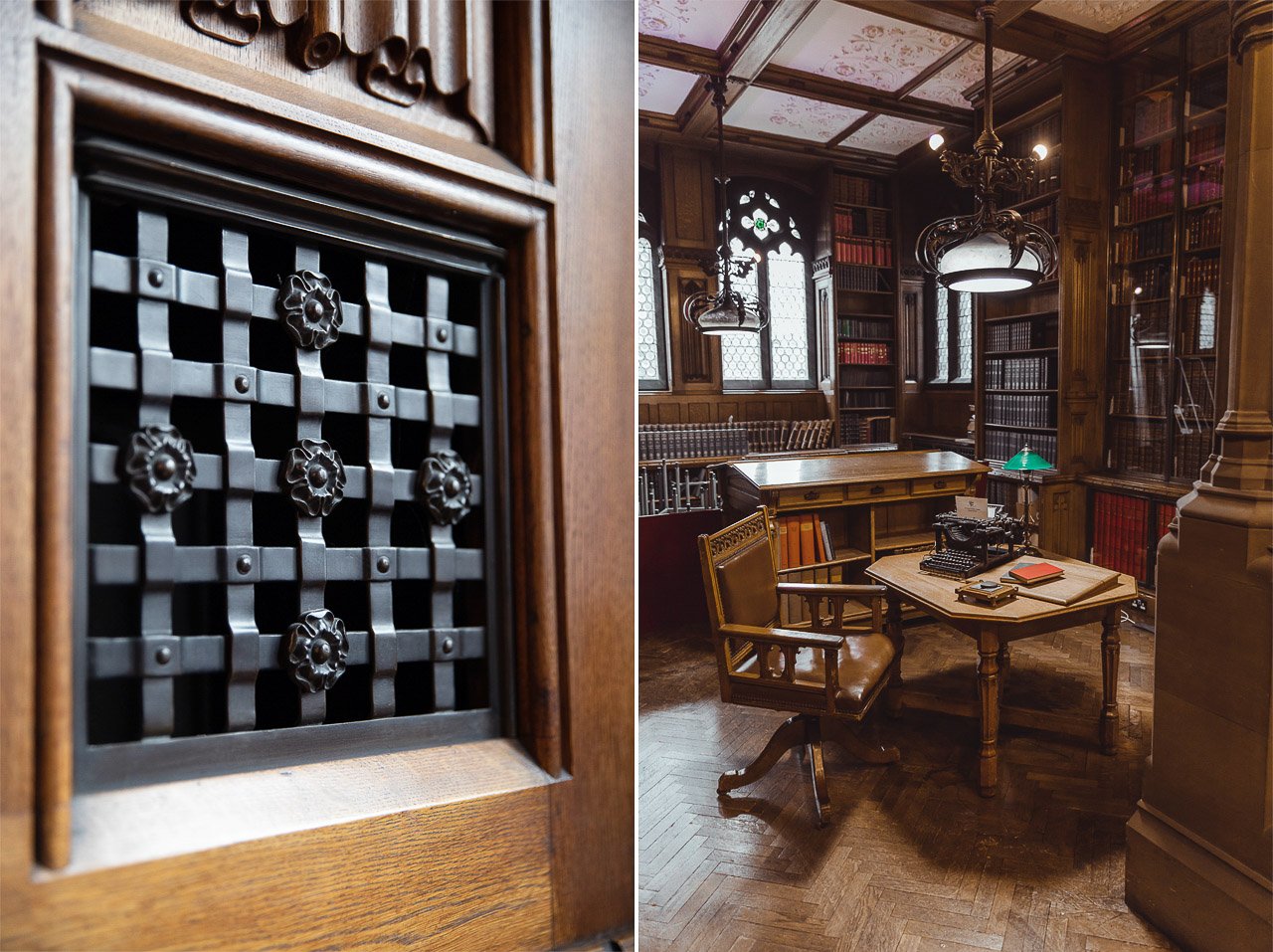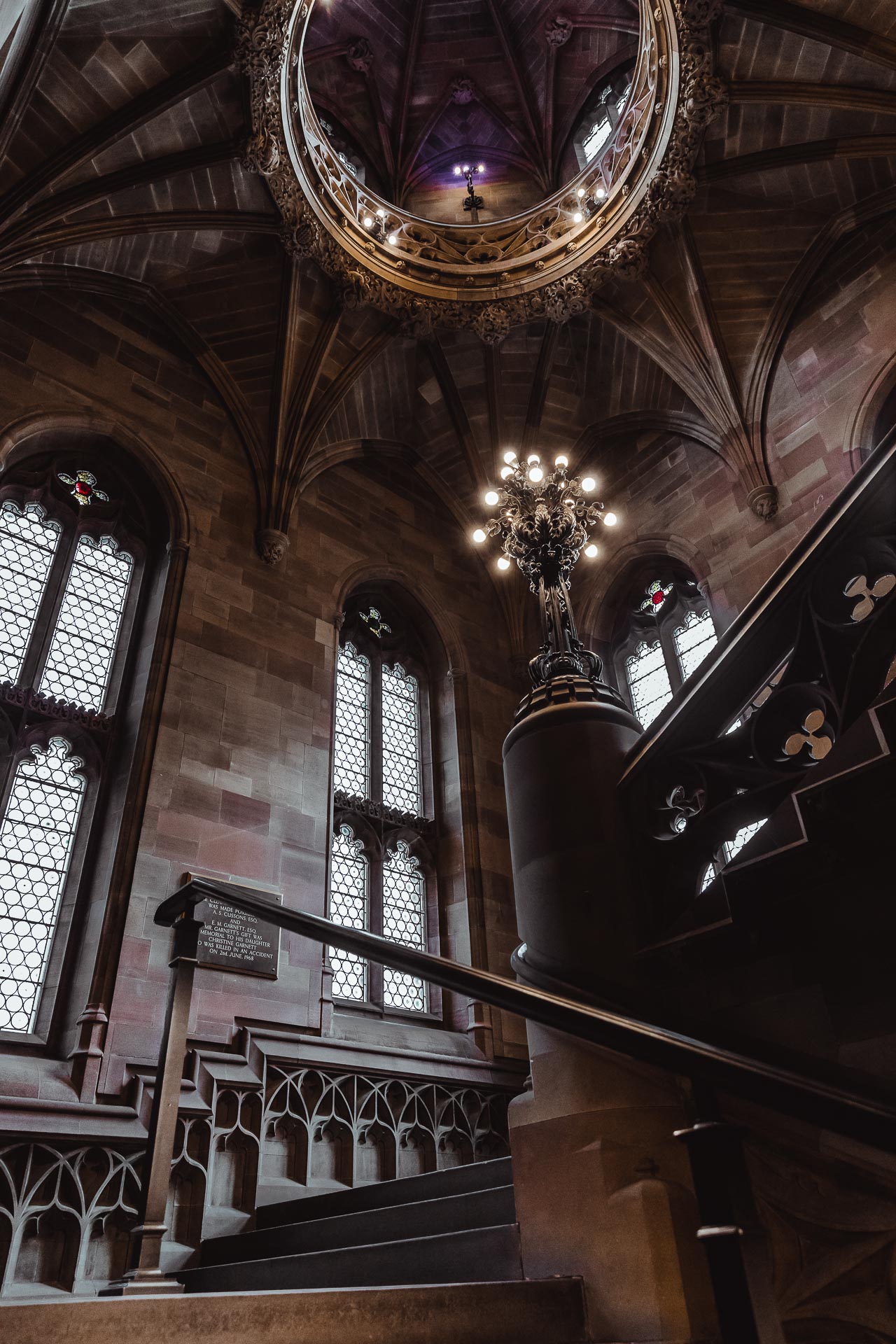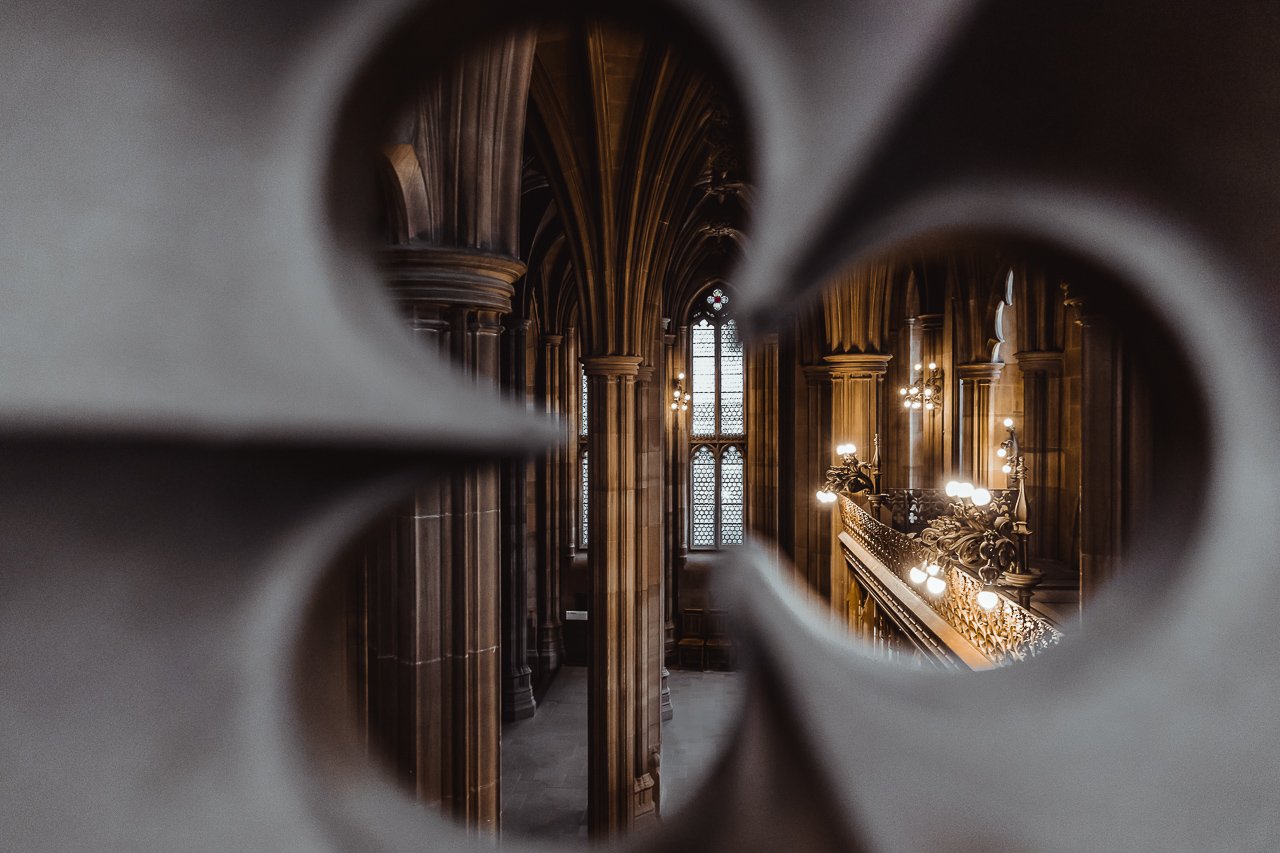 National Football Museum
Growing up playing soccer (football) I knew I had to pay a visit to the National Football Museum. There were a ton of activities and games you could play inside. I even got to hold one of the Premier League trophies! I was particularly fond of an exhibit called, The Game; a collection of photos from Stuart Roy Clarke depicting a variety of football scenes from the last 30 years, with an emphasis on fans and venues. The exhibit runs through mid-March 2019.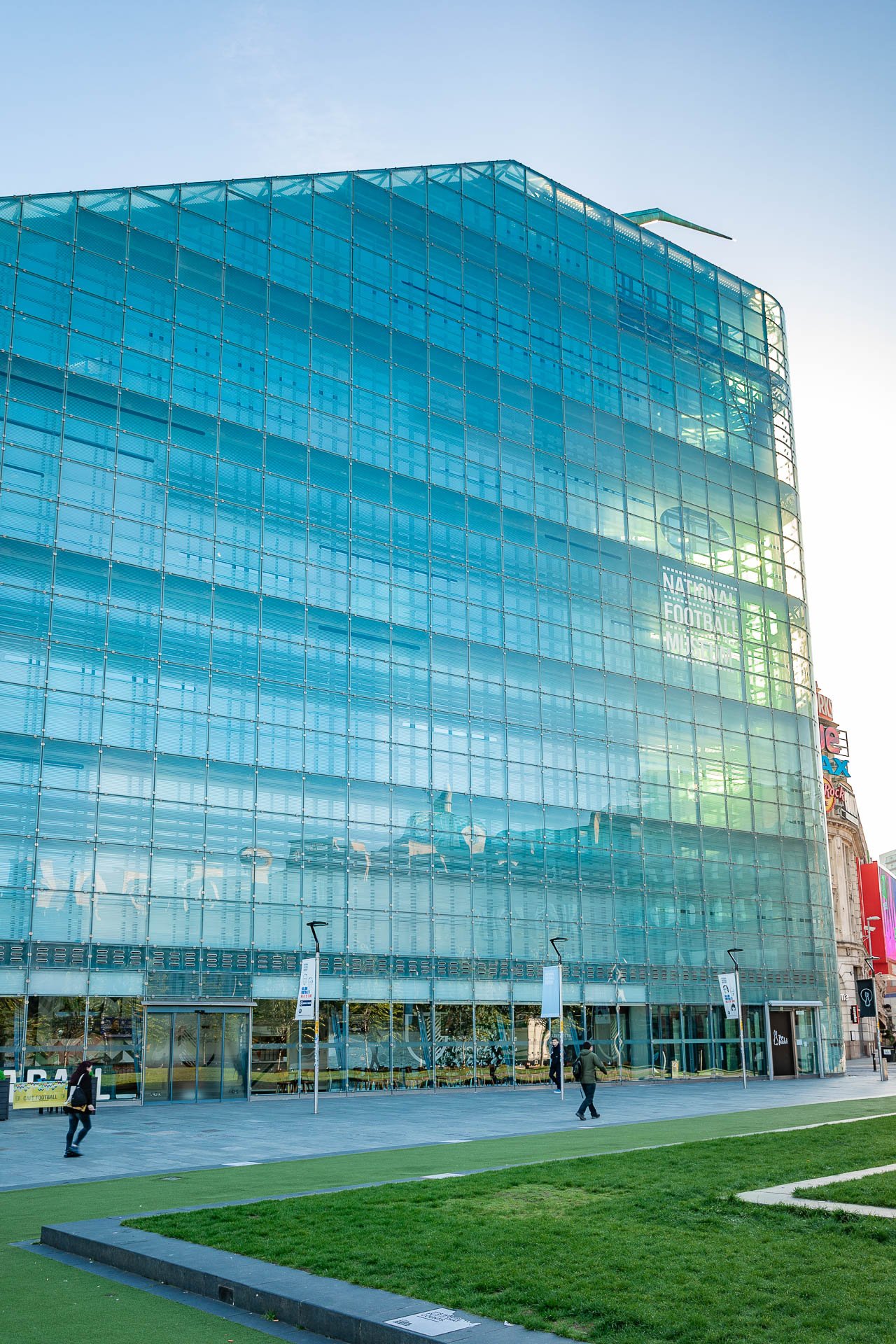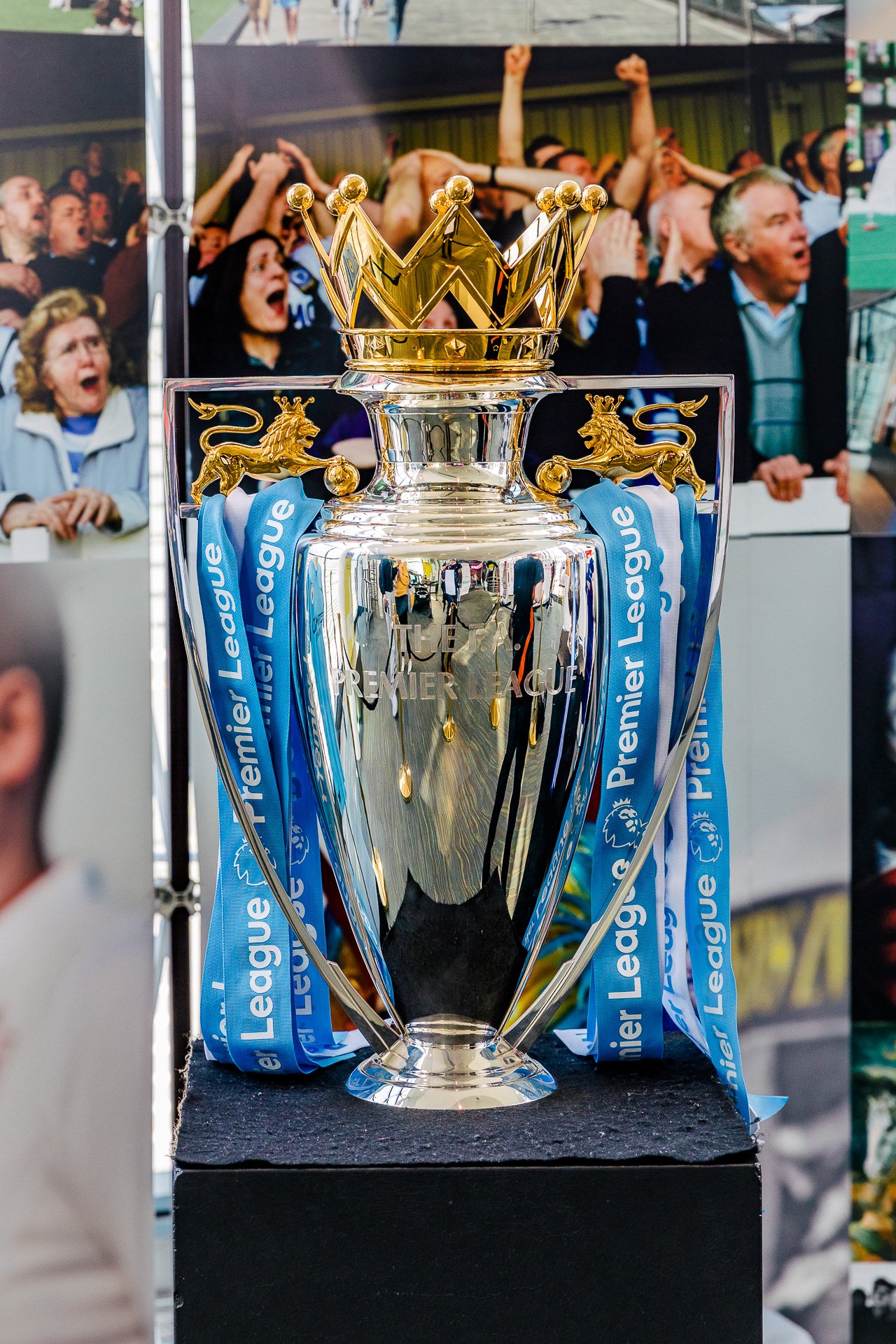 Old Trafford or Etihad Stadium
For all you soccer (football) fans, I highly suggest checking out either Old Trafford – home of Manchester United Football Club, or Etihad – home of Manchester City Football Club. If you're lucky enough to be in town during the Premier League season, grab yourself a ticket, or at the very least stop into a local pub to watch the game. Definitely a once in a lifetime experience. Just be sure to cheer on the home team!! 😉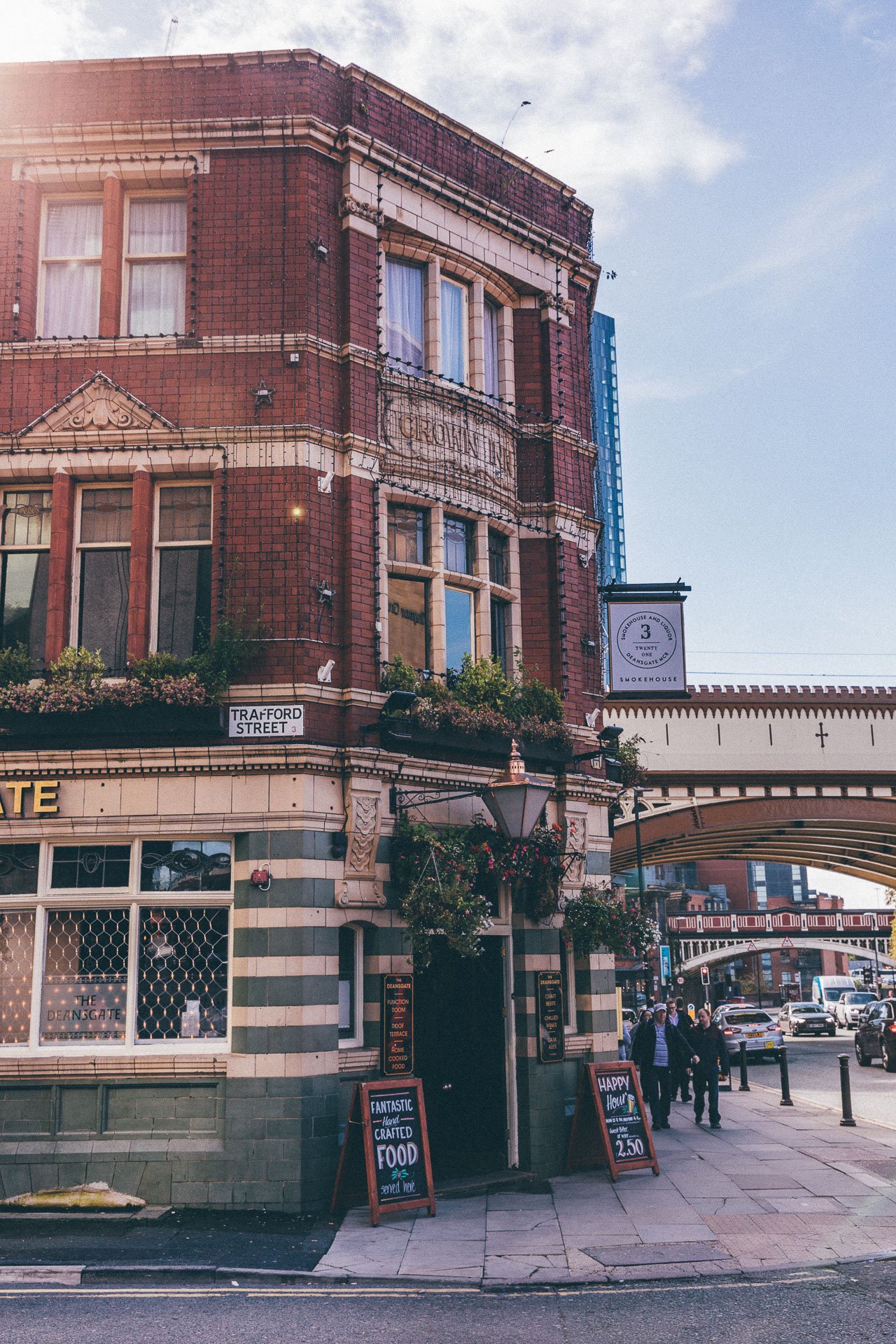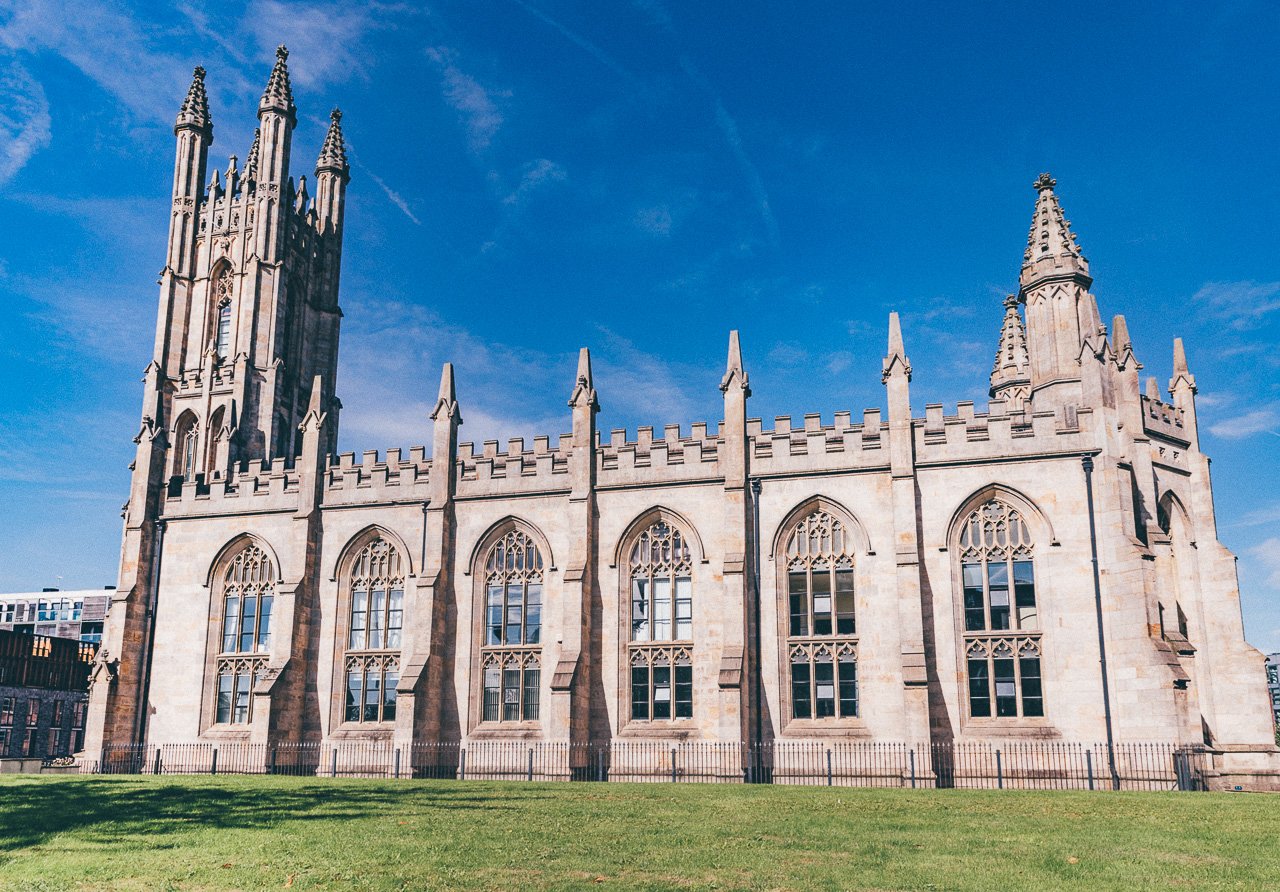 On the way to Old Trafford.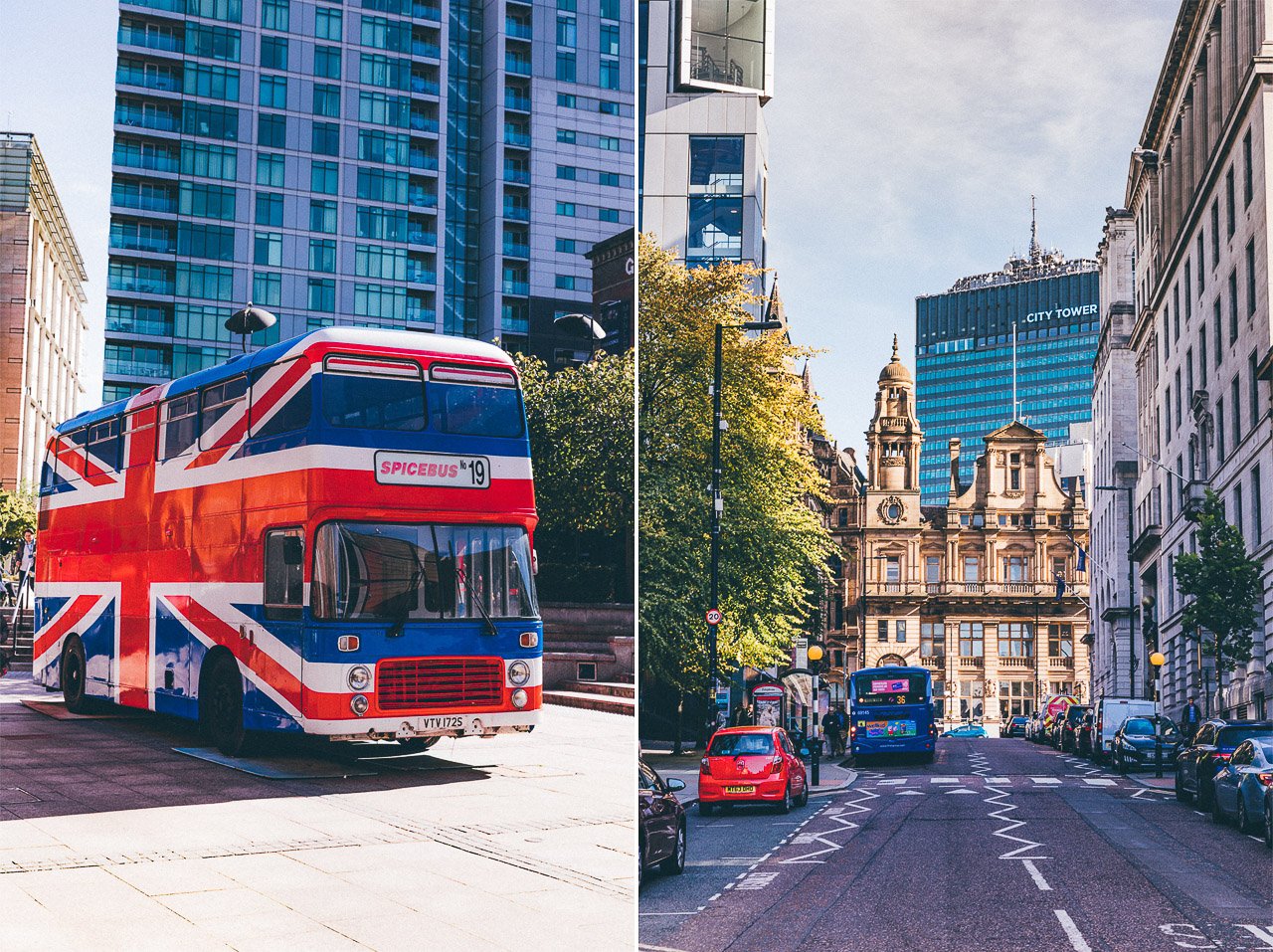 My sister went through a 'Spice World on repeat' phase, so needless to say I recognized the bus!
Manchester Cathedral
After some time at the National Football Museum, I spent a peaceful moment in Cathedral Gardens, and decided to stop into Manchester Cathedral. Instantly upon my entry, I was greeted with the beautifully booming sound of the pipe organ. There are few things more powerful than the force of organ music in an old building such as this.  I stopped and listened for a while, smile on my face. Simply magical.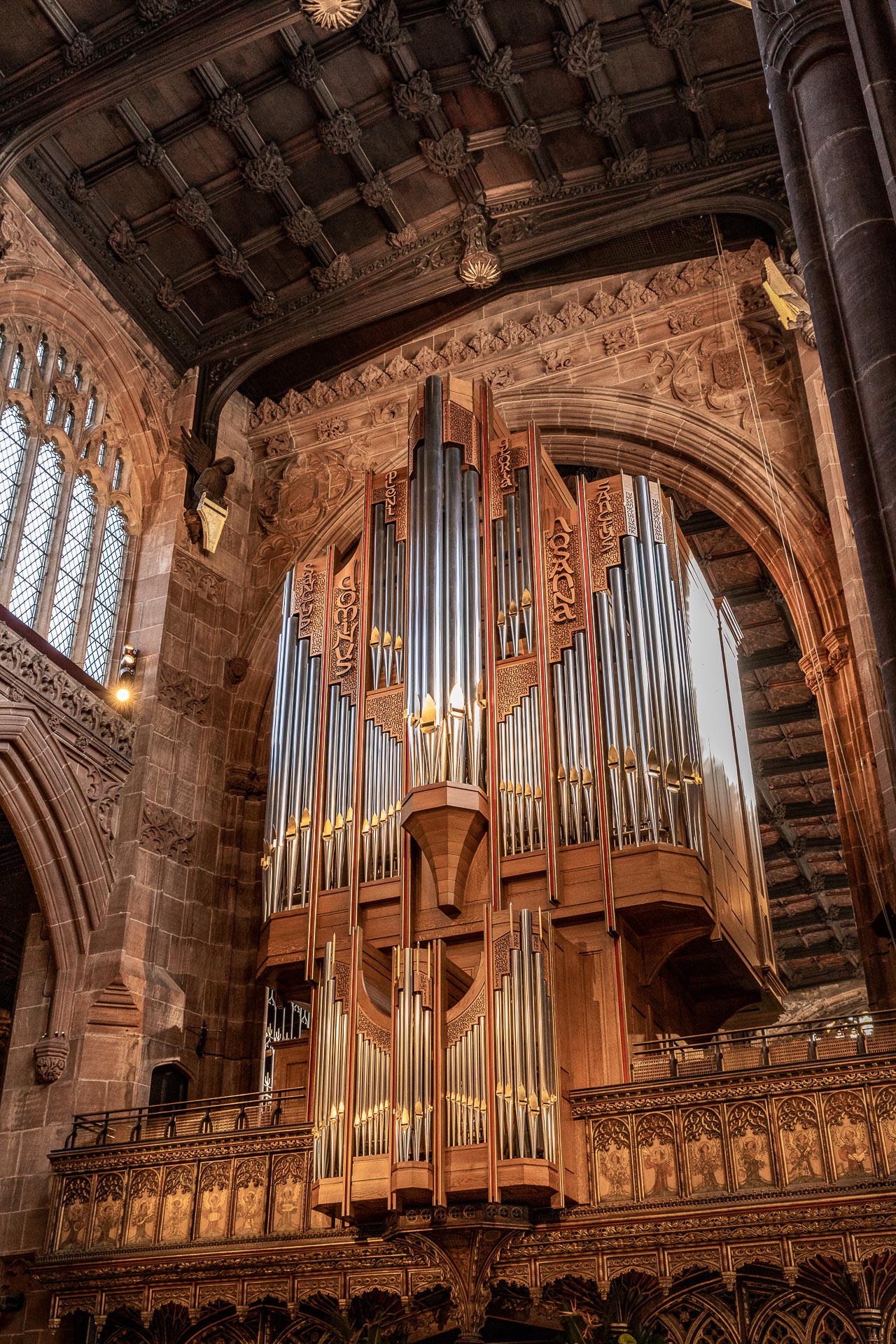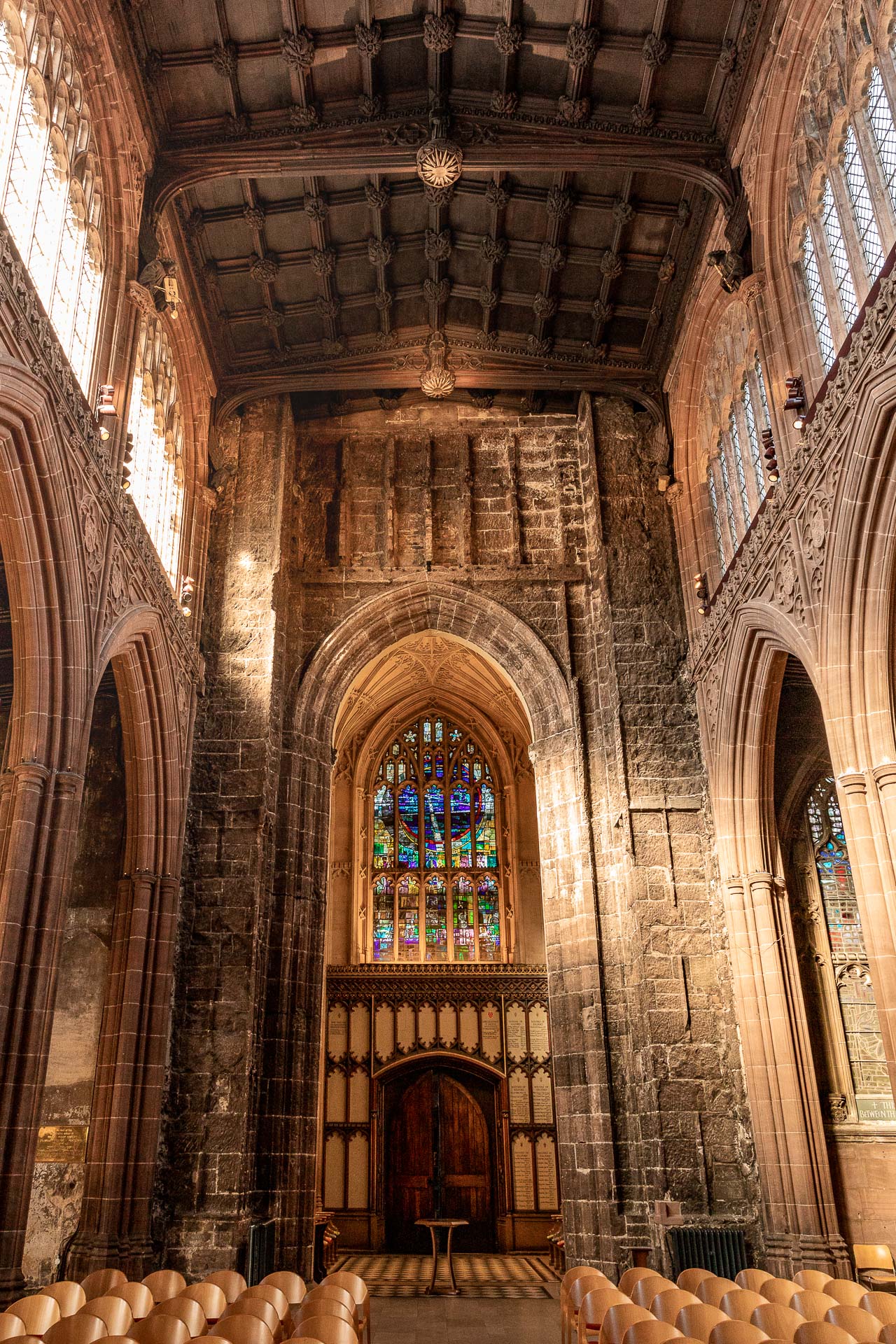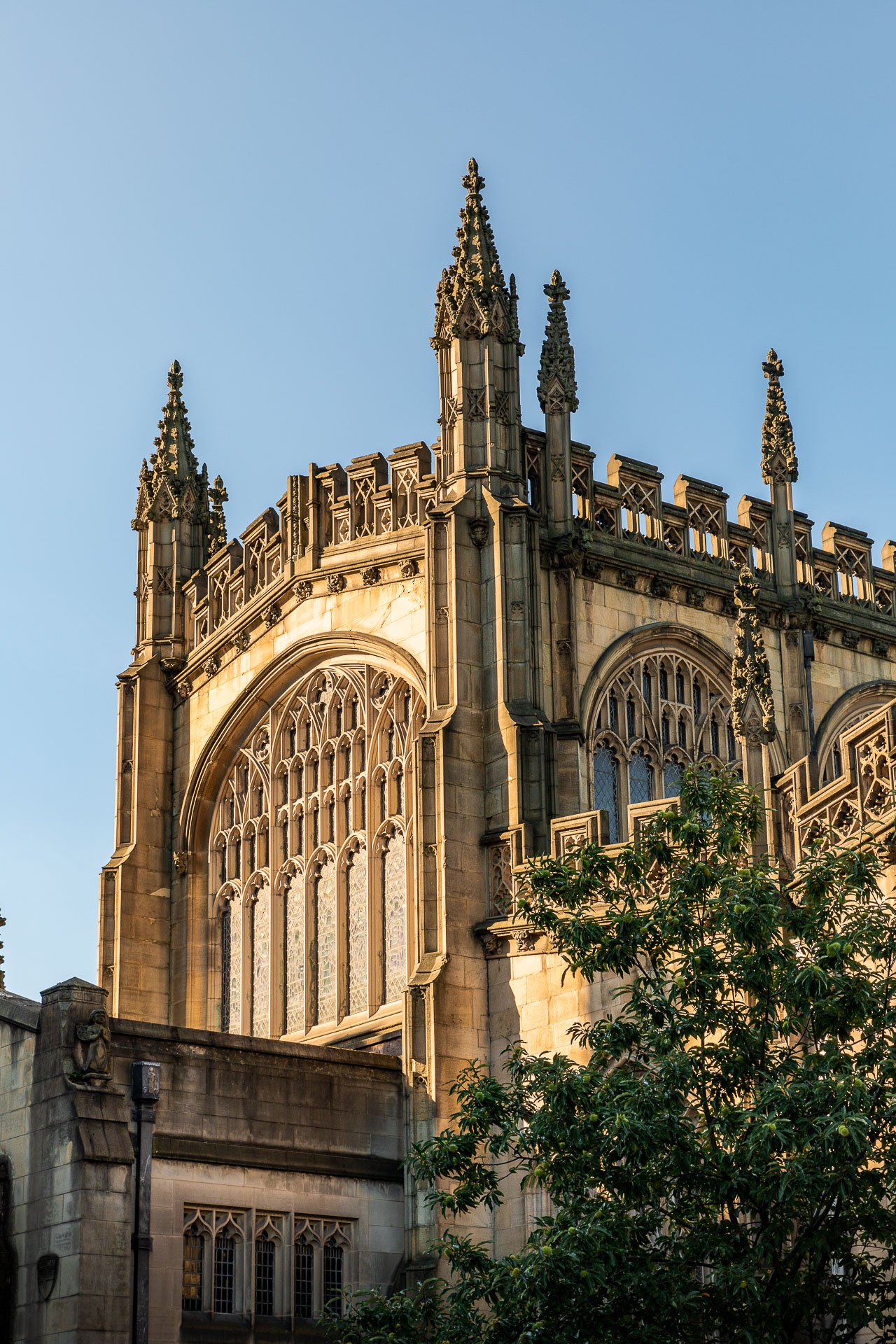 I love all the architectural details in this city.
The Northern Quarter
No matter where we walked around Manchester, we always found ourselves gravitating toward the Northern Quarter. Full of unique boutiques, amazing public art, and a variety of food and drink options, I highly recommend you spend some time wandering this vibrant part of the city.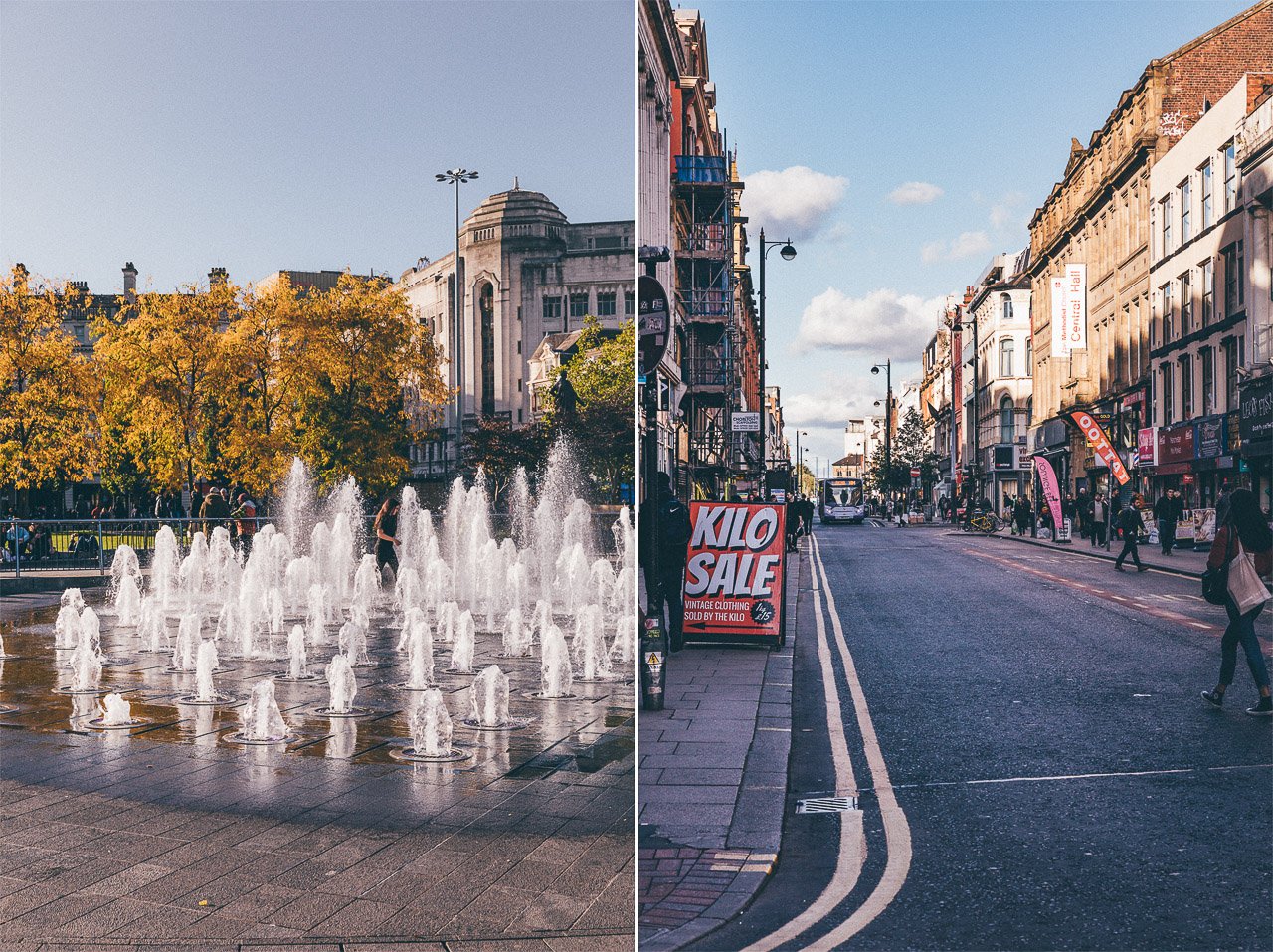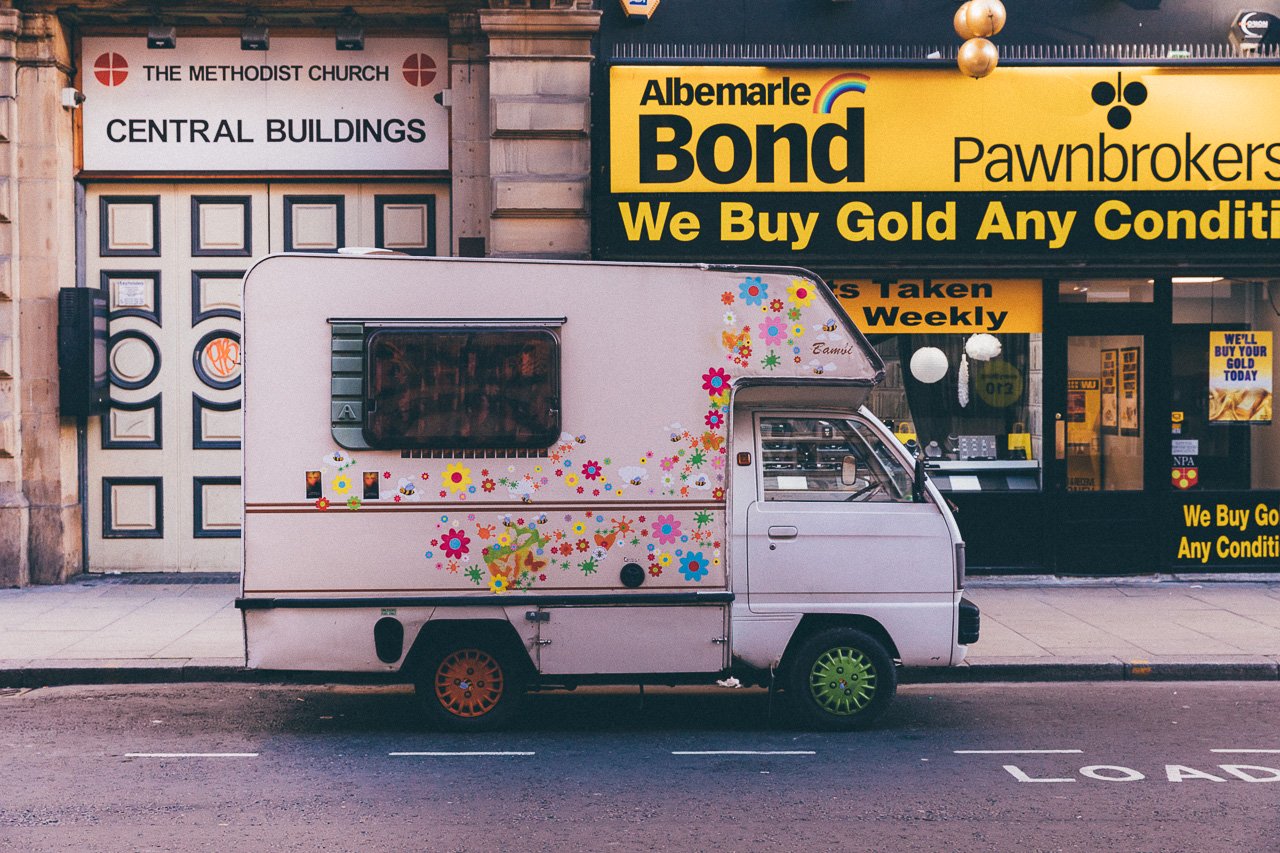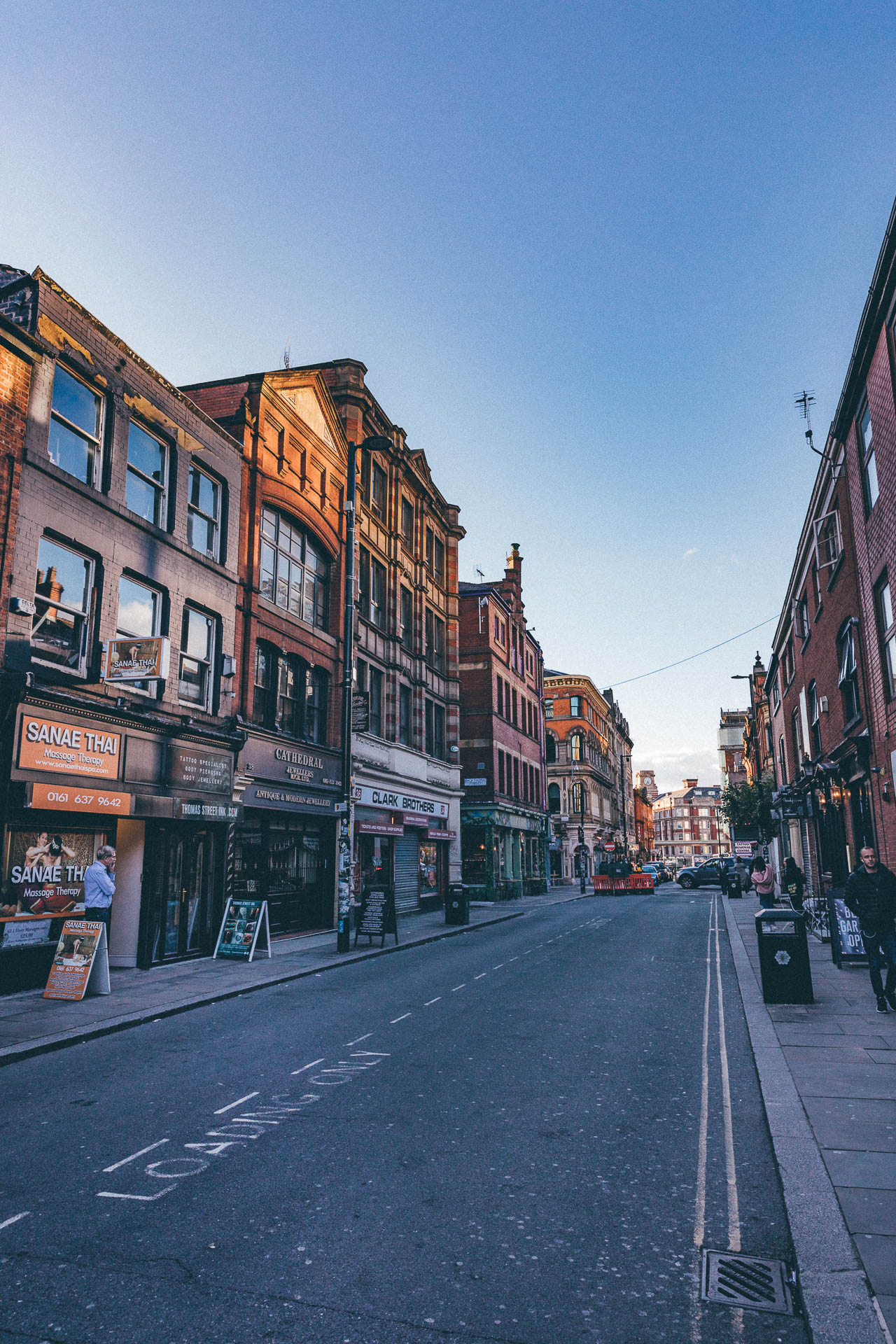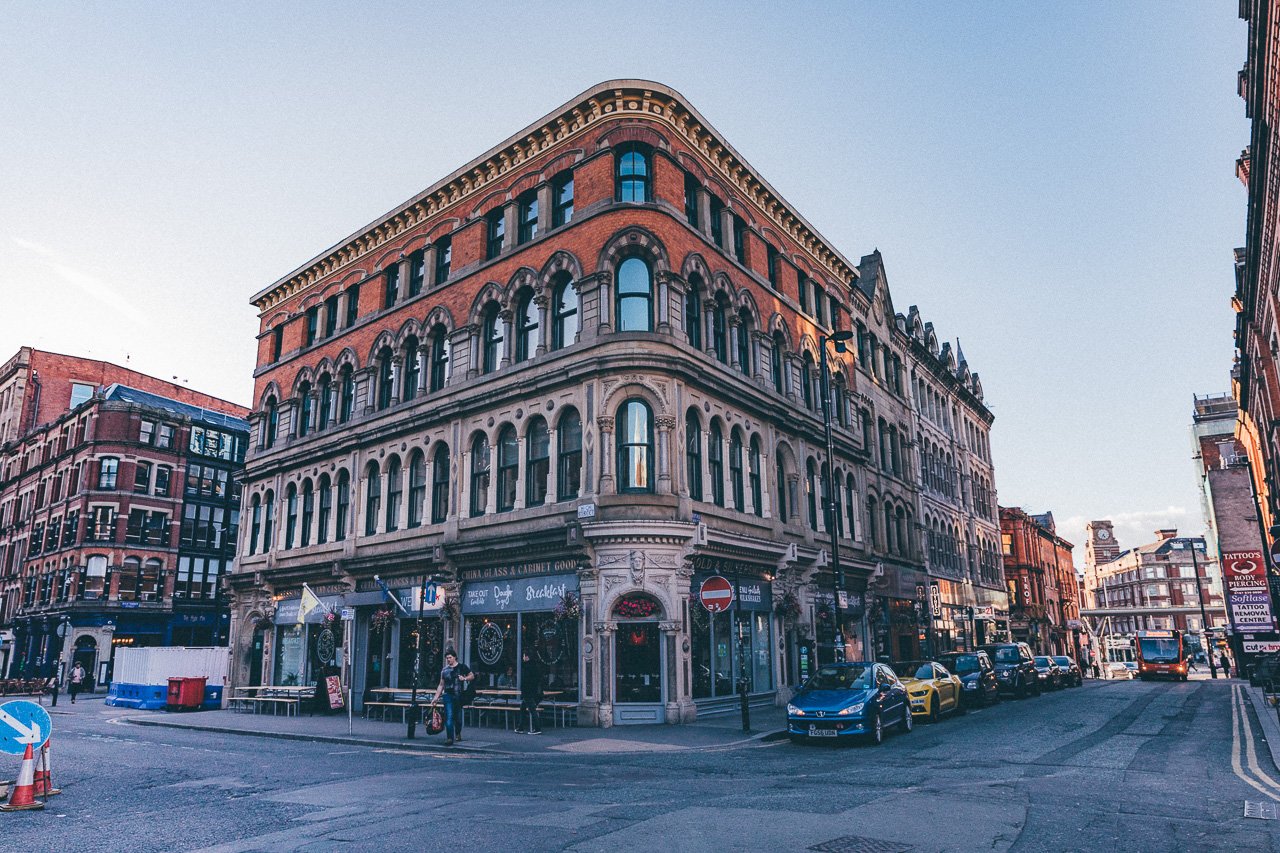 Cow
Cow is packed with two floors of fun vintage clothing, for both men and women. If you're looking for an extra layer of thick, vintage flannel, Cow is your jam!

Other places to explore . . . 
Manchester Arndale
If you're looking to do some serious mall-style shopping (maybe you forgot to bring socks?) the gigantic Arndale Centre is the place to be. There are a couple sporting goods stores if you're looking to grab yourself a Man U. jersey. Also, a nifty place to hide from the rain!
Museum of Science and Industry
What better place to explore science and industry than the birthplace of the industrial revolution! Great for all ages.
Albert Square
If you're lucky enough to visit during the Christmas season, Albert Square hosts a wonderful Christmas market.
Chetham's Library
Believe it or not, founded in 1653 Chetham's Library is the oldest public library in the English-speaking world. Definitely worth a visit!!
Street Art
Take a self-guided tour of Manchester's many murals and other street art. There are several sources online that can help point you in the right direction.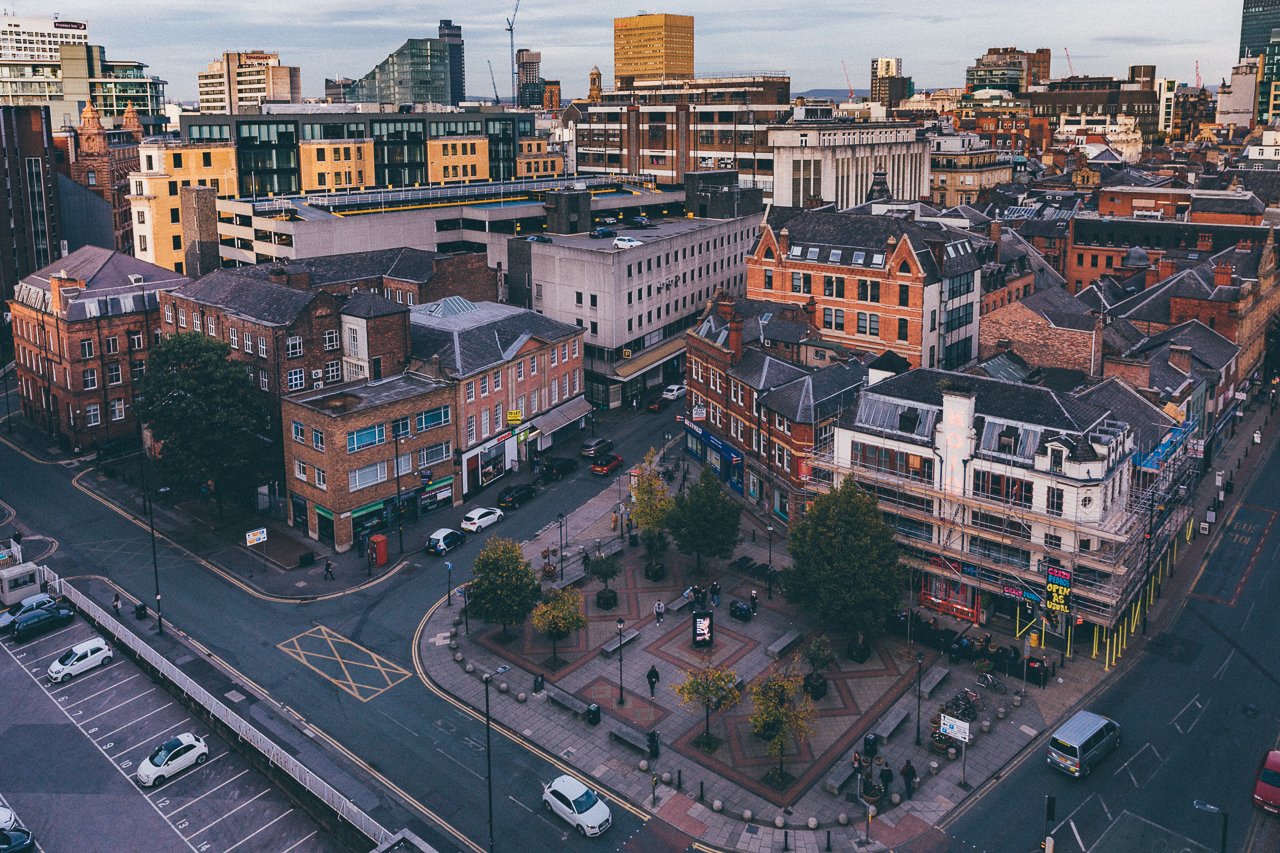 (Photography by HonestlyYUM. This post is sponsored by Visit Britain. All opinions are our own. Thank you for supporting the brands that keep HonestlyYUM up and running! Be sure to head over to HonestlyWTF to read about Manchester from Erica's perspective.)