I'm apologizing in advance. The photos I'm publishing on this peach biscuit cobbler do not do it justice. The pictures don't show you how deliciously moist and crumbly the biscuits are and how perfectly the bottoms soak up that sweet peach and vanilla syrup. Or how the tops brushed with extra syrup and sprinkled with turbinado sugar provide the best crunch in contrast to the cold vanilla ice cream that is a mandatory option (yes, optional, but totally mandatory).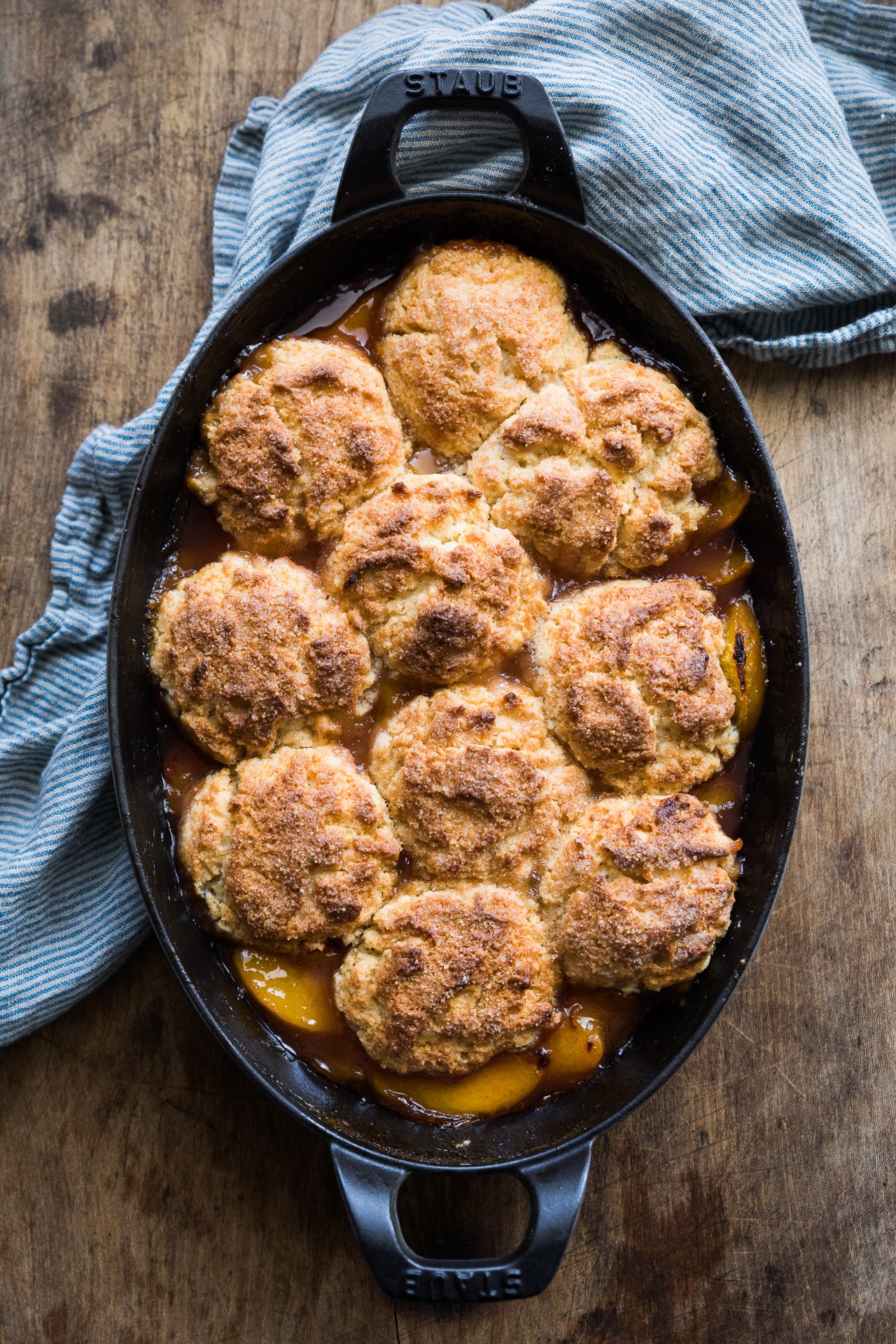 When I think of quintessential summer flavors and textures, this dish is it. The recipe is simple to follow and the only thing that really takes some attention is the biscuit topping, but I promise even that is pretty easy to pull together. Take advantage of what's left of those gorgeous summer peaches and make this ASAP!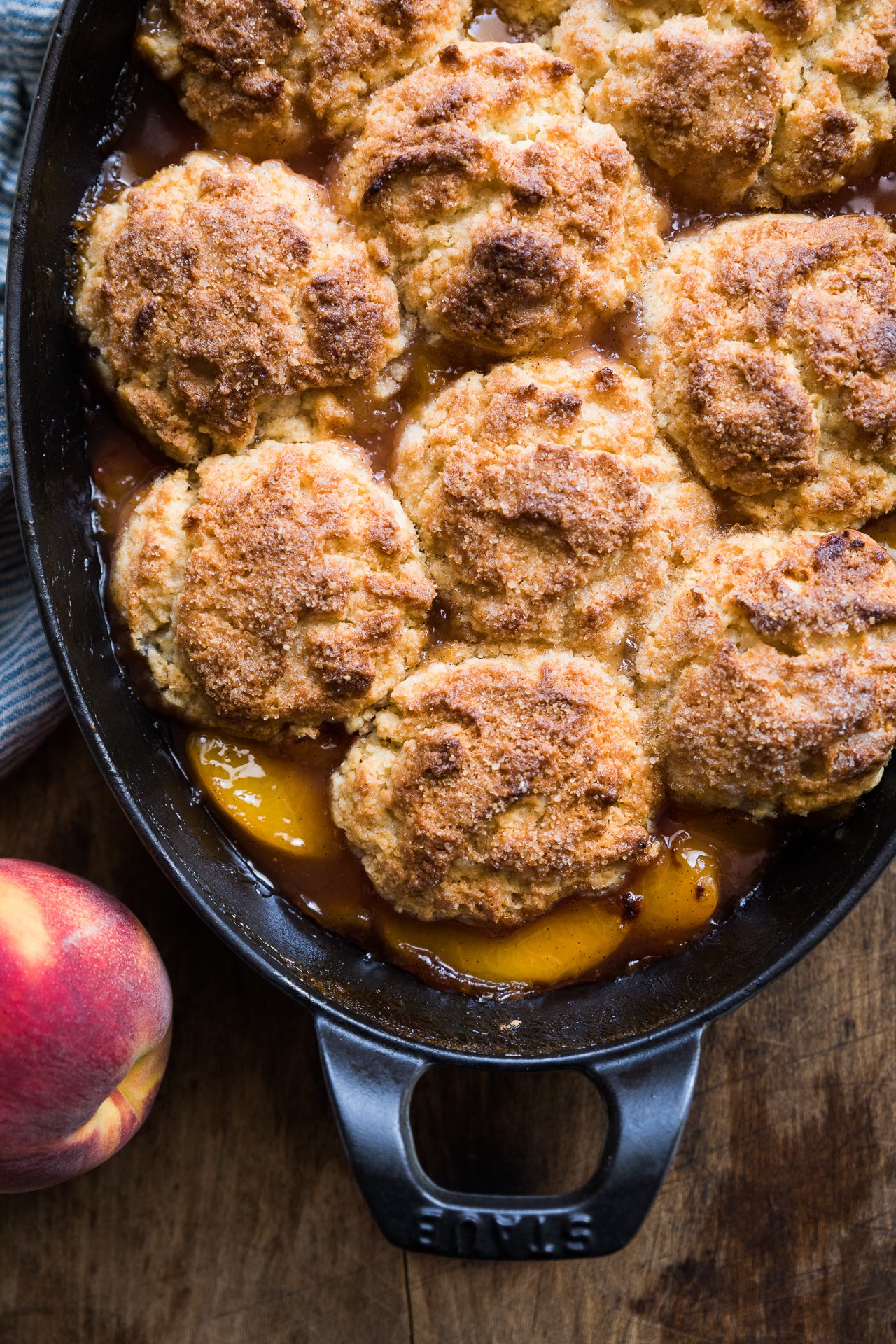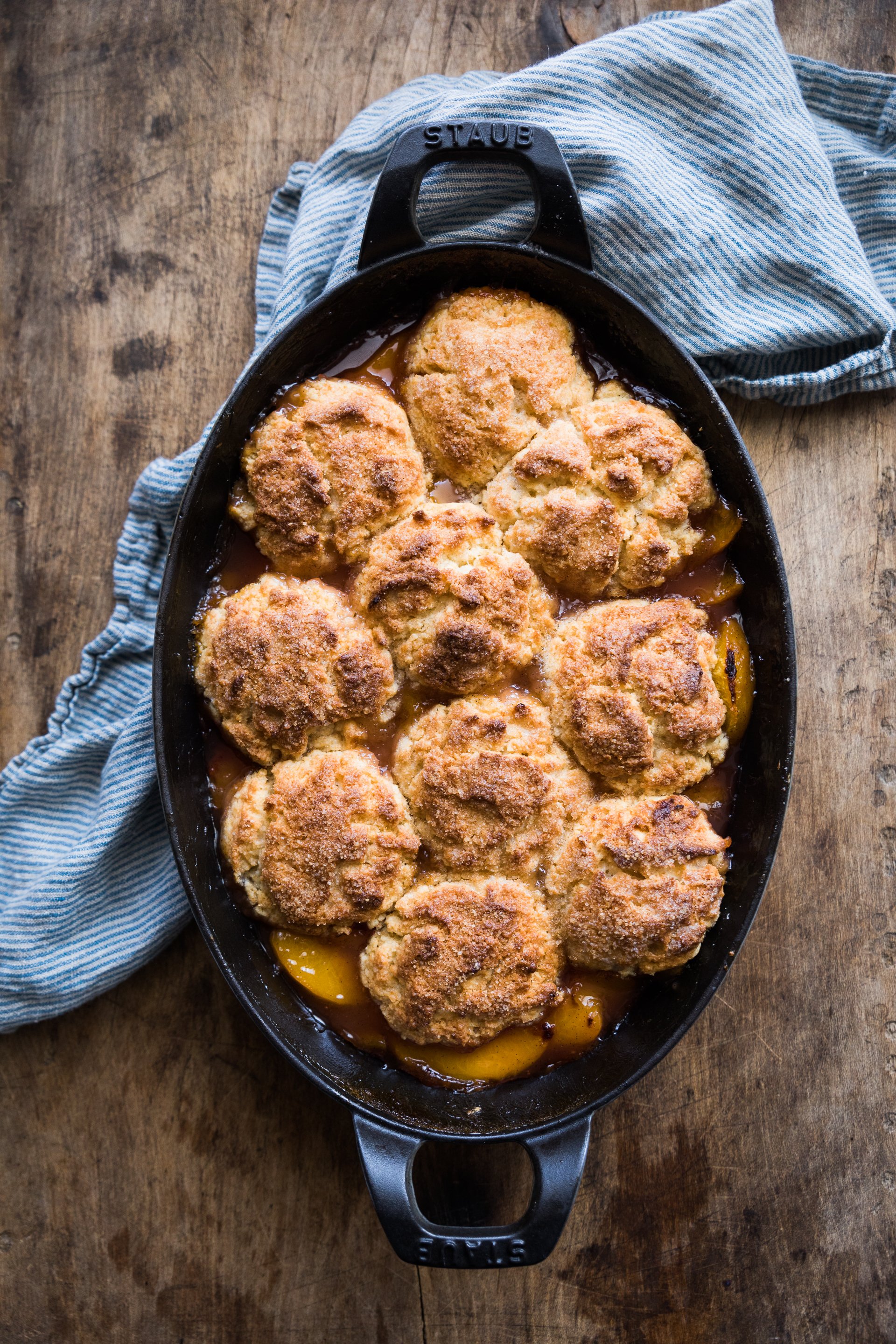 INGREDIENTS
Peach filling ingredients
Topping
INSTRUCTIONS
Preheat the oven to 400 degrees. Peel the peaches with a vegetable peeler. Remove pits and quarter the peaches and toss in 1/4 cup of sugar, lemon juice, and 2 teaspoons of all purpose flour. Split the vanilla bean and scrap the seeds into the mix and place the pods in in the peaches. Mix together so that the peaches are coated. Transfer to a baking dish that you will be serving the cobbler in. I used a 12 inch oval gratin dish here. Bake the peaches for 10 minutes in the oven. Discard the vanilla pods.

To make the biscuit batter, cut the cold butter into small cubes. Add the flour, 1/4 cup of sugar (reserve the other 1/4 half for brushing the tops of the biscuits), butter, baking powder and salt into a food processor and pulse until the butter is pea-sized. Stream in the cream and pulse until the batter is just combined. Alternatively, instead of using a food processor, you can use a pastry cutter to cut the butter into the dough or use your fingers to crush the butter into the flour. You can also grate the cold butter into the flour using the largest grate holes. If using your hands just work quickly since you don't want the butter to get too warm. It should remain in cold chunks.

Scoop the biscuit batter with an ice cream scoop and top the roasted peaches with scoops of biscuit batter. Return to the oven and bake for 15 minutes. I recommend placing your dish on a baking sheet in case the peach syrup bubbles over.

Dissolve 1/4 cup of sugar and 2 tablespoons of hot water. Brush the tops of the biscuits with the syrup and sprinkle with turbinado sugar. Bake for another 20-25 minutes until the tops are golden brown and the biscuit is baked through. You can check by putting a skewer or toothpick through the biscuit and it should come out clean.

Serve warm and top with vanilla ice cream.
(images by HonestlyYUM)