Green pozole is one of my favorite soups– it is so hearty but fresh, flavorful and bright! This soup is packed with so much flavor and is a vibrant green from the tomatillos, fresh chiles, cilantro and pumpkin and sesame seeds. The best part of pozole, in my opinion, are the toppings. I just love a hot bowl of pozole topped with crunchy cabbage and radishes, creamy avocado and lots of extra cilantro and onion. Eat it together with a crunchy tostada and extra lime. It is the perfect spring time soup!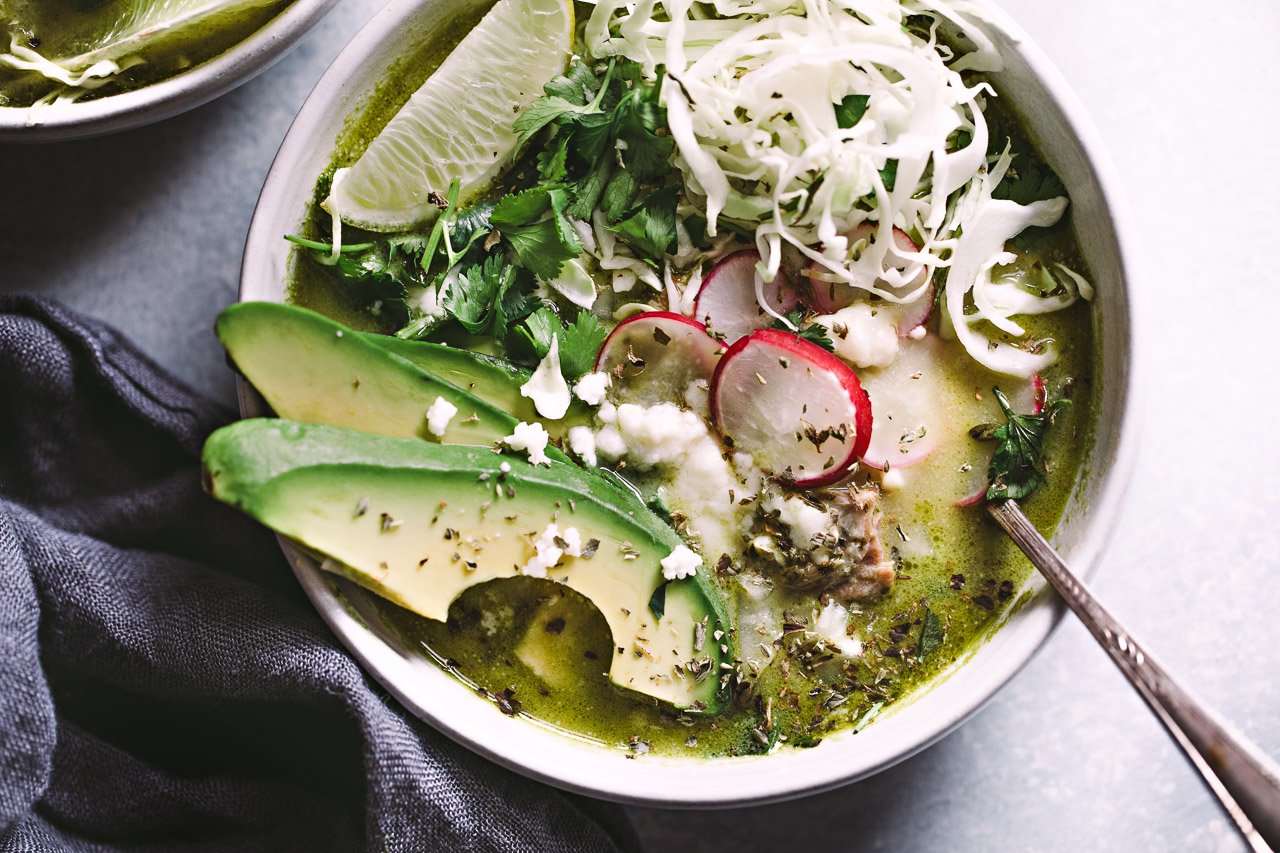 This pozole is made with pork, which I prefer, but you could easily substitute the pork for chicken. Instead of using pork shoulder, use chicken legs. If you are using chicken legs, cut the simmer time to 30-40 minutes before adding the tomatillo mixture. Before serving, remove the meat from the thighs and discard the bones. The soup is actually very easy to make, but just requires a lot of fresh ingredients and time to cook the pork until tender, but the extra time is so worth it (and it'll feed you for days)!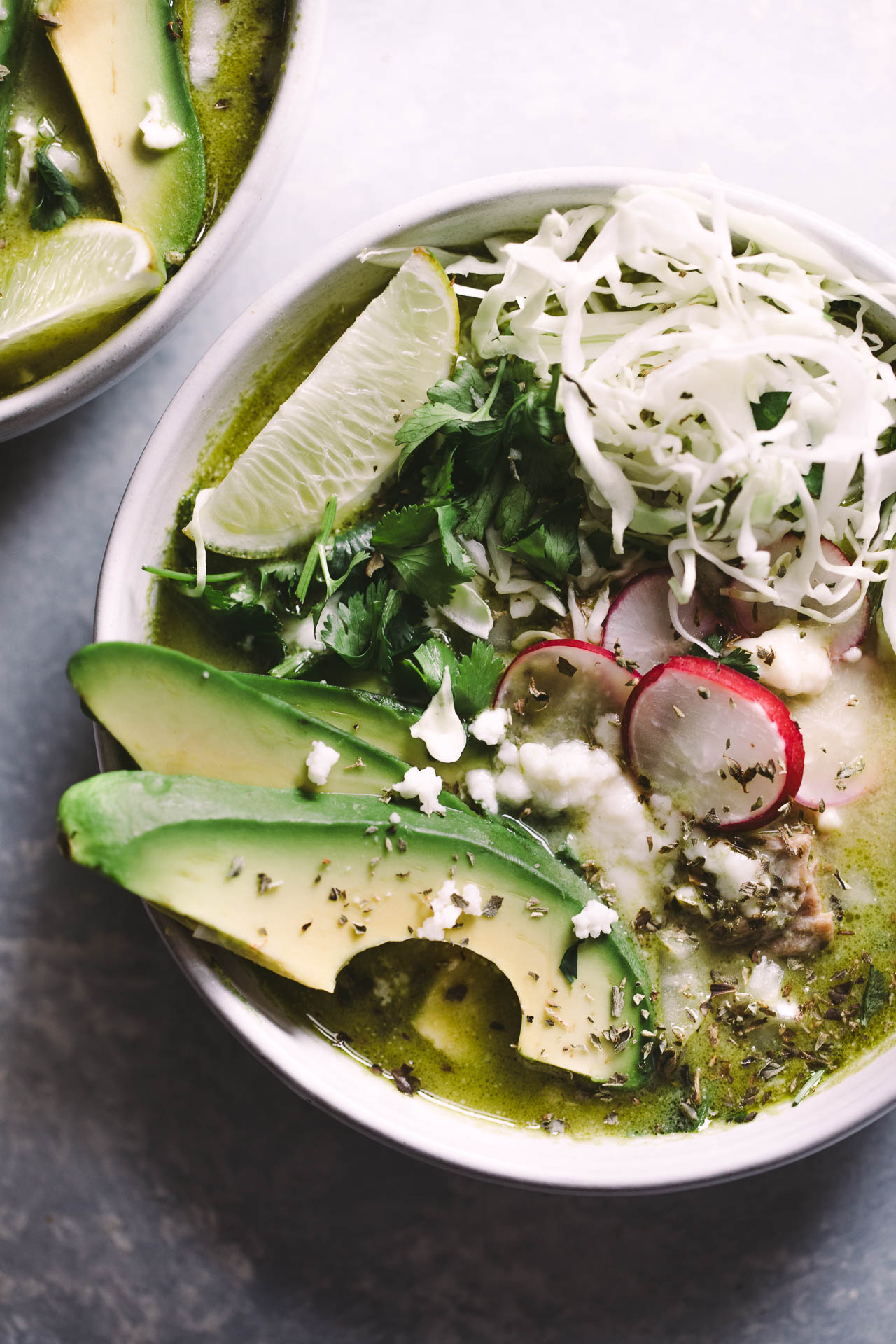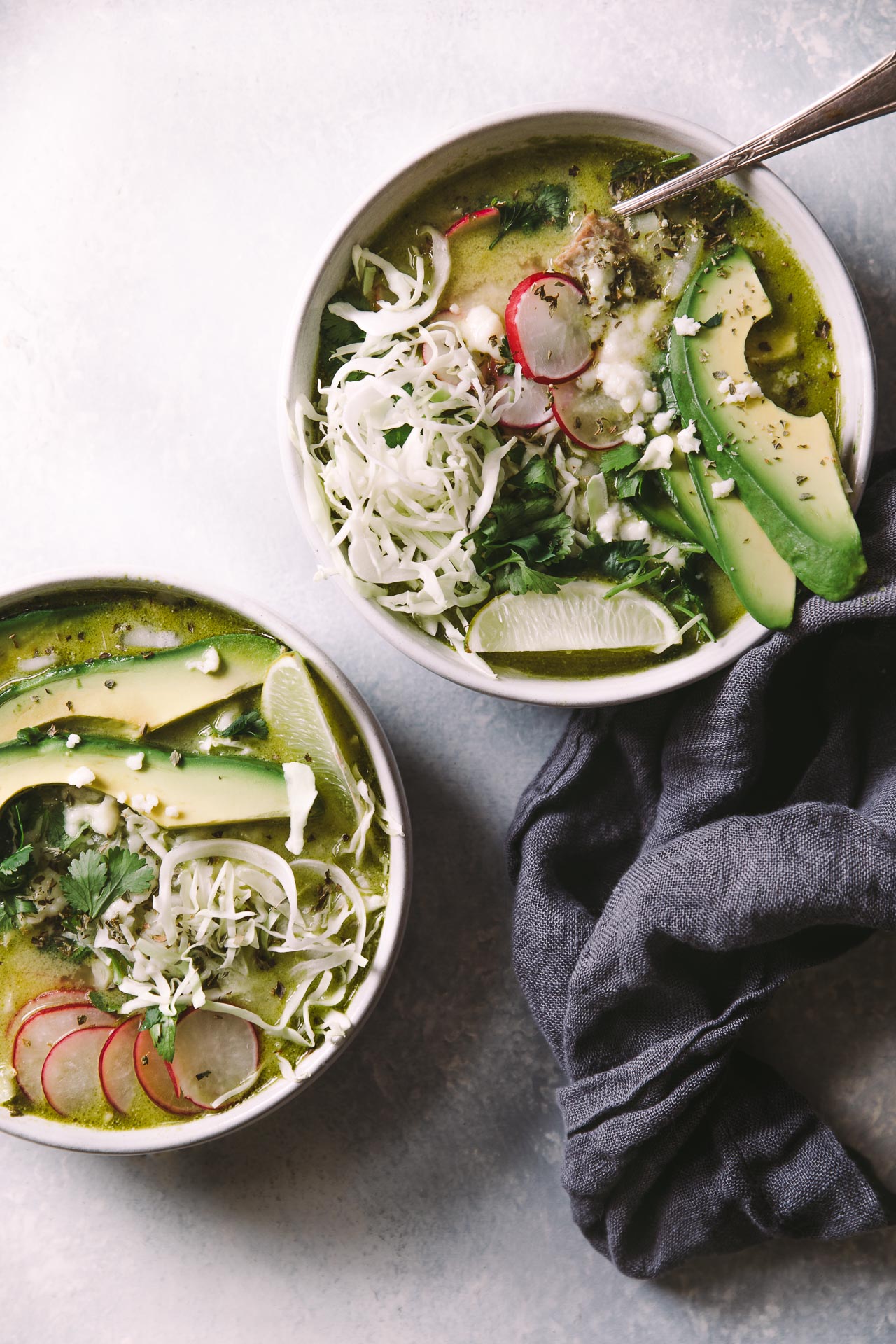 INSTRUCTIONS
Cut the pork shoulder into large 2 inch pieces. Add 1/2 the yellow onion and 3 cloves of garlic and 2 quarts of stock to a large pot and add the pork. Season with a few heavy pinches of salt. Bring to a boil and lower to a simmer and cover with a lid. Let the pork cook on low heat for about 1 hour, skimming the foam that rises to the top. Remove the onion.

Toast the sesame seeds and pumpkin seeds on medium high heat until the seeds just begin to start brown and become fragrant. Remove the stem and seeds from the jalapeno, poblano pepper and Anaheim pepper.

Remove the husk from the tomatillos and rinse under hot water to remove the sticky coating. Place the tomatillos in a blender, add the pumpkin and sesame seeds, 1/4 onion, 2 cloves of garlic, cilantro, jalapeno, poblano and Anaheim peppers. Add a couple ladles of the hot stock to the blender and blend until completely smooth.

Add the tomatillo mixture to the pot and stir to combine. Add the hominy and continue to simmer the soup for another 30 minutes or until the meat is fork-tender and falls apart. Season with salt to taste.

Serve each bowl of soup with a handful of cabbage, pinch of oregano, few slices of avocado and radishes, crumbles of queso fresco, some chopped white onion and cilantro. Serve with tostadas and lime wedges.
(images by HonestlyYUM)