I fell in love with mezcal at first sip, 15 years ago at my favorite local watering hole in Santa Cruz, CA. My best friend (still to this day) and I, ever adventurous at the bar, were curious about a colorful palm fiber basket tucked away on the top shelf. While I assumed it was merely a decorative piece, he insisted it contained a bottle. A bottle we had to try, no less. Upon our request, the bartender eagerly brought down the basket, and proceeded to pour us two shots of Del Maguey.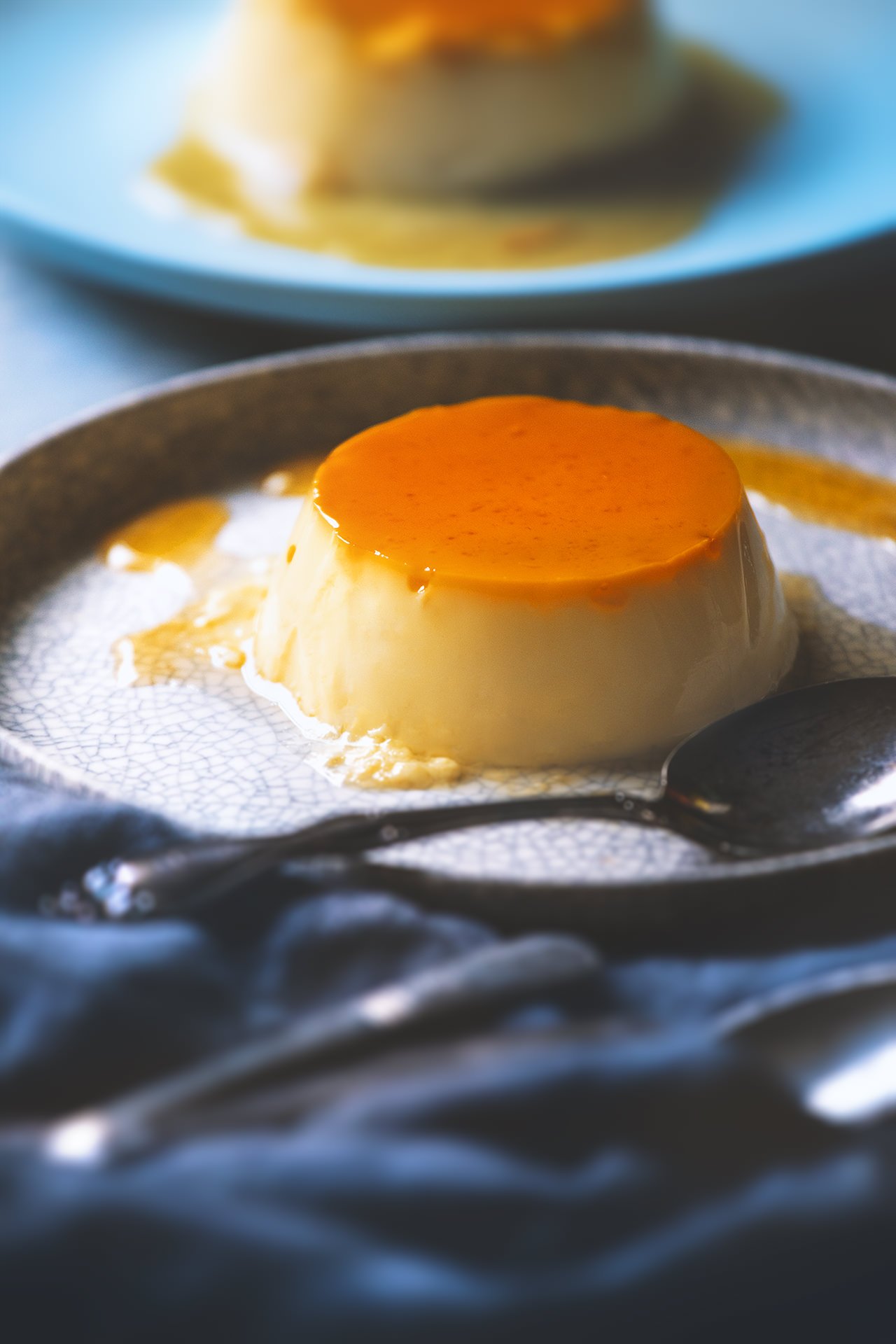 I'd be lying if I told you that I remembered the village of origin, but what I can tell you is that those were two of the most heavenly sips of alcohol I'd ever tasted. We were both already tequila drinkers, albeit inexperienced, so to taste something so familiar, yet also so intensely rich and smoky was truly a game changer at the time. There's no doubt it sits on my Mt. Rushmore of alcoholic spirits (whatever the heck that means). Fast forward to today, mezcal continues to be my friend's drink of choice; ever since that fortuitous day at the bar. And, it just so happens that said friend also obsesses over flan (and all things custard for that matter). So for his birthday last month, Audrey and I made it our mission to combine these two loves into one heavenly bite. Neither the orange, nor the mezcal are overpowering here. Rather, the subtle pop of bright citrus perfectly compliments the smoky undertone of mezcal.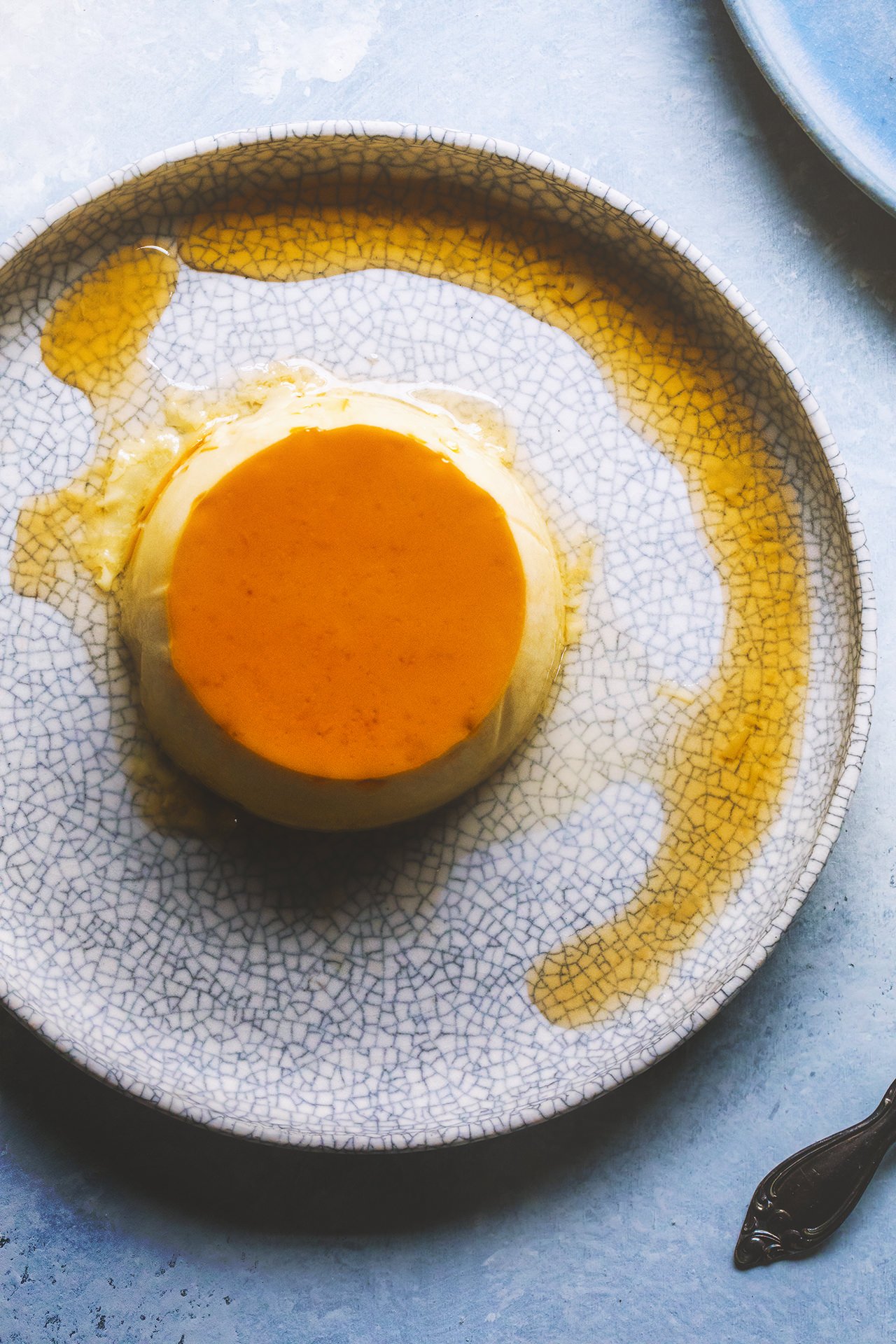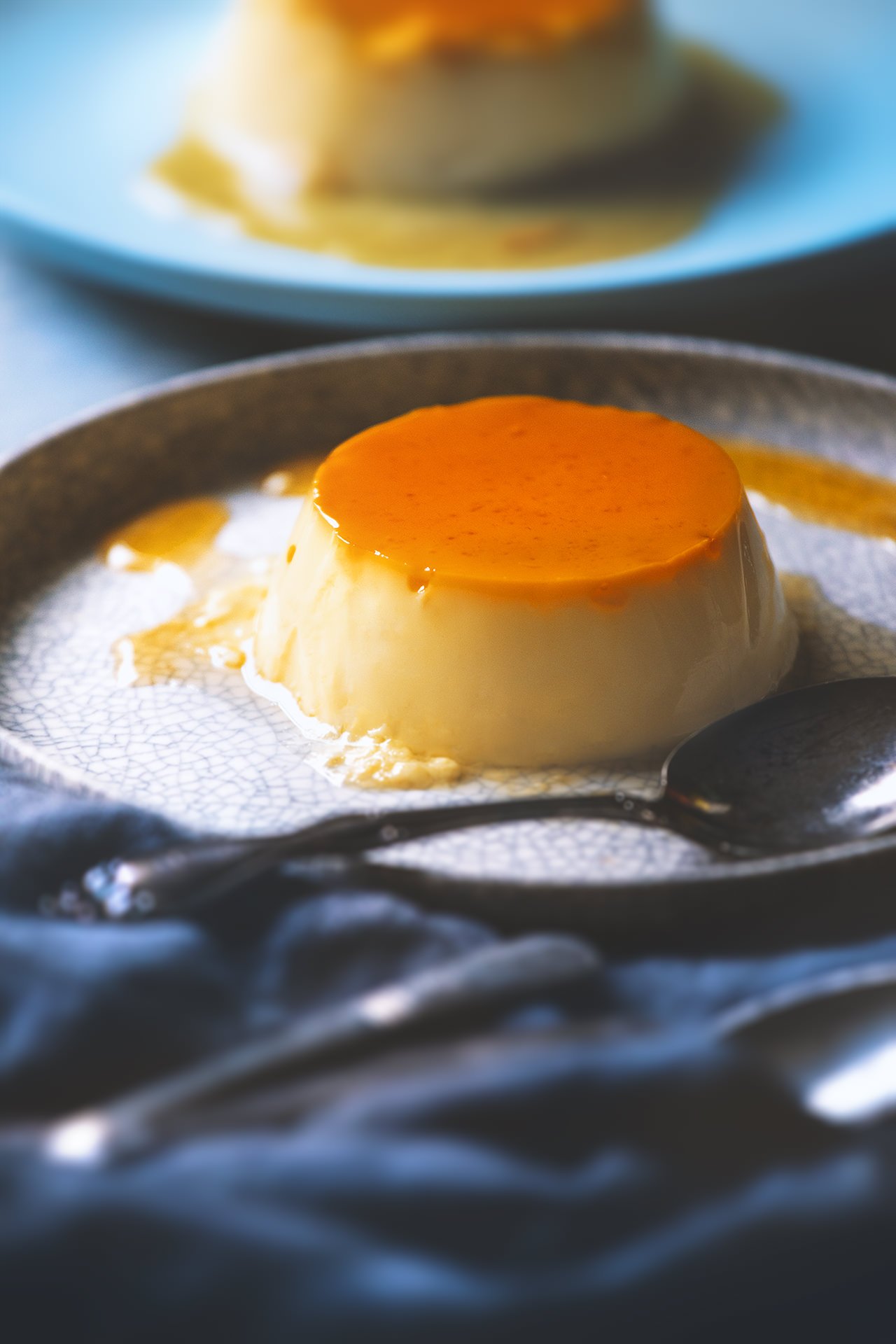 INSTRUCTIONS
Combine 1/4 cup water and 3/4 cup sugar in heavy saucepan and place over medium-high heat without stirring.  Let come to a boil and watch carefully for the color to change, swirling gently as needed if the sugar isn't cooking evenly.  When medium golden brown in color, off the heat and very slowly and carefully pour in the mezcal [seriously, only add just a few drips at a time while whisking, as it will will bubble intensely and create a very hot steam], whisking until the bubbling stops.  Immediately pour caramel into ramekins, distributing evenly.  Set aside.

Warm milk and cream together over medium-low heat until steaming but not boiling.  Off heat and add 3/4 cup sugar, vanilla, orange zest, and salt.  Stir until sugar is dissolved.  Set aside until lukewarm.

Whisk eggs and egg yolks together in a medium bowl. Slowly whisk in lukewarm milk until combined.  Strain through fine mesh strainer and divide evenly into ramekins on top of the caramel.

Preheat oven to 350° F. Separately, boil water. Place roasting pan in the oven and then place your ramekins in it. Pour your boiling water around the ramekins, letting the water come about half way up the sides. Cover the whole roasting pan with aluminum foil. Bake in the water bath for 35-40 minutes, or until just set. Remove from oven and let cool for at least an hour. Once cooled, run a knife around the edge of the ramekin to release the flan, then top with a plate, invert and serve!
(images by HonestlyYUM)