I have made this soup more times than I can count. Since we've been having a cold winter in LA, this soup has been on heavy rotation (in fact, I made a large pot of it this Sunday and Clay and I already finished it today!). There are a lot of things I love about this soup but perhaps my favorite is the whole head of garlic with cloves kept whole and simmered low and slow so that they still keep their shape but melt in your mouth. Don't be scared of a whole head of garlic, cooked down in this soup it doesn't have any of that fire-y garlic kick but adds a muted sweet garlic flavor. This soup is VERY forgiving– feel like a heartier soup? Add two cans of beans instead of one. Only have ground chicken, you could certainly use ground chicken (although, I highly recommend using pork since it just tastes better). Feel like making it spicier? Add 5 chiles de arbol instead of 3. It's your soup and your journey– I hope you enjoy it as much as I do!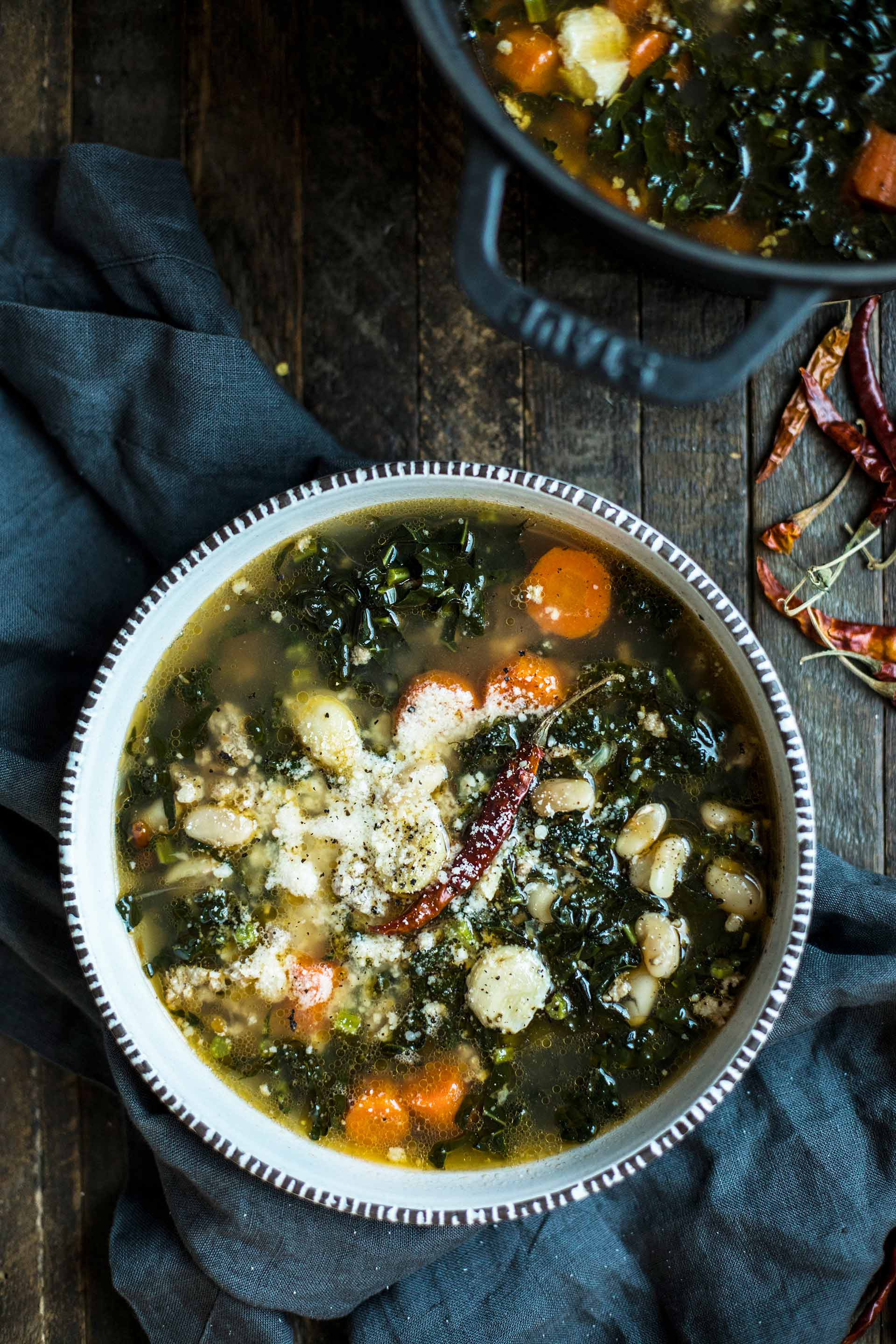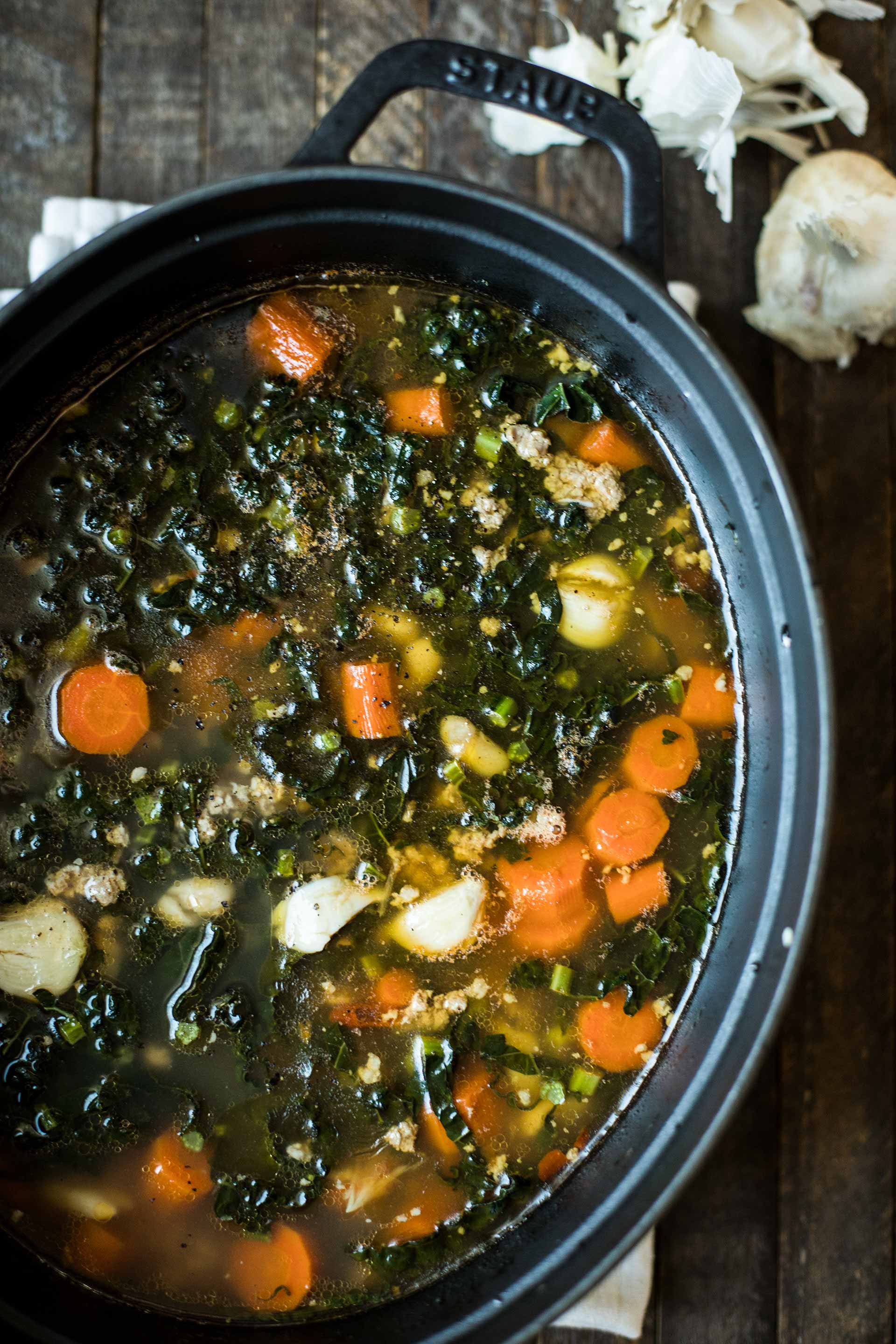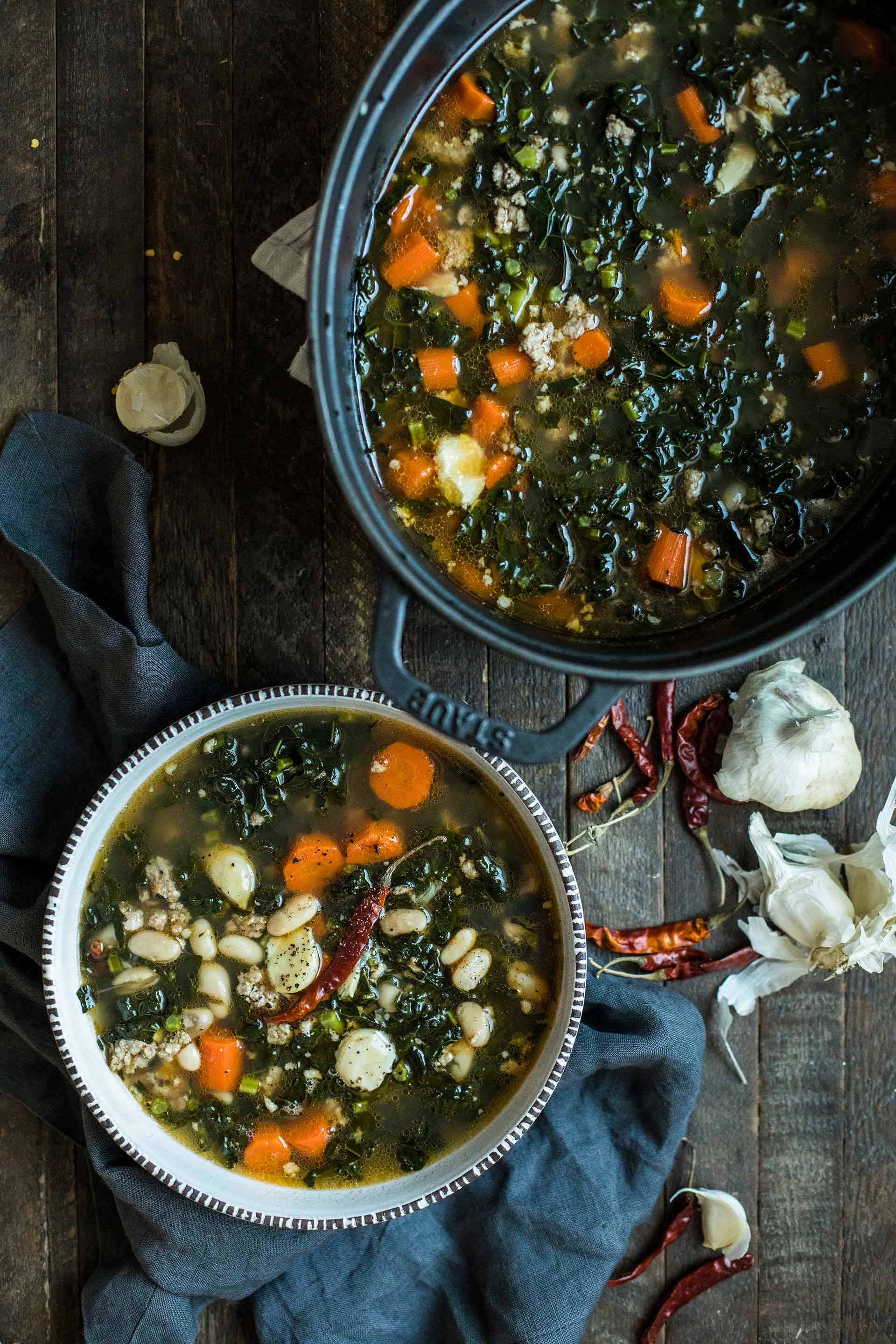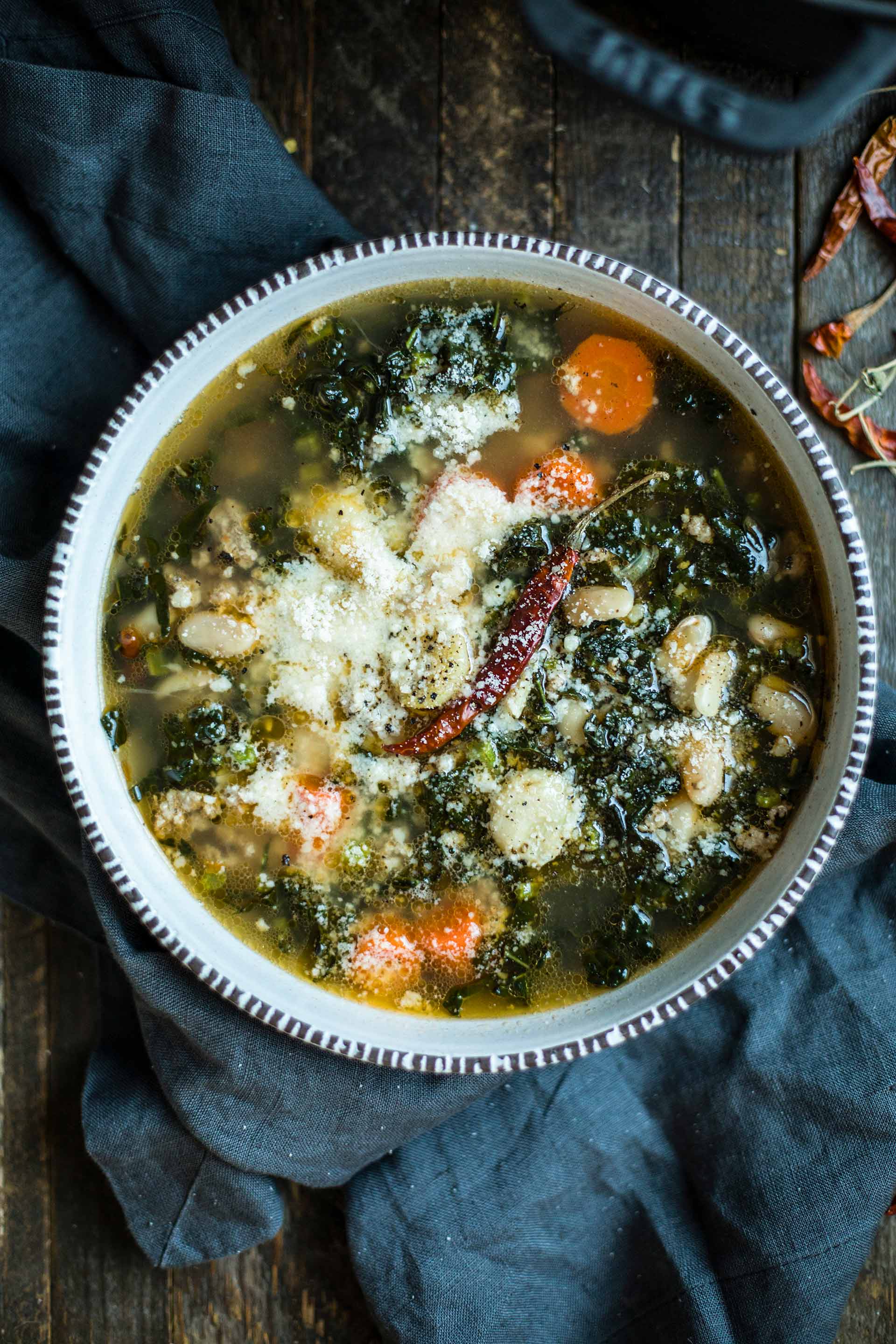 SPICY WHITE BEAN GARLIC & KALE SOUP

Ingredients:

1.5 pounds ground pork
48 ounces (6-cups) of chicken stock
4 carrots, peeled
1 head of garlic, cloves peeled
5 roma tomatoes
1 15-oz. can of white beans, strained
1 large bundle of lacinto kale, thinly sliced
1 small onion, finely diced
3 tablespoons of tomato paste
3 dried chiles de arbol
extra virgin olive oil
sea and kosher salt
freshly ground black pepper
2 cups of water
grated parmesan (optional)

Directions:

Boil a medium pot of water and score the tomato skin lengthwise. Place tomatoes in the water and boil for 2-3 minutes until the skins begin to split. Strain tomatoes and once they're cool enough to handle, peel off the skins. Roughly chop and reserve for the soup.
In a large pot, heat a couple tablespoons of extra virgin olive oil over medium-high heat and add pork. Using a wood spoon break the pork into small pieces and cook until lightly brown adding a couple pinches of salt.
Transfer the pork to a plate, pouring our any juices onto the plate as well.
Add another couple tablespoons of olive oil and sautee the onions and a large pinch of salt for about 5-7 minutes until they start to turn translucent. Chop carrots into thick coins and add to the onions. Add the whole cloves of garlic and sautee together for another 5 minutes. Add the tomato paste and cook for a couple more minutes stirring.
Add the diced tomatoes and pork (with juices) back to the pot and add the chicken stock. Crumble the chiles with your fingers (discarding the stems) and add to the soup. Be careful to use gloves or to not touch your eyes for a few hours after! Add an additional 2 cups of water. Cover and simmer on very low heat for 30 minutes. Skim fat and scum off the top of the soup occasionally.
Add the beans and kale and gently stir to combine. Place the lid back on and keep the heat on low and cook for another 10-15 minutes until kale is fully cooked and soft. Salt and pepper to taste.
Optional: serve with grated parmesan.