I owe every ounce of my obsession with Persian food to my best friend's mom, who is one of the most amazing cooks I've ever met. She introduced me to a world of saffron, dried limes, sumac, kashk, rose water . . . so many ingredients and spices that I just love. I'm sure everyone says their mom is the best cook, but in this case, Noushi is really something else. On Friday nights, she opens her house to anyone and everyone for an Persian food feast– sometimes she'll whip up dinner for 30 some people. We typically gorge ourselves on the piles of fresh sangak and all the French feta, yogurt, fresh herbs and fruits that are beautifully displayed in her kitchen. But, we always somehow manage to squeeze down the mounds of stews and perfectly jeweled rice for dinner. If you haven't noticed on YUM, we're pretty big fans  cheese platters and I thought why not do change up the classic western cheese platter for this Persian one? It is so so good and easy to create– the key is having fresh herbs and bread (Tip, if you're in Orange County, you are in luck because Wholesome Choice makes fresh sangak, so warm, fresh and chewy, you're only allowed to buy two at a time!) You may not be able to find all these ingredients as some are pretty unique, like French feta and lemon basil, but you can create your own riff on this with whatever you can find. The only two things I insist on are French feta (yes, not all feta is Greek and there is a huge difference) and using whole fat yogurt in the cucumber-mint yogurt. I hope you become just as obsessed with these flavors as much as I am!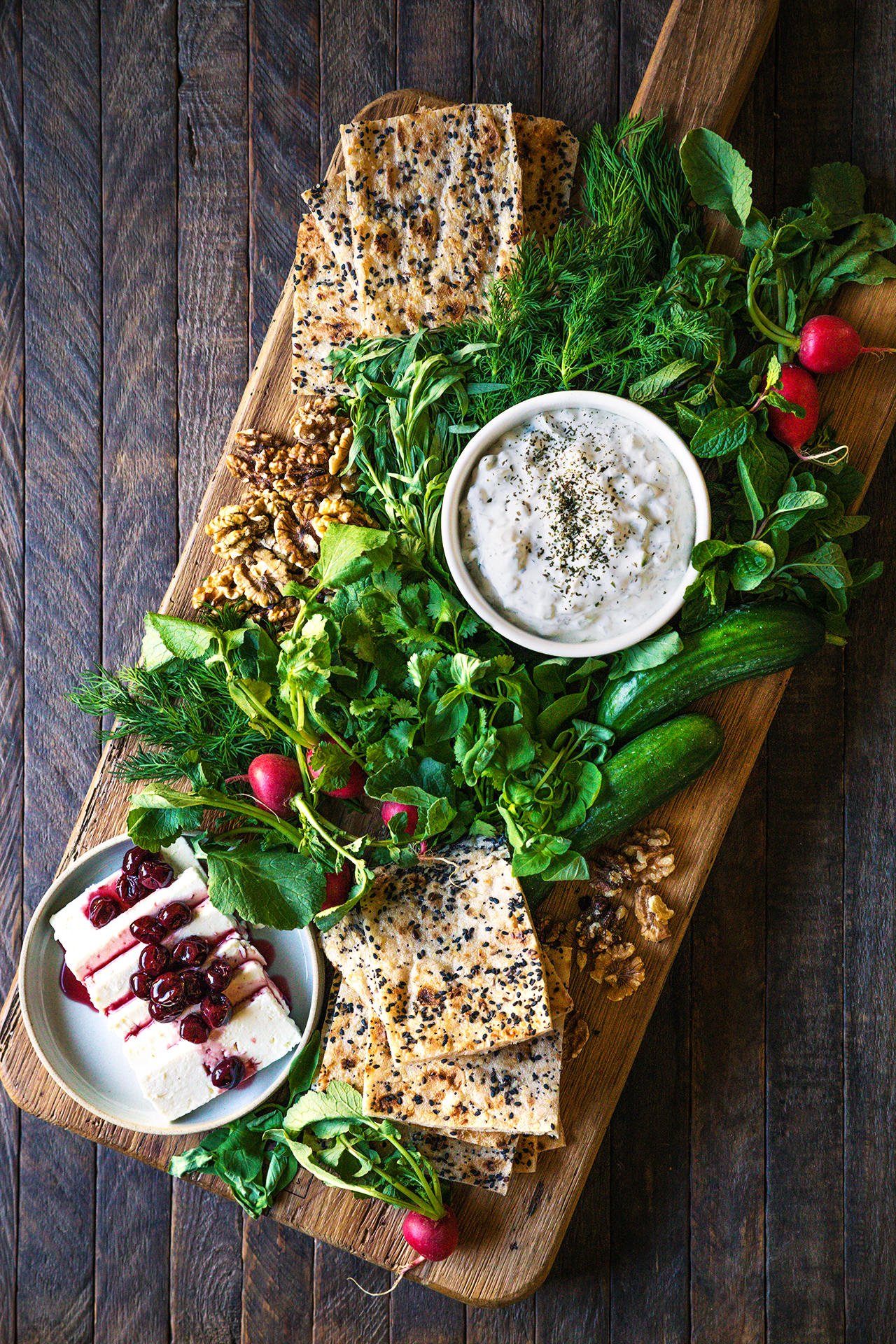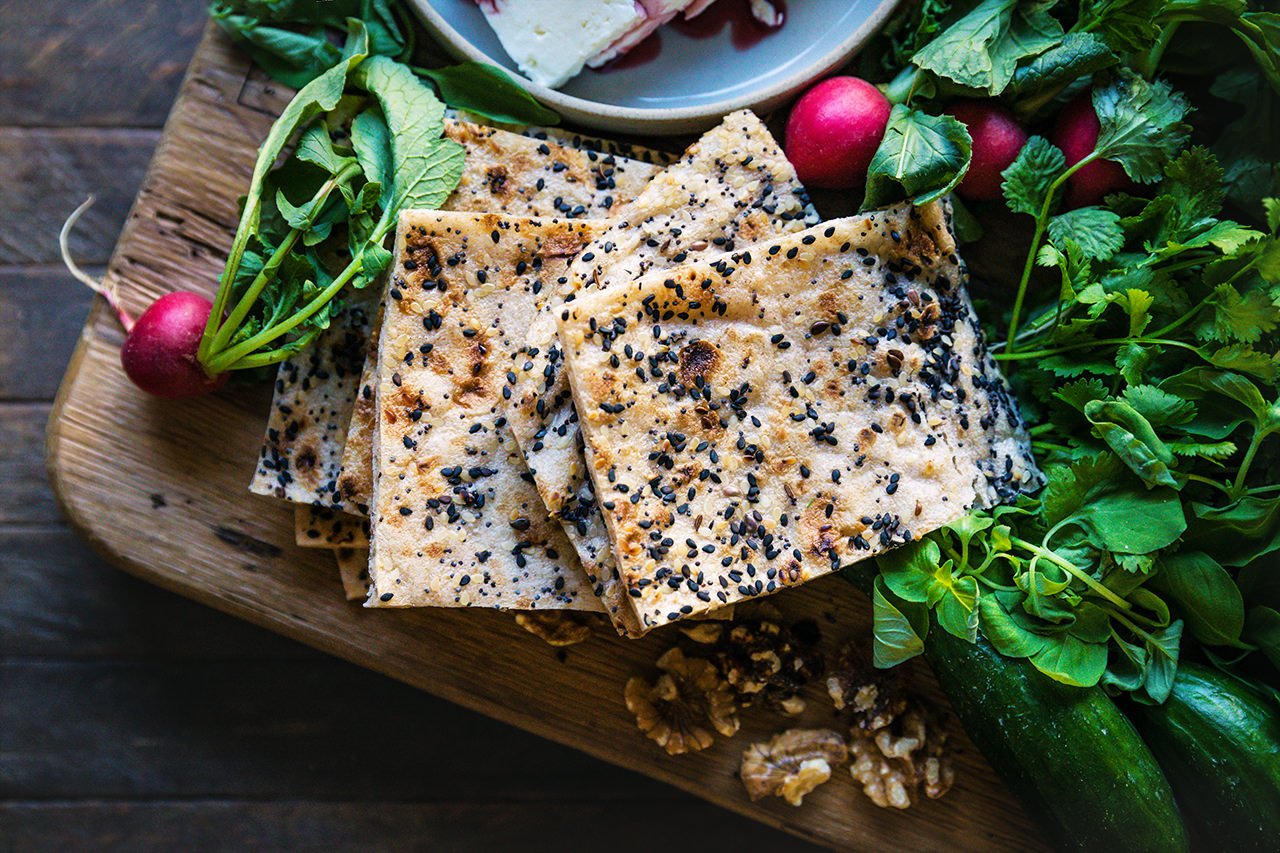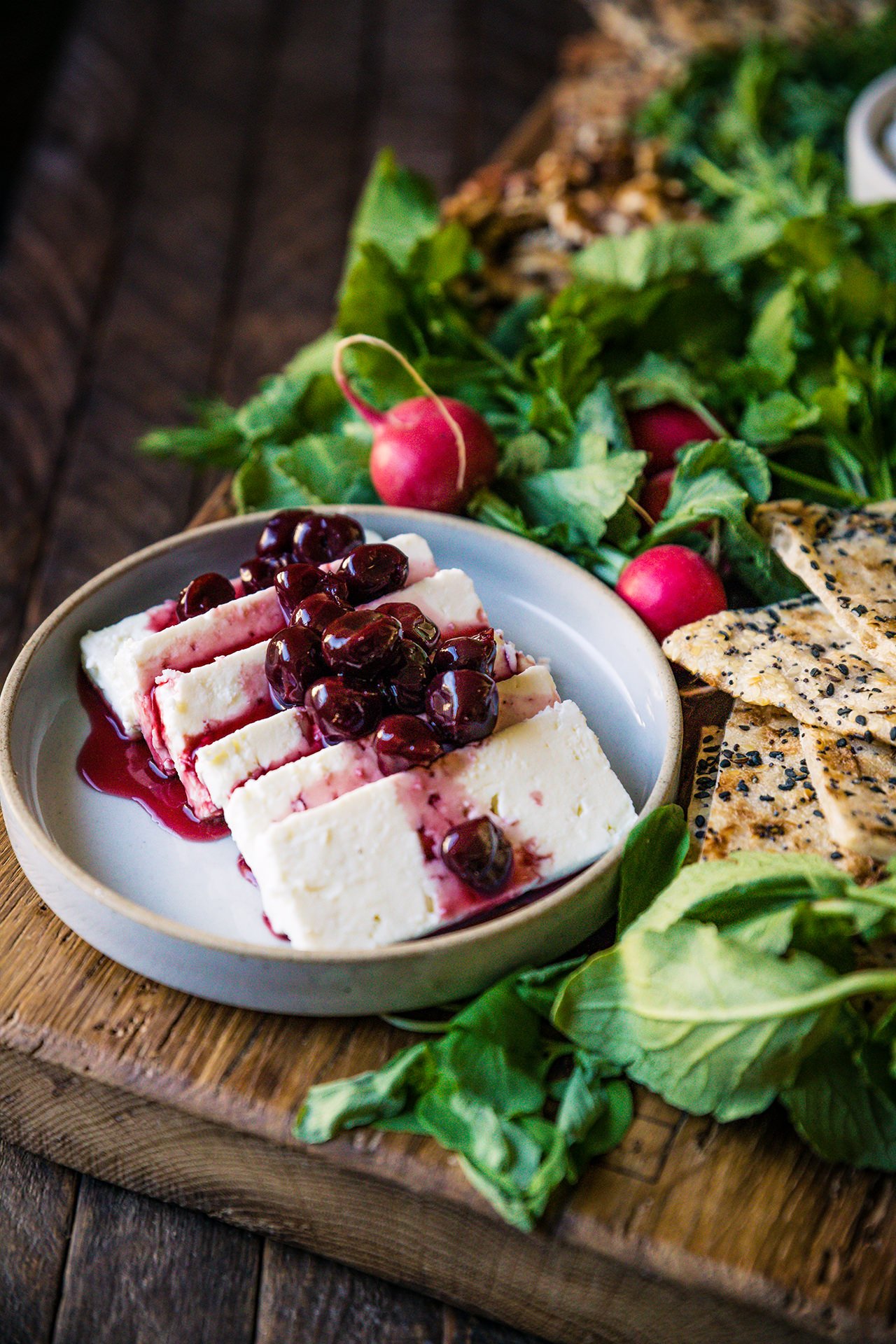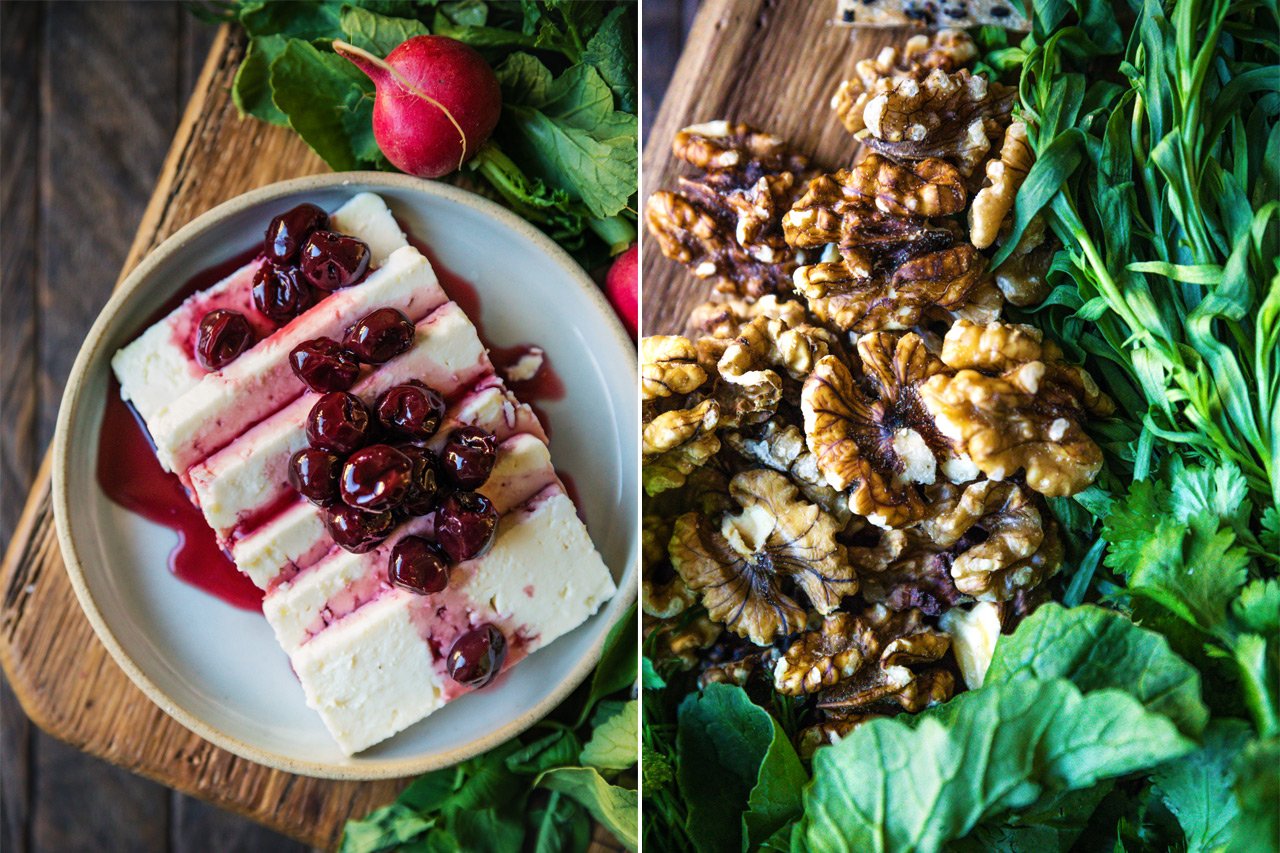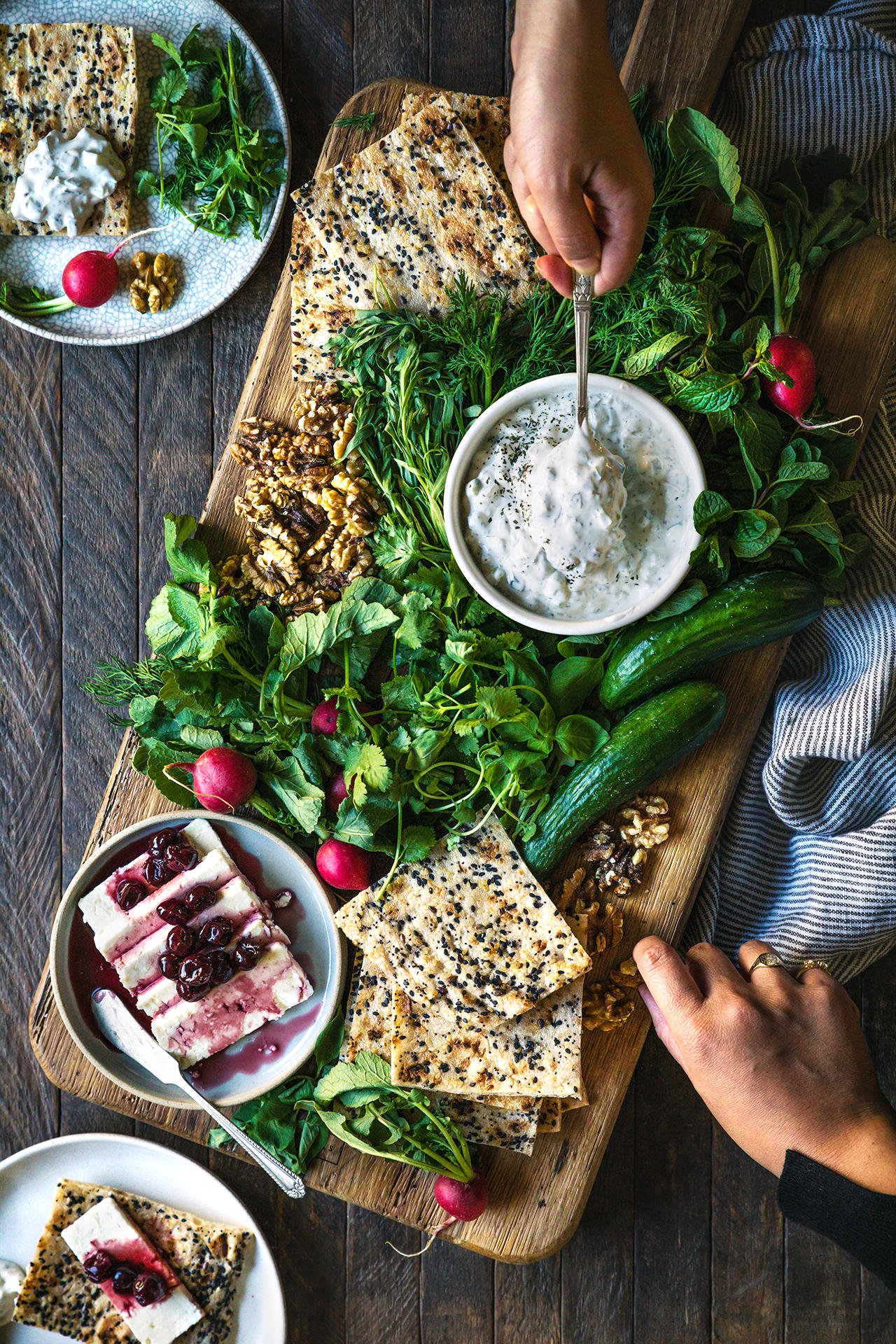 PERSIAN HERB & CHEESE PLATTER

Ingredients:

small bundles of fresh herbs: dill, tarragon, mint, cilantro, lemon basil, Persian chives or green onions (with top greens trimmed off)
Radishes
French feta
Fresh sangak, nan-e barbari or even lavash if you're having a hard time finding Persian bread.
Persian cucumbers
Walnuts
Mast-o-khiar (cucumber mint yogurt) (see below for recipe)

Ingredients for Mast-o-Khiar:

2 Persian cucumbers or 1/2 English cucumber
1 1/2 tablespoons of dried mint
1 1/2 cups of labneh or full fat thick Greek yogurt if you can't find labneh
Sea or kosher salt

Directions:

Toast the bread lightly and arrange bundles of herbs on a large platter. Add bowls of the yogurt and French feta and add walnuts and radishes and tuck in whole Persian cucumbers.
To make the cucumber-mint yogurt, dice 2 Persian cucumbers by slicing the cucumbers at an angle about 1/4 inch thick and then stack them and cut them into 1/4 inch match sticks. Then cut them across so you have small cubes.
Combine the cucumbers, mint and labneh and mix. Add a pinch of salt and stir to combine.
(images by HonestlyYUM)