Have you ever had an, "I have to make this" moment? You know, when you're out to eat and you order something new. You casually take that first bite, freeze, and you think to yourself, "OMG . . . that's delicious! I MUST figure out how to make this!" And there you sit, deep in thought, pondering food-relevant expletives, as you slowly begin to chew. Perhaps you're sitting alone, or like me, out for lunch with your 2-year-old daughter, who's now staring at you like you're some sort of possessed stranger.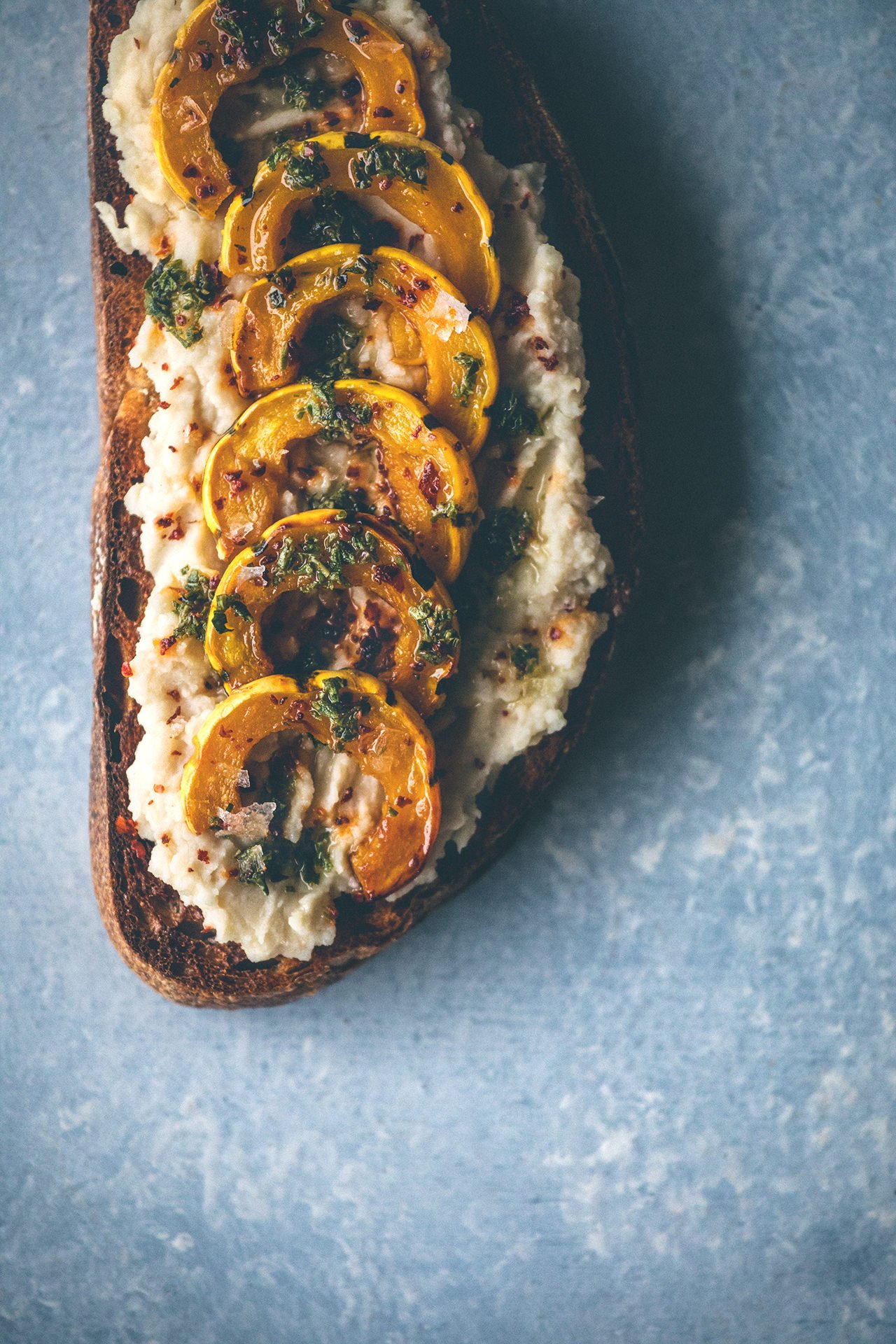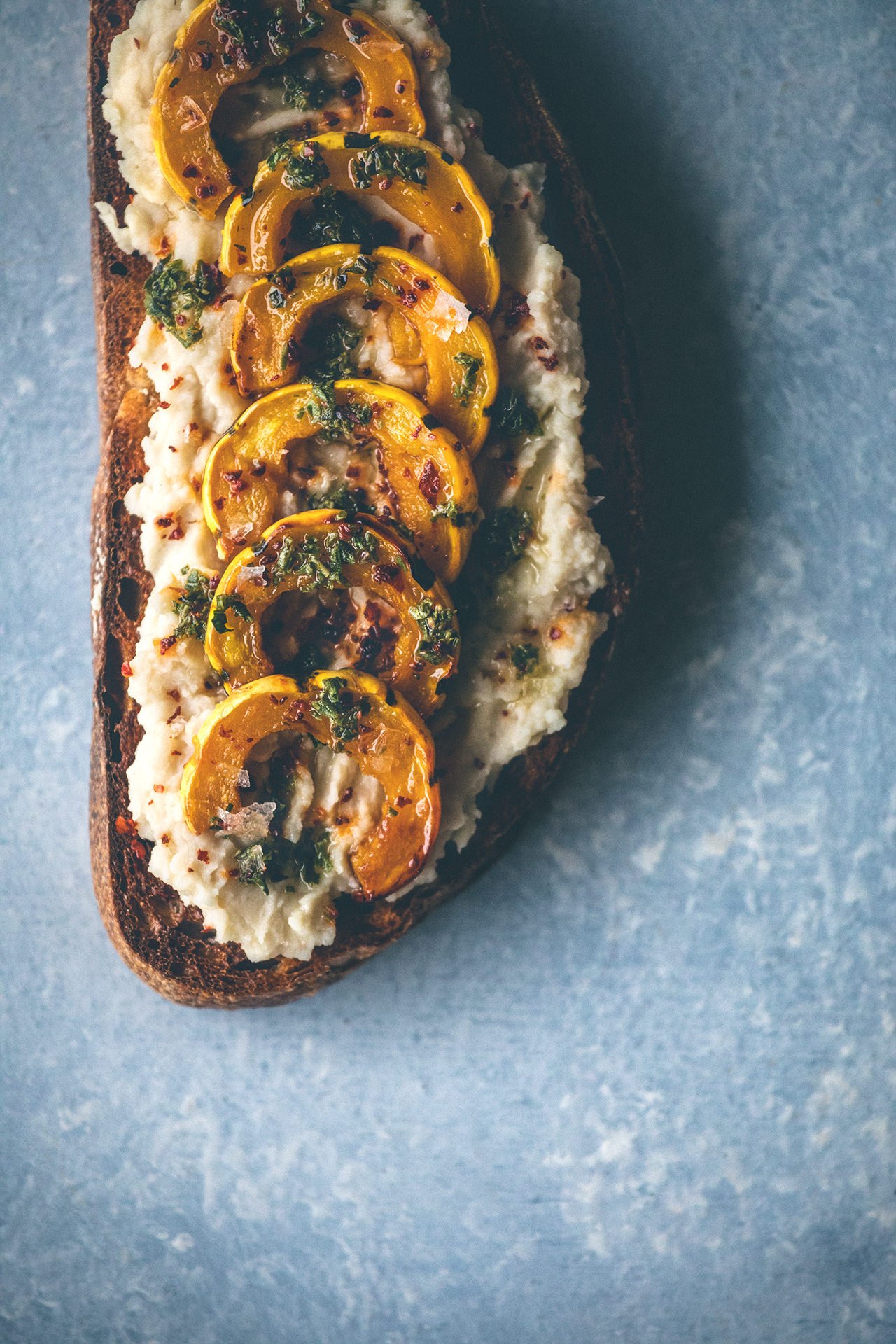 Yep, this all happened to me just a few weeks ago when I first tried the butter bean and roasted Delicata squash toast at Bartavelle Cafe. Avocado toast is out of season, so I thought I'd give this one a try. Boy am I happy I did!! It's one of those dishes that tickles your pallet a dozen different ways – the heartiness of the butter bean, the sweetness of squash, the zing of the lemon, the savoriness of the marjoram oil, the spice of the chili flakes, all dancing together with each bite atop a thick, crispy slice of levain. Ahh, I love it! Here's my attempt at recreating this magical toast. I tried my best to do it justice, but I still highly recommend you try the original if you find yourself in Berkeley. Oh, and make sure you invite me along if you do! 😉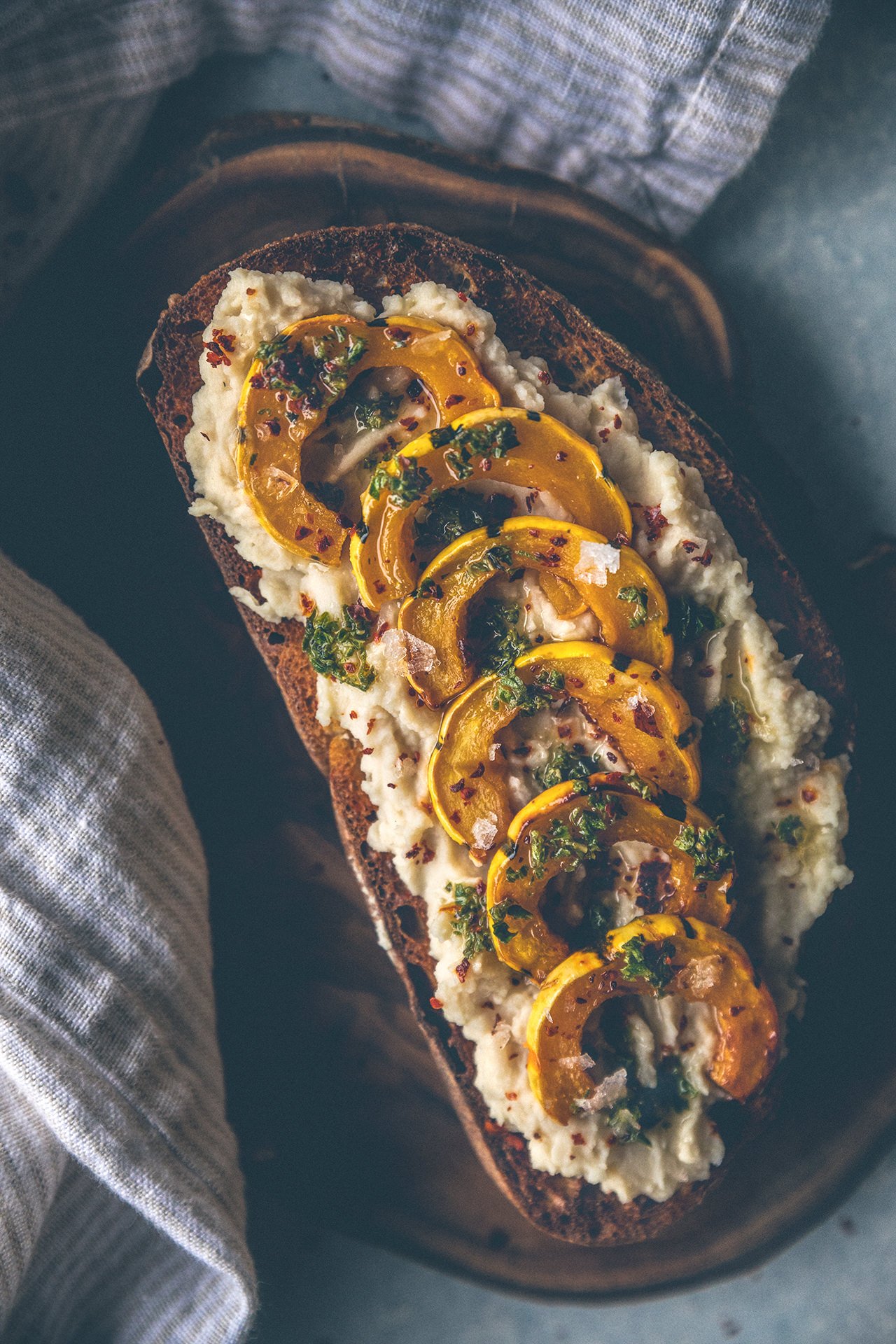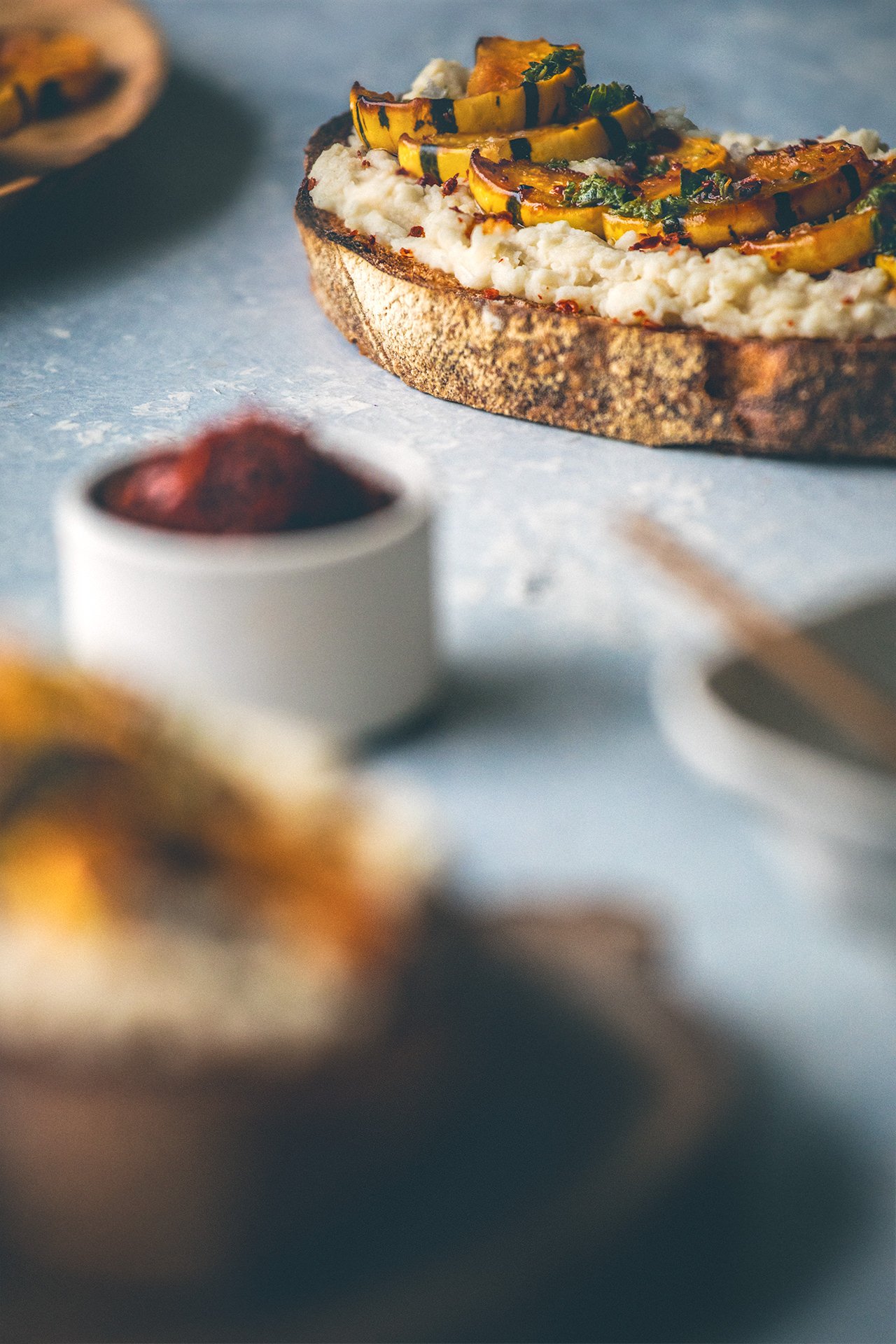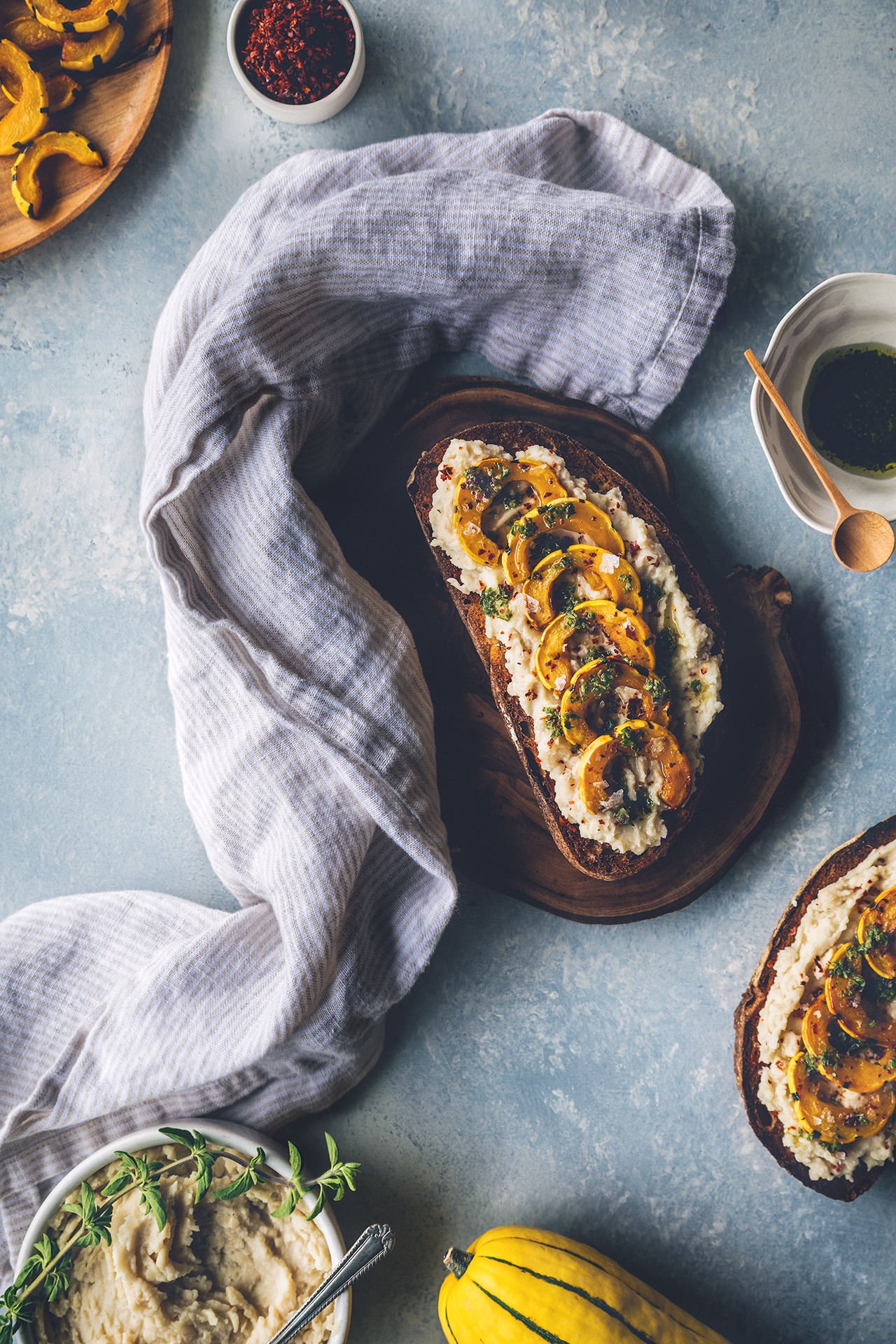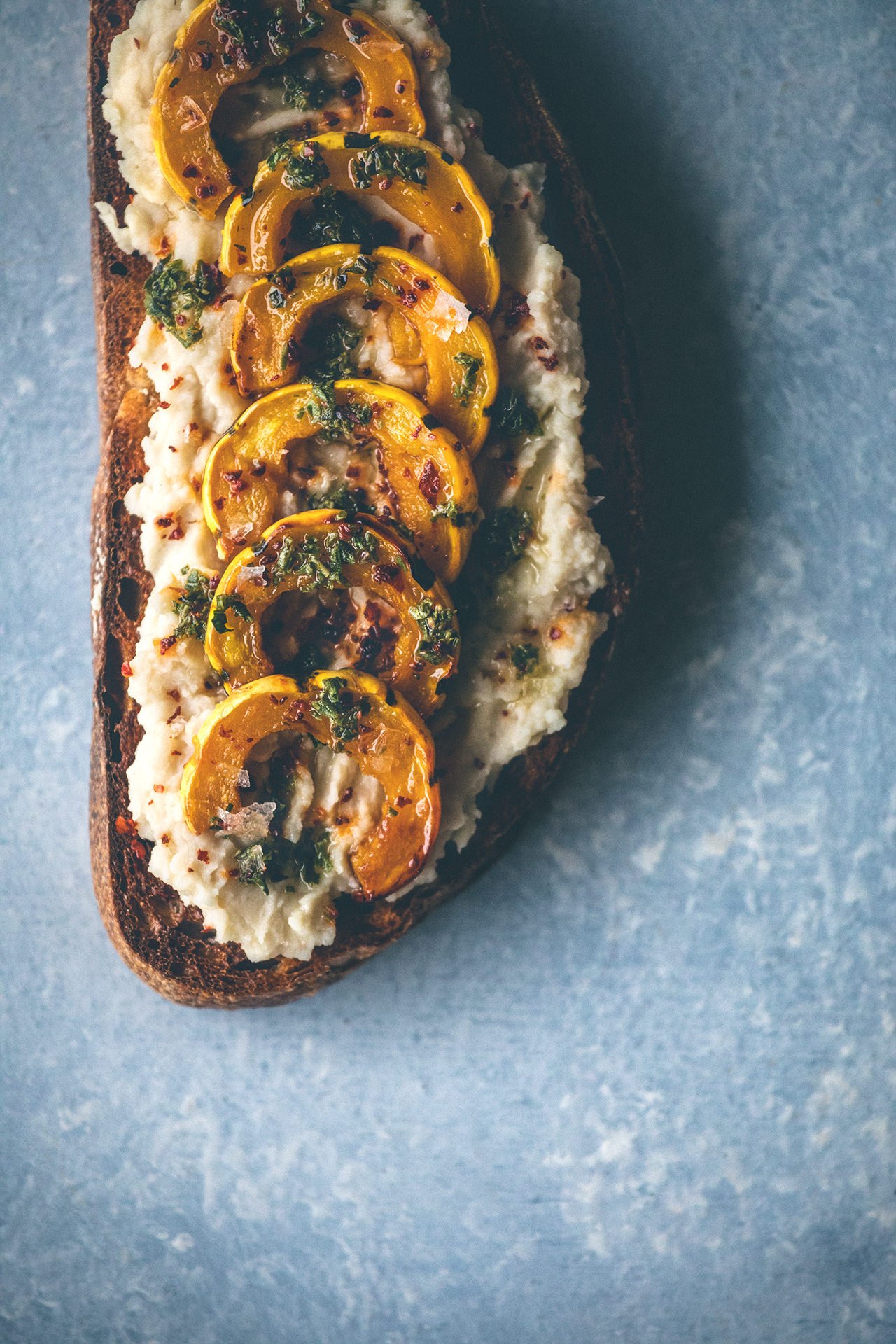 INSTRUCTIONS
Preheat the oven to 400° F.

In a mixing bowl, lightly toss squash slices with a bit of olive oil and salt. Spread evenly on a cookie sheet and roast in the oven for about 25 minutes, flipping about halfway through, until golden brown.

Meanwhile, add butter beans, 1 tablespoon of olive oil, one tablespoon of water, and 1/4 teaspoon of salt into a food processor, and process until smooth. Add more water if necessary, a teaspoon at a time, until you reach a smooth and creamy consistency. Set aside.

In a small bowl whisk together the minced oregano with the lemon juice, 2 tablespoons of olive oil, and a small pinch of salt. Set aside.

Toast the bread. I used the broiler on my oven to get a nice char after the squash was done roasting, however, you can use a toaster if preferred.

Assemble the toast: spread a layer of the butter bean puree on the toasted bread, top with roasted squash, then drizzle with a hefty amount oregano oil. Sprinkle with Aleppo chili pepper flakes to taste, and top with finishing salt. Enjoy, preferably while ingredients are still warm.
(images by HonestlyYUM)