2017, I'm ready for ya! After spending the last two weeks plagued with various illnesses, I'm finally ready for a fresh start to the year. I spent the weekend re-organizing my bedroom closet and kitchen pantry (something I've put off for way too long) and I've been planning healthy meals that I've promised myself I'll sustain past January 31st. If you're looking for a hearty salad full of winter seasonal fruits and vegetables, this salad is it. It has my favorite combination of fennel, grapefruit and avocados and salmon, radishes and mint. I used Bibb lettuce here, but you could use any salad mix or lettuce you prefer. I've made this before with baby kale and either work great. If you want to make this salad even heartier, you could add cooked grains to it like quinoa (I'm a big fan of adding grains to salads). The great thing about this salad is it's super flexible — so really no excuses!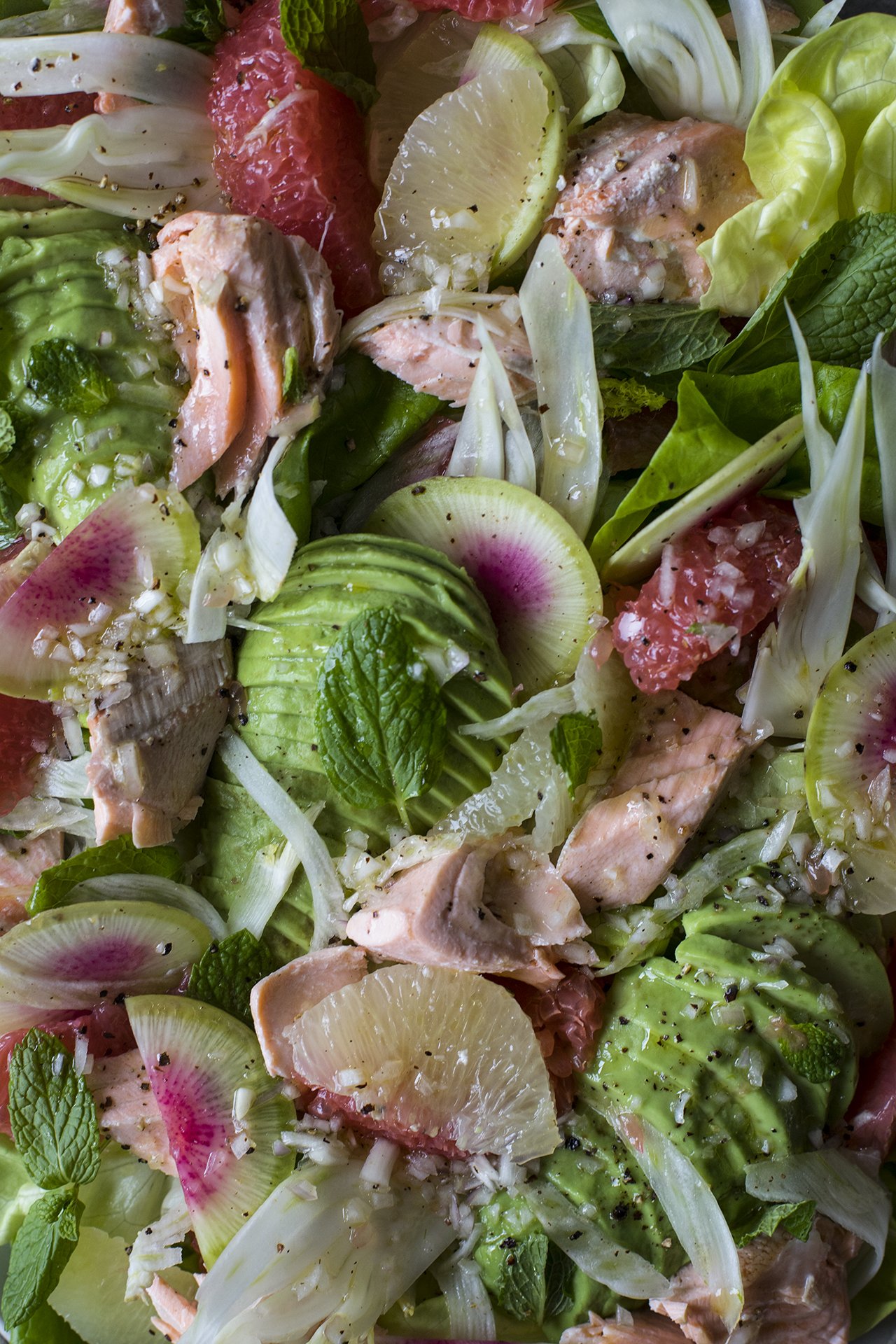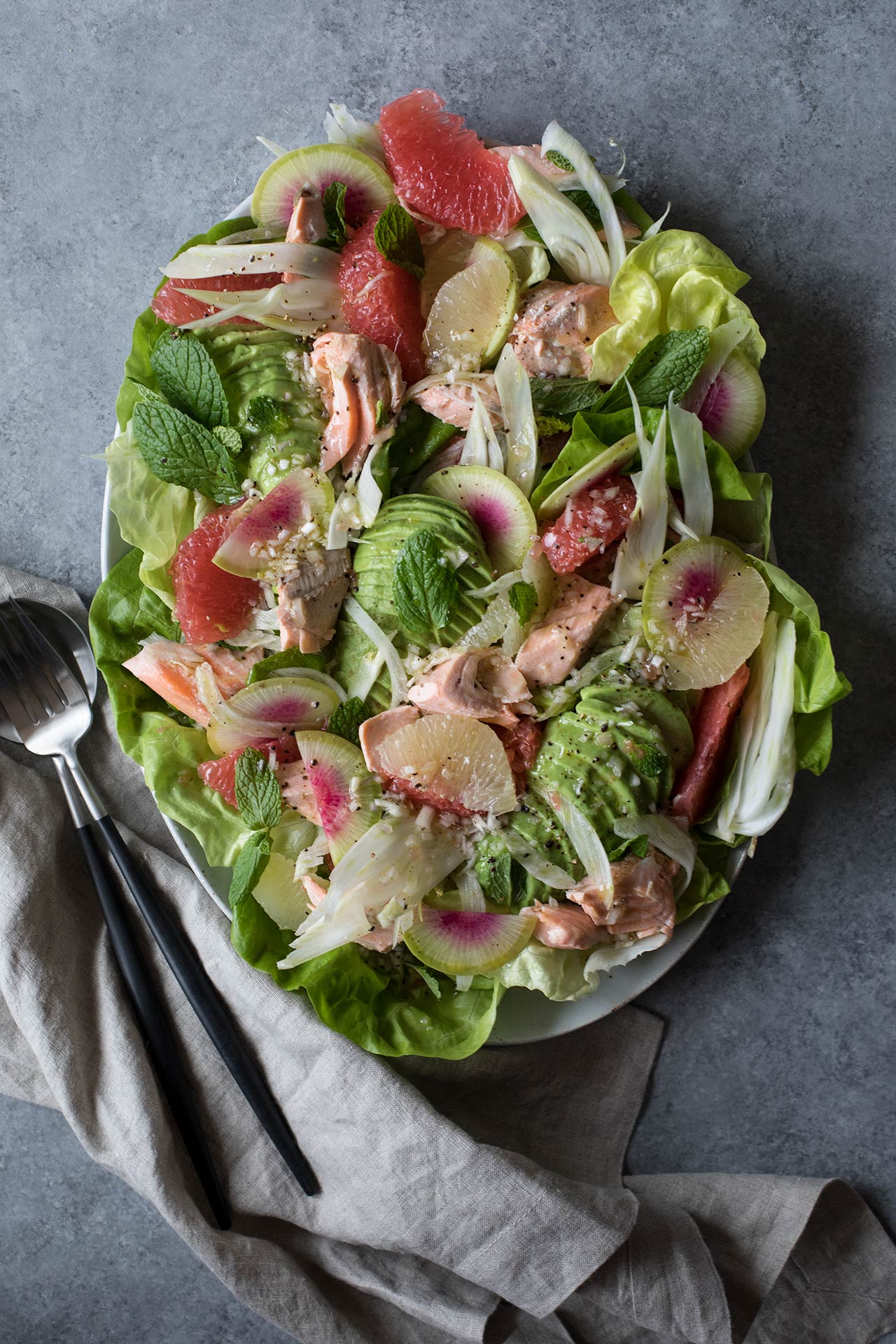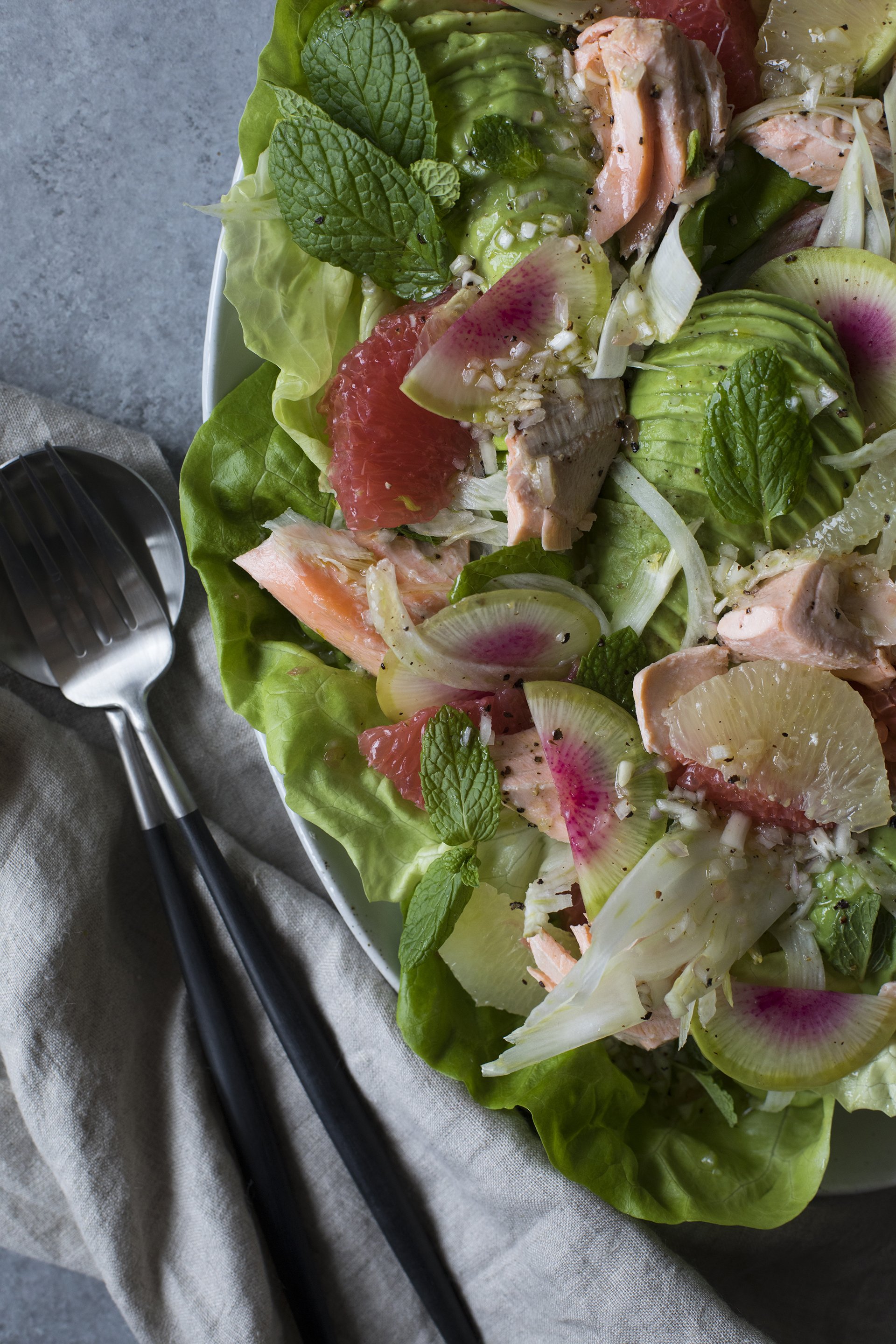 WINTER SALMON SALAD

Ingredients:

 1 1/2 pounds of salmon filet with skin on
1 bulb of fennel, thinly sliced
2 grapefruits, segmented (with a couple tablespoons of juice reserved)
2 avocados, thinly sliced
1 small bunch of mint
1 large watermelon radish or a few small radishes, thinly sliced
Bibb lettuce or any other salad mix you'd prefer
1 small shallot, minced
1 lemon, divided
extra virgin olive oil
sea salt
freshly ground black pepper

Directions:

Add about 2 inches of water to a pan and add a couple large pinches of salt and half a lemon sliced thin. Slide the salmon in skin side down. The water should just barely cover the salmon. If not, add more water. Bring water to a simmer and cook until salmon is just cooked through about 10-15 minutes, depending on how thick your salmon is. The salmon is done when it easily flakes of with a fork at the thickest part. Remove skin and flake into large pieces.
Arrange a few leaves of lettuce on a salad platter. Top with fennel, grapefruit, avocados and radishes.
To make the dressing combine the grapefruit juice with the juice of the remaining half lemon in a glass jar or bowl. Add enough olive oil so that the ratio of acid to oil is about 1:1. Add finely minced shallot a large pinch of salt and freshly ground black pepper. Shake or whisk and dress the salad with the dressing.
(images by HonestlyYUM)