My fridge is full different kinds of hot sauces from all over the world and one of my favorites is harissa, a North African chili paste made of all kinds of chili peppers with spices and herbs like coriander, caraway and garlic. Today, I've made some super spicy harissa fried chicken wings– the best part of the chicken in my opinion (i.e., best crispy skin to meat ratio) which gets doused in some harissa butter hot sauce. Once the wings are out of the fryer, I sprinkle a little smoked sea salt and crushed coriander over the wings and serve it with fresh cilantro and mint. Before you eat the wings, drizzle spoonfuls of the harissa sauce over the wings. It's like southern fried chicken meets buffalo wings in North Africa– the combination awesome. Once your mouth is on fire and you're beginning to sweat, you're gonna want to reach for something to soothe the flames, so I've made a cardamom honey milk slushie to pair with the wings. Cold milk is really the best cure for spicy food (some people think beer is, but I think carbonation makes things worse!) and this is a super ice cold milk slushie with just a touch of sweetness from the honey and fragrant cardamom (I'm having a bit of an obsession with cardamom lately). Spicy harissa chicken wings and sweet ice cold milk– I can't think of a better combination!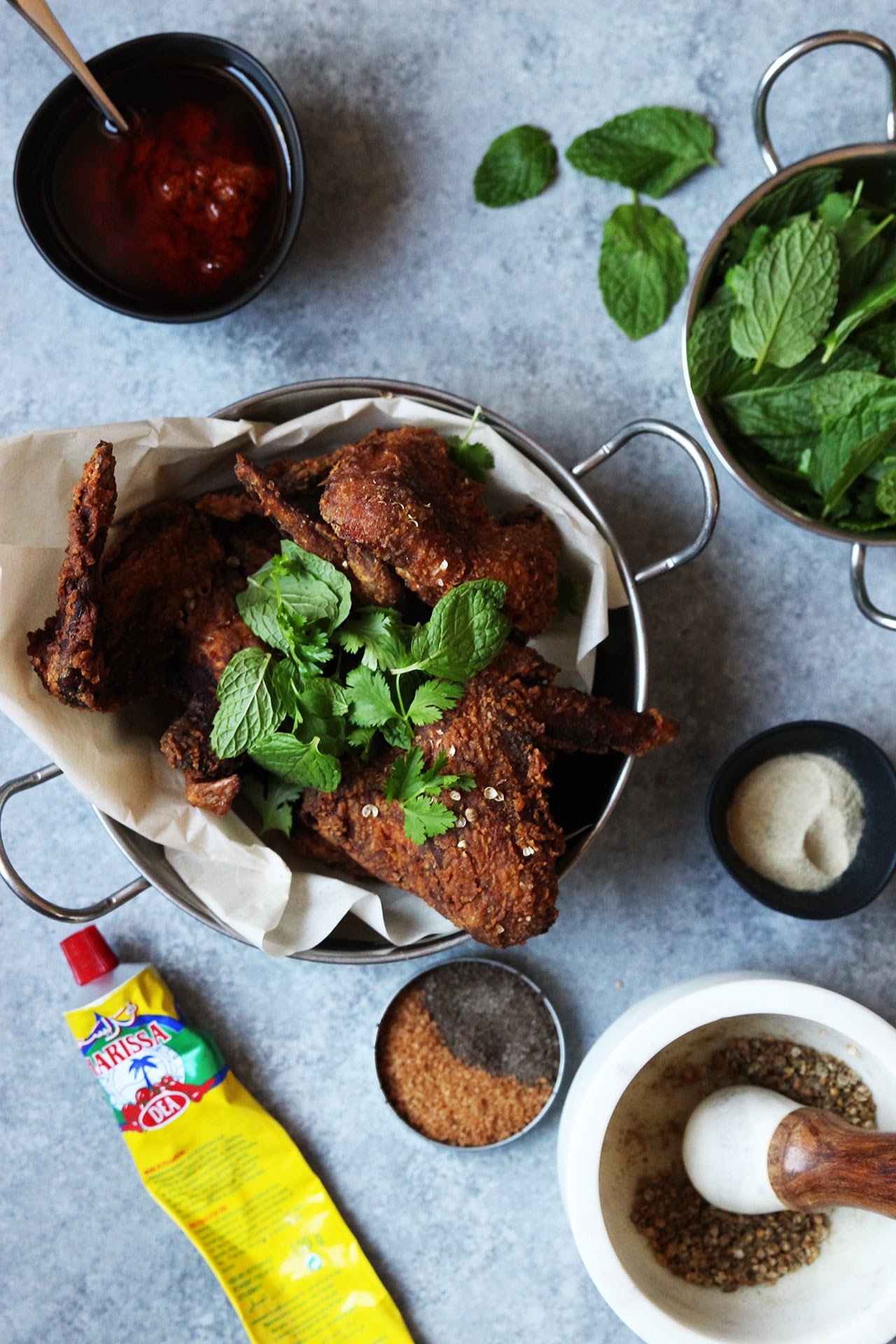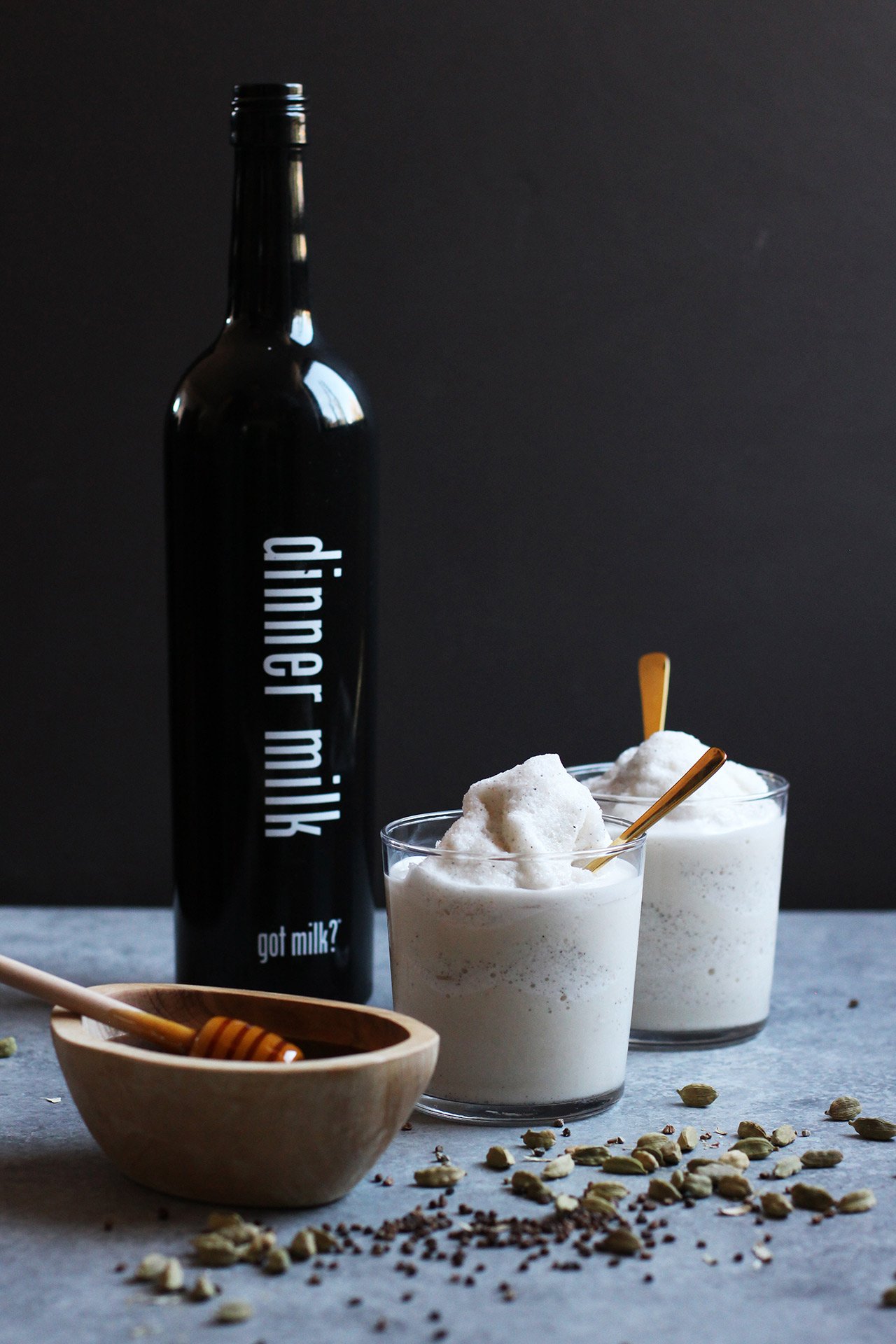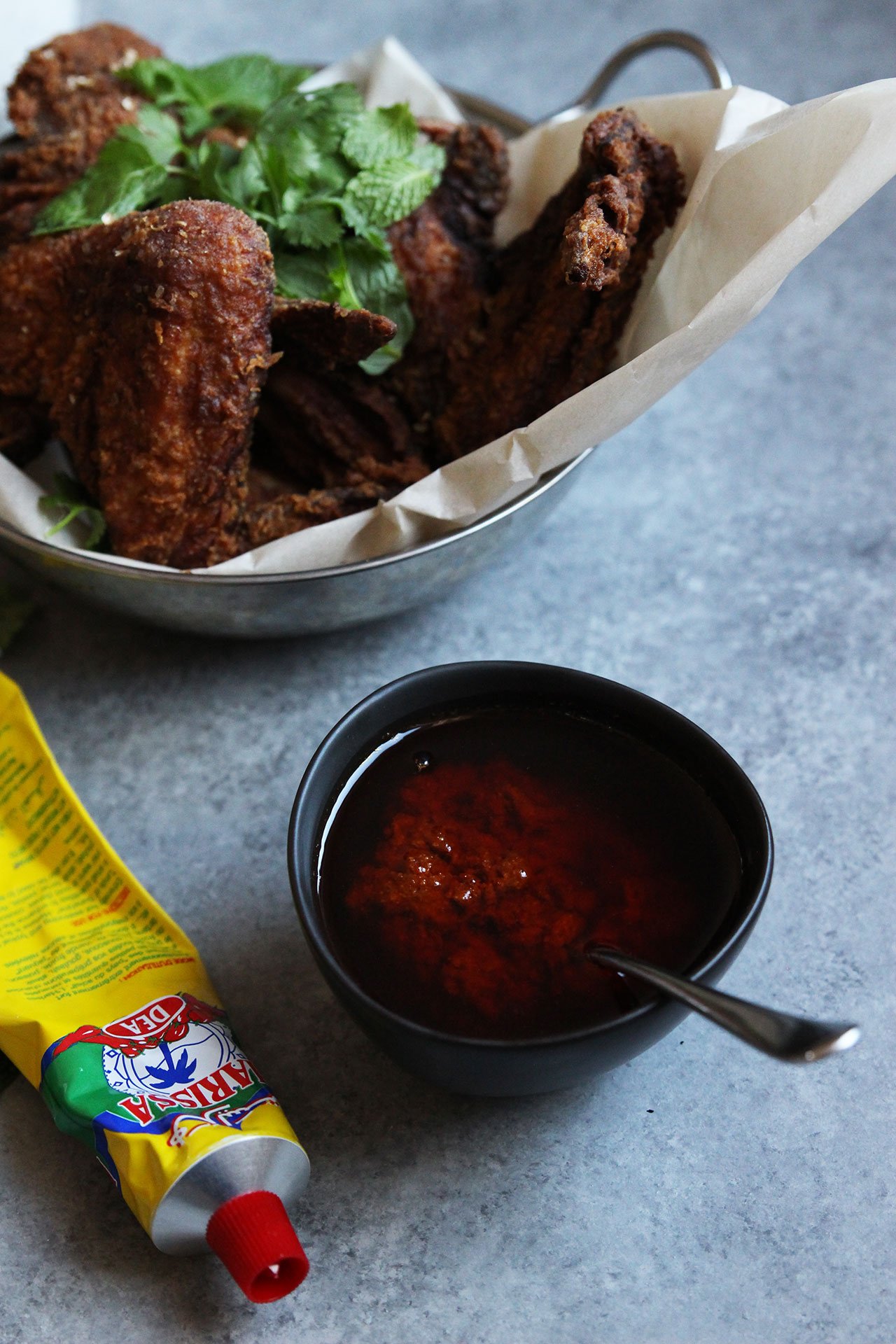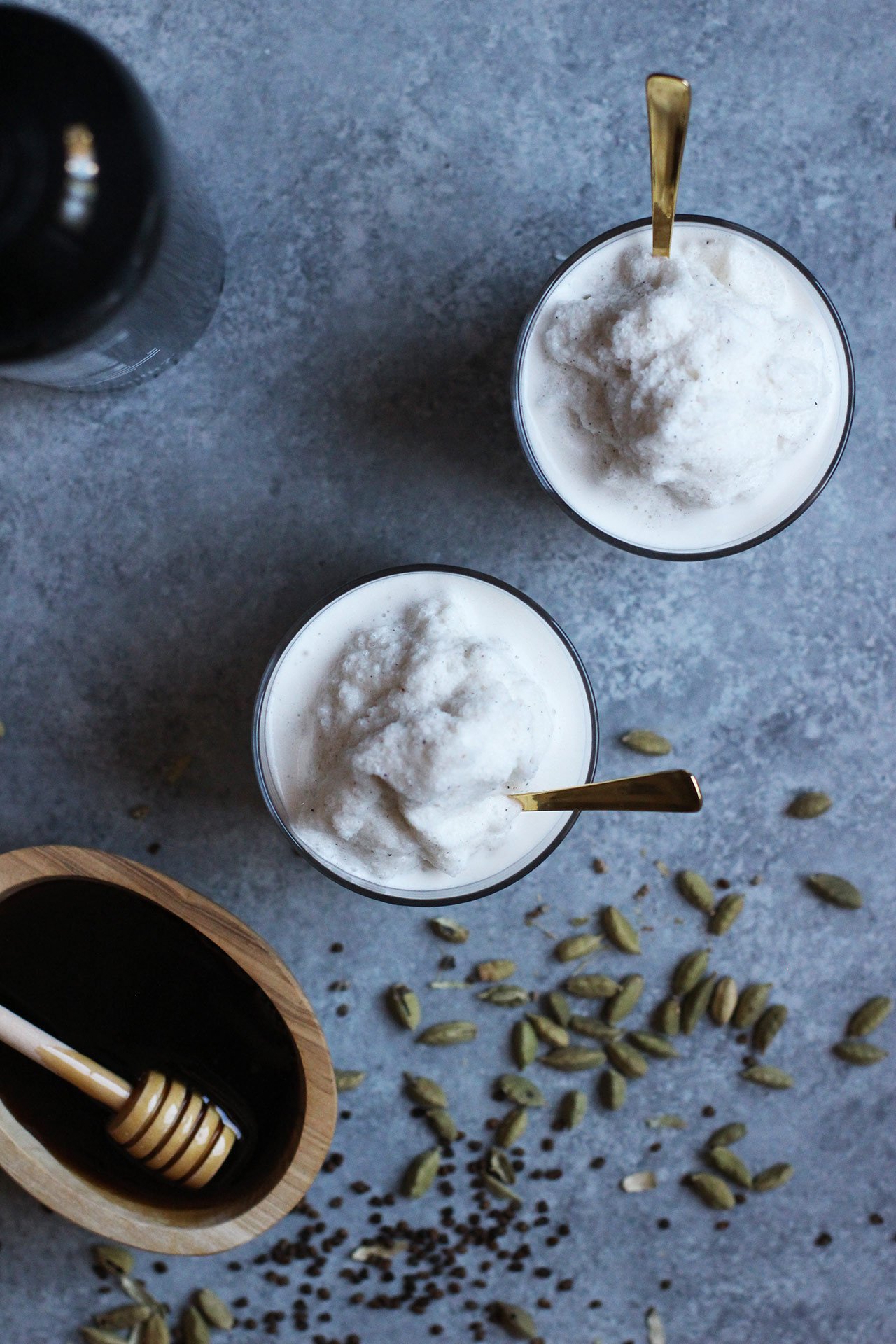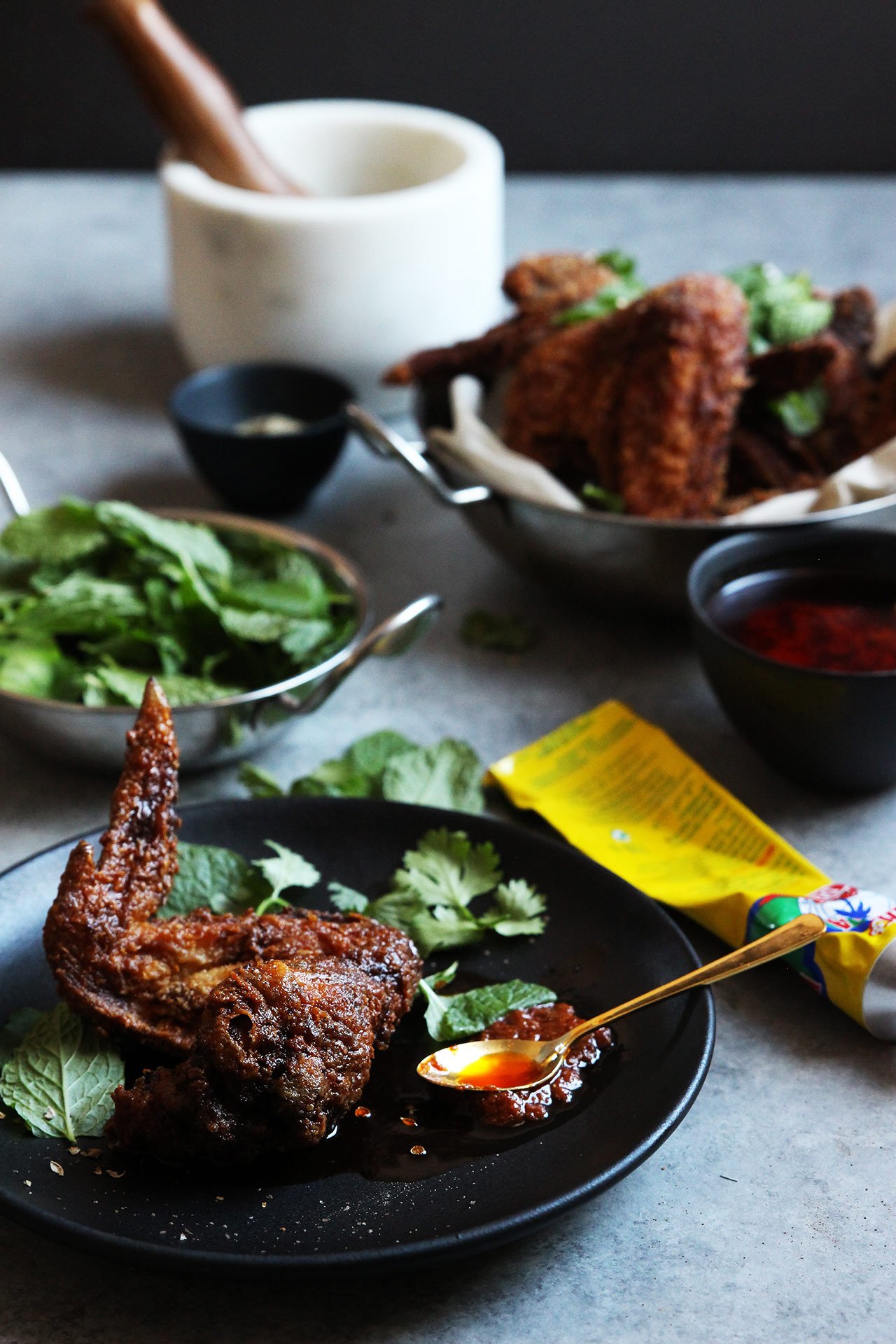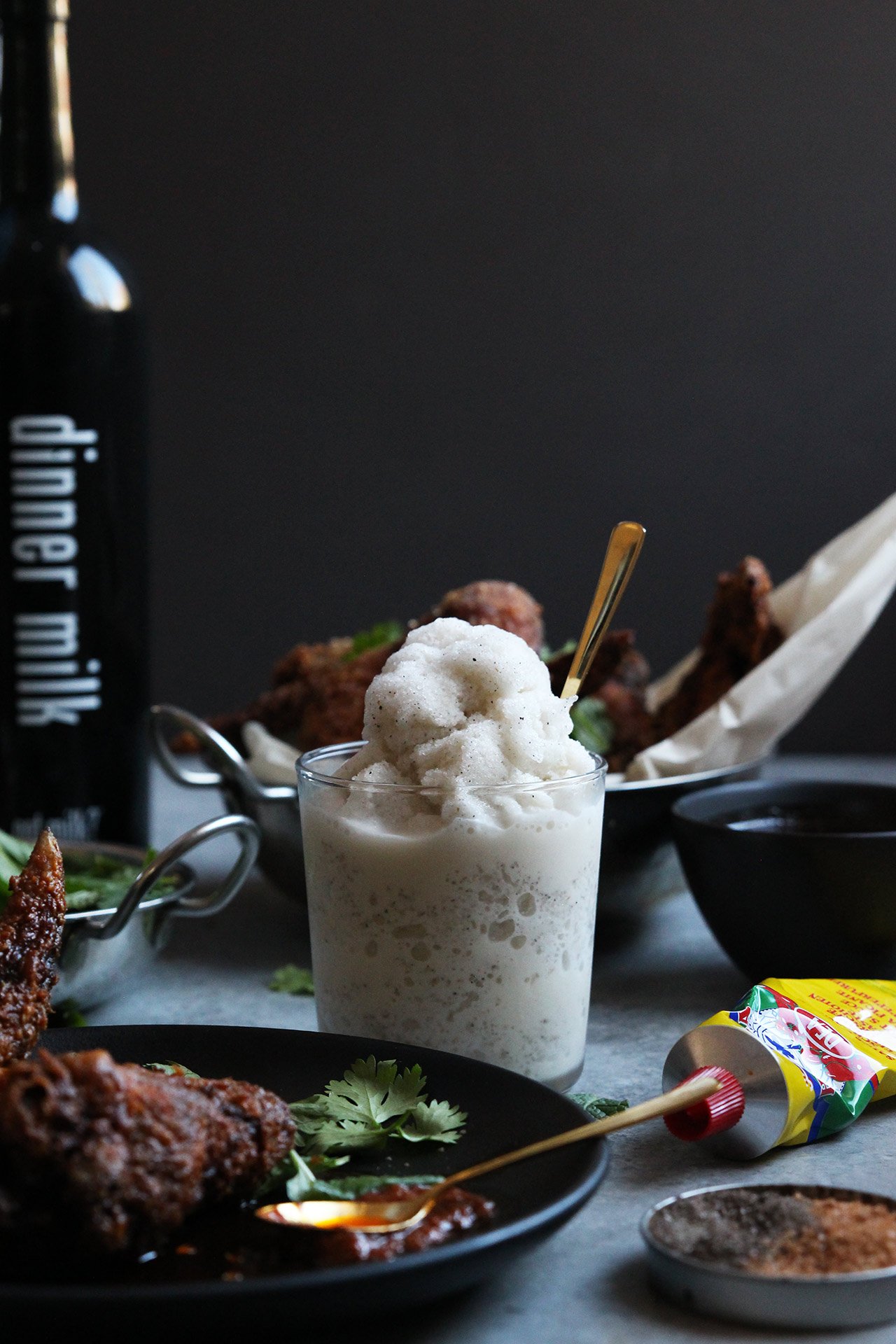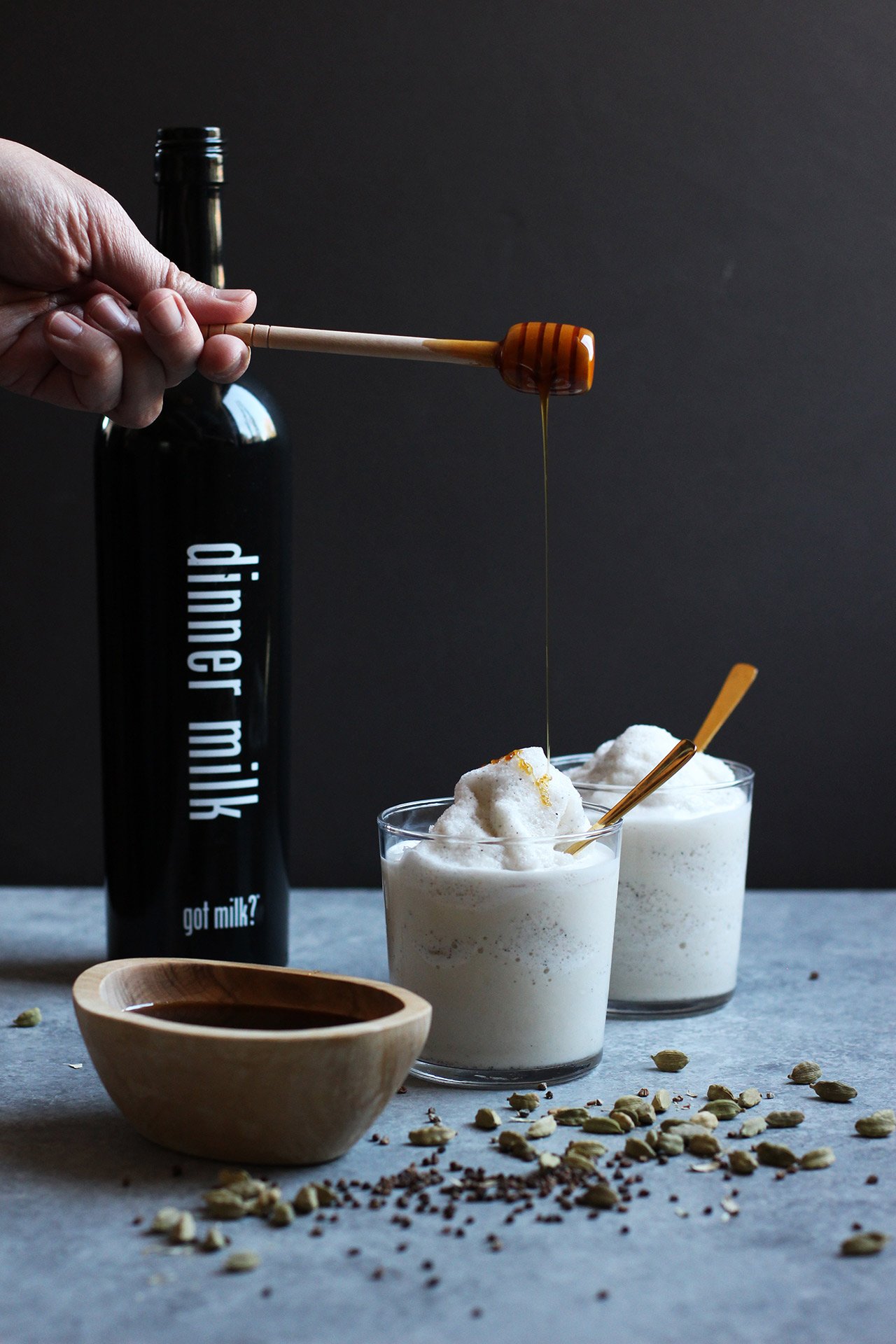 HARISSA CHICKEN WINGS

Ingredients:

2 pounds of chicken wings
3 cups of buttermilk
3/4 cup of harissa, divided
2 teaspoon of cayenne pepper, divided
1 teaspoon of smoked paprika
2 teaspoons of garlic powder, divided
1 teaspoon of sugar
1 cup of all purpose flour
2 tablespoons of panko breadcrumbs
1 tablespoon of baking powder
Vegetable oil or other neutral oil for frying (enough for a 2-3 inch deep layer of oil in your pot)
1 stick of butter
1 small handful of coriander seeds, lightly crushed
smoked sea salt
a handful of fresh mint
a handful of fresh cilantro
freshly ground black pepper
kosher salt

Directions:

At least an two hours before you fry your wings, soak the chicken wings in enough buttermilk to cover the wings (about 3 cups).
Make the harissa sauce by combining 1/2 cup of harissa, butter, 1/2 teaspoon of cayenne pepper, smoked paprika, 1/2 teaspoon of garlic powder, sugar and 1 teaspoon of freshly ground black pepper in a small pot. Heat until the sauce starts to simmer and lower heat to keep the butter sauce hot for about 10 minutes and set aside to serve with wings. Reheat if necessary before serving.
Add 1 teaspoon of cayenne pepper, 1/4 cup of harissa, 2 teaspoons of salt, 1/2 teaspoon of freshly ground black pepper to the buttermilk and mix with tongs until combined. Let sit at room temperature for about 2 hours.
Combine the flour, panko breadcrumbs, 1 1/2 teaspoons of garlic powder, 1/2 teaspoon of cayenne pepper and 1 teaspoon of salt and whisk together.
Heat about 2-3 inches of oil in a heavy bottom pot to 325 degrees. Working in batches, shake the buttermilk off the wings and dredge the wings in the flour mixture (lightly tapping excess flour off) and fry the wings for about 10-12 minutes until browned well all over. Flip the wings half way between if the oil is not deep enough to cover the wings.
Remove from oil and let them drain on towels or a wire rack.
Sprinkle wings with coriander and smoked sea salt and top with fresh cilantro and mint.
Serve with the harissa butter sauce to drizzle on the fried chicken wings before eating.

HONEY CARDAMOM MILK SLUSHIES

Ingredients:

1 cup of whole milk
1.5 cups of ice
1/4 cup of green cardamom seeds (removed from pods)
2 1/2 tablespoons of honey

Directions:

Pour milk, honey and cardamom seeds in a blender and blend until seeds and honey are blended. The seeds will look like little black flecks.
Add ice and blend until you have a thick slushie consistency. Add more ice if needed.
Pour into cups and drizzle extra honey over the slushies.
(images by HonestlyYUM. Sponsored by got milk? Food Loves Milk. Thank you for supporting the brands that keep HonestlyYUM up and running! Opinions are our our own.)