It seemed only fitting that a Mexican inspired Thanksgiving feast would end with a finale as delicious and gloriously breathtaking as a crepe cake stacked 50 crepes high, with fluffy dulce de leche cream between each layer and a rich caramel sauce drizzled over the top. Don't be intimidated. The only tedious part to this recipe is making the multitude of crepes, which can easily be done the night before. And a 3 hour dulce de leche made from scratch? With every stove top and oven in use on Thanksgiving day, do yourself a favor and make a shortcut version of the sauce in 10 minutes flat. Boom. Happy Thanksgiving, friends!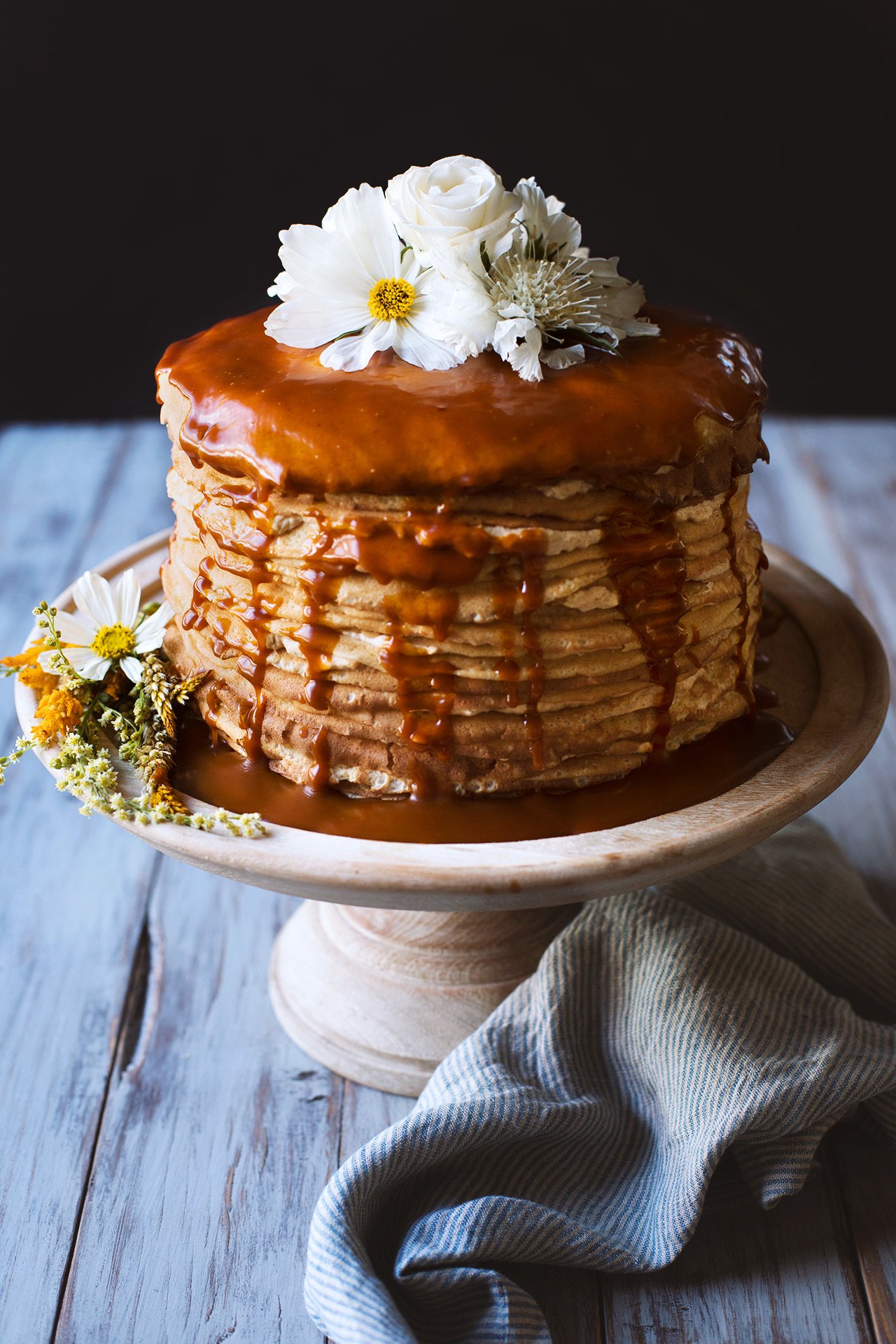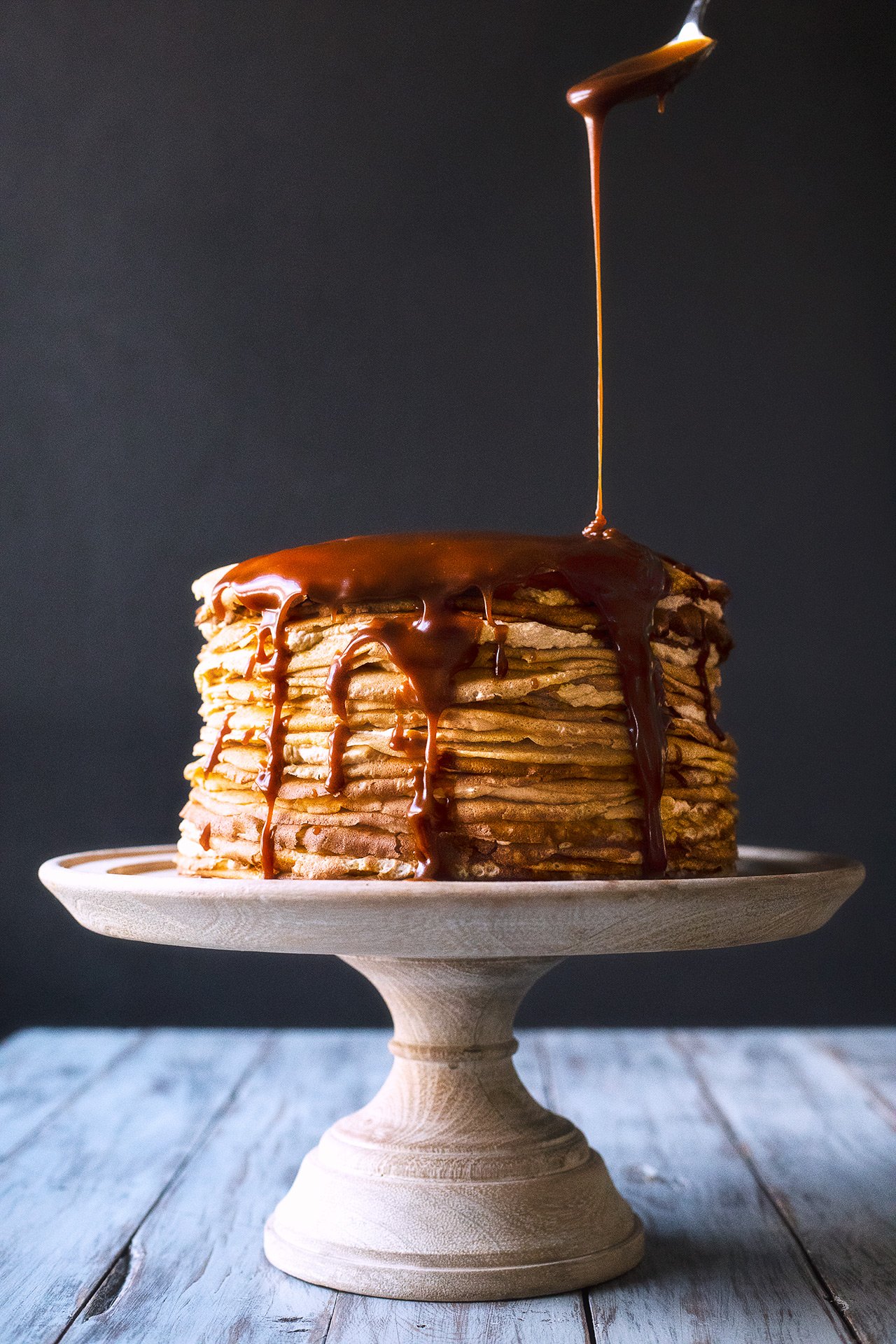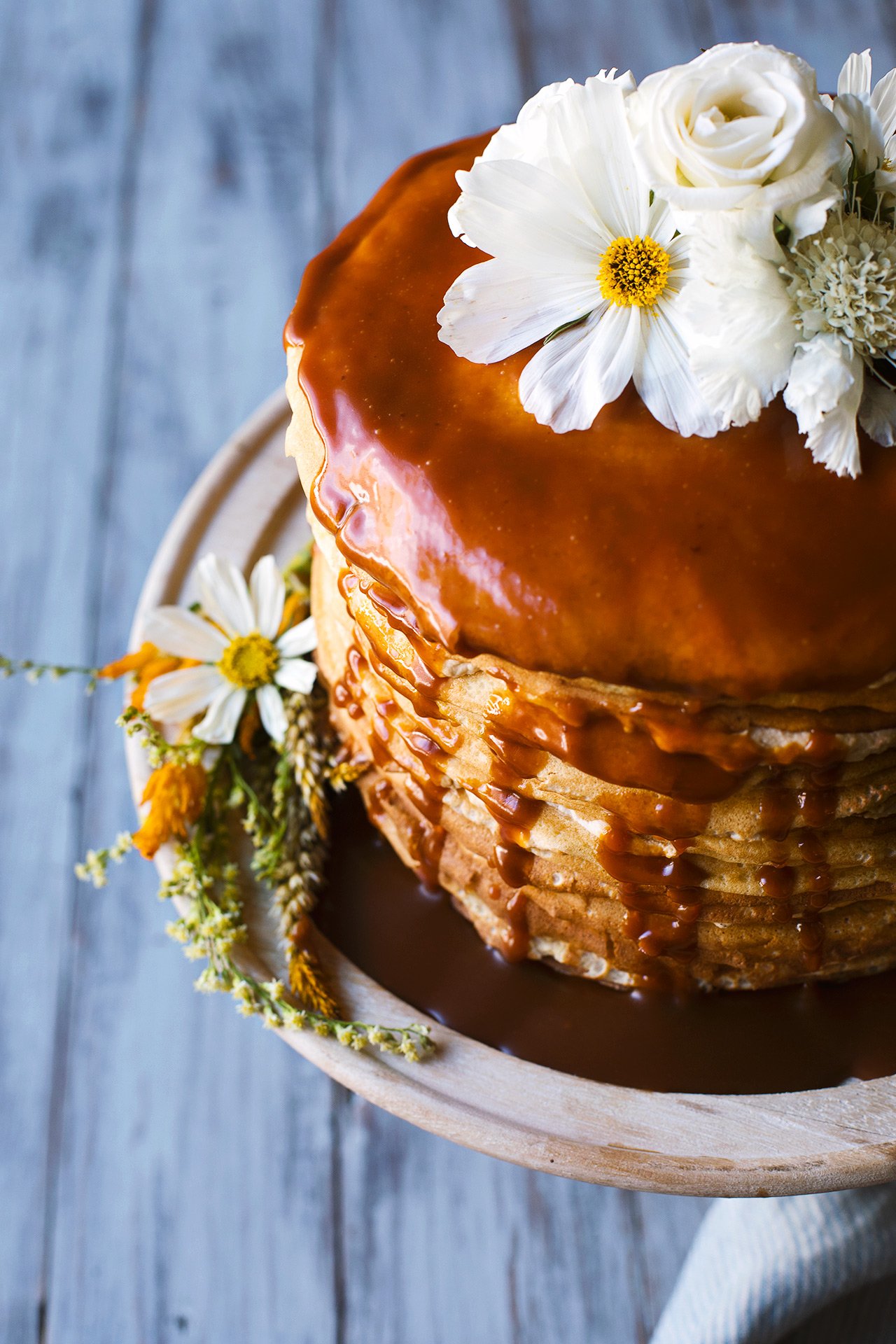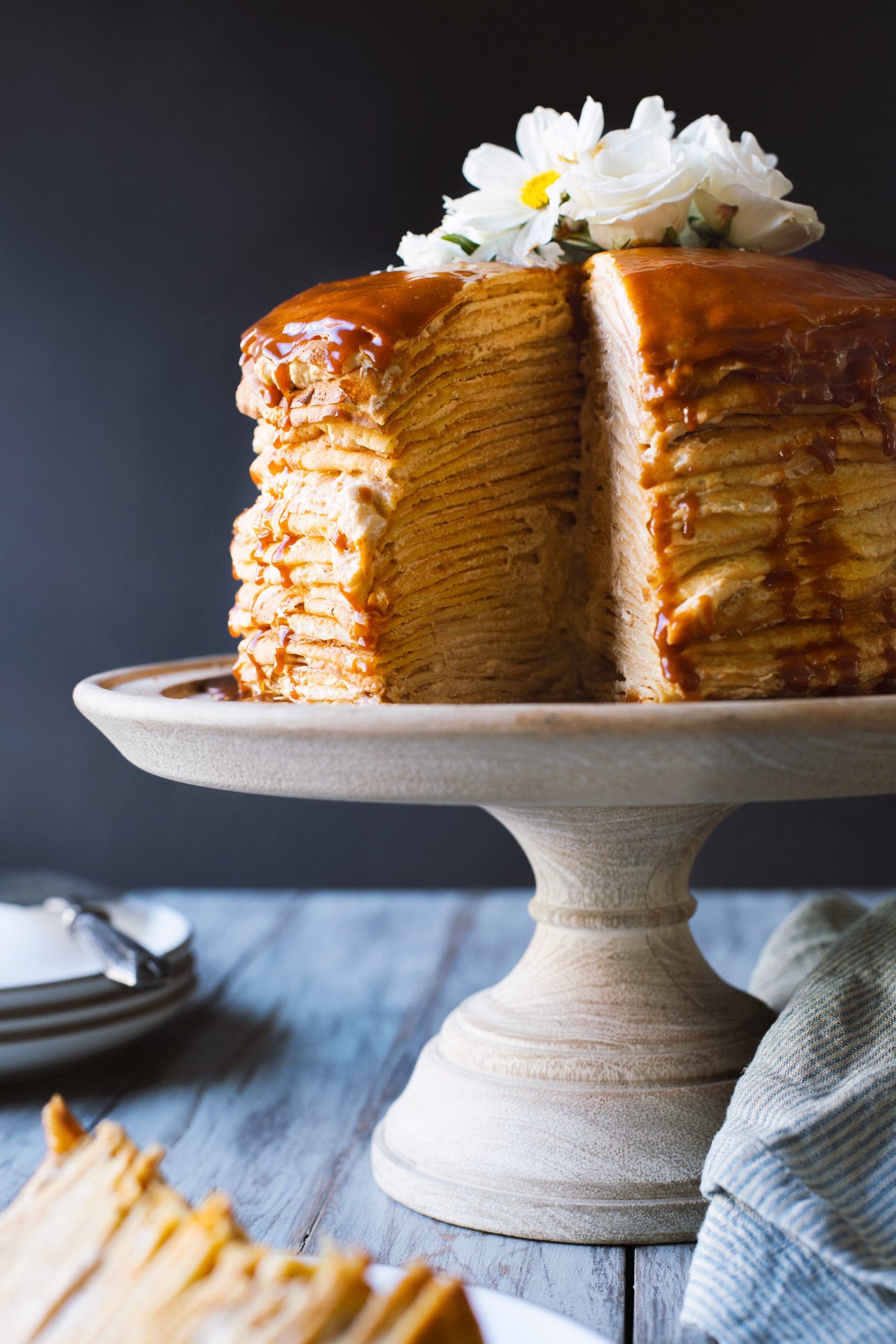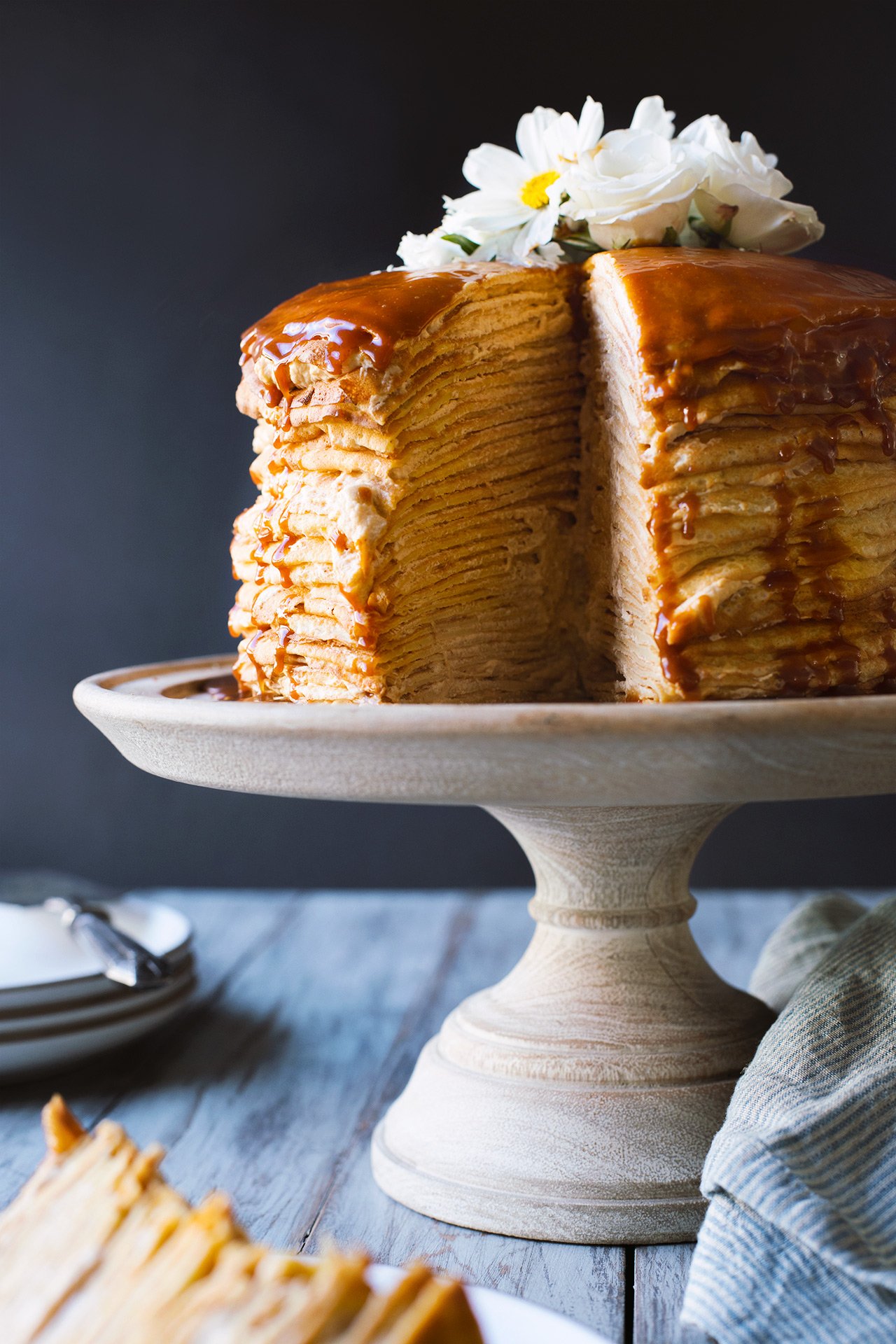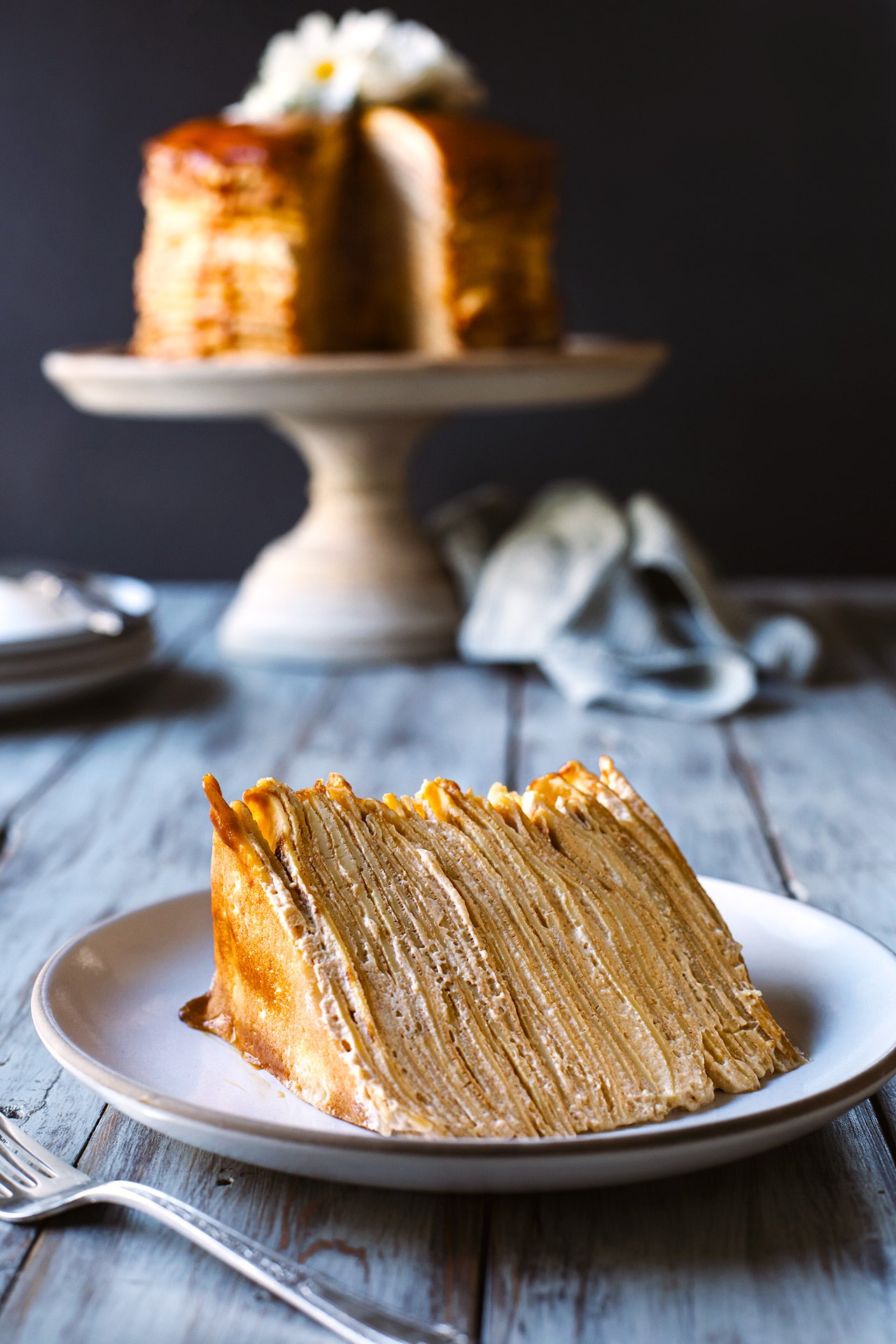 DOLCE DE LECHE CREPE CAKE (makes a 25 layer cake; double for a 50 layer cake as shown above)

Ingredients for crepe cake:

9 large eggs
1 1/2 cups whole milk
1 1/2 cups of mascarpone
1 1/2 cups flour
1/4 cup powdered sugar
2 tsp vanilla
1 tsp salt
zest of one lemon

Ingredients for dulce de leche cream:

1.5 cups of heavy whipping cream
½ cup + 1 tbs granulated sugar
3 tbs salted butter, cut into pieces
 ¾ cup + 1 tsp evaporated milk

Directions:

To make the batter, combine the flour, eggs, milk, mascarpone, salt and powdered sugar into a blender and give it a good whiz until smooth. Turn the heat to medium low and ladle 1/4 cup of batter onto a 10″ non-stick pan.
There are a few tips and tricks to making the perfect crepe. The first is to use a non-stick pan like a 10″ crepe pan. Keep the temperature at a medium low heat and do not butter the pan! Butter will make the batter soggy, making it difficult to flip. If you are using a non stick pan, there is no need for butter. As you are pouring the batter, lift the pan and rotate it quickly so the batter spreads evenly. Let the crepe almost cook entirely through before turning it over. It should take about 90 seconds on the first side. If the batter is setting before spreading, the heat is up too high. If the crepe is falling apart or folding on itself when you try flipping it, it's because you haven't let it cook long enough on one side. Give it time.
Use a rubber spatula and your fingers to turn the crepe over. Cook for another 10-15 seconds and place the crepe on a foil lined baking sheet. Continue making crepes, piling them on top of each other – remember that the cream will add height to your stack. Allow to cool for a few hours before assembling with the pastry cream. It can even cool, unwrapped on the kitchen counter, overnight.
To make the dulce de leche sauce, add the sugar to a large saucepan. Heat over medium-high heat. At some point, you will notice that the sugar around the sides of the pan will start to melt. Start stirring with a rubber spatula at this point.
As you stir the sugar, it will clump together. Keep stirring and eventually the sugar will melt into a golden caramel. Try squashing any remaining sugar clumps against the bottom of the pan with your spatula at this point. You want all the sugar to melt.
Once all of the sugar has melted, gently add the butter. As soon as you add the cold butter to the hot caramel, the mixture will start to bubble. Stir as the butter melts.
Once all the butter has melted, add the evaporated milk in a slow drizzle while stirring with a rubber spatula. Again, the mixture will start to bubble as soon as you add the cold milk.
Stir until incorporated, then allow to cook for 3 minutes. The sauce will rise up in the pan as it cooks. In the meantime, prepare a shallow water bath in your kitchen sink by filling your sink with an inch of water.
Take the sauce off the heat as soon as it has cooked for 3 minutes and carefully dip the bottom of your saucepan in the cold water. Stir with a rubber spatula to cool the sauce, then pour it in a heatproof container. Allow to cool to room temperature.
Whisk whipping cream until soft peak forms. Fold in half of the dulce de leche sauce until incorporated.
Once your crepes have completely cooled, place the first layer onto a cake stand. Give it a dollop of dulce de leche whipped cream and spread it evenly. Continue adding layers of crepes and cream until you've reached your desired height. Cake can be chilled until ready to serve.
Heat remaining dulce de leche sauce and drizzle over top of cake before serving.
(images by HonestlyYUM; dulce de leche recipe adapted from Tough Cookie)