I don't think tacos on your Thanksgiving menu is going to be a hard sell, but let me make a case for these sweet potato tacos anyway. These are very loosely based on my favorite taco truck in LA, Guerilla Tacos. If you're a taco lover living in LA, you've probably had them. I say "loosely based" because I've really taken some liberties with the recipe, but the same great flavors are there. The base of these tacos are roasted sweet potatoes and leeks cooked soft in lots of butter. The almond-chile salsa is probably my favorite here– warning it is spicy so use sparingly! It's all topped with sour quick-pickled onions and tangy creamy French feta. Before you serve these, be sure to toast any store-bought corn tortillas. I simply toast them directly over a stove flame for a minute or so on each side until they're soft pliable and just ever so slightly charred. I'm telling you these will be a hit at your Thanksgiving table!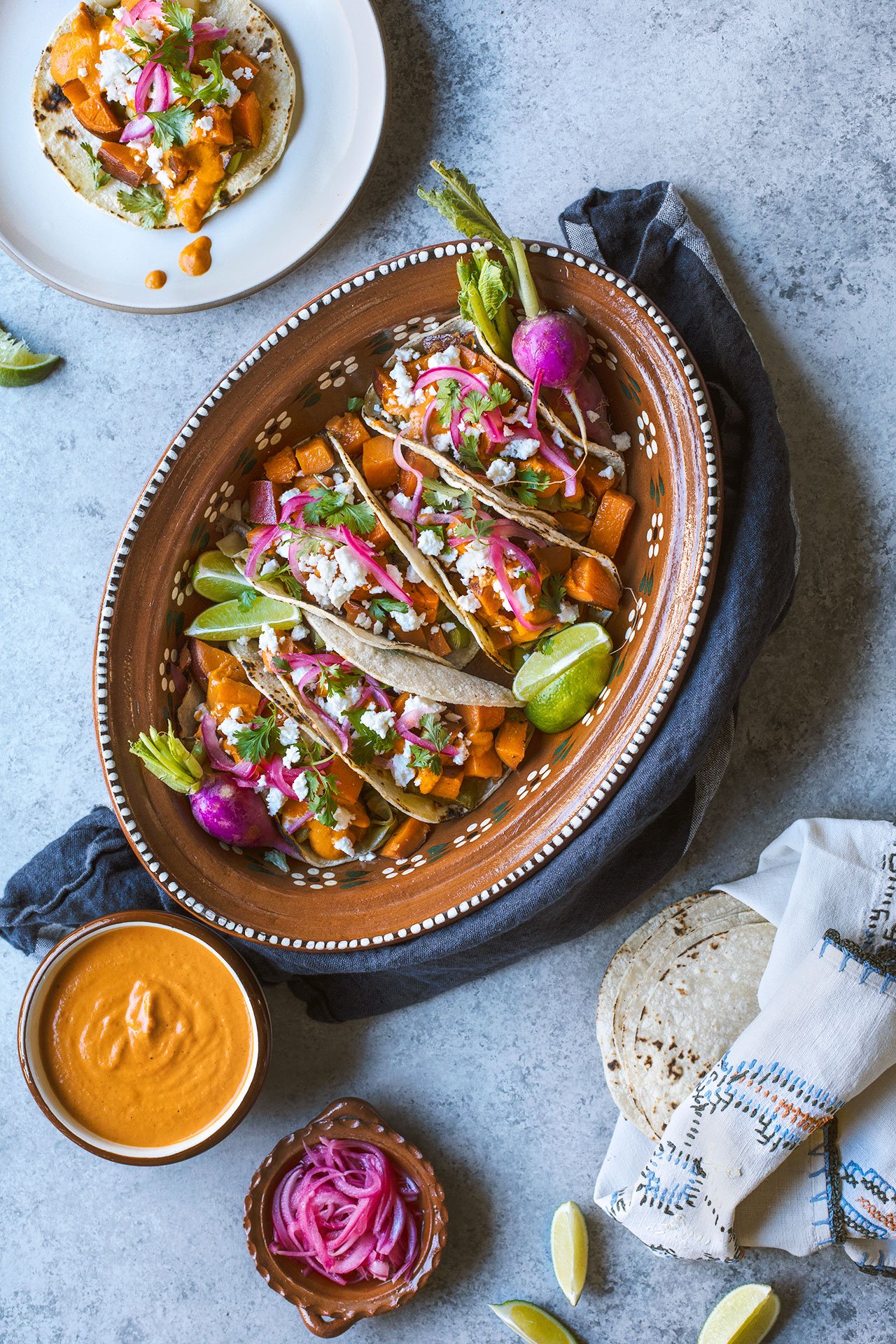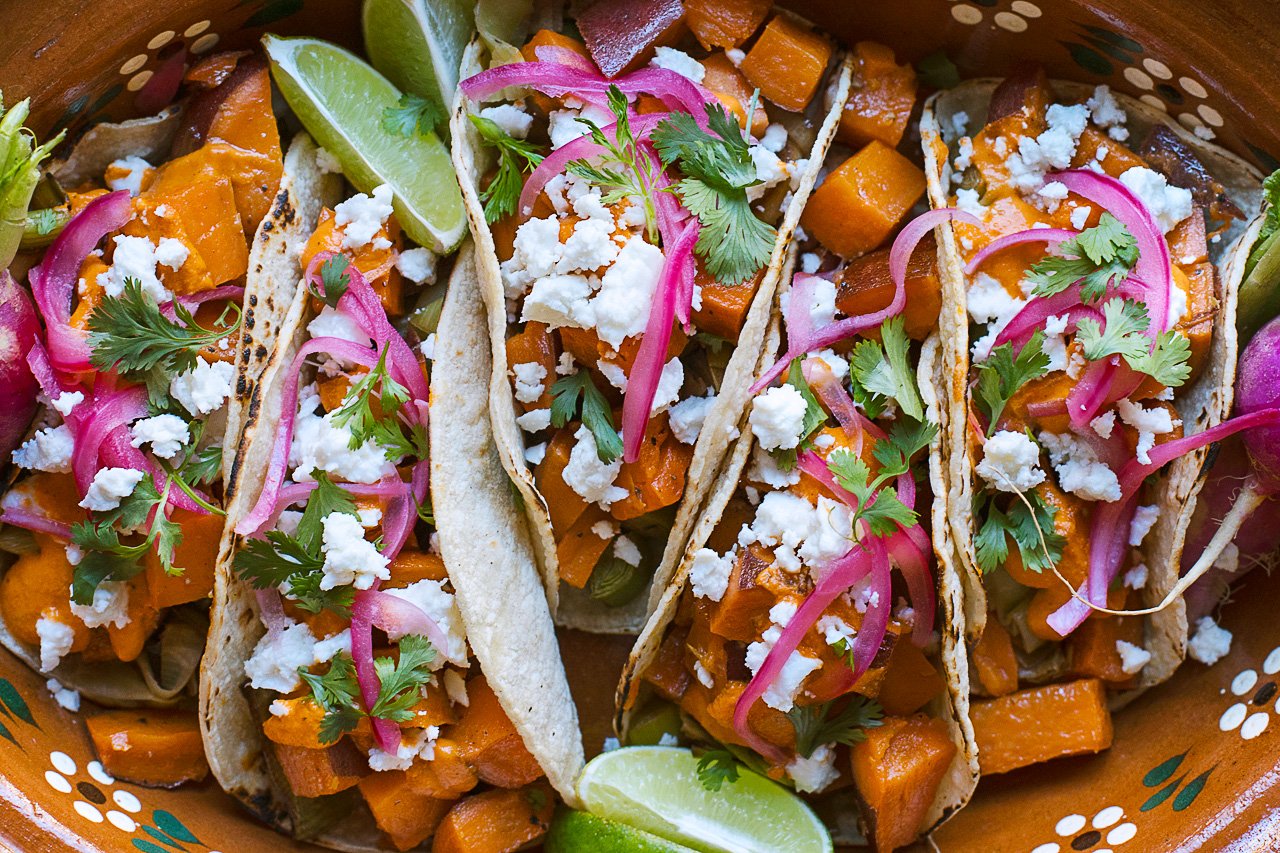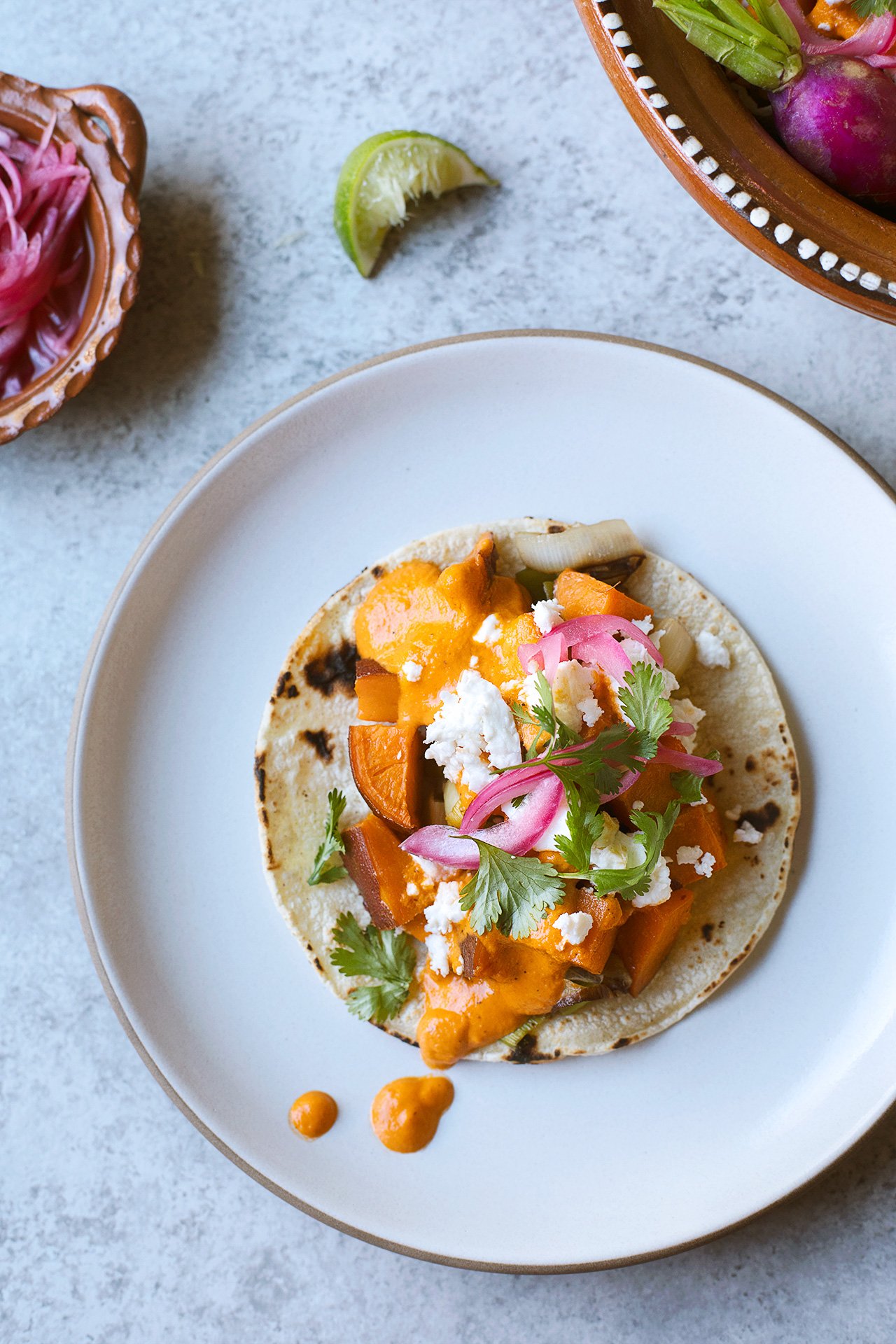 SWEET POTATO TACOS

Ingredients:

4 sweet potatoes, scrubbed and washed and cut into about 3/4 inch cubes
1/4 cup, plus 1 tablespoon of neutral oil like grapeseed oil
4-5 leeks, with dark green parts trimmed off
3 tablespoons of butter
10 chiles de arbol
1/4 cup of blanched almonds
1/4 cup of pine nuts
1 small tomato
2 roasted bell peppers or a jar of roasted bell peppers
2 1/2 tablespoons of red wine vinegar
1 small red onion
1/2 cup of apple cider vinegar
French feta or queso freso
Limes
A handful of cilantro
corn tortillas
kosher salt

Directions:

Preheat your oven to 400 degrees. Toss the sweet potatoes in the 1/4 cup of oil and add a couple large pinches of salt in a baking sheet large enough so that the potatoes roast in one layer. Add a small splash of water to the pan and cover with foil. Roast for about 1/2 hour until you can pierce a piece of potato with a knife very easily.
Slice the leeks down the middle and run under water to wash off dirt stuck between the layers. Slice the leeks about 1/2 inch thick. Melt butter in a large skillet over medium high heat. Sautee the leeks until soft and fragrant. Add a pinch of salt to season.
To make the quick pickled red onions, thinly slice the onion and place in a sieve and slowly run about 2-3 cups of boiled water over them. Transfer to a bowl and pour 1/2 cup of apple cider vinegar and 1 cup of water over them. Press to submerge the red onions. Add more water if needed to cover. Let sit for at least 1/2 an hour.
To make the salsa, char the red bell peppers under a broiler on each side until black and charred. Transfer to a paper bag and seal. Let cool for about 10 minutes. Peel the black charred skin which should easily peel off. Remove core, stem and seeds.
Remove the seeds and stem from the chiles de arbol. Heat 1 tablespoon of oil on a skillet and toast the chiles for about 2 minutes on low-medium heat until soft, don't let it burn. Add the almonds and pine nuts and toast until lightly toasted and fragrant.
Cut the tomato in half and using your fingers, remove the liquid and seeds inside. You don't have to remove all of it just so you remove most of the liquid from the tomato.
Transfer the roasted bell peppers, tomato and chile and nuts from the skillet to a blender. Add the red wine vinegar and a big pinch of salt. Blend until thick and smooth and add water until the consistency is thick but smooth and coats the back of a spoon.
Toast the corn tortillas over a flame until soft and pliable.
To assemble the tacos, add a scoop of potatoes and leeks to a tortilla, top with crumbled feta, pickled onions, cilantro and add a little drizzle of salsa.
(images by HonestlyYUM)