After spending a glorious afternoon at Leo's Oyster Bar, along with HP, our newly adapted skills were put to the test in preparation of our very first raw seafood party. You might as well call us professional shuckers now. Honestly, it went swimmingly! We had so much prepping and enjoying the feast, we are already planning our next seafood bash. In the kitchen, we turned to our trusty HP Spectre to reference all of the important notes we took and to replay the oyster shucking tutorial we captured just a couple of weeks ago. With all the raw oysters we had on hand and our ever so lightweight HP Spectre by our side, we were inspired to take it a step further by experimenting with various toppings. Ideas were spewing out like rapid fire and tasting notes were being typed into the laptop, to ensure that we can share the adrenaline doused process with you.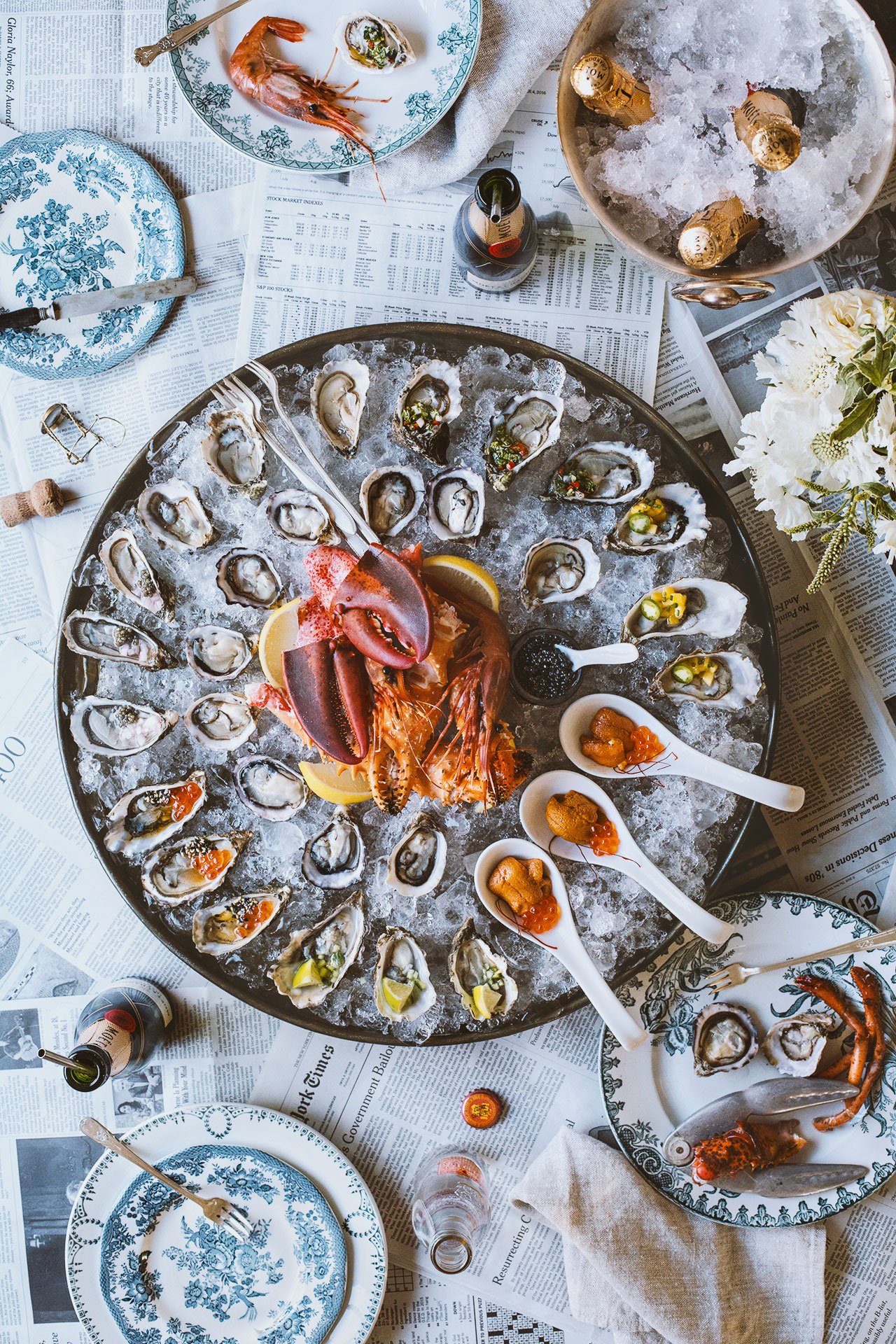 As this amazing raw seafood experience comes to close, we just want to thank HP for allowing it to happen and for challenging our creative process. Our shared passion for design and function really pushed us to look outside of the box and ultimately, inspired us to explore unchartered waters in order to create something exquisite and delectable. The Spectre was essentially our sous chef during the party preparation process. It's fast processor speed allowed us to toggle from web, email and video, with just a click and a swipe, just so we can fact check online and cross check notes. With raw seafood, you have to especially careful! The Spectre will certainly continue to come along with us for the culinary ride, in the kitchen and at the table. I'm excited to have the HP Spectre with me for all my future adventures.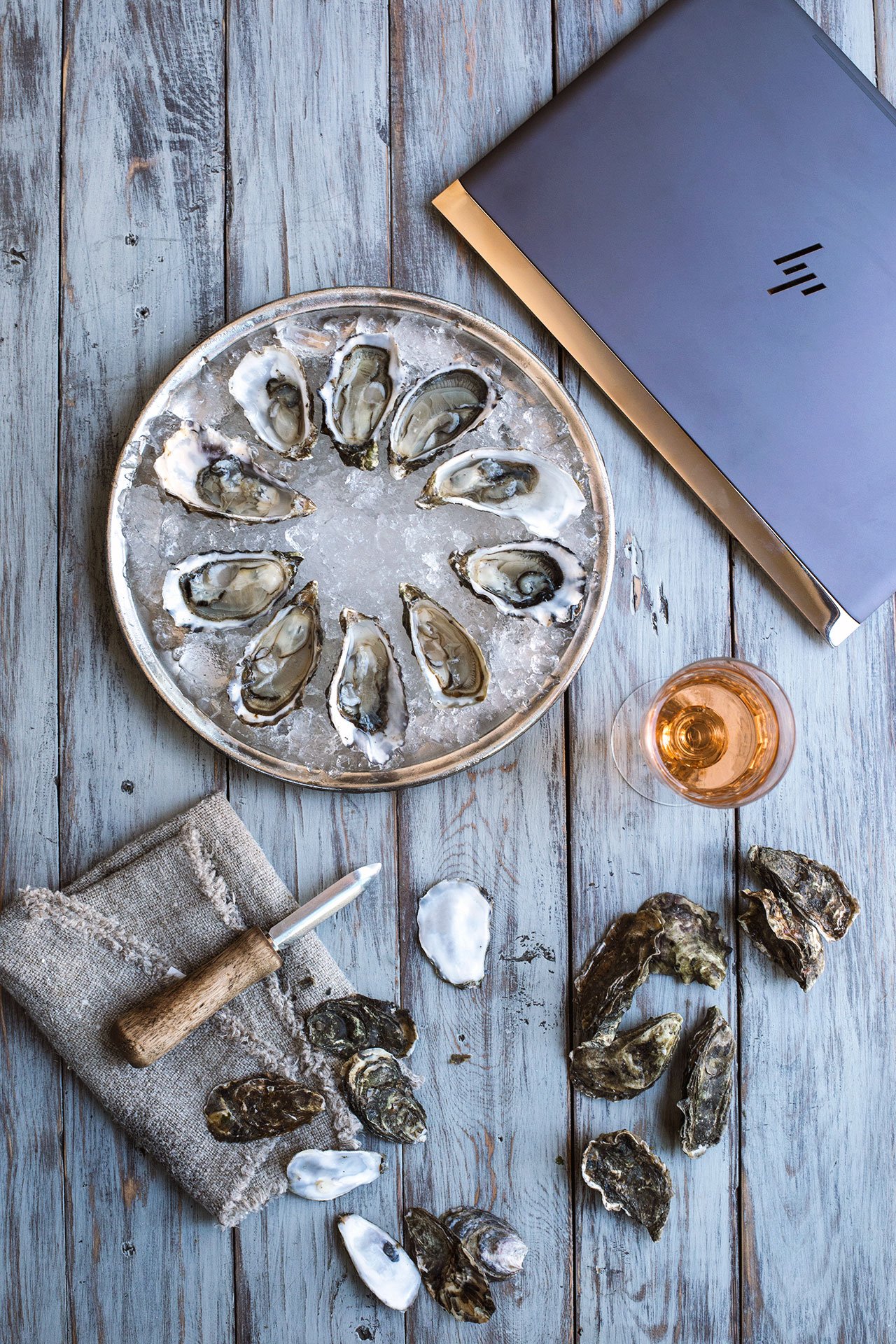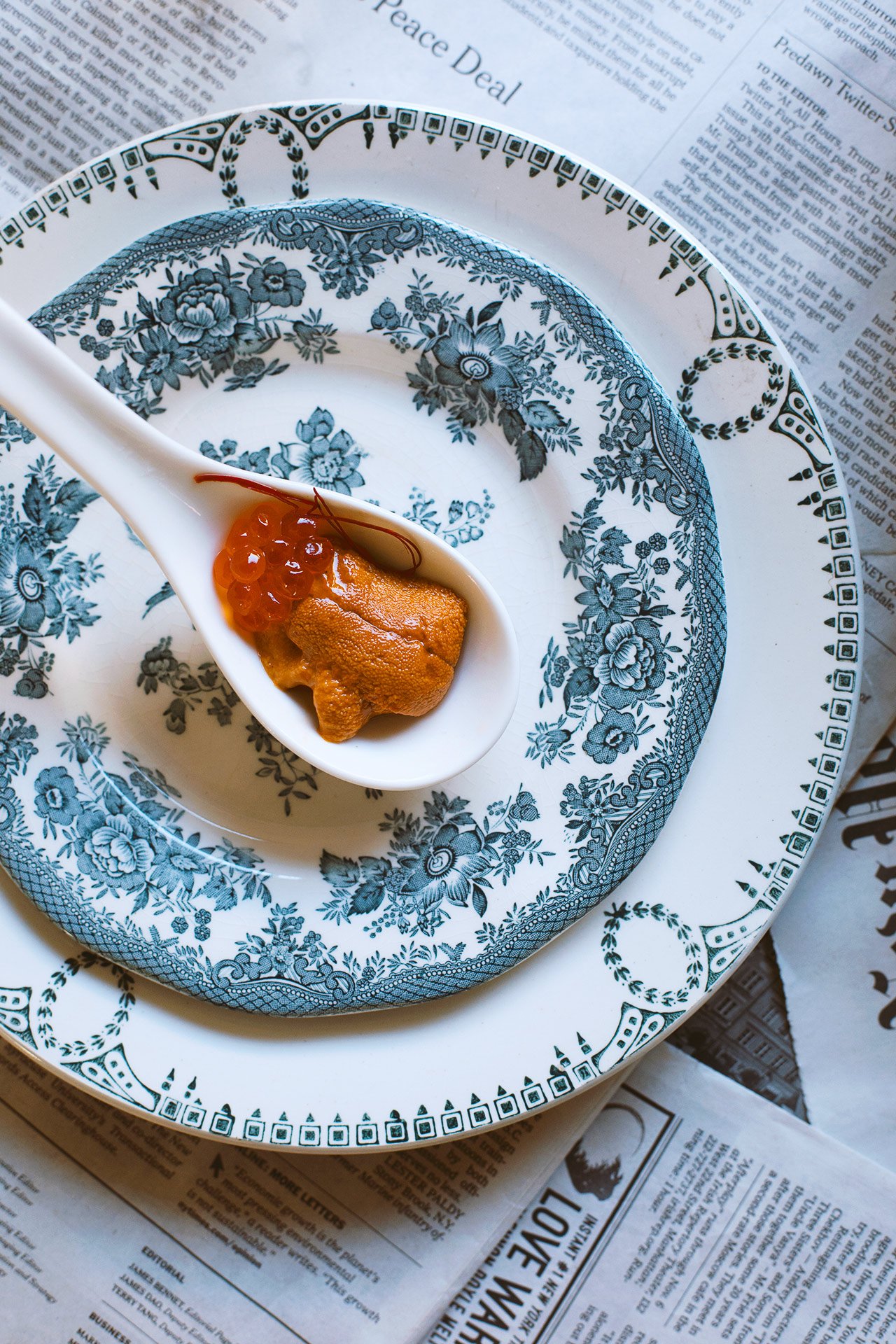 The key to a raw seafood party is obviously freshness. Shellfish must be fresh and purchased from a reliable source! We used local Myagi oysters from Point Reyes and Kusshi oysters from British Columbia. Myagi are briny and mild, while Kusshi are smaller and meatier with a cleaner flavor. Oysters shells should be sealed tight before shucking and cleaned of dirt by rinsing them under cold water.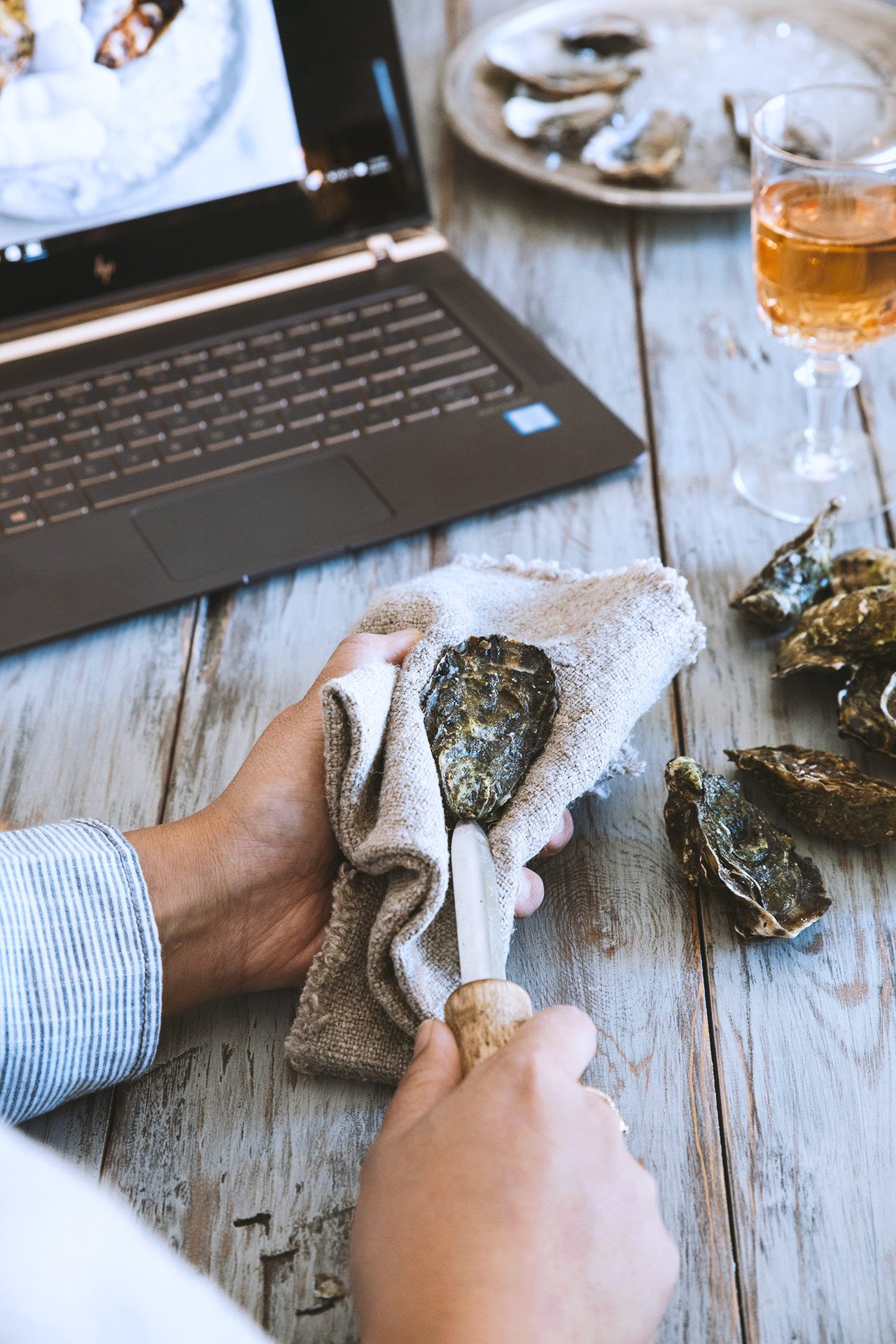 To shuck an oyster, you'll need a thick, clean kitchen towel, an oyster knife and chilled oysters resting in an ice bath. Start by folding the towel into quarters. You'll be using it to brace the oyster during shucking, and to protect your hand from the knife. I like to hold the oyster with a towel covered hand but some people like to hold it against a table top. Either way, get a good grip of the towel around the oyster, flat side up, and work the the tip of the oyster knife into the hinge. With some wiggles and controlled pressure, the tip of the knife should unhinge the oyster, allowing you to twist the knife to separate the bottom and top shell.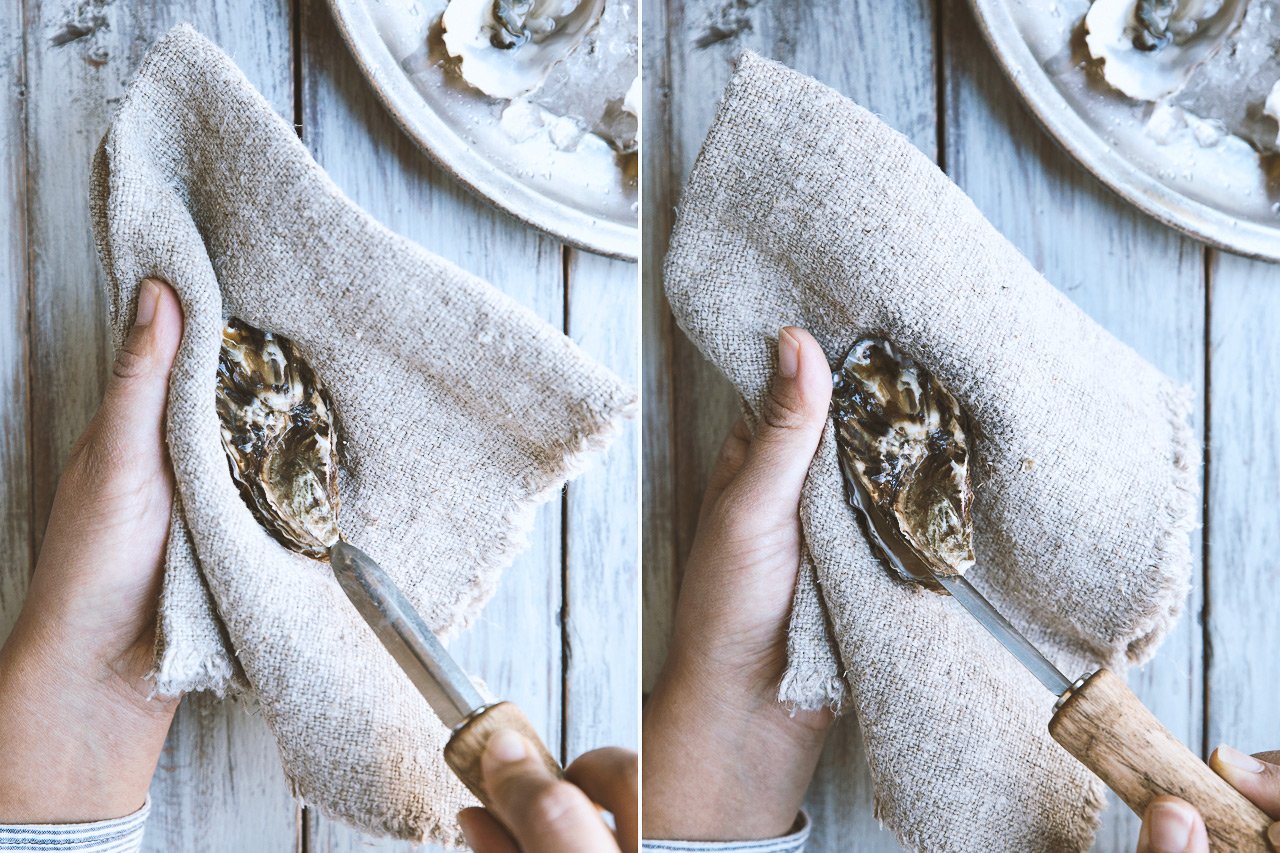 Before completely separating the shells, clean the knife on the towel and then run the knife along the bottom of the top shell. This will help separate the muscle that connects the oyster to it's shell. Remove the top shell and discard it.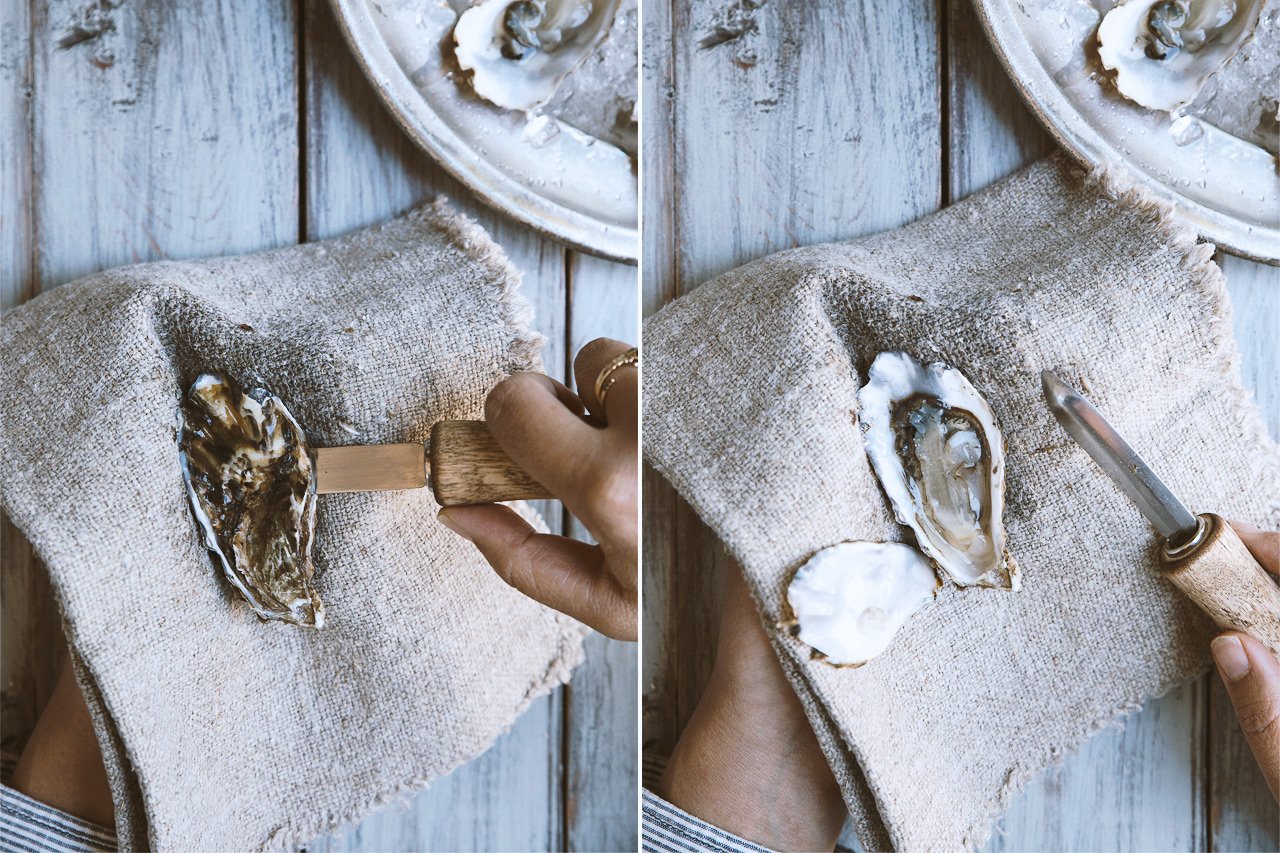 The oyster should now be inspected for any shell fragments. It should also have a fresh smell and plenty of liquid. Lastly, slide the knife under oyster to sever the muscle from the bottom shell. Keep them chilled on ice until you're ready to eat.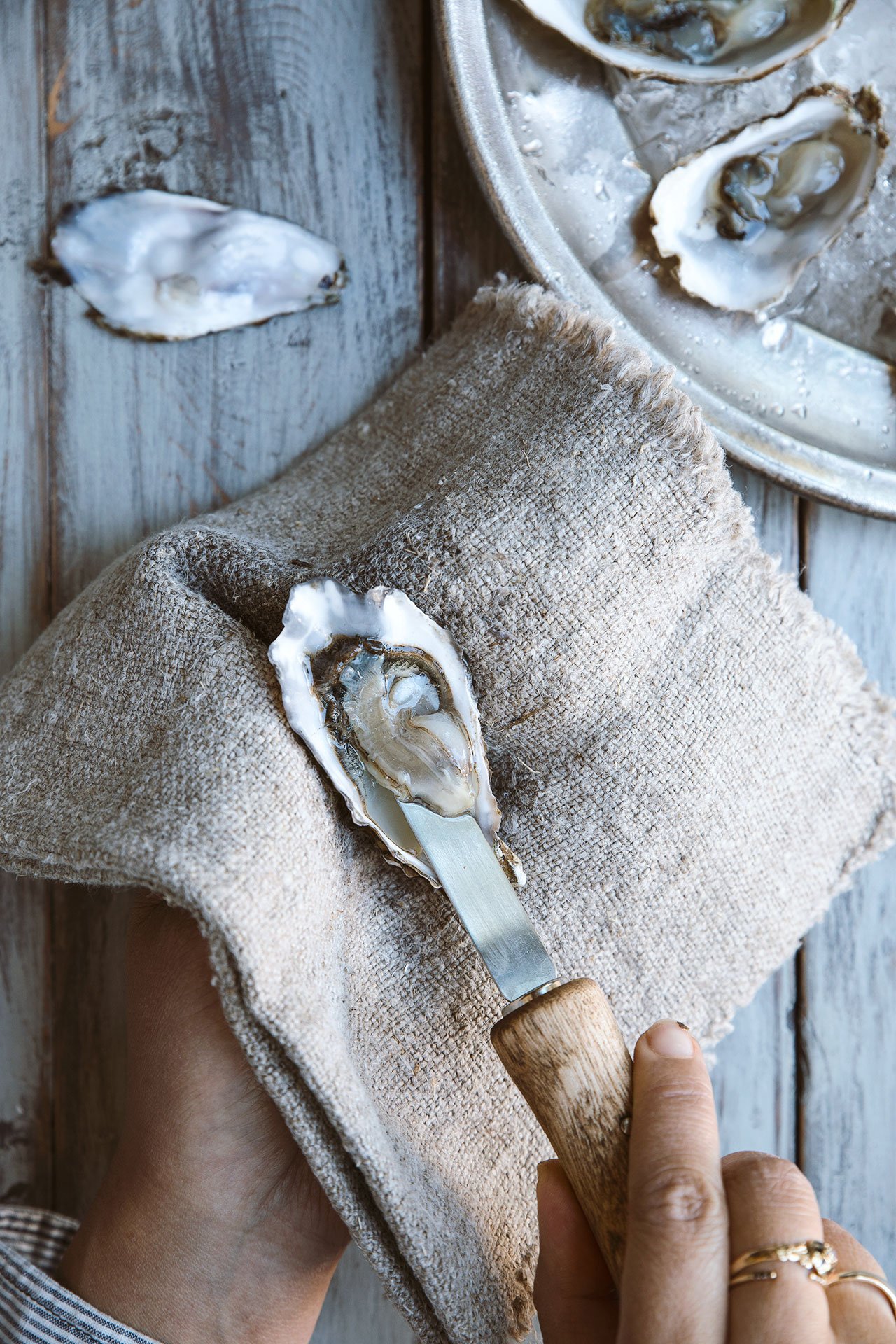 Here are some of the toppings we played around with (clockwise from top left):
Mango Salsa: mango, serrano chili and chives
Spicy Chimichurri: red wine vinegar, olive oil, fresno chilis, garlic, parsley, cilantro and shallots
Ponzu & Ikura: ponzu, salmon eggs, furikake (roasted seaweed and toasted sesame seeds)
Gin & Tonic: gin, tonic, cucumber and a squeeze of lime
Mignonette & Caviar: red wine vinegar, shallots, black pepper and caviar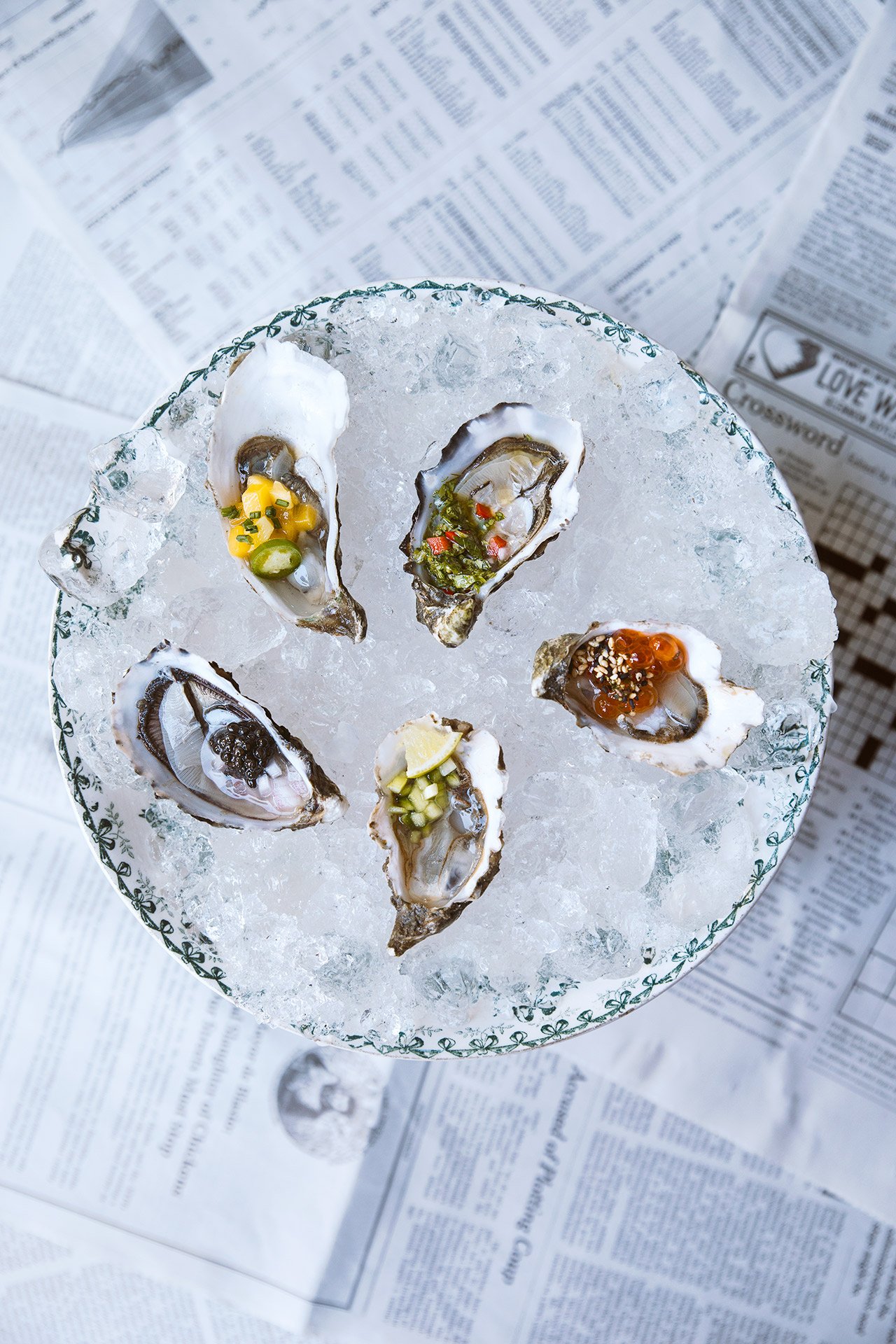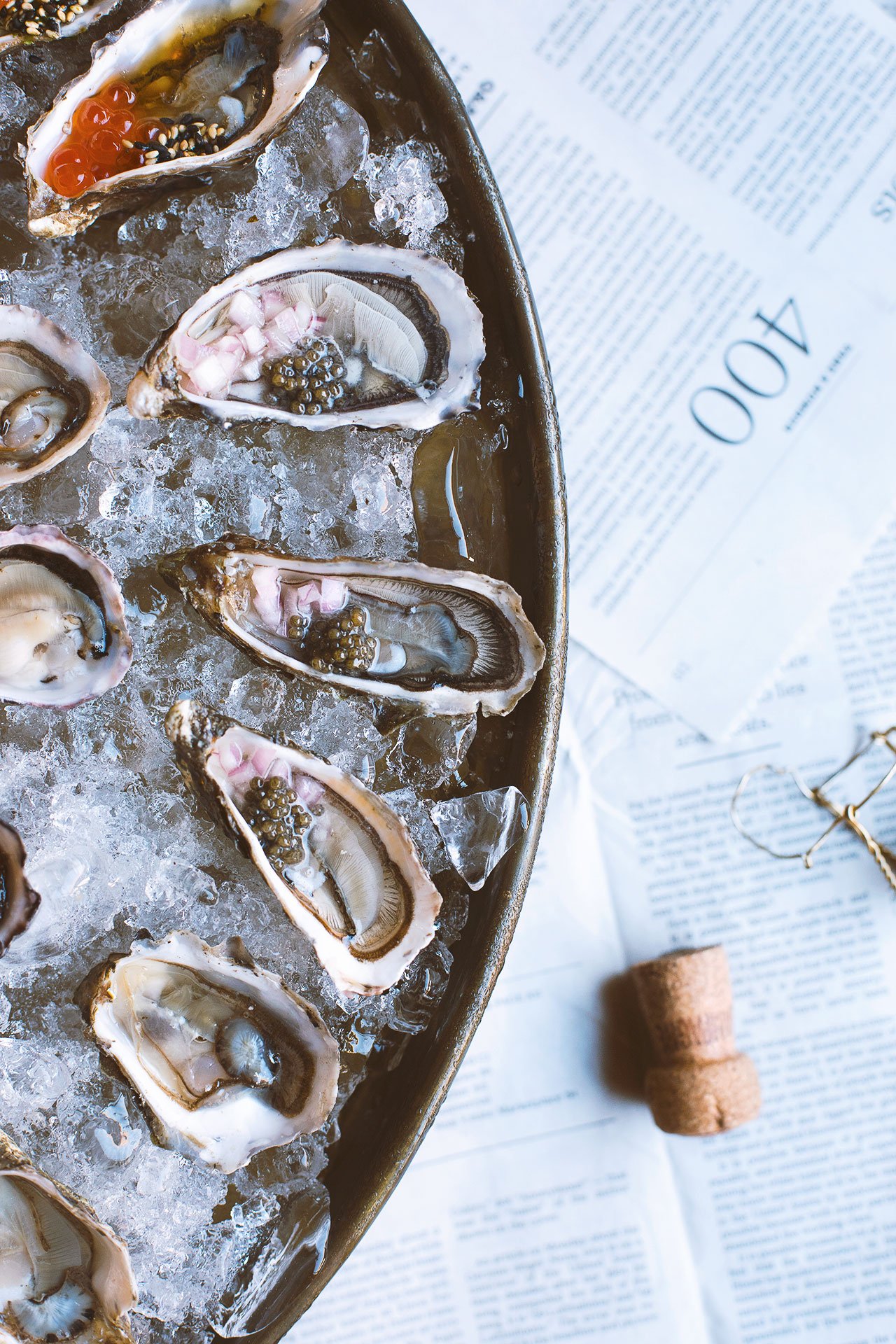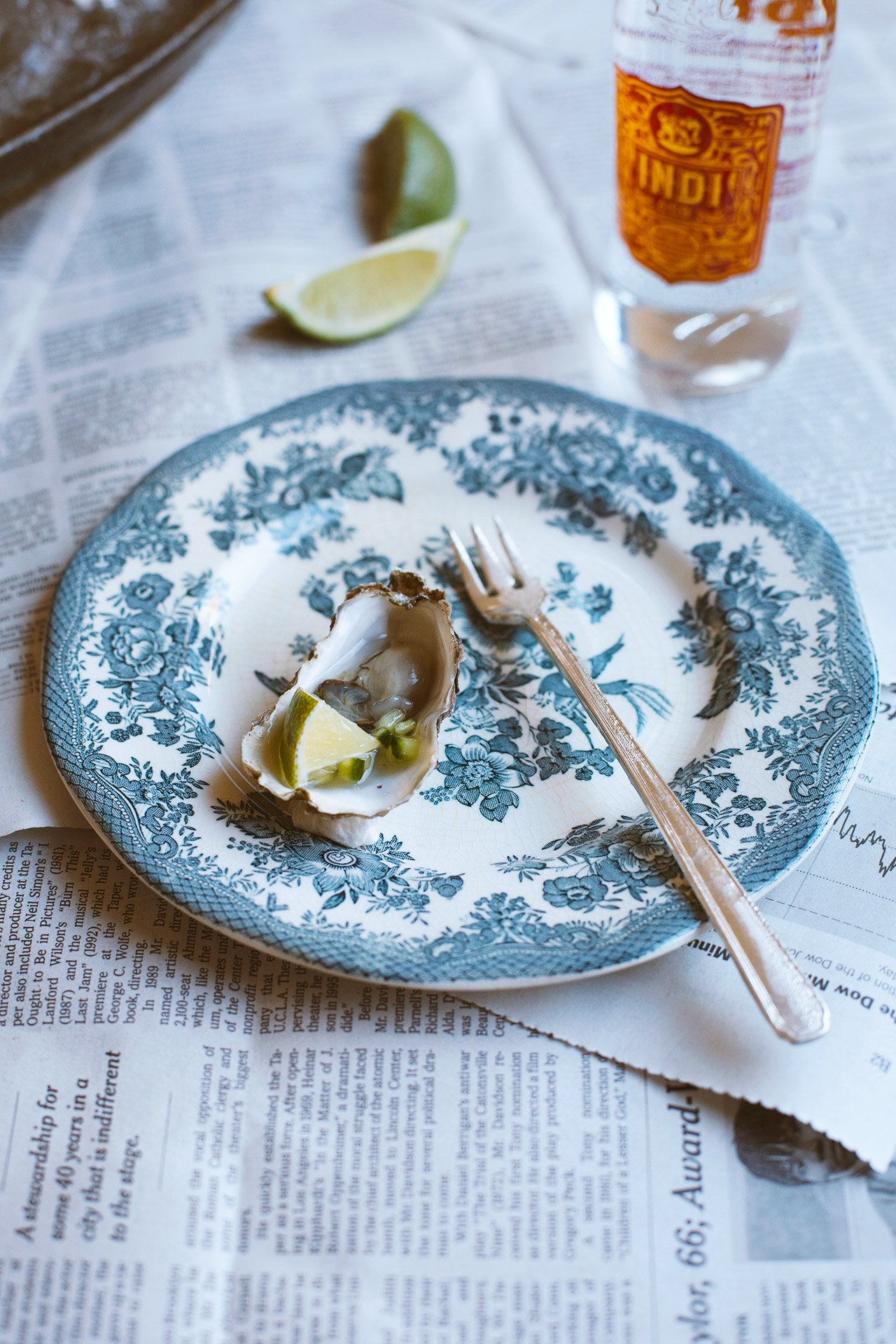 Chilled cooked lobster claws and crab legs are a must have for any seafood platter. If you can get fresh spot prawns, you can eat those raw. Another great addition to a raw platter is fresh uni, if it's accessible to you. Place uni onto soup spoons and add salmon eggs or a raw quail egg yolk and top with chilis or just serve as is. The flavor combination is smooth and creamy – utterly divine!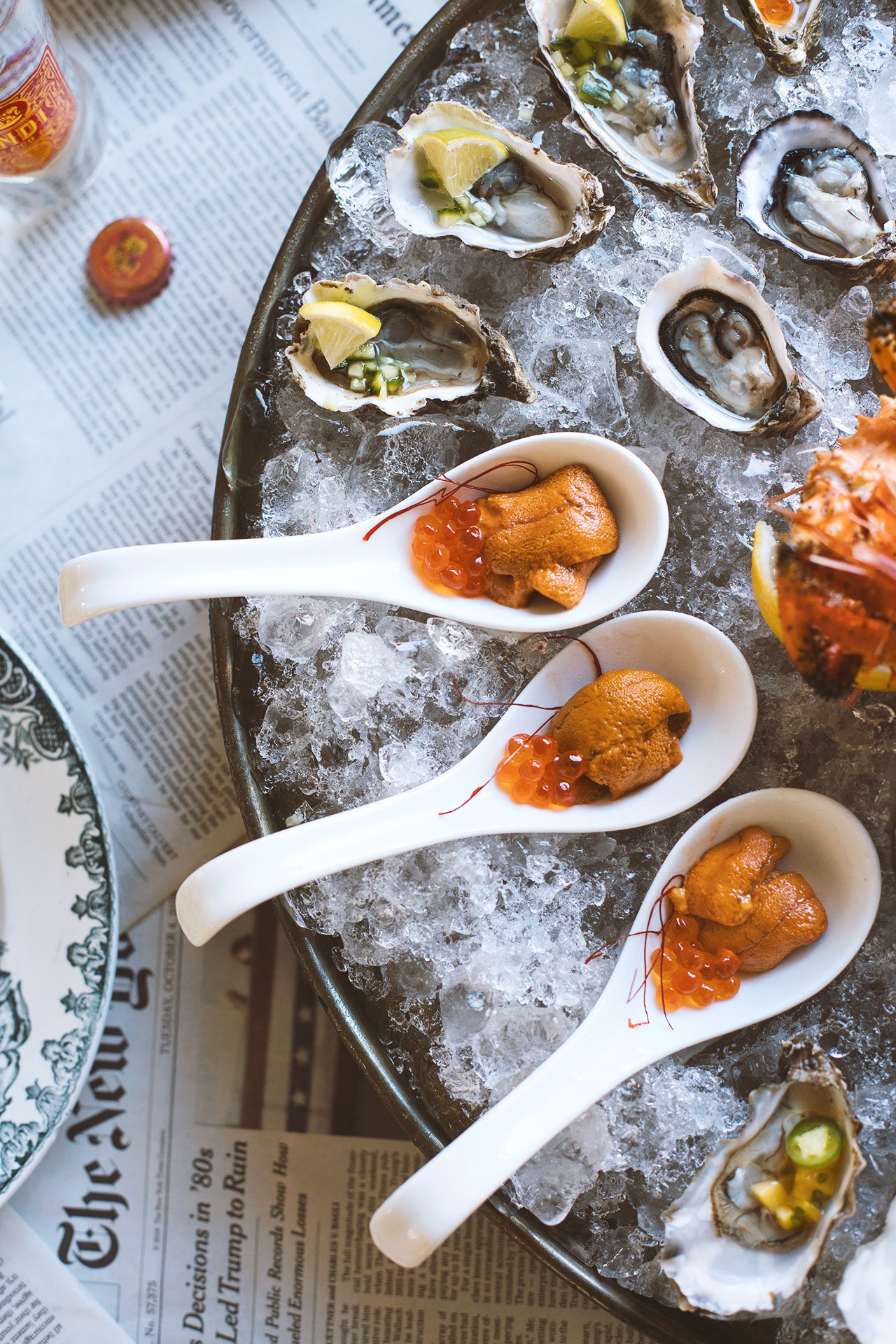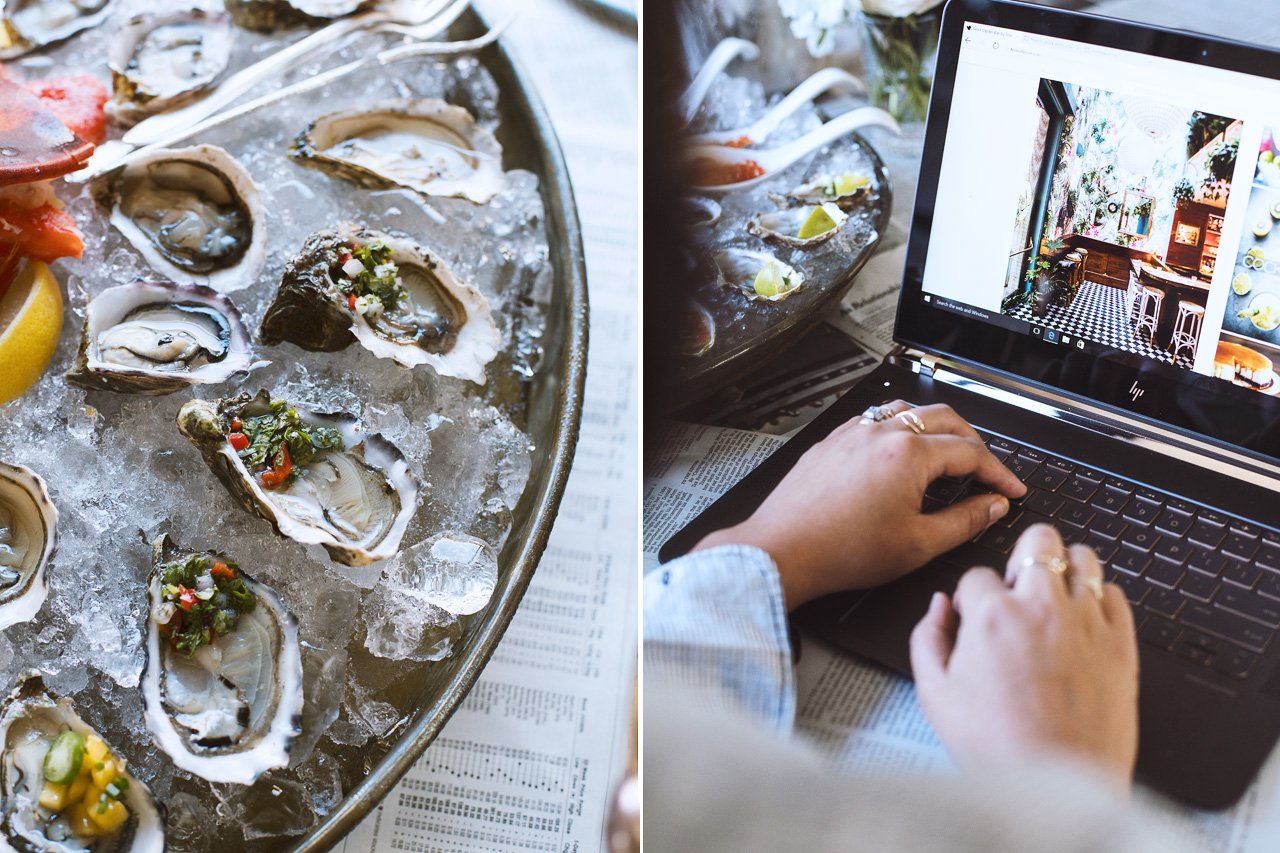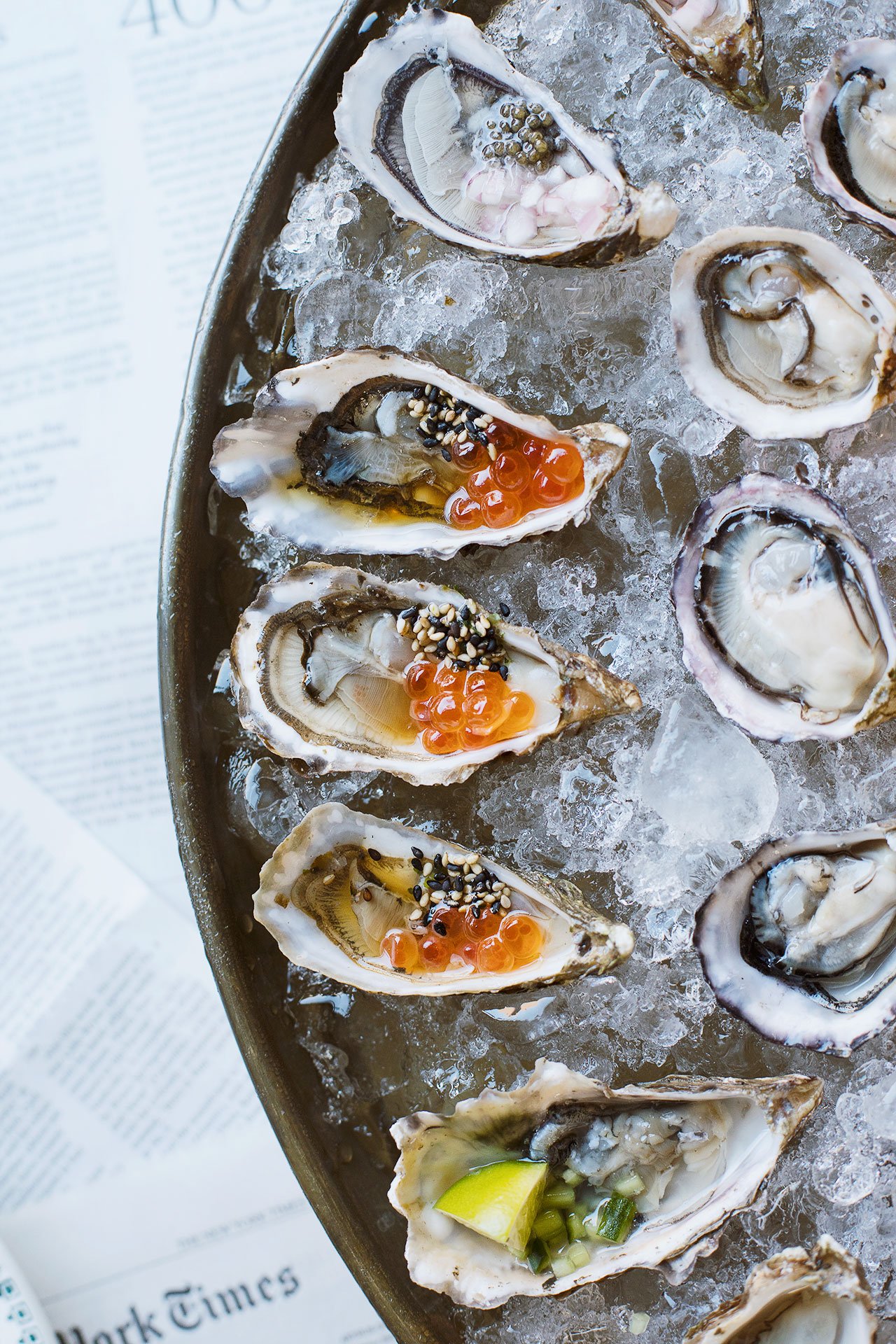 I'd love to hear how you would use this ultra thin laptop in your day-to-day. Leave a comment below!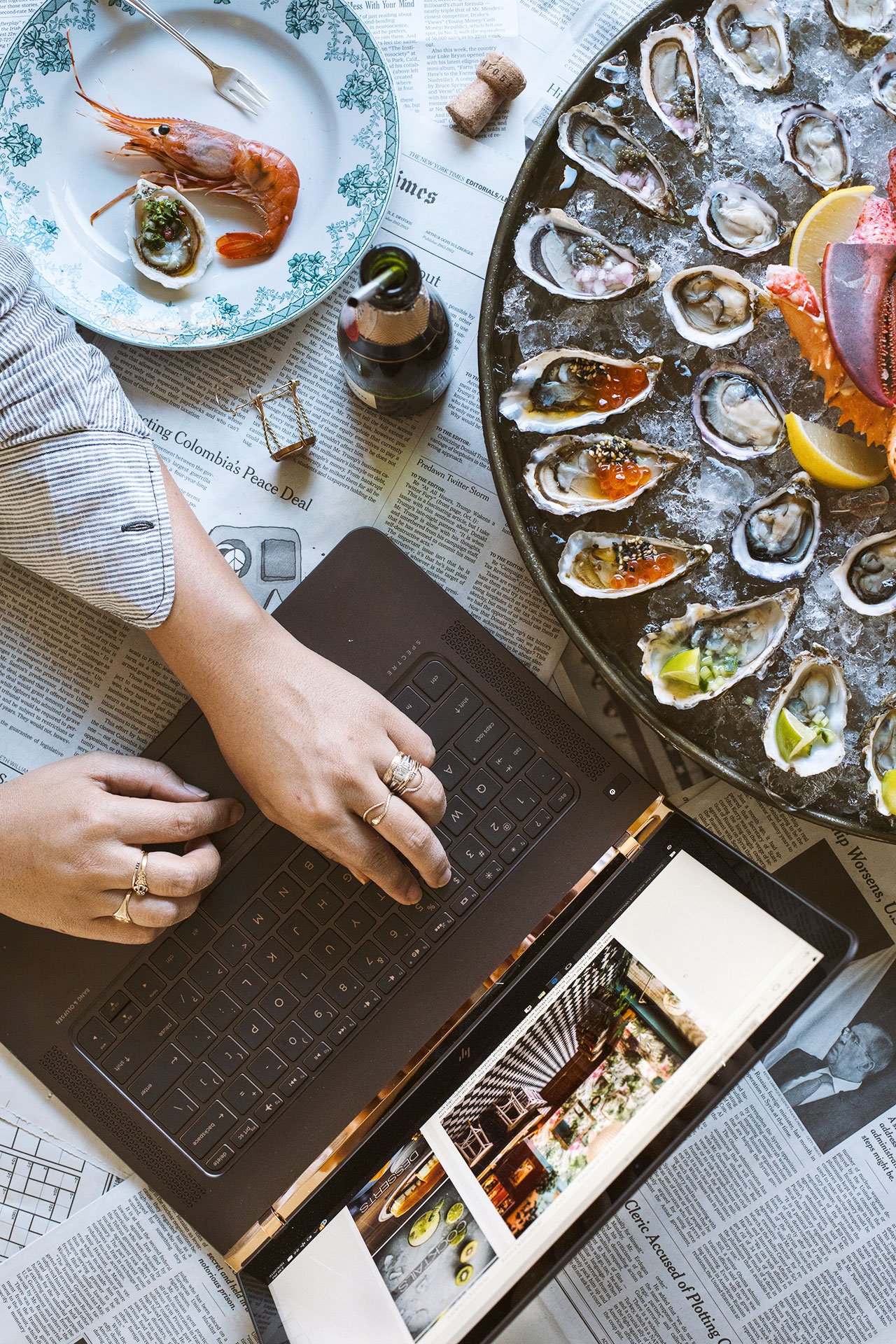 And lastly, a raw seafood party isn't really a party without champagne! Pop those bottles!!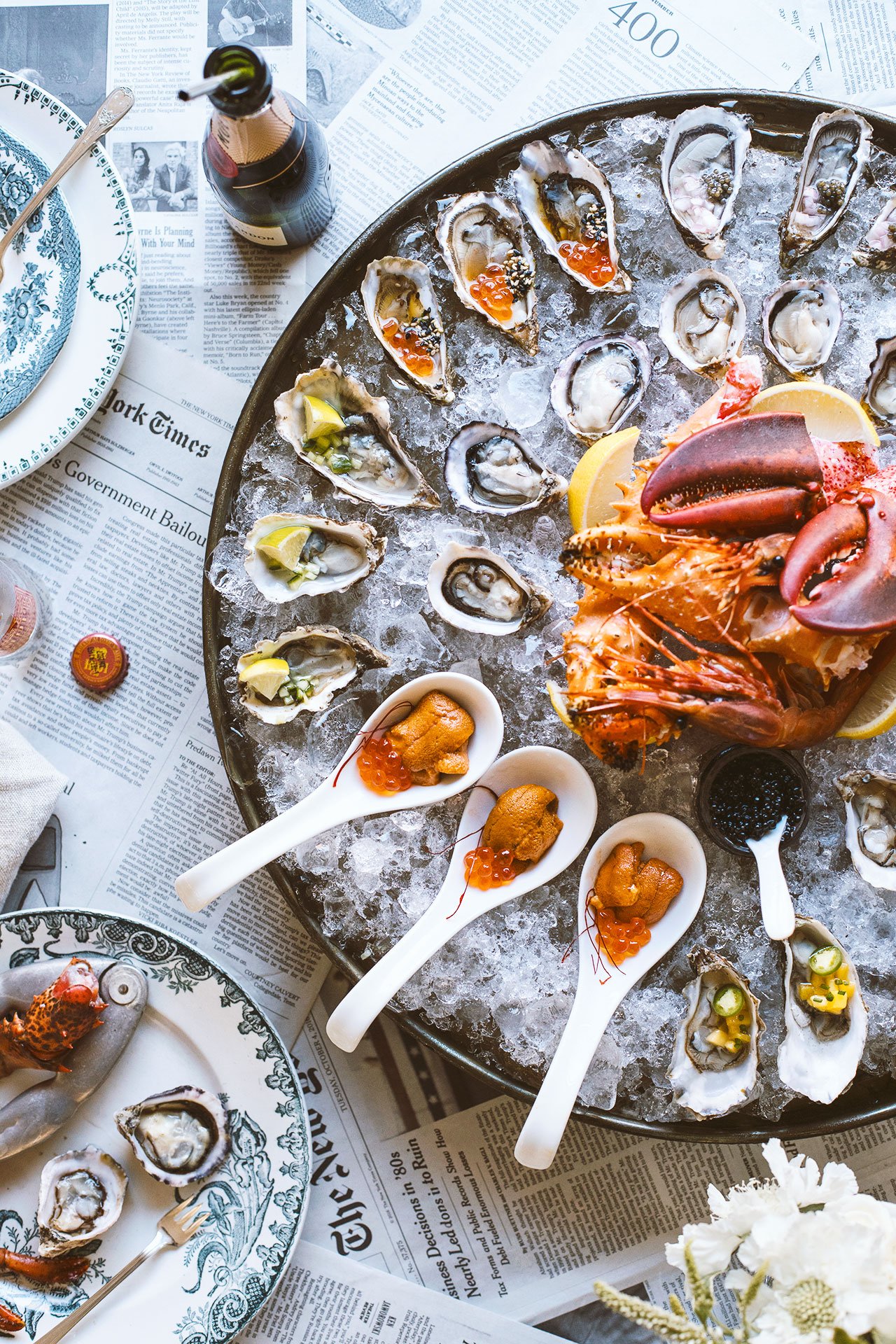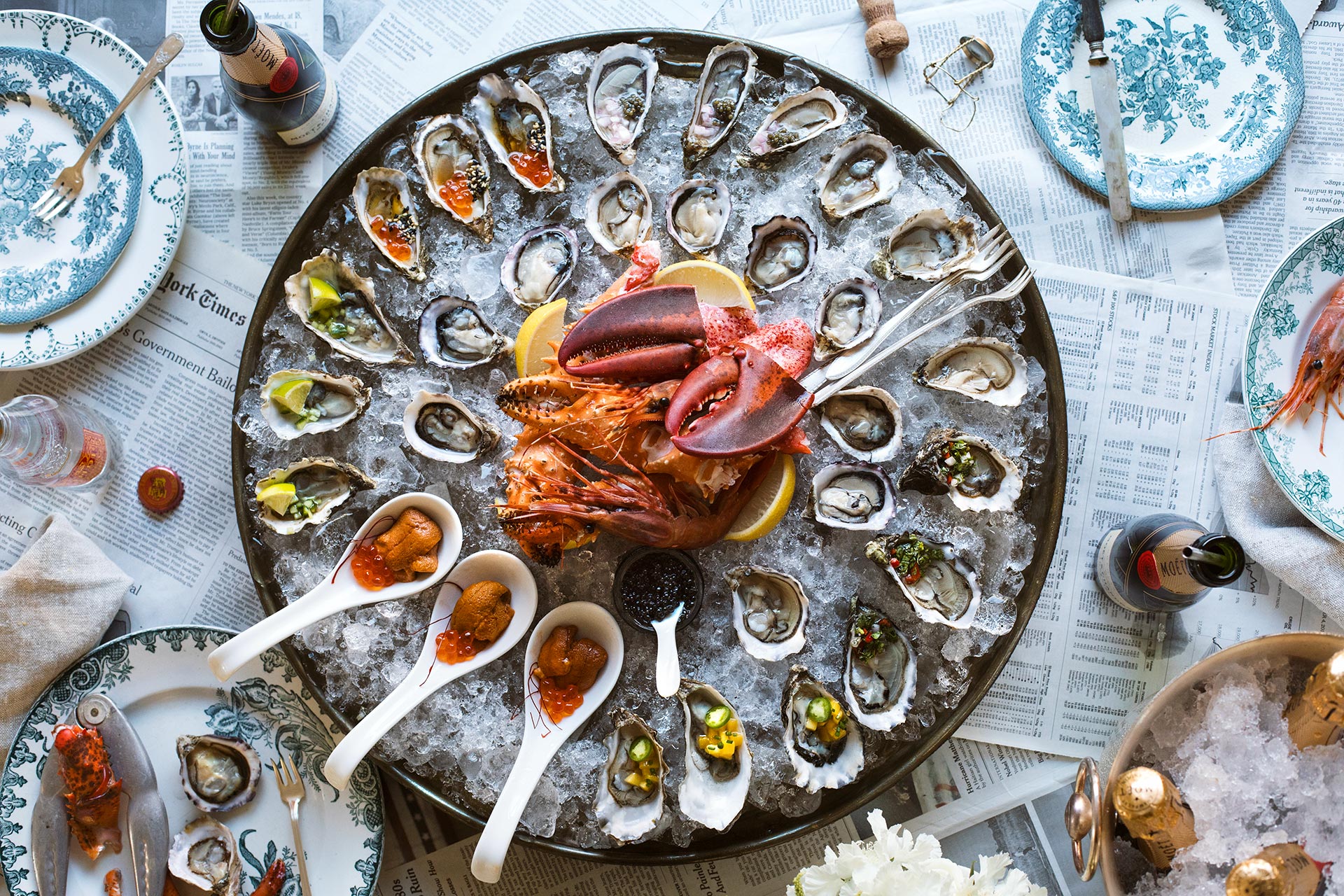 (Images by HonestlyYUM. Dinnerware and silverware from Elsie Green. This post is sponsored by HP. Thank you for supporting the brands that keep HonestlyYUM up and running!! Opinions are our our own.)