I know what you're thinking: why would I go through the trouble of making these seemingly tediously-thin grissini breadsticks when I can buy them. I won't lie, these take more time and effort than buying a box of these at the market. That being said, the recipe is a straightforward dough and rolling out these breadsticks is actually easy (there's even a gif in this post to show you how easy it is!) and these taste INFINITELY BETTER than store-bought. Store-bought grissini breadsticks are thin and crunchy but are completely dry. True grissini should be mostly crispy and crunchy on the outside with just the slightest bit of chew on the inside with that great yeasty bread flavor that you don't get with the store-bought variety. Also, making these at home means you can customize these with any flavor. I've teamed up with McCormick to use their herb grinders and flavored these with Italian Herb Seasoning, which works perfectly here since you want a small grind so the spices stick to the grissini better. McCormick's herb grinders give closer-to-fresh flavor and aroma to liven up this homemade appetizer. You could season these with dried rosemary, sesame seeds, poppy seeds, parmesan cheese . . . anything! These taste so amazing simply dipped in some good extra virgin olive oil, balsamic vinegar and flake sea salt. Alright, I hope I've made my case to you for making these at home– you'll love them!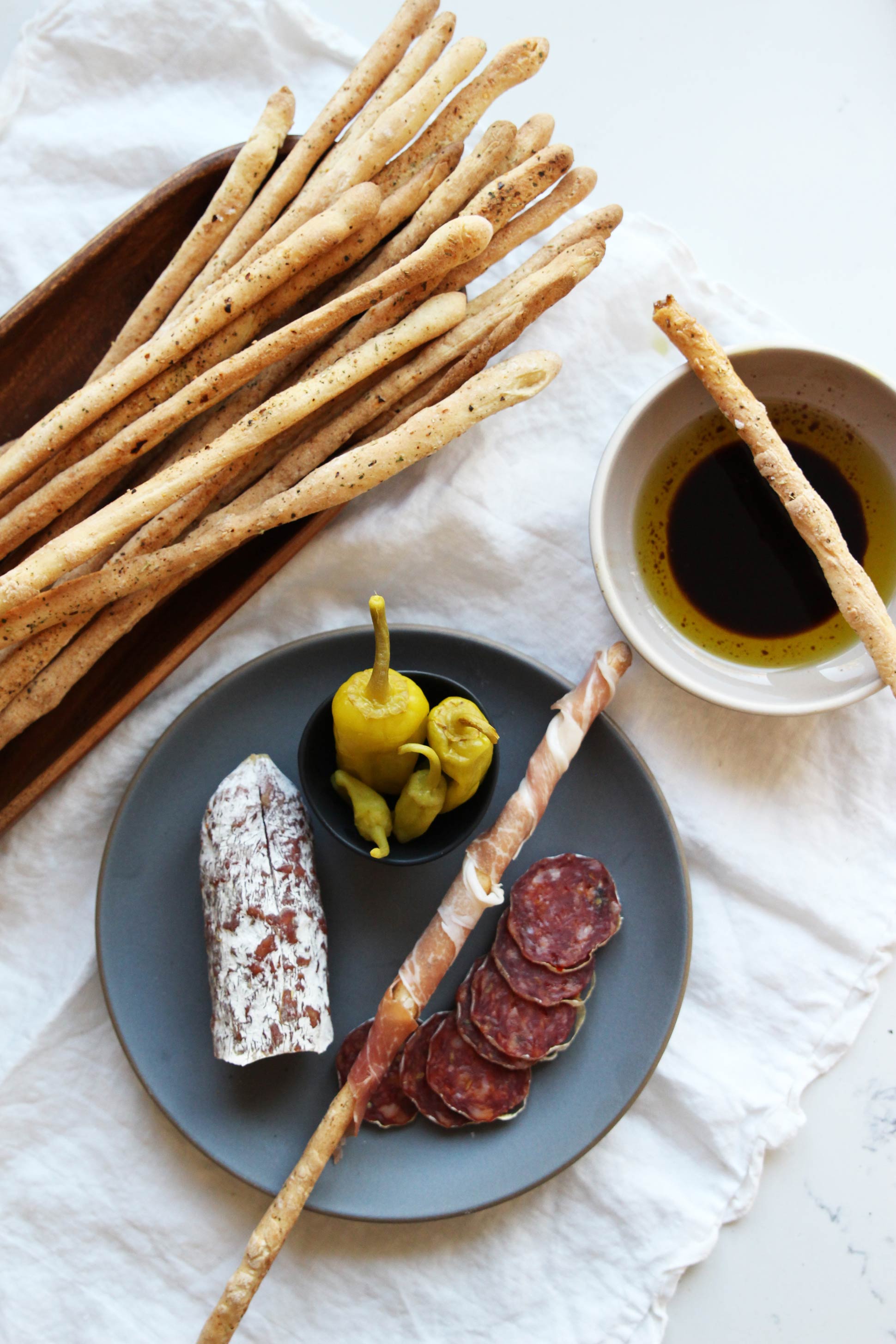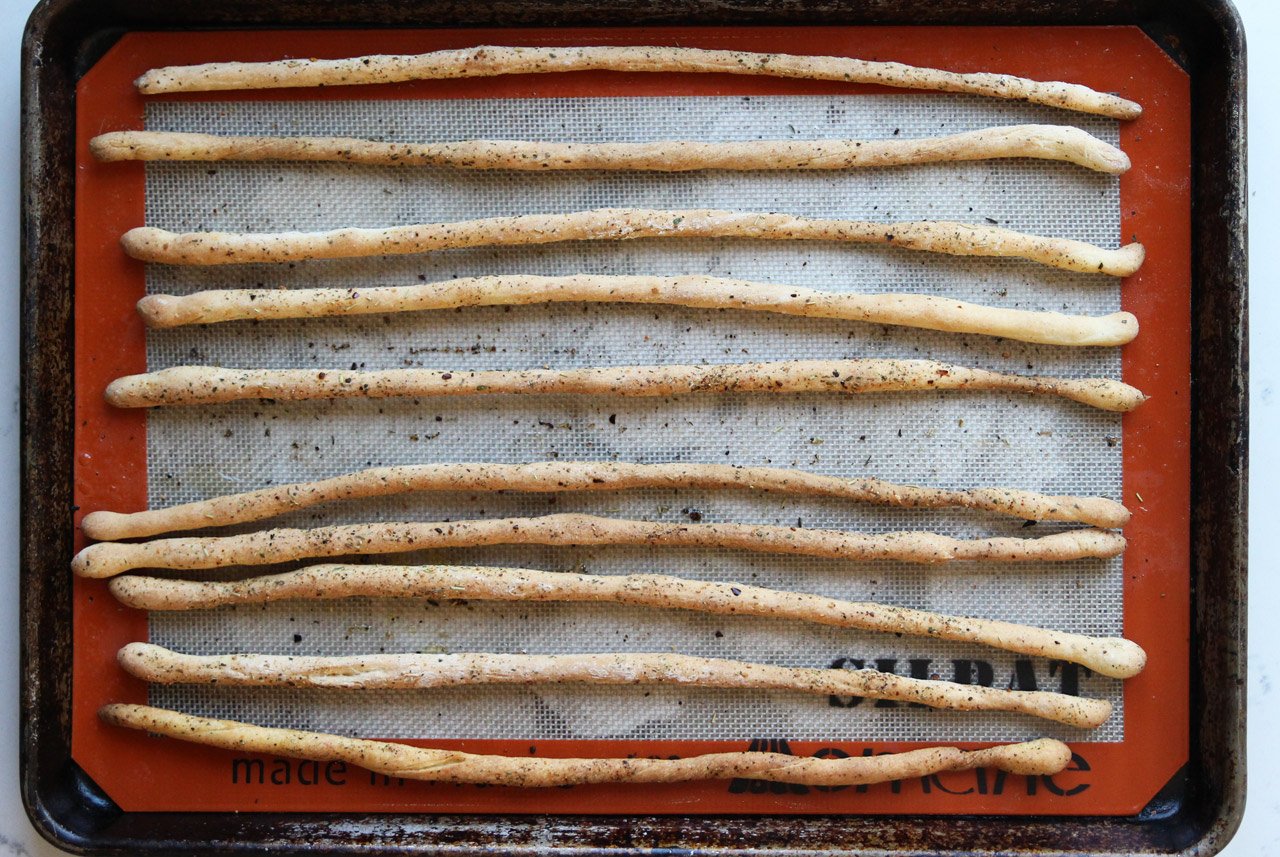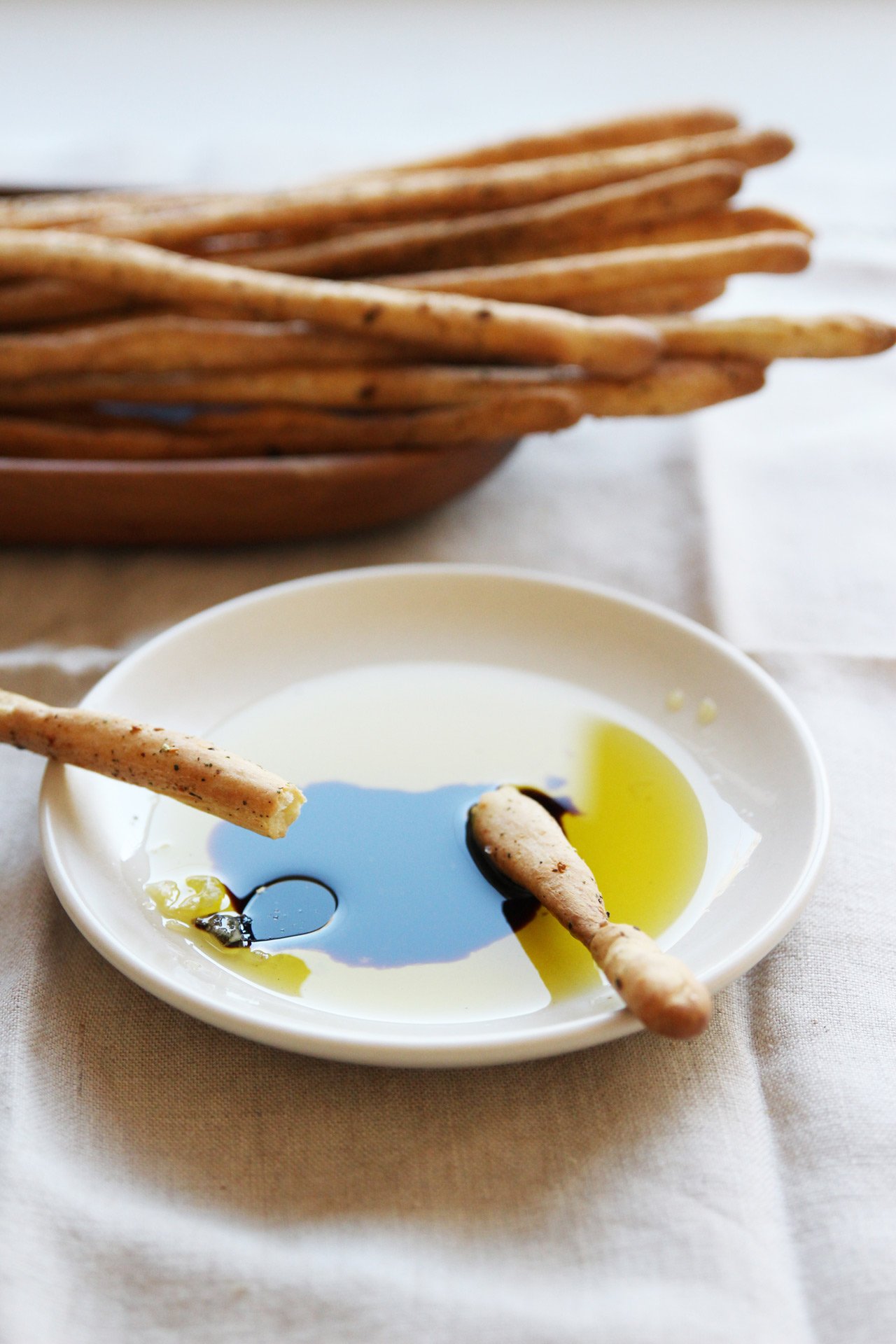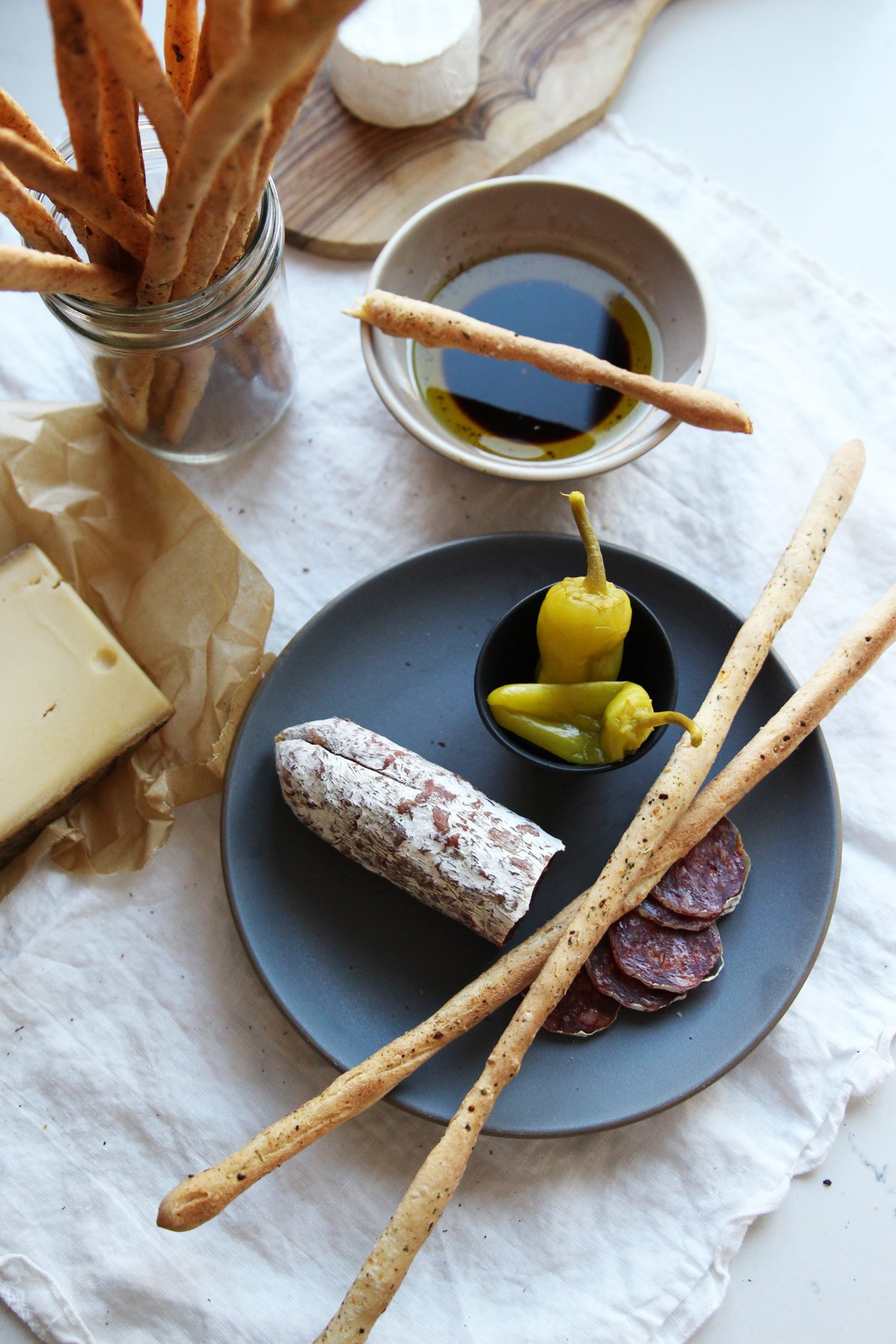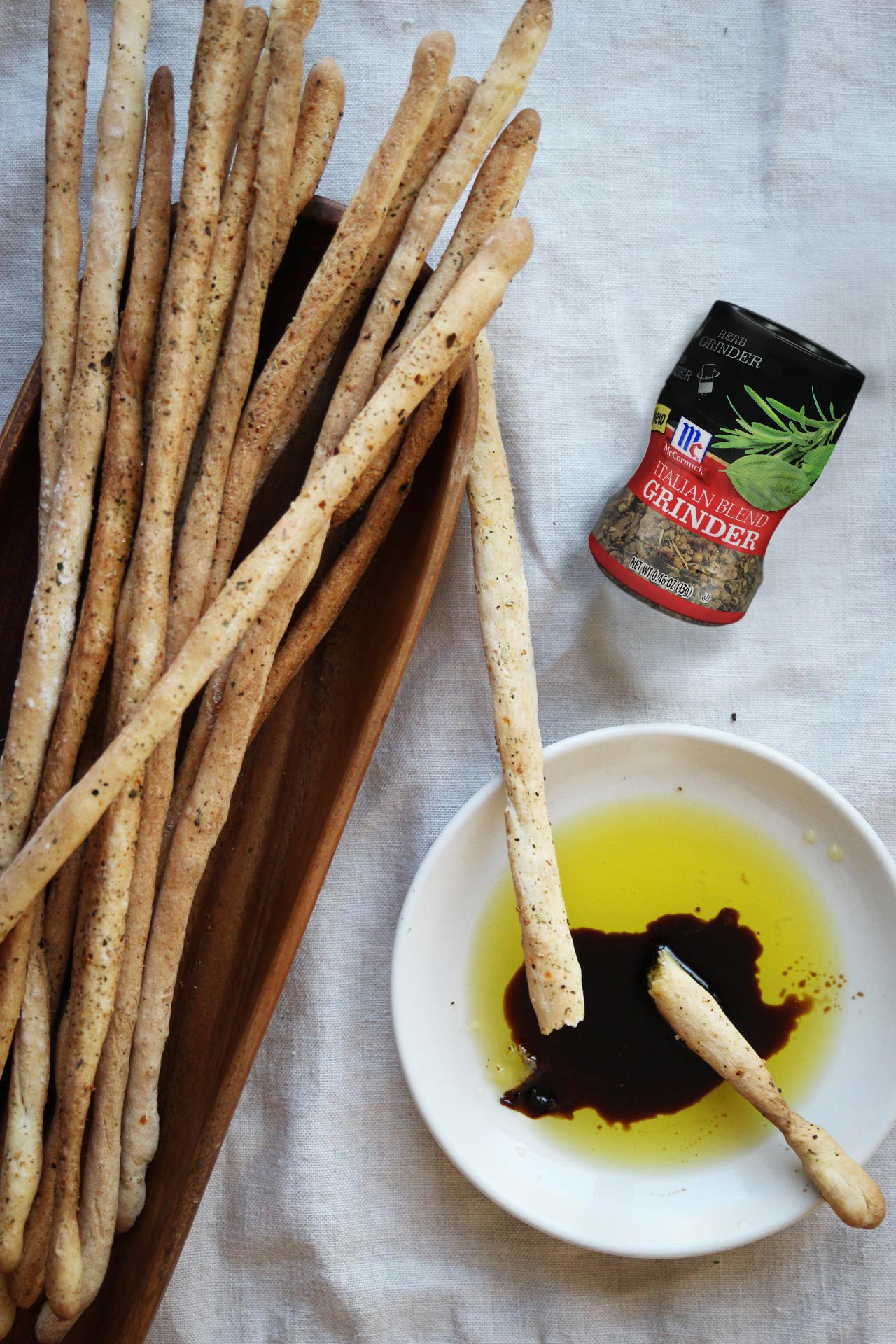 GRISSINI BREADSTICKS

Ingredients:

1 cup of warm water
2 tablespoons of extra virgin olive oil, plus extra for greasing bowl
1 teaspoon of active dry yeast
1 pinch of sugar
2 tablespoons of sesame seeds
1 1/4 cups of semolina flour
1 cup of all purpose flour, plus extra for dusting
1 teaspoon of salt, plus extra for seasoning

Directions:

Whisk together the yeast with about 1/4 cup of the warm water and the pinch of sugar. Set aside for about 10 minutes until frothy and the yeast is active.
In a stand mixer fitted with the hook attachment, add the semolina, all purpose flour and salt. Make a well in the bowl and add the rest of the warm water, yeast mixture and sesame seeds. Mix on low speed for about 2 minutes until the wet and dry ingredients are combined and the dough starts to pull away from the side of the bowl. Increase speed to medium for about 2-3 more minutes until the dough starts to form around the hook and is more smooth.
Turn the dough out onto a lightly floured surface and knead for about a minute by  hand. Place into a lightly greased bowl with extra-virgin olive oil and place the ball of dough in the bowl. Rub a little extra virgin olive oil over the dough. Cover with plastic and let rise until about double the size, about 2 hours.
Preheat the oven to 400 degrees. On a lightly floured surface, divide the dough into four pieces. Divide one piece into about 5-6 smaller pieces, each should be about the size of a Ping Pong ball. Cover the dough with a damp towel to prevent it from drying out. On a non-floured surface pull the ball of dough with both hands in opposite directions to create a longer piece and, grabbing onto both ends still, slap the dough up and down to increase the length (almost like you are playing jump rope with the dough, but not going in circles, just moving the rope up and down with both hands). Once the dough is longer, place on the surface and using your palms, roll into an even, thin long rope the length of your baking sheet. When you have the desired length and thickness, grind McCormick's Italian Blend Herb Grinder in fine grind along the top of the length of your grissini and add a small pinch of salt along the top of the seasoning. Roll the rope of grissini over the salt and spices so they get pressed into the dough.
Lay the rope on a baking sheet lined with parchment or a Silpat about 1/2 inch apart. Bake for 12-14 minutes, turning the sheet pan halfway through. Repeat with the rest of the dough.
(Images by HonestlyYUM and recipe adapted slightly from here. This post is sponsored by McCormick. Thank you for supporting the brands that keep HonestlyYUM up and running! Opinions are our our own.)