I told you it wouldn't be long before I jumped back behind the controls of my diabolical shaved ice machine. I feel like a frozen mad scientist!! I just had to give you at least one more recipe while the weather cooperates . . . although who knows when things are gonna cool down here in the Bay Area. September and October are typically our hottest months. Ugh. Well, at least I have an excuse to keep experimenting with icy treats!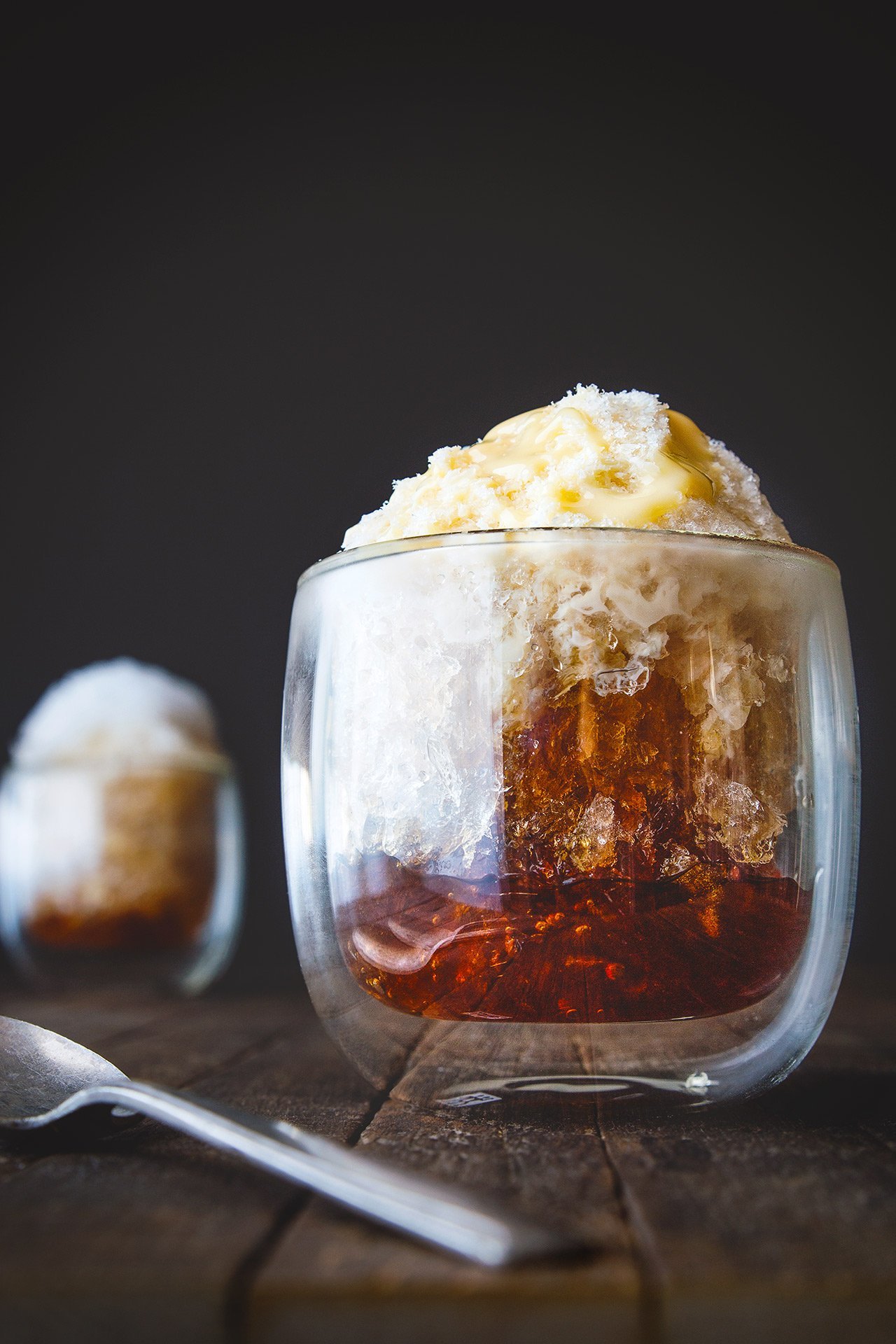 Today's recipe is inspired by my love of coffee + my love of New Orleans. A little homemade cold brew (although store bought could also work) mixed with some roasted chicory root syrup for that NOLA coffee flavor we all love. Pour over shaved ice and top with a drizzle of condensed milk . . . mmmagical!! But wait, there's more! For a boozy twist, add a splash of St. George NOLA Coffee Liqueur. Now, in the words of Arnold Schwarzenegger, "Let's kick some ice!" Sorry, not sorry. 🙂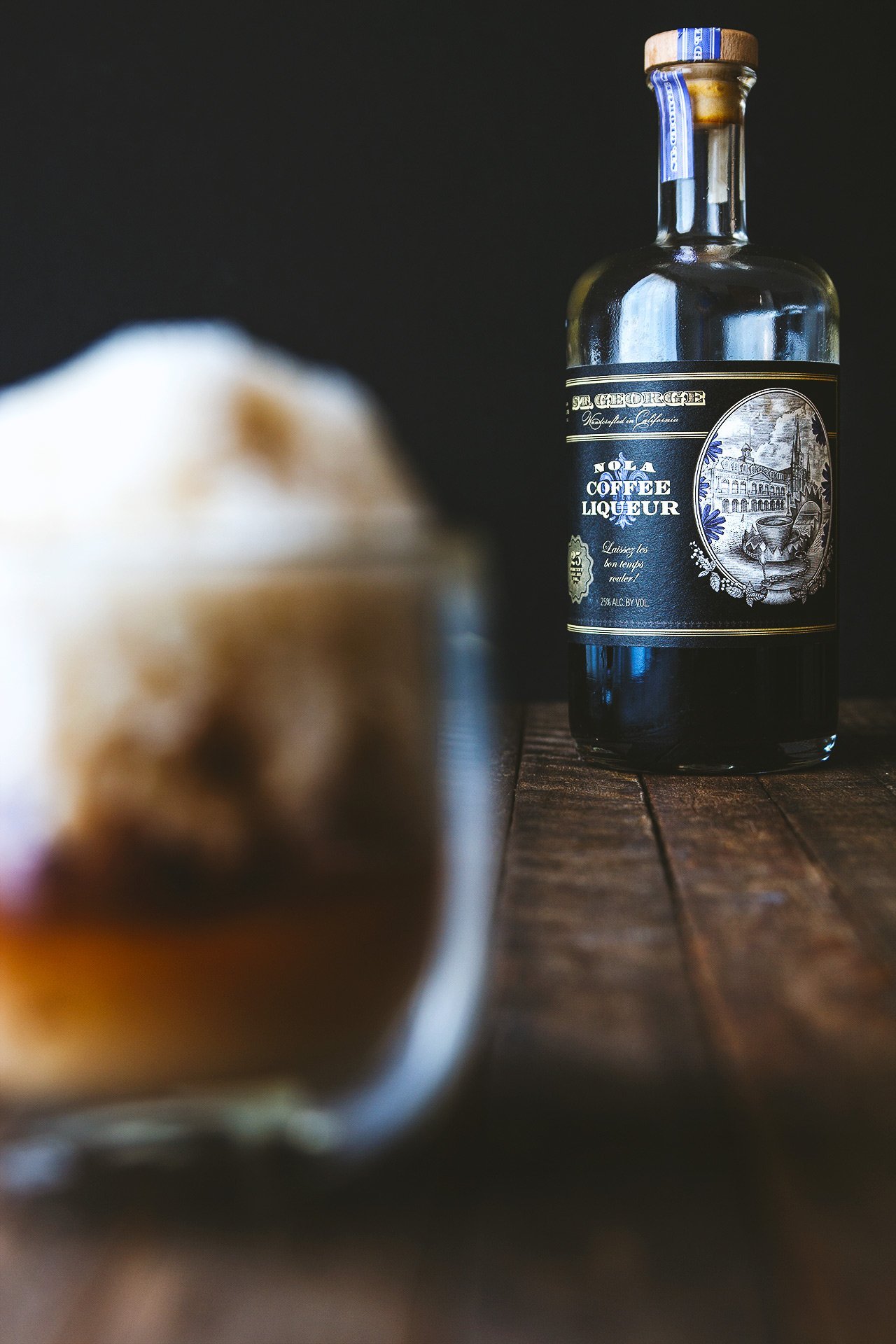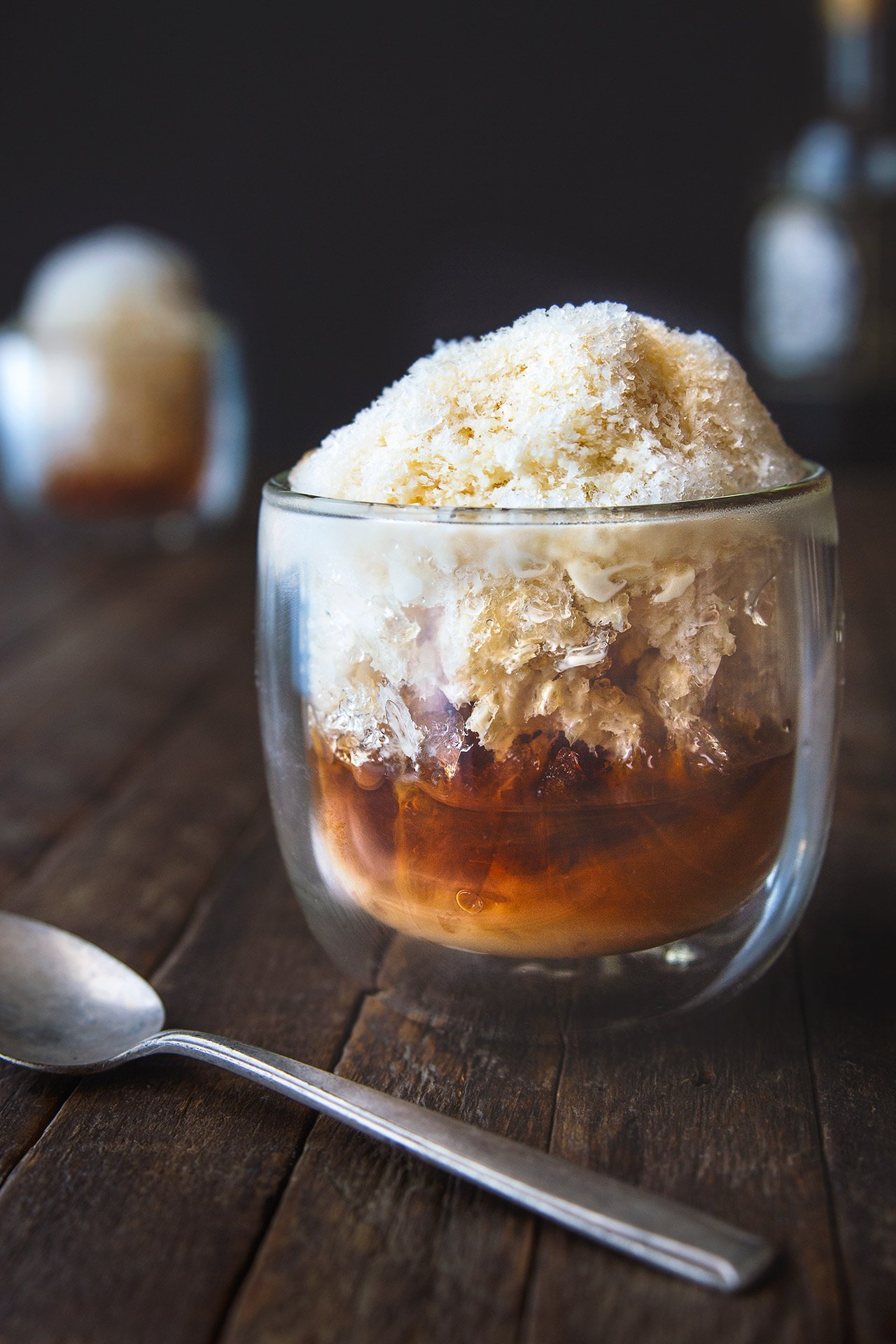 INGREDIENTS
For the shave ice
For the cold brew concentrate
INSTRUCTIONS
For the cold brew concentrate
Very coarsely grind the coffee beans. If the grounds are too fine the coffee will become murky. Combine water and grounds in a container and seal. Let steep for at least 12 hours. Strain through a coffee filter and store in in a sealed container in the refrigerator until ready to use.
For the chicory syrup
Add the sugar and water to a saucepan over medium heat. Bring to a simmer, stirring until sugar is dissolved. Turn the heat down to low, and add the chicory root and cook for 5 minutes. Remove from heat and strain through a fine mesh strainer. Let cool to room temperate then transfer to the refrigerator until ready to use.
For the shave ice
In a mixing glass, mix 2 parts cold brew concentrate to one part chicory syrup (feel free to adjust the coffee to syrup ratio to suit your sweet tooth). Stir the cold brew coffee and chicory syrup mixture to combine. (The exact amount you need really depends on how much ice you're using, how big your bowl is, etc.) Fill a bowl with shaved ice. Top with generous amount of the coffee syrup mixture. If you're making it boozy, add a shot of the NOLA coffee liqueur. Pile on more shaved ice, then pack/sculpt the ice firmly with your hands, creating a mound atop the bowl. Add a bit more of the coffee syrup mixture. Top with a drizzle of condensed milk. Serve with spoon and straw.
(images by HonestlyYUM)