Anybody who knows me knows that I've always had the blackest of black thumbs. I've never been able to keep anything green living – not even cacti. Honestly. So I'm happy to report that after the last couple of summers spent cultivating the beginnings of a modest vegetable garden, we've got beautiful, sun-kissed plum and cherry tomatoes that thriving! In fact, they're growing so wildly and rapidly out of control, we have more tomatoes than we know what to do with. Until that is, I started roasting them and devouring them over eggs, on toast, alongside fish, and recently, tossed into pasta. I love how the sweetness of the roasted tomatoes compliments an herbaceous basil and spinach pesto, creamy burrata and salty prosciutto. It's the perfect dish to latch onto those last few weeks of summer . . .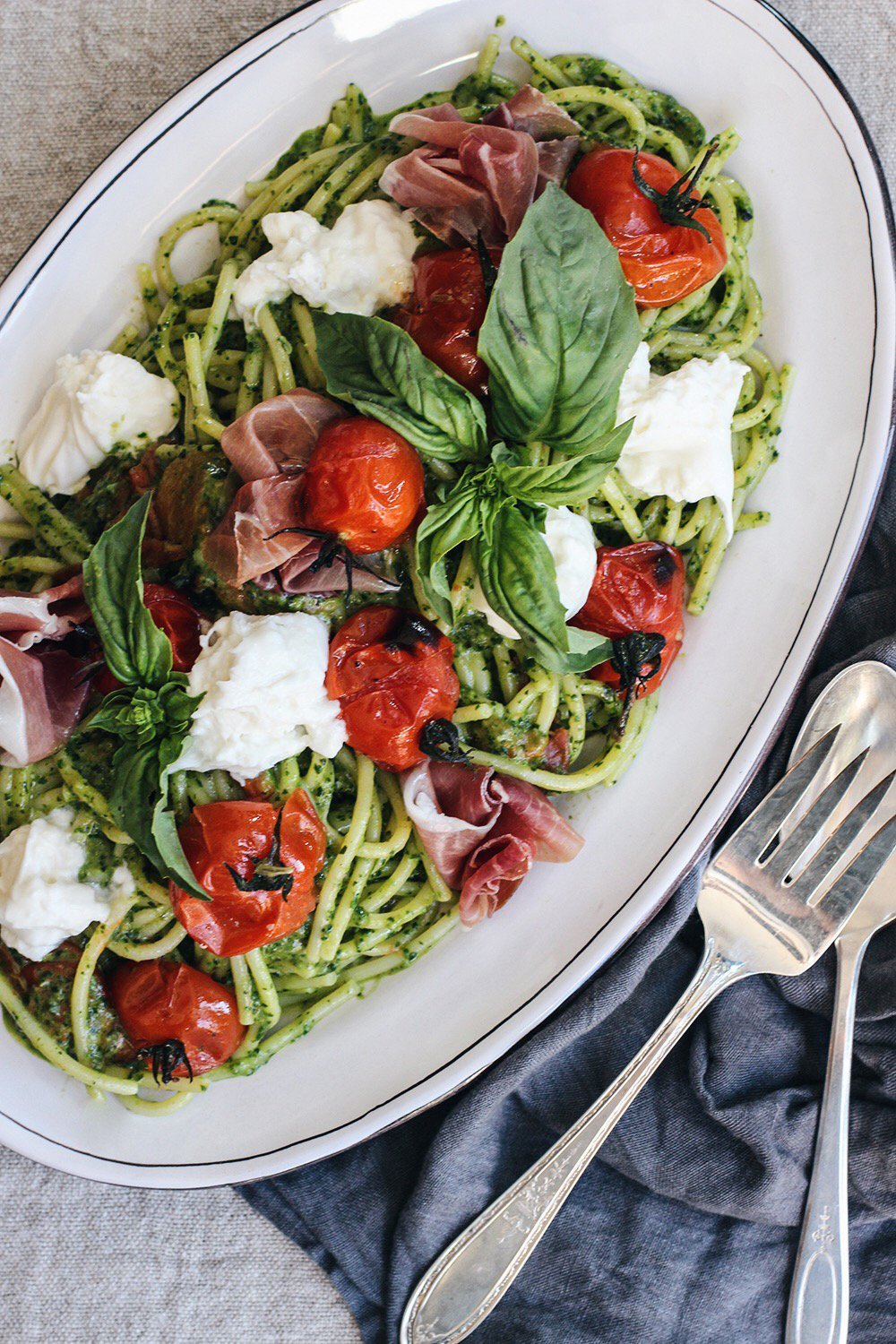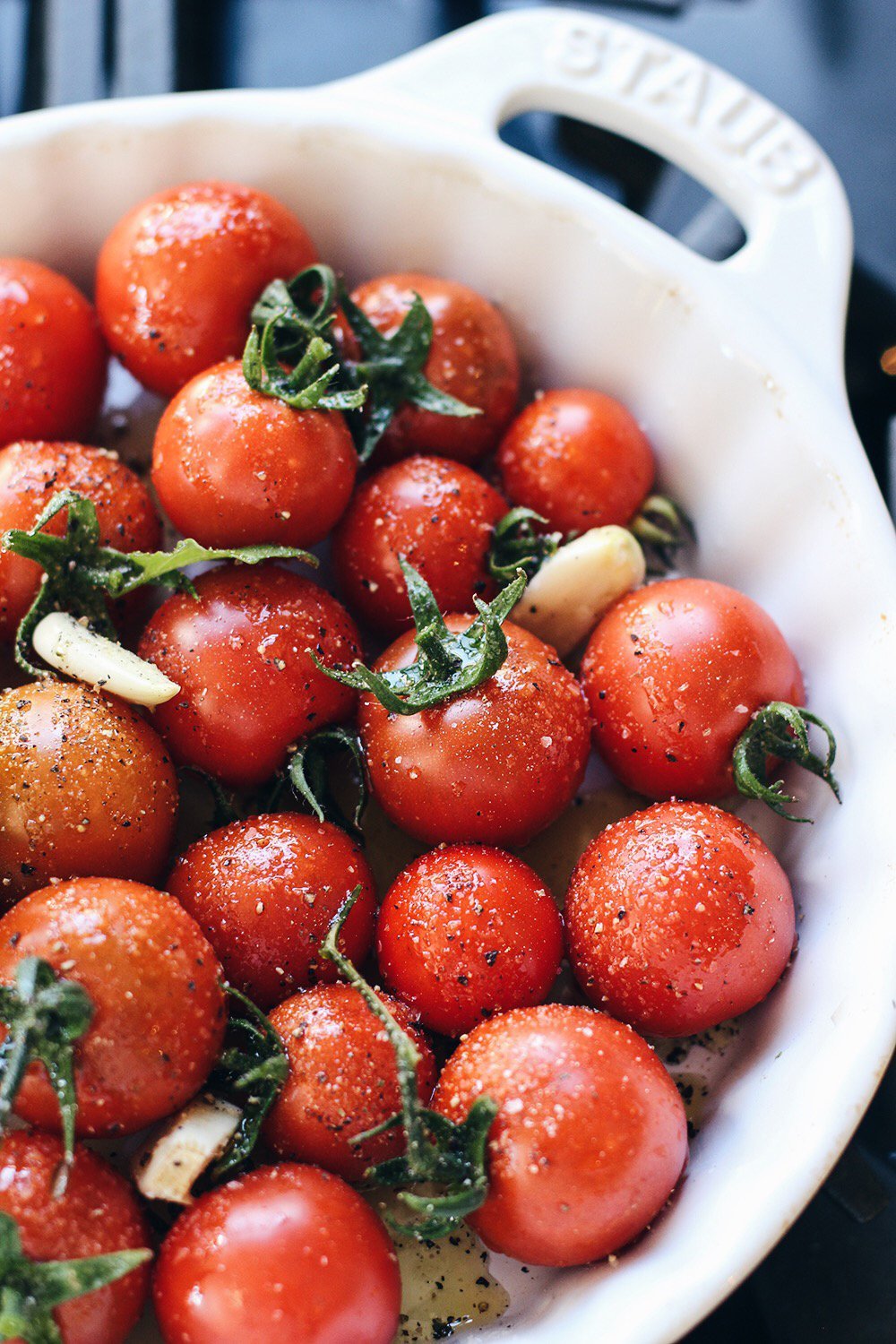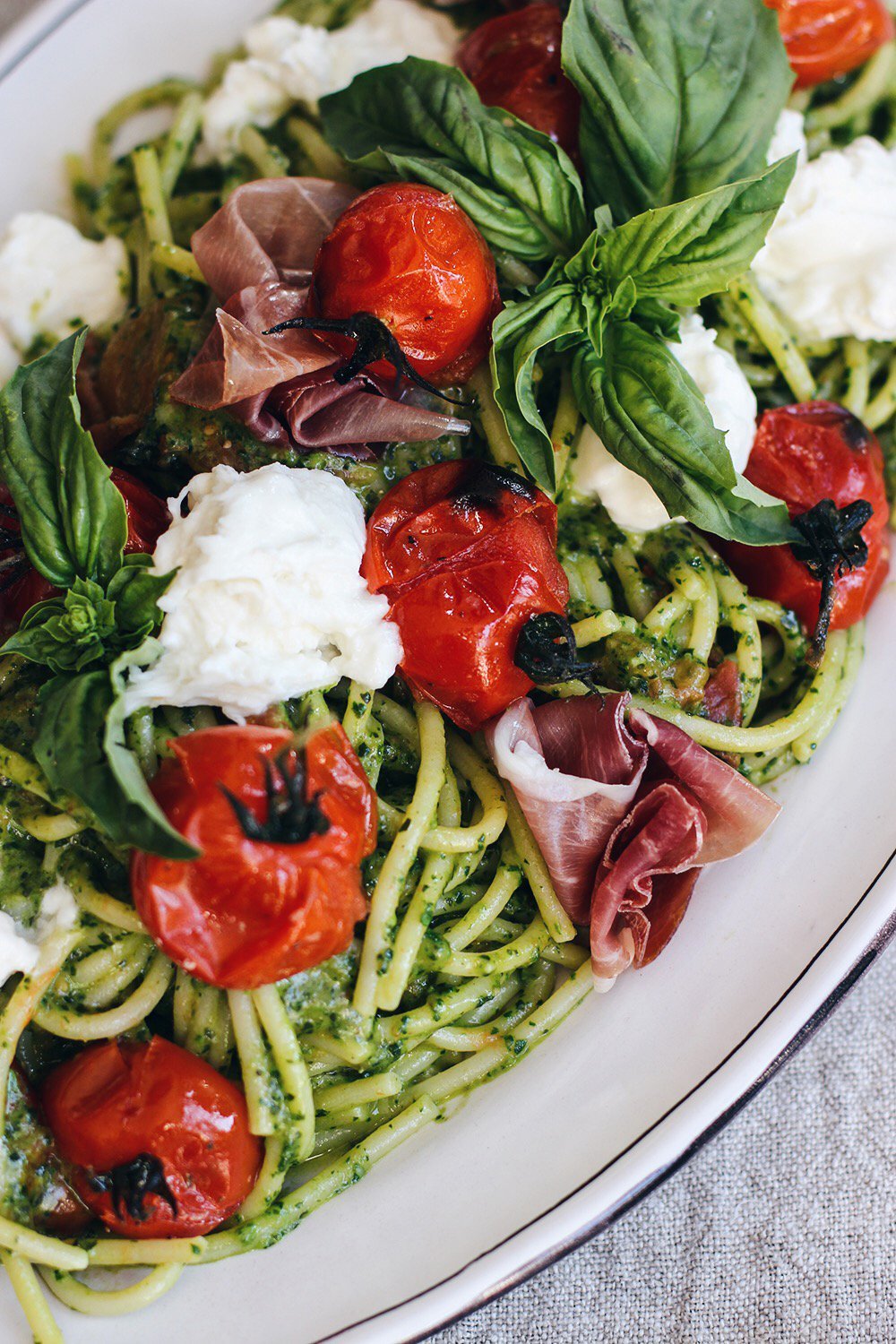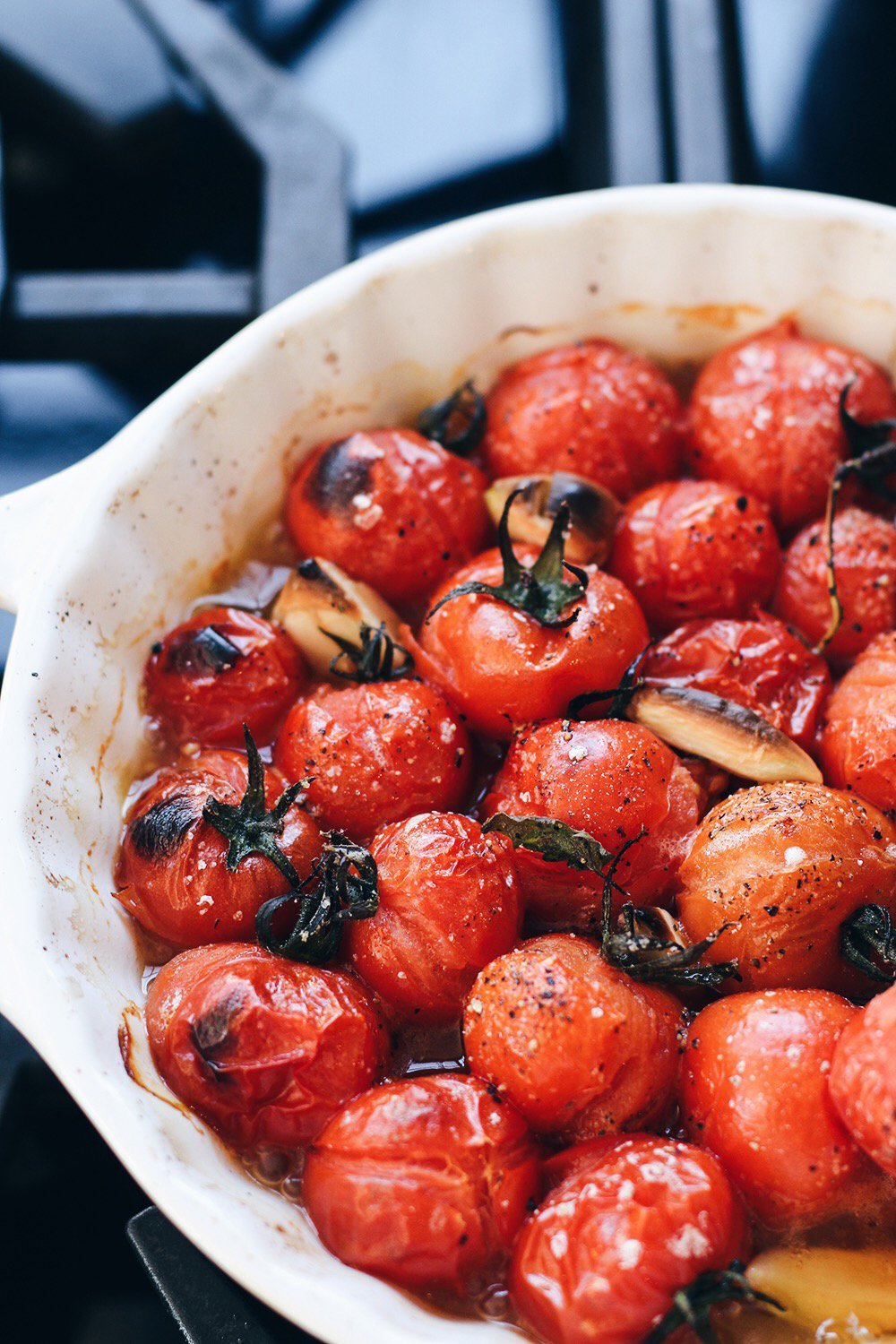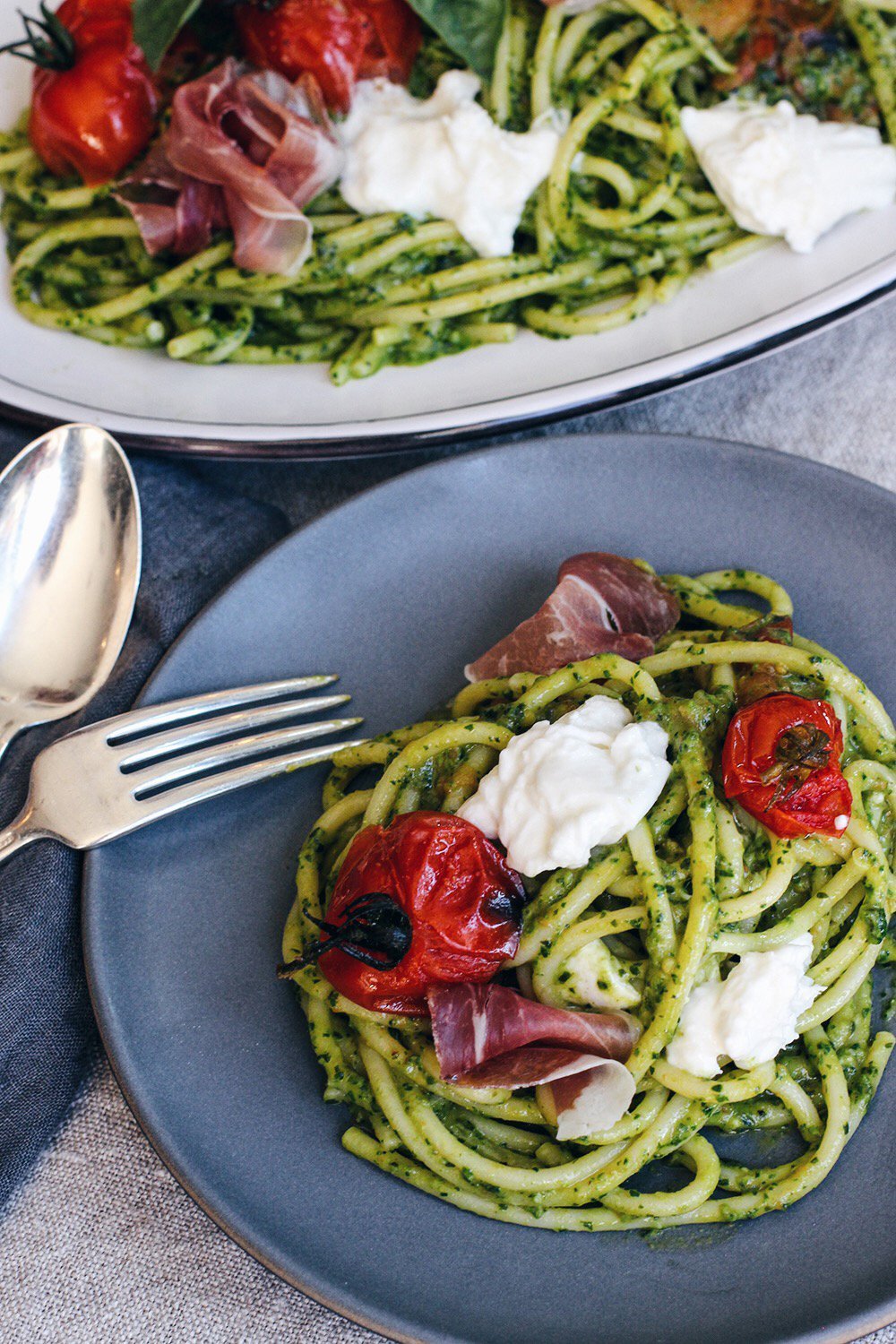 CAPRESE PASTA WITH ROASTED TOMATOES & BURRATA

Ingredients:

1lb of spagetti or buccatini
2 cups fresh basil
1 cup fresh spinach
1.5 cup finely grated parmesan
1/2 cup olive oil
1lb cherry or plum tomatoes
5-6 cloves of garlic
finely sliced prosciutto
burrata
1/2 tsp salt or to taste
1/4 pepper

Directions:

Preheat oven to 425° and boil pasta in salted water until its cooked al dente.
Drizzle olive oil over tomatoes in an oven proof dish. Toss with garlic cloves, salt and pepper and roast in the oven for 20-25 minutes or until bubbling and blistering.
Meanwhile, combine basil, spinach, parmesan into a food processor. Add the roasted garlic from the tomatoes and purée. Slowly add olive oil and process until a smooth consistency is reached. Add salt and pepper to taste.
Drain pasta, reserving a 1/4 cup of pasta water.
Toss pasta with the basil spinach pesto and roasted tomatoes and their roasting liquid.
Top with ripped burrata and prosciutto.
Serve immediately!
(images by HonestlyYUM)