Guys can you believe it . . . Fiona is two years old!! Well, technically she'll be two on Monday, but we're having family over this weekend to celebrate. I know it's cliché, but it really does feel like she was born just yesterday. Where'd the last two years go?!! (Yikes, I'm kinda scared to look in the mirror!) Little Fiona monster has be been my roll-dog since day one. We dance, we wrestle, we cook, we read, we have coffee dates, and even the occasional happy hour. I'm so incredibly lucky to have a job that allows me the flexibility to see my daughter so often. I know it's rare, especially these days, and in this country, and it's certainly not something that I take for granted. Fiona, I love you.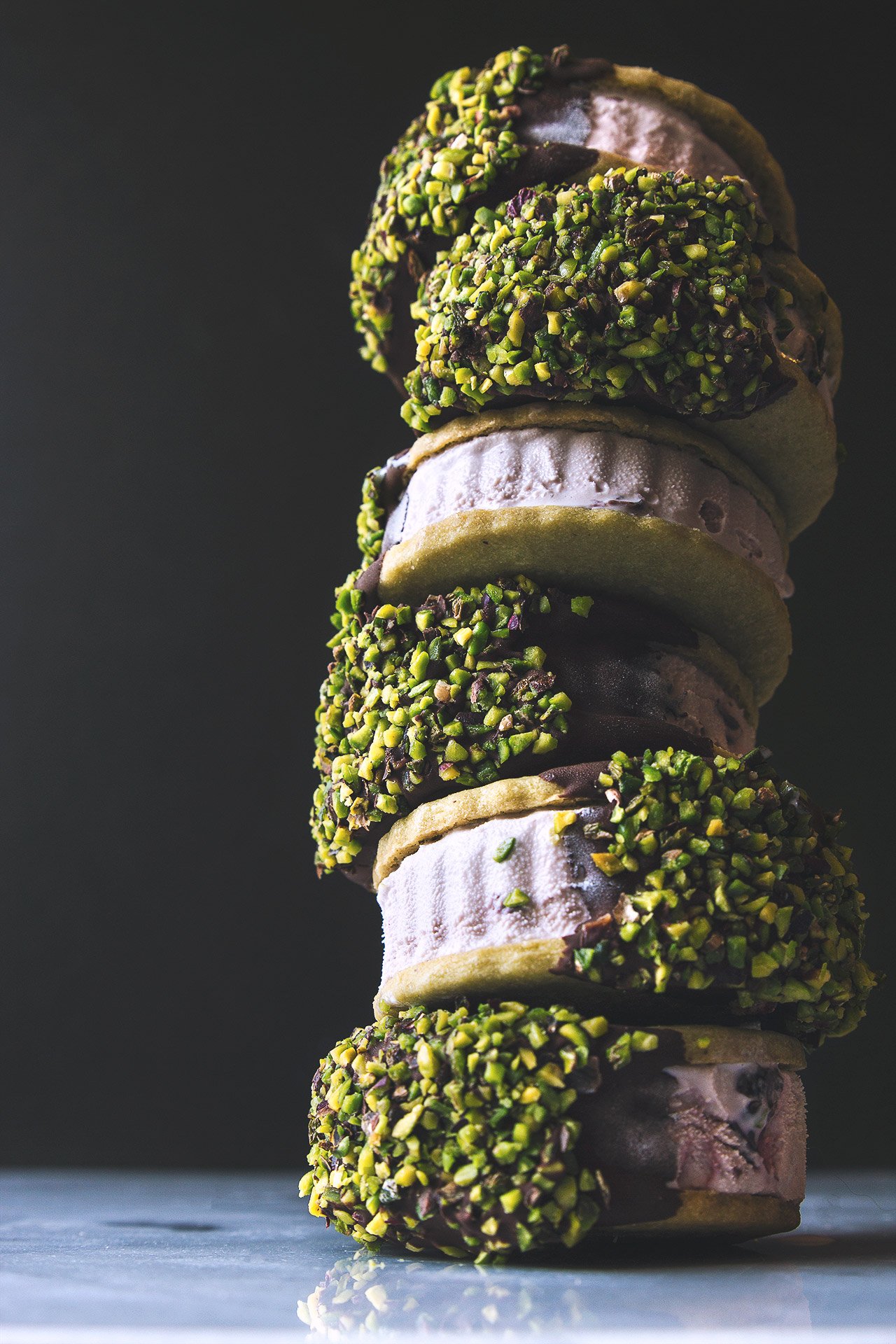 And now . . . spumoni time! (I always wanted to say that.) So whether you're celebrating a birthday, stuck in the middle of a heatwave, or you're simply just a sucker for creamy cherry ice cream sandwiched between two buttery pistachio shortbread cookies, dipped in gooey bittersweet chocolate, these beauties are for you!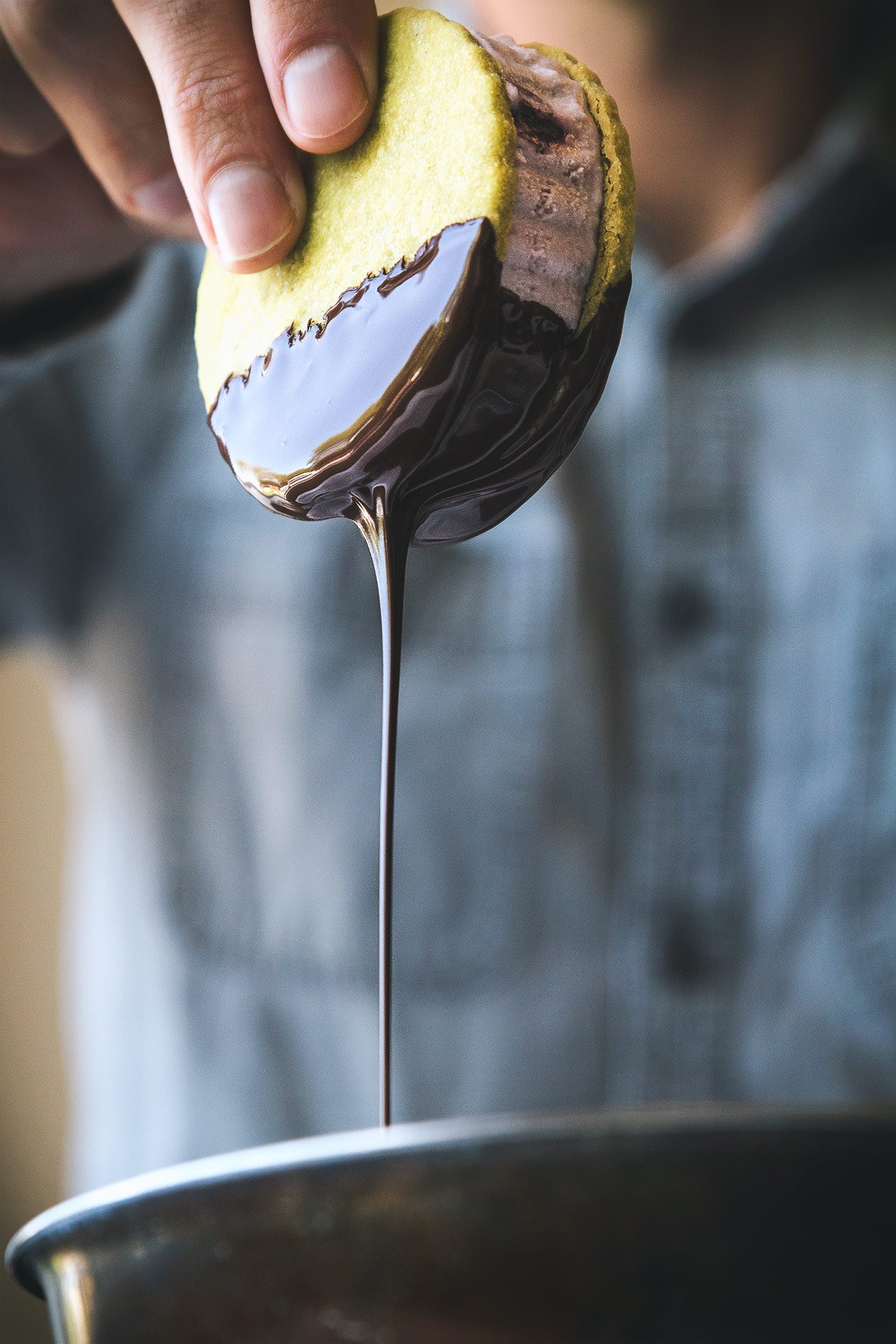 To achieve the classic spumoni trio (pistachio, cherry, chocolate) I added some homemade pistachio butter to a classic shortbread recipe. If you'd like your cookies to match that pistachio-green you see in a traditional spumoni, you can add a bit of matcha powder as a natural food coloring. It won't alter the taste, but gives a bit of green color, if that's something you're looking for. I added a teaspoon, and my cookies went from a light blond, to more of a yellowish-green, natural pistachio color. Again, totally optional. For the ice cream I used store bought. I really wanted to cut the ice cream in the same shape as my cookies for a cleaner look. But, if you were looking for a delicious homemade cherry ice cream recipe, I highly suggest Alanna's (as well as her ice cream sandwiches).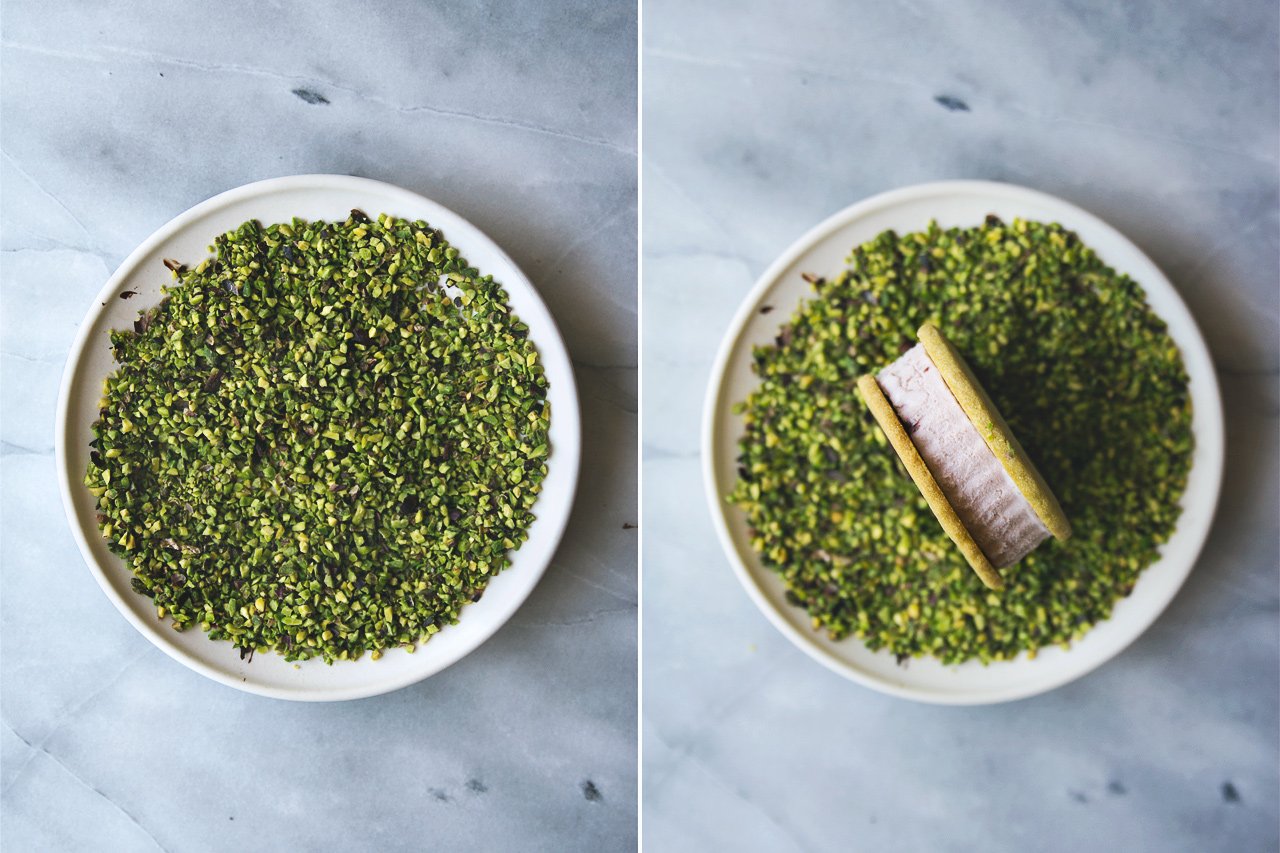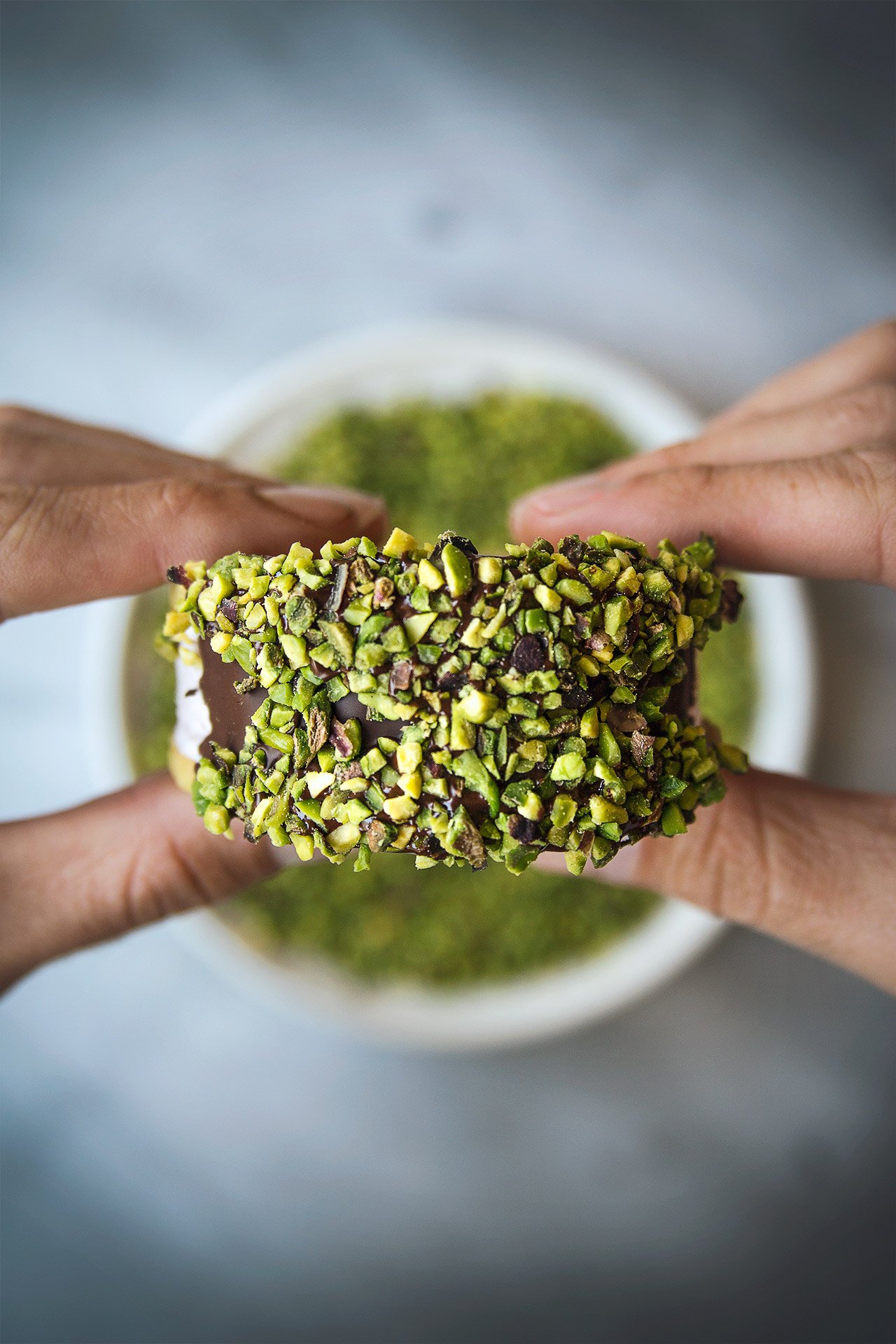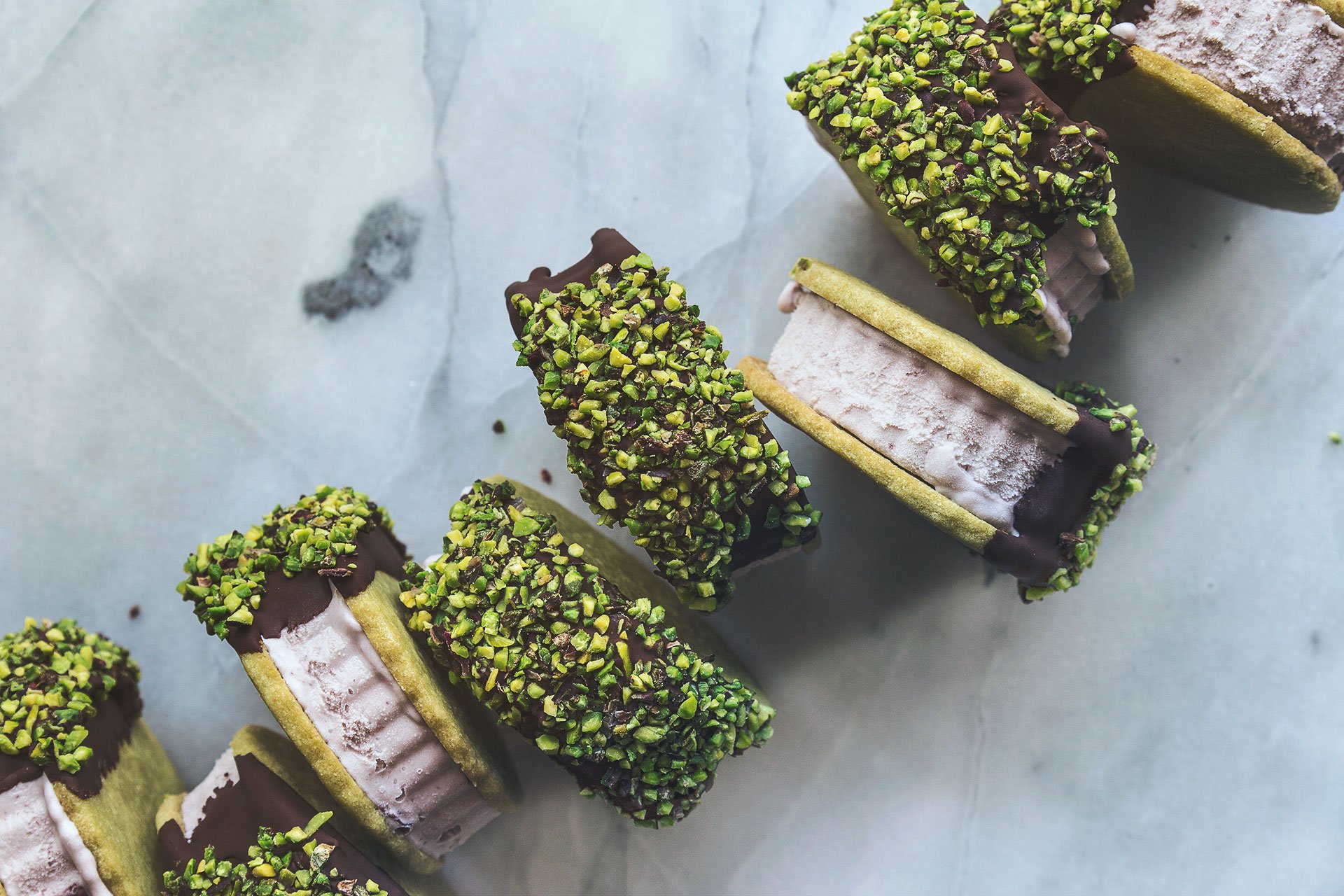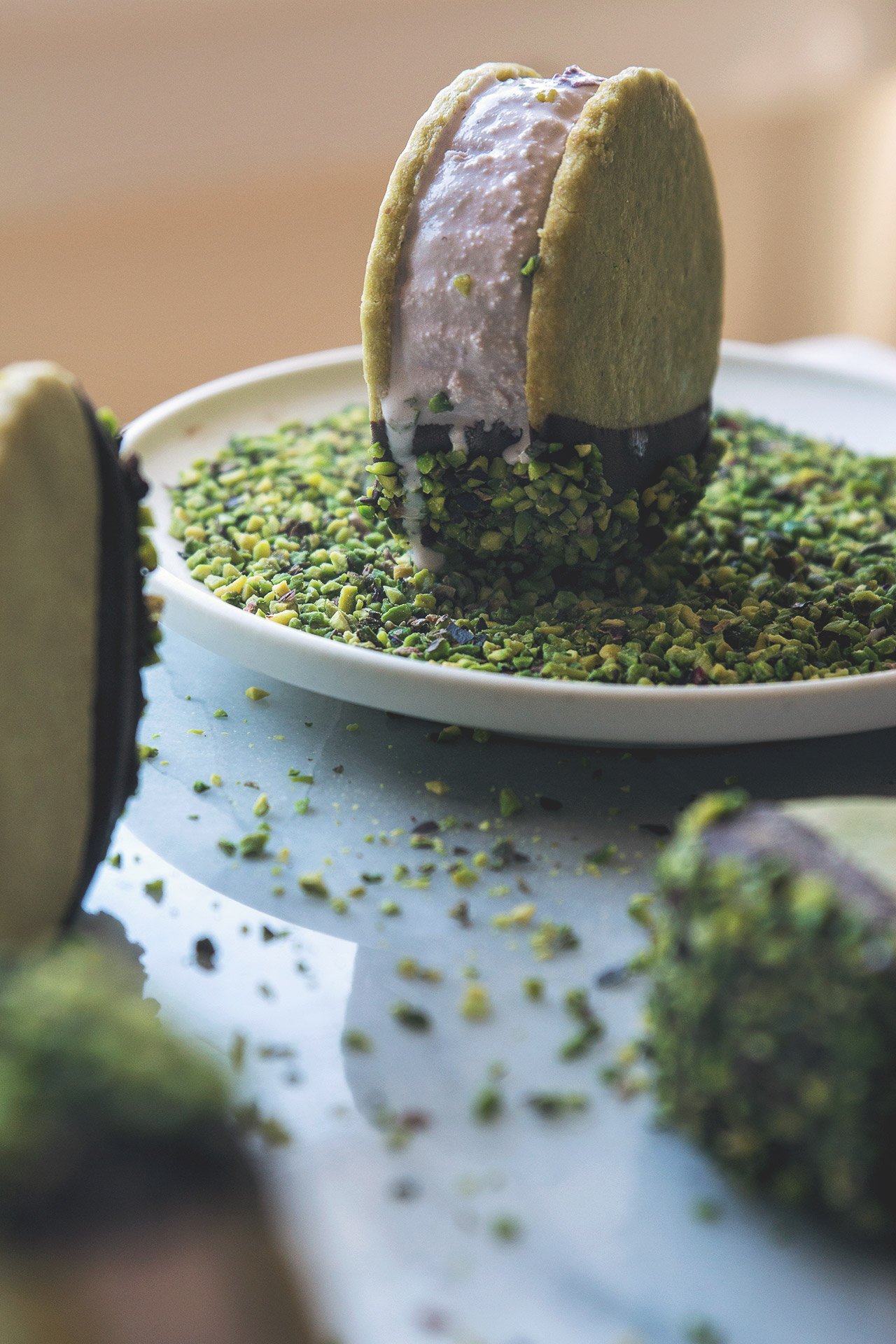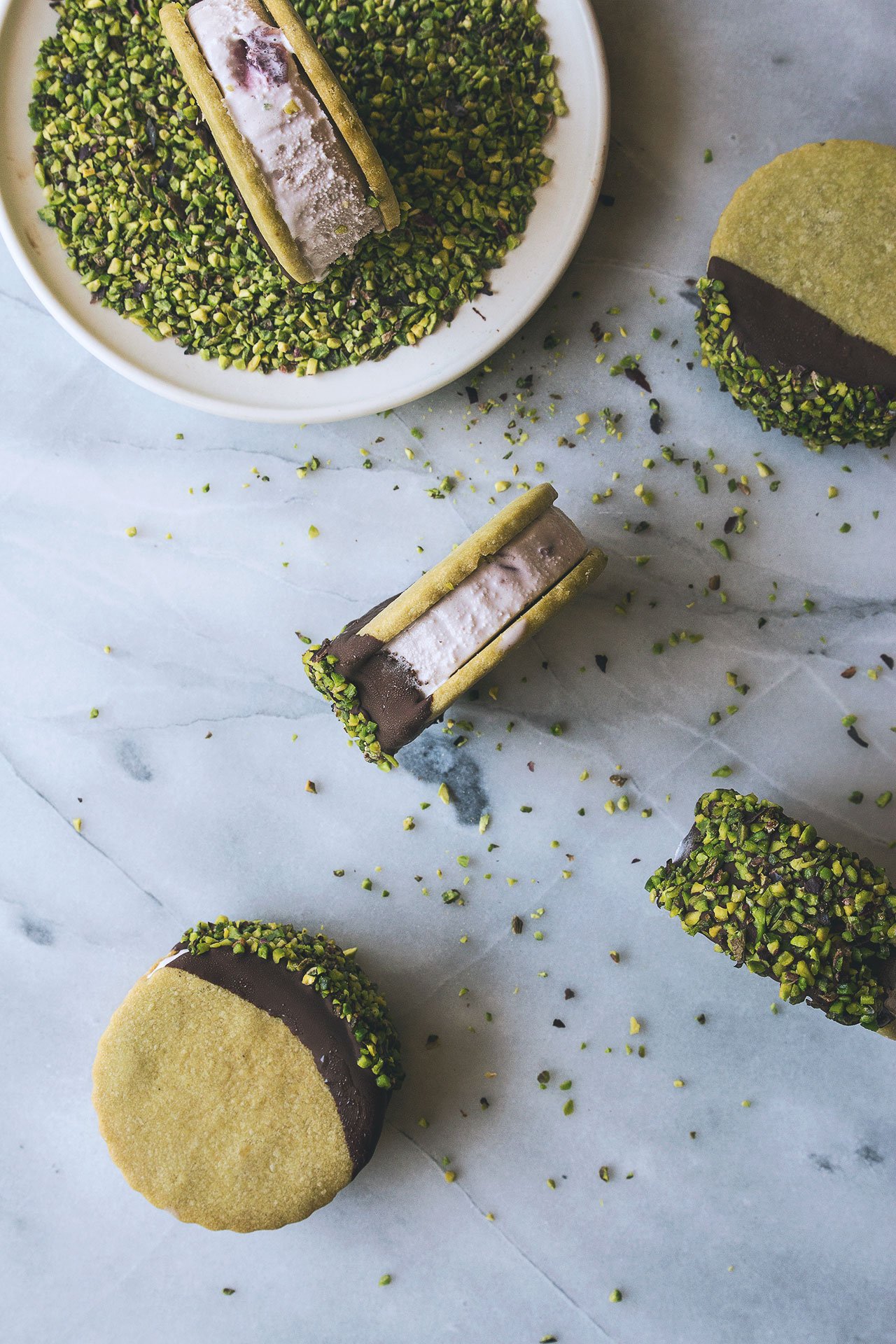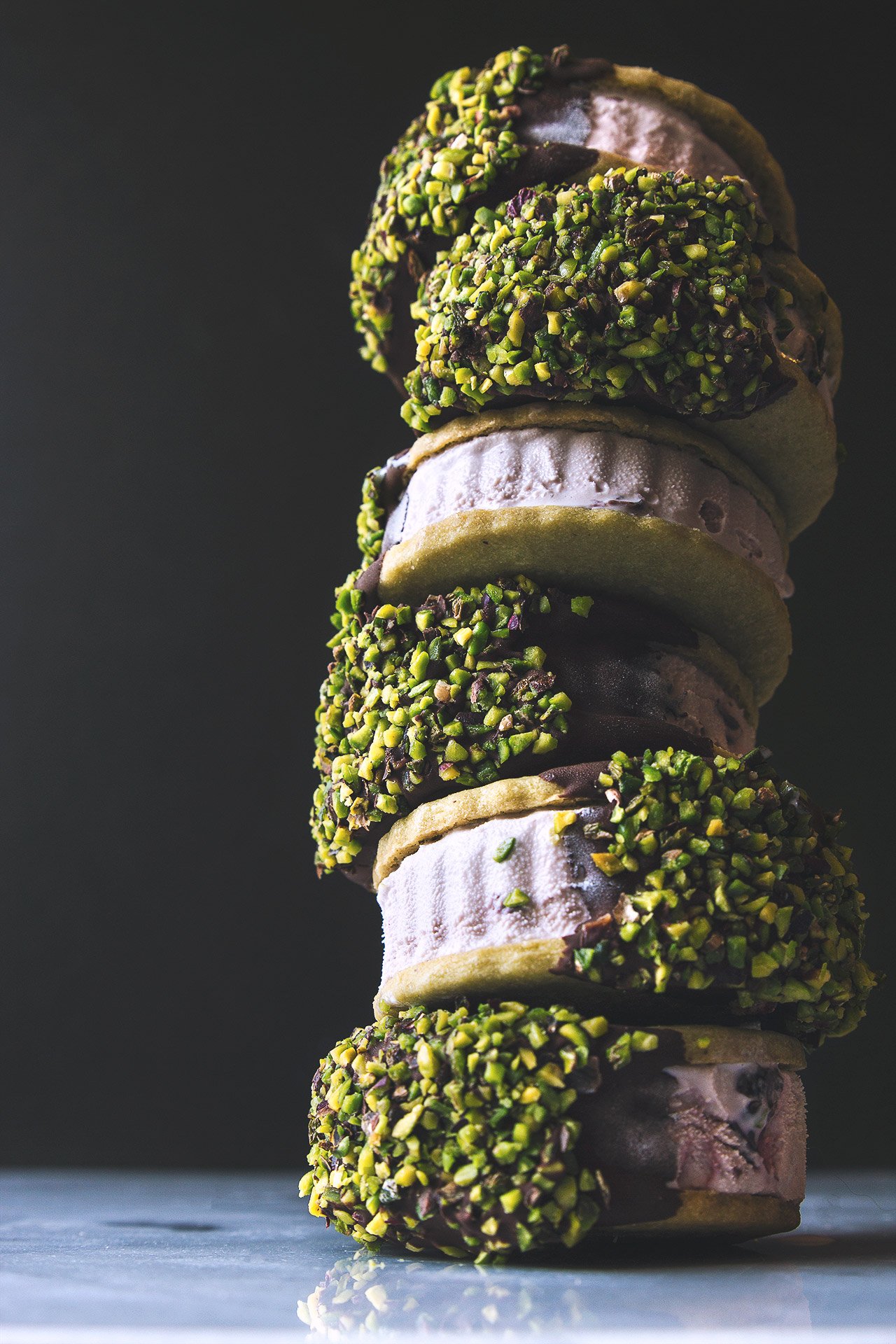 INSTRUCTIONS
To make pistachio butter, add raw, shelled, unsalted pistachios to a food processor, and process for several minutes until you reach a smooth, creamy peanut butter like consistency. You may need to periodically stop the food processor and scrape down the sides of the container. Set aside.

In a stand mixer with the paddle attachment, mix the butter and sugar at low speed to combine. Increase the speed to medium until light and creamy (about 3 minutes). Mix in the pistachio butter.

Return to low speed and add the flour and matcha powder, until just combined. Do not over mix.

Transfer the dough to a large piece of plastic wrap and use your hands to flatten until 1/2 inch thick. Wrap in the plastic and refrigerate for 30 minutes.

When chilled, remove from the refrigerator. Roll the dough between 2 pieces of parchment paper until it reaches 1/4 inch thick.

Use a cookie cutter to cut into desired shapes, but leave on the parchment paper. Re-cover the dough with the parchment paper and place back in the refrigerator for 15 minutes.

Preheat the oven to 350° F, and line two baking sheets with parchment paper.

When firm, transfer the cookies to the baking sheets and place in the oven. Bake for ~12 minutes, rotating the baking sheets halfway through, until they reach a light golden brown

Remove from the oven and let cool for 5 minutes on the baking sheet on top of a cooling rack, before transferring the cookies directly to the cooling rack.

If using store bought ice cream, assemble the sandwiches by cutting a pint of cherry ice cream (cut through the paper packaging) into 3/4-inch rounds. Quickly use the same size cookie cutter to cut the ice cream to the matching size. Set the ice cream between two cookies, and immediately place in the freezer to chill while you assemble the remaining cookies.

Once all the assembled sandwiches are chilling in the freezer, place the chocolate in a metal bowl atop a pot of simmering water on the stove (double boiler), stirring constantly until melted.

Dip the chilled sandwiches in the chocolate and roll in chopped pistachios. Serve/eat immediately, or place back in the freezer to save for later.
(images by HonestlyYUM)