I've been in a funk this past weekend as I came back from an incredible family vacation in Maui last week and adjusting to real life has been rough. If you've been following our Instagram account, you've seen that we've been living in paradise for the past week. The weather was perfect, the water was warm and clear and it was so nice to enjoy each other's company without the interference of work obligations. Pure bliss. We mostly drank Mai Tais between swimming, paddle boarding, swimming, snorkeling and more swimming. We also had some amazing poke at Eskimo Candy in Kihei which was the inspiration for this pokeritto. You may be familiar with a sushiritto– essentially, a huge sushi roll. This rendition subs some of the sushi ingredients with poke ones. These are easy to travel with and, even though you may not be lucky enough to enjoy them on a Hawaiian beach, they would be perfect for a summer picnic at any beach!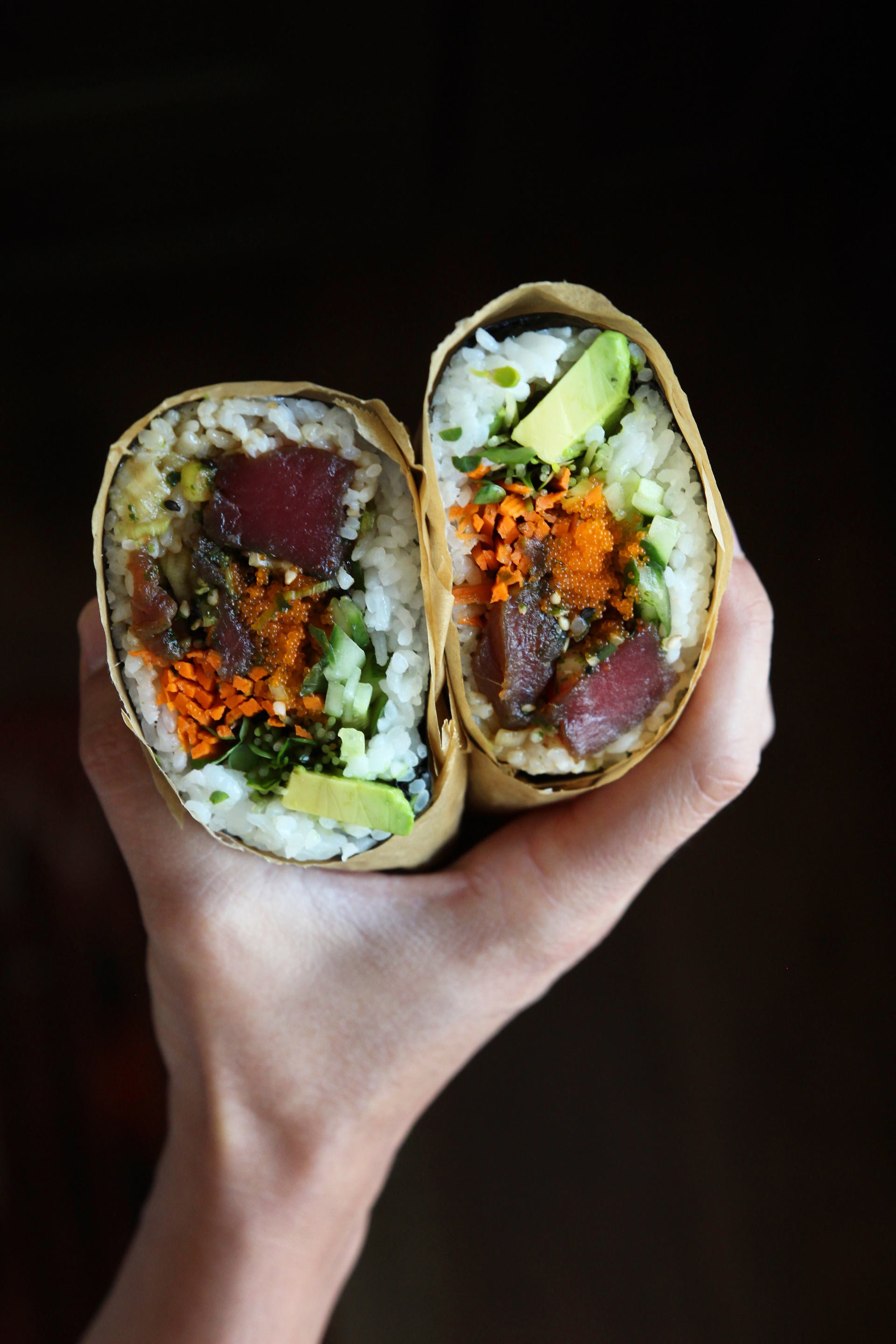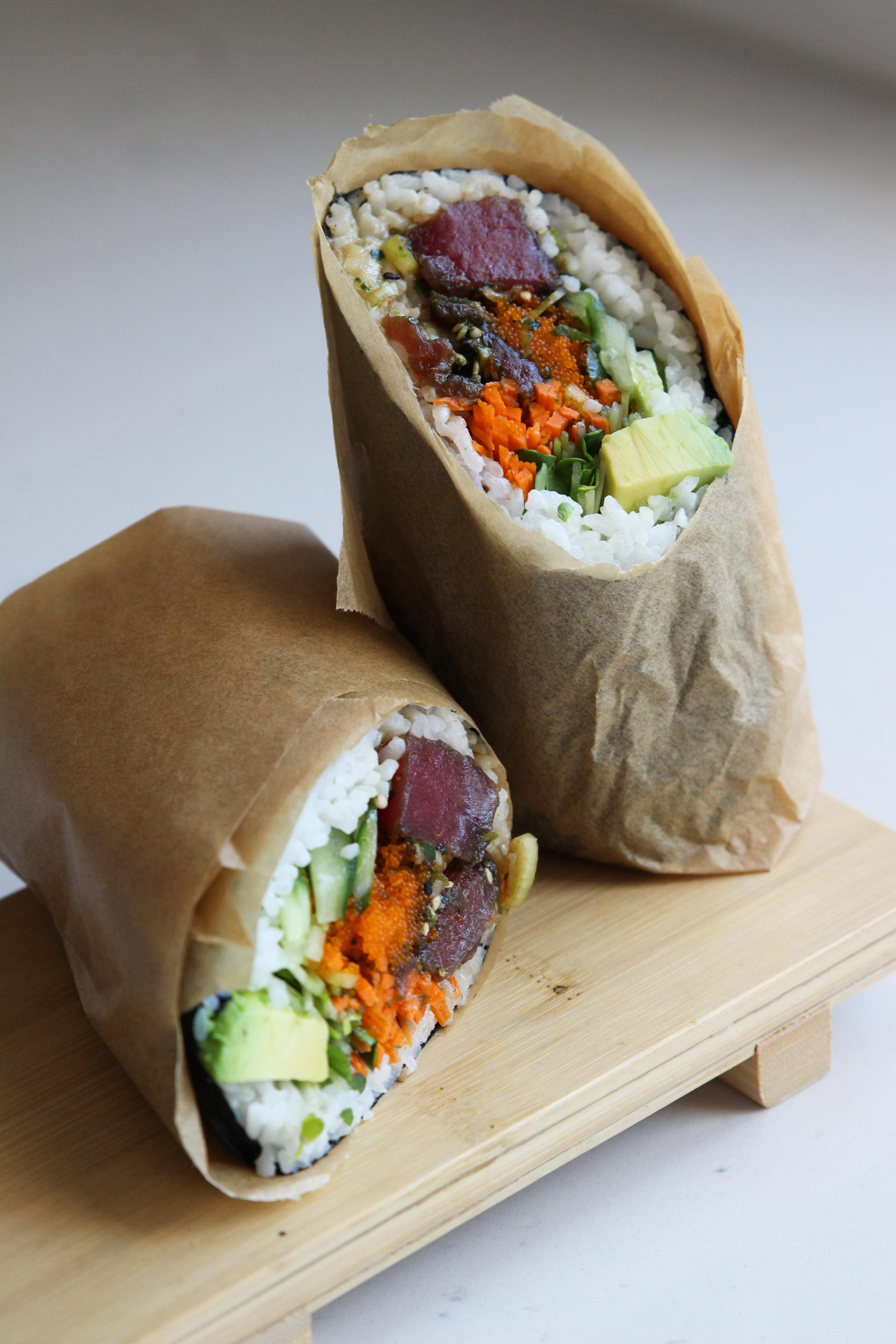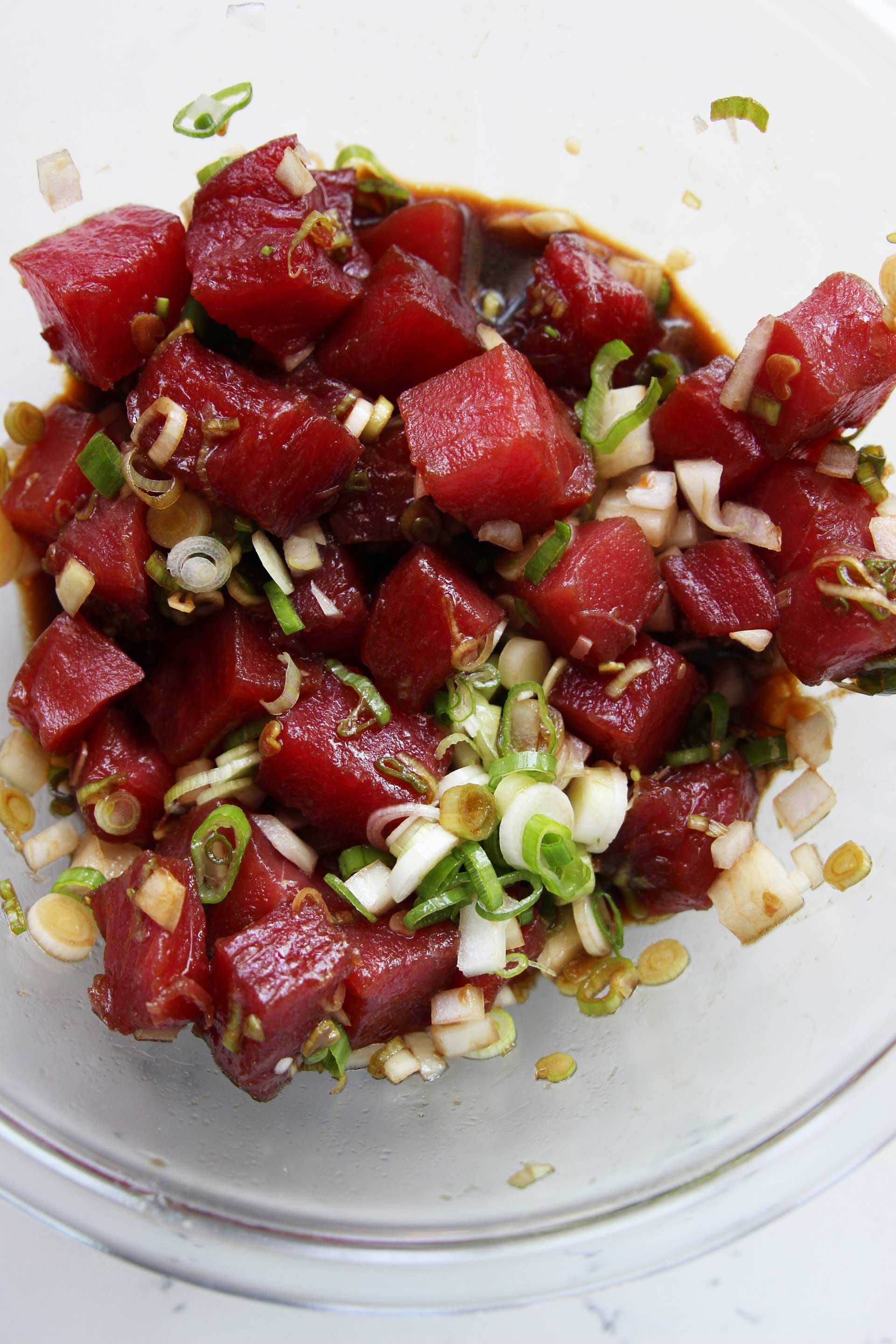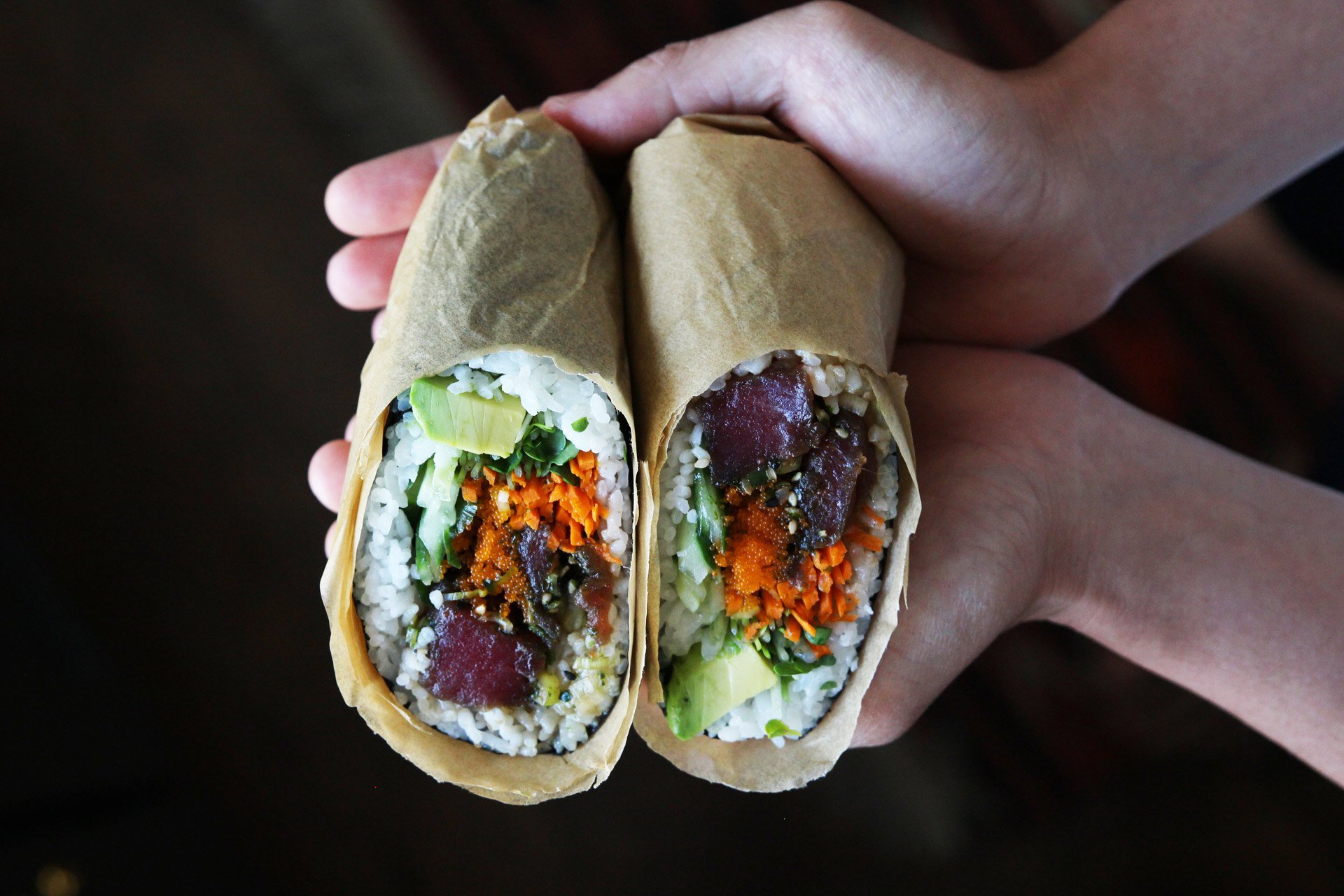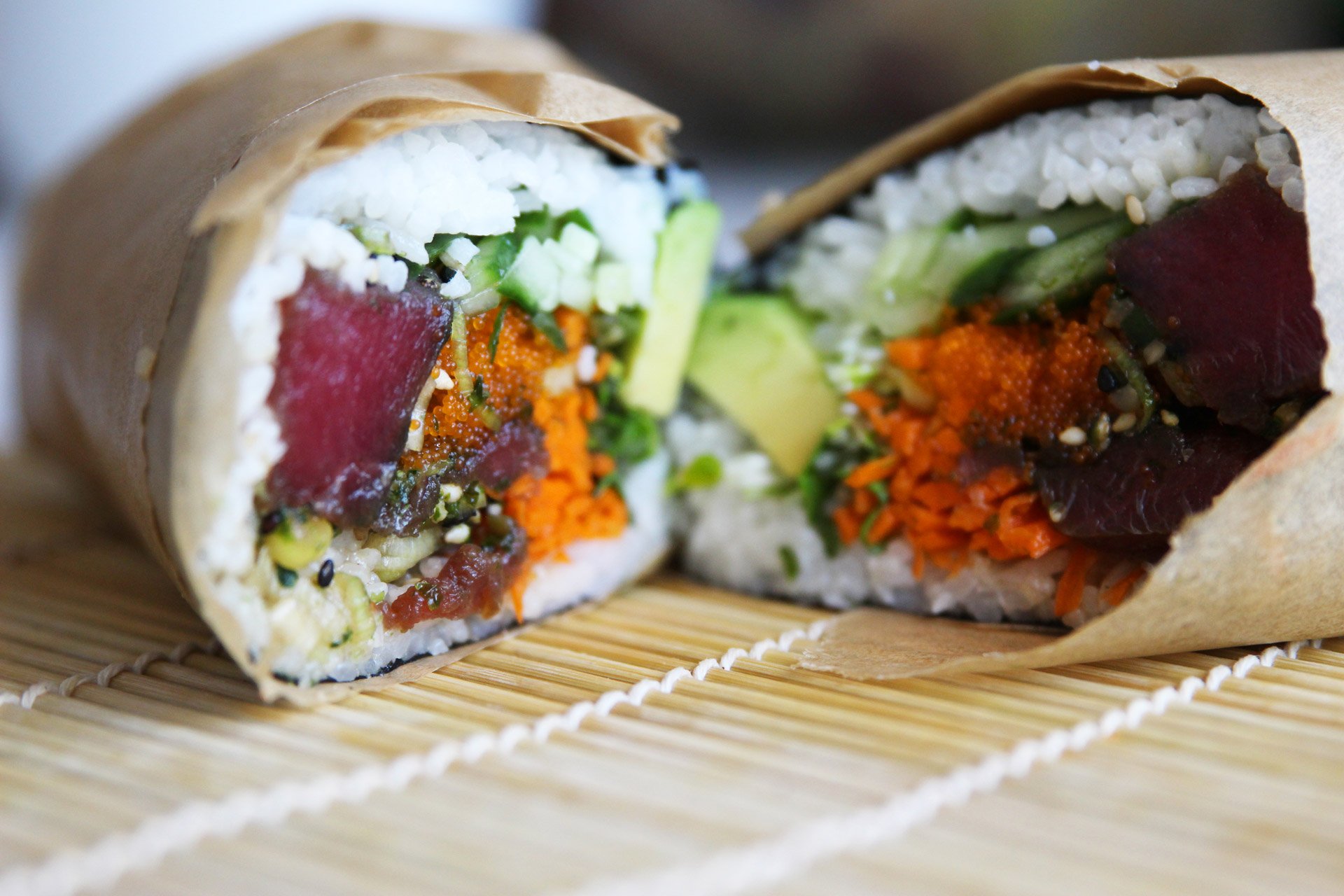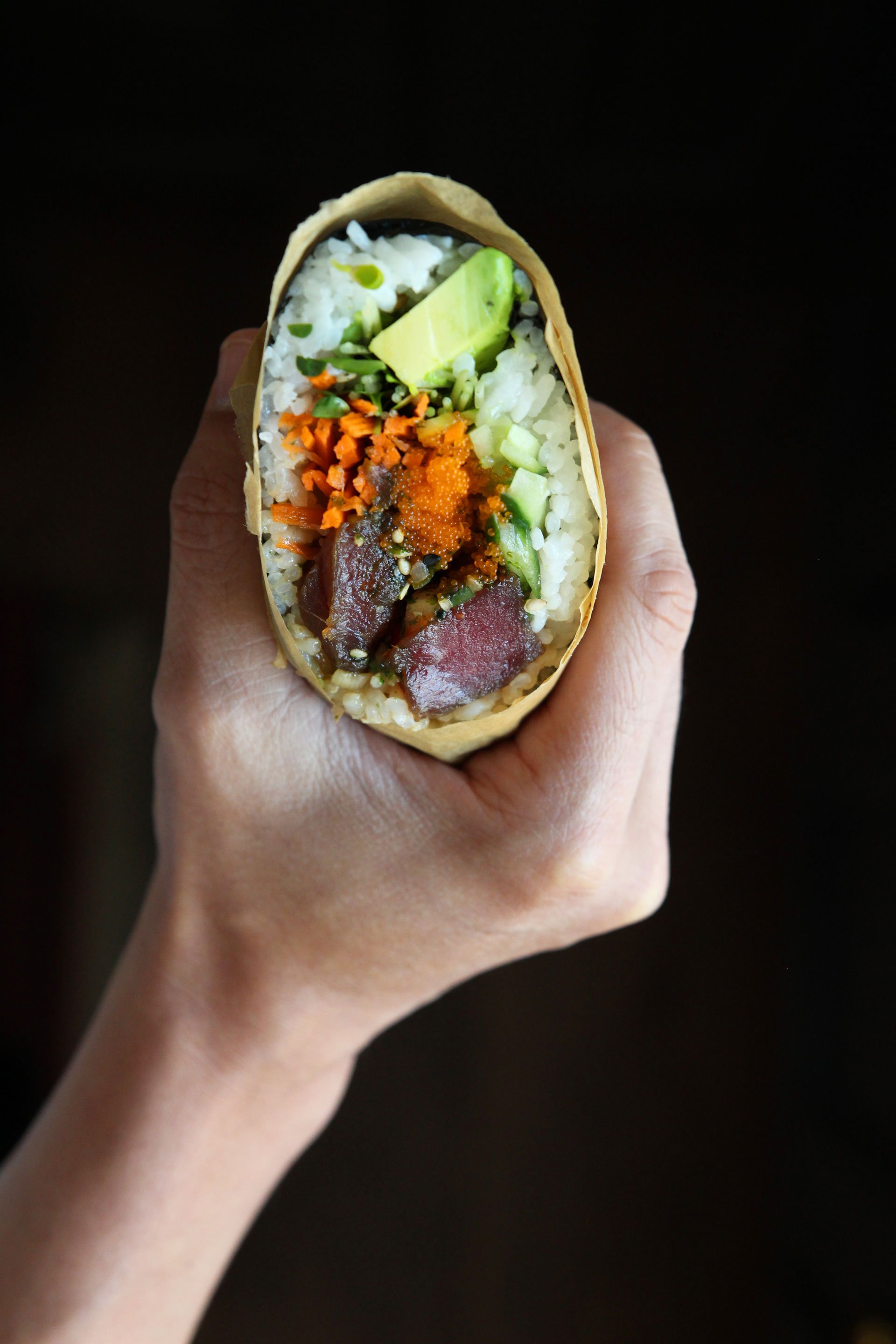 POKERITTO

Poke ingredients:

2 pounds of sushi-grade ahi tuna
1/2 cup tamari or low sodium soy sauce
2 tbs toasted sesame oil
1 tsp sugar
3 tablespoons of sliced green onions (white and light green parts)
1/4 of a small white onion, finely diced

Sushi rice ingredients:

1 1/2 cups of sushi rice
2 cups of water
2 tablespoons of sake
1 2-inch piece of dried kombu
1/4 cup of rice wine vinegar
1 tablespoon of sugar
1 teaspoon of kosher or sea salt

Pokeritto ingredients:

2 avocados
a bunch of radish sprouts
1 large carrot, julienned
1/2 English cucumber, julienned
masago roe
furikake
Sushi seaweed sheets
a sushi mat

Directions:

Pat the fresh ahi dry and cut into 1/2 inch cubes. Set aside in a medium bowl.
Whisk tamari, sesame oil and sugar together into a small bowl.
Pour marinade over the ahi, add onion and green onions and mix. You can keep the ahi marinated for a couple of hours in the refrigerator.
To make the sushi rice, rinse the rice until the water runs clear. Add water, sake and kombu to rice in a rice cooker and cook.
Whisk the rice wine vinegar, sugar and salt.
After the rice is done, transfer rice to a large bowl. Drizzle the rice wine vinegar onto the rice and fold with a large spatula while fanning off the rice while you fold. You can also do this in front of a fan to cool off the rice while you season the rice. Allow the rice to cool to room temperature.
Lay two sheets of seaweed down (shiny side down) and spread a little water an inch thick on the bottom of one sheet and lay the top of the other sheet on top so they overlap an inch and press so the two sheets stick together and makes one large long sheet.
Lay the seaweed sheet on your sushi mat so that the short side faces you. Fill a small bowl with water and wet your fingers with water (so the rice doesn't stick to your fingers) and spread a thin layer of the sushi rice across the sushi sheet leaving about 1.5 inch on the top without rice. If the rice starts to stick, moisten your fingers with water and keep spreading the rice.
Add a row of the poke across the sushi rice and rows of cucumbers, carrots, avocado, masago roe and radish sprouts. Sprinkle furikake over the poke.
Using a sushi mat, roll the bottom of the sushi up to the top and dip your finger in the water and wet the top inch with water and roll the burrito all the way so the moist seaweed seals the burrito.
Roll in parchment paper or foil and cut in half.
(images by HonestlyYUM)