This mezze platter has all the flavor profiles I love: bright, sour, herby and savory. This one features two of my favorite dips: muhammara, a Syrian red pepper and walnut dip and baba ganoush, a roasted smoky eggplant and tahini dip. Both are full of intense but balanced flavors and summer is a great season to make these since prepping these dips involves charing and roasting the bell peppers and eggplants. Using an outdoor grill makes things a lot easier. Hummus and baba ganoush are pretty typical in mezze spreads but you've probably never heard of muhammara. I'm addicted to the flavor of muhamarra, even though I'm not a huge fan of bell peppers, and pretty much will eat it with anything. The ingredients are simple (roasted red peppers, walnuts, garlic and pomegranate molasses) but they come together to make such a bold, earthy and flavorful dip.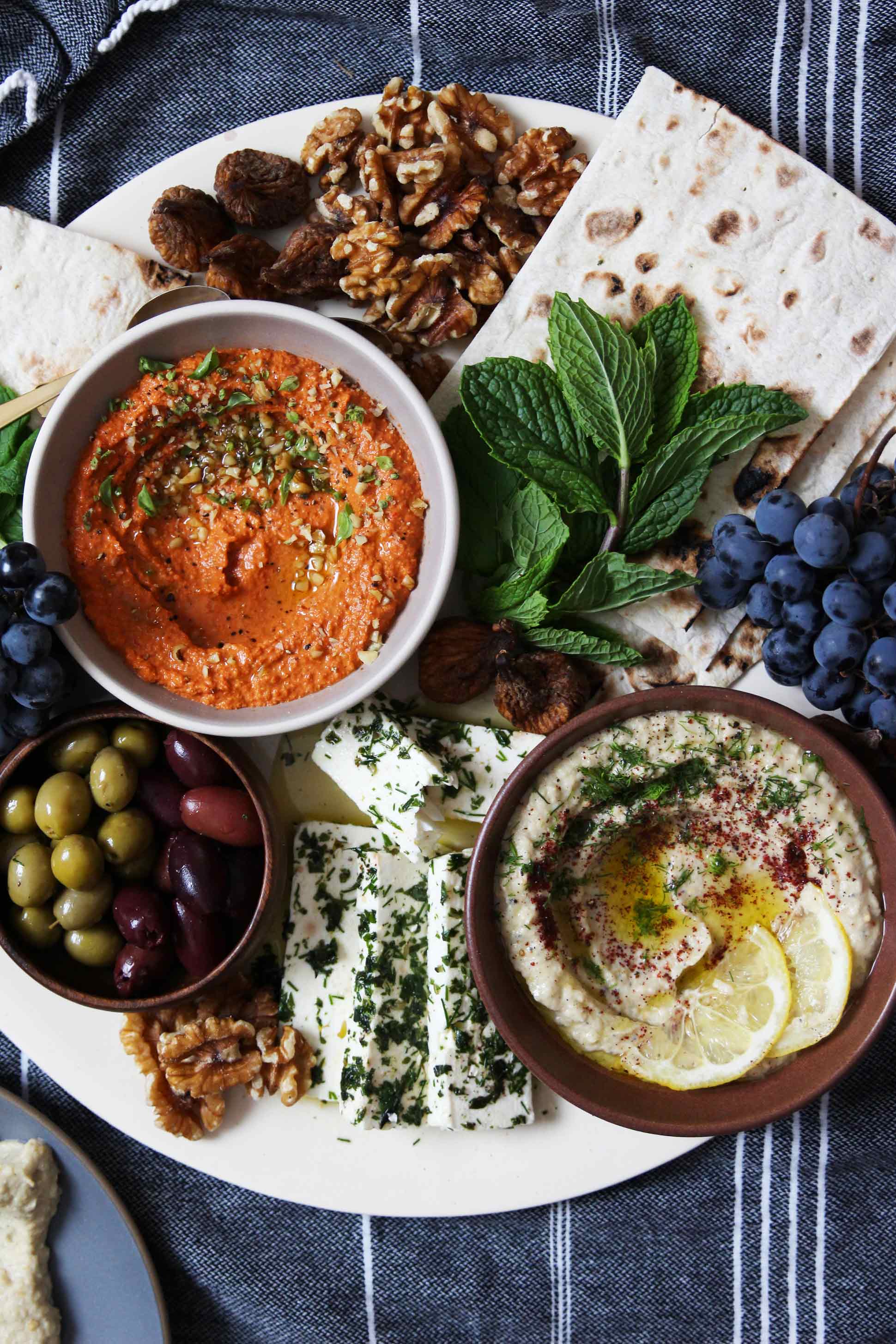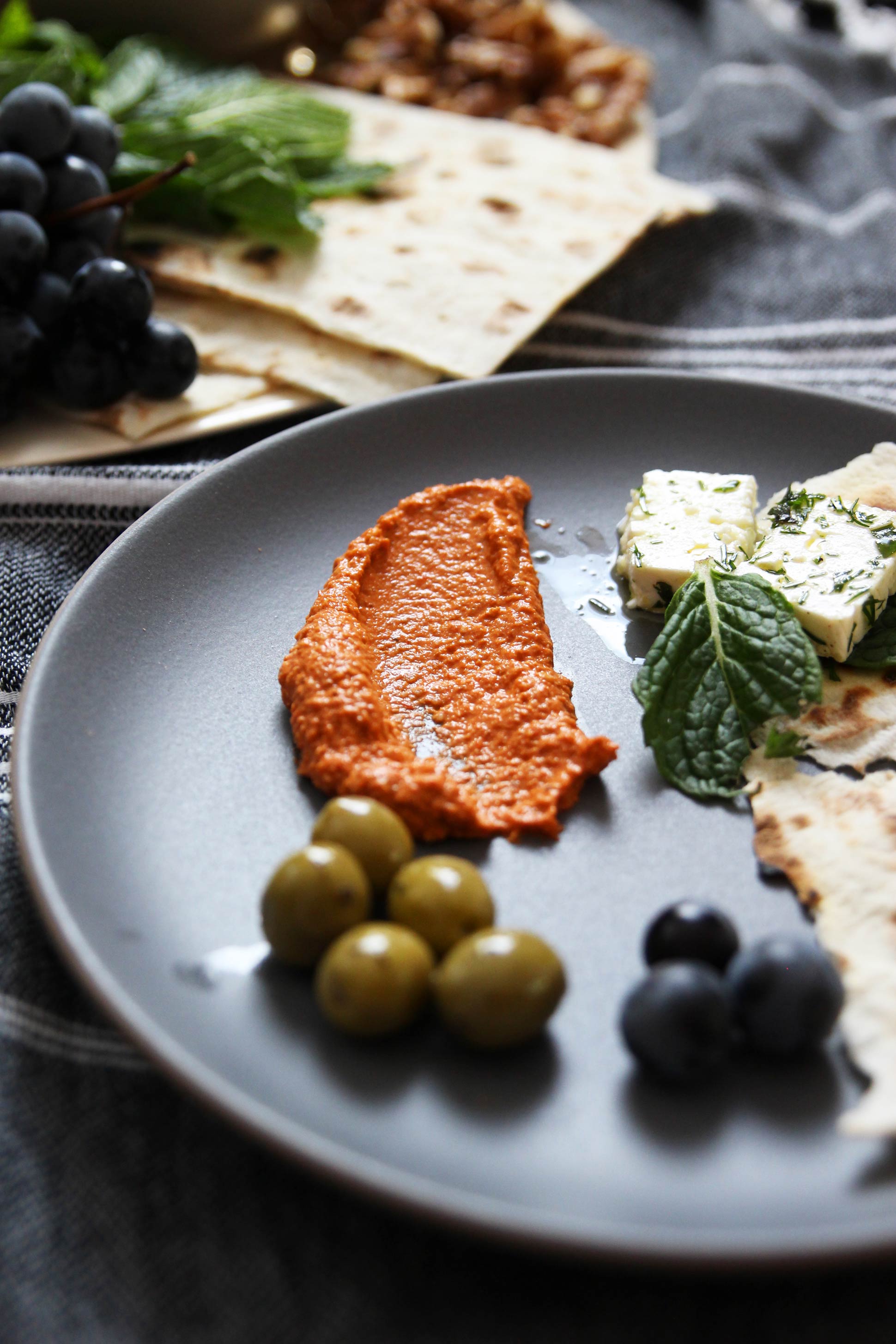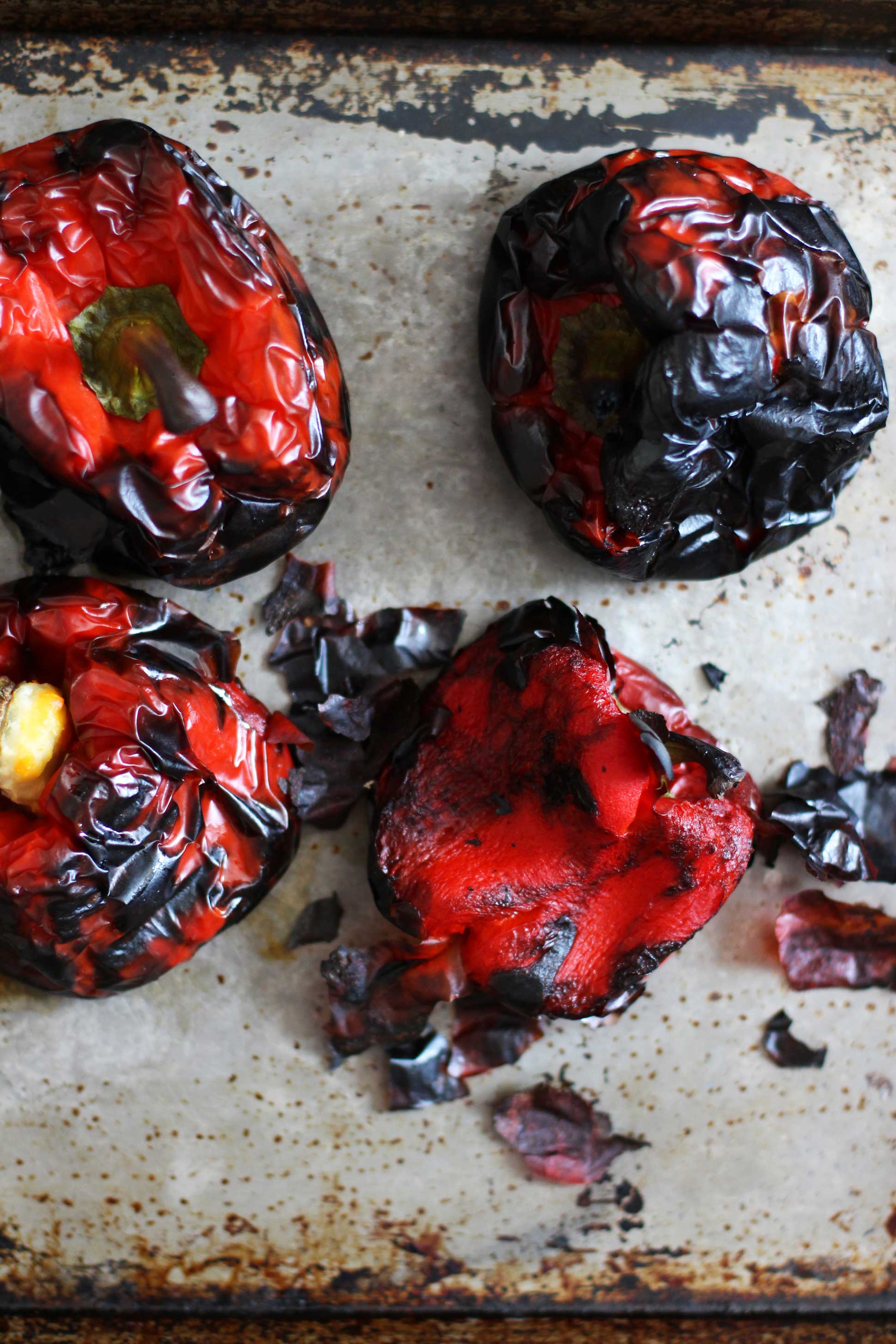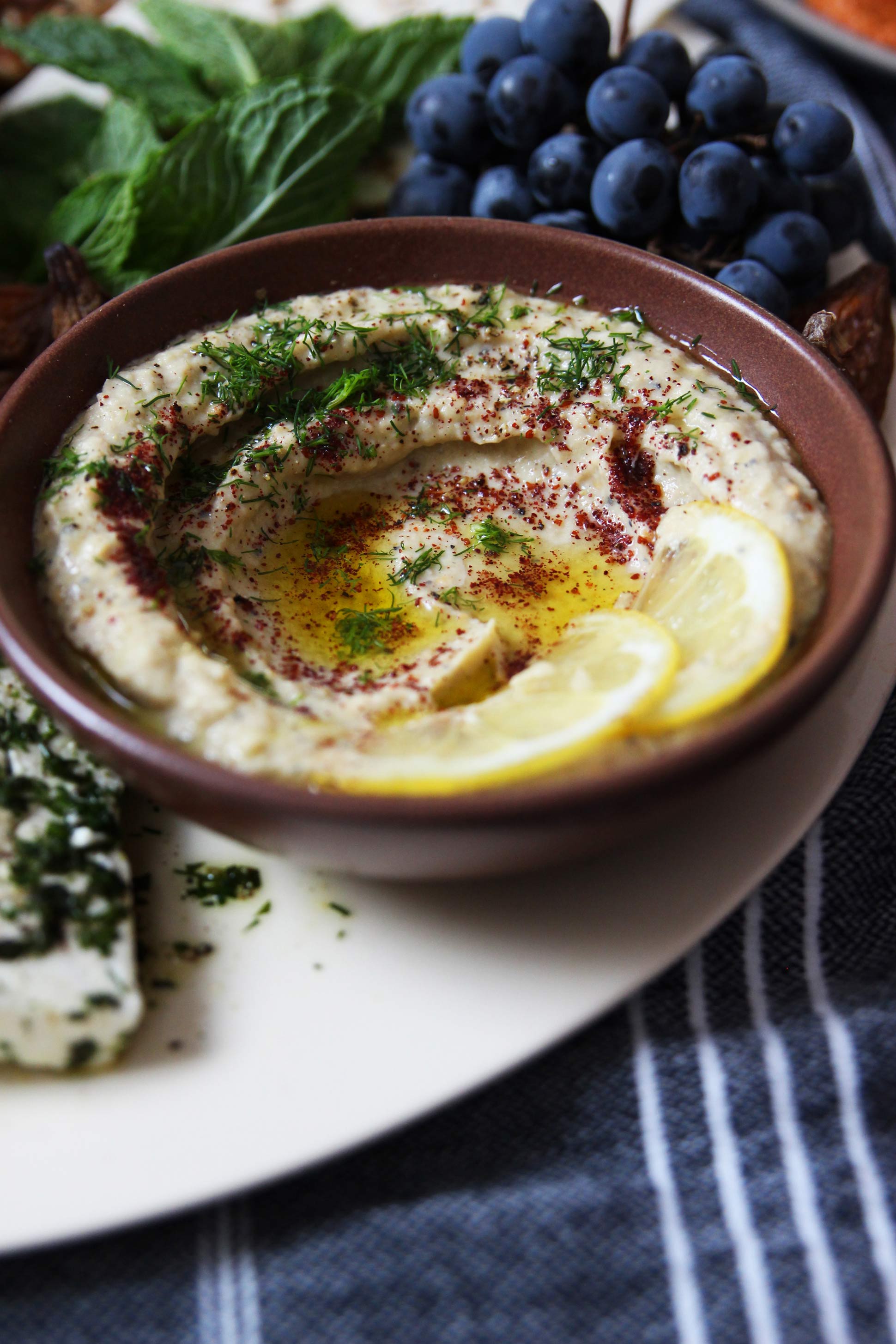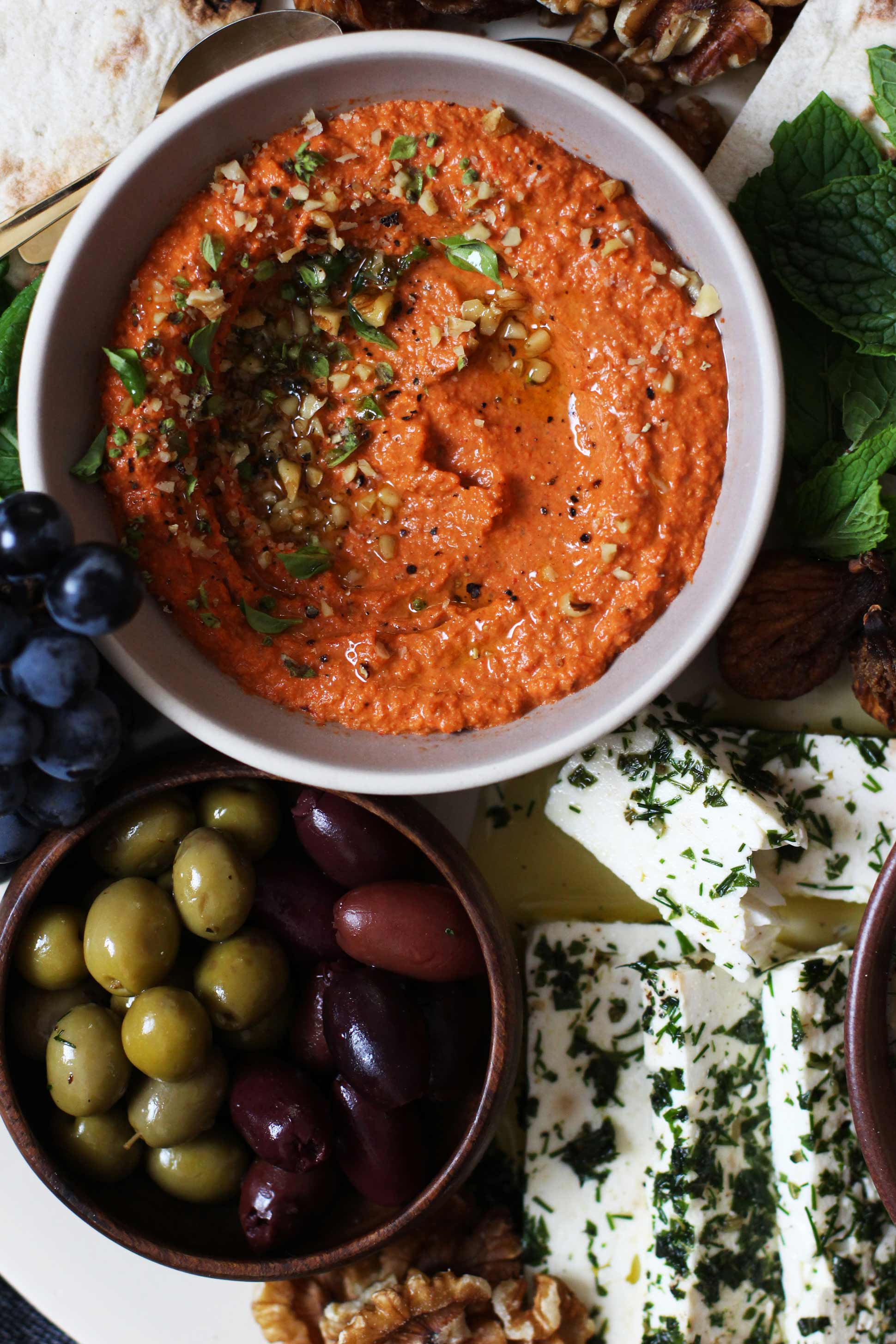 GRILLED MEZZE PLATTER

Muhammara Ingredients:

3 red bell peppers

1 cup of walnuts, toasted, plus extra for garnish

1 tablespoon of pomegranate molasses

1 clove of garlic

sea or kosher salt and freshly ground black pepper

extra virgin olive oil

minced basil for garnish

Baba Ganoush Ingredients:

1 large globe eggplant
1 clove of garlic
1/4 cup of tahini, plus an extra teaspoon or two if needed
1/2 teaspoon of cumin
juice of a lemon
extra virgin olive oil
sea or kosher salt and freshly ground black pepper
lemon slices, ground sumac and chopped dill for garnish

Muhammara Directions:

Grill the red bell peppers over medium heat on each side so all sides are charred black and flesh is soft (keeping the grill lid closed), about 15 minutes total.
Transfer the hot bell peppers into a paper bag and close tight. Allow to cool in the bag for 20 minutes. This steaming process will make it easier to remove the skins.
Peel the charred skin from the bell peppers and discard. Split open the bell peppers and remove the stem and seeds.
In a food processor, pulse the garlic until minced. Add the bell peppers, walnuts, pomegranate molasses and a big pinch of salt and pepper. Blend until smooth add more salt and pepper to taste.
Garnish with chopped walnuts, minced basil and a drizzle of extra virgin olive oil.

Baba Ganoush Directions:

Grill the eggplant whole on medium heat for about 30 minutes, turning on each side until the inside is collapsed and juicy (keeping the grill lid closed). The outside will be charred black and the skin may split, but that's fine, just be careful when turning.
Allow the eggplant to cool in a colander in the sink. Once cool enough to handle scrape the insides out with a large spoon and allow the flesh to drain in a colander. Discard the skin. Allow the eggplant to drain for about 10 minutes and gently press and squeeze to remove excess liquid.
Chop the garlic and lemon juice together in a food processor until the garlic is finely minced. Add the drained eggplant, tahini, cumin and a pinch of salt and pepper. Blend until smooth. Add more salt and pepper to taste. Add additional teaspoon of tahini or more if too thin and needs more nutty flavor.
Serve with lemon slices, drizzle of olive oil, pinch of sumac and chopped dill.

To assemble the mezze platter, serve with marinated herbed feta, fresh herbs like mint or dill, lavash, olives, grapes and dried figs.
(images by HonestlyYUM)