The star fruit in a classic panzanella is the tomato. The juices of the tomato soak into dried toasted bread turning the bread into a sponge of delicious summer flavors (except with better texture than an actual sponge). Panzanella is a traditional Tuscan salad and this time I've swapped out a few of the ingredients for some untraditional but equally as delicious ingredients. For starters, the cantaloupe is the highlight here. The key to this salad is finding good quality cantaloupe. I think a Tuscan cantaloupe has more of that sweet musky flavor and is usually juicier. You want a juicy flavorful cantaloupe so that the juices soak into the bread. I've also added some cured meats like hard salami and prosciutto, but of course, if you wanted to keep this vegetarian you can omit them and the dish would still be just as delicious. The recipe is imprecise but that's what I love most about casual summer cooking– taste as you go and adjust according to your preferences!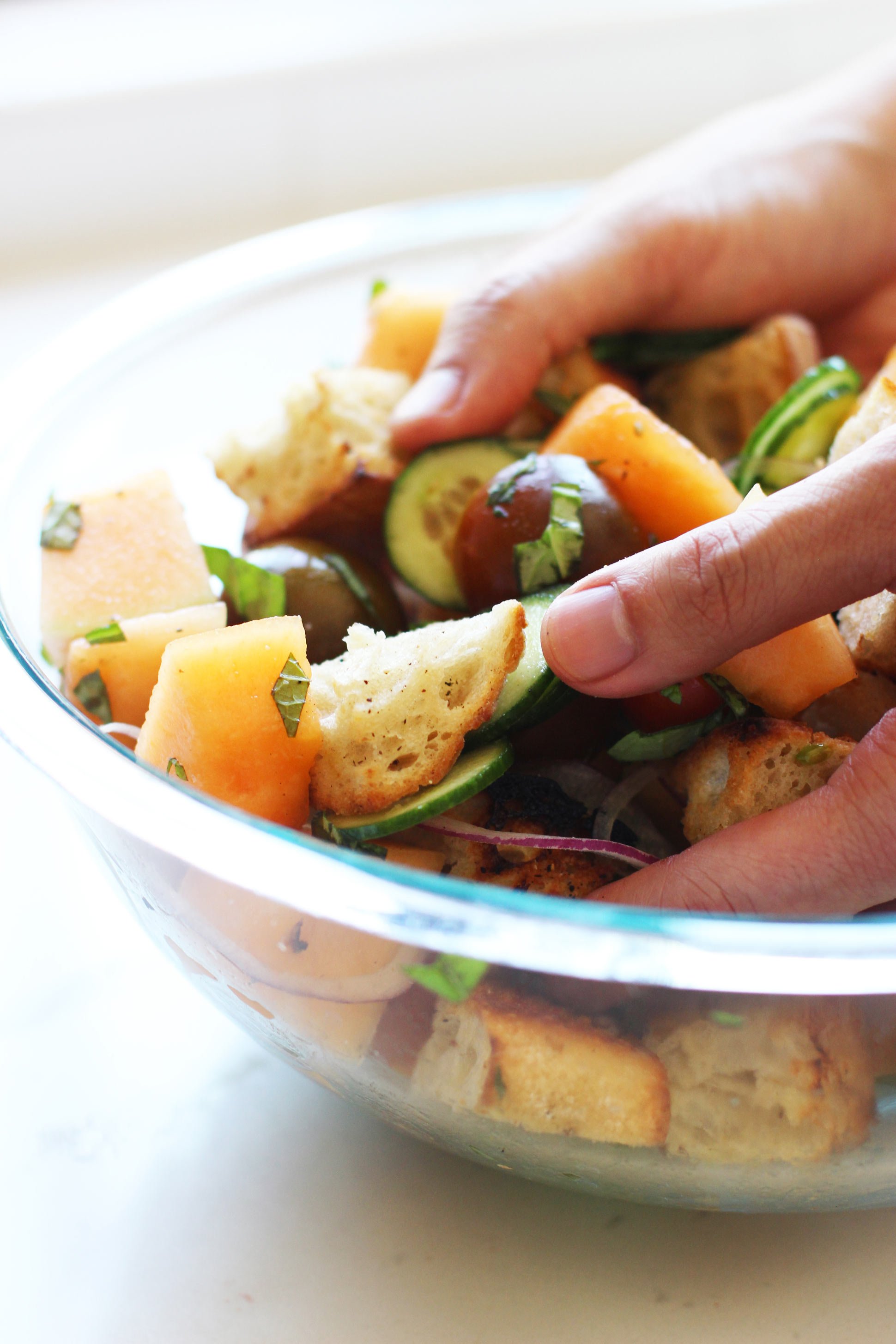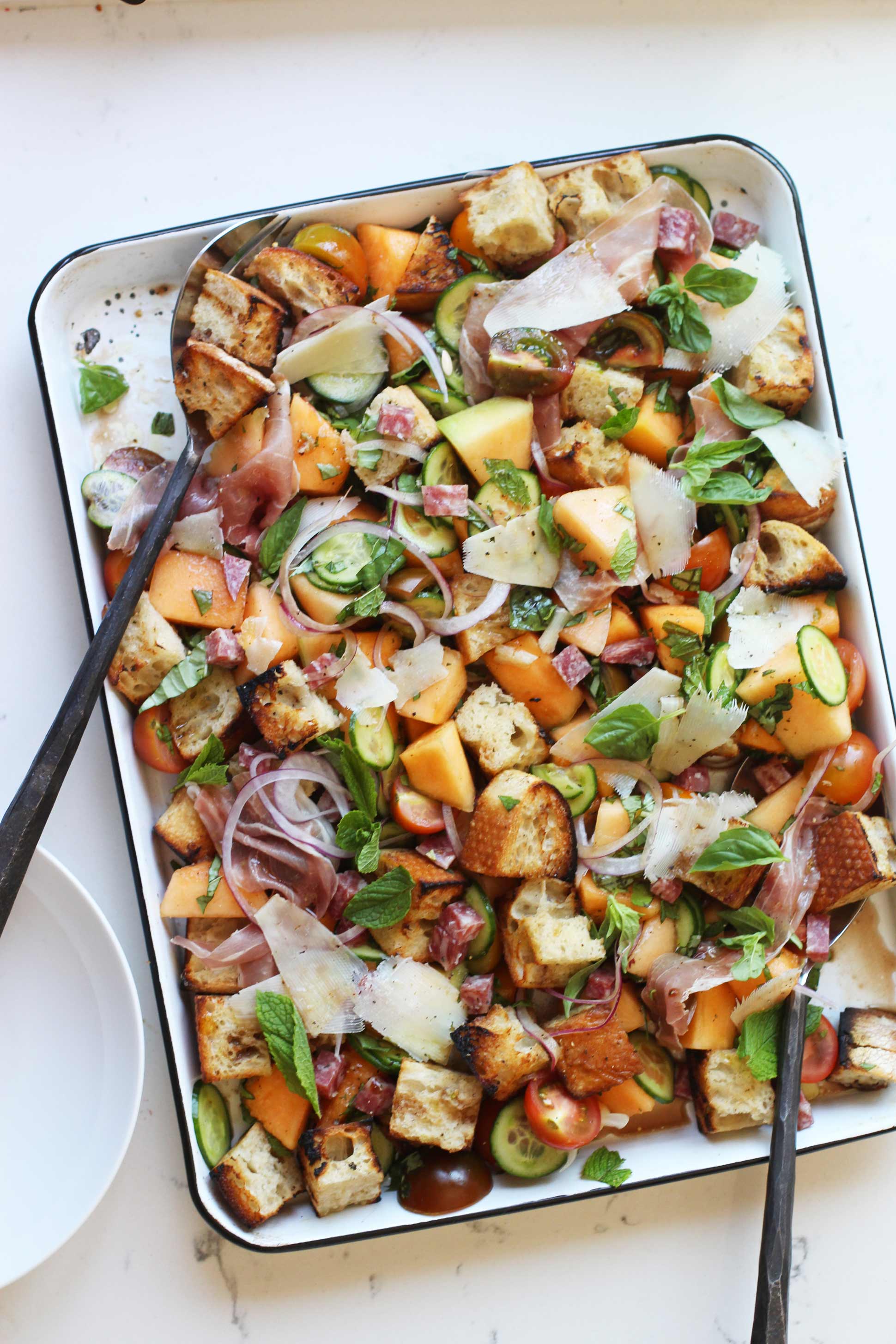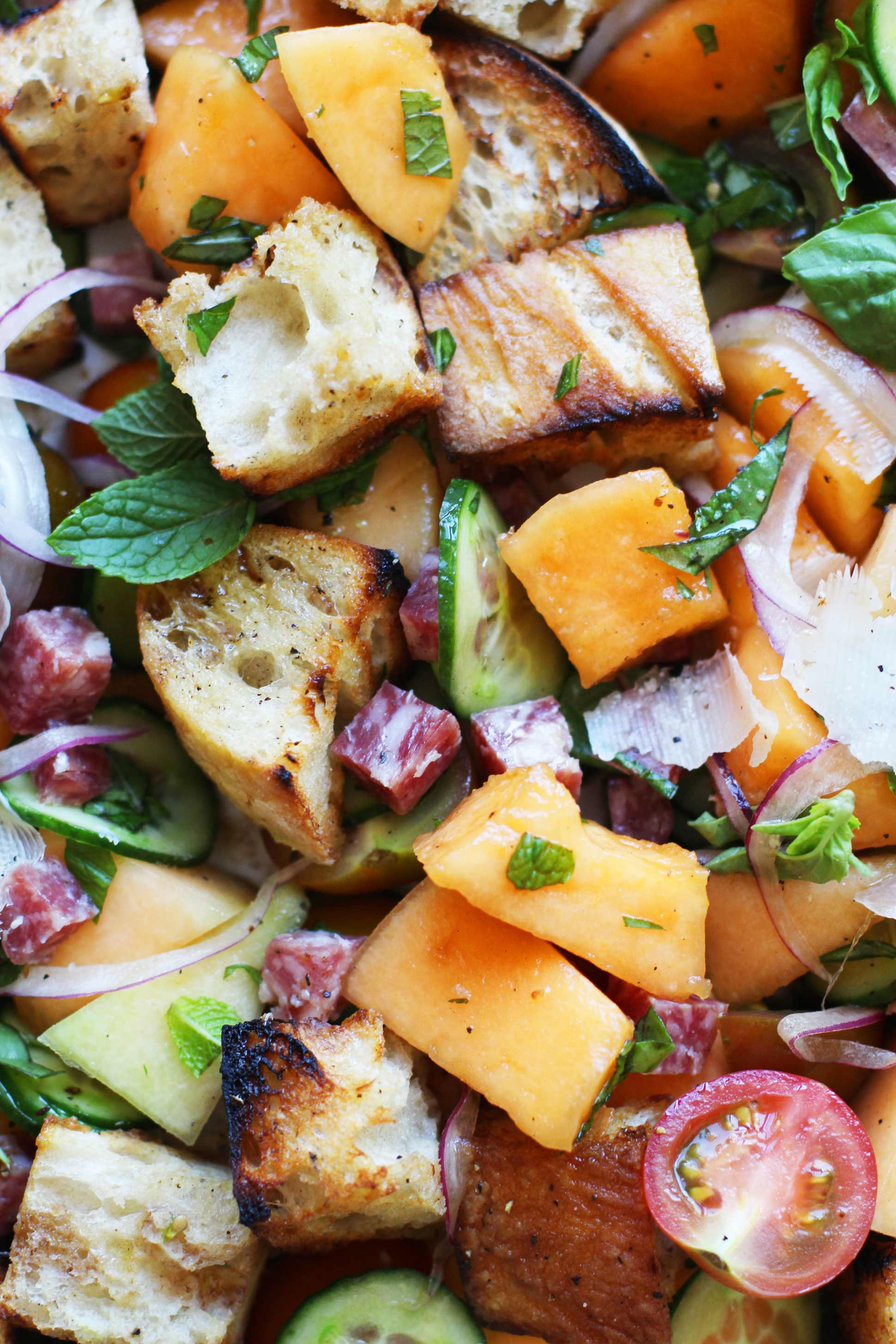 CANTALOUPE PANZANELLA

Ingredients:

1 baguette, ends trimmed and cut into about 1 1/2 inch cubes
1/2 Tuscan cantaloupe, diced into 1 inch pieces
1/2 a cup of hard salami diced
several slices of proscuitto
large handful of cherry tomatoes, sliced in half
1/4 of thinly sliced red onions
2 Persian cucumbers, thinly sliced
small handful of fresh mint, chopped, plus more whole smaller leaves for garnish
small handful of basil, chopped, plus more whole smaller leaves for garnish
1/4 cup of balsamic vinegar
1/4 cup of extra virgin olive oil
a few shavings of parmesan
sea or kosher salt
freshly ground black pepper
grapeseed oil

Directions:

Light the grill on high heat. Brush all sides of the bread with grapeseed oil. Season with salt and black pepper. Grill the bread, turning them onto each side every minute or so. Keep an eye on the bread as it can burn quickly. Adjust the temperature if it is toasting too quickly.
In a bowl combine the melon, tomatoes, onions, cucumbers, basil and mint in a bowl and mix to combine. Add the toasted bread tearing larger pieces into smaller ones so that the cantaloupe is the same size as the bread. Use your hands or tongs and toss the bread with the cantaloupe. Gently and lightly squeeze the ingredients with your hands so that the juice releases and gets soaked up with some of the bread.
Make the dressing by whisking the balsamic vinegar and olive oil together and season to taste with salt and pepper.
Pour the bread and cantaloupe onto a platter. Drizzle the dressing over the salad. Add the salami and proscuitto and parmesan over the salad and garnish with smaller leaves of mint and basil.
Finish with flake sea salt.
(images by HonestlyYUM)